Dreaming of cobalt blue roofs, crystal clear water and over 2,000 years of art history? Then it's time to start planning your honeymoon trip to Greece. Whether you love that island life or are more of a history buff, the ancient country is the perfect place to celebrate your nuptials.
But when you factor in the hundreds of surrounding islands, it's understandable if your head is spinning when it comes to planning your romantic getaway to Greece. For this guide, we'll focus on the historic city center of Athens and the surrounding islands. This capital city is located in the heart of Greece and is one of the most popular destinations in the country.
For the couple looking for the best of everything, from vibrant nightlife to sandy beaches, Greece is an ideal place to unwind from the chaos of wedding planning. To achieve maximum relaxation, make sure you have enough time to enjoy each destination at a leisurely pace. You'll want to plan for at least a week if you're staying on the mainland and two weeks if you want to island hop. The dreamy island of Santorini deserves at least four full days.
No matter where your itinerary takes you, expect to enjoy watercolor sunsets, fresh local cuisine and unforgettable archeological sites with your new spouse. Don't be surprised if you get swept up in Aphrodite's spell and want to extend your honeymoon in Greece by a few more days!
Traveling to Greece
Greece has been a sought-after honeymoon destination for decades, beloved for its rich history, vibrant culture and beautiful scenery. Most travelers find that they can experience a little bit of everything here without traveling all over Europe. Even if you plan to stay in one place on your honeymoon, Greece has romantic excursions around every corner, from scenic dinners for two to meandering through street markets.
Landing in Athens will give you access to some of the most famous ruins in the world as well as beautiful beaches — not to mention, it's also the gateway to the Greek islands. From the East Coast, flying into Athens International Airport will take about 10 hours on a nonstop flight, but expect a layover if you're looking for less expensive airfare. If you are planning to travel to other countries in the EU after Greece, keep in mind that flights within Europe are markedly cheaper. Athens is a great starting point for a multi-country honeymoon itinerary.
Visit between May and October if you're planning to hit the beach but try to avoid the high season between June and September to skip the crowds. That being said, Greece is beautiful year-round, with a warm, mild Mediterranean climate that promises plenty of sun-soaked days for exploration. You'll find less expensive airfare (and fewer tourists) if you travel to Athens between September and November. The weather will still be warm, with average daily highs of around 74 degrees Fahrenheit — perfect for sightseeing tours of archeological marvels like the Acropolis and Temple of Zeus.
Getting around on mainland Greece is fairly accessible via cabs or even walking, depending on the location of your hotel. On the islands, taxis are less frequent, but you can rent an ATV or motorized scooter to get around if you're familiar with driving one. Greece's most popular island, Santorini, is littered with cliffside roads and hairpin turns, so if you and your partner decide to get behind the wheel, be extremely careful. Even the most practiced drivers have trouble on these roads.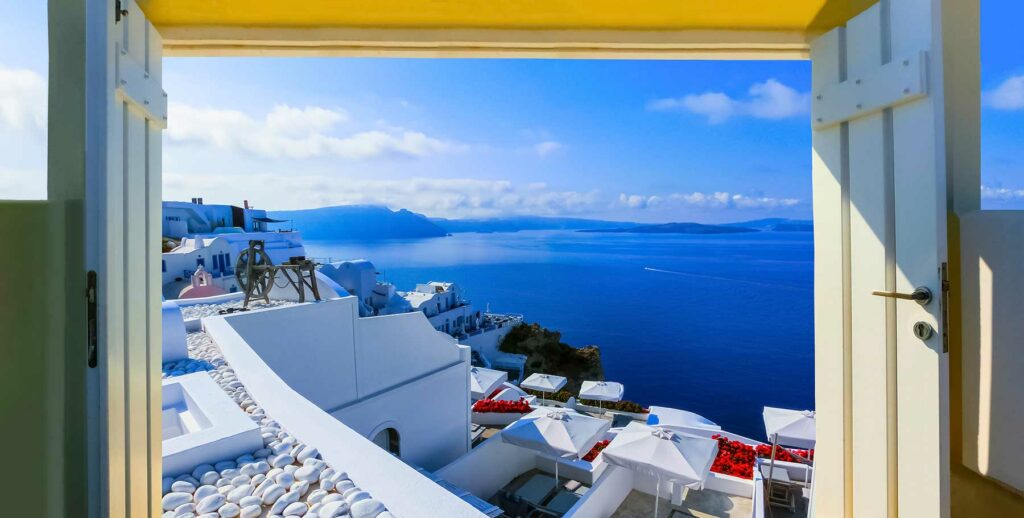 Island Hopping
If island hopping is on your agenda — and it absolutely should be — start your research before you arrive in Athens. There are a staggering 6,000 Greek islands, but only about 200 are inhabited. When you begin to build your itinerary, keep in mind that visiting a Greek island from Athens is not a day trip. You'll need to plan on staying at least overnight.
The ferry departing from the Port of Piraeus just outside of Athens is probably the most scenic route to get to the islands, but it is definitely a lengthy trip. Getting to the island of Mykonos will take anywhere from two-and-a-half to five hours by boat.
But, if you have the time, we highly recommend the ferry. There are few experiences as romantic as sitting on the ship deck with a glass of wine as you cross the Aegean and Mediterranean Seas, watching wild island after island pass you by. The ferry is by no means luxurious, but the trip is absolutely beautiful.
If you don't have the luxury of time on your side, Aegean Airlines flies into most of the bigger islands like Crete, Mykonos and Santorini. A solid compromise would be to take a flight to the nearest island you want to visit, then utilize the ferry to hop to other islands. The trip will be much shorter between destinations.
There are far too many islands to highlight in just one article, but here are three of the most well-traveled destinations to kick-start your research. We also recommend seeking out a few others along the ferry route like Paros and Naxos, as each has its own charming features that range from traditional villages to volcanic landscapes.
Crete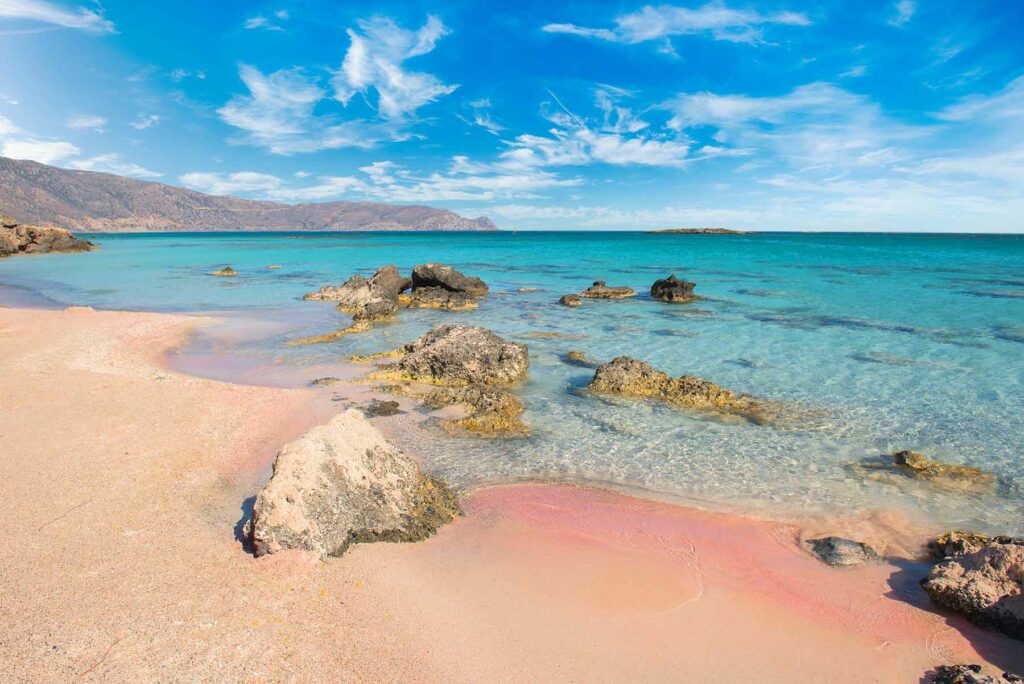 The largest island off the coast of Greece is the Aegean island of Crete. Getting to Crete is a bit of a commitment if you're taking a ferry. This island is also one of the farthest from Athens, sitting right in the middle of the Mediterranean Sea between mainland Greece and the coast of northern Africa. Crete has a long and storied history as home to the Minoan civilization, as well as rare pink sand beaches and luxury hotels. Crete also has some of the warmest weather year-round, so traveling during the shoulder season can help you and your partner save money without sacrificing sunshine.
Santorini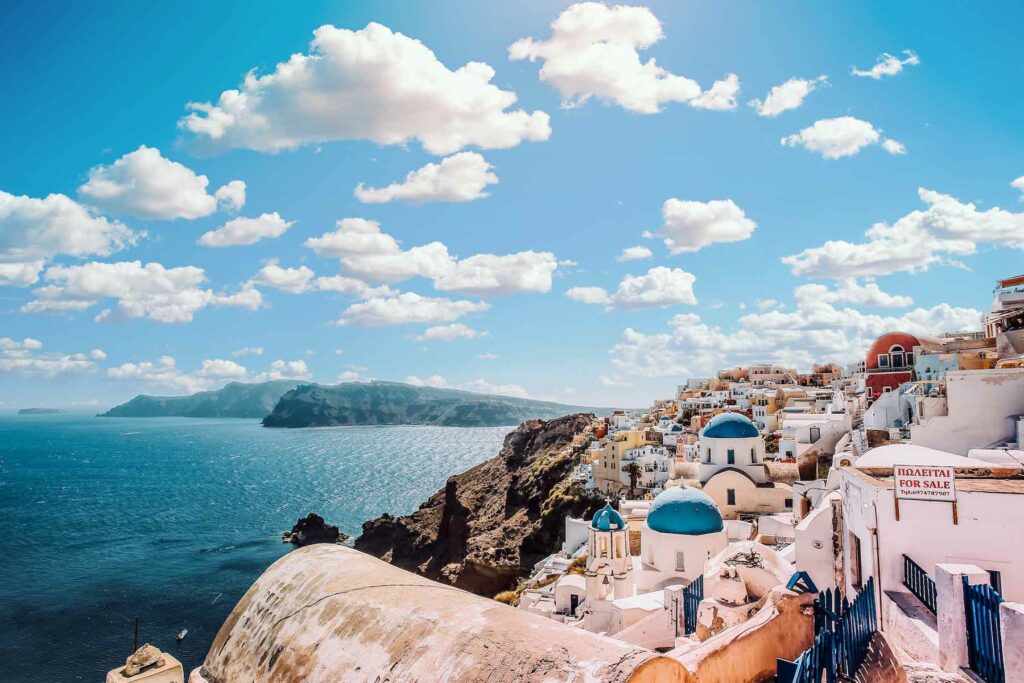 You probably know Santorini as the idyllic blue roof and windmill-dotted island, but it has so much more to offer than a picturesque Instagram post. Oia, which is on the northern side of the island, is said to have the most beautiful sunsets in the world. Take a half-day to do a catamaran boat tour around the black and red sand beaches, then end your afternoon afloat with a spectacular sunset in the middle of the sea. It doesn't get more romantic than that! Also, make time to visit Santorini's vineyards for some wine tasting. Vinsanto, the island's sun-dried dessert wine, has been made from Santorini white grapes since the 12th century.
Mykonos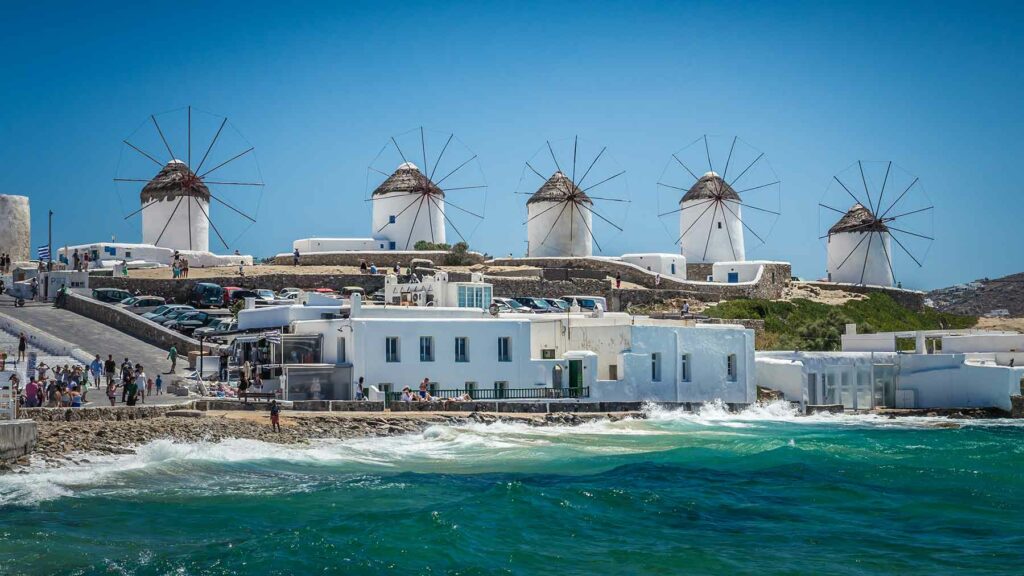 If you and your partner are the life of the party, Mykonos is your destination. Part of the Cyclades island complex, Mykonos is filled with exciting beach clubs that are lit from day to night. When you aren't partying it up like a celeb, chill out on the famous beaches and just relax. The village center is a great place to get to know Greek island culture and pick up a few keepsakes as a reminder of your fun-filled honeymoon.
Where to Stay
Four Seasons Astir Palace, Athens
Athens is a big, bustling city, but a stay at the Four Seasons Astir Palace almost transports you back to the simplicity and seclusion of ancient Greece. You won't find hordes of people near this riviera-based luxury resort, but the city center is just a short cab ride away. If you and your partner aren't so hot on island hopping, this hotel is the perfect compromise. You'll get sweeping seaside views and city vibes all in one spot — not to mention three private beaches, eight on-site bars and restaurants, including the Michelin-starred Pelagos, and a spa that offers seasonal rituals and couples treatments using locally harvested eucalyptus and herbs.
Hotel Grande Bretagne, Athens
Acropolis views, private butlers and five-star service? Yes, please! Hotel Grande Bretagne is an iconic spot in Athens known for its over-the-top, sumptuous luxury experience and covetable location on the historic Syntagma Square. The property itself is well-appointed with art and antiquities throughout its common spaces, along with elegant rooms, a rooftop restaurant, cigar lounge and spa. Here, you and your partner will be treated like the Greek deities you are and have access to the best the city has to offer.
Ducato di Oia, Santorini
Oia is probably the most recognizable part of Santorini and for good reason. The Ducato di Oia is a boutique hotel that boasts views of the caldera, rooms with private plunge pools and an intimate 12-seat restaurant for that romantic dinner on your last night.
Blue Palace, Crete
If you and your partner are loving the idea of Greek life but crave a more desert island-type seclusion, book your suite or villa at Blue Palace immediately. Though Crete has throngs of tourists, Blue Palace is set back into the rugged coastal hillside known for its wild beauty and coastal views. The resort itself is the pinnacle of elegance, offering luxurious restaurants and private balconies perfect for toasting your marriage against a stunning Mediterranean sunset.
Once in Mykonos
Partying in Mykonos can be exhausting, so you and your sweetheart will definitely want a romantic respite where you can relax and escape. Once in Mykonos on Ornos Beach has arguably some of the best views on the island, including a rooftop pool you might never want to leave. Honeymooners will love features like rooms with private plunge pools or outdoor Jacuzzis, spa treatments using organic materials collected from the Aegean Sea, and a poolside fine dining restaurant. This hotel has a serious glam factor that's perfect for the couple who lives the VIP life from morning till night.
What to Do on Your Honeymoon in Greece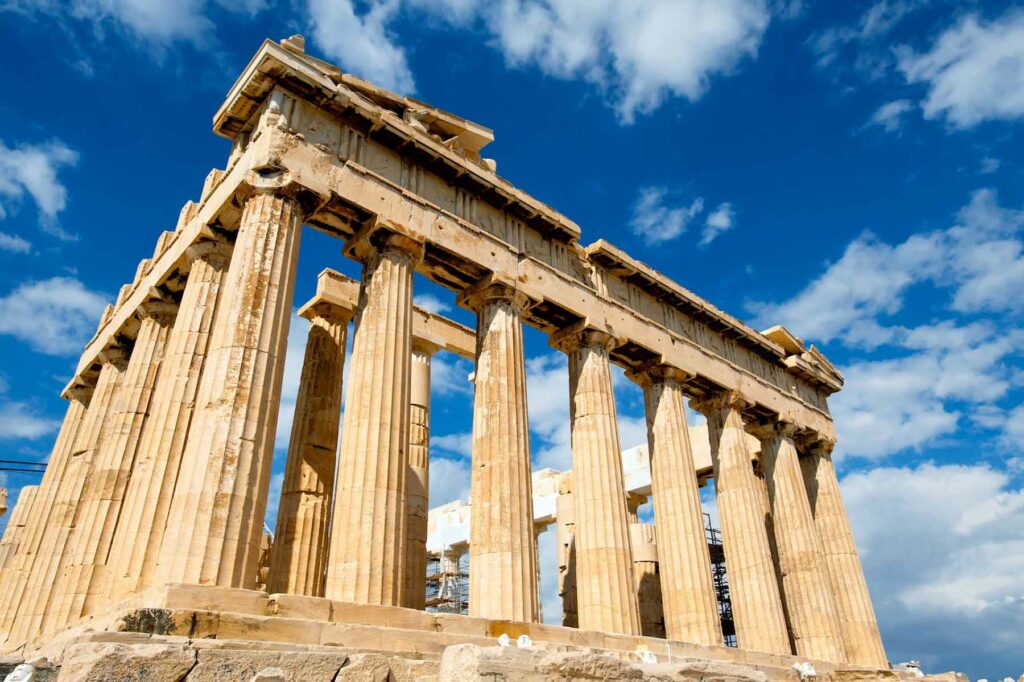 Tour the Acropolis. The Acropolis is a must-see while you're in Greece. While it may be the most touristy item on your itinerary, when else will you be able to see an archeological site dating back to the fifth century B.C.? Not only is the historical temple awe-inspiring, but it will also give you a peek into the country's culture, which is still heavily rooted in ancient Greek mythology. For the architecture aficionado, these ruins are some of the most extraordinary (and earliest) examples of Doric columns. The south porch featuring six caryatids, also known as The Porch of the Maidens, is one of the most iconic temples on the grounds known for its carved female statues that serve as pillars supporting the roof. The main structure, the Parthenon, was the center of the world in ancient Greece and is a remarkable example of the architecture of the time.
Shop on Ermou Street. Ermou Street in Athens is home to some of the most luxurious shopping in the country. If you are staying in the city, it will likely be right out your front door. From designer goods to tiny local shops, this is the place to buy that one special item to commemorate your trip together.
Hike Mount Olympus. We know what you're thinking: "Why would we go hiking in Greece?!" Hear us out. Mount Olympus, the home of the gods, is not only steeped in historical and mythological intrigue, it's also seriously beautiful. You can hike the iconic mountain and celebrate like the ancient gods and goddesses once you hit the top with a picnic and some Dionysus-blessed vino. This landmark is roughly five hours from Athens, so plan your travel accordingly. Crete, Santorini and other Greek islands also have picturesque hiking for outdoorsy couples seeking sunshine, fresh air and adventure.
Go cliff-diving. We are all about safety, so embark on this excursion with extreme caution. The Greek isles are known for their unbelievable rock formations and deep blue waters. In Santorini's Amoudi Bay, there's a cliff jump that's a challenging climb, but the plunge is amazing. We recommend going with an expert for this experience. If this isn't for you, it's just as fun to sit on the sidelines and watch.
Visit a few wineries. You wouldn't know it, but there is a lot of wine-making both on the Greek mainland and on the islands. Book a wine tasting tour for two wherever you're honeymooning, and experience the different native varietals that are rarely found in the U.S.
Take a day trip to Delphi. Even if you aren't a history buff, seeing a UNESCO World Heritage Site is a special experience. Delphi was a routine pilgrimage for ancient Grecians to worship Apollo, the god of music, poetry and truth, among other things. While the site is now ancient ruins, the spirituality of Delphi still lingers in the air. It's roughly a two-and-a-half-hour drive from Athens to this remote part of the country, a trip that's most comfortable in a private car.
Travel Tips for Newlyweds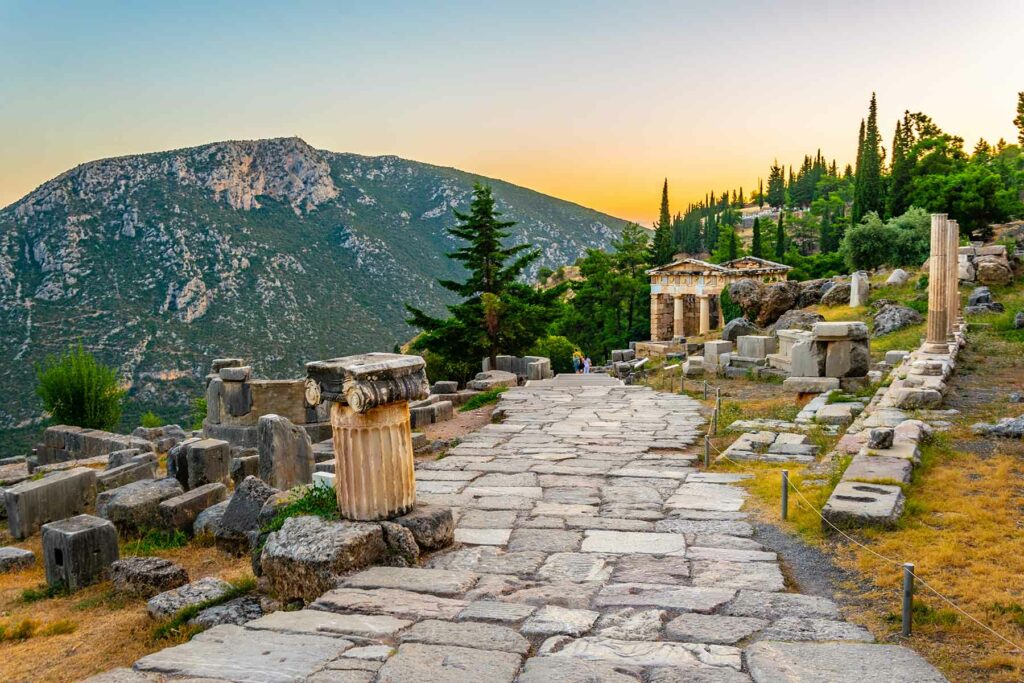 Here are a few things to keep in mind while you are gallivanting all over Greece.
Don't even think about taking a rock from the Acropolis grounds, even the ones you are walking on. Keepers of the historical sites are deadly serious about preserving the ruins, and you can be arrested if caught trying to steal a piece of it as a souvenir. Bailing out your spouse on your honeymoon is not a good look, so go by the tried-and-true rule — leave nothing behind but footprints and take nothing but pictures.
Santorini has such iconic views because it is built on an active volcano. This means that all those staggered buildings and hotels you see overlooking the caldera are quite a hike. Before booking your hotel, look up where your hotel is and gauge how many stairs you will be trekking. You might find yourself looking at more than 400 steps just to get back into town. If you've already booked an out-of-the-way hotel, ask the front desk if they have a donkey to carry you and your luggage to your room. It might not be the most glamourous experience, but it's something you and your partner will be reminiscing about for years.
Don't over-schedule your time! It's so easy to think that you will hop to an island per day because the ferry is such a short ride. You will inevitably feel rushed by packing in so many activities, leaving yourselves exhausted on what should be a restorative honeymoon.
While most natives speak English, learning a few words in Greek before you go is always a good idea.
Eat like the Greeks to get to know the culture of the area. You'll likely find that meals are a bit on the casual side, so don't feel the need to book a restaurant every night. Go off the beaten path to grab a quick bite and save your reservation for a decadent night out.
Cash is king in rural parts of Greece, so make sure you have a few euros if you plan to hit the street markets.
Up Next:
Whether it's for airfare, a hotel stay, or honeymoon travel experiences, create one list for all your honeymoon wishes.