Set along the banks of the Ohio River, Cincinnati is a charming city that offers a variety of cultural experiences and spectacular displays of nature. While many areas of the city feature well-preserved 19th-century architecture, the surrounding areas offer rolling green hills and groves of towering trees.
This alchemy of history and nature results in a treasure trove of amazing venues for an outdoor wedding. From a grand stone pavilion, Tudor-style estate, and sculpture park to a palatial pergola, an arts center with a cascading fountain and moat, and a manor with a secret garden, Cincinnati is sure to have an outdoor wedding venue that checks all your boxes.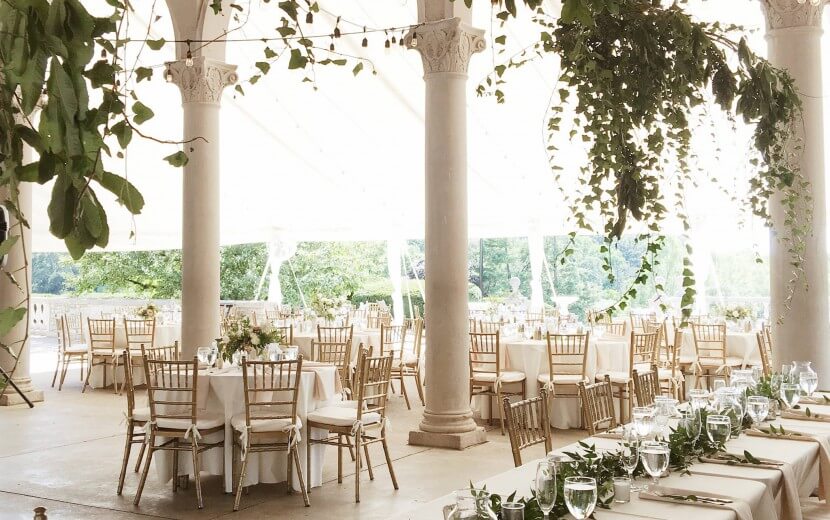 Ault Park Pavilion, located in Frederick H. Alms Memorial Park in the township of Hamilton, features a massive, two-story stone pavilion that sits atop a grand double staircase. Most ceremonies take place at the patio on the top or bottom of the steps with the pavilion, or skyline, as the backdrop. You can also orient the ceremony so guests are facing the lush grounds below the steps.
For the reception, you'll head into the pavilion, with soaring ceilings and impressive stone pillars creating an awe-inspiring ambiance. Many couples choose to have dinner on the first story before moving upstairs for dancing and enjoying spectacular views. Guests are also able to explore the park before and between wedding events.
Typical Cost: $1,200 – $1,600 for a ceremony and reception
Capacity: 600
Bonus: This event venue is so amazing that couples rarely need more than string lights, candles, and flowers for decor.
Find Ault Park Pavilion on Facebook.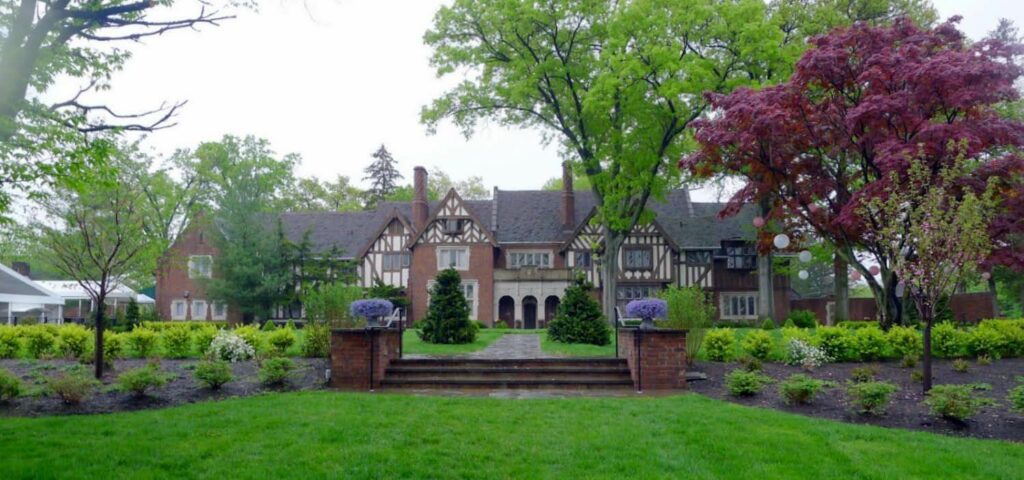 Sitting on 18 acres, the historic Pinecroft at Crosley Estate wows with Tudor-style architecture and decor that exudes an old-world charm. This Cincinnati wedding venue also has manicured gardens that offer a stately background for an outdoor ceremony and reception.
One of the most popular event spaces for a ceremony is the rose garden, adjacent to the manor. The combination of this classic type of garden and the historic building imbues the wedding day with timeless elegance. After the ceremony, guests will migrate to the glass Garden Pavilion that has dazzling chandeliers and a pitched ceiling draped in fabrics.
When you book a wedding at this estate, you gain exclusive access to the manor and grounds and a wedding designer that provides all the wedding planning services you'd expect. This includes coordination for the timeline, budget, event flow, design elements, and more. As an added perk, the estate offers an abundance of envy-worthy backdrops for photos.
Typical Cost: Starts at $6,000
Capacity: 325
Bonus: Funky's Catering, the onsite catering company, provides a tasting of menu options and is able to accommodate pretty much any culinary request.
Find Pinecroft at Crosley Estate on Facebook and Instagram.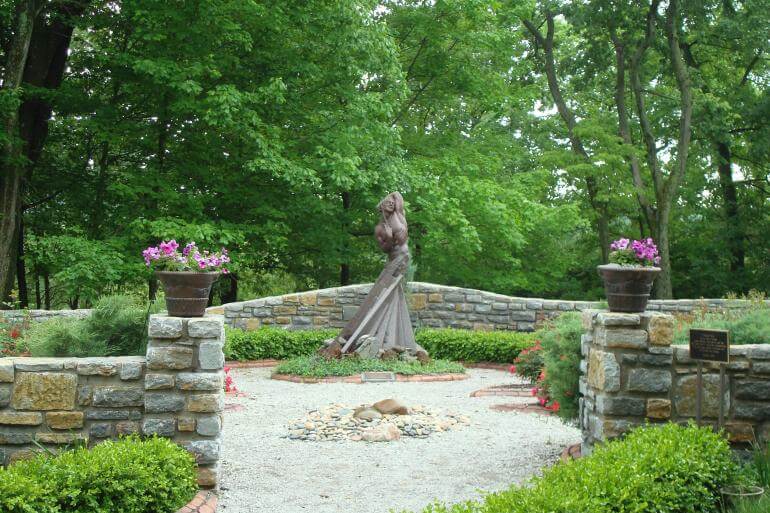 A unique wedding venue in Cincinnati, Pyramid Hill Sculpture Park & Museum is a wonderland composed of manmade and nature-made marvels. One of the most acclaimed wedding ceremony sites is a grassy area that sits on the edge of the forest and includes a semi-circle trellis that sits atop a series of columns. There are also an array of other areas for ceremonies, offering views of many large sculptures scattered throughout the grounds.
For the wedding reception, you can choose between a variety of beautiful spaces. One alfresco option is the patio of the museum that features stone walkways and alcoves. Larger groups can utilize the pavilion that has stone columns and wood triangle frames along the back wall, offering a compelling visual. The pavilion also provides a scenic view of Lake Nanci and numerous sculptures.
Typical Cost: $250 – $1,500 for ceremony; $1,750 – $4,000 for a reception
Capacity: 300
Bonus: You can upgrade your wedding package to gain access to the Ancient Sculpture portion of the museum.
Find Pyramid Hill Sculpture Park & Museum on Facebook, Instagram, and Twitter.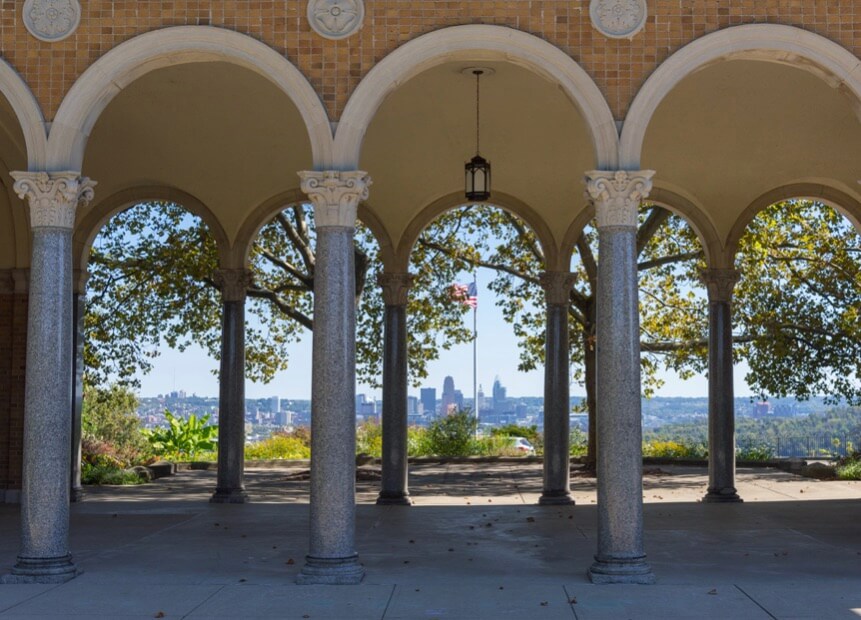 The majestic Mt. Echo Park Pavilion, located by the border of northern Kentucky, has sweeping views of the city and breathtaking swaths of nature. One of the most dramatic sites for a ceremony or reception is the park's enormous, Italianate-styled stone and marble pergola that's large enough to provide a covering for a dance floor and tables. The structure was built in 1929 and is one of the most impressive sights in all the Cincinnati parks.
For larger weddings, a tent can be attached to the side of the pergola for added space. Additional sites for ceremonies include areas located on the rolling green hills in the park, many of which back up to forests. There's a prime hilltop location that looks out over the Ohio River and city.
Typical Cost: $1,200 – $1,400 for a ceremony and reception; includes 6 hours of event time
Capacity: 150
Bonus: The Buckeye and Sycamore trees throughout the park add a bucolic vibe to nuptials.
Find Mt. Echo Park Pavilion on Facebook.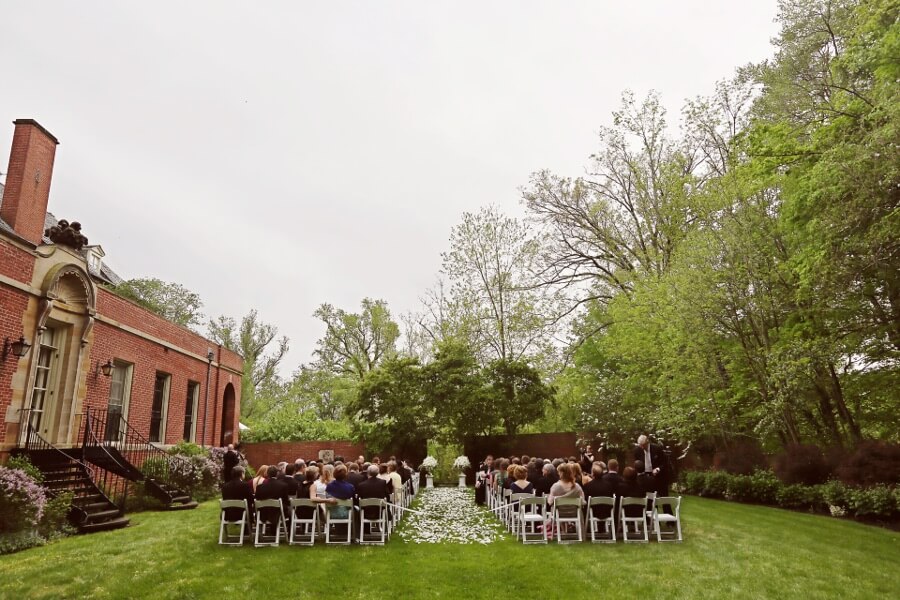 Peterloon is the epitome of elegance and perfect for the couple wanting a classic wedding. Constructed in 1928, this incredible manor was inspired by European castles and estates. It also features architectural and design gems, such as a 400-year-old oak parquet de Versailles floor in the living room and dining room and a 16th-century Inigo Jones mantelpiece in the front hall.
The exterior is just as impressive with carvings and sculptures of animals, including snails, dolphins, a rooster, and puppies. The grounds also wow, as the property was carefully selected with the intent of highlighting the mesmerizing elements of nature.
For smaller ceremonies, the perfect event space is a hidden garden at the end of a tunnel of natural foliage. Larger ceremonies and receptions can take place in the two-tiered backyard that has a hardscape terrace and is surrounded by lush trees. The yard can accommodate various-sized tents and a dance floor.
Typical Cost: Starts at $7,000
Capacity: 250
Bonus: The swimming pool, which doubles as a fountain, is a perfect spot to snap unique wedding photos.
Find Peterloon on Facebook and Instagram.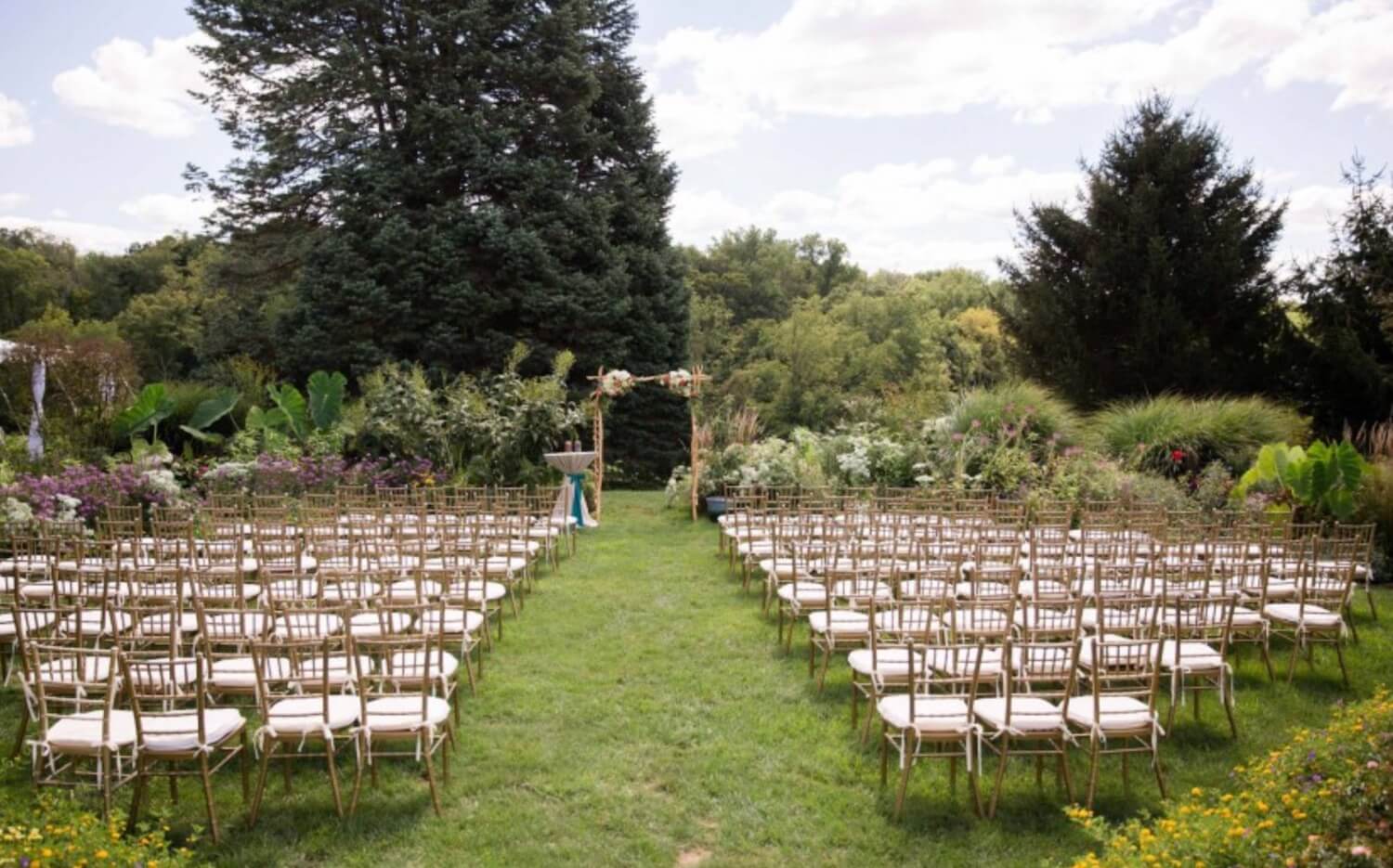 An incredibly scenic wedding venue, the 275-acre French Park is a great venue for couples wanting the wonders of nature to be a focal point of their nuptials. Grassy lawns, sprawling displays of trees, and colorful flowers make the grounds of this park truly awe-inspiring.
And then there's The French House, the park's historic brick home built in the early 20th-century, which has a series of entertaining rooms and terraces that exude classic charm and open to serene meadows. Ceremonies can take place in one of the many terraces, under the gazebo, or in the verdant lawns or gardens. Meanwhile, receptions often unfold on the lawn where a large tent can be constructed in case of inclement weather.
Typical Cost: $1,400 – $3,600 for a ceremony and reception; includes 6 hours of event time
Capacity: 450
Bonus: The venue offers bridal suites that provide an elegant space to prepare for the big day.
Find French Park on Facebook.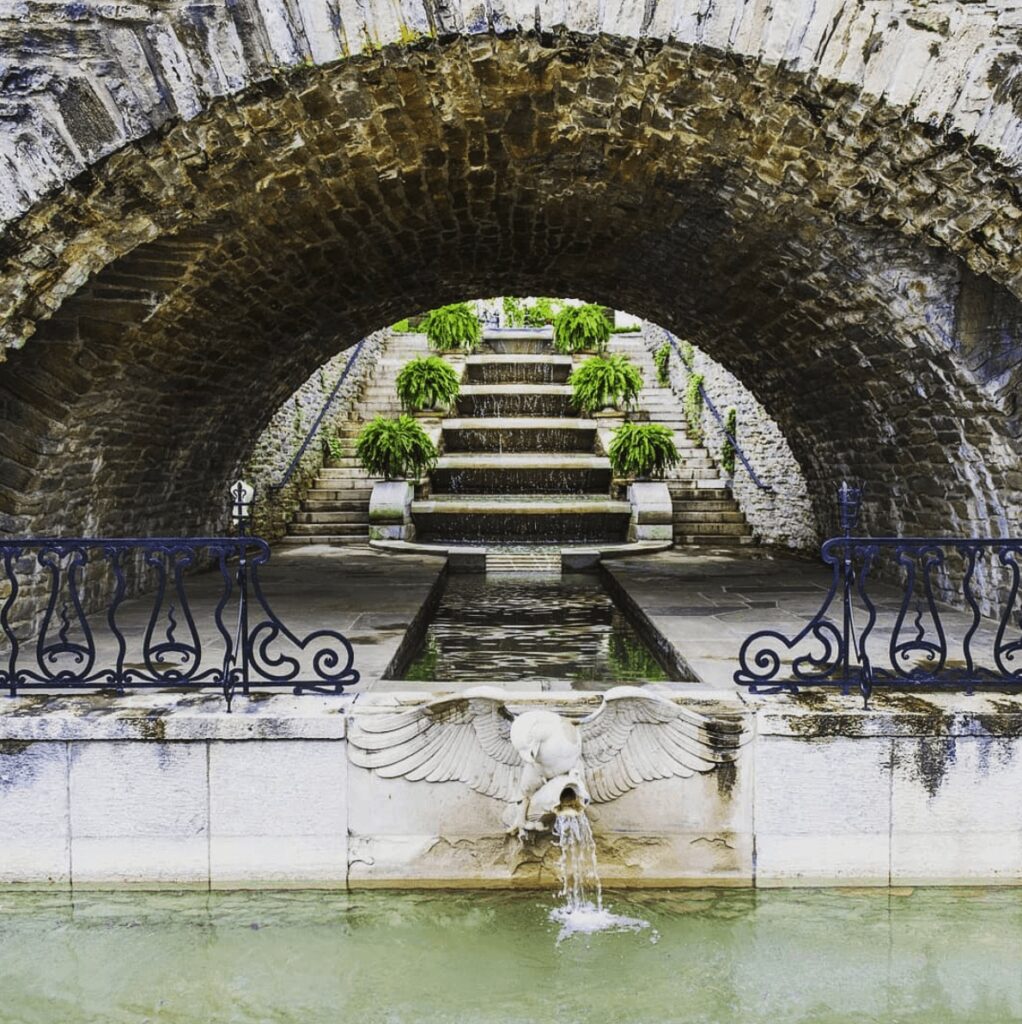 The chic Greenacres Arts Center is minutes from downtown Cincinnati and offers a jaw-dropping variety of ceremony and reception sites. Sitting on 600 acres of rolling hills, the grounds provide numerous manicured gardens, fountains, and a cascading fountain and moat. There's also a fully-restored, English Norman-style manor house, boasting a 1925 Aeolian Organ and Steinway Grand Piano and other sophisticated touches.
Ceremonies can take place on a large paved path under a canopy of trees, in the formal gardens, on the terrace, or in one of the other gorgeous spaces throughout the property. Many of the ceremony sites provide views of the Little Miami River Valley.
Most receptions occur in the state-of-the-art, 8,000-square-foot Grand Tent that features air conditioning and massive windows and can accommodate large hanging installations, hanging textiles, and chandeliers. An open-air reception can also be hosted on the lawn.
Typical Cost: $7,500 – $17,000 for a ceremony and reception; includes 12 hours of event time
Capacity: 400
Bonus: The venue provides kitchen facilities in addition to dressing areas for the wedding party.
Find Greenacres Arts Center on Instagram.