St. Louis, Missouri is a captivating city rich in charm, culture, and gorgeous expanses of nature. Couples flock to this area for its variety of outdoor event spaces that provide the perfect backdrops for dream weddings. We combed through the many amazing St. Louis wedding venues with alfresco settings and picked the best. Our selections range from a classic botanical garden and an elegant rooftop to a sprawling farm and an edgy mansion filled with eclectic art. There's something for everyone among these five best outdoor wedding venues in St. Louis.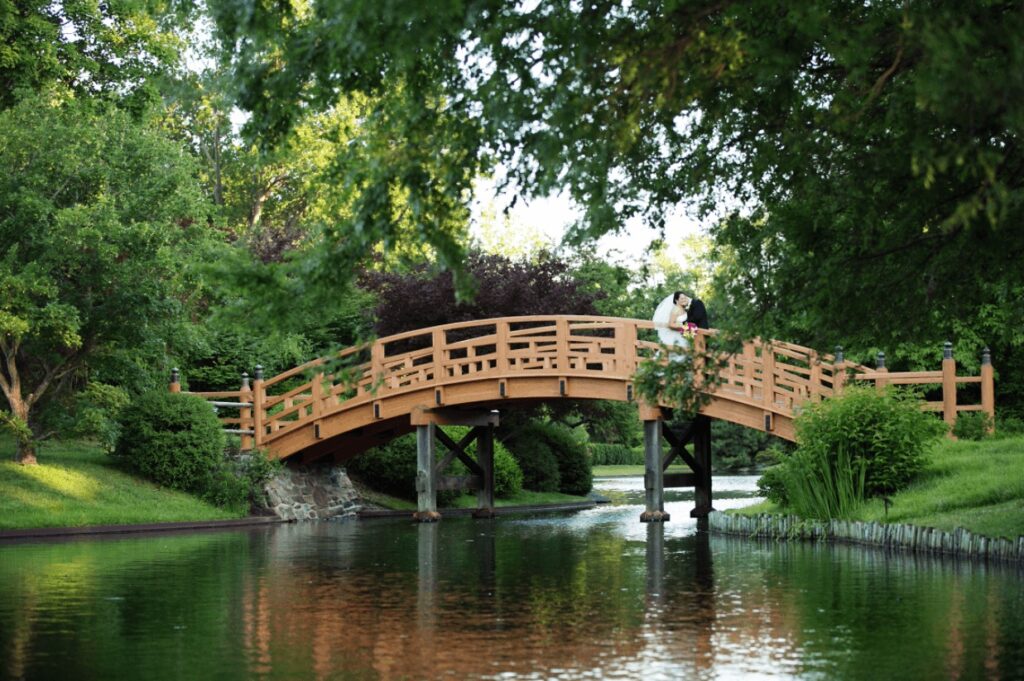 Say "I do" amid a sea of roses, atop a historic Japanese footbridge, or beside whimsical fountains at Missouri Botanical Garden. This 79-acre space is filled with a variety of lush foliage, elevating your garden wedding with fresh, floral fragrances and stunning surroundings.
The most popular settings for a wedding ceremony include the Japanese Garden, Lehmann Rose Garden, Boxwood Gazebo, and Chinese Garden. The Japanese Garden is a serene 14-acre expanse that includes a large lake and historic bridge. In the rose garden, winding paths lined by roses lead to a charming gazebo and fountain. The Boxwood Gazebo is ideal for an intimate outdoor ceremony and features "leaping water" fountains. Meanwhile, the Chinese Garden wows with its hand-carved, white marble bridge over a small stream and traditional Chinese pavilion.
The most beautiful event spaces for an outdoor reception include the Spoehrer Plaza, centered around a spectacular fountain, and the Milles Sculpture Garden that has three large reflecting pools adorned with tropical water lilies. If you want a magical al fresco wedding, this is the place.
Typical Cost: Starts at $2,000
Capacity: 25 – 200, depending on the event space
Bonus: You have access to almost all of the gardens for wedding day photos.
Find Missouri Botanical Garden on Facebook, Instagram, and Twitter.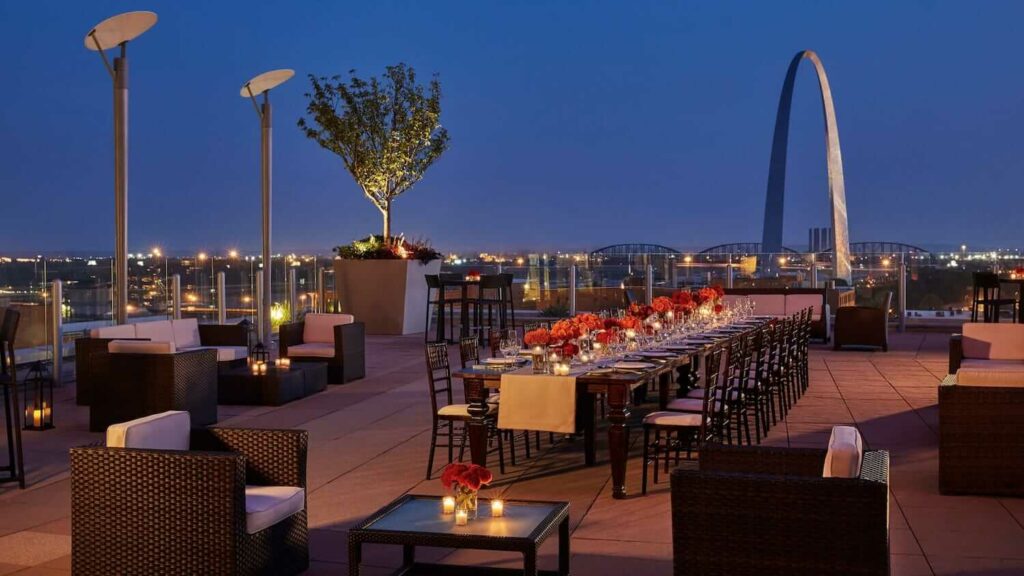 A chic ceremony and reception venue that seems to float above Downtown St. Louis, Sky Terrace at Four Seasons Hotel St. Louis is great for couples that want an outdoor wedding with a cosmopolitan flair. One of the defining features of this sophisticated venue is the Gateway Arch that dominates the skyline. Both the arch and the tranquil waters of the Mississippi River create striking focal points.
This event space offers ultimate ease with top-notch wedding planning experts and essential services like floral design, catering, wedding cake preparation, and transportation. The happy couple and their guests can also treat themselves to rooms at this luxury hotel, and indulge in the spa and beauty treatments in preparation for the big day. If you want a deluxe outdoor wedding experience, from the rehearsal dinner to the reception, say "Yes" to the Four Seasons' Sky Terrace.
Typical Cost: Starts at $125/per person
Capacity: 175
Bonus: The venue can arrange live jazz music and a fireworks show.
Find Sky Terrace at Four Seasons Hotel St. Louis on Facebook, Instagram, and Twitter.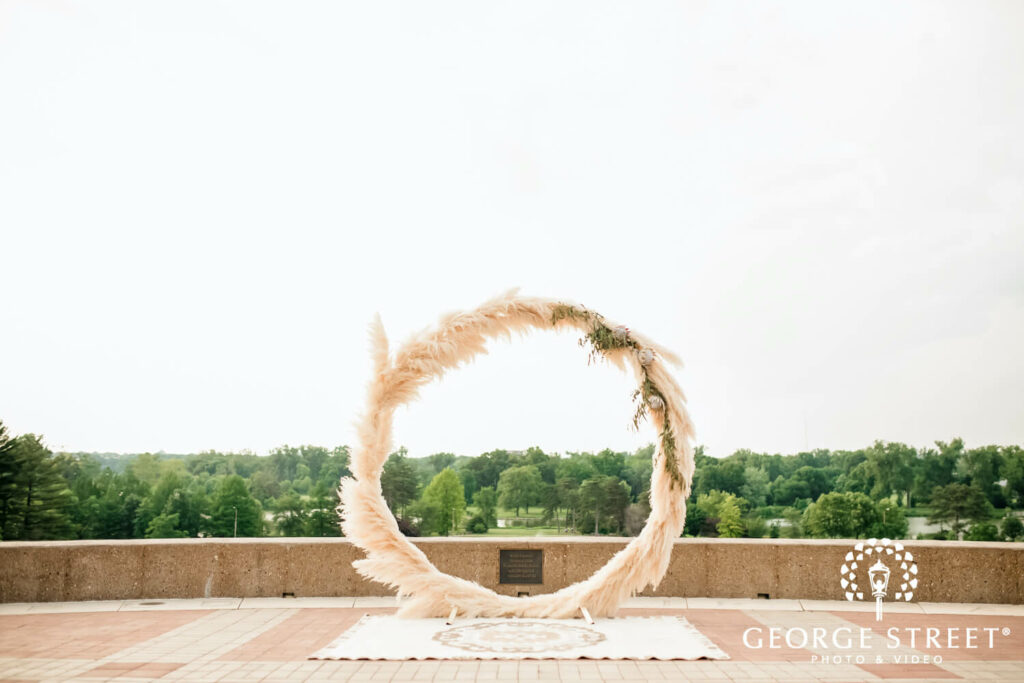 One of the most stately venues in the St. Louis area, World's Fair Pavilion combines historic architecture with breathtaking views and water features. The open air pavilion was built in 1909 with proceeds from the 1904 World's Fair, and is situated on top of Government Hill. A popular feature of the structure is its soaring arches that frame sweeping views of Forest Park.
This is a great space for a larger wedding, as it can accommodate 500 people. It also boasts a new catering area that provides access to water and plenty of space for caterers to work their magic. Couples that want historic significance woven into their nuptials will appreciate this spectacular venue.
Typical Cost: $1,475 – $2,350 for a ceremony and reception
Capacity: 500
Bonus: You can easily adjust the mood of the reception with dimmer switches that can shift the celebration from dinner to the dance floor.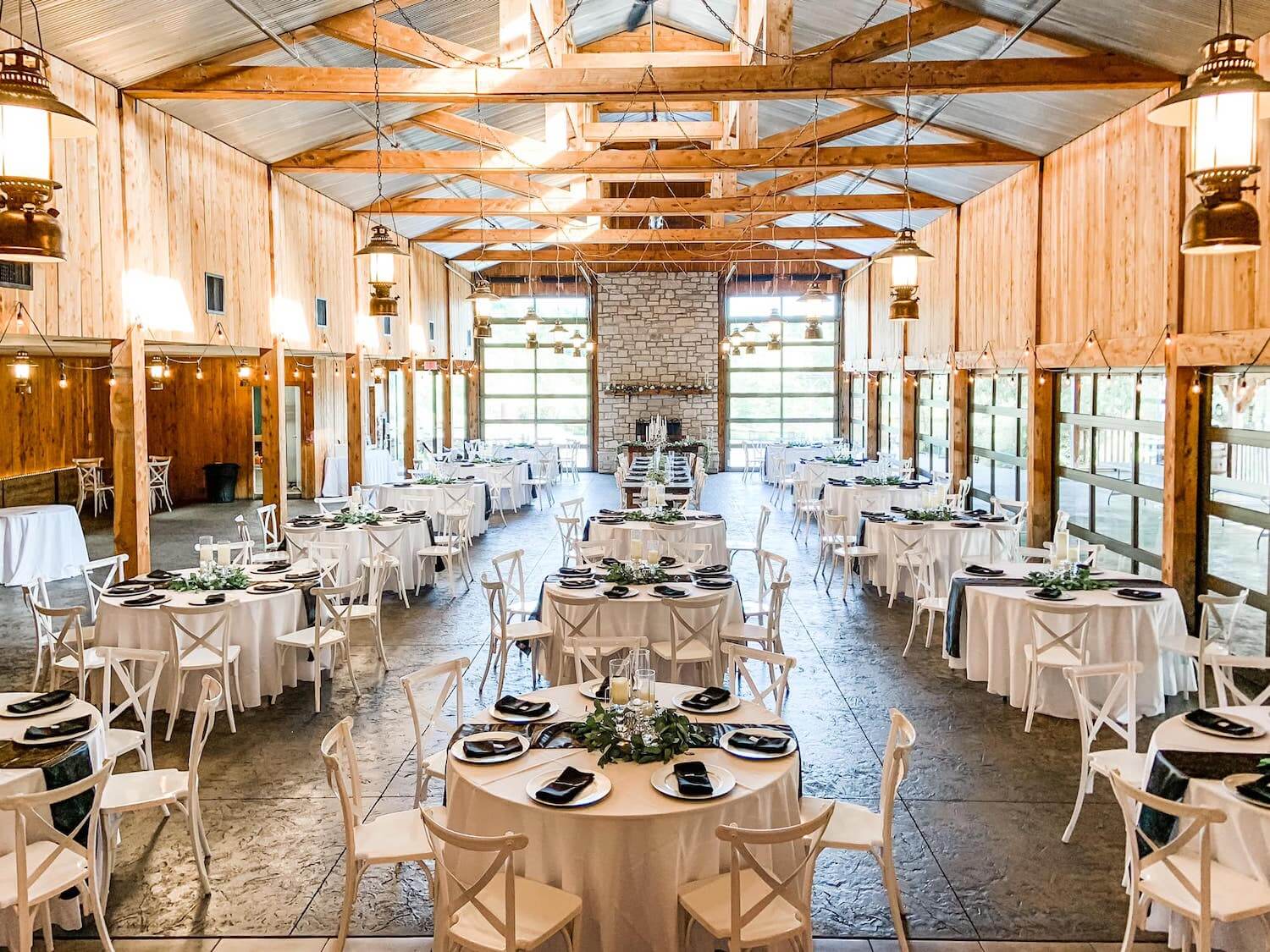 Owned by the same family for over 125 years, Haue Valley is all about sentimentality. This family has opened their 246-acre farm to couples wanting to pledge their love in a bucolic wonderland of rolling hills, an impressive reception space made from cedar sourced from the land, and natural water features.
A perfect setting for an outdoor ceremony is the large stone patio that looks over the verdant landscape, making this event space so special. After tying the knot, you'll head into the cedar barn that impresses with high ceilings and a rustic aesthetic that helps it blend in with its surroundings.
A unique perk of this venue is that it provides a staggering amount of decorations for free. For the ceremony, couples can choose from a floral wreath, arbor, barrels, archways, a wooden cross, and more. Special pieces for the wedding reception include upscale centerpieces, lanterns, candlesticks, terrariums, table numbers, faux greenery, and floral display items.
Typical Cost: $3,750 – $6,450
Capacity: 200
Bonus: The venue partners with a range of caterers, meaning you'll have a variety of choices when it comes to cuisine and price.
Find Haue Valley on Facebook and Instagram.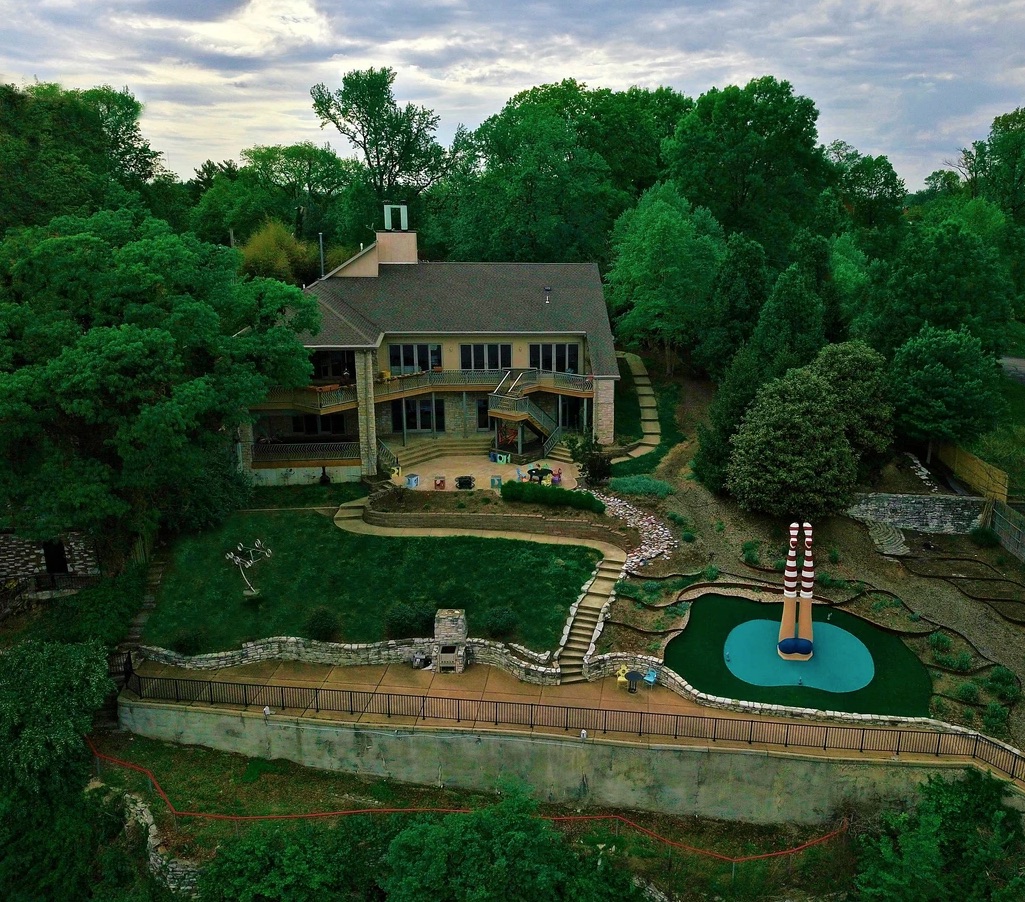 For a truly unique wedding, consider The Bluffs on Broadway. This eccentric wedding venue includes a 6,000-square-foot mansion on the banks of the Mississippi River that's filled with eclectic artwork. It makes you feel like you've landed in a livable, contemporary art gallery.
But the venue really gets wild when you head to the outdoor space. One of the most defining features of the property is a massive sculpture called The Legs that depicts the lower half of a woman — clad in striped red-and-white socks and a blue bathing suit — diving into a pool. The Legs are complemented by additional lawn art, kinetic sculptures, and a waterfall.
The venue provides a range of bar packages and allows you to choose your own caterer. The rental fee includes exclusive use of the house and lawn, parking, tables and chairs, a facility manager, art centerpieces, and an extensive audiovisual system.
Typical Cost: $795 – $2,000 for a ceremony; $1,500 – $2,000 for a reception
Capacity: 150
Bonus: With all of the quirky elements, your wedding photos are sure to be one-of-a-kind.
Find The Bluffs on Broadway on Facebook, Instagram, and Twitter.