Composed of the most enchanting islands in French Polynesia, Tahiti and Bora Bora are highly popular sites for honeymooners. These stunning honeymoon destinations offer white-sand beaches, overwater bungalows, blue lagoons, and other features that are ideal for a dreamy, romantic getaway. From logistics to locations to the best resorts, we've rounded up everything you need to know to craft a perfect Tahiti and Bora Bora honeymoon.
Basic Travel Information
Getting there
You'll fly into Fa'a'a International Airport, likely on Air Tahiti Nui, one of the most popular airlines with regular flights to the South Pacific. This airport is on Papeete, the main island of Tahiti. After landing, you'll then take a smaller plane or boat to your destination island if you're not staying on the main island.
COVID-19 travel considerations
While the islands of Tahiti have re-opened to tourists, there are some restrictions. Prior to boarding, you must provide proof of a negative RT-PCR COVID-19 test taken within 72 hours of departure time, and present a receipt of the health registration from the Etis.pf platform. You're also required to complete a self-test four days after you arrive on the islands.
When to go
The weather in this area is almost always good, with average temperatures falling in the 80s year-round. But if you prefer the weather to be a bit warmer and more humid, go between November and April. If cooler, dryer weather sounds more appealing, plan your honeymoon for sometime between May and October.
Tahiti and Bora Bora Honeymoon Travel Tips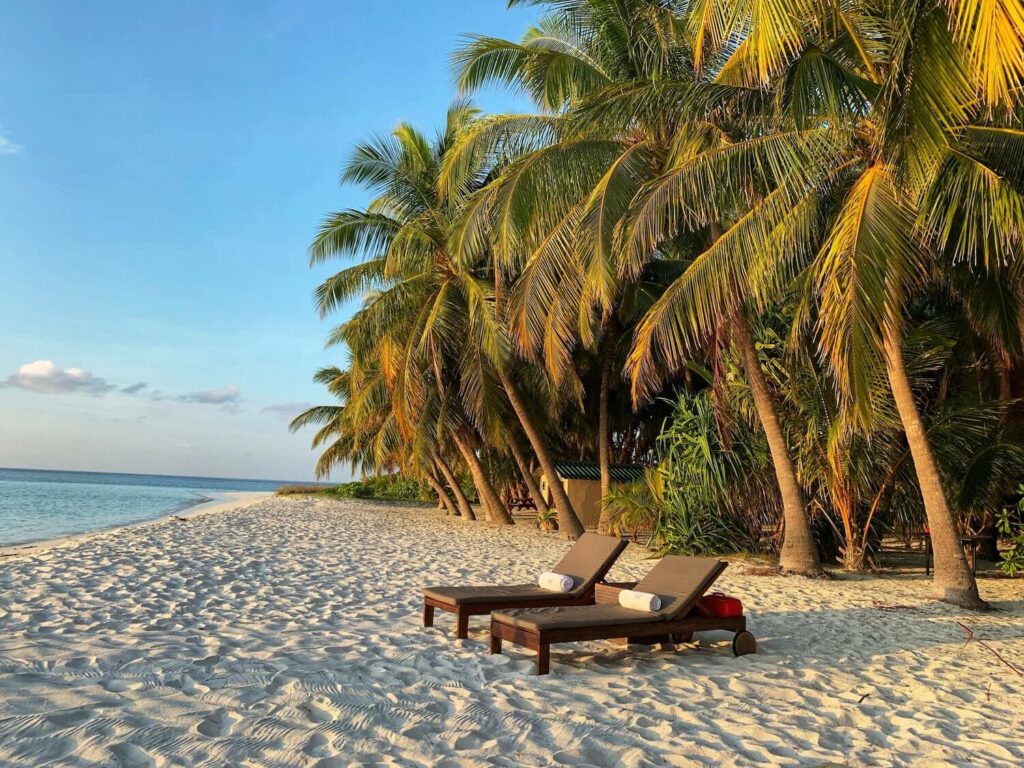 Consider the following tips to make sure you have the honeymoon of your dreams.
Look into a vacation package. As Tahiti and Bora Bora are acclaimed honeymoon destinations, many of the resorts provide honeymoon packages that include things like airfare, accommodations, spa treatments, meals, activities, and more. Once you have an idea of costs, you can also set up a honeymoon registry so your wedding guests can help fund your dream getaway.
Consider splurging on an overwater bungalow. This highly-coveted type of lodging was born in Tahiti, allowing you to spend your honeymoon lounging atop the crystal clear waters of the South Pacific. Many couples consider the extra funds this requires well worth it.
Stay on Moorea or Huahine if you're looking to save. While islands like Bora Bora can come with a high price tag, Moorea and Huahine offer more affordable options. Fortunately, this affordability doesn't require you to sacrifice scenic beauty.
Learn a few Tahitian and French phrases. English is widely spoken on these islands, but many vendors in the markets, and locals in 'off the beaten path' areas, aren't always fluent. It's wise to learn a few key Tahitian and French phrases before you go.
The Best Islands in French Polynesia
Many couples decide to island-hop during their honeymoon, staying a few nights in two or three of the more popular islands. In addition to Tahiti and Bora Bora, here's a glimpse of those destinations, many of which are part of a group called the Society Islands.
Tahiti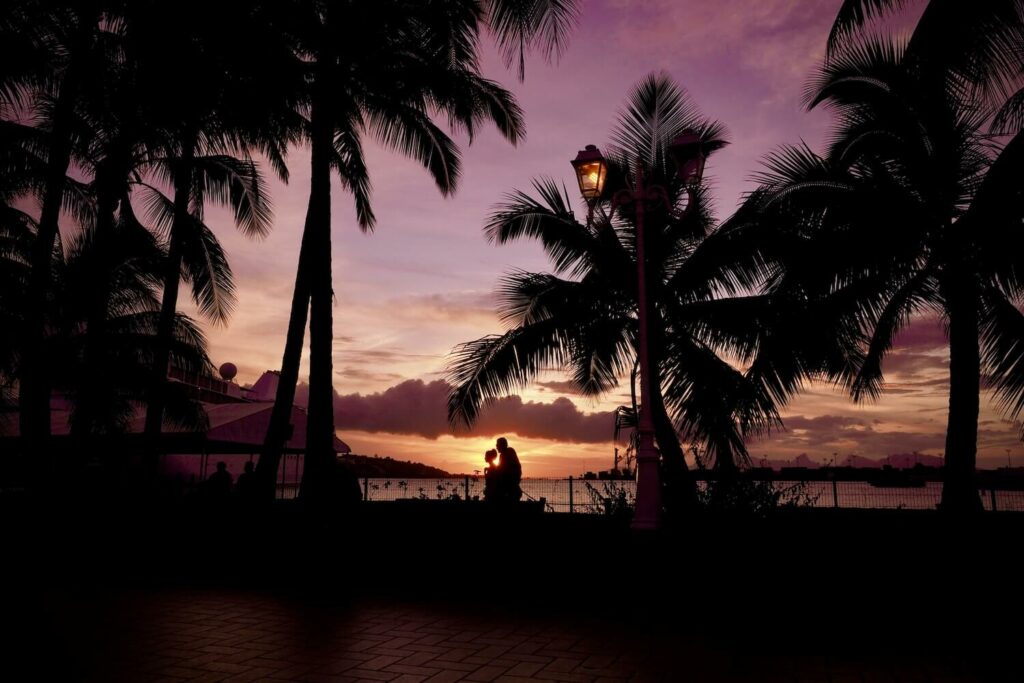 The largest island in French Polynesia, Tahiti is composed of two sections that include Tahiti Nui in the northwest, and the smaller Tahiti Iti in the southeastern portion of the island. Tahiti Nui is known for its three extinct volcanic mountains, Mount Orohena, the tallest in French Polynesia, Mount Aorai, a great place for scenic hikes, and Le Diadème, which provides a stunning focal point. Tahiti Iti is a great place to explore Polynesian villages, lounge on a beach, and check out archeological sites and caves.
Bora Bora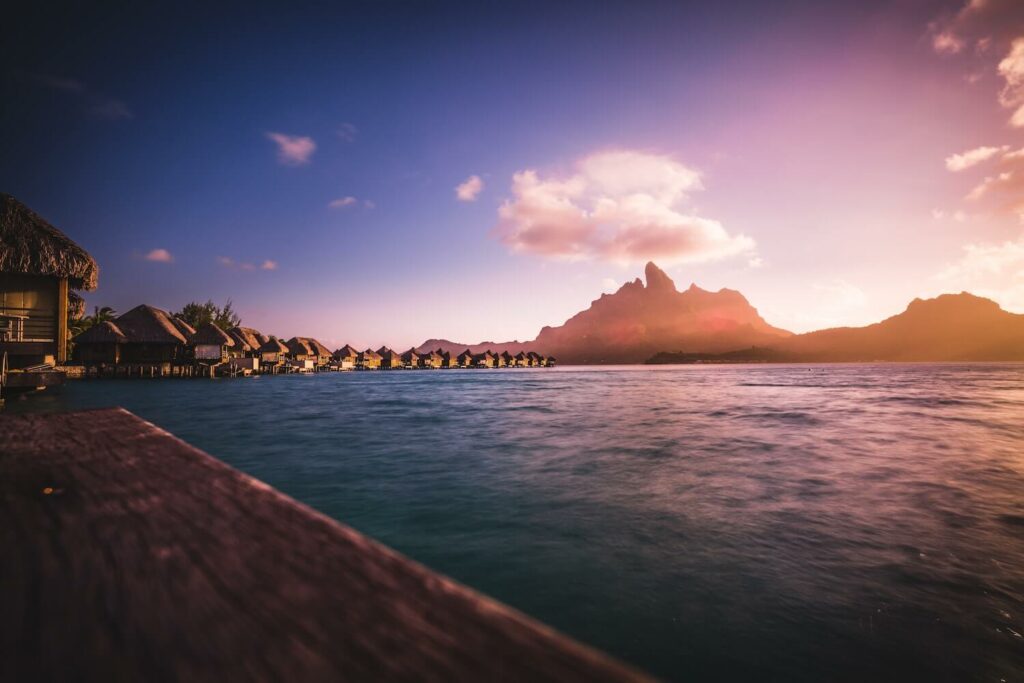 The golden child of the South Pacific, Bora Bora is a wonderland of towering peaks, sand-kissed islets, and aquamarine lagoons surrounded by coral reefs. This is the island to visit if you want ultimate luxury and don't mind paying higher prices. In addition to the luxury, Bora Bora offers ample adventure with shark and stingray feedings, snorkeling, hikes on trails that weave up the sides of Mount Otemanu and Mount Pahia, and jet ski excursions around the island.
Moorea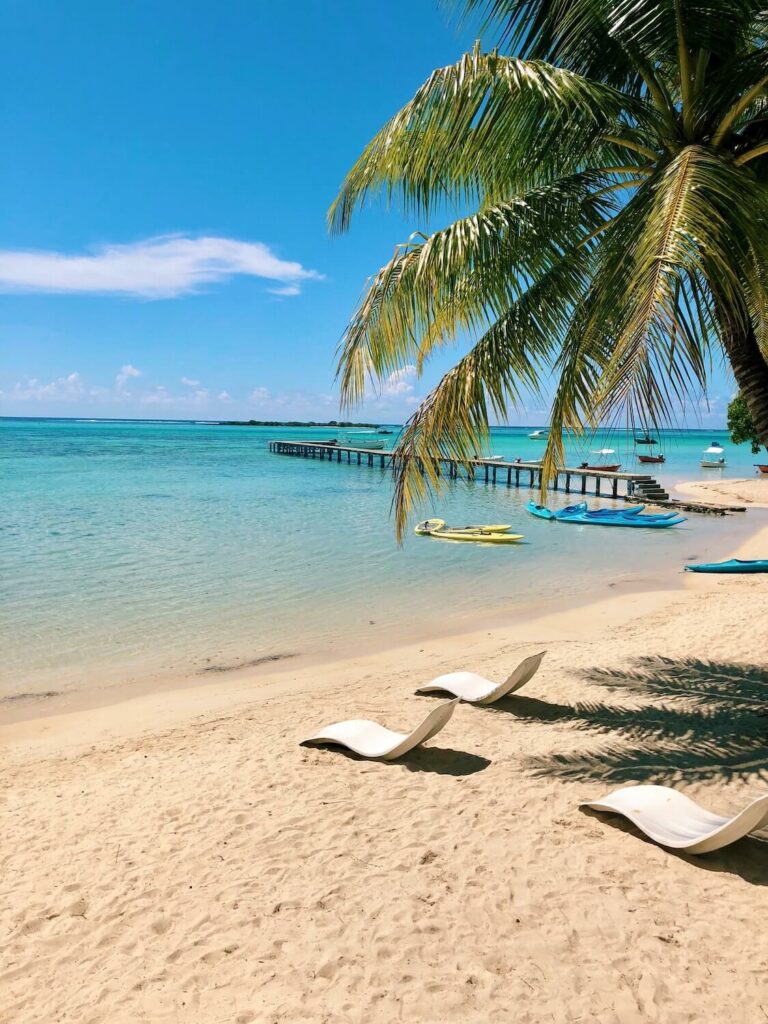 Bora Bora's sister island, Moorea is said to have inspired the mythical island Bali Hai in the film South Pacific. It offers a lagoon with water so clear you feel like you're floating on air when you swim in it, expanses of powder-soft sand, and eight emerald peaks cascading into the ocean. Highlights of the island include Opunohu Bay, a lagoon featuring world-renowned snorkeling, and Belvedere Lookout that offers gorgeous views of the island's mountainscapes and bays.
Huahine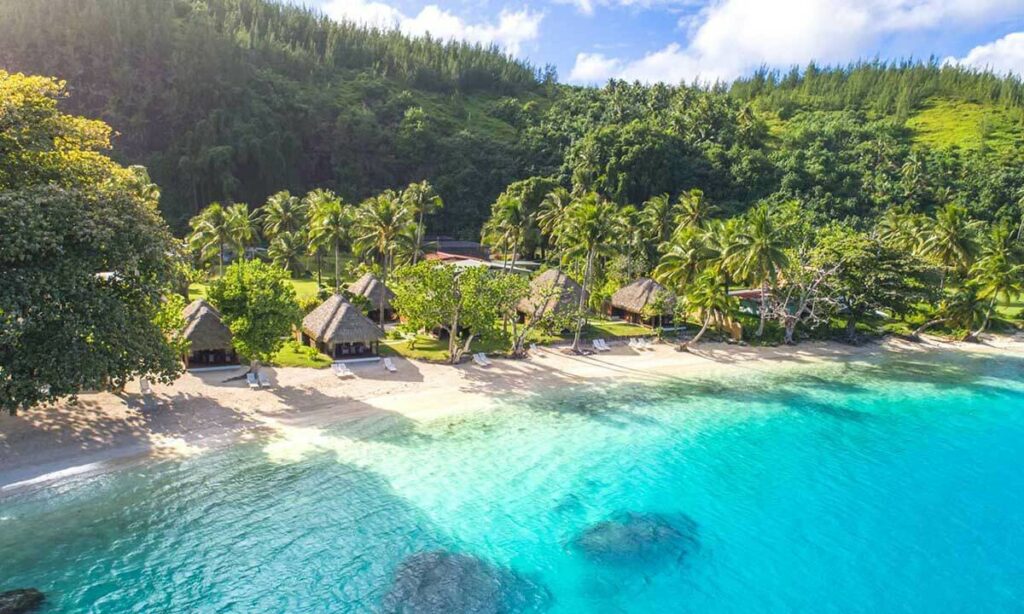 One of the more affordable islands in French Polynesia, Huahine is a great place if you want to experience the wonders of the tropics while staying within a more modest budget. The two islands that make up Huahine are covered in lush forests and dotted with villages that offer a look into the authentic culture of this area. This is an ideal place to enjoy a slower-paced getaway.
Rangiroa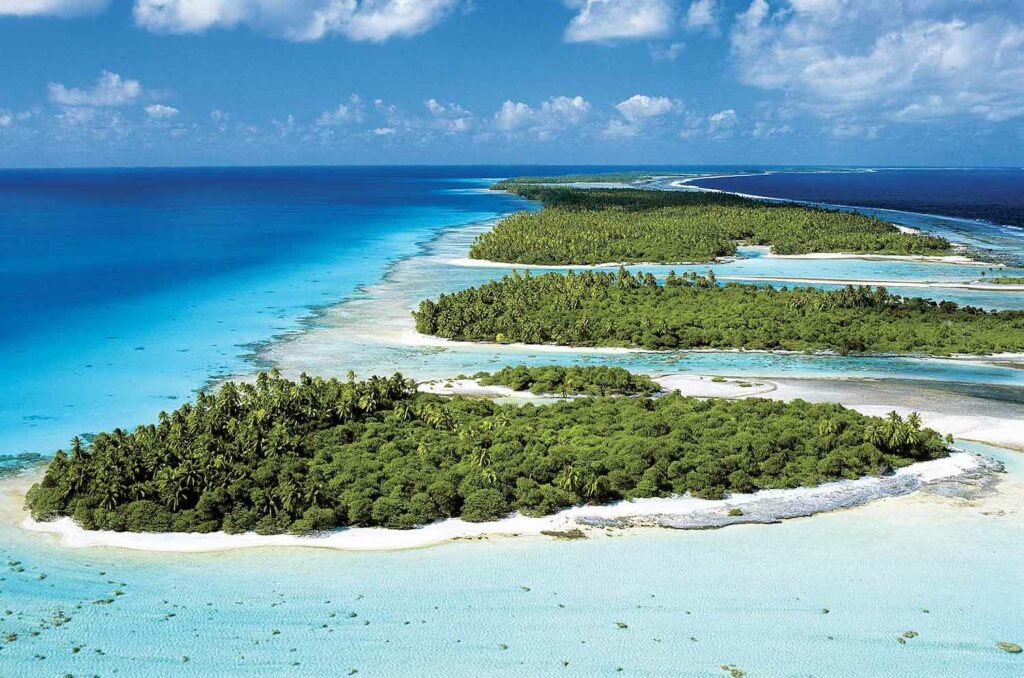 This collection of 415 picturesque motus, islets, and sandbars is a must-see if you love scuba diving and snorkeling. The islets form a loop around a deep lagoon and offer ample opportunity to dive with sharks, bottlenose dolphins, and a range of other sea creatures. While these atolls don't offer views of soaring mountain peaks, they do offer tranquil views of what feels like an endless, blue horizon.
The Best Tahiti and Bora Bora Honeymoon Resorts
In addition to natural beauty, French Polynesia has incredible resorts. Many of them feature the lavish, overwater villas you might picture when dreaming about your ideal honeymoon. But these resorts don't just offer amazing accommodations — they also offer five-star restaurants, seemingly endless outdoor activities, and spas that seem to melt away all worldly concerns to create a tropical wonderland. Here are some of the top Tahiti and Bora Bora resorts that will elevate your honeymoon.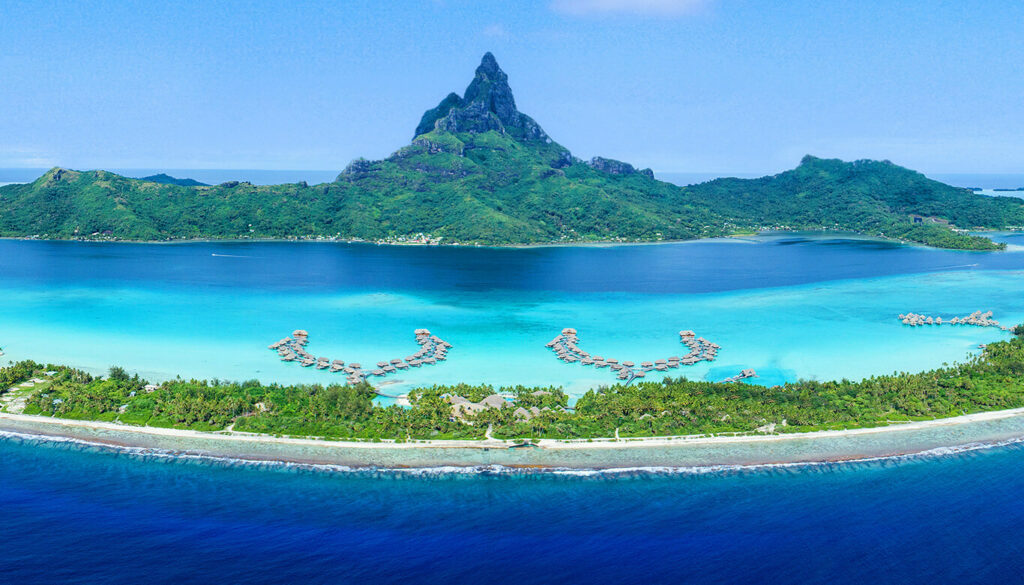 When you think of the perfect honeymoon in Bora Bora, we can almost guarantee your visions match the reality of the Intercontinental Bora Bora Resort. This idyllic, eco-conscious property faces the impressive Mount Otemanu and is encircled by 30 acres of tropical gardens. Many of the rooms are overwater villas that provide spectacular views of the mountain, the resort's white-sand beaches, and the pristine lagoon.
An ideal day at this resort is food being delivered to your overwater villa via a traditional va'a outrigger canoe coated in flowers. You can then take a private cruise around the lagoon, exploring the best snorkeling spots, and swimming with turtles, rays, and tropical fish. From there, enjoy a sunset dinner at a table set in the shallows of a private beach, allowing you to dip your feet in the clear water while enjoying a gourmet picnic of fresh seafood, roast chicken, and salad.
When you're craving activity, indulge in the resort's offerings of helicopter tours, parasailing, and sunset cruises on outrigger canoes. When it's time to relax, head to the Deep Ocean Spa, which uses mineral-rich water drawn from the depths of the Pacific Ocean for many of the treatments. Favorite spa treatments include body scrubs, detoxifying wraps, and massages.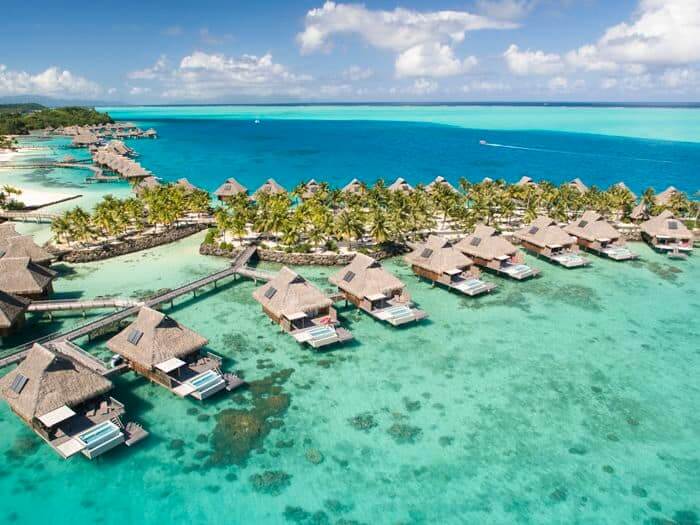 Nestled on a private island set to the backdrop of Mount Otemanu, Conrad Bora Bora Nui is a newly-renovated resort that provides a mesmerizing honeymoon setting. The overwater villas seem to float atop an aquamarine lagoon and are a short walk from beaches with powder-soft sand. A popular choice for honeymooners is the King Deluxe Overwater Villa, featuring fully-retractable windows, an overwater hammock, a plush, king-size bed, and other luxurious elements.
When you're not lounging in your villa, you can dine at one of the resort's six restaurants, or engage in activities like hiking, snorkeling, kayaking, stand-up paddleboarding, or riding on bicycle boats. The resort can also organize a swim with sharks if you have a taste for adventure. More laid-back options include lessons on how to play the ukulele and speak Tahitian, and spending a day on the resort's private islet, Motu Tapu, where you can enjoy a chef-prepared picnic and champagne.
And then there's the spa. Hina Spa is located on the hilltop among volcanic rock and offers an array of treatments, many of which are designed specifically for couples.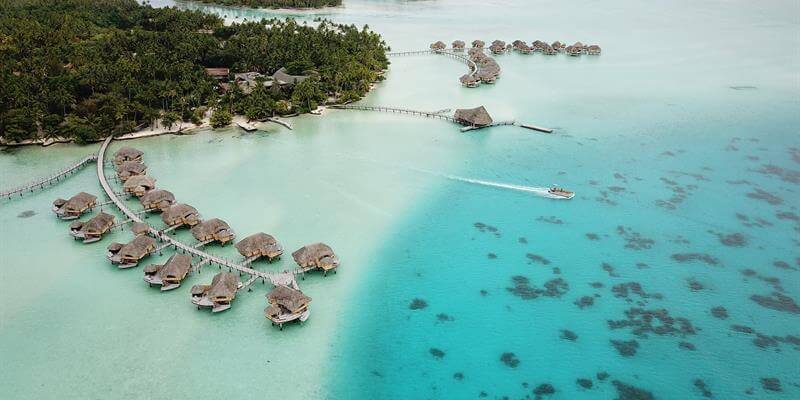 A five-star property located on its own motu, or small islet, Le Taha'a Island Resort & Spa was inspired by traditional Polynesian architecture and style, helping you feel immersed in the local culture. You can discover this culture in the three restaurants that offer creative, delicious menus with a French influence. In addition to a restaurant setting, you can even enjoy a private picnic or romantic dinner by the lagoon.
This is another resort that offers the traditional overwater suites and villas, but because there are only 57, you're guaranteed to have ample privacy during your stay. Beyond the elegant walls of your villa, you can also explore the warm waters surrounding the resort through snorkeling or scuba diving, tour a vanilla plantation and rhum distillery, or engage in a range of other adventures.
After a day of action, you can journey to the spa that's set in an exotic garden encircled by bamboo trees and overlooking the inland lagoon. It offers massages, body scrubs, and wraps, and a whirlpool that's a welcome refuge after a long flight or a day spent paddling through the clear waters.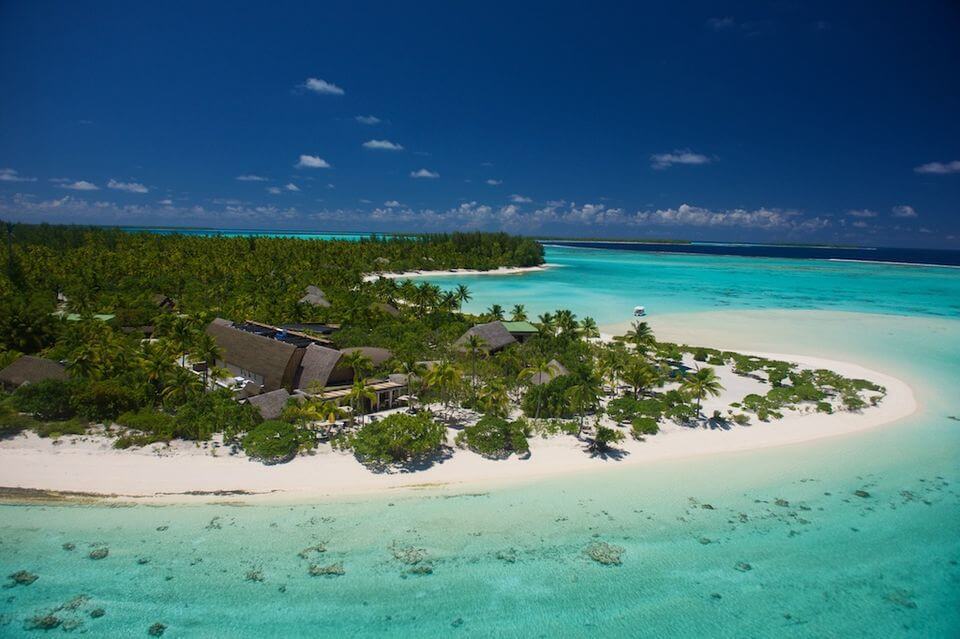 One of the most exclusive resorts in French Polynesia, The Brando is an elegant property set on the private island of Tetiaroa, an atoll made up of a dozen small islands that wrap around a lagoon. This elite resort can only be accessed by private plane and includes 35 highly-coveted villas set on the edge of pristine beaches. The One Bedroom Villas are perfect for a honeymoon and include cozy furniture, a media room, a walkthrough dressing area, a bathroom with an alfresco tub and wooden privacy screen, and a private pool. Meanwhile, the beaches surrounding the villas are dotted with pandanus, miki miki, and coconut trees.
For activities, The Brando provides a mix of cultural enrichment and outdoor stimulation. The Library and Explorer Center provides books about French Polynesia and lectures and demonstrations about Polynesian culture, history, and lifestyle. When you're ready to get outside, hop on a bike, go bird watching, snorkel, dive, or stand-up paddleboard. The water sports are some of the resort's most popular activities, as they allow you to commune with the sea turtles, manta rays, and a menagerie of other exotic animals that frequent the waters.
To replenish reserves, explore the menus at one of the resort's many restaurants, which provide Polynesian-inspired dishes, East/West fusion, and classic French cuisine, all designed by Executive Chef Pierre Lecorne. You can also head to Varua Te Ora Polynesian Spa for rejuvenation. The spa is situated on a pond in the heart of the atoll and leans on beauty rituals that royals who used to retreat to this island indulged in.
Imagine walking into your honeymoon suite to find a bed covered in fragrant, tropical flowers shaped into a heart. You can have this experience at the Sofitel Kia Ora Moorea Beach Resort, which offers overwater bungalows that help you slip into the soothing waters of the lagoon from a private platform, enjoy the exotic views from a solarium, and settle into an ultimate state of relaxation. If you opt for the Luxury Horizon Overwater Bungalow, you'll receive in-room private check-in, a bottle of champagne upon arrival, an on-call concierge, a free minibar that's refilled every day, and a glass floor view panel.
This resort also has an extensive array of romantic packages that are ideal for honeymooners. Top choices include Magnifique Gourmet Day, Dinner on the Beach, and La Vie En Rose. The Magnifique Gourmet Day includes breakfast in your room, a 30-minute photoshoot, a romantic champagne dinner by the lagoon, and a flower bed upon your return to your bungalow. The Dinner on the Beach package offers a table at the edge of the lagoon, a four-course dinner, and a bottle of champagne. With the La Vie En Rose package, you'll receive a couple's massage and jacuzzi soak, champagne, private transfer to your bungalow, a bed coated in fresh flowers, a room glowing with candles, and a butler who serves a three-course dinner in your bungalow.
Adding to the richness of a stay at this resort, Le Jardin Spa & Beauty offers treatments that utilize pure essential oils and natural exotic ingredients.
Up Next:
Whether it's for airfare, a hotel stay, or honeymoon travel experiences, create one list for all your honeymoon wishes.