The historic city of Baltimore, Maryland is home to a tapestry of wedding venues that are both stunning and romantic while also being surprisingly affordable. From event spaces that highlight the natural beauty of the city's waterways to areas that feature eclectic pieces of art, this city has a lot to offer for one of the happiest days of your life. We've rounded up a handful of the best affordable wedding venues in Baltimore to help you kick off your search.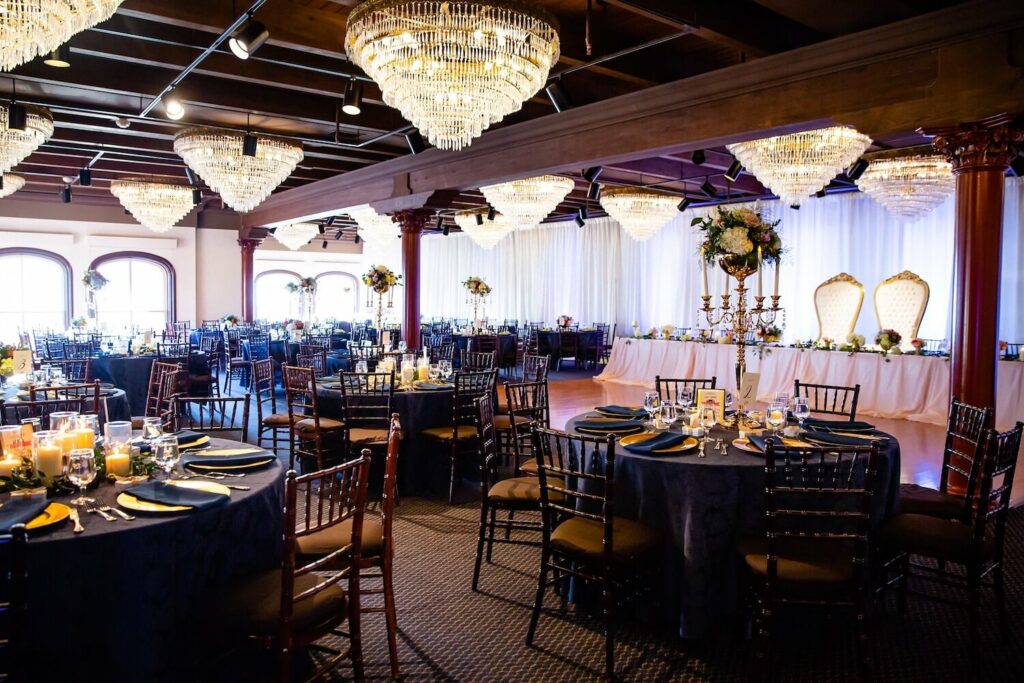 Located in downtown Baltimore, in the 1840s Carrollton Inn, 1840s Plaza is filled with old-world glamour and perfect for a couple wanting a vintage-style wedding day. Many couples choose to have an outdoor ceremony in the serene garden courtyard that glows under bistro lights. The venue, which boasts an impressive red-iron façade, has three indoor levels that can be used for ceremonies and receptions.
The Latin-inspired first floor is called Cabaret, while the second floor is called City Lites. City Lites is particularly popular for weddings, as it features authentic Baltimore vignettes, a historical White Tower diner, and laidback lounge vibes. The preferred space for receptions is the 1840s Ballroom that has stunning views of the city, a hardwood dancefloor, crystal chandeliers, and handpainted murals of historic Baltimore.
In addition to offering the services of a wedding planner, the venue provides setup, cleanup, all-inclusive packages, get-ready rooms, and event rentals like chairs, tables, furniture, dance floors, altars, and arches. It can also host rehearsal dinners.
Typical Cost: $4,500 – $6,000
Capacity: 230
Bonus: You and your wedding party can utilize the 13 finely appointed rooms and suites at the boutique 1840s Carrollton Inn.
Find 1840s Plaza on Facebook, Instagram, and Twitter.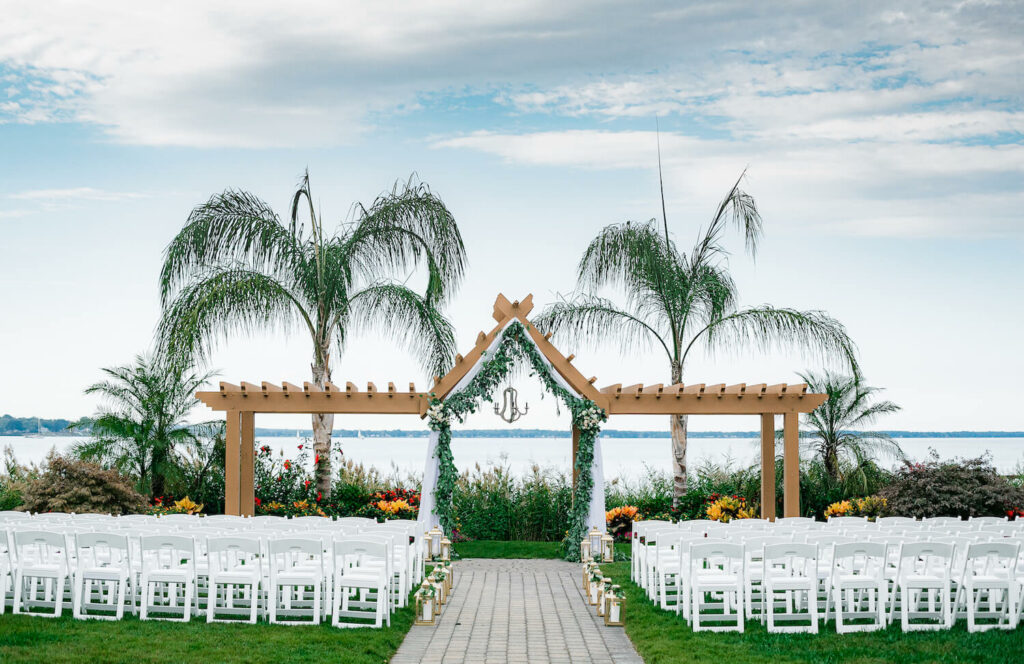 One of the best Baltimore wedding venues for couples wanting spectacular views of the Chesapeake Bay, Herrington on the Bay is an ideal choice for an outdoor wedding. This eco-lifestyle venue has immaculately landscaped lawns, vibrant gardens, and private beaches woven into two private, waterfront event spaces. There are also pergolas and gazebos that serve as charming outdoor spaces for a wedding ceremony.
You can hold a wedding reception in the Herrington Yacht Club event space, which features gardens, ballrooms, and a harborside patio. This space can accommodate 170 guests. Couples can also celebrate their love in the Paradise Ballroom, which includes a pier, gardens, and a tent structure with carpeting, a chandelier, and lighted ceiling drapes.
The venue also has a rustic barn located on the farm, where produce is grown for farm-to-table meals. This barn can hold 150 guests and wows with authentic farm tables and wooden cross-back chairs. In addition to the striking event spaces, this venue has chefs that can accommodate everything from gluten-free and vegan dishes to traditional Maryland fare and diverse fusion meals.
Typical Cost: Starts at $4,000
Capacity: 350
Bonus: You can stay at the Inn at Herrington Harbour, which offers quaint waterfront accommodations steps from the Herrington Yacht Club and Paradise Ballroom. When not engaged in your special event, you can enjoy the inn's private beach that has complimentary paddle boarding and kayaking.
Find Herrington on the Bay on Facebook, Instagram, and Twitter.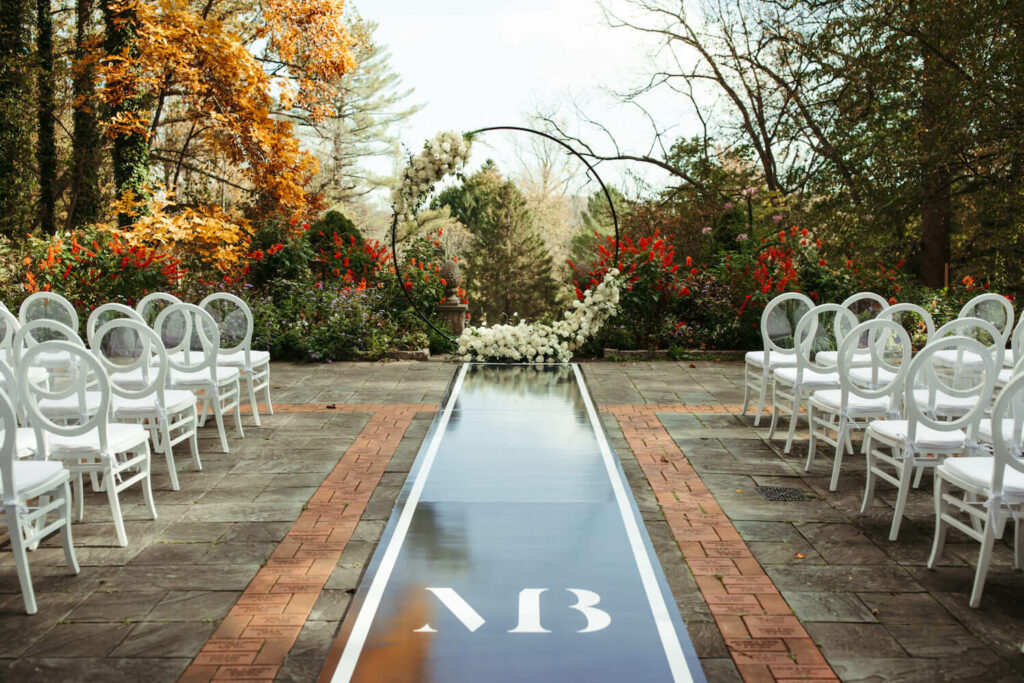 Say "yes" to truly elegant nuptials by hosting your special day at Gramercy Mansion. Perched on 45 acres of land, this enchanting venue is like a wonderland of natural landscapes and alfresco event spaces for a dream wedding. The stately marble gazebo is a particularly stunning outdoor ceremony site and a captivating backdrop for photos.
The mansion's interior exudes grandeur with plush furnishings, chic decor, chandeliers, and ceiling drapes. This luxurious environment is enhanced by thoughtfully strung bistro lights, round tables, and Chiavari-style chairs.
If you opt for a standard rental wedding package, you can take advantage of shockingly affordable pricing. These packages give you access to the mansion for four hours.
Typical Cost: $2,500 – $6,000
Capacity: 200
Bonus: The distinctive settings throughout the event venue help ensure you'll end up with breathtaking photos.
Find Gramercy Mansion on Facebook and Twitter.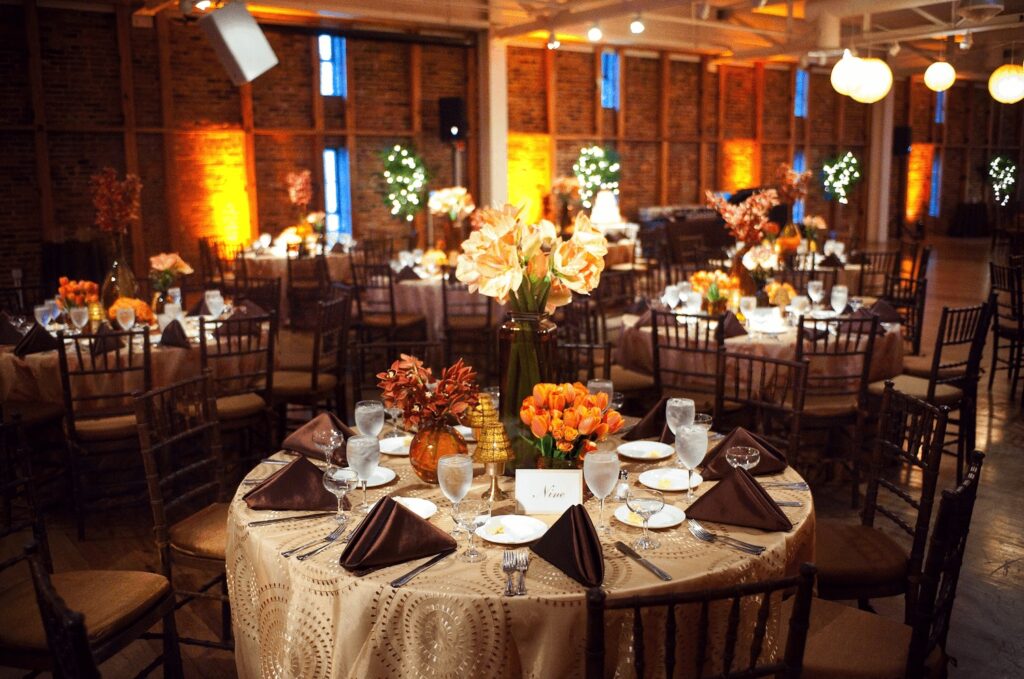 A unique Baltimore wedding venue, American Visionary Art Museum stands out with its compelling art and impressive architecture, which has won national and international awards. Couples can take advantage of this memorable ambiance by holding their wedding in one or more of the museum's three event spaces. The Sculpture Barn & Wildflower Garden is perfect for cocktail hour, or a cocktail-style reception, and dazzles with a whimsical, open-air atmosphere. Many ceremonies are held in the wildflower garden, on the patio, or inside the barn.
The Jim Rouse Visionary Center banquet hall can hold 400 guests and includes staging, a screen and projector, and a warming pantry for the caterer. Then there's the Cielo Verde space, the restaurant on the third floor of the main museum building. Ceremonies can take place on the restaurant's covered terrace or inside on the marble spiral staircase. This is a great choice for smaller weddings.
The venue allows you to mix and match these event spaces to help ensure your wedding day unfolds exactly as you envision. Tables, chairs, and access to designated exhibits for you and guests are also included with rentals. All rentals, with the exception of a celebration only in Cielo Verde, include up to five hours of event time, in addition to three hours for setup and one hour for breakdown.
Typical Cost: $750 – $9,000
Capacity: 400
Bonus: This Maryland wedding venue is centrally located in Baltimore and easily accessed by public transportation.
Find American Visionary Art Museum on Facebook, Instagram, and Twitter.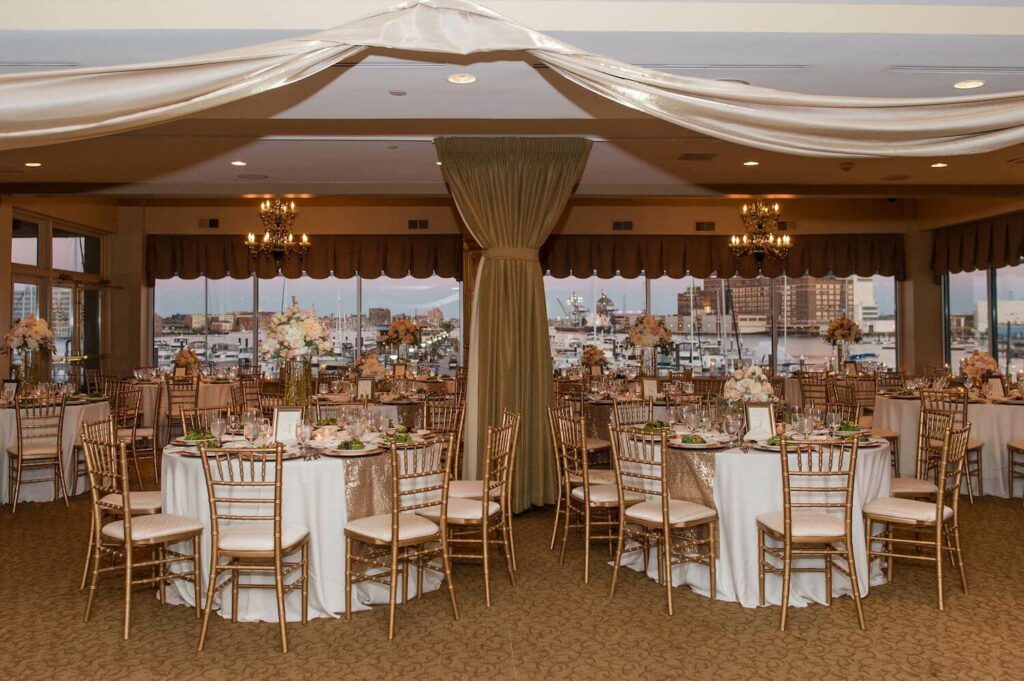 A marina-style, waterfront venue, Tabrizi's is situated on the Inner Harbor, providing gorgeous views on the water during your big day. Couples often hold intimate celebrations in the venue's romantic first-floor event space. Larger, more elaborate gatherings are enjoyed on the second floor, which features tasteful lighting, a dancefloor, and a neutral color palette that offers a blank canvas for your wedding theme. As another plus, the venue offers setup and cleanup, in-house caterers, event planning, and rentals.
Typical Cost: Starts at $5,000
Capacity: 250
Bonus: The venue is close to numerous downtown hotels and popular Baltimore landmarks.