In today's world, couples value experiences over things. Whether it's their first trip together or they're seasoned travelers, many couples are opting for a honeymoon registry over retail gifts. But that begs the question: What's the registry etiquette for honeymoon fund wording? From your wedding website to wedding shower invitations, we have you covered on ways to make your honeymoon wishes known in a polite way.
Why Use a Honeymoon Registry?
Nowadays, couples often have all they need to start married life before tying the knot. Combining households may leave newlyweds in a state of downsizing and purging, where the last thing they need is physical gifts. If this sounds like you, you may want to consider registering for a honeymoon instead!
Loved ones can contribute to the experience of a lifetime: your first trip together after you say "I do." Not only can they help you get to your destination, but they can also give you gift cards, vouchers, and gift experiences, like spa days and romantic dinners. Having a honeymoon registry ensures your wedding guests can purchase what you truly want and need to start your marriage.
Where to Place Honeymoon Fund Wording
The best place to alert guests to your honeymoon wishes, among other details related to wedding planning, is on your wedding website. Older guests are used to the traditional wedding registry, so your website is a great place to fully explain the concept. Instead of a cash gift or physical items, loved ones can contribute to your honeymoon fund instead.
Other personalized communications — like save the dates, RSVP cards, and wedding invitations — can also make guests aware that you're using Honeyfund as a honeymoon gift registry. While you'll still have guests who want to give you a tangible wedding gift, most will be excited about helping send you somewhere after your special day.
It's also essential to communicate your wishes for other gift-giving opportunities, like the wedding shower. Everyone wants to give meaningful presents for your wedding day, so gently guiding your guests will ensure they aren't spending money in vain. It helps you have the honeymoon of your dreams, too.
How to Handle Honeymoon Registry Questions
Some guests will be unfamiliar with a cash registry or honeymoon fund concept. When explaining it on your wedding website, you should try to give a reason for wanting to save up for a vacation instead of accumulating more stuff.
For questions that pop up in person, be ready with an answer. Prep those closest to you — your MOH, best man, and parents — by clueing them in on your reasoning. If anyone has questions about your decision to save for a honeymoon, your family and attendants can nip any tacky gossip or naysaying in the bud.
Examples of Honeymoon Registry Wording
Part of communicating your honeymoon gift registry wishes is being upfront and transparent with instructions. Feel free to use a template below word-for-word, or use one as an editable springboard to DIY and personalize your own.
Straightforward Honeymoon Fund Wording
Formal Wording
We are excited to start our lives together, and we are thankful for our loved ones. As we enter our marriage, we realize that we have enough belongings. Therefore, we have decided to plan the honeymoon of our dreams. Our wedding registry includes a honeymoon fund along with personalized experiences — such as excursions, meals, and spa days — that can be given as wedding gifts. We are excited to share our special day with you, and we also look forward to providing glimpses into our honeymoon when we return. Thank you!
Informal Wording
We are thrilled about our wedding, and we hope you can attend! Because we are combining households, we have more than enough stuff. So, instead of a traditional wedding registry, we have decided to establish a honeymoon fund. Contributing to our Honeyfund will help pay for our honeymoon, yet you can also give us specific gifts, such as date nights, spa treatments, and adventurous excursions. We can't wait to head off on our honeymoon, and we'll be sharing lots of photos of our time.
Playful Honeymoon Fund Wording
Write a Poem #1
Roses are red; violets are blue,
We can't wait to share our big day with you!
Afterward, we'll be on the way,
To our adventurous honeymoon getaway.
There are ways to help us take flight,
Have a spa day or a date night.
Be a part of our first married trip,
We're so excited; we could flip!
Write a Poem #2
We're getting married; we can't wait!
Then we're off on a honeymoon date.
The flights are booked, and the hotel is set.
But all our household needs are met.
We decided to establish a fund for our trip,
So into our savings, we don't have to dip.
Our honeymoon fund will help us flee.
Contributing is easy as can be!
Short Honeymoon Fund Wording
Short and Sweet Example #1
Our wedding wouldn't be the same without your presence. However, when it comes to presents, please be aware that we would appreciate a donation towards our honeymoon fund in place of wedding gifts.
Short and Sweet Example #2
A contribution towards our honeymoon fund instead of a gift is much appreciated.
Honeymoon Fund Wording for Wedding Showers
Shower Example #1
The couple is registered for their honeymoon and its related experiences at Honeyfund.
Shower Example #2
For a truly memorable gift, (insert names) would love honeymoon experiences, such as dinners, spa treatments, and excursions.
Show Gratefulness During and After Your Honeymoon
A Thank You note is always necessary on your wedding list of To-Dos. But with a honeymoon registry, you can go above and beyond. For example, with a traditional gift registry, you might not send your aunt a photo of your new mixer in the kitchen. But with honeymoon experiences, you can share away!
Don't make it too labor-intensive (as in, still enjoy your honeymoon!), but snap a few images of you and your partner while you're on your trip. Wedding guests will adore seeing your smiling faces on an unforgettable excursion they helped fund. You can send everyone a general honeymoon picture and then tuck printable memories of individual experiences into the Thank You cards for those who gifted particular aspects.
Contributing to a travel fund is a different concept for some, so be sure to make it a positive experience. If they can relive your trip via social media or receive personalized photos in their Thank You card, it will be positive for everyone. No matter what, you and your partner will be off on the trip of your dreams as you start your life together.
Up Next: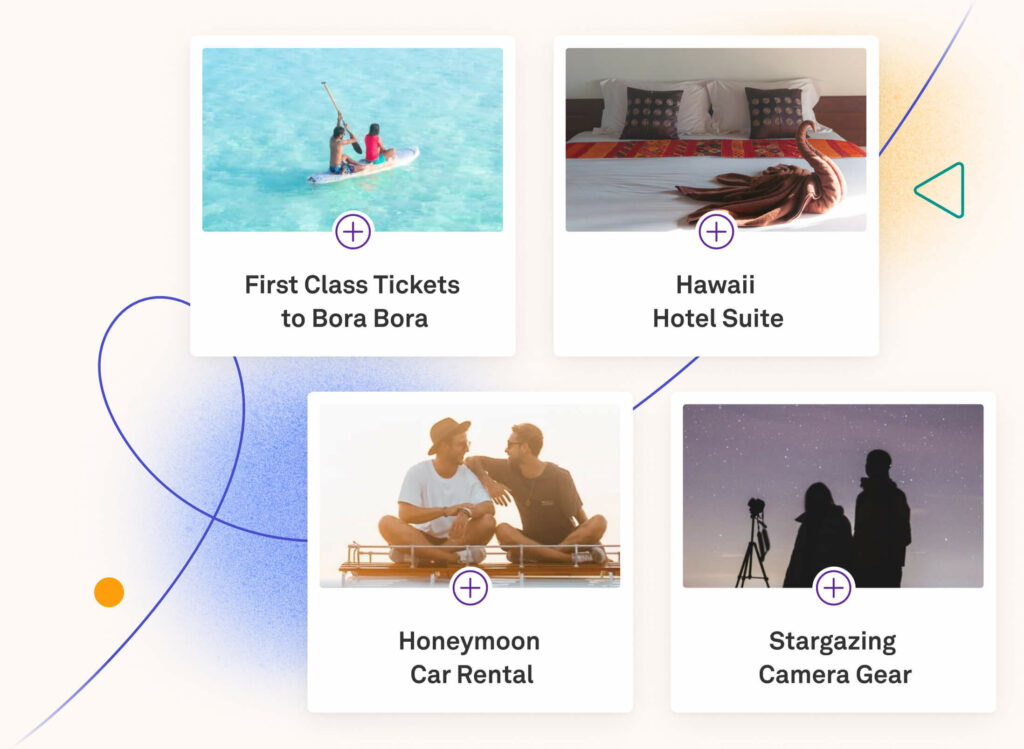 Whether it's for airfare, a hotel stay, or honeymoon travel experiences, create one list for all your honeymoon wishes.