Let's be honest — starting life as a married couple is expensive. After paying for your dream wedding day, that perfect outfit and all the traditional events that come with engagement, your bank account may be looking less than flush.
But if you're still dreaming of that three-week honeymoon tour through Japan with your partner, consider an alternative to a traditional wedding registry. While it may be a little unconventional, even awkward, to ask for a cash gift from your loved ones, a cash registry might be exactly what you need to plan the trip of your dreams. Cash registries not only provide flexibility so you can pay for essentials as you start your life together, they can also help you put money toward big expenses, like your honeymoon.
A honeymoon fund is one of the most popular types of cash registries and a great way to help with your travel costs. Friends and family can contribute to your fund before your big day, and you'll be able to use the money on everything from plane tickets to get to your honeymoon destination to a special activity once you're there. Keep in mind, the narrative here is a little different than registering for a toaster oven, so it's important to focus on the experiences you'll share on this trip of a lifetime. Creating a honeymoon fund will allow your guests to see exactly how you're using their gift and be part of the unbelievable memories you'll make on your first getaway as newlyweds.
Choosing a Honeymoon Fund Site
Not all cash registries are created equal. Some registry websites can take up to 5 percent of your total cash gift as a service fee or even charge your guests for their credit card transactions. Needless to say, you don't want to ask your loved ones to pay any additional expenses on their already generous wedding gifts! Make sure to look for a zero-fee option like Joy's all-in-one registry, which allows you to keep every penny your guests contribute toward your cash fund.
Another factor to keep in mind is ease of use. If you want Grandpa Joe to contribute to that wine tasting excursion, he's going to have to know how to use the honeymoon fund first. Joy's registry site is super simple to navigate, making it easy for guests to give you the dream getaway you've been planning for months. The best part? Your friends and family can choose any amount to contribute. You can also add your honeymoon registry to your wedding website for easy access.
While cash might be king for you and your partner, some wedding guests may still prefer to purchase a present they can wrap and deliver on your big day. If you don't need flatware, dishes or that coveted stand mixer, an all-in-one registry like Joy's will allow you to add physical gifts that are still useful on your honeymoon. Planning to snorkel with your partner in the crystal clear waters of the Bahamas? Put that snorkel gear on your wish list. Need new carry-on bags for the trip? Check out this guide to the best luggage for your wedding registry and choose a matching set that will keep the travel bug going long after your vows. Having something on your wish list for everyone will satisfy your more traditional guests and help avoid off-registry gift selections.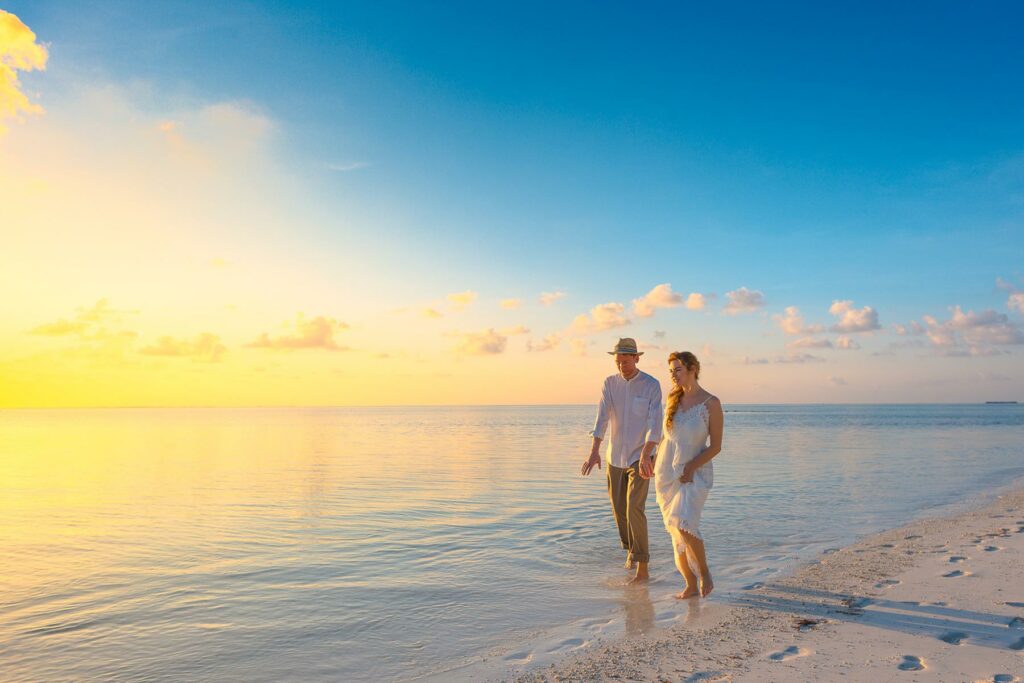 How to Set Up a Honeymoon Fund
Once you've decided on the right zero-fee cash registry for you, the real fun begins. Here are a few tips for creating your honeymoon fund:
Sit down with your partner and start to put together your dream trip step-by-step. Make a list of everything from start to finish — plane tickets, hotels and even excursions at your honeymoon destination. You'll be able to set up a fund for each travel expense.
Get creative! If you aren't a fan of hotels and would rather stay at a cool Airbnb where you have access to a full kitchen, register for a gift card from your favorite home-sharing site. Unlike other physical registry items, several guests can go in on one fund together — even if they don't know each other! For example, if your flights will cost around $1,000 each, several of your friends and family members can choose any amount they're comfortable gifting toward this fund. Don't be afraid if you have a few items that are pricey, since guests have a variety of ways they can contribute.
The key to preparing the perfect honeymoon fund is organization. Similar to a traditional gift registry, you really have to make a plan for every item on your wish list. As you and your partner are thinking through the things you'll want to do on your dream honeymoon, create your ideal itinerary for each day. Then, break down each experience and figure out what that will cost.
Once you have your full itinerary in place, create a fund for each experience. Start with the more costly items like hotels and plane tickets first, as they are the most important, then create smaller funds for those honeymoon excursions and extras that you and your partner want to experience. These individual experiences are great for friends and family who might want to spoil you and gift the whole fund themselves! We've included some great ideas on these additional items below.
It may feel uncomfortable to ask for money toward your honeymoon, but this is becoming a common practice amongst newlyweds. Older guests may still be tied to traditional gifts, so use your wedding website to write a note of explanation to those who are new to the idea of cash funds. If you need guidance on how to tactfully present this concept to your nearest and dearest, here's a guide to help find the perfect honeymoon fund wording for any situation.
What Can I Use a Honeymoon Fund On?
The short answer: anything! After you and your partner have chosen your honeymoon destination and accommodations, start to think about your favorite shared activities. Dreaming of a honeymoon full of pampering and relaxation? Register for a couples massage. The sky's the limit on things you can register for, but here are a few ideas to consider when setting up your honeymoon fund.
Travel Expenses
Plane tickets
Train tickets
A rental car
A rideshare gift card
Boarding for your pet while you're away
Accommodations
Hotel stays
A gift card to Airbnb or a hotel chain
A rental trailer or van
Camping gear
Destination excursions and experiences
Spa treatments
Dinners and other meals
Cooking classes to learn how to make local cuisine
Dancing lessons
Concert tickets
Boating excursions
A helicopter tour
Swimming with dolphins
A final dinner in your destination's most picturesque locale
Rental equipment like bikes, kayaks or paddleboards
Surfing lessons
Parasailing experience
Private guided tours or hikes
A destination-inspired picnic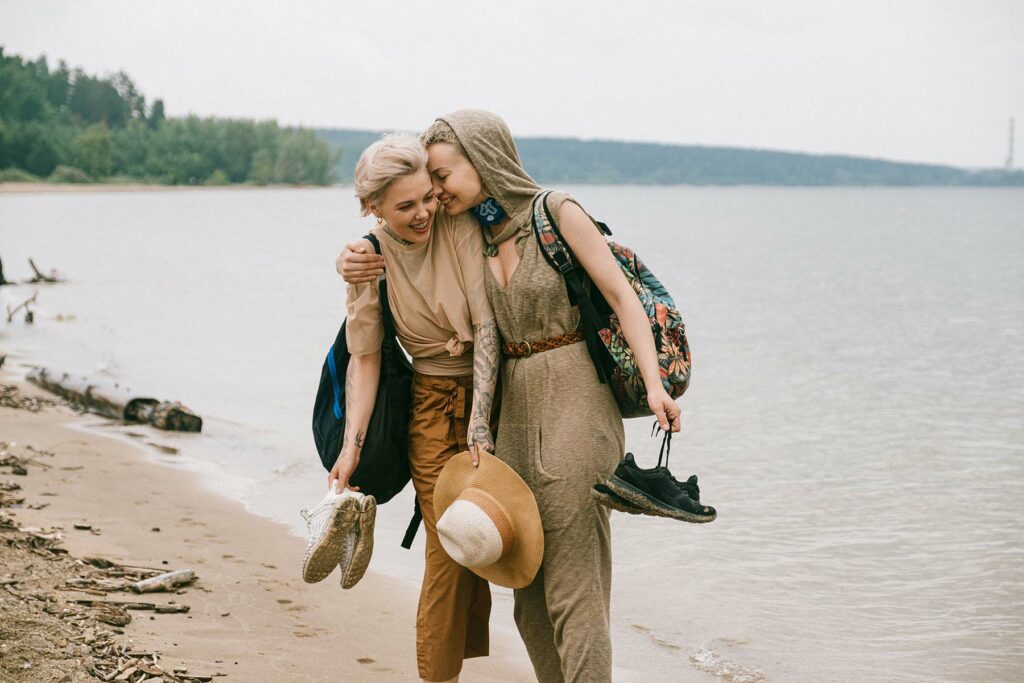 Say a Gracious Thank You (and Make it Personal!)
After you've come back from your dream honeymoon, don't forget to thank your friends and family for helping to make it happen! Since this gift of experience is so meaningful, be sure to craft a 'thank you' that's just as thoughtful.
Put a spin on the typical handwritten note and include a photo of your and your partner enjoying your gift. Your guests will love to see a little insight into the memories you've made. In the note, include a few lines about the experience and what it meant to you both. For example, if they contributed to your airfare, include a photo of you two toasting with mimosas on the plane with a cute message about how they helped send you off in style. A thoughtful note to accompany the image will round out your gratitude and give your wedding guests all the warm and fuzzy feelings.
If a photo isn't your vibe, definitely try to spend a little extra time on a handwritten note. A toaster oven might last you a decade or so, but these memories are staying with you and your partner forever. Be sure to convey how much this special gift impacted your newlywed journey — your friends and family will be over the moon to hear about your experiences!
Up Next:
Whether it's for airfare, a hotel stay, or honeymoon travel experiences, create one list for all your honeymoon wishes.