Do you have a honeymoon in your future? Or are you just a travel junky? Regardless, your wedding registry is a great opportunity to upgrade your luggage. But the tricky thing with this selection process is that there are so many luggage sets to choose from. Do you want matching carry-ons for the honeymoon? Are you hoping for hard or soft luggage? Do you want a specific brand or color? Are you needing a full luggage set, or just updated carry-ons or uprights? So many questions, and so many options.
To simplify this process, and help ensure you select the best luggage for the wedding registry, we've broken down the top choices.
Best Luggage
Luggage comes in so many shapes, sizes, and colors, a happy couple could easily get overwhelmed. However, with a basic knowledge of your main options the decision making process will be a cinch.
Upright: This is a four wheel bag that holds all your essentials and glides easily at your side. It's ideal for trips that require air travel.
Carry On: Lightweight and compact, a carry-on is that bag you can take anywhere. Whether you're going on a short trip, or needing an additional bag for an extended-stay vacation, a quality carry-on is a must.
Underseat Bag: The perfect bag for a weekend getaway, or for containing all your in-flight essentials, an underseat bag is incredibly convenient.
Duffle: Do you overpack? If so, a duffle is for you. It can typically be attached to upright luggage for easy transport, and smaller varieties can fit in the overhead compartment on a plane.
Following are our top picks for the most popular types of luggage sets.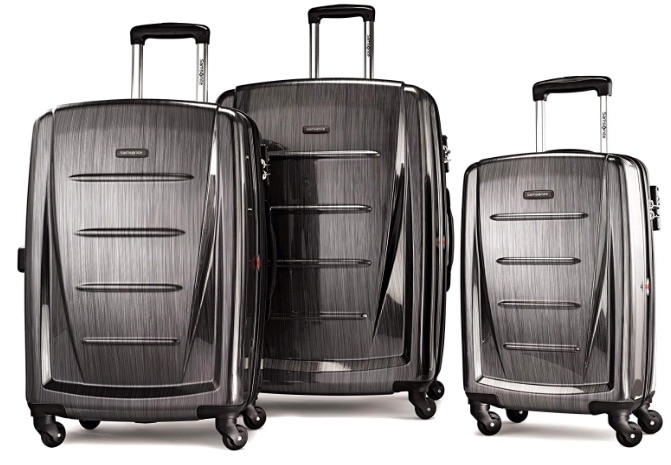 Hard luggage is very durable and can protect your belongings during the throwing and tossing that typically occurs in transit. So if you're someone who travels frequently, a long-lasting, hard-shell bag is ideal.
When it comes to hard luggage the Samsonite Winfield 3-Piece Luggage Set is hard to beat. It includes three upright bags that can accommodate everything from a weekend trip that only requires a carry-on, to a multi-week vacation that warrants a large bag, or many bags. The set also features four multi-directional dual spinner wheels, TSA-compatible locks, and retractable pull handles. And then there's the colors. Whether you want a bright hue, or something more subdued, they've got you covered.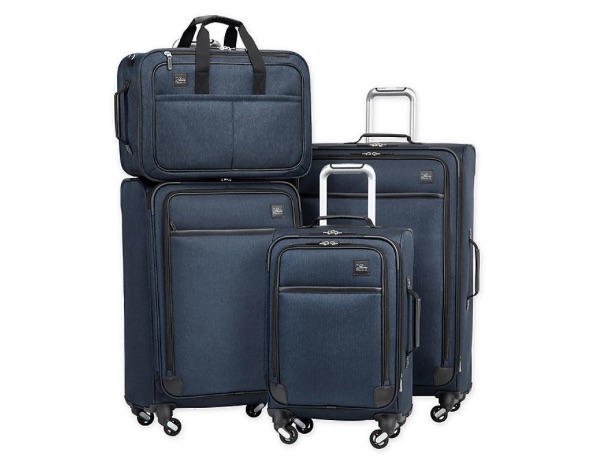 Soft side luggage has more flexibility than hard side luggage, especially for those that overpack. So if you're that person that has a difficult time staying under an airline's baggage weight allowance, or often pack awkwardly shaped items, the soft side luggage is the way to go! As an added bonus, soft side luggage can be easily manipulated to fit in overhead bins or luggage racks.
Our favorite soft luggage set is the Skyway East Lake Luggage Collection, as it's affordable and includes three lightweight, upright pieces. A few popular features include their expandable sides that allow you to pack more, multi-directional wheels for easy transport, and their durable, water-resistant sides that protect from the elements.
$80.99-$119.99 at Bedbathandbeyond.com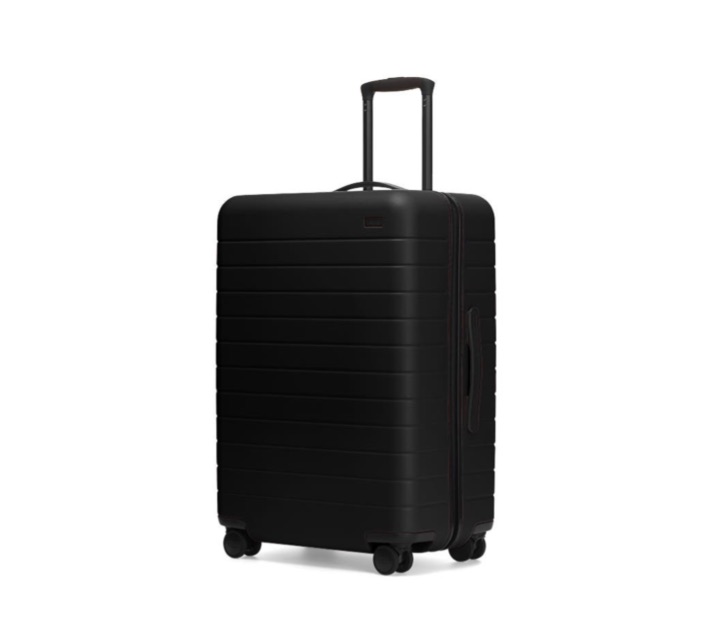 A premium choice if you're ready to upgrade to luxury luggage, the Away The Medium in Black bag provides a sleek look, hard shell body, and compression system that helps you pack more. It also includes a hidden laundry bag that lets you separate clean and dirty duds, a TSA-approved lock, and 360-degree spinner wheels. If you'd rather not have a black bag, Away provides numerous hues that please a range of styles.
Best Travel Accessories
Traveling doesn't just require luggage sets. There's an assortment of unique travel accessories that help make travel easier, more enjoyable and more stylish. To help you make sense of what's worth adding to your list of requested wedding gifts, we've pulled together our top choices in travel accessories. These goodies will ensure you always have what you need, whether you're on an overnight road trip or flying across the world.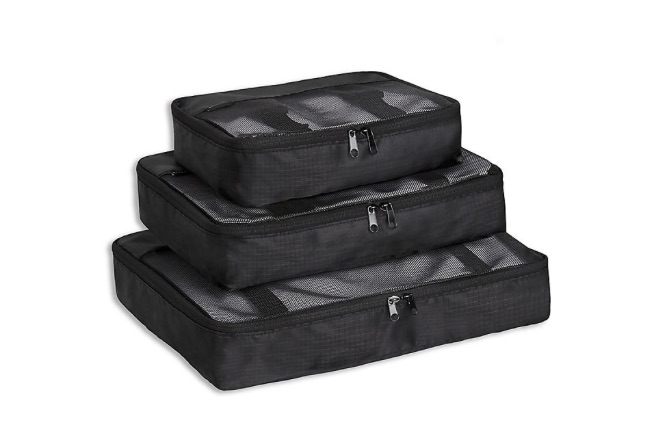 Packing cubes are the secret of many a professional traveler. These convenient accessories keep things organized when packing and unpacking, and are especially great if you'll be staying in multiple locations.
Our go-to packing cubes are the Brookstone Pack-It Packing Cubes, as they include a compression flap and tightening straps that help you pack additional items. In addition, you receive three sizes that suit various types of trips, they have mesh tops for easy viewing, and they help minimize wrinkles.
$29.99 at Bedbathandbeyond.com
Wanting matching travel amenity sets for the honeymoon? Then say yes to the Herschel Supply Co Travel Amenity Set. This set brings some luxury to your travel plans, as it includes ear plugs, an eye mask, pair of slippers, an inflatable pillow, and a convenient storage pouch for all the goods. These are the optimal ingredients for comfort on a long flight, especially if it's an overnight haul. So if you're wanting to arrive at your honeymoon destination as bright-eyed newlyweds, add a double helping of this set to your wedding registry.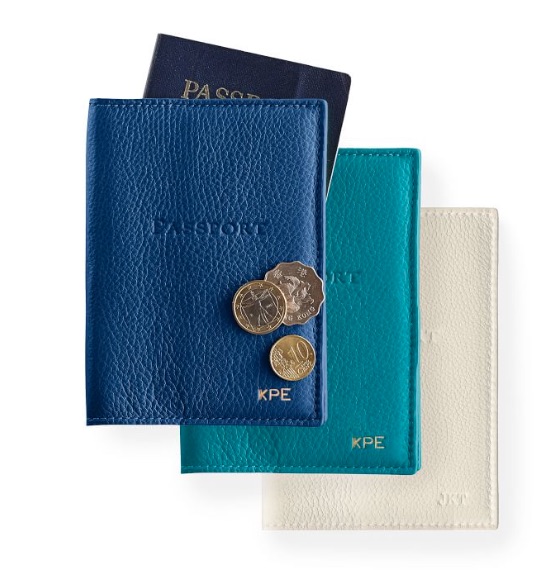 As your passport is one of the most important items you travel with, you want it to be well protected. Enter the Mark & Graham Leather Passport Case. This case has a leather exterior and cotton lining, which keeps your passport safe amidst the hustle and bustle of travel. But it's more than just a practical travel accessory. This case comes in an assortment of colors and can be monogrammed with blind or foil debossing. In addition to being a registry must, this might also be the ideal, thoughtful gift for your bride or groom.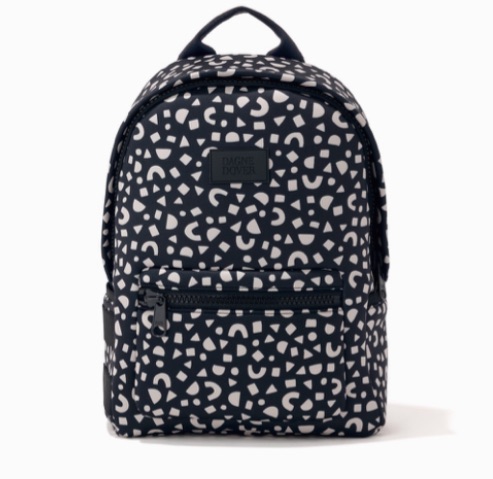 One of the most stylish and functional travel totes to bring on the go, the Dagne and Dover Dakota Backpack is the top-choice of many travelers. Not only can this bag easily fit under your seat on a plane, but its quick-drying neoprene exterior makes it perfect for honeymoon activities like skiing, bike riding, or relaxing by the pool. And this bag is so chic and versatile you'll be using it long after you return from your trip.