One of the things guests often look forward to the most at a wedding is the music. Whether it's setting the mood during dinner, getting the crowd going on the dance floor, or helping traditions like the hora dance live on, your wedding DJ is a vital part of your big day. The right DJ can turn your celebration into an unforgettable party, but understanding the cost factors is crucial to staying within your budget.
An awesome wedding DJ does more than just play music. They are often the emcee for your event. The DJ will introduce your wedding party, tell guests when they should be seated and when they should hit the dance floor, quiet the room for toasts, and more. We've broken down everything you need to know about the average wedding DJ cost and are spilling the secrets to securing the perfect one without breaking the bank.
Cost Factors to Consider for Your Budget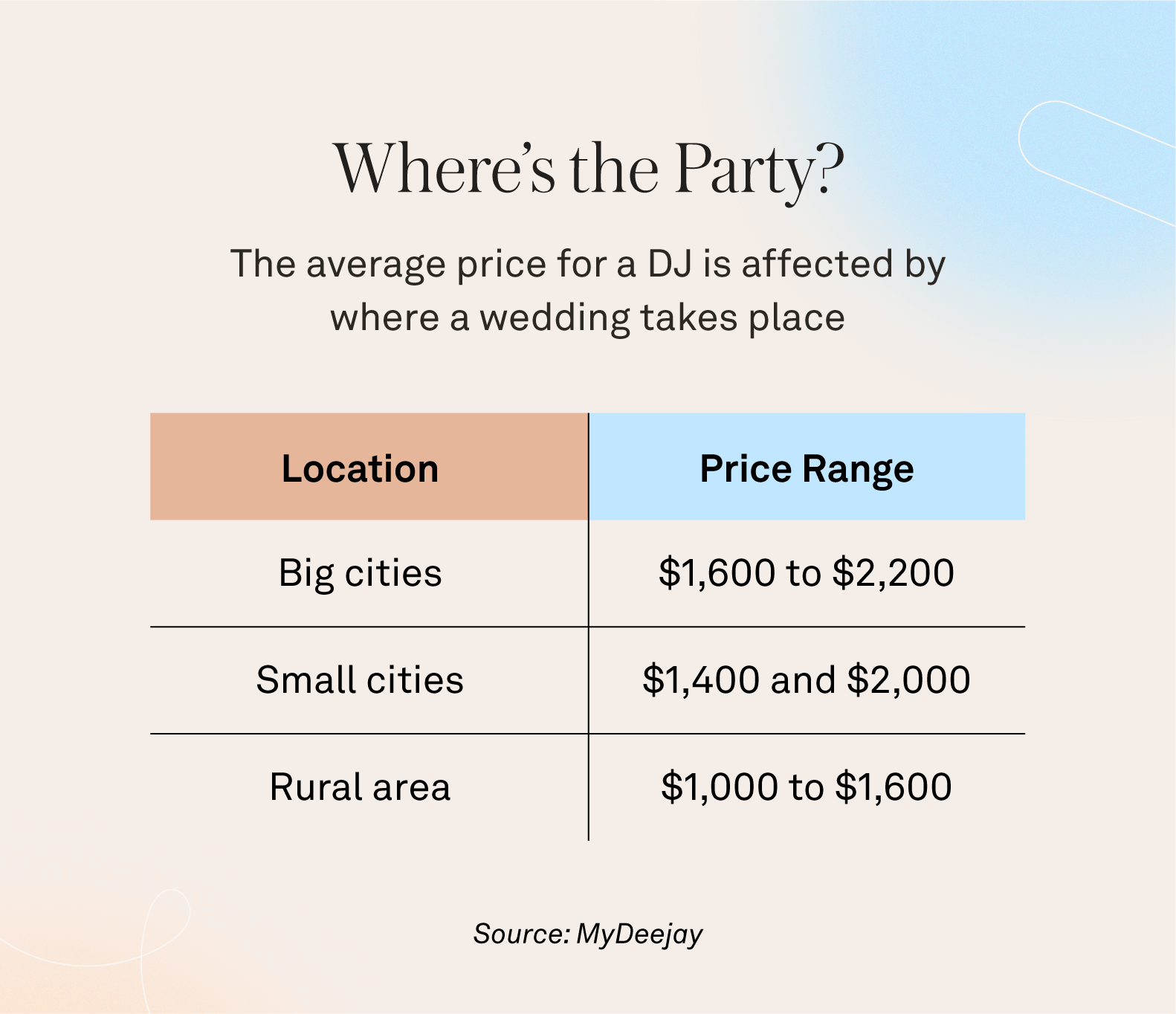 Wedding budgets can be a challenge, so remember that several details can influence wedding DJ prices. Key factors include:
Experience: The DJ's level of experience with major events and celebrations can affect their price quote. More established DJs may charge higher rates but often bring unmatched expertise. Newer DJ businesses may offer savings but come with the risk of growing pains. Look for consistent reviews or ask for testimonials to verify their experience.
Hours of Service: You'll want to determine in advance how many hours you need the DJ to perform. Longer events will naturally cost more, so be clear about your wedding's timeline.
Equipment: High-quality sound and lighting equipment can greatly impact DJ costs. Be sure to clarify what their package includes and whether any extra fees apply for elements you want at your celebration.
Geography: According to MyDeejay, music-only services from major metro area DJs will run anywhere from $1,600 to $2,200; smaller cities average slightly lower costs, between $1,400 and $2,000; and rural areas and cities with low cost of living, typically pay $1,000 to $1,600. Travel expenses for the DJ can also be a factor if your wedding takes place in a remote location.
Add-Ons: Some DJs offer extra services like photo booths or special lighting effects. While these can make your wedding experience more exciting and engaging, they do typically come with additional charges to consider.
According to Clever Girl Finance, you should plan to spend 6-7% of a wedding's overall budget on your music and entertainment. Consider how your DJ expenses will tally up with any other music you plan to include, such as a harpist for your ceremony or a mariachi band to entertain your guests during cocktail hour.
What Services Are Included?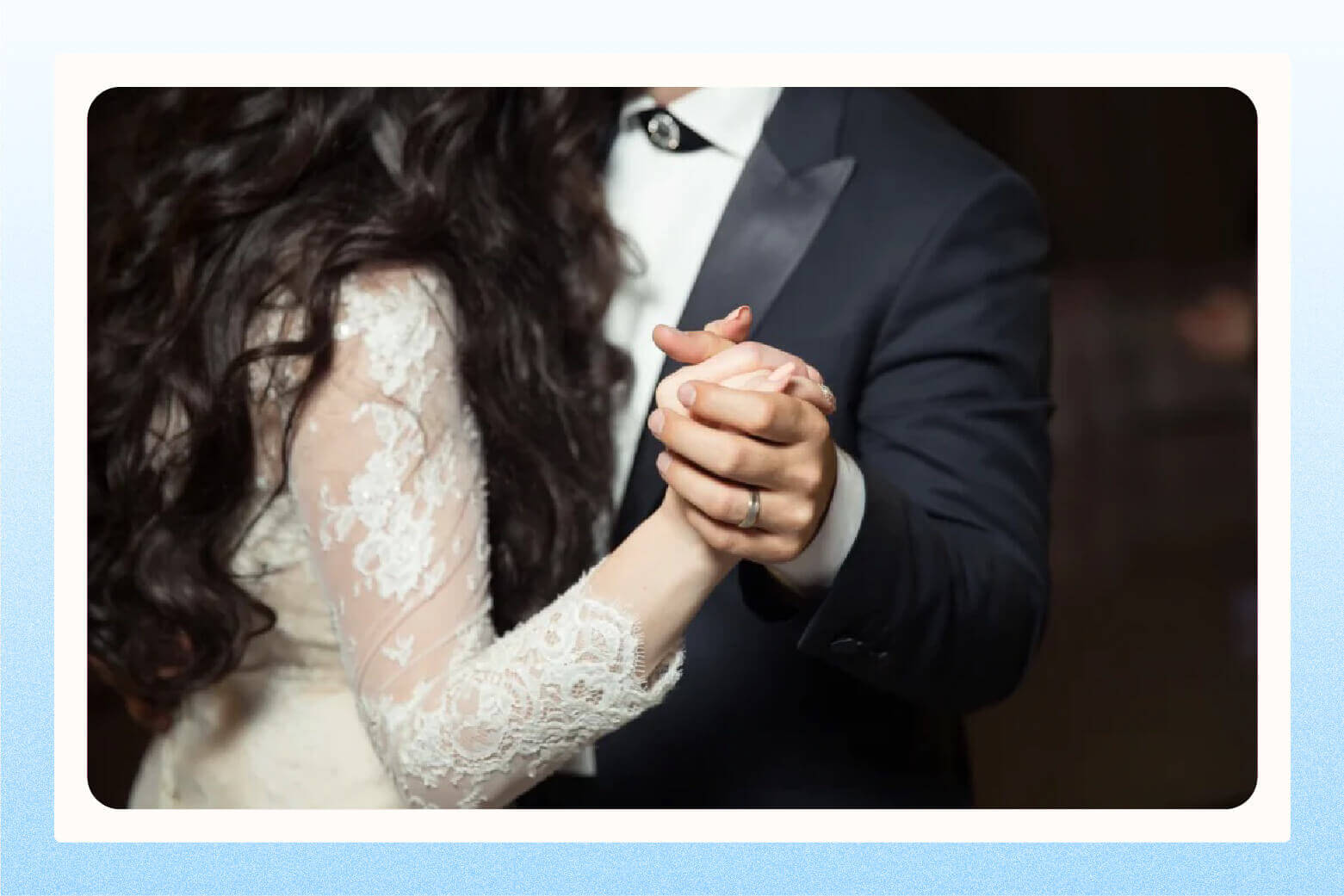 You'll want to carefully review the contract you sign with your DJ to ensure you and the DJ are clear on what services they'll be responsible for on your big day. The usual services included are:
Music Selection: The DJ should carefully curate playlists based on your specific preferences and handle all the music for your ceremony, reception, and dancing, as appropriate for your needs. They should also be willing to accommodate your do-not-play lists.
Equipment Setup: The DJ should incorporate the time they'll need for setting up and tearing down their equipment, including sound systems, microphones, and lighting. Remember that you'll want them to set up at a time that won't impact your event timeline.
Emceeing: The DJ often doubles as the wedding's emcee, making announcements to guests, introducing people, giving toasts, and guiding the flow of the event. Their skill as an emcee can greatly impact the overall energy of your wedding.
Coordination: The DJ should work closely with other vendors when needed, like photographers and event planners, to ensure a seamless event.
Backup Plan: Inquire about their backup plan in case of technical issues. Taking proactive steps can help ensure your event runs smoothly if something goes wrong.
Extras: If you plan to have the DJ company handle any extra elements like photo booths, special effects, or additional entertainment services, you'll want to ensure they incorporate those add-ons into the contract.
By clarifying these services upfront, you can choose a DJ who will bring important energy to your wedding day and help ensure it runs flawlessly.
What Equipment Does the DJ Provide?
When hiring a wedding DJ, you can expect them to bring most of the essential equipment needed to create the perfect soundtrack for your special day. A professional wedding DJ will typically provide:
Sound system, including high-quality speakers, amplifiers, and audio mixers
Extensive music library
Microphone for speeches, toasts, and announcements
Not all DJs offer lighting services, but many provide basic dance floor lighting
The inclusions of lighting in a wedding DJ package can vary, so be sure to clarify the specifics with the vendors giving you quotes to achieve the perfect ambience for your big day. Some DJs offer basic dance floor lighting as part of their standard package to enhance the atmosphere during dancing.
Additionally, DJs should have backup equipment on hand in case of technical issues to keep your event running smoothly. They will bring all the cables and connectors necessary to create the seamless audio connections with your venue's sound system.
Remember that your wedding DJ will need access to a reliable power source to keep the music flowing and your celebration on track.
How to Save Money on Your Wedding Music
If you're looking to save money on your wedding music without compromising the quality of your celebration's soundtrack, it is possible. Here are some helpful tips that can make a difference:
Go for a DJ Instead of a Live Band: Live bands can add big flair to your big day, but they are often more expensive than hiring a DJ. DJs can offer a wide range of music options for your playlist and are typically more budget-friendly.
Book Off-Peak Dates and Times: Scheduling your wedding during off-peak seasons or on weekdays can potentially lead to cost savings from your DJ and other wedding vendors.
Bundle Services: Some DJs offer packages that include both ceremony and reception music. They may also offer lighting, photo booths, or a fog machine. Bundling these or other services with one vendor could lead to cost savings.
Limit Hours: Determine the essential hours you need music at your reception, and don't extend the DJ's playtime longer than necessary.
Ask for Recommendations: Check with friends, family, and other couples who've recently tied the knot for DJ recommendations. Personal referrals can sometimes lead to discounts.
Making strategic choices and openly discussing your budget with potential DJs will make it easier to dance the night away on your special day while staying within your wedding budget.
What Should I Ask a DJ Before Booking Them?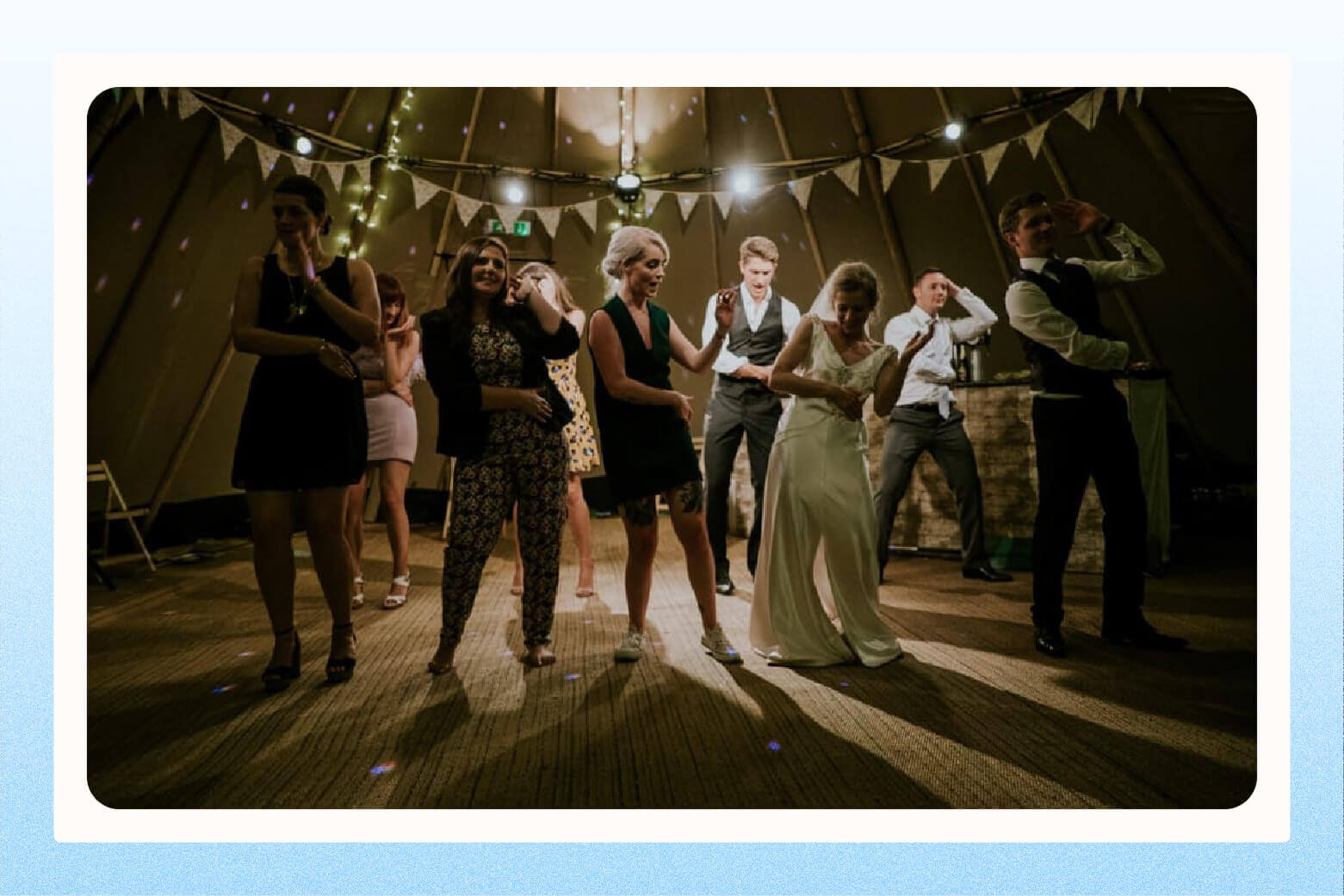 When you meet with potential DJ vendors, you'll want to ask them some key questions to ensure they're a perfect fit for your big day. Here are eight essential topics to cover:
Availability: Are you available on my wedding date?
Experience: How many weddings have you DJed? Can you provide us with some references or testimonials?
Pricing: What is your pricing structure, and are there extra charges for services like lighting or setup?
Equipment: What kind of sound and lighting equipment do you use? Is there a backup plan in case of any equipment failure?
Setup Time: When will you arrive at the venue for setup?
Song Selection: Can we provide you with a list of must-play songs or request specific tracks? How about a no-play list of songs to avoid?
Insurance: Do you have liability insurance?
Going over these questions will help you make an informed decision when booking your wedding DJ. If they can't answer all of these standard questions, it may be an indicator that they're inexperienced and could be a risky choice.
Set up your wedding website in minutes with design options to make yours truly unique.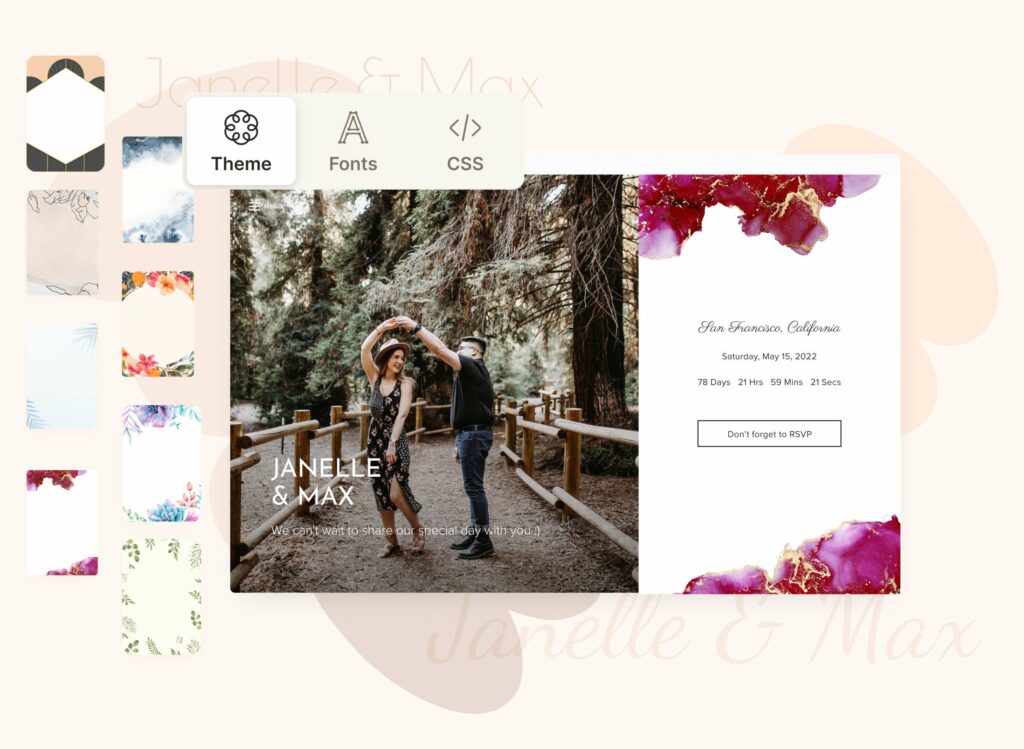 Music is an important part of most wedding celebrations. It can bring moments of touching sentimentality for a father-daughter dance, vibrant energy with a group line dance, and even laughter and joy with the chicken dance! Finding the right wedding DJ for the right cost can majorly impact your event.
Wedding DJ FAQ
While juggling the many details that come with planning a wedding, it's not unusual for these common questions to pop up about wedding DJs.
How does the cost of a wedding band vs. DJ compare?
A wedding DJ is generally a more budget-friendly option compared to hiring a live band. While live bands bring a unique ambiance, they often come with a higher price tag due to the number of musicians and the complexity of their performance. A DJ offers a wide range of music and can better fit various budgets.
Should I tip my wedding DJ?
Tipping your wedding DJ is a thoughtful gesture, but it's not mandatory. If they've provided amazing service and made your special day memorable, a tip of 10-15% of their total fee is a nice way to show appreciation. However, it's always best to check your contract in advance, as some DJs may include a gratuity in their pricing.
When should I book my wedding DJ?
Booking your wedding DJ should ideally happen 8-12 months before your wedding date. This allows you the time needed to secure an experienced DJ who fits your style and budget. Popular DJs tend to get booked well in advance, so early planning also ensures you have the best options for your big day.