What does a modern wedding playlist sound like in 2022? We spoke with several married and engaged couples, including professional wedding musicians, and discovered the music at a modern wedding is just as unique as the couple celebrating their big day.
Timeless classics receive contemporary covers as the bride and groom walk down the aisle. The dance you share with your parents may be a bit nostalgic and remind you of childhood. Even old-school traditions, like cutting the cake, receive a song sweetly paired for the occasion.
From John Legend to Lizzo, let's take a look at 21 joyful, modern wedding songs you'll be hearing more of for the contemporary and sophisticated couple in 2022.
1. "Can't Help Falling in Love" — Haley Reinhart
Professional pianist and vocalist Alissa Musto says one of her favorite wedding song requests is Haley Reinhart's modern take on this Elvis Presley classic.
Based out of Boston, Massachusetts, Musto performs at wedding ceremonies and receptions throughout New England and beyond. This cover is a favorite for brides confidently walking down the aisle simply because it is so unique.
"[It] has a timeless elegance that bypasses trends, musically and lyrically," Musto describes.
2. "Perfect" — Ed Sheeran
From the bride's walk down the aisle to the couple's first dance, there are so many moments during a modern wedding that could be set to Ed Sheeran's songs. Singer-songwriter Mella Barnes has even nicknamed Sheeran "the wedding song king" over the last few years.
"Between 'Perfect,' 'Thinking Out Loud,' and any of his other ballads, these are go-to for slow dances," Barnes says, noting that up-tempo songs like "Shape of You" are fun fits for wedding receptions.
3. "A Thousand Years" — Christina Perri
One of the most popular songs wedding photographer Logan Westom has heard at wedding ceremonies is Christina Perri's "A Thousand Years." Sometimes couples play it with Perri's vocals or as an instrumental. Both versions will bring tears to your guests' eyes.
"It is the perfect slow, modern song that really pulls at the heartstrings when you walk down the aisle to see your future spouse," Westom says.
4. "Here Comes The Sun" — The Beatles
Looking for the perfect song for parents and members of the wedding party to walk down the aisle to during the processional? Add this classic hit from The Beatles to your wedding's Spotify playlist.
5. "Golden Hour" — Kacey Musgraves
They said, "I do!" Now it's time for guests to enjoy a little mingling and cocktail-sipping during the ceremony recessional.
Put in a request for Kacey Musgraves' "Golden Hour" to ease everyone into a celebratory mood before they see the newly-married couple for the first time.
Other romantic options for a love prelude include the sentimental "Come Away With Me" by Norah Jones and the upbeat "Strawberry Swing" by Coldplay.
6. "City Of Stars (Humming)" — Justin Hurwitz and Emma Stone
One rising trend in wedding playlists is the inclusion of music from movies. Almost any melody, from a beloved Disney song to a sweeping instrumental score set to a period-piece film, can be a wonderful addition to a modern wedding. Even the main title from Game of Thrones is fitting, especially when performed live by a professional pianist!
The couple can choose to play their favorite romantic film score or instrumental for their entrance song or to close out the ceremony. Get inspired with this dreamy track from the La La Land soundtrack.
7. "Marry You" — Bruno Mars
It's time to present the newly-married couple to the world! Set the grand entrance dance to Bruno Mars' fun and flirty "Marry You."
8. "Uptown Funk" — Mark Ronson and Bruno Mars
On the other end of the Bruno Mars spectrum, the happy couple and their wedding party can make a splashy arrival with a choreographed dance to the super-duper upbeat "Uptown Funk."
9. "Juice" — Lizzo
Wedding and elopement photographer Brei Olivier anticipates that Lizzo's discography, including her hit singles "Juice" and "Good as Hell," will play all throughout the couple's wedding day from beauty prep with the bridal party to the reception.
10. "Make You Feel My Love" — Adele
The first dance is incredibly special and meaningful for every couple. Sway along to Adele's soulful "Make You Feel My Love," a modern (and soon-to-be classic) slow song.
11. "At Last" — Etta James
This timeless love song is one you can include almost anywhere during your wedding day, according to Olivier. Walk down the aisle to an instrumental version or use the classic for your first dance.
12. "All of Me" — John Legend
John Legend's "All of Me" is another iconic love song — and one that a live singer and band can cover with their own beautiful versions, too.
13. "Lover" — Taylor Swift
This single from Taylor Swift is sure to usher in a new era of first dance wedding songs. The vulnerable, thoughtful lyrics accompanied by a slow tempo and acoustic guitar will be beloved by modern couples for years to come.
14. "Count on Me" — Bruno Mars
What's the best song for the bride and groom to dance to with their parents? This can range from the bouncy "Count on Me" by Bruno Mars or classics like "God Only Knows" by The Beach Boys and Stevie Wonder's "Isn't She Lovely."
Ultimately, this song choice will be one that holds the most personal significance to the duo. If the bride loved Star Wars growing up, get a pair of lightsabers ready because her father could pick John Williams' "The Imperial March" theme for their father-daughter dance.
When in doubt, ask your parent(s) to pick the song. They'll be thrilled to do it and may choose an unexpected, sentimental song that will surprise and delight you.
15. "Sugar, Sugar" — The Archies
It's time to cut the cake! Make "Sugar, Sugar" by The Archies a fun play on sweetness and sugar puns.
16. "Call Me Maybe" — Carly Rae Jepsen
Let's get this party started and hit the reception dance floor! Get a playlist of 2010s Top 40 that meets iconic '80s dance hits together.
Carly Rae Jepsen's bubbly "Call Me Maybe" would be perfect to pair with Whitney Houston's "I Wanna Dance With Somebody (Who Loves Me)" and get everyone excited to bust a move.
17. "Everything" — Michael Bublé
Need a dancing break during the reception? Mellow the party out with slower bops like "Everything" by Michael Bublé or "I'm Yours" by Jason Mraz.
18. "Happy" — Pharrell Williams
Wedding playlists have their fair share of trendy songs that appeal to certain generations. For every dreamy "Signed, Sealed, Delivered" by Stevie Wonder, there's an equally iconic "Baby Got Back" by Sir Mix-A-Lot or Cardi B's "I Like It." Some age groups will rush the dance floor for these songs while others will sit them out.
The key to making sure guests of all ages have a good time, according to Barnes, is to remember that the reception is a balancing act. Encourage guests to submit song requests, like Pharrell Williams' crowd-pleasing hit "Happy," when they RSVP to your wedding.
"Your 90-year-old grandma might not love that Cardi B song, but your 14-year-old niece does," Barnes says. "I always recommend couples consider their guests, as well. Your day is about you, of course, but you also want people to have a good time and want to dance."
19. "1+1" — Beyoncé
How can you make a modern wedding playlist without Queen Bey? After all, her songs have a huge presence in weddings.
Hit the reception dance floor to "Crazy In Love," use "1+1" for your exit song, and toss the bouquet to "Single Ladies (Put a Ring on It)." Yep, Beyoncé is without a doubt the wedding song queen.
20. "Safe And Sound" — Capital Cities
It's time to close the night out! Your exit song should be one that gets everyone up and dancing for the last hurrah.
"Safe And Sound" by Capital Cities is a new, modern classic sure to be on tons of wedding Spotify playlists this year.
21. "This Will Be (An Everlasting Love)" — Natalie Cole
Natalie Cole's "This Will Be (An Everlasting Love)" is pure sophistication. This song should always be in the top five on any modern wedding music playlist.
"The beautiful thing about this song is that it can be played at so many different parts of the wedding day and fit perfectly," Westom says. "It's a song for all generations and the perfect sophisticated exit song because it has that happy and poppy couple feel."
Up Next: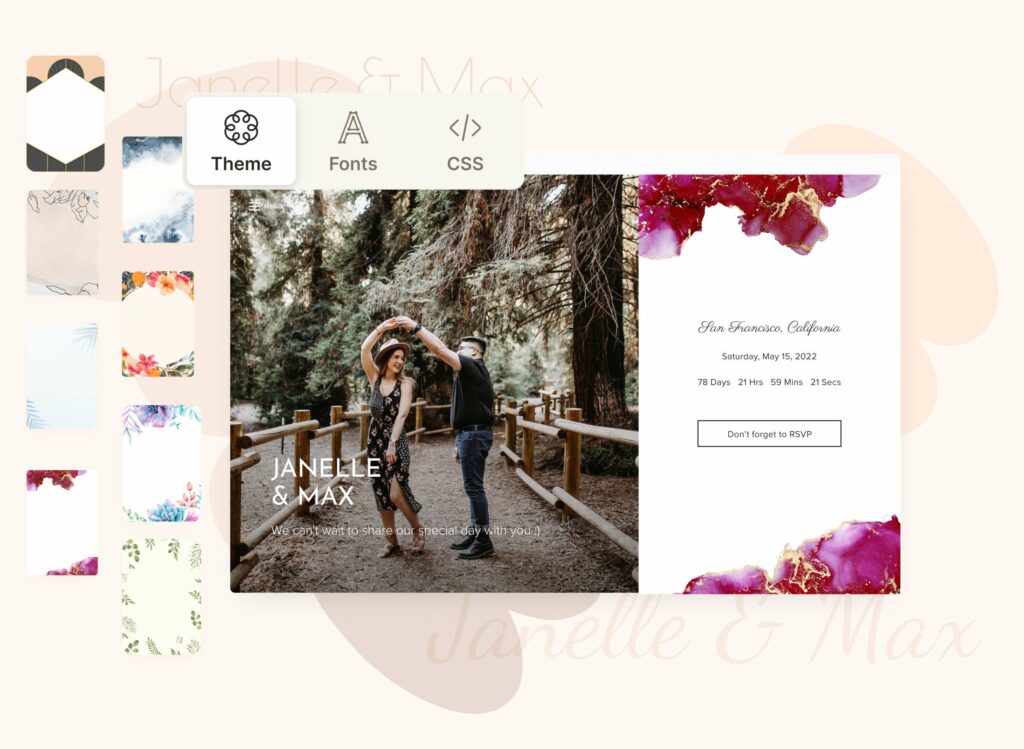 Set up your wedding website in minutes with design options to make yours truly unique.