Untouched natural terrains ranging from gorgeous beaches to glaciers are reason enough to book a New Zealand honeymoon, but there is so much more to this stunning island paradise for adventurers and leisure-seekers alike. From the moment you touch down in this remote country, you and your partner will feel the welcoming spirit of the locals.
Since New Zealand is one of the more decadent destinations you could choose for a romantic getaway, you may want to get a honeymoon fund up and running well before your wedding. There are plenty of creative ideas for asking loved ones to contribute to your honeymoon, from requesting airfare and accommodations to unforgettable travel experiences (of which New Zealand has many!).
It might be daunting to plan a journey to this isolated island country, but we have all the details you'll need for a memorable and romantic escape. Here's your guide to the perfect New Zealand honeymoon, from how long to stay to excursions worth the day trip.
Australia or New Zealand (or Both)?
We could spend hours detailing the differences between Australia and New Zealand, but here are the highlights.
Both are incredible destinations offering wonderful experiences. You'll find tropical terrain in Australia that contains everything from sprawling deserts to sandy beaches, but New Zealand is a lush mountainous paradise home to a maze of volcanoes. While both countries speak English, their dialects are distinctly different, down to the way they say "fish and chips" (it's "fush and chups" to New Zealanders). The widely spoken Māori language is also native to New Zealand.
There's something else that makes New Zealand so special, especially if you're a film lover. Spend date night doing a little research and turn on "The Lord of the Rings." The famous trilogy was filmed in New Zealand, so you can follow in the footsteps of fictional hobbit heroes during your honeymoon. Visit some of the most iconic Middle-earth locations, like the Tongariro Alpine Crossing that you'll recognize as parts of the path to Mordor.
Natural beauty isn't the only thing that awaits you in this stunning country. That's not to say New Zealand doesn't have its metropolitan moments, but the deep-rooted Māori culture gives this small island country a definitive personality all its own.
What to Know Before You Go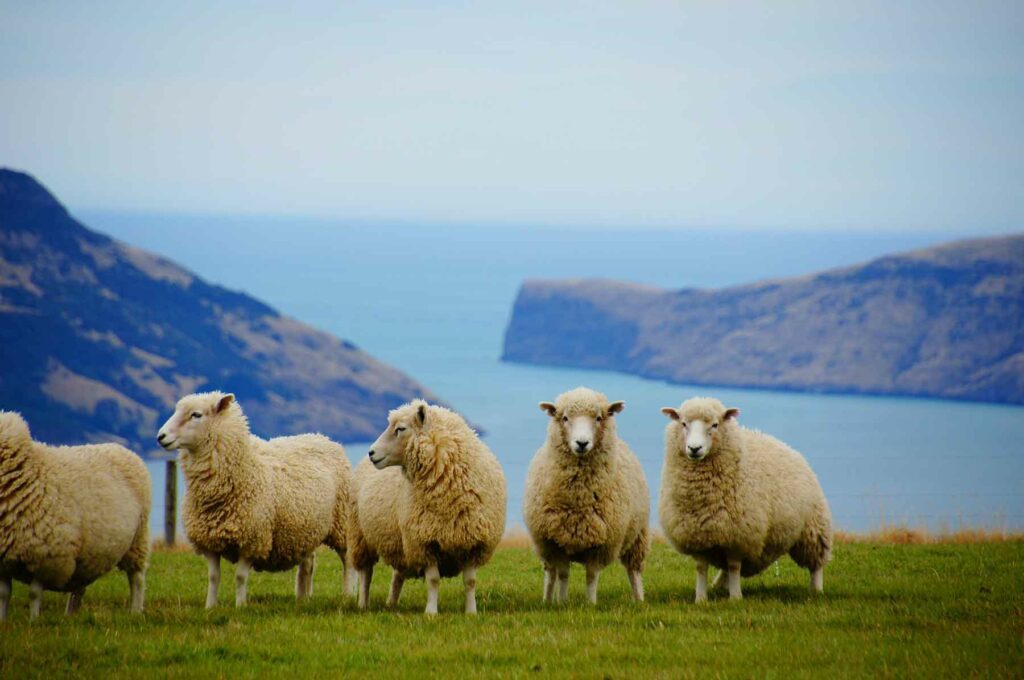 Did you know that the sheep in New Zealand outnumber the population? Or that 30 percent of the country is a national reserve? Or that its Māori culture name is Aotearoa? Let's dive into everything you need to know about this far flung destination before you visit New Zealand.
The remote country is actually composed of hundreds of islands, with the main land masses being the North and South Islands. Northland is known as the birthplace of New Zealand and is entrenched in native Māori culture. You absolutely can't miss the beautiful coastlines and geothermal phenomena such explosive geysers and hot springs in spots including Waikite Valley and the Coromandel Peninsula. Spanning the southwestern portion of the larger of the two islands, Southland is where you'll find everything from glaciers to lush rainforests.
A visit to both islands is recommended, but you will need to plan for a longer trip to fit in all the beauty of this stunning country. Plus, New Zealand is on the other side of the globe, so traveling there demands a lengthy flight. To get the most out of your trip, aim to stay at least two weeks. As you can imagine, this extended honeymoon will be more expensive than other destinations, with the flight alone costing upwards of $1,500 during peak season.
Best Time to Visit
Because New Zealand is on the other side of the globe, the weather is the complete opposite of what we are experiencing in North America. This could be a huge benefit to your trip! If you and your partner are planning a gorgeous winter wedding, honeymooning in New Zealand will mean warm, long days made for soaking up the sun.
The best time to visit New Zealand is December through February during the "summer" months, but the shoulder seasons will yield smaller crowds, temperate weather, and opportunities to save money. If you're having a summer wedding, going during the off-season for a ski vacation could be the cozy, romantic getaway of your dreams.
Travel and Transportation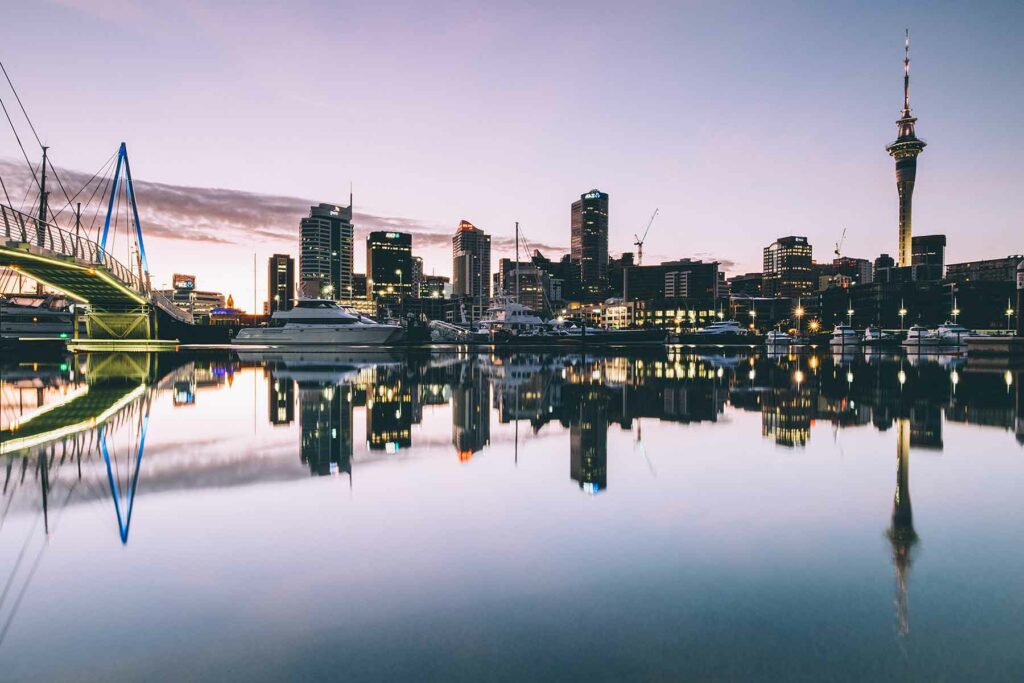 For such a small country, New Zealand has a generous list of airports you can fly into from North America. To keep costs on the reasonable side, we suggest choosing a larger hub like Auckland, Queenstown, Wellington, or Christchurch. If you are planning to visit both islands, look at booking one-way flights so you don't have to hop between islands.
Now for the intimidating part: A flight to New Zealand will have at least one stop and the total travel time ranges from 24 to 50 hours. We know what you're thinking — "Yikes! Is it worth it?" Our answer is yes! Just be prepared to carve out enough time away to justify the long flight.
Once you've safely landed and are ready to explore this gorgeous country, you'll need to figure out your ground transportation. To explore New Zealand beyond the reaches of where you're staying (and you absolutely should), we recommend renting a car. While it's an additional expense, it will give you and your partner the opportunity to be spontaneous rather than booking bus trip after bus trip to see the sites. The romance of navigating this otherworldly terrain together will be a memory that will stay with you forever. If renting a car isn't in the budget, there is a train that runs through the country, but the network is small and can be limiting. Plan your itinerary prior to takeoff so you can figure out the most cost-effective solution.
Hoping to see both the North Island and South Island? No problem! There is a ferry between the islands that also accommodates cars, or you could take a train or fly.
Honeymoon Activities
We've touched briefly on how amazing New Zealand is, from the raw beauty of its natural surroundings to the rich Māori culture. Here are a few romantic ways to explore all that the country has to offer.
Visit Middle-earth. While "The Lord of the Rings" trilogy was filmed all over the country, visitors are most excited to see the Hobbiton movie set on New Zealand's North Island and even grab a pint at the local pub.
Get adventurous. Because New Zealand has so much protected nature, it's the perfect place to indulge in adrenaline-rushing adventures like rafting, zip-lining, and off-roading. The raw, untouched landscape makes every activity a completely new experience, from heli-skiing in the Southern Alps to canyoning in Wanaka to bungee jumping over the Waikato River near Lake Taupo. You've already taken one leap together, so why not another on your honeymoon?
Rent a motorhome. If you're looking for a way to save money and still experience all New Zealand has to offer, this is for you. Renting a motorhome will combine your car and accommodation budget into one, plus give you the freedom to explore New Zealand from the driver's seat. Imagine waking up with your partner in the haze of morning while parked in the middle of a rainforest with views of a waterfall. This is definitely a more rugged way to plan your honeymoon, so you may want to treat yourself to a night or two at a luxury lodge before you go home.
Take a hike. Since nearly 30 percent of New Zealand is protected land, it naturally has some of the best hiking in the world. Whether you are novice adventurers or ready to rough it, you'll be able to find a trail that appeals to you, all with some of the most beautiful views in the world. With a temperate climate, Abel Tasman National Park is a popular hiking destination year-round. Pack a romantic picnic and make a day out of it. Just remember to leave nothing behind but footprints so that honeymooners for generations can experience this magical place.
Explore Milford Sound. Milford Sound is located on the west coast of New Zealand's South Island and is one of the most magnificent natural wonders of the world. Imagine tropical rainforests lining the base of snowcapped mountains as stories-tall waterfalls splash down into crystal waters where colonies of seals play. Its majesty is awe-inspiring and the perfect place to take a moment with your spouse to appreciate the world around you.
Go wine tasting. As if New Zealand couldn't get any more awesome, the country is home to world-renowned wine regions. Take a day (or two) to tour sprawling vineyards in regions such as Marlborough, known for wineries producing delicious sauvignon blanc.
Marvel at magical glow worms. The Waitomo Caves will be a bright spot of your honeymoon experience. Home to thousands of blue-green glow worms, the caves are one of the best places to see the tiny glowing insects. Take a guided tour by kayak or boat at night for the best views.
Go whale watching. New Zealand's wildlife is a treasure unto itself. Book a guided tour to catch a glimpse of sperm whales in Kaikoura on the east coast of the South Island, one of the only places in the world where you can see this majestic species. If whales aren't your thing, go on a penguin-spotting experience through Pohatu Marine Reserve, where you may be lucky enough to spot the tiny flightless birds gliding beneath your sea kayak.
Sip Champagne under the stars. Because New Zealand has so much protected land, it also has some of the best dark skies in the world. Take a night to visit Aoraki Mount Cook National Park, which is surrounded by the largest protected dark sky reserve on earth. The area has essentially no light pollution and is arguably the best place to view celestial bodies. Bring a bottle of your favorite bubbly and toast the heavens for the whimsical show.
Island hop. As we mentioned before, New Zealand is made up of hundreds of small islands. If you and your love want to escape, take a boat to any of the surrounding islands, such as Waiheke Island or New Caledonia, and sprawl out on the golden coasts like you're the star of your own beachy rom-com. Animal lovers won't want to miss Stewart Island, home to the elusive, flightless kiwi bird.
Entrench yourselves in Māori culture. The Māori people arrived from Polynesia almost a thousand years ago. Make time to visit the Māori Art and Crafts Institute in Rotorua to learn more about the mythology and traditions that shape this amazing country.
Where to Stay
Whether you love that metropolitan vibe or live for natural surroundings, New Zealand has the best of both worlds when it comes to accommodations. Our advice? Split your time between a couple properties to really experience the country. New Zealand is known for its spectacular luxury hotels and unbeatable honeymoon packages!
Northland Hotels
Known for its intimate property and luxury touches, Helena Bay Lodge is a honeymooner's paradise boasting a pristine coastline and over 800 acres of untouched forest. Book a helicopter tour around the island with the lodge's own chopper for a truly unique experience you won't be able to find anywhere else.
Featuring only 22 suites, this exclusive property is perched right on the coastline of Northland offering uninterrupted Pacific Ocean views. The property's spa is unlike anything you've ever seen with floor-to-ceiling windows in each treatment room offering views of wild streams and lush forests. It doesn't get more relaxing than that!
If the city of Auckland is calling to you, make Hotel Britomart your home base for exploration. You'll love this sleek metropolitan escape with harbor views, where natural elements meet modern design. For an unforgettably fresh dining experience, don't forget to indulge in at least one meal at the sustainable seafood restaurant Kingi.
Southland Hotels
If you're enchanted by the idea of wine tasting, book a room at Antria Boutique Lodge. This boutique hotel is the perfect place to spend a luxurious honeymoon traipsing through vineyards and sipping local varietals. Nestled in the famous Marlborough wine region, this romantic, European-inspired castle is the fairy tale accommodation that was made for capturing picturesque photos at every turn with your spouse.
Nature lovers, this one's for you. Feel like the only two people left in the world in this all-glass enclosed luxury "pod" that is dropped right in the middle of the Waipara Valley. From inside your well-appointed accommodation, which includes a bathroom, bed, and cooking station, you can enjoy unimpeded views of rolling hills and wildlife. Spend a night stargazing while snuggled under a blanket with a bottle of wine from Greystone Vineyard. This secluded getaway will give you the romantic honeymoon experience of your dreams!
Even though Azur Lodge is located just five minutes from bustling Queenstown, it feels about a million miles from any civilization. The stunning property overlooks Lake Wakatipu and a string of mountain ranges. Make sure to indulge in an in-villa spa treatment to take advantage of the tranquility of your view.
New Zealand Honeymoon FAQs
There are a few technical things you might still have questions about before jetting off to one of the best honeymoon destinations in the world. Here are a few common queries that will help you prepare for your romantic getaway.
What's the time difference? As you can imagine, the jet lag is extreme when you are flying to the other end of the earth. For reference, Wellington, the capital of New Zealand, is 18 hours ahead of the East Coast of the United States. If you fear jet lag, try adjusting to this schedule a day or two before you land to ease the transition. It's not easy, but it's worth it so as to not waste a day sleeping!
Do I really have to declare my hiking boots when I arrive? Even we admit this is a weird one: The answer is yes, you do. Outdoor equipment, including hiking boots, are considered a risk item that needs to be declared. Due to the deep tread in hiking boots, foreign dirt, seeds and other vegetation can be tracked into the country and wreak havoc on the fiercely protected ecosystem. Be sure to keep your hiking boots outside of your bag so border officials can inspect the bottoms. If you forget, you could be facing a serious fine!
Do I need a visa? Not exactly, but there are a few fees you have to pay prior to entering the country that will cost around NZD $58 in total. Find more info on fees and forms here.
How much does it cost to go to a national park? It's free! There are also a lot of free camping spots all over the country, should you be interested in that camper van life.
Up Next:
Whether it's for airfare, a hotel stay, or honeymoon travel experiences, create one list for all your honeymoon wishes.