Imagine exchanging your vows against the backdrop of turquoise waters and powder-white sandy beaches, surrounded by the lush tropical beauty of the Bahamas. A destination wedding in this idyllic archipelago promises an unforgettable experience that will leave you and your guests mesmerized. While it is renowned for its stunning beaches, there is so much more to explore. From a charming beachside ceremony on one of the Out Islands, where secluded coves and untouched nature create an intimate atmosphere, to a lively wedding in the cultural capital city of Nassau, there is something for every couple in the Bahamas. Here's everything you need to know to plan the perfect destination wedding in the Bahamas.
Getting Started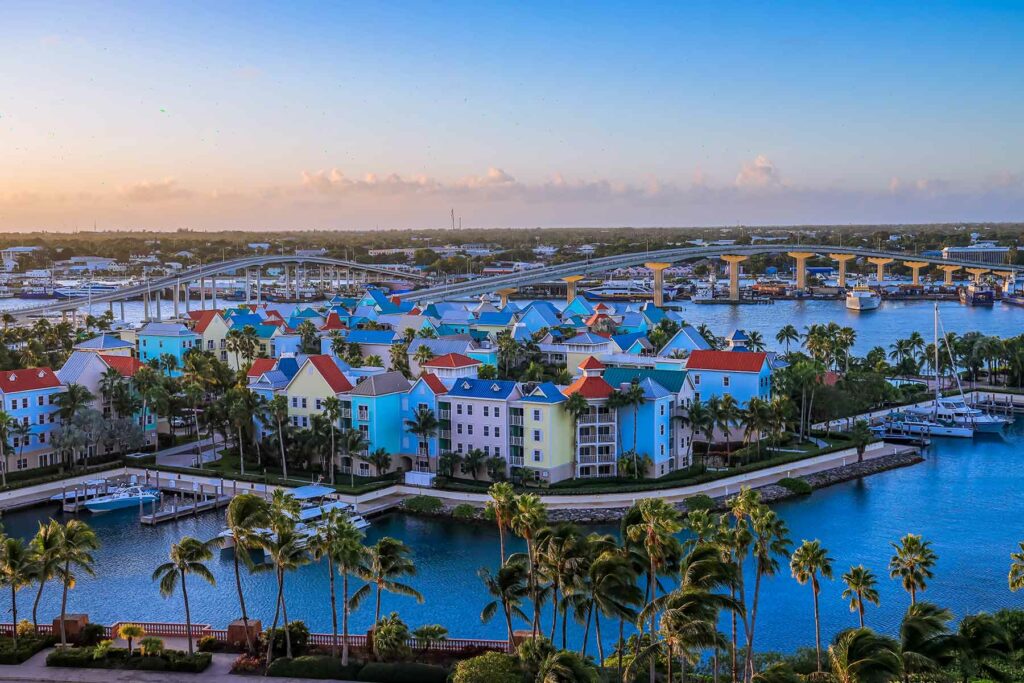 Planning a destination wedding in the beautiful Bahamas is a dream come true for any couple seeking a romantic and exotic setting for their special day. But before you sign on the dotted line, there are some things you should know.
Flights from the East Coast to the Bahamas are approximately two to three hours; from the West Coast, it can take around five to six hours. Make sure to include these deets on your wedding website! We promise — your wedding guests will thank you. Since you are already far from home, consider exploring another island for your honeymoon to really experience all the fabulous areas of the Bahamas.
To cut down on pre-wedding stress, you'll want to begin the planning process at least 12 to 18 months ahead of your desired date. This will give you ample time to secure your preferred wedding venue, accommodations and vendors.
As you're looking at venues, you'll inevitably find a ton of all-inclusive options. These resorts are known for offering comprehensive wedding packages that take care of most details, including catering, decorations and coordination, allowing you to relax and enjoy the festivities. If you have your sights set on a toes-in-the-sand wedding ceremony, be aware that specific rules and permits may be required to say "I do" on the beach. Since there are a lot of nuances when it comes to planning a destination wedding in the Bahamas, we also recommend hiring an expert wedding planner who knows the ins and outs of the area so your big day will go flawlessly.
Making it Official
First things first. Let's address a common misconception: You don't have to be a citizen of the Bahamas to say "I do" there. In fact, the Bahamas is a popular spot for destination weddings, welcoming couples from all corners of the globe with open arms.
Now, let's talk paperwork, shall we? To make your marriage legal, you'll need to obtain a marriage license in the Bahamas. The process is actually pretty straightforward. You and your beloved will need to appear in person at the Registrar General's Department. To get your marriage license, you'll need to bring along a few important documents:
Valid passports or birth certificates: These will prove your identity and ensure you're not impostors trying to sneakily get married in the Bahamas.
Proof of marital status: If either of you has been previously married, you'll need to bring divorce decrees or death certificates if your previous spouse has passed away.
Arrival date: You'll need to be in the Bahamas for at least 24 hours before applying for the license. This gives you a chance to soak up some tropical vibes and maybe even indulge in a Bahamian cocktail or two.
Bring these items to the registrar's office and be prepared to pay a nominal fee. It typically takes around one to two business days to process your application and issue the marriage license. Now all that's left to do is have an officiant marry you! Once you've exchanged your vows in the Bahamas, your marriage will be recognized as legal in the United States and other countries.
Budgeting for the Bahamas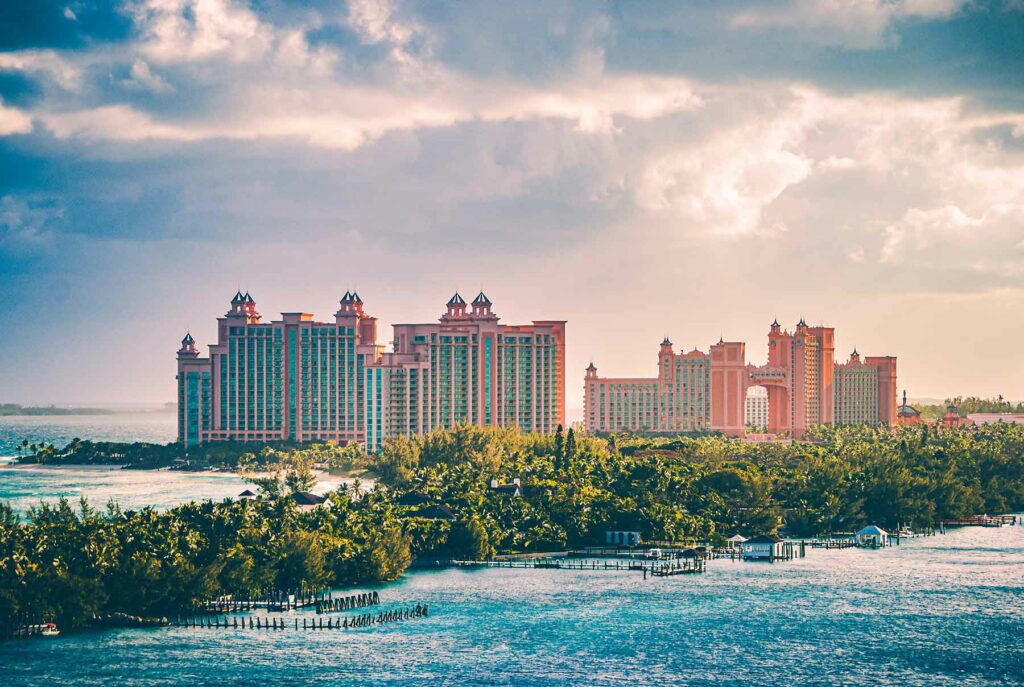 Let's face it — any destination wedding is going to require a larger investment than something local, but that doesn't mean you can't find ways to save on your wedding day budget. In terms of costs, destination weddings in the Bahamas can vary widely depending on your preferences and the specific resort you choose.
On average, you can expect to spend anywhere from $10,000 to $30,000 or more. This ballpark figure covers essential elements such as accommodations, ceremony and reception venue, catering, decor, and basic wedding planning services. Keep in mind that this estimate doesn't include additional expenses like travel costs for you and your guests, wedding attire, entertainment, photography, and any extras or upgrades you might want.
As for the guest count, destination weddings in the Bahamas often have larger turnouts compared to other destination wedding locales. Since your venue will likely be an all-inclusive resort, the minimum guest count requirement can vary, but it's not uncommon to see a minimum of around 50 to 100 guests.
When to Tie the Knot
If you're looking for warm, sunny weather for your dreamy Bahamas wedding, check your calendar for a date between December and May. The weather is mild during these winter and spring months, with temperatures ranging from 70 to 80 degrees. Just keep in mind that thousands of tourists have the same idea as you, so you might encounter larger crowds and higher accommodation costs for both you and your wedding guests.
To save a few dollars and avoid peak tourist season, you can plan a more intimate affair outside the busy season during the summer or fall. Although these months (June to November) are technically the hurricane season, the Bahamas isn't typically hit hard by major storms. You'll have more flexibility in terms of dates, lower travel costs and a more peaceful atmosphere. Just make sure to have a backup plan in case of unexpected weather changes!
Speaking of tropical storms, let's talk about the times you absolutely want to avoid. The Bahamas experiences higher rainfall and potential for hurricanes from August to October. While the chance of a major storm hitting the islands is relatively low, it's better to err on the side of caution to minimize any potential disruptions to your big day.
Best Bahamian Islands for a Destination Wedding
The Bahamas is comprised of more than 700 idyllic islands, perfect for couples seeking a magical destination wedding. With convenient access through several major airports, including Nassau International Airport and Grand Bahama International Airport, this tropical paradise beckons to romantics looking for a stunning tropical wedding.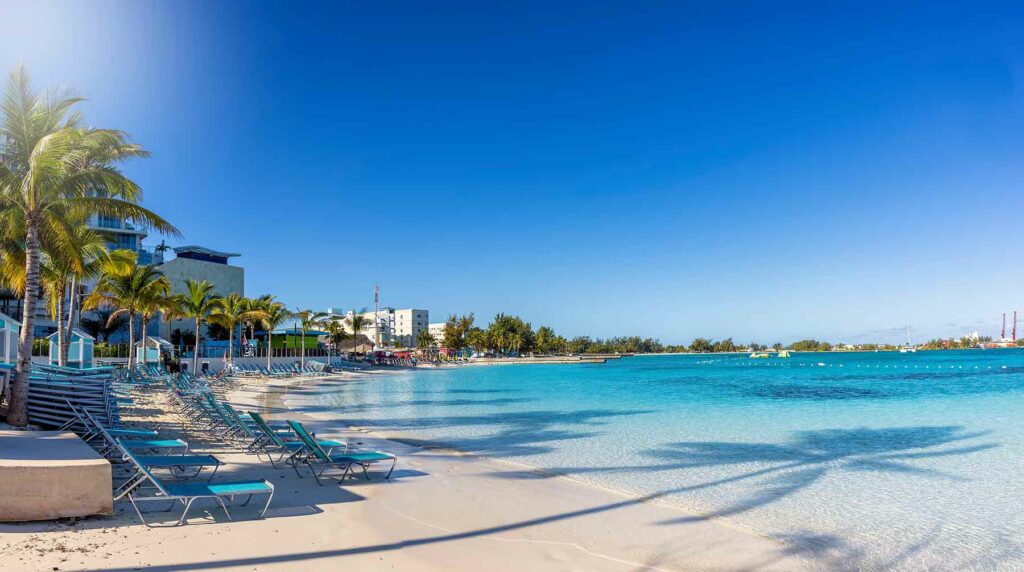 Nassau
Nassau, the bustling capital of the Bahamas, combines a vibrant city atmosphere with breathtaking natural beauty. Known for its luxurious resorts, casinos and nightlife, Nassau offers an array of wedding venues to suit diverse tastes. From picturesque beachfront ceremonies to elegant garden receptions, couples can capture memorable moments against stunning backdrops such as the iconic Cable Beach and the famous Blue Lagoon Island.
Paradise Island
Located just across the bridge from Nassau, Paradise Island is a tropical haven that lives up to its name. This exclusive destination boasts world-class resorts, including the renowned Atlantis Paradise Island, where couples can indulge in opulent wedding celebrations. Expect white sandy beaches, lush gardens and ocean views. Hello, stunning wedding photos!
Eleuthera
For a couple seeking a more tranquil and secluded setting, Eleuthera is a hidden gem offering unspoiled beauty. With its pink sand beaches, charming coastal villages and breathtaking cliffs, Eleuthera exudes a serene and romantic ambiance. Couples can exchange vows on quiet beaches or at charming beachfront resorts, creating an intimate and memorable wedding experience.
Harbour Island
Harbour Island, located just off the coast of Eleuthera, is a captivating blend of colonial charm and pristine natural beauty. Known for its famous pink sand beaches, this idyllic island offers a romantic atmosphere for destination weddings. Couples can choose from elegant resorts or boutique hotels for their nuptials, and the island's historic landmarks and charming pastel houses in Dunmore Town provide picture-perfect settings for wedding photography.
Exuma
Exuma is a literal paradise made up of 365 cays and stunning turquoise waters. The Exumas are famous for their swimming pigs, allowing couples to incorporate these friendly creatures into their wedding celebrations. From private island resorts to secluded beaches, Exuma offers a variety of wedding venues surrounded by breathtaking scenery, making it an ideal choice for nature-loving couples.
Abaco Islands
The Abaco Islands, comprised of Great Abaco and Little Abaco, provide a serene and picturesque setting for a destination wedding. Known for their charming colonial towns, quaint cottages and turquoise waters, these islands offer a delightful blend of rustic elegance and natural beauty. Couples can exchange vows on pristine beaches or at boutique resorts, immersing themselves in the island's laid-back ambiance.
Bimini
Bimini, the westernmost district of the Bahamas, offers a unique combination of natural wonders and vibrant culture. Known as the "Gateway to the Bahamas," Bimini boasts stunning beaches, excellent diving spots and vibrant marine life. Couples can tie the knot on secluded beaches, dive into underwater adventures or enjoy the lively local music and cuisine, creating a wedding experience filled with excitement and relaxation.
Top Destination Wedding Venues in the Bahamas
With its breathtaking beauty and warm tropical climate, the Bahamas offers an array of stunning venues for couples seeking an unforgettable wedding experience. Whether you envision an intimate beach ceremony or a grand celebration, here are some top wedding venues in the Bahamas to consider.
Nestled in the heart of Nassau, Graycliff Hotel exudes old-world charm and elegance. This historic mansion turned luxury hotel offers a variety of event spaces, including lush gardens, a charming courtyard and a picturesque poolside terrace. With personalized service and exquisite cuisine — its on-site eatery was one of the Caribbean's first five-star restaurants — Graycliff Hotel ensures a memorable wedding experience.
As a premier resort complex, Baha Mar offers a variety of exceptional wedding venues within its expansive grounds. From the elegant Rosewood Baha Mar to the vibrant Grand Hyatt Baha Mar, couples have a range of options to suit their preferences. Whether you desire a lavish ballroom affair or an intimate beach ceremony, Baha Mar provides all-inclusive packages and expert planners to ensure a seamless wedding experience.
For the couple wanting to add a little glamour to their big day, consider the famous Ocean Club. Situated on pristine Paradise Island, this luxurious resort sets the stage for an enchanting wedding celebration. Exchange vows on the property's stunning white sand beach or the Cloisters, followed by a reception in one of the elegant ballrooms or outdoor venues like the Versailles Gardens. The best part? The resort's experienced wedding planners are there to help every step of the way.
For a secluded and intimate wedding experience, The Cove in Eleuthera is a hidden paradise away from the hustle and bustle of tourism. This boutique resort boasts stunning cliffside views, private beaches, and luxurious accommodations with a full buyout of the property. Say your private "I dos" on the pristine white sand beach, and then enjoy a stylish reception in an oceanfront event space or on the stunning pool deck. The Cove also offers a dedicated wedding planner to help create your dream wedding.
With its all-inclusive packages, you can enjoy the convenience of having every detail taken care of, including a dedicated wedding planner who will ensure that your big day runs seamlessly. The resort boasts beautiful event spaces, such as the iconic Blue Bar or beachfront gazebo, where you can say "I do" surrounded by stunning natural beauty. After the ceremony, you and your guests can indulge in world-class dining and enjoy the resort's amenities, including the serene pool area.
Located on the stunning Great Exuma, Grand Isle Resort & Spa offers a breathtaking setting for an idyllic beach wedding. Exchange vows with the sparkling turquoise waters as your backdrop, and then celebrate with your loved ones in the oceanfront event space 23 North, which overlooks Emerald Bay. The resort's attentive staff and personalized service make every moment memorable.
This waterfront property boasts a range of wedding packages that can be tailored to your specific desires, from intimate ceremonies to over the top affairs. Plus, there is an experienced wedding coordinator who can assist you with every step to ensure your special day will be flawlessly executed — even if you are planning from the United States. With a variety of event spaces to choose from, including the picturesque marina with breathtaking views of the yachts and the sparkling sea, there are so many stunning angles for the perfect photo ops.
This luxurious resort takes care of every detail of your big day, which you can customize to your heart's content or plan using one of its intimate wedding packages. From the moment you arrive until you say "I do," the team will ensure your special day is stress-free, giving you and your partner ample time to enjoy the stunning property. The resort offers beautiful outdoor event spaces — including a gazebo and rooftop terrace — as well as indoor venues, which can be great for those tricky weather months if you're getting married in the off-season. Whether you wed on the white sand beaches or in one of Resorts World's elaborate oceanfront ballrooms, your wedding day will be perfect. Did we mention there is a casino perfect for an impromptu afterparty?!