Puerto Rico's lush rainforests, pristine beaches and vibrant culture have all the makings of picture-perfect destination wedding. This tropical paradise offers an idyllic blend of natural beauty, history and an incredible array of venue options that will make your dream wedding day a reality. Exchange your vows surrounded by greenery, then dance the night away in a historic landmark — plus, you'll be able to capture your first moments as newlyweds against breathtaking backdrops. Puerto Rico has it all, and we can't wait to share why it's the ultimate destination for your special day. So, grab a coconut drink and let's dive into the excitement of planning your perfect destination wedding in Puerto Rico!
What to Know Before "I Do"
Let's get the nitty gritty out of the way before you jump into wedding planning. Puerto Rico is an island located in the Caribbean Sea and it's actually a commonwealth, offering a unique blend of vibrant local culture and U.S. influences. What truly sets Puerto Rico apart is its captivating architectural style and rich history. You'll be saying "I do" amidst some of the oldest churches on U.S. soil. Talk about romance with a dash of old-world charm!
And here's the great news for destination weddings: Because Puerto Rico is a U.S. territory, you and your wedding guests don't need a passport to travel to paradise. Transportation around the island is easy with the major airport, Luis Muñoz Marín International Airport (SJU), located around 20 minutes from San Juan. Renting a car is recommended for exploring different areas of the island. Be sure to put this info on your wedding website so your guests have all the info they need to make travel arrangements.
To make your vows official in Puerto Rico, you'll need a handful of documents including a valid government-issued ID, birth certificates, medical clearance, a sworn affidavit that you're in the country to get married, and an IRS stamp from the local government office. Our recommendation is to work with your wedding planner to gather everything you need to legally obtain a marriage license.
Setting a Budget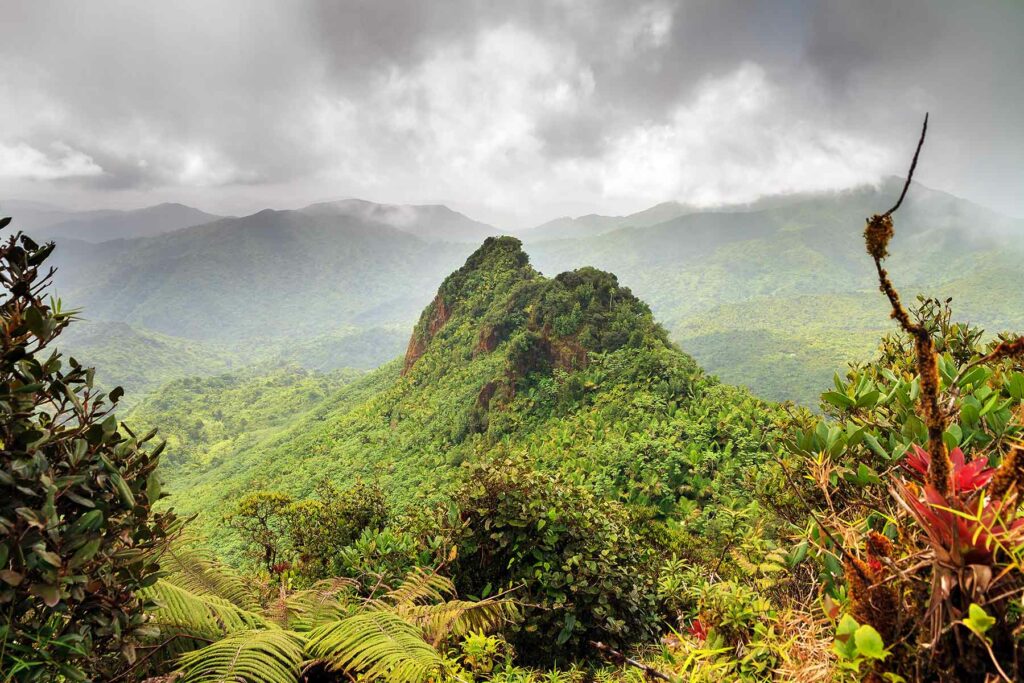 One of the best parts about getting married in beautiful Puerto Rico? You get some major bang for your buck when it comes to saying "I do" in a tropical paradise. Expect to spend around $15,000 to $30,000 for a wedding of around 50 to 100 guests.
When to Book Your Destination Wedding
When it comes to setting the perfect date for your dream celebration, there are a few things to keep in mind. Be mindful of the busy tourist season, which typically falls between December and April when the island is dry and warm. If you want to avoid the crowds and save money on your destination wedding, consider picking a date during the shoulder season (May to November). But a word of caution: Be wary of hurricanes from June to November, as it could pour buckets on your well-laid plans. It's also wise to steer clear of major festivals that draw crowds, such as Fiestas de la Calle San Sebastián in January and the Casals Festival in February, as venue and hotel prices may skyrocket.
Where to Have Your Destination Wedding Ceremony in Puerto Rico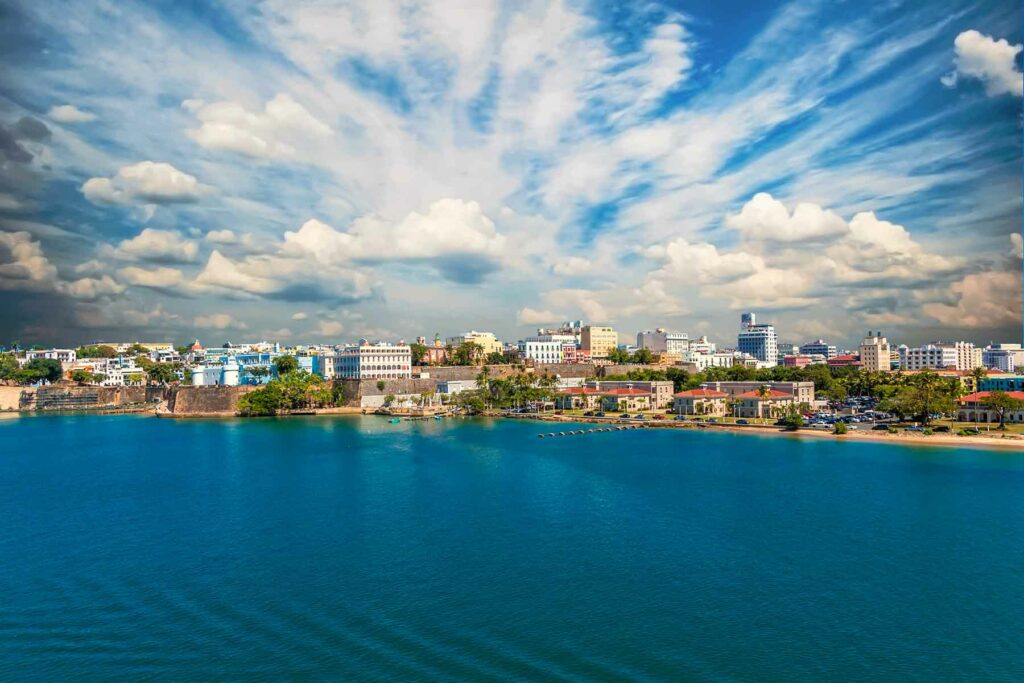 From fairy tale-esque city streets to romantic remote beaches, Puerto Rico has every possible paradise scenario for you and your partner. No matter which locale you choose, the island will embrace you with open arms and provide the perfect backdrop for your dream destination wedding.
San Juan
Puerto Rico's vibrant capital city is perfect for couples seeking a mix of history and metropolitan charm. Exchange vows amidst the colorful buildings and cobblestone streets of Old San Juan, with the impressive El Morro fortress as your backdrop. After the ceremony, explore the city's lively streets such as Calle de la Fortaleza where you can savor delicious Puerto Rican cuisine and enjoy the romantic ocean views at spots like Playa El Escambron.
Isla Verde
If you're dreaming of a waterfront wedding, Isla Verde Beach is the barefoot luxury choice. Located just minutes from Puerto Rico's major airport, this stretch of sand is actually three beaches — El Alambique, Pine Grove Beach and Balneario de Carolina. The pristine 3-mile shoreline renowned for its turquoise waters and luxurious resorts. Dance the night away under swaying palm trees and create memories that will last a lifetime.
Vieques
For a truly magical experience, consider Vieques, a secluded island paradise. Home to Mosquito Bay, the brightest bioluminescent bay in the world, this destination will make your wedding night an otherworldly affair. Imagine saying "I do" under a canopy of stars and later witnessing the water come alive with a mesmerizing blue glow.
Rincon
If you and your partner are surf enthusiasts or simply love beach towns with a laid-back vibe, Rincon is your spot. This surfers' haven offers scenic shores and a relaxed atmosphere. Choose a sunset ceremony at Sandy Beach, followed by a beach bonfire with crashing waves serving as your soundtrack.
El Yunque National Forest
For nature lovers, El Yunque National Forest provides a lush and enchanting backdrop for your wedding — not to mention it's the only tropical rainforest in the national forest system. Exchange vows while surrounded by tropical flora and cascading waterfalls. Embrace the beauty of nature, and perhaps even encounter the iconic coquí tree frogs singing their sweet serenade.
Ponce
If you crave a blend of culture and history, Ponce, Puerto Rico's second-largest city, is a fantastic option. Known as the "Pearl of the South," Ponce boasts stunning architecture, myriad museums and a charming town square. Consider a ceremony at the historic Parque de Bombas, a vibrant red-and-black firehouse turned museum, for a unique and unforgettable celebration.
Top Puerto Rico Wedding Venues
Give yourselves (and your wedding guests) an unforgettable experience in luxury. The old-world charm of Puerto Rico goes further than just the stunning coastlines. Historical mansions, seaside escapes and whimsical haciendas await in your search for the perfect destination wedding venue.
The historic Hotel El Convento in Old San Juan guarantees an enchanting experience behind a yellow Spanish Colonial facade. It's the ideal setting for your special day if you're dreaming of timeless charm and elegance. Surrounding a lush and vibrant garden courtyard, four distinct venues offer features such as a 50-foot vaulted ceiling and stained glass windows. Packages with plated and buffet dinner (or brunch!) options and add-ons including sweet treats and a rehearsal dinner make wedding planning a breeze. Snap a few photos after "I do" up on the breathtaking rooftop terrace, which offers views of San Juan Bay.
Located just a short drive from San Juan, this luxurious resort in the beautiful town of Dorado is the picturesque beach wedding venue you've been waiting for. Imagine exchanging vows against the backdrop of the sparkling Caribbean Sea, then celebrating your wedding reception at one of four distinct venues such as the Surf Room, which offers dramatic floor-to-ceiling windows that open up to a terrace. Or, if an elopement is in the cards, consider reserving the five-bedroom Su Casa hacienda so you can retreat in luxury after a private ceremony.
Sun-seeking couples, this one's for you. Tie the knot on the beautiful beach, then retreat to the Kumo Rooftop for your wedding reception — everyone on your guest list will love the stylish surroundings and stunning ocean views. This 80-room boutique hotel has an intimate feel, whether you opt for a barefoot beach wedding or swanky nuptials on the terrace.
For couples seeking an eco-friendly and tranquil wedding venue, HIX Island House is a perfect choice. This boutique hotel sits atop a hill, offering panoramic views of the surrounding lush landscape and the azure waters of the Caribbean Sea. This tiny hotel sleeps about 40 people with an event space called La Casona offering plenty of outdoor spaces to say "I do," like a beautiful meadow and hotel pool. Our advice: Buy out the hotel to embrace the secluded vibe of a Caribbean Island getaway.
This beachfront resort overlooks Playa Almirante and offers a variety of venues for your wedding, including an infinity pool deck and grand ballroom. With four wedding packages to choose from for guest lists ranging from four to 50 people, the boutique property makes it easy to plan a memorable oceanfront wedding in the Caribbean.
Although not directly within the national forest, this nearby venue in Río Grande combines the tropical beauty of El Yunque rainforest with the charm of a rustic hacienda. Choose from one of the property's stunning four venues, including an elegant garden, open-air courtyard, river embankment and rustic barn. Overlooking El Yunque, this majestic hotel will make you feel like you've just stepped into a fairy tale.
Immerse yourselves and your guests in complete luxury at Castillo Serrallés. This historic mansion has stunning architecture and lush gardens that will add a dream-like quality to any Puerto Rico destination wedding. The panoramic views of the city and the Caribbean Sea from the castle's terrace add a touch of grandeur to your celebration and will create jaw-dropping wedding photos. Whether you choose to have your ceremony on the expansive terrace or in the intimate setting of the Jardín Japonés, you and your partner will feel like royalty.