Dreaming of a destination wedding that blends ancient traditions and modern allure? Nestled in the heart of Southeast Asia, Thailand is an intriguing destination for couples from around the world. Imagine exchanging vows amid the opulence of a resplendent royal palace, adorned with intricate carvings and glistening golden accents — or on the untouched white sand beaches of the coast. Thailand's regal heritage will lend an air of majesty to your wedding, making it a truly extraordinary affair. Here's how to immerse yourselves in the local customs and rituals while planning a destination wedding in Thailand that will make you and your partner feel as though you've stepped into a glamorous bygone era.
Start Planning Well in Advance
It's worth repeating: With any destination wedding, give yourselves plenty of time to plan. Thailand is a popular wedding destination — not to mention far-flung — so you'll want to start at least a year in advance. This will give you ample time to secure your preferred venue, find the perfect wedding vendors, and notify your guests.
Ready for some great news? Thailand offers a wide range of options, including all-inclusive resorts that will take care of all your needs, from accommodations to meals and even some activities. When it comes to the wedding itself, get ready for a slice of paradise. Whether you want a barefoot ceremony on one of Thailand's infamous white sand beaches or a lavish rooftop celebration, the options are endless.
Just be sure to give guests a heads-up as soon as you've locked in the date and location. In addition to sending your save the date cards, keep them up-to-date by posting schedules and location details on your wedding website so they can start making their own travel arrangements.
Make Your Wedding Legal
Without diving into the nitty-gritty legal details, there are a few important things to know before you can legally say "I do" in Thailand.
First, contact the specific amphur (Thai district office) where you're planning to wed because requirements vary from district to district. Typically, an amphur will require you to make an appointment to obtain a notarized marriage affidavit from the U.S. Embassy in Bangkok or the U.S. Consulate General in Chiang Mai. Make sure to call ahead and have all your paperwork together. You might also want to bring a translator to make this appointment a little easier. Be prepared to pay a nominal fee with your application.
Does that sound like a lot? We totally get it. For those who prefer a simpler route, you can always opt for a stateside ceremony instead. This means having your wedding in the U.S. without dealing with the legalities of getting married abroad. You can still have a beautiful and meaningful celebration with your family and friends while avoiding the additional paperwork and potential complexities of an international marriage.
Hire a Wedding Planner
It's no secret that we're big fans of wedding planners — especially when you're coordinating a destination wedding. These local miracle workers have a vast network of connections and insider knowledge to recommend the best venues, photographers, caterers, and all the little details that will make your day truly unforgettable. They know the hidden gems, the local customs, and the best-kept secrets of Thailand that will respectfully embrace the beauty of the country while creating a majestic experience for you and your partner.
Choose a Ceremony Type
As you're planning your big day, you'll learn that Thailand offers a fantastic range of options, including both Western and Thai ceremonies. Western ceremonies will consist of the traditional exchange of vows, the ring exchange, the "I do" moment, and the ceremonial kiss we are used to seeing stateside. Opting for a Thai ceremony, however, allows you to immerse yourselves and your guests in the rich cultural heritage of Thailand. It's a fantastic choice for couples seeking a unique and memorable experience. A Thai ceremony typically includes traditions such as a Buddhist blessing, khan maak (engagement tray) procession and a water pouring ritual.
Set a Budget
One great thing about deciding to host your wedding day in Thailand is that you really get some bang for your buck. Thailand is known as an affordable destination for vacations due to the generous exchange rate, a sentiment that can extend to your destination wedding as well. For a 50-person destination wedding in Thailand, you can expect the cost to fall somewhere between $15,000 to $30,000, depending on your preferences and the level of extravagance. You'll notice that even the most high-end accommodations here tend to be less expensive, so if you are hoping for a luxurious wedding on a budget, a destination wedding in Thailand just might be in the cards for you.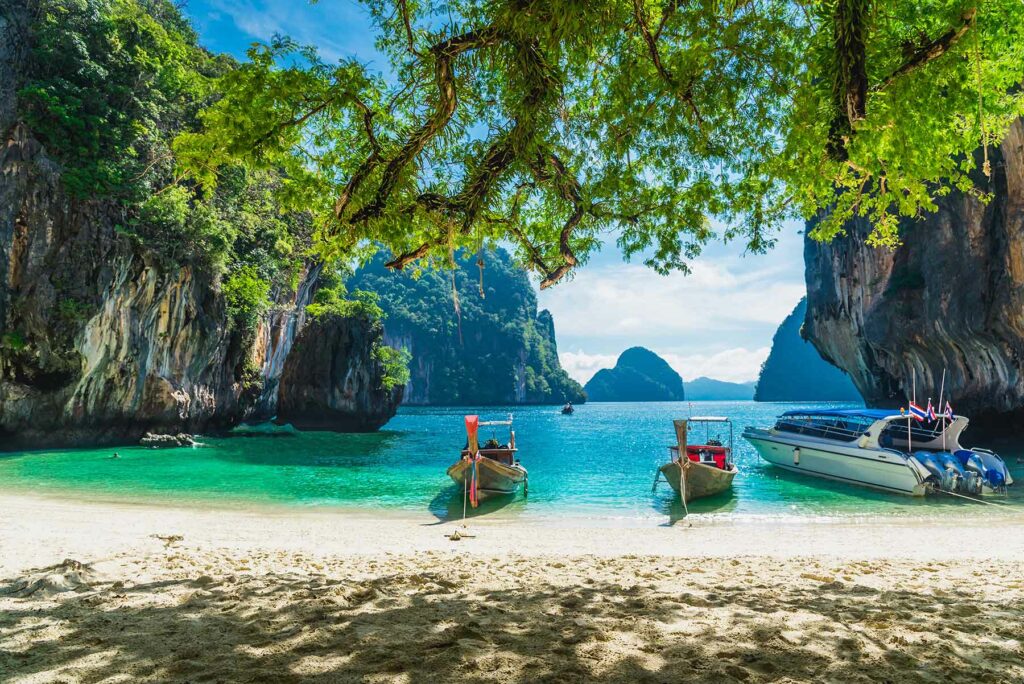 When to Book Your Destination Wedding in Thailand
Thailand experiences three main seasons: the cool season, the hot season and the rainy season. Each has its own charm, but some months are more popular than others for weddings.
The cool season, from November to February, is actually the most favorable time for a wedding in Thailand. The weather is mild and pleasant, with lower humidity and comfortable temperatures — perfect for outdoor celebrations. Unfortunately, it's also the busiest season for tourism; if you hate crowds and higher prices, it may not be the best fit for your nuptials. Pro tip: Definitely avoid larger holidays this season, such as Christmas and New Years, if you want your pick of venues.
The hot season, from March to May, brings warmer temperatures and higher humidity that may put a damper on your outdoor wedding dreams. This season can still be a solid option if you're planning an indoor wedding or if you prefer a more intimate celebration — plus it's less crowded and prices are lower.
The rainy season, from June to October, is known for occasional showers and lush green landscapes. While the rain can add a romantic touch to your wedding, don't underestimate the potential for unpredictable weather. Sometimes saving a penny isn't worth tempting Mother Nature.
Travel and Transportation in Thailand
Thailand has several major airports, with Bangkok's Suvarnabhumi International Airport being the primary gateway. Other popular international airports include Phuket International Airport, Chiang Mai International Airport and Krabi International Airport (KBV). Generally, flights from major cities in Europe and North America to Bangkok take around 12 to 15 hours, not including layovers. Definitely book your travel well in advance and expect tickets (with layovers) that ring in at north of $1,000 a piece.
Once you get to Bangkok, you'll have a range of options to help you and your guests explore the country with ease. For longer distances, domestic flights are a convenient choice, allowing you to quickly hop to destinations like Phuket or Chiang Mai. For experiencing the town, you can rent cars and scooters or hire private drivers to navigate the cities or explore nearby attractions. Thailand also has a reliable and extensive network of buses and trains for budget-friendly travel between cities.
Best Cities and Islands for a Destination Wedding in Thailand
From exciting nightlife to pristine beaches, Thailand has a little something for every couple traveling to paradise in search of wedded bliss. Here are seven of our favorite locales for saying "I do."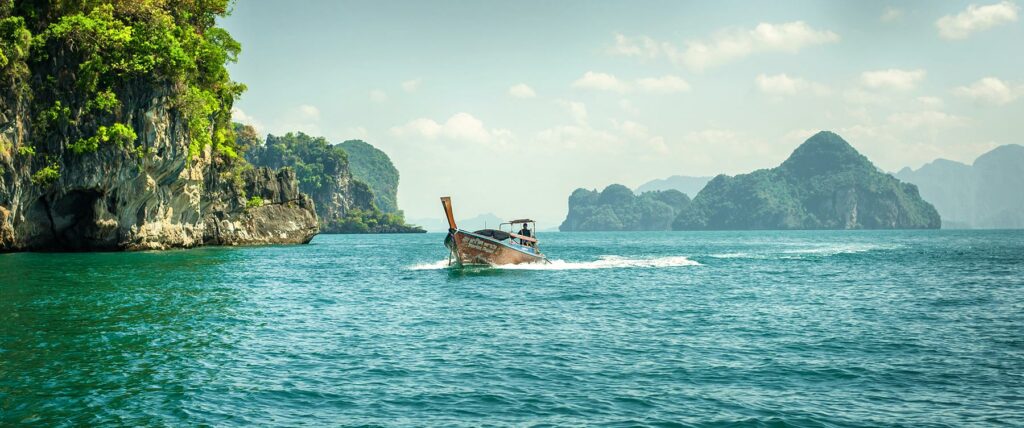 Koh Samui
Known for its pristine beaches, palm-fringed shores and crystal-clear waters, Koh Samui is basically a tropical paradise. The island boasts a laid-back ambiance with luxurious resorts and villas that offer breathtaking views. Notable landmarks include the 39-foot Big Buddha Temple (Wat Phra Yai), Na Muang Waterfalls, and the vibrant Fisherman's Village where local shops and restaurants create a charming atmosphere. Dive into the island's rich culture by including traditional Thai customs and ceremonies in your wedding festivities.
Phuket
For the couple who loves to relax as hard as they party, Phuket is the destination that has it all. Thailand's largest island is famous for its stunning beaches, vibrant nightlife and abundant marine life. Patong Beach is a bustling hub, while Kata and Karon beaches provide a more relaxed atmosphere. Phang Nga Bay's limestone cliffs and the iconic James Bond Island (known locally as Khao Ping Kan) are must-visit landmarks. Explore the old town's charming Sino-Portuguese architecture and immerse yourselves in the island's vibrant street food scene.
Bangkok
Thailand's capital offers a unique blend of traditional and modern experiences. For a vibrant city wedding, Bangkok provides numerous luxurious hotels and venues. In your down time, explore iconic temples like the Grand Palace, Wat Arun and Wat Phra Kaew. Indulge in the city's vibrant street markets, amazing cuisine and energetic nightlife. You may just feel inspired to include a traditional Thai wedding ceremony to honor the country's rich cultural heritage.
Krabi
Nestled along the Andaman Sea, Krabi is known for its stunning limestone cliffs, emerald waters and pristine beaches. Railay Beach is a favorite spot for weddings with its dramatic natural scenery. Venture out on a long-tail boat to the stunning Phi Phi Islands for a day trip or take the famous four islands tour. Don't miss the opportunity to visit the breathtaking Thung Teao Forest Natural Park and the iconic Tiger Cave Temple (Wat Tham Suea) for a touch of adventure and spirituality.
Chiang Mai
If you prefer a wedding amidst lush mountains and tranquil surroundings, Chiang Mai is a perfect choice. This northern city is known for its rich cultural heritage, ancient temples and vibrant festivals. Explore the famous mountainside Wat Phra That Doi Suthep temple, ride elephants at an ethical sanctuary and immerse yourselves in the beauty of the Old City. Consider including a traditional Lanna-style wedding ceremony if tying the knot in Chiang Mai; during this all-day affair, offerings like food, incense and flowers are made to monks on their daily rounds in exchange for a blessing.
Hua Hin
Located on the Gulf of Thailand, Hua Hin offers a perfect blend of beachside relaxation and metropolitan comforts. This charming coastal town is known for its long stretches of sandy beaches, world-class golf courses and lively night markets. You and your guests can visit the iconic Hua Hin Railway Station or explore the regal splendor of Mrigadayavan Palace. If you're welcoming children at your wedding, families with little ones can even enjoy water activities at Vana Nava Water Jungle Park.
Pattaya
Pattaya is a vibrant coastal city known for its lively atmosphere and entertainment options. Jomtien and Pattaya beaches are perfect for beachfront weddings, while the city offers a wide range of luxe accommodations and venues. Before saying "I do," visit the iconic Sanctuary of Truth, enjoy water sports at Coral Island, and experience the bustling Walking Street for lively nightlife.
Top Destination Wedding Venues in Thailand
Extreme luxury is the name of the game when it comes to choosing a venue in Thailand. These spectacular properties embrace the authenticity of the country while offering the highest level of hospitality.
This luxurious resort is perched on a hillside overlooking beautiful Lamai Bay, offering spectacular views for your dream nuptials. The property is known for its unparalleled privacy and seclusion, perfect for an exclusive wedding experience. If the resort's Saffron restaurant — which serves mouthwatering Thai cuisine with waterfront views — is any indication of what's to come, your wedding guests will be salivating over your elegantly catered reception feast.
If you're seeking a resort that exudes elegance and tranquility, Amanpuri offers stunning wedding venues ranging from a poolside terrace at the center of the resort to two beaches romantically lit by torches. Situated on a secluded peninsula overlooking the turquoise waters of the Andaman Sea, this resort has it all, including full buy-outs and options to incorporate traditional Thai music and dancers, fire and even elephant rides.
Do you love a dramatic entrance? Imagine tying the knot with the iconic Chao Phraya River as your backdrop at The Peninsula Bangkok as you arrive in a romantic riverboat or the hotel's Rolls-Royce. This luxurious property offers an array of beautiful event spaces, including a stunning riverside garden terrace. Whether you opt for an indoor ballroom or an alfresco celebration by the water, The Peninsula Bangkok provides impeccable service and unparalleled elegance.
For an unparalleled luxury experience, Phulay Bay is a haven of beauty and sophistication. Surrounded by lush greenery and the deep blue waters of the Andaman Sea, this resort provides a truly magical setting for your wedding. Choose from various venues such as the beach, a secret garden or an enchanting limestone cave for your ceremony. Afterward, treat yourselves and your guests to a sumptuous dining experience at one of the resort's restaurants, Sri Trang, where you can savor delectable culinary creations inspired by the flavors of Thailand.
Nestled amidst the picturesque Mae Rim valley, the Four Seasons offers a whimsical lush setting for your wedding. Imagine exchanging your vows overlooking the emerald-green rice fields and misty mountains. The resort's impeccable service, luxurious accommodations and world-class cuisine will ensure an extraordinary celebration for you and your loved ones.
Set against the backdrop of panoramic ocean views, Dusit Thani Hua Hin offers a picturesque venue for your special day. The resort boasts a beautifully landscaped garden, perfect for a romantic outdoor ceremony, or you can get married along the Gulf of Thailand in a traditional Thai morning ceremony on the sand. Diverse eateries, including renowned restaurants like Ban Benjarong, ensure your wedding celebration will be steeped in authentic cuisine.
If you're seeking a venue with a touch of magic, look no further than this five-star resort. It boasts a captivating ocean-themed design and a pristine 660-square-meter private beach where you can say "I do" with the sound of gentle waves and a golden sunset as your backdrop. The resort offers a range of Thai and Western wedding packages and a dedicated team of planners to ensure every detail is perfect.