A wedding invitation helps set the stage for your big day. It's guests' first glimpse at whether you're having a casual backyard BBQ, semi-formal garden party, or black-tie affair in a hotel ballroom. Not only does it indicate how guests should dress, but it's also a preview of the look and feel of your wedding day — and a small style detail that can pack a big punch. So how much do wedding invitations cost in 2022?
For a wedding with 100 guests, you can expect to spend an average of $80-$275 on wedding invitations and response cards (before postage). While costs can fluctuate depending on your wedding stationery design and any add-ons you choose, here are the average costs of other wedding printables you may want as part of your invitation suite:
Save the Dates: $50-$150
Reception/menu cards: $50-$150
E

scort/place cards: $50-$100

Thank You cards: $50-$150

Postage: $49 (to send 100 wedding invitations)
Popular Types of Wedding Stationery
Matte or Glossy Paper

Standard matte or glossy is the most common paper type for digital printing wedding invitation companies. It's popular for printing DIY invitations at home, too—and the most cost-effective option.
Cotton Fiber Paper

This paper has a soft, cotton-like texture and absorbs color well. It's usually couples' preferred type of paper for specialty printing such as letterpress, engraving, and thermography.
Parchment Paper

For an antique or old-fashioned look, parchment paper is an ideal choice. It's highly-textured but can still be easily rolled into a scroll if that suits your wedding style.
Vellum Paper

This is a smooth paper you can see through. Vellum paper can be used as the invite or as an enhancement such as an invitation overlay or invitation belly band.
Popular Types of Printing Processes
Digital
This is the most affordable type of printing method and usually the default for most online wedding invitation companies. Letters look flat and don't require a specialty paper for printing. However, upgrading the ink or paperweight may be a good idea for a more luxurious feel and richness of color.
Engraving
Engraving is a classic enhancement for wedding invitations. It's the process of pressing the paper between an ink plate and an engraved metal plate to push the text upward. The letters look engraved, but they are actually raised. It's a high-end look that's costly.
Thermography
If you want the formal, engraved look with a lower price tag, thermography may be the way to go. This process uses heat with special ink and powder that creates the raised effect at a budget-friendly price.
Letterpress
This enhancement is another classic type of printing process. It's similar to engraving yet opposite as the lettering is indented on the front of the invite, not raised. Like engraving, letterpress is a time-consuming and expensive option but well worth the cost for a formal wedding.
Foil Stamping
Metallic colors are very popular at weddings these days. Foil stamping is a sophisticated way to include a metallic look on your invitations. The foil is pressed onto the paper, adding shine and dimension.
How to Choose the Perfect Paper and Printing Process for You
Unless you have a specific preference at the onset, start by shopping online for an invitation theme such as modern, rustic, elegant, simple, lace, watercolor, floral, and by season or destination type. From there, the invitation theme you choose will help you narrow down your paper and printing options.
For a formal, classic wedding invitation, you could choose a cotton fiber paper with engraving or thermography lettering. For a whimsical, floral wedding invitation, digital printing on matte paper would work well if you're on a budget, or you could add a vellum overlay if you can splurge on dramatic effect.


It's easy to find online retailers that offer digital printing on matte or glossy paper.
Zazzle, for instance, is a large company that offers customizable templates. For custom design and access to a real designer, visit online retailers or individual designers on Etsy, which is a couple's dream for custom illustrations (your wedding venue in watercolor, for example). A custom illustration on Etsy may cost anywhere from $50-$500 and is provided as a downloadable file that you can include on your invites.
For luxury paper and printing options, visit a traditional wedding invitation retailer such as Paper Source. It carries its own exclusive line of paper and invitation designs and other high-quality invitation brands. Schedule an appointment to meet with a wedding concierge in the store to see paper and printing options, a kind of personalized service not available with most digital print companies.
But don't worry, traditional retailers also offer trending invitation designs.
Tip: Order a sample of your finished design before you place your order so you can see and feel the invitation. Also, be sure to double-check your information, grammar, and spelling.
How to Save on Wedding Invitation Costs

Because wedding planning, budgeting, and prioritizing go hand-in-hand, here are 7 ways to create a "Pinterest-perfect" wedding invitation suite that doesn't break your piggy bank.
1. Skip Pre-Wedding Announcements
Save your adorable engagement photo for social media and your wedding website. No need to buy printed engagement announcements. And unless you're having a destination wedding or many out-of-town guests, skip printed Save the Date cards. You can share this information by word of mouth or via a paperless invite.
2. Combine Ceremony and Reception Info
When the ceremony and reception are at the same location, list the ceremony location with the wording Reception to follow or something more specific such as Formal dinner reception to follow. Even if they're at two different locations, you can save on the cost by including both on the same invitation. If there's too much text for your liking, create a wedding website to hold all your wedding details such as addresses and directions.
3. Ditch the Ceremony Program
Most wedding ceremonies have a standard flow, so guests don't need to follow along by reading a program. The exception is a ceremony involving unusual traditions or held in a foreign language. Otherwise, ditch this extra piece of paper.
4. Create a Wedding Website for RSVPs and More

King suggests skipping the printable RSVP card. Instead, why not ask guests on the printed invitation to reply yay or nay on your wedding website? No lost mail and no tracking replies or meal requests. A wedding website also allows you to share Your Story and important details such as directions, suggested attire, and recommended lodging. You'll save money on printing and postage fees by replacing several printed invitation pieces with a wedding website. Plus, you can create a free wedding website with Joy that pairs perfectly with Elli's printed invitations.
5. Use Table Menus

At a formal or black-tie wedding, a menu per person may be expected etiquette. However, for a semi-formal or casual wedding, consider 1 menu per table. It costs less to buy 8 menus for 8 tables than 64 menus for 64 guests. If invitees RSVP'd their menu selection and allergies before the wedding, you can even skip menus entirely. For a buffet, 1 menu next to the dish with listed ingredients is helpful as guests normally don't choose their meals.
6. Create a Table Seating Chart

A seating chart lists the tables and guests at each table, and you can save money by replacing dozens or hundreds of individual place cards with a single seating chart. Assigning guests to tables, as opposed to individual seats, helps keep families and friends together as they can choose where to sit.
7. Use Digital Calligraphy

To save money, King recommends using digital calligraphy for your recipient envelopes. This way, the invitation and RSVP envelopes can have elegant lettering at a fraction of the cost. After all, wedding calligraphers may charge $2-$5 per envelope, which adds up fast.
Tip: Wax seals are stunning embellishments but can increase postage cost! Before buying stamps, take an enclosed invitation to the post office for an accurate postage quote.
By using any of these cost-cutting tips, you may be able to upgrade your printed pieces. Did you save more than you thought? Use that extra cash toward table number cards, menus, or favor gift tags that mimic your invitation suite. After all, "couples are buying matching print items to give their entire wedding day a professionally-coordinated look," King says.
How to Save with DIY Wedding Invitations

If you have a small guest list and a small wedding budget, you can spend more per printed item because your total price tag ends up being affordable. But if you have a large guest list and a small wedding budget, affordability might become a challenge. So why not tap into your creative side with DIY wedding invitations? It's a fun, creative outlet and another way to put your personal spin on your wedding day. Here are 3 popular options:
1. Print at Home
Craft stores like Michaels sell paper wedding invitation kits with 30-50 invitations, envelopes, and response cards for $19.99-$44.99. The paperweight is usually 80-lb cover stock, which is much thicker than the standard 20-lb weight multipurpose paper.
Michaels, Etsy sellers, and freelance designers also offer downloadable templates you can customize and print at home. If you have questions about which paper to use, print a sample and take it with you to Michaels, Paper Source, or any craft or paper store.
2. Print Shop
If you design your own invitation or buy a downloadable design, you can use a print shop such as FedEx Office to save on ink costs and ensure a smudge-free appearance. You can have the company print and cut the invites or save money by doing the cutting yourself.
Explore pricing options because this may or may not be cheaper than using a wedding invitation retailer that offers a big online sale or bulk discount.
3. Cricut Machine
This is an option for artists, crafters, and people with patience. The Cricut Maker is a cutting machine that allows you to create invitations, signs, and decor for your wedding—and beyond.
While it'll set you back $299.99-$399.99, plus supplies, it's a crafter's dream-machine and worth the investment if you love DIY projects for home, holidays, and special events.
Determine Your Wedding Invitation Priorities
Take time to carefully think about your wedding invitation budget and the level of hands-on work you're willing to do. Today's couples have countless options, so determine your priorities to make your budget stretch while getting an invitation suite that reflects your wedding day and personal style. And when you're ready to design yours, explore our wedding invitation wording guide for a simple outline with examples and inspiration.
Up Next: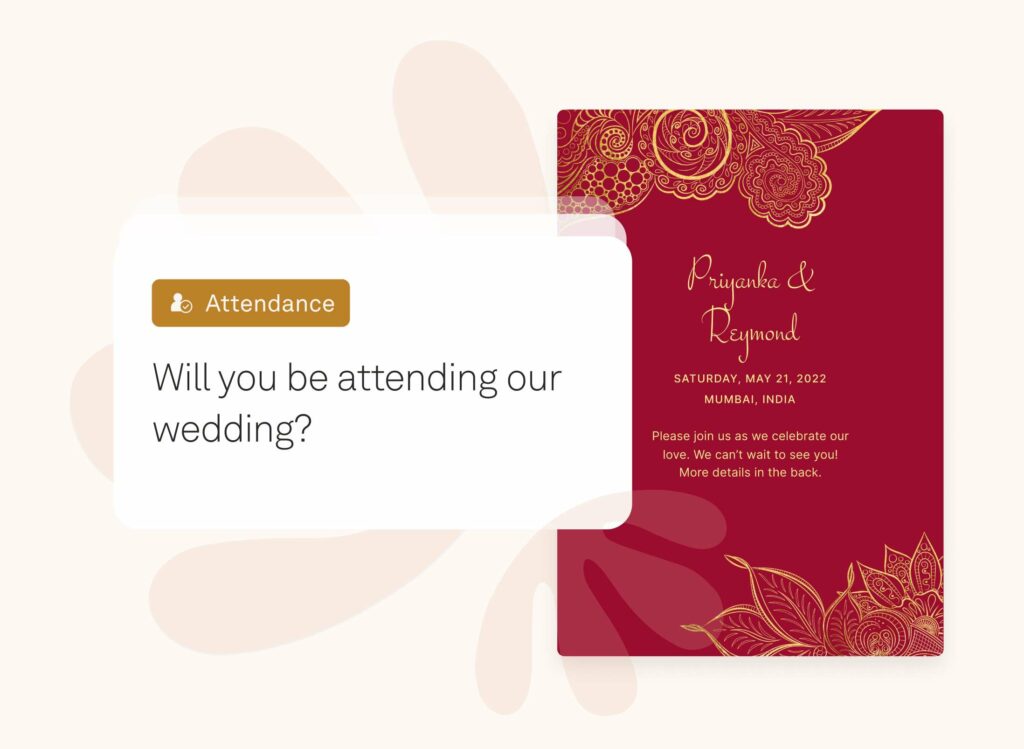 Whether you send traditional paper invitations or go paperless, you can easily collect RSVPs online.
Related Posts