Once you send out invites and RSVPs (sometimes even after save-the-dates) your excited guests will understandably have questions. A wedding website FAQ puts all of the commonly asked questions into one neatly organized place.  Instead of having to answer countless texts, emails, phone calls, and even in-person ambushes from future family members about wedding details, your lovely guests can find all of their questions answered on your wedding website FAQ. Trying to figure out what to include in your wedding website FAQ? We have you covered.  We've made a list of the most frequently asked questions and even have sample answers and tips.
When answering your wedding website FAQs try to be as clear and informative as possible. Your guests (especially first-time wedding guests) will want to make sure they do everything on their end to make your day as perfect as possible.  They may have logistical questions regarding transportation, dietary restraints, or be stressing about what exactly they should wear.
Questions for your wedding website FAQ:
1.  What should I wear? Is there a dress code?
Sample Answer: "The dress code for our wedding is semi-formal/cocktail attire.  Ladies should wear cocktail dresses, and the gentlemen should wear a suit and tie or a sports coat."
Tip: Wedding attire can be tricky, to avoid confusion in addition to the dress code, let the guests know specifically what they should wear, for example, a suit and tie, tux, formal gown, or floor-length dress.
2. What will the weather be like this time of year?
Tip: Let your out-of-town guests know the general weather conditions for your wedding's location.  Advise them to bring a jacket, umbrella, etc.
3. Where are the ceremony and the reception taking place?
Tip: Some weddings have the same venue for the ceremony and the reception, others do not.  Give your guests the addresses for each venue and any information on transport between sites.
4. Will the ceremony and reception be indoors or outdoors?
Tip: It's important for guests to know if they will be indoors or outdoors so they can plan accordingly.  Guests may need to bring sunscreen or wear different shoes.
5. What happens after the ceremony?
"After the ceremony, the bridal party will be taking pictures nearby for around an hour.  Guests can head straight to the reception hall where we will be serving finger foods and beverages."
Tip: It's important to let your guests know what to do in-between the ceremony and reception.  If the guests need to spend a few hours on their own before the reception, let them know of fun things to do in the area.
6. Does your wedding have a theme?
Tip: If you would like your guests to wear themed attire or dress in certain colors, let them know your theme ahead of time!
7. Are there other wedding events I can attend?
Tip: Remind your guests of any additional events before or after the wedding like brunches or happy hours.
8. What should I do if I can't make it?
"You will be missed! If you can not make it to the wedding, please let us know as soon as possible and RSVP "no," so we can plan accordingly."
9. How do I get to the venue?
Tip: Many people will put the venue's address in their smartphones, but just in case give additional directions especially if there are any tricky routes.
10. What time should I arrive?
"We recommend that you arrive an hour before the start of the ceremony, to make sure everyone is on time and we can get the party started as scheduled!"
11. Where should guests park? Is parking free?
Tip: Let your guests know where to park, if there is a valet service, whether or not parking is limited, and how much they should expect to pay for parking.
12. Are kids welcome?
Sample Answer: "While we love your little ones, our wedding is going to be an adults-only event so that everyone can relax and enjoy the evening. We appreciate you making arrangements ahead of time and leaving the kids at home so you can celebrate with us."
Tip: This can be a delicate issues, so check out these tips for further help!
13. Can I bring a date?
Sample Answer: "We have a strict guest list to stay on budget.  Our wedding is strictly RSVP only. We will only able to accommodate those listed on your invitation."
14. Do you have a hotel block for guests? Where do you recommend I stay?
Tip: Let your guests know if you reserved a hotel block, the pricing, address, and give them alternative hotel options in the area.
15. When is the RSVP deadline? Do I need to mail back my RSVP or can I do it online?
Tip: Let your guests know if they can RSVP online.
16. Are the ceremony and reception location wheelchair accessible?
Tip: Inform your guests of the venue's accessibility.
17. Will food and drinks be served at the reception? What kind of food?
Tip: Notify your guests ahead of time whether or not food and drinks will be served and what type of food for example whether it's appetizers or a full sit down meal.
18. Will there be any vegan/vegetarian/gluten free/special diet options?
Tip: Let your guests know if you can accommodate special diets and if they need to contact you ahead of time.
19. Where are you registered?
Tip: Remind your guests where you are registered or if you have any special requests for wedding gifts, for example, charity donations.
20. Will transportation be provided between to/from the hotel?
Tip: Make sure your guests know if any transportation will be provided.
21. May I take a centerpiece/candle/flowers home as a souvenir?
Tip: Don't let your flowers, centerpieces, or other decorations (the non-reusable/sellable ones) go to waste! If you want your guests to take anything home with them, make sure they know beforehand!
22. Can I take and post pictures of the wedding on social media?
Sample Answer: "Yes, we encourage guests to post pictures on to their social media channels, our only request is that you tag each photo with our wedding hashtag #________ so we can keep track of all of your pictures!"
23. I still have questions, what is the best way to contact you?
Tip: Your guests may still have a few questions after going through your wedding website FAQ, let them know the best way to reach you or your wedding planner.
Up Next: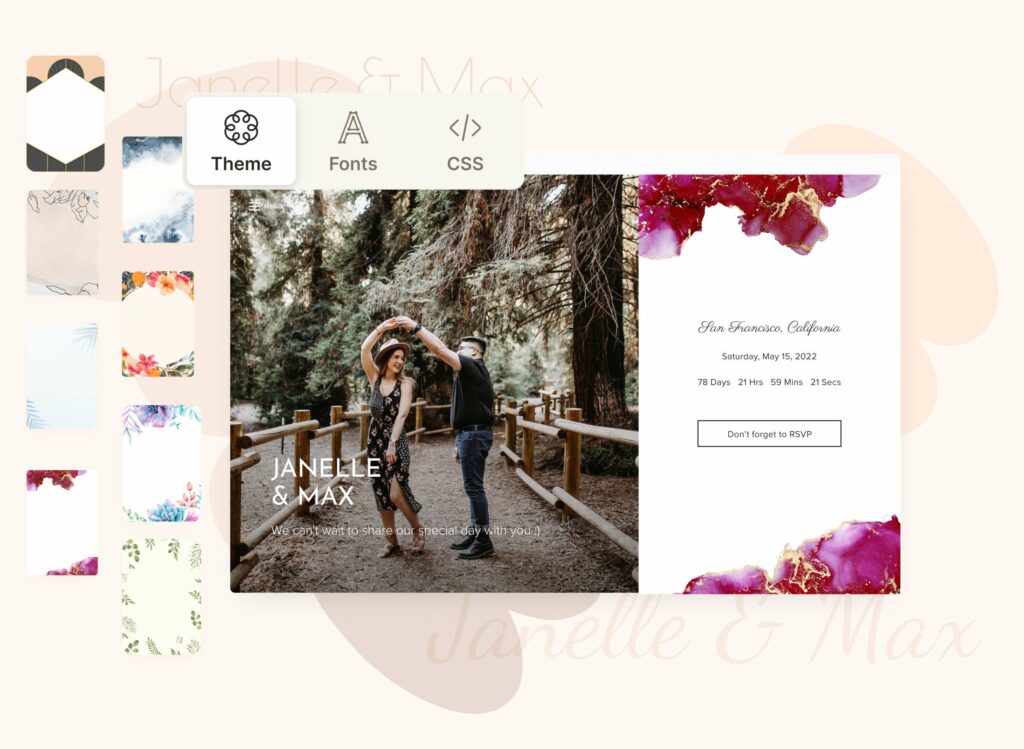 Set up your wedding website in minutes with design options to make yours truly unique.