Deciding what to wear to the most important event of someone's life can be daunting. Do you show some skin? Stay away from white? Wear heels? Flats? The decisions seem endless. Even when the invitation states the dress code, selecting appropriate attire can still feel like an enigma. And when there's no dress code stated, the confusion is seriously amped up. But we're here to help, outlining common dos and don'ts, in addition to breaking down how the numerous wedding dress codes translate.
Wedding Dress Code Dos
To get us started, let's check off the basics of wedding garb.
Do look for the dress code.
Most wedding invitations list the dress code at the bottom of the invite. If you can't find one, it's best to stick to understated cocktail, or ask someone in the wedding party.
Do keep it simple.
This celebration is all about the bride and groom, so stick to sleek, understated attire that won't steal attention.
Do consider the weather.
If you're heading to an outdoor wedding in the chillier months, bring layers. For summer weddings, stick to light garb so you're not miserable and drenched in sweat by the end of the ceremony.
Do research the location.
Beach, farm, ritzy hotel and numerous other popular wedding sites, all call for various attire, especially in the footwear department. If the invitation doesn't offer attire suggestions, dive into online sleuthing, checking out photos of the venue to see if there are any special considerations (e.g., uneven ground) that you need to keep in mind.
Do check in with friends in the bridal party.
If you're truly at a loss as to what to wear, call a friend who will be in the wedding and likely has insight into the color schemes and preferences of the couple.
Do think about dancing shoes.
No matter how much you love your heels, they're rarely ideal for dancing. So if you plan on cutting a rug, wear flats, or bring along a back up pair of feet-friendly footwear.
Wedding Dress Code Don'ts
Because you don't want to be the guest that everyone's giving the side-eye to, you'll want to skip the following attire faux pas.
Don't wear white.
This is a biggie. Everyone's top priority during a wedding should be ensuring that the bride feels special. And there's no quicker way to steal her thunder than by stealing her color. While off-white might not offend, it's best to stay away from anything in the realm of white or beige.
Don't go overboard with hair and makeup.
While it's fun to gussy yourself up for a wedding, wild hair and over-the-top makeup will just be a distraction. Sure, stay true to your style and personality, but always keep respect for the bride at the front of your mind.
Don't skip the undergarments.
Nothing can pull focus from the main purpose of a wedding than someone's exposed bits and pieces during a gust of wind, or a wild move on the dance floor. Just to be safe, say yes to a bra and panties.
Don't be too casual.
Even if the dress code says "casual," you don't want to wear the jeans and t-shirt you'd throw on for a ball game. So, unless the invite says, "It's cool to wear jeans and flip flops to our wedding" skip the jeans for khakis and linen pants, or a comfortable sundress with flats.
Don't look like you're going to a funeral.
While you don't want to be too flashy, you also don't want to look like you're in mourning. If you love to wear black, consider compromising with navy blue.
Don't bother the bride with dress code questions.
The bride is likely super busy and doesn't have time to field calls about dress code. If you have questions, do as we suggested above and reach out to a friend in the bridal party.
Dress Code Translations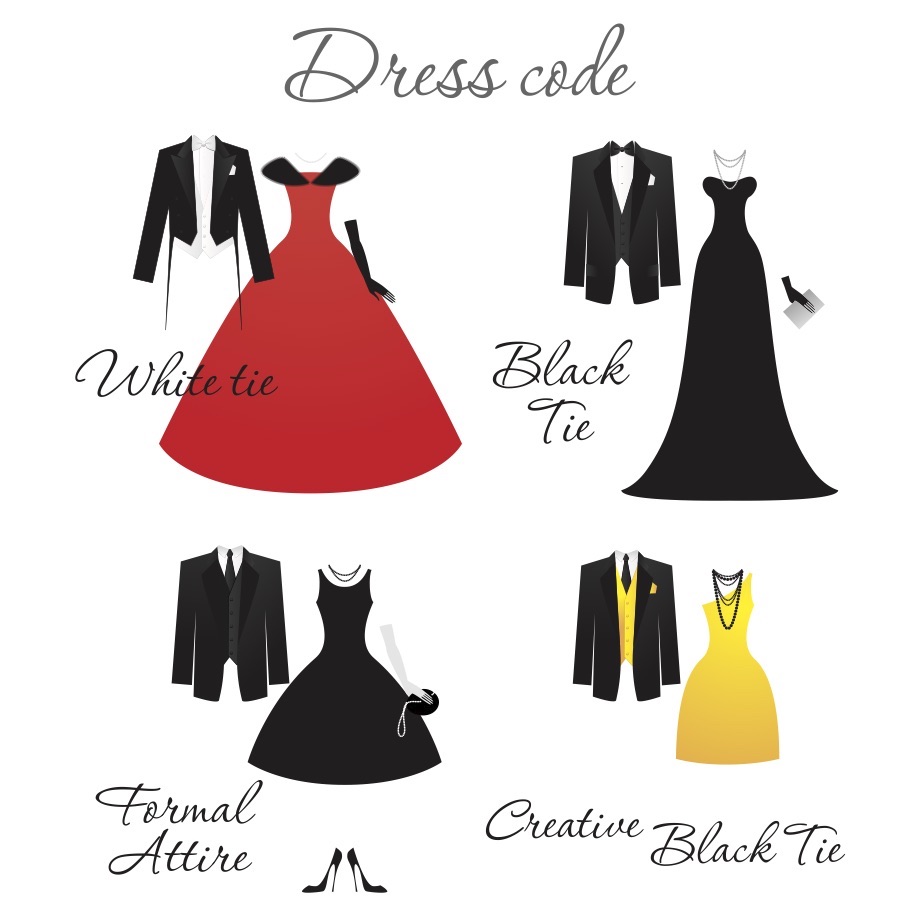 White Tie
If your invite says "white tie," the couple is not messing around and wants their guests looking extra sharp. Be vigilant about sticking to the rules for this one.
Women: You'll need to wear a full-length ball gown. And we're not talking full-length boho dress, we mean ultra-formal garb that's often composed of velvet, satin, chiffon, or organza. In regards to footwear, pumps are best. You could likely get away with open-toe heels, but to be on the safe side, stick with closed-toe. Think "red carpet" as you're making your selections. And, long gloves are optional.
Men: For gentlemen, white tie means a long-tail tuxedo will need to be acquired, which translates into a black dress tailcoat, white starched shirt, marcella waistcoat, white bow tie worn around a detachable collar, and black patent shoes. If this requirement makes your head spin, head to a tuxedo rental shop where they can ensure you're fitted with the correct attire. As with the women, you can choose whether to wear gloves.
Black Tie
While still very formal, black tie isn't quite as strict as white tie. But it's better to be overdressed rather than under when the invite is black tie, so if in doubt, go with a more formal option.
Women: A ball gown is often required for black tie. This gown doesn't necessarily have to be full-length, but it should be below the knees and not too sexy. As with white tie, common materials for black tie gowns are velvet, satin, chiffon, or organza.
Men: Dress in a tuxedo, minus the tails and gloves. So, get your hands on a black tuxedo jacket, matching trousers, formal white shirt, black bow tie, black cummerbund or vest, and black patent shoes and dress socks.
Black Tie Optional
For those that like more flexibility with their attire options but still enjoy dressing up, black tie optional will be right up their alley.
Women: Ladies need to stay in a formal mindset while shopping, but can now get away with anything from a full-length gown, to a cocktail dress, as long as it's not shockingly short or tight.
Men: For men, black tie optional means that, honestly, the couple would prefer you wear a tux, but if you're seriously opposed to that level of formality, they would be okay with a dark business suit and dress shoes.
Creative Black Tie
While some get excited about the term "creative," when it comes to this variety of dress code, the term doesn't mean you get total creative license. But, it does allow more pops of color to be sprinkled throughout the celebration.
Women: Many consider this dress code to be a "trendier" version of classic black tie. So if you want to stick with your classic black tie attire, go for it. But if you want to have some fun, toy around with trendy (yet still formal) separates, get creative with your hair, or splurge on that pair of wild shoes that would be "too much" for black tie.
Men: A tuxedo is the base of this form of attire. Reminder: black tuxedo jacket, matching trousers, formal white shirt, bow tie, cummerbund or vest, and patent shoes and dress socks. But you get to have some fun with color, tapping into your creative side with a colorful bow tie, cummerbund or vest, or shoes. It's often recommended that you stick to one color and only "colorfy" one or two articles of clothing. Stay away from a colored suit jacket or pants – the main idea here is an understated splash of color.
Semi-formal
When choosing a semi-formal ensemble, you want to select something fancier than you would wear to the office, but a bit less formal than black tie garb.
Women: As the term "formal" is still in the works, you want your attire to be refined. This means putting on that silky pantsuit, your midi satin dress, a fitted jumpsuit, or another option that is polished, without looking like you're heading to the Met Ball.
Men: Men get to hang up the tux for this one, yet still need to put thought into their appearance. For example, a dark suit with a dress shirt and shoes is appropriate – extra points for a tie.
Cocktail
Your personality gets to shine through with cocktail attire, as there's more wiggle room with fabric, color, and accessories.
Women: Because this is a wedding, you need to keep the "nothing too distracting" motto in mind (so nothing skin tight, or super short) but can play around with more color, and even a fun piece of statement jewelry. But if in doubt, go with a classic "little black dress," minus the black.
Men: In many "cocktail attire" settings, you can get away with wearing a nice pair of jeans, but because this is a wedding, skip the jeans in favor of slacks, a dress shirt and a sport coat or jacket. An easy go-to is a dark suit – tie optional.
Beach Formal
Light flowing dresses, linen slacks, pastel hues and floral prints are par for the course in regards to beach formal attire. This dress code is an interesting combination of wanting to look like you tried, while staying away from the "on my way to the Oscars" vibe.
Women: Graceful summer dresses or full-length jumpsuits in light colors or floral prints are ideal. In regards to footwear, feel free to wear sandals or flats that would be easy to navigate in sand.
Men: A summer suit with a light linen shirt, or linen pants with a dress shirt would work great. No ties are required and sandals are more than welcome.
Farm Formal
While farm formal may sound like an oxymoron, couples being wed on a farm often list this category of dress as a reminder to not show up looking like you're about to till a field. So dress comfortably, but smartly.
Women: Your clothing can be similar in style to what you might wear to a wedding requesting cocktail or beach formal attire, but your footwear is where the differences emerge. You may be walking on deep patches of dirt, or rough terrain, so skip the heels in favor of stylish boots or comfortable flats you don't mind getting dirty.
Men: Slacks and linen pants with a dress shirt, or a summer suit, will easily check off all the "farm formal" boxes. Vest and tie are optional.
Casual
This category can be deceiving as it could easily be interpreted as, "Cool, I can rock up in my jeans or sweats." But no. This is wedding-casual, not running-errands-casual. So by all means skip the bow tie and stiff dress, but don't skimp on style or respect.
Women: A summer dress with gauzy fabric, boho-chic jumpsuit, colorful midi or other ensemble along those lines would be welcome at a casual-attire wedding. Feel free to bypass heels for wedges or flats, unless of course you're a "don't go anywhere without my heels" kind of gal.
Men: Put on some clean slacks, a button up or polo shirt, a belt, and closed toe shoes that you wouldn't wear to the gym and you're good to go.
Tell Us More
Have you ever made a fashion faux paux because you misunderstood a wedding's dress code? Tell us on Facebook or Twitter!
Up Next: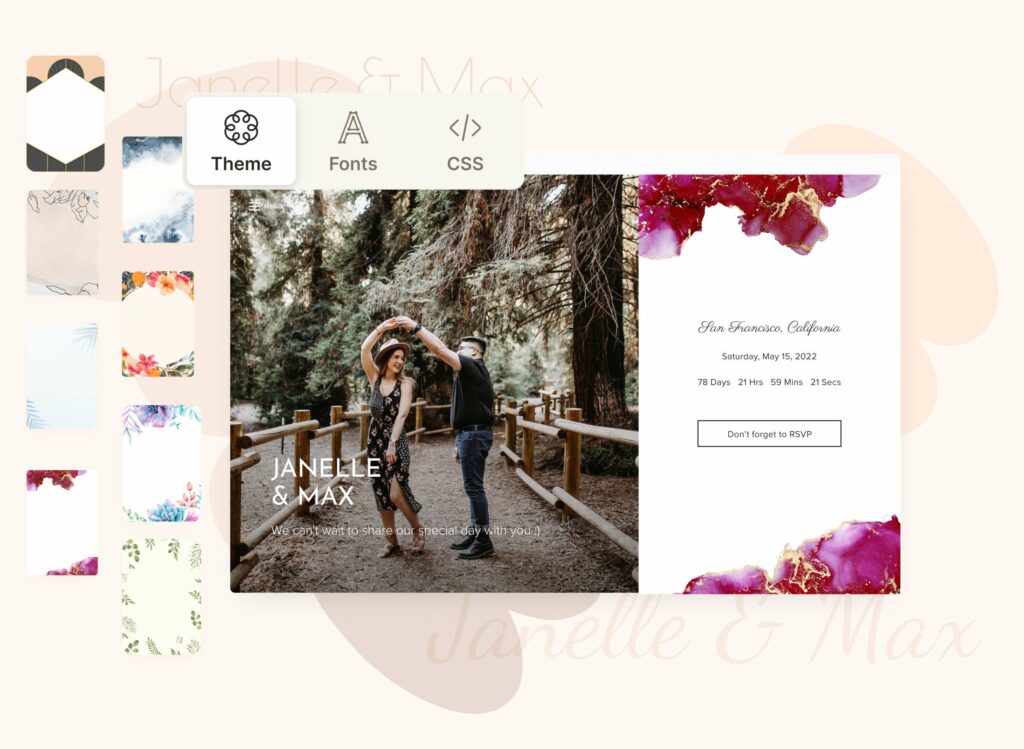 Set up your wedding website in minutes with design options to make yours truly unique.