With your big day fast approaching, finding the right wedding venue and getting invitations out to your guests in a timely manner are probably at the top of your wedding planning to-do list. But there's another task you may be looking forward to that ranks right up there in importance (and fun): finding the perfect dress.
And while you can (and should) take your time to find your dream wedding dress, you might consider establishing a wedding dress budget early on in the process. Doing so could potentially eliminate surprises and disappointment later on when you finally begin wedding dress shopping.
As you begin to think about wedding attire, keep in mind that there are quite a few factors that can influence the overall cost of a dress. Designer pieces and high-end materials certainly top the list, but don't forget that embellishments, tailoring and the place you call home can also affect the price. While there is no one-size-fits-all answer to the question of how much a wedding dress will cost, we've spoken to experts who weighed in on several factors that can help shape your budget.
What can you expect to spend on a wedding dress?
With so many factors affecting the overall price tag of a wedding dress, it's hard to pinpoint the average cost. "Wedding gown prices range from 'affordable' to 'wish I could afford' pricing," says JoAnn Moore, master wedding planner and author of "Laughing All the Way to the Altar."
Coming in with some numbers, Danielle Rothweiler, owner and lead wedding and event planner at Rothweiler Event Design shares her thoughts for nearly newlyweds. "Wedding gowns can range from $1,000 to $50,000 and up, depending on the designer and many other factors," she says.
While Rothweiler realizes this is an incredibly wide range in price, she adds that no one has to "break the bank" to find the perfect gown, as there are many beautiful options available for less than $5,000. In general, it's safe to start with an average cost of around $1,500 as a baseline and adjust your budget up or down based on your style preferences and location.
Factors That Could Affect the Cost of Your Wedding Dress
From choosing a custom design to cleaning and storage, there's a whole host of factors that affect the final cost of your wedding dress.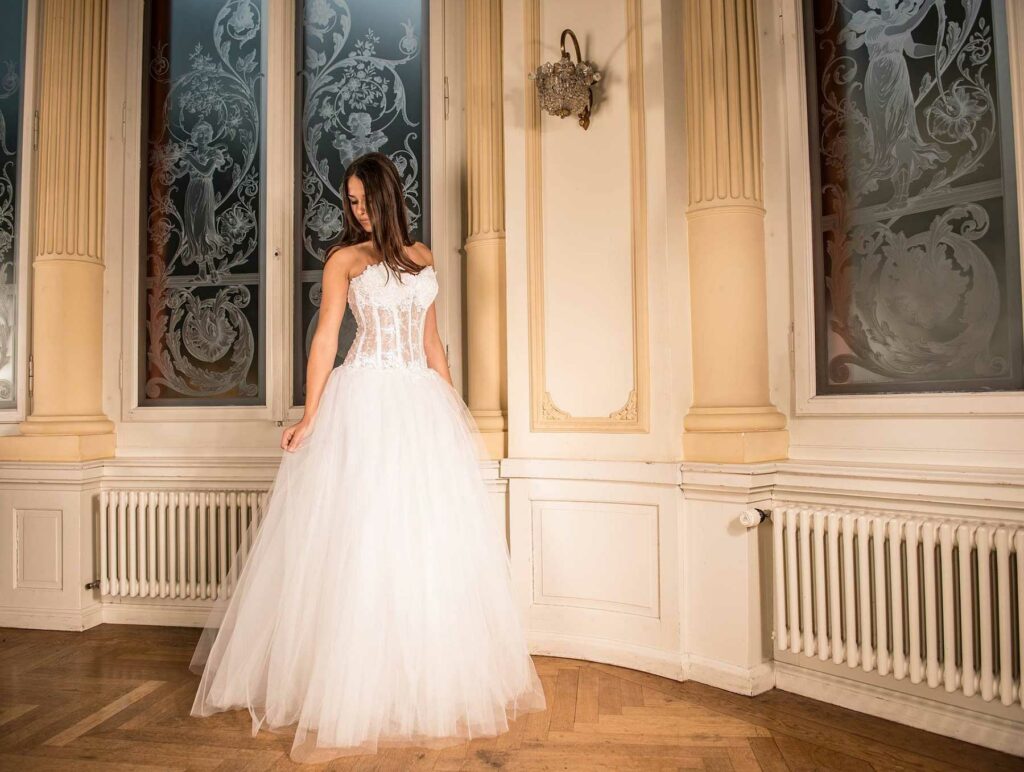 Location
It shouldn't come as a surprise to anyone that the average cost of a wedding dress varies by region. Typically, wedding attire is higher in metropolitan areas and popular wedding destinations. As a result, couples in New York City and Los Angeles can expect to pay more for a wedding dress than their betrothed counterparts in an Indiana suburb.
Custom Versus Off-the-Rack
Custom-made gowns are usually more expensive as they are tailored to specific measurements and preferences in silhouette, fabric and embellishments. Anyone looking for more budget-friendly options may want to choose an off-the-rack dress from a bridal salon. While these types of establishments tend to have comprehensive offerings and a wide variety of price points, Moore reminds us that they also have overhead costs such as rent, employee wages, and utilities — all of which can ultimately be folded into the price tag of your wedding dress.
"In-store stylists are very knowledgeable and [are] worth the time spent with them," she says, but notes that couples can often find wedding dresses at significant savings from some department stores. "Department stores that sell gowns can cost less, as they tend to order in bulk."
Style and Material
The dress style and materials used also impact the overall cost of a wedding gown. Ultimately, you can expect elaborate designs, intricate details and high-end fabrics to come with a higher price tag. If you're dreaming of walking down the aisle on your wedding day with a beaded chiffon ball gown, you're probably looking at a splurge, while a plain sheath with modest embellishments may be just as dazzling but more budget-friendly.
"The most expensive fabric is Italian silk and beaded fabrics," Moore says. "The least expensive is a cotton or cotton/polyester blend."
Designer
Wedding dress designers like Galia Lahav, Vera Wang and Monique Lhuillier are highly sought after for their prestige, quality craftsmanship and overall ability to bring dreams of fairy tale weddings to life. But if you want luxury, expect to pay: These types of designer dresses are often more expensive because they're made with higher-quality materials that, in some cases, are quite rare and difficult to source. Add to that the time and attention that goes into the tiniest details, like intricate beading, appliqués or embroidery, and it's easy to understand why designer gowns warrant a higher price.
"Quality, trendiness and bragging rights for familiar designers" can really bump up the price of a wedding dress, Moore says. "While designer gowns can run into tens of thousands of dollars, couture gowns can even run into the millions."
Fittings and Wedding Dress Alterations
Finding the perfect dress is one thing, but wedding dress alterations are usually necessary to ensure the proper fit. Ultimately, this is another cost you should factor into your wedding dress budget. And while you might think this may be a negligible cost, Moore advises couples not to overlook the expense.
"The number of add-ons for the gown can make a big difference," she says. "Adding or removing sleeves, a long or detachable train, a jeweled belt, beading, lace or anything that needs to be handsewn means that alterations on a gown will add up quickly."
Storage and Cleaning
One expense that most people fail to factor into their wedding dress budget is the cost of cleaning and storage. "It's important to think about what your plans are for the gown after the wedding," Moore says. "If you plan on cleaning and preserving it to (hopefully) be worn by the next generation, this is an additional cost of several hundred dollars."
10 Ways to Save Money on Your Wedding Dress
Your wedding dress is an important part of your big day. But if the many cost factors associated with the perfect dress give you pause, you'll be happy to know there are several ways to save money on your dream dress.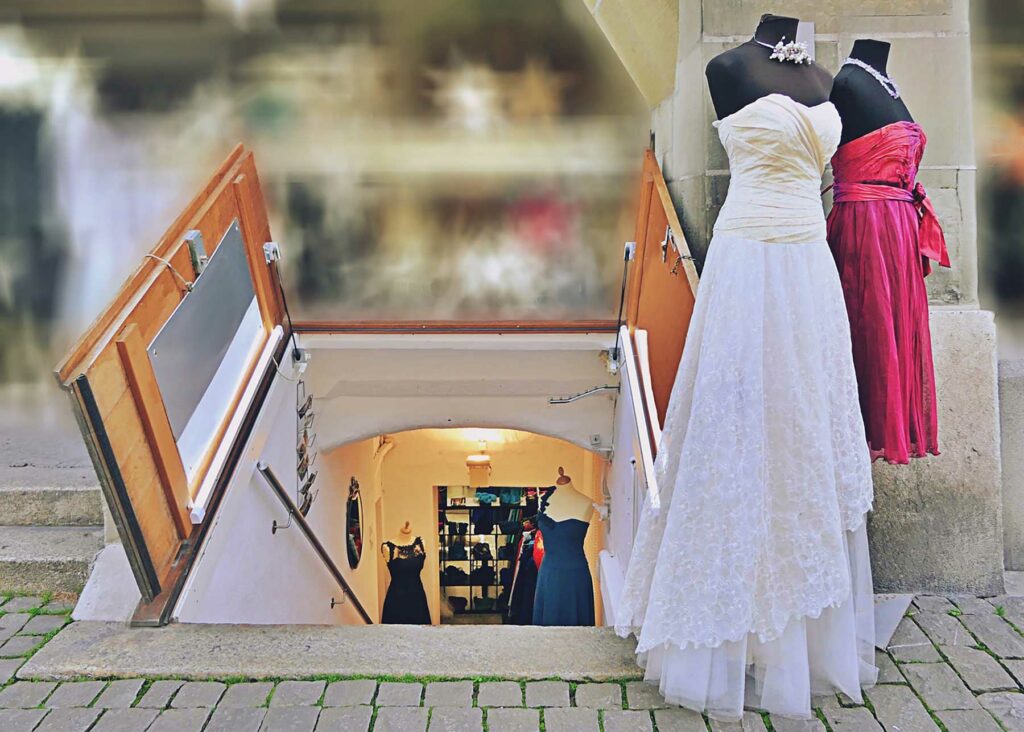 Simplify the design. Minimalist designs can be just as elegant and beautiful as an elaborate ball gown — not to mention timeless. Don't be afraid to opt out of intricate details and embellishments, which can really drive up the price.
Buy off-the-rack. Off-the-rack dresses are typically more affordable than custom-made ones. Think about looking for your wedding dress in local boutiques or department stores and plan on allocating a portion of your budget for alterations.
Shop during sales or at a sample sale. Designer dresses are always going to be a splurge, but if the only dress for you is a Monique Lhuillier, consider looking for sample sales or trunk shows where you'll likely find discounted options.
Explore online retailers. "Less expensive gowns can be found online and on outlet websites," Moore says. "Just be aware that not every size and style is available, inventory can be limited, and alterations are on you."
Rent or borrow a dress. While tuxedo rentals are normal, many couples don't choose this option when it comes to wedding dresses. But if you want a designer dress for your big day, this could be the most cost-efficient way to get one. And if you can't find the Pnina Tornai gown you're looking for at Rent the Runway, you can always borrow a dress from a friend or family member whose swoon-worthy wedding look caught your eye.
Consider pre-owned dresses. Buying a secondhand wedding dress is another cost-effective option for your big day. There are plenty of websites, consignment stores and online marketplaces where you can find pre-owned wedding dresses in excellent, gently used condition.
Go DIY with your alterations and accessories. If you have skills with a sewing machine or you know someone who does, you might consider doing minor alterations yourself. Keep in mind that this is only an option for those with real skills; sewing silk and working with intricate beading isn't for a rookie, no matter how confident you are.
Consider nontraditional options. Finding a dress off-the-rack is one thing, but to reduce your costs even further, think about some nontraditional options including white evening gowns or other dresses that aren't specific to weddings. Mac Duggal, a brand found at department stores such as Nordstrom, for example, has gorgeous and elegant evening wear that could work as a wedding dress for a fraction of the cost.