Today's the day! Well, not the big day — that should be about 10 months from now. Today marks the start of your search for your wedding dress.
You're probably feeling excited and a little nervous. After all, this is the dress you'll wear to marry the love of your life. This dress has to be perfect. It has to be you. It's totally okay if you get butterflies when you head into your first wedding dress shopping experience.
But how do you pick a dress? Dress shops have rows and rows of wedding gowns, each more beautiful than the last. Visiting salons that are having sample sales may be able to help you stay under your wedding budget, but research on what you love in a wedding dress is where you should start.
The best guidance for how to choose a wedding dress is to let your personal style shine through in all the different elements of the dress. From styles and silhouettes to necklines and colors, we'll explore all the aspects of gowns that will help you narrow your search and find the one.
What Dress Style Best Fits Your Wedding?
When you first look at a wedding dress catalog or casually browse in a store, you quickly realize they come in all shapes and sizes. One may have a skirt that fills a door frame, while others embrace intricate details. Your best first step is to look at the dress styles and determine which one speaks to your aesthetic. If you've made a wedding website that includes your theme and colors, this may lead you to a certain dress style that will tie everything together. Your wedding theme and venue may also guide you in the right direction. A black tie wedding in the city is built for glam or contemporary style, while a vineyard is the perfect setting for romantic or boho. 
Rustic
A rustic wedding dress style is relaxed and folksy. But, that doesn't mean these dresses are plain. Rustic wedding gowns often have beautiful lace overlays and long skirts. They may mix and match different types of fabrics and details to create a natural look, perfect for anyone having a countryside wedding.
Glam
This style brings the wow factor. The drama with a capital "D." When you wear a glam wedding dress, you'll make heads turn and jaws drop. Sparkly embellishments, a bodice covered in beading, daring necklines and striking skirts will have everyone talking about your dress for years to come. If your wedding planning includes having a bespoke dress, then seeking out couture options may be an avenue you'd like to explore so your dress is truly like no other. Glam is perfect if you're an extrovert who knows your wedding will be the best wedding of the century — and you'll have the dress to go with it.
Vintage
Do you have an affinity for wedding aesthetics of the past? Vintage offers you a lot of options. You could throw a Gatsby-inspired wedding with a beaded art deco dress. Or don a 1950s-inspired tea-length dress. Each era has its own special details, making your vintage wedding style exude an air of effortlessness and calm.
Contemporary
For a modern aesthetic, a contemporary wedding dress will give you a sophisticated look. Contemporary styles are clean and focus on structure. Whether you seek a dress with subtle details or one that creates an elegant statement, you can't go wrong with this style.
Boho
Bohemian style embraces the free spirit. When you see a boho dress, you may notice it has elements of rustic and vintage style, but adds a touch of whimsy. Boho ties aspects from both styles together to create a romantic collage that's the perfect inspiration for a wedding dress. These types of dresses will likely include lace, beige and blush undertones, flowing skirts, and long, billowing sleeves. This style of dress pairs well with a flower crown.
Romantic
A romantic dress will have you feeling like a princess in a magical fairy tale. Often the classic style most people associate with weddings, a romantic dress is beautiful and soft. Floral designs in lace, glimmering sparkles in layers of fabric and shades of blush are common in this style.
Alternative
None of the above categories are speaking to you? Perhaps you're looking for something with an edge that shows your unique flair. An alternative wedding dress may be the one for you. Do you want your dress to have fringe or feathers? Alternative touches can include variations in the fabric. They also include not wearing white or adding color to a part of the dress, like an ombre skirt. And who knows? Maybe your perfect wedding dress isn't a dress at all — perhaps you'll dance the night away in a wedding jumpsuit!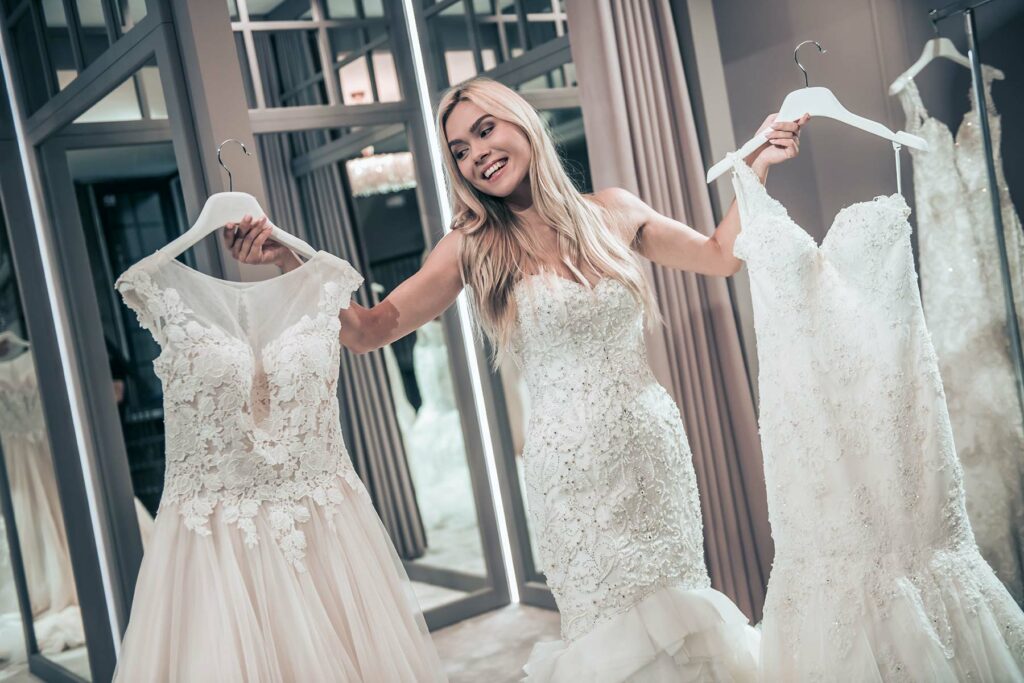 Finding Your Favorite Wedding Gown Silhouette
Now that you have a style in mind, you still need to narrow down a wide range of options. Choosing the silhouette, or the shape of your gown, will take you one step closer to finding the perfect wedding dress.
When searching for your dress, it's very common to hear about silhouettes matching your "body type." While this can be helpful for picking some silhouettes to start, remember the only opinion that matters is yours. This is your dream dress. You may find the gown that makes you feel the most beautiful is completely different from what you pictured yourself wearing. Always keep an open mind.
Fit and Flare
This popular dress cut will hug your natural curves and then flare out in the skirt, creating an hourglass silhouette. While there are different variations of where this shape starts, the fit and flare is the roomiest of them all.
If you like this kind of dress but want something a little more form-fitting, check out the fit and flare's cousins, the mermaid or trumpet dress. The main distinction: a mermaid skirt will start around the knee, whereas a trumpet skirt will start higher, around the middle of the thigh.
Sheath
Do you dream of looking like a Grecian beauty on your special day? The wedding dress of your dreams may have a sheath silhouette. These dresses fit at the waist and the skirts fall straight to the ground. They don't have as many layers as the other types of dresses, making them ideal for someone who wants a lighter dress. Different dresses similar to this silhouette are usually called a column or slip.
Column dresses don't accentuate the waist quite as much as a sheath, and with the skirt going straight down to your feet, it can create an elegant, regal look. Slip dresses are equally relaxed and the most daring type of wedding gown, because they look like a "slip" you would wear under a dress. With this silhouette, your body will give the dress its shape.
While some slips may include draping, the minimalist gown usually takes a backseat and truly lets its wearer shine. If you're worried about how to pick the right undergarments to go with a slip silhouette, a wedding stylist can help you with your options.
Princess Dresses
Princess dresses are the classic wedding dress shape. They're form-fitting on the top and accentuate the waist, and flare out into a full skirt. The most famous kinds of princess dresses are ball gowns and A-lines.
A ball gown has more volume than an A-line at the waist. The large skirt takes shape immediately and the dress will have many layers of fabric. Comparatively, an A-line will gradually gather volume to create a flattering 'A' shape. It will have layers like a ball gown, but not quite as much.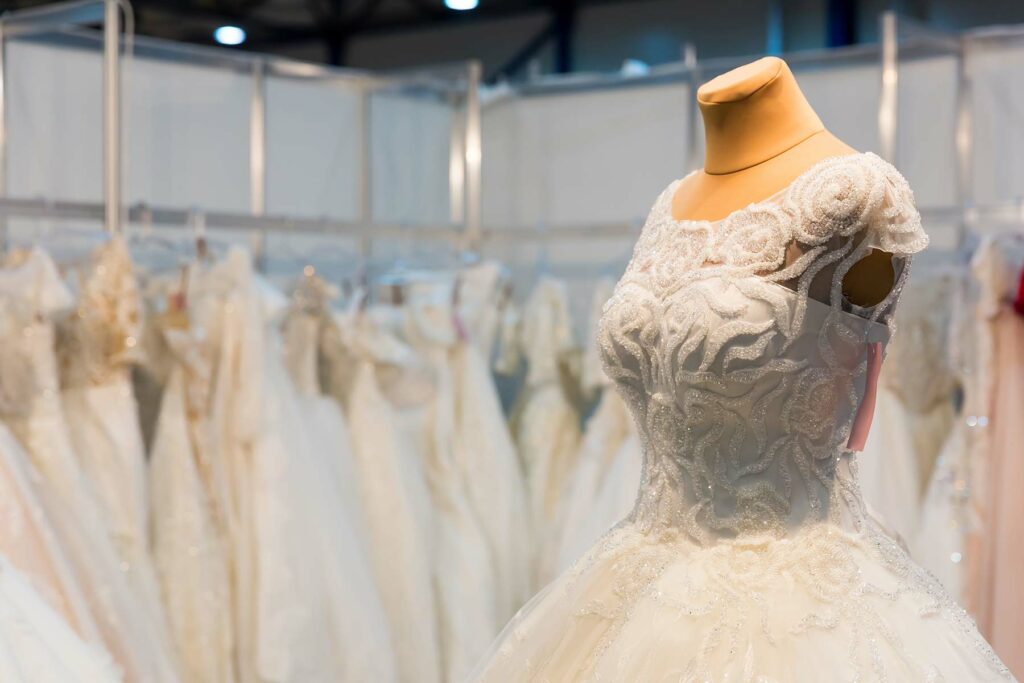 What Neckline Do You Want on Your Wedding Day?
Wedding dress necklines enhance your dress and there are all kinds to explore. Certain necklines also lend themselves to your accessories. If you're dreaming of wearing your grandmother's long diamond necklace as your "something borrowed," a sweetheart neckline could frame the necklace perfectly. Dresses that have a higher neckline will bring focus upward, which creates an opportunity to wear a pair of chandelier or dangling statement earrings.
Here's a look at the most common necklines and their versatility.
Sweetheart Necklines and Variations
If you want to show off your shoulders and collarbones, you have plenty of strapless options. You'll likely see variations of the sweetheart neckline, where the dress forms the top of a heart. These can be more pronounced or minimal — semi-sweetheart necklines, for example, provide more coverage but still have a touch of the classic romantic look.
If you're on the other side, where a sweetheart isn't enough, give a plunging neckline a try. With a similar "V" shape, this neckline continues down to the waist area, often with a sheer panel. Of course, you can always add lining underneath the panel for a more modest approach to this look.
Another variation, the illusion neckline allows you to have two looks in one. While you'll have a sweetheart neckline showing off your collarbones, a sheer fabric will continue over your shoulders. This is an ideal opportunity for added detail, as illusion necklines can also have long sheer sleeves perfect for lace and beading.
The Queen Anne neckline has a sweetheart shape with two thick sleeves that cover the tops of your shoulders. This neckline elongates the neck and creates a refined, royal look.
Fuller Coverage Necklines
If you want a strapless gown but prefer fuller coverage, a straight neckline may be right for you. For non-strapless options, other necklines with fuller coverage that draw the eye up and offer more support include:
Boatneck: While covering the tops of shoulders and tracing the collarbone, this neckline will give you an air of sophistication and grace.
Halter: These necklines provide high coverage and accentuate the tips of your collarbones and shoulders.
Jewel: This style is made to show off a necklace and frame your face. The neckline is slightly rounded and will start just above the collarbones.
Necklines with Less Coverage
If you're searching for a gown that isn't strapless, but still gives you the option of showing your neck and collarbone area, then don't leave dresses with these necklines on the hanger.
Square: Reminiscent of gowns seen in Bridgerton, square necklines are elegant and simple, and you can have less coverage without having to go strapless.
Scoop: If the angular square neckline isn't for you, then the rounded scoop may have the softness you're after.
V-Neck: Love the look of a plunging neckline, but you want it to stop at the bustline? V-neck is your answer. Dresses with a V-neck elongate the neck and create a flirty, modern look.
Another type of neckline you may be interested in is the asymmetric neckline. These usually accompany a single-shoulder strap dress, which adds something different yet elegant to your appearance.
Different Dress Fabrics for Every Wedding Season
Knowing what kinds of fabric will go best with your wedding season will help you get one step closer in your journey of choosing a wedding dress. While it's tempting to put this research off and scour your wedding registry instead, grab a notebook and pen and spend some time brushing up on dress fabrics.
When you're at a trunk show or retailer, pay close attention to how light or heavy the dress feels. A long-sleeved, heavy silk ballgown may be the perfect fit in November, but how will that fabric feel on a sunny September afternoon? Many dress fabrics can go between seasons, but it's important to know which ones are meant for a tropical beach wedding and which ones are right for a winter ceremony on the East Coast.
Spring/Summer
These fabrics tend to be lighter and perfect for warm or hot weather:
Organza: While this may be used to add volume to some dresses, this fabric is romantic and adds extra flair.
Tulle: Another fabric that adds volume, tulle is soft and full of movement.
Charmeuse: This fabric is smooth, shiny and extremely lightweight. Its sheen will catch the light with every step you take.
Chiffon: Breezy and effortless, chiffon is the perfect option if you're planning an outdoor wedding on a hot August day.
Batiste: This fabric is made from cotton or linen and drapes beautifully.
Fall/Winter
Heavier fabrics tend to have more structure than the lighter fabrics. While lighter fabrics may look airy and ethereal, heavier fabrics are majestic and everlasting.
Mikado: A heavy silk mikado dress will give you a feeling of grandeur.
Satin: Thick satin wedding gowns can look heavy and luxurious, but are a bit lighter than other winter fabrics. Satin is a great pick for fall weddings.
Brocade: Rich in texture and structure, brocade is ideal for a winter wedding.
Faille: This fabric texture is like grosgrain ribbon, smooth and glossy.
Taffeta: This versatile fabric has structure and sheen, making it an ideal wedding dress fabric.
Does Your Wedding Dress Have to Be White?
Many people going wedding dress shopping are expecting to choose a white dress. While there's certainly no shortage of white dress options, you may be surprised at what other colors jump out at you from the selection at retailers or even designer trunk shows.
Ivory
An ivory wedding dress is still in the traditional color palette, but not quite as stark with a creamy white look. If you're not sure which color suits you more, asking a stylist for their opinion could point you in the right direction.
Champagne
Another common alternative to a white dress, champagne brings a gold tone to your wedding gown. These dresses can range from a more neutral look to a full, bold and shining gold — think boho versus glam.
Beige
Beige wedding dresses may not be as striking as an all white gown, but don't leave all these options on the hanger. A wedding dress in this neutral hue is perfect for showcasing the details of your gown — try a column silhouette with white lace overlays to create a beautiful color contrast. Rustic or boho fans should definitely keep these in mind.
Blush
Pale pink wedding dresses are romantic and ethereal. While dresses can be completely blush, this can also be an accent color like beige that shows off the details of your wedding gown.
Silver
For those having a glam winter wedding, you have to at least try one silver wedding gown. With added sparkles and beading to create icy details, you can find the perfect Snow Queen look.
This isn't to say that other colors are off the table. Black and red wedding dresses may be more difficult to find in a store, but they are options. You can also enhance a traditional white dress with colorful appliques or a belt. If you want to be creative with an alternative style, you may add bright layers of fabric to the skirt or even dye parts of your dress.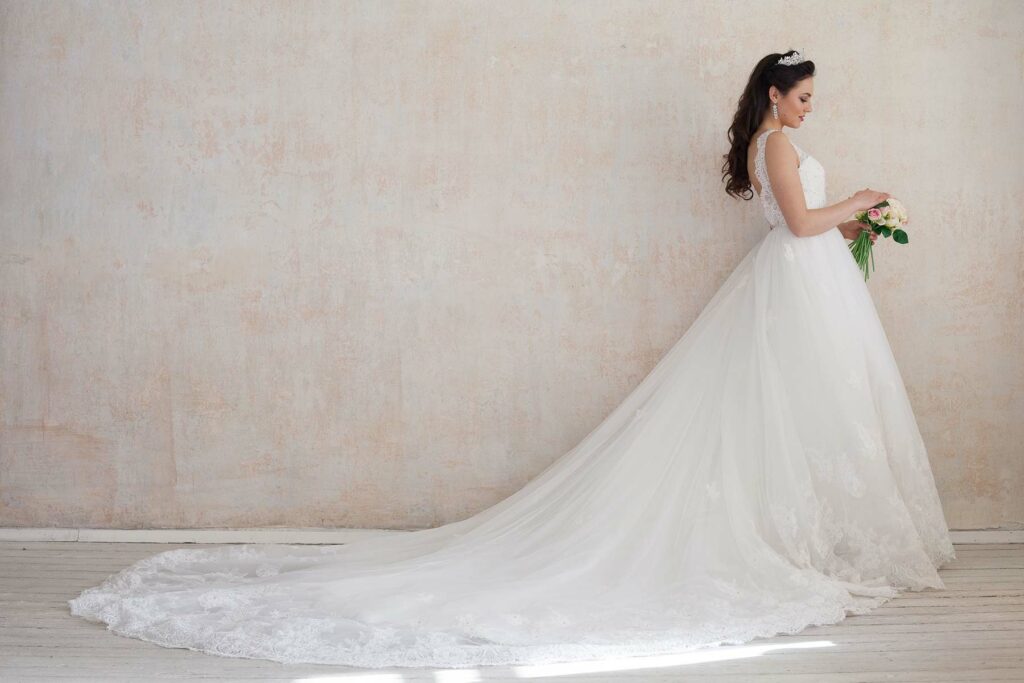 What You Need to Know About Wedding Dress Lengths, Trains and Bustles
The last important items to help you decide how to choose a wedding dress are the length of the gown, types of trains, the different kinds of dress bustles and how they all relate to one another. If you have a tea-length gown, you're off the hook for the rest of this section. But if you have a hemline that goes to the floor, you'll want to protect that part of the dress when it's time for the reception.
The train is the fabric that extends behind you when you walk in your dress. These are the approximate lengths of a typical train:
Sweep/Court: 1 foot
Chapel: 3 to 4 feet
Cathedral: 6 to 7 feet
Monarch: 12 feet
If you've fallen in love with a dress with a cathedral-length train, the last thing you'll want to think about is pinning it up. But you don't want wedding guests to step on your train while you're dancing, and you'll want to be able to move freely. Let's take a look at the ways you can bustle your dress.
American Versus French
These are the most common bustles and they're easy to differentiate. The American bustle, or the over bustle, will lift the train over your dress. You can choose how many points you want the fabric to pick up. French is the opposite — the under bustle. This folds the fabric inward and the attachments are hidden in the dress.
Royal
You have options outside of folding the dress outward or inward. The royal bustle incorporates multiple pick up points on the skirt and is great for cathedral or monarch trains.
Ballroom
While bustles are supposed to adjust the dress so it no longer has a train, the ballroom bustle transforms the skirt without any evidence of a train in the first place. It hems the train inside the dress and can work on a variety of gowns.
Austrian
A less common and usually more expensive option is the Austrian-style bustle. Essentially, it works like a drawstring that pulls the fabric up and together. It will look like the skirt has ruching.
Do You Need a Second Reception Dress?
What's better than one fabulous dress? Two fabulous dresses, of course!
But why do some purchase a second reception dress? Some want a dress that will let them dance the night away with ease. Others have an intimate wedding reception where a more understated but chic dress would make them more comfortable. And some people just want a chance to have two looks on their big day.
If a second dress isn't quite in your price range, don't worry. Wedding gowns can have modifications like a detachable skirt that can give you two dresses in one. When you wear the skirt during your wedding ceremony, it will look like you're wearing a ball gown or fuller dress. Then, when it's time to hit the dance floor, that skirt can come off to reveal a sheath dress underneath. Not only is this an opportunity to surprise your guests with an impressive quick change, your main dress may reveal new details like beading, appliques or more sparkle.
Choosing your wedding gown will be an exhilarating experience. Your style, silhouette, neckline, fabric, color, train length and bustle will all come together to create the perfect dress for your special day. Enjoy the journey, trust your gut and daydream about dancing the night away in your dream dress.