There's something special about saying "I do" in the warm glow of summer. With bright colors, beautiful outdoor venues and the sun shining down, summer nuptials are simply breathtaking. This wedding season is all about celebrating love and creating unforgettable memories.
Summer weddings offer endless possibilities courtesy of the warm weather and longer days, from beachside ceremonies to garden receptions. Picture airy and light wedding attire, with flowing dresses and open-toed shoes. And, of course, there's the photography — capturing those special moments bathed in the golden light of the sun. Get ready to be inspired with some of the best summer wedding ideas that will make your special day truly one-of-a-kind.
Themes We Love to See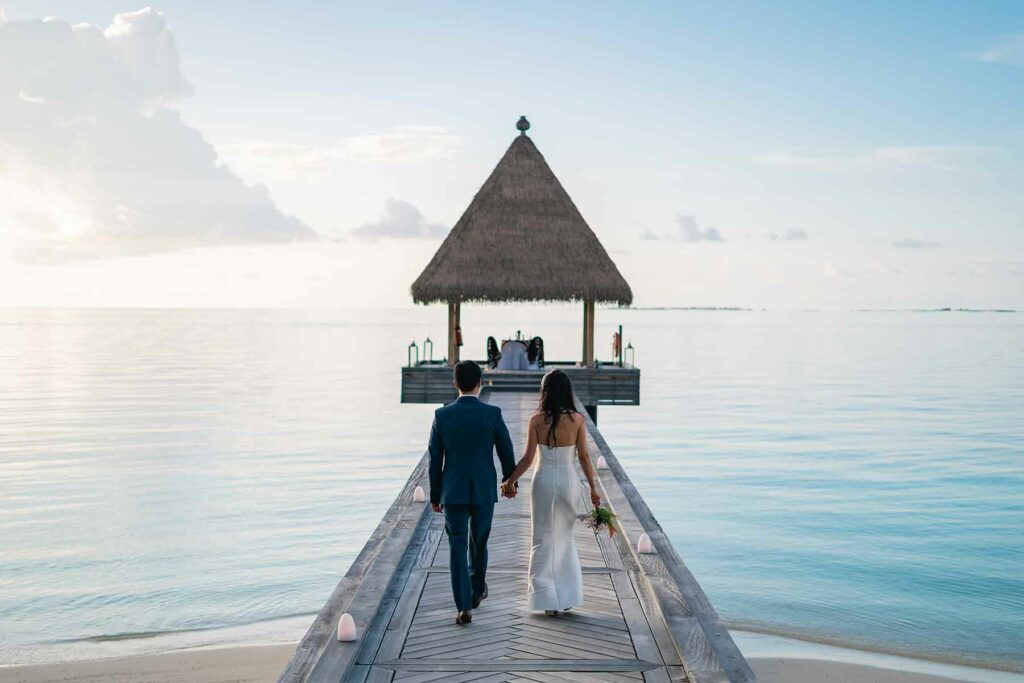 When it comes to your summertime wedding vibe, there are plenty of options to suit every couple's style and vision. Whether you lean more boho chic than farm rustic or vintage, these popular themes can typically be incorporated into any venue.
But first, let's talk about the ever-popular destination wedding. There's something about summer that inspires couples to exchange vows in a tropical paradise, like a beach in Hawaii or a villa in Tuscany. These weddings often feature unique cultural elements, embracing local cuisine and customs, making them truly unforgettable for you and your guests.
For a more laid-back, DIY vibe, backyard weddings are also a great option if you prefer an intimate ceremony over the allure of a far-flung locale. Think rustic decor, like burlap table runners and wildflower centerpieces, or a more minimalistic approach with simple white linens and bright pops of color.
Don't be afraid to turn up the wow factor, however. Whether it's a glamorous affair or a more casual wedding, it's ultimately your day — the perfect opportunity to create a celebration that truly reflects your love and personality.
Match Your Wedding Colors to the Weather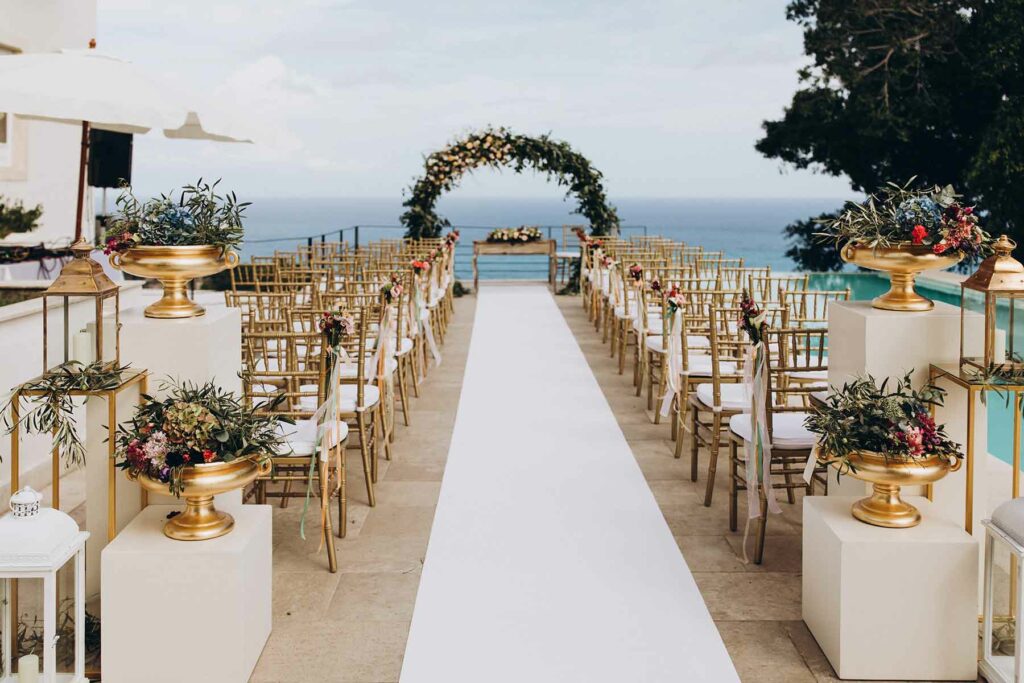 While we love us some bright, poppy colors to reflect the season, don't feel like you have to lean on these classic hues to lead your wedding decor. There are so many other ways to incorporate the essence of summer into your wedding theme. Here's the key: Go with a warm undertone, whatever your color palette may be. If you are set on a navy and white wedding, for example, choose a navy with yellow or gold undertones to give an overall warmth that reflects the sunny weather. The "dark" color will come off warm and comforting, perfect for your wedding day!
When it comes to your save the dates, invitations, and other wedding-related stationery, make sure your color scheme pulls through. Use bright, bold patterns as a background or border to weave in your carefully selected hues — it will pull the whole vibe together. Remember to balance the use of patterns with white space to make sure the design doesn't look too busy or overwhelming. It's easy to fall in love with a color and go all out but keep your bolder shades as a subtle accent so as to not overshadow your messaging. If you decide to use a colorful pattern, make sure it reflects your wedding theme and personality, and keep it consistent throughout your stationery and wedding website.
Opt Outside for the Perfect Summer Venue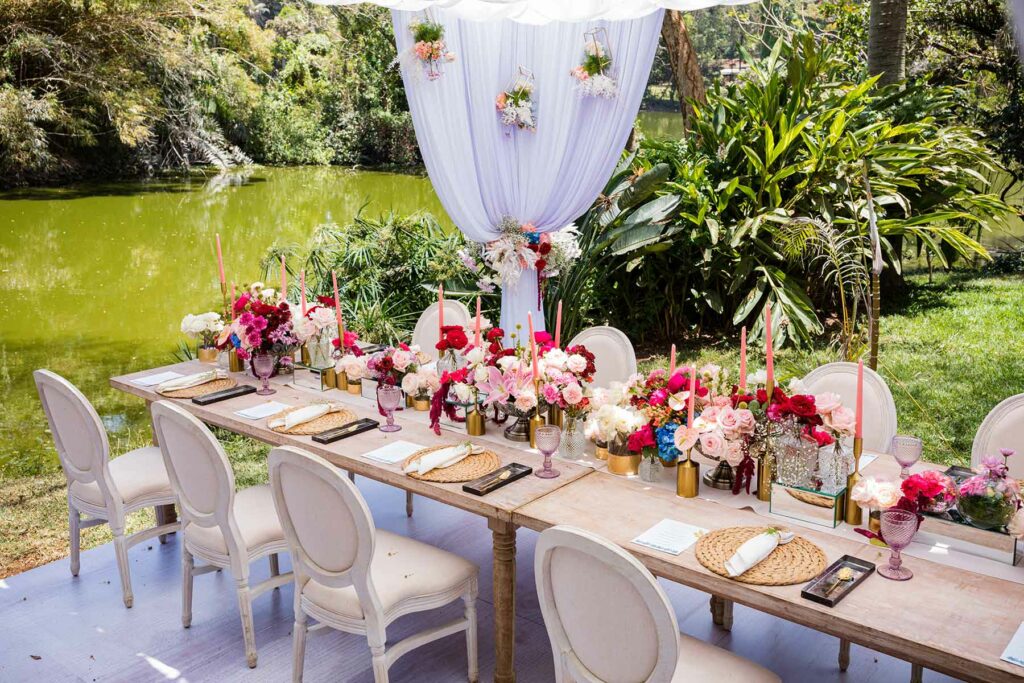 Whether you're beach-bound or saying "I do" in a field of wildflowers, outdoor venues are essential to the summer wedding experience.
Choosing the perfect summer venue for your big day can be a daunting task, but keeping a few important factors in mind can make it a breeze. First and foremost, it's important to consider the heat and sun. If you're planning an outdoor summer wedding, make sure to choose a venue that offers plenty of shade, such as a canopy of trees in a park or strategically placed umbrellas on the sand. Make sure to have an air-conditioned sanctuary for your guests to catch their breath, as well as plenty of water. Also think about the scenery and surroundings. A venue with a waterfront view will add a delightful breeze to your ceremony, keeping your guests comfortable even in the heat.
However, if an outdoor wedding sounds more overwhelming than fun, opt for a space that has large windows to let in natural light while also offering air conditioning to keep guests cool. Your great aunt Susie will thank you!
Keep Your Attire Loose and Airy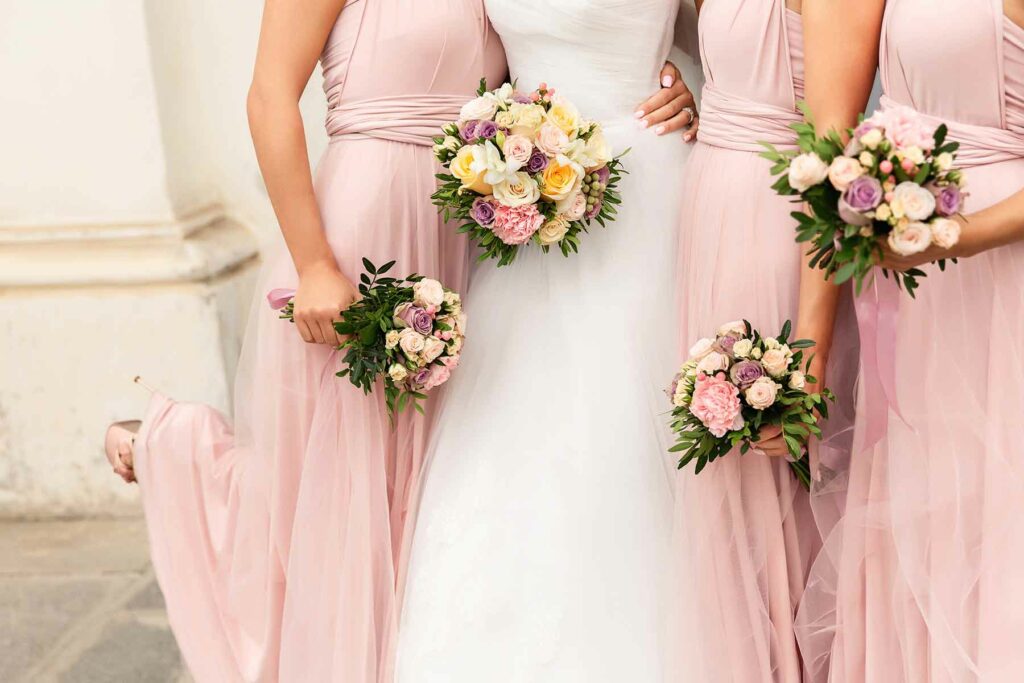 While there's no hard and fast dress code, summer weddings call for light and breezy attire that's both stylish and comfortable. Light-colored suits in fabrics such as linen or seersucker can provide both formality and breathability. Pale gray, light blue and beige are great color choices for summer suits. To add a pop of color, try accessorizing with a pocket square or tie that matches your overall palette to really step up your fashion game!
For wedding dresses, lightweight fabrics such as chiffon, organza or tulle give a super romantic and airy feel, not to mention they're really comfortable. Opt for an open neckline or dress cutout for extra breezy appeal. Ivory or blush tones are classic choices for a summer wedding dress, while pastel colors like soft pink or lavender can add in some whimsy.
When it comes to wedding party attire, consider dresses with floral prints or embroidery to add a playful touch. For footwear, lean on open-toe shoes or sandals. Loving that beach wedding vibe? Go barefoot!
Pick Your Florals Carefully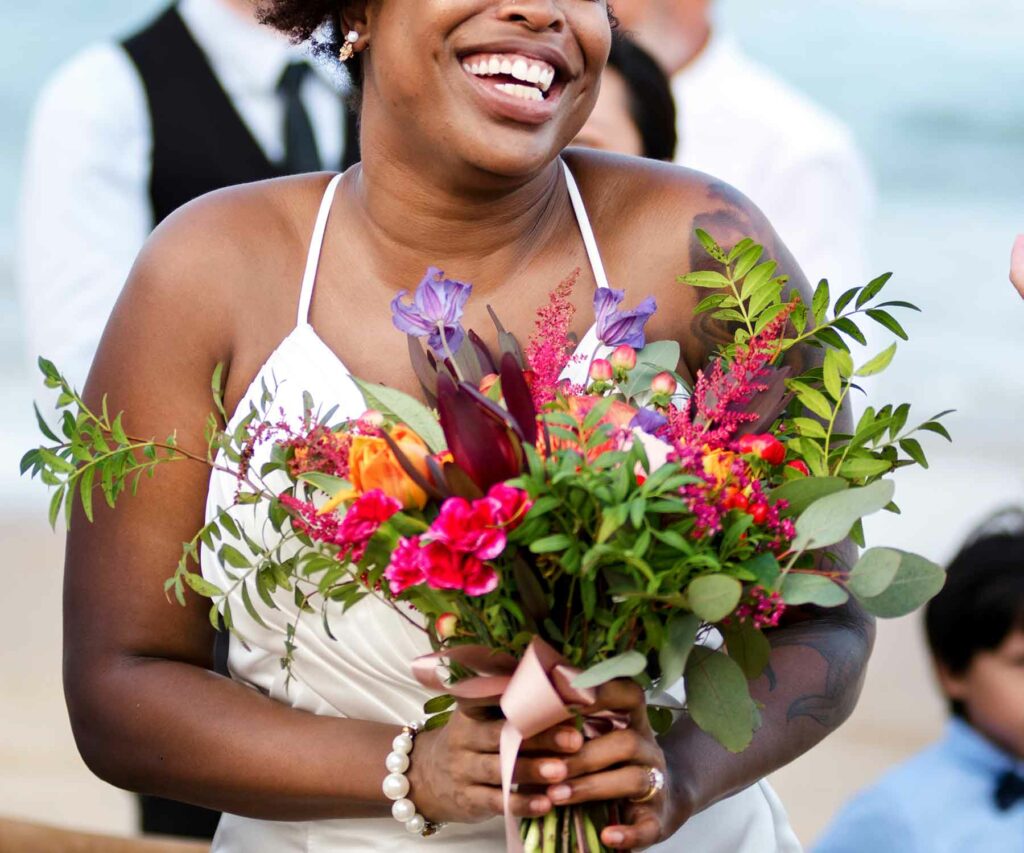 This sunny season is obviously a glorious time for the most beautiful summer wedding flowers. But unlike spring, there are a few things you need to keep in mind when you're eyeing those delicate blooms. Certain flowers tend to go out of season early in the summer, such as peonies. So, if you're set on having peonies in your bouquet, speak with your wedding planner early in the wedding planning process to go over your options. Also, as it gets hotter, you'll want to choose flowers that won't wilt under the summer sun. Some heat-resistant options include greenery, daisies, gerbera daisies, and tropical flowers like orchids.
Not only do you want to choose flowers that complement your wedding theme and colors, you'll also want to channel the vibe of your wedding venue. Remember, you can always go with two different types of flowers if the ceremony is inside and the wedding reception is outside (or vice versa). For a beach wedding, you may opt for tropical flowers like hibiscus, while a rustic wedding may call for floral arrangements featuring wildflowers or sunflowers. Whatever flowers you decide to choose, make sure there is a cool place at the venue to keep them from wilting until just before you walk down the aisle.
Choose Cooling Ceremony Decor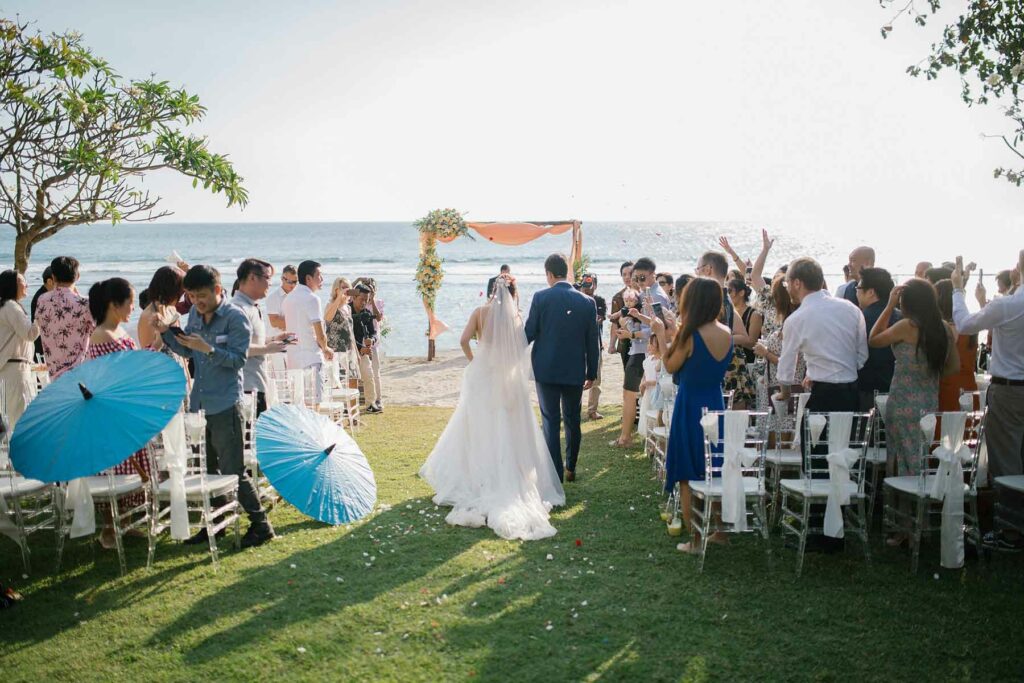 Picture this: The sun is shining, not a cloud in the sky, and your guests are … wilting? Outdoor ceremonies are tough for summer wedding guests — while you are inside getting ready in the comfort of air conditioning, they arrive early and are patiently awaiting your arrival in the sun. Keep your loved ones cool and comfortable by getting creative with your wedding programs and decor. Collapsible parasols and sunglasses, for example, are thoughtful touches to have on-hand for guests to grab as they take their seats. Even your ceremony programs can be helpful. Think handheld fan programs, individual Arnold Palmers with ceremony cards and bottles of water at entry.
As for the rest of your decor, make sure to limit candles to keep any extra heat from entering your wedding ceremony. Bring in sturdy florals that weave in your color palette, and let the stunning outdoor scenery do the rest. If your ceremony is taking place inside, be sure you choose a time of day where sunlight is not streaming directly into anyone's eyes.
Have Some Fun With Reception and Cocktail Hour Decor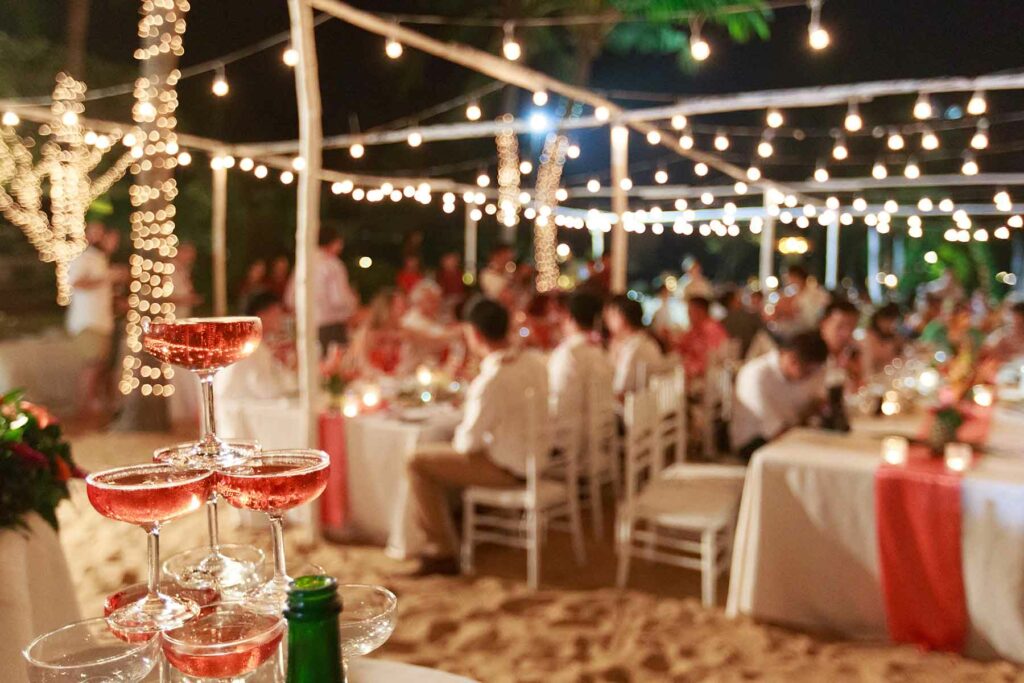 While we love leaning into all the season's flowers, mixing in other whimsical elements helps to complete the ethereal vibe of summer. Add some fun into your cocktail hour mix by incorporating lawn games! These will keep your guests entertained while you and your love are busy capturing photos of your big day. Croquet, cornhole and giant Jenga are all popular group options. It's also a great way to break the ice and encourage guests to mingle.
When it comes to your wedding reception, try decorating with parasols for a fun and practical way to adorn your venue. They can be used to provide shade for your guests until the sun goes down, as well as add a pop of color and texture to your wedding decor. As night begins to fall, let string lights create a warm and cozy atmosphere. You can hang them from trees or wrap them around poles and columns for a romantic and whimsical effect. For wedding favors, think personalized sunscreen, sunglasses or flip-flops. These practical and fun gifts will be appreciated by your guests and add a touch of summer to your celebration.
Keep Your Menu Fresh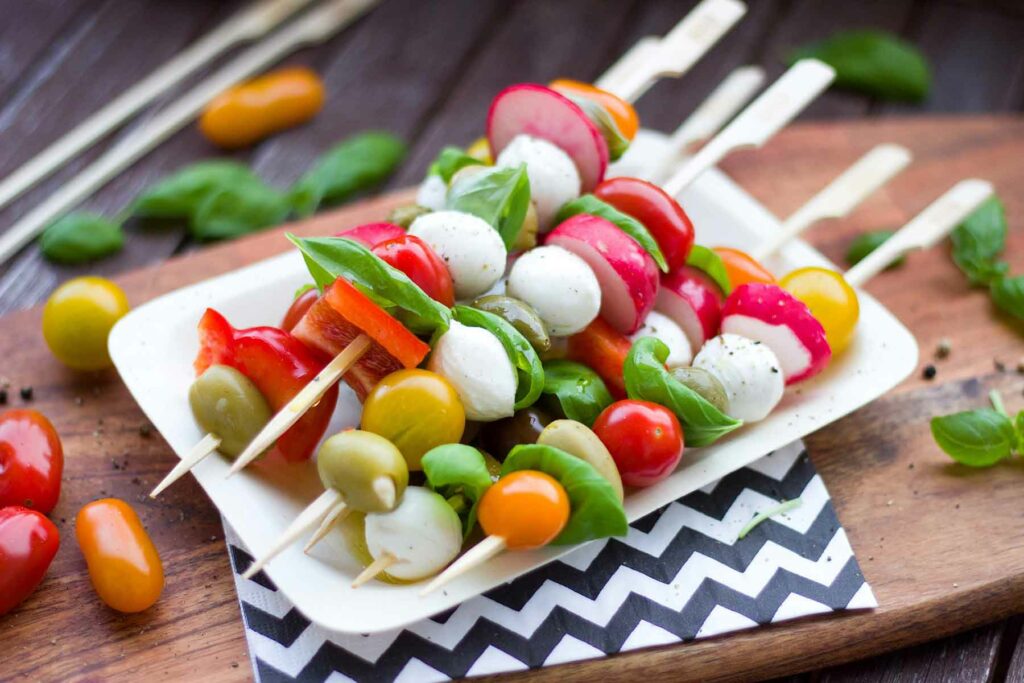 For cocktail hour, keep bites and drinks light and fresh. Miniature gazpacho soups, watermelon and mozzarella skewers, and mini popsicles are all fun foods that instantly cool the summer heat. If you are having a seaside wedding, mini lobster rolls and shrimp cocktails are always a hit.
Popsicle cocktails are another playful way to incorporate seasonal flavors such as watermelon and strawberry. You can even create boozy popsicles by freezing a mixture of fruit juice, simple syrup and your favorite spirit in a popsicle mold. To serve, simply pop the popsicles into a glass of prosecco or Champagne for a festive sip. Other refreshing drink ideas include frozen margaritas, spiked lemonade and iced tea. For a more elevated option, consider serving a summery signature cocktail, such as a peach Bellini or a strawberry daiquiri.
Your reception should also weave in light, refreshing flavors, so try keeping seasonal fruits and vegetables at the core of your menu. For the main course, consider offering simple grilled meats and vegetables. Chicken, steak, and fish are all classic yet delicious options that can be paired with in-season vegetables such as zucchini, eggplant and bell peppers. Salads with fresh fruits including strawberries, blueberries and peaches are also a great addition to the menu.
Don't sleep on dessert! Retro-inspired cold treats like ice cream sundaes, ice box pies and slushies are a fun way to beat the heat after a night on the dance floor. Should you want to include a wedding cake, think about a recipe that highlights summer fruits.
The key thing to remember in planning a summer wedding is to take inspiration from the season, and make it work for what you're dreaming of for your big day. Weave in the elements that call to you as a couple — whether it's a magical outdoor venue, breezy attire or colorful seasonal fruits on a towering wedding cake — and you'll end up with a wedding day so amazing your smiles will shine brighter than the summer sun.