An ideal combination of nature, convenience, and cost-effectiveness, backyard weddings have become a lasting trend. This wedding type is also sentimental and free of many regulations couples face at traditional venues.
However, because backyard weddings don't come with a built-in wedding staff, additional planning, strategy, and execution are required.
We reached out to top wedding experts — wedding planner Camille Ross of Elsie Event Co., wedding planner Robyn Bruns of Red Letter Event Planning, and wedding and special event vendor Jeremy Rardin of Rent-All Store — for ideas on how to seamlessly navigate decor, setup, vendor relations, and rain for a backyard wedding.
Backyard Wedding Decor Ideas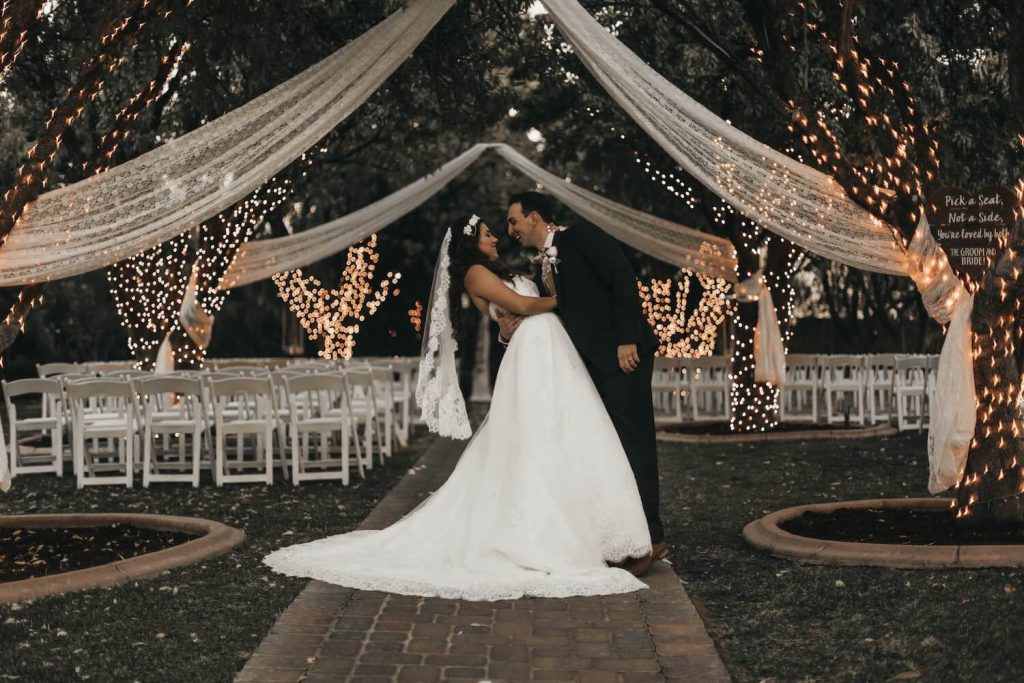 While you might think "backyard" is your official wedding theme, it can be helpful to take it a step further. Determine if you want to create a bohemian celebration, elegant nuptials, or a different ambiance.
Focusing on a specific theme can also simplify the planning process, as it provides clear direction for you, the wedding planner, and vendors.
Here are six backyard wedding decor ideas that will elevate many popular wedding themes.
1. Bohemian Lounge
Weave whimsy into your wedding by creating a backyard lounge decorated in bohemian treasures. Ross recommends using woods, browns, oranges, creams, vintage pieces, and pops of brighter color.
Ross: "I also love the look of a larger teepee flanking the lounge."
2. Aisle of Vintage Blankets
Continuing the boho vibes, Ross suggests creating an aisle with vintage blankets and offering a mix of benches and mismatched chairs.
Ross: "We also use pampas grass and pops of color in vases, florals, glassware, and table runners to create bohemian flair."
3. Classic Glow
Phenomenal lighting is a must at a classic wedding. One of the best ways to create a classic glow? Use twinkle lights as a main feature of your wedding decor.
You can wrap the lights around trees, drape them across shrubbery, or hang them between branches, creating a luminous canopy above the festivities. Do a trial run with the lights well in advance (and in the evening) to ensure they foster your dream ambiance.
4. Elegant Details
Infuse your wedding with elegance by adding details like tasteful chandeliers (hung from a tree or tent frame) and draped, flowing fabrics.
Ross recommends creating a lounge area decorated with light, neutral furniture with splashes of softer colors, and having plenty of heavy candlelight throughout the celebration. She also says specialty linens or a chair with a grand design can really enhance the elegance.
Ross: "From a ghost chair to a crossback, the industry really has a wide range to elevate one's chair game."
5. Nature-Centric Table Decor
Embrace a nature theme by swapping centerpieces made from cut flowers with small, aesthetically-pleasing potted plants. Some popular options are cactuses, succulents, and herbs. To add color, incorporate small fruit trees or plants like lavender or petchoas.
You can also run garlands made of eucalyptus leaves, lemon leaf, and Italian Ruscus down the center of banquet tables. Add a romantic glow by interspersing the plants with battery-powered candles.
6. Rustic Elements
For a rustic backyard celebration, use organic decor and the natural surroundings as much as possible. For example, you can set up the altar to frame an especially beautiful section of the backyard, and use haystacks covered in textiles for seating areas.
Additional Backyard Wedding Decor Ideas
Beyond decor inspiration for specific themes, here are additional ideas for any type of backyard wedding.
Make the most of a pool. If a pool takes up a large portion of the backyard, consider finding a vendor to place a quaint bridge across it, or even cover it entirely to make a dance floor.
Repurpose antiques. Ross recommends thinking of creative ways to use antiques. "I once saw an antique white and gold bathtub transformed into a drink urn." You can also search for antique trays, mirrors, tableware, and other unique items that add customized touches to your special day.
Set Up Your Backyard Wedding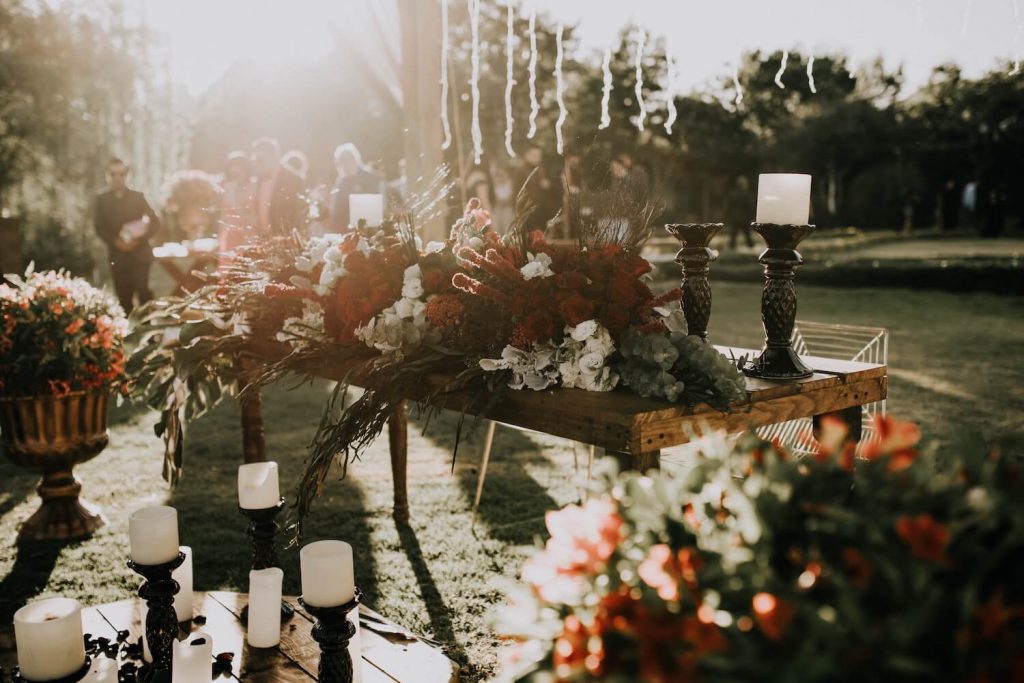 Bruns explains how setting up for a backyard wedding is often much more involved than couples expect. Here are five factors to consider when preparing for your backyard wedding.
1. The flow of the event
When determining the layout of your backyard wedding, consider when and where guests will be engaging in various wedding events to help ensure a good flow.
2. The impact of the sun
If you're not tenting the backyard, Bruns recommends using large, free-standing market umbrellas, or smaller pod tents, for various phases of the celebration, depending on sun exposure.
Bruns: "You don't want your guests shielding their eyes during your ceremony, or getting sunburned during cocktail hour."
3. Stagger vendor arrival
As an example, it's best to have the first wave of vendors arrive on Friday, and the remaining on Saturday.
Ross: "This gives you and the vendors ample space and time to execute. This is especially helpful during the pandemic when people are social distancing. In this situation, no one feels rushed, and it gives more time to see if there are last-minute kinks to work out."
4. Set up the wedding in stages
Ross urges couples to dry-set the event the night before the wedding (if weather allows), drop linens the next day before the florals arrive, and set final touches just before photographers begin.
5. Find your focal point for the ceremony and work from there
When determining the ideal flow for your wedding, it's helpful to use a focal point to start. This could be the altar location, a large tree decorated in lanterns, or a lavish photo wall that informs the placement of other elements in the wedding.
In addition to these tips, we recommend planning ahead with landscaping needs, as plants in a backyard are ever-evolving. It's ideal to make a plan for landscaping a minimum of three months before the wedding.
This will ensure you have enough time to remove foliage, plant certain flowers, trees, or shrubbery, or adjust any other features of the outdoor area.
It's also wise to hire a landscaping company, or find volunteer friends and family members, to touch up the grass, rake leaves, or take care of any other light landscaping needs a few days before the wedding.
Working With Vendors for Your Backyard Wedding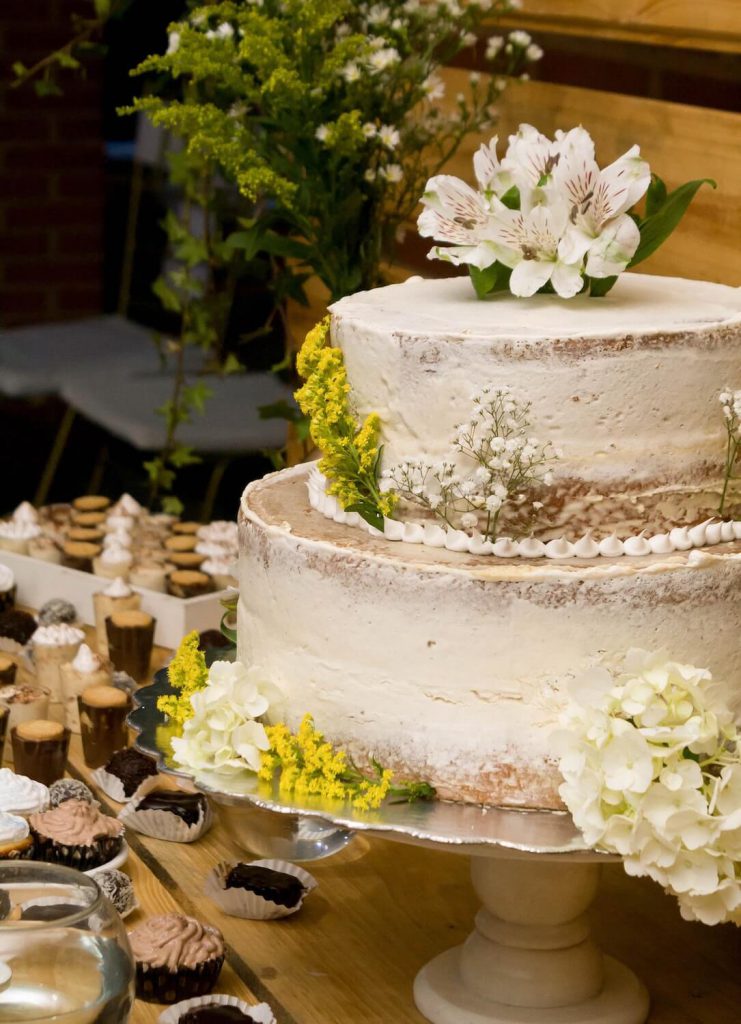 To ensure your backyard wedding goes off without a hitch, here are three recommendations when working with vendors.
1. Be prepared
Rardin: "Come into the showroom, or call, with a few ideas of what you want/need, and how many guests you're expecting, as this will really speed up the process. We can take your ideas and help you create something really special."
2. Provide photos
Photos of the backyard help vendors ensure you're renting the right equipment.
3. Have one point-person (i.e. a wedding planner)
Rardin: "The more changes that are made [to contracts], the higher the chance for error. This frequently happens when multiple people are involved in the contract, so I strongly suggest that only one person be the designated rental liaison."
Additionally, Bruns emphasizes that planning a backyard wedding is like building a venue.
Bruns: "A professional planner can make sure you're covering the less glamorous aspects of backyard weddings, like ensuring there are appropriate bathroom facilities, lighting, and parking."
She also suggests working with a reputable rental company that provides setup and break down of chairs and tables.
Additional Vendor Considerations
Beyond the above vendor tips, here are additional wedding considerations to factor in for your backyard wedding.
Bathrooms. It's wise to find a vendor that can provide portable restroom trailers, as it can be a strain on a home's plumbing to have all guests using one or two bathrooms. Fortunately, these trailers are often much nicer than a classic port-a-potty.
Caterer Needs. If the home where you're hosting the wedding doesn't have an accomodating kitchen, find a caterer that will prepare the food at their facility. The catering staff can then use portable burners to keep dishes warm once transported to the wedding site. You can also select a caterer that cooks the bulk of the food on grills and doesn't need access to an onsite kitchen.
Make a Rain Plan for Your Backyard Wedding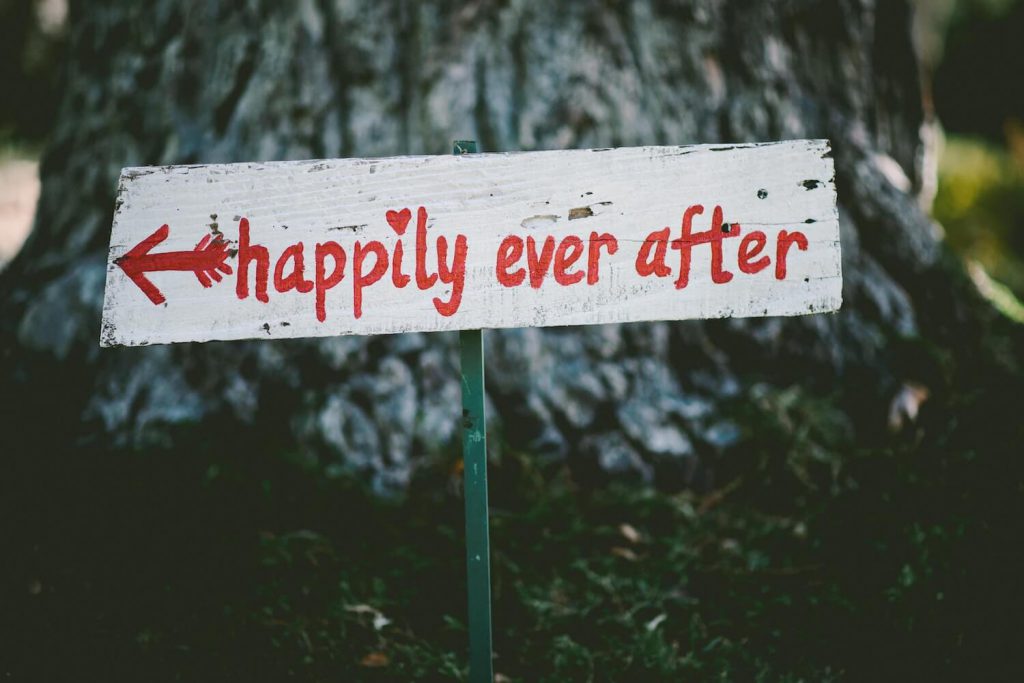 Weather can change on a dime, especially on a day when you're hosting an important event outside. According to Rardin, you should have rented a tent regardless of the weather forecast.
Rardin: "Sadly, if people wait to see what the weather is going to do days before an event, all the tents have usually been rented."
For couples on a budget, Ross recommends buying a 10×20 tent.
Ross: "You can also consider opening up part of the home, even if that means moving some furniture."
If you want to infuse the tent with elegance, Ross suggests renting a more upscale option and infusing it with romantic lighting and draped fabrics.
Ross: "We also like hanging balloon/floral installations, as they really bring a wow factor. [On a rainy day], you can host your ceremony under the tent, invite guests to the porch for cocktail hour, then quickly flip the tent for dinner. And any florals from the ceremony backdrop or aisle can be flipped to the band area."