Backyard weddings are becoming increasingly more popular amongst couples who prefer a more intimate, homey feel for their big day—and because of the cost savings they offer. If you're looking to host your special day in the comfort of your own home, or in the backyard of a friend or family member, this backyard wedding checklist will ensure you don't overlook some of the most important to-dos when planning out all the beautiful details.
Be realistic about your guest list size
First things first, how many guests are you expecting to invite to your backyard wedding? If you're inviting 200+ people and expecting to cram them into your tiny condominium backyard, then you're in for a rude awakening. The space needs to accommodate your guest list count, and if it doesn't, then it's time to revisit your invitation list and start cutting back. Backyard weddings are, typically, smaller and more intimate than traditional ballroom-sized receptions, so the guest list is intentionally kept to close family and friends (and your mom's twenty friends that she absolutely must invite). If you need help gauging whether the backyard space is sufficient for your guest count, then call on a wedding planner, if you don't already have one, and ask for his or her input.
Rent the right stuff
Now that you have a headcount suitable for the backyard space, it's time to plan out the tables and chairs, as well as any party tents and lighting you will need. Tables and chairs will take up a great deal of space, so plan diligently and efficiently. Likewise, you'll want to consider any other large tables (e.g. dessert or cake table) or decorations (e.g. candy bar or gift table) that will take up space, because the last thing you want is cramped seating and no room for dancing or mingling at your wedding.
Be sure to ask your wedding planner or caterer about any specials they may have for renting tables, chairs, linens, dishware, and glassware — these items are necessities and they also add up very quickly. Let's not forget to mention renting portable restrooms for your guests, because it'll save you the headache of herds of people trekking through your house (with booze in hand), save you a huge plumbing bill the next day, and provide your guests the convenience of having the bathrooms outside.
Feed and water your guests
Hopefully, you'll be hiring a caterer for your backyard wedding, so keep in mind that you'll have to allot for enough space for them to set up somewhere on the premises, usually in the garage or on the side of the house. For your wedding bar, you'll have to consider the space needed for the bar itself, ice buckets (for chilling beverages), ice for drinks, clean glasses and cups, extra alcohol storage, garnishes, etc.
Keep in mind that if you're serving water, iced tea, or other non-alcoholic beverages in dispensers, then you'll need to dedicate another table for the actual beverages, plus any cups, condiments, garnish, cocktail napkins, and whatnot. It may seem no big deal when you lay it all out in your head, but, trust us, you'll need to account for every inch of your backyard when planning your wedding — space planning is everything in this case. Oh, and let's not forget about the main dessert — the wedding cake! You'll want to have the cake in a location that is out of the sun, away from the dance floor (for all those crazy guests busting a move), and in somewhat plain sight so everyone can gawk at it.
Make it a party
What's a wedding without a little entertainment? If you're planning on hiring a professional DJ, then there's more space to factor in. If you're counting on your iPod to dance the night away, then you'll have to rent speakers and account for the space and electricity they require, because it's all fun and games until you blow a fuse and your wedding is lights out. It's always best to have your vendors view the backyard before you commit to a binding contract, so take the time and diligence to set walk-through appointments with each of your wedding vendors. That way, a vendor will be able to raise any concerns they may have before the big day, when it will, most likely, be too late to fix.
Get permits in place
It's a MUST that you check with your local ordinances on whether any permits are required for your grand fete. "The health department may have requirements for your restroom trailer. The permits office may want to inspect your generator, and the zoning department may want to inspect the tent set-up along with the fire marshal," suggests Your Wedding At Home. When it comes to throwing a rather large party, such as a wedding, there are usually a few ordinances or clerks you have to clear it with first to ensure that you're within compliance for your given residential area. The good news is, some or all of your wedding vendors may offer to take care of the paperwork needed for their rentals/services. Just keep in mind that this may require an additional fee (that is often worth every penny). Don't bog yourself down with permits and paperwork — but also, don't neglect it — leave the minutia to someone else, such as your wedding coordinator, husband-to-be, or the individual vendors, if they're willing.
Ensure that you're insured
This is probably one of the most crucial, yet overlooked, items on your backyard wedding checklist, so pay attention. Nobody wants to think about something terrible happening at your wedding, but there's always a chance, so it's best to be prepared. You can ask your insurance agent about coverage for your wedding day, or you can go to a specialized wedding insurance carrier, like WedSafe, WedSure, or Protect My Wedding (Travelers Insurance).
The types of coverage you'll want to consider are: Homeowners Insurance and Liability, Liquor Liability, Special Event Insurance, and possibly an Umbrella Policy. These types of coverage will cover you in case of anything from a slip and fall to damage to the property to a guest who drives drunk after attending your wedding.
Also, ask your vendors what insurance they carry, especially caterers and bar tenders, because their coverage may be sufficient enough.
Make sure there is somewhere to park
So, where are all of your guests going to park? If you don't have a street that allows for ample parking within a close proximity of the wedding location, then you may want to look into hiring a valet service to take care of the parking situation, because there will be one with that many people. If your neighborhood allows for enough parking, then you'll also want to ensure that street parking is permitted during the hours your guests will be parked there for the wedding. Some cities do not allow street parking in between certain hours and many do not allow overnight parking, so do your due diligence and give a call to your city to verify parking requirements. Also, if you're planning on doing valet, then please remind guests to not leave valuables in their cars, because you don't want to be held liable for someone's missing items. Whichever solution you settle on make sure you communicate it to your guests on your wedding website!
Okay your officiant
Whether you're having your church's minister or your recently ordained friend as your officiant, double-check that he or she is allowed to perform ceremonies outside of the church. Some ministries do not recognize marriage ceremonies that occur outside of a church, therefore those ministers will not be able to officiate your backyard wedding (legally and ethically). It's one more thing to check off on your backyard wedding checklist, but it's well worth the effort, seeing that your marriage may not be legal if your officiant isn't authorized to perform a backyard wedding ceremony. Just be sure to dot your i's and cross your t's on this one, because it's an important one.
Plan a clean sweep
If you've ever thrown a party for more than 20 people, then you know how quickly trash piles up — so, just imagine what the trash situation will be like with 50+ people at your wedding. Rent a dumpster, depending on the size you think you'll need, so that you don't have stinky trash pouring out of your trash cans for guests to see. There are tons of cute ways to decorate trash bins so that they match your theme/color scheme and aren't an eyesore on your big day. Place enough trash bins conveniently around the backyard for guests to use, and delegate someone to discreetly take out the trash throughout the day.
Notify your neighbors
Last, but not least, be considerate to the neighbors and provide them with ample notice of your backyard wedding details. For instance, you might want to break the news by sending each neighbor, within a certain proximity, a nicely penned letter informing them of the event's timeframe, location, and a number to call should they need to get a hold of someone (this number should NOT be the bride's or the groom's number). If you want to be cheeky about it, include some earplugs so that they can use them when the party carries into the evening. Always thank the neighbors in advance for their cooperation and understanding, and, if you really want to go above and beyond, send each neighbor a thank you note after the event to express your gratitude.
Peace of mind is the best gift you can give yourself on your wedding day, so take the time to go through this checklist and ensure that you have all your bases covered. If you're looking for more ideas, you can also check out these tips from wedding planning professionals.
Don't be shy, either. Recruit close family and friends (*ahem* your amazing bridal party) to help you get the proper permits, insurance, and paperwork necessary to ensure that your backyard wedding goes off without a hitch. Now, all you have to worry about is getting down the aisle without tripping and saying, "I do."
Tell Us More
Are you planning a backyard wedding? Share any other questions you might have by commenting below or joining the conversation on Twitter or Facebook!
Up Next: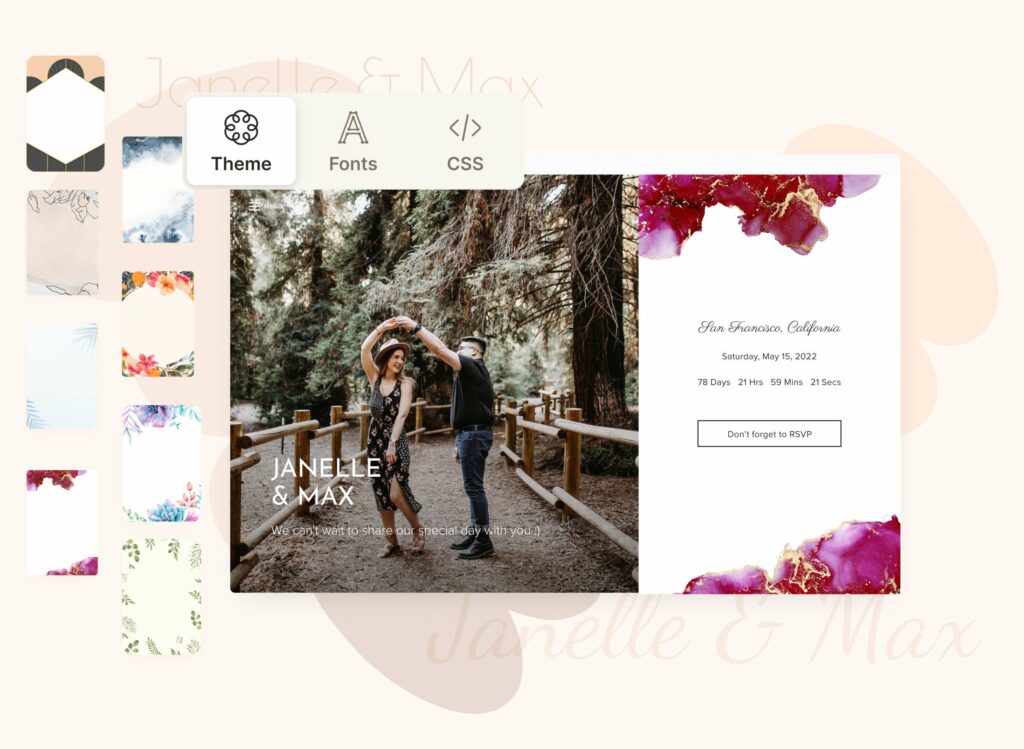 Set up your wedding website in minutes with design options to make yours truly unique.