There are so many benefits to planning a backyard wedding. It's intimate, romantic and pet-friendly, not to mention cost-effective. But creating a magical wedding day wonderland out of a lawn is no easy task and takes a lot of coordination. Since it's not a typical wedding venue, you and your partner will be responsible for procuring everything from rentals to catering. It takes a little extra effort, but if you have a solid timeline for when everything has to be complete, your backyard paradise will come together effortlessly.
One thing to immediately consider is if you will be hiring vendors or plan to DIY certain aspects of your big day. Our checklist below addresses both options, detailing every step so you can decide what works best for you. If you decide to DIY, however, do so sparingly. A common mistake with backyard weddings is couples thinking they can do it all. They often end up stressed, or worse, missing out on their special day. Trust us — even when hiring vendors, you don't have to spend a fortune for the outdoor wedding of your dreams. Think creatively so you can take the pressure off of you and your partner, and enjoy the day!
Overview:
12 Months (or Earlier) Before Your Wedding Day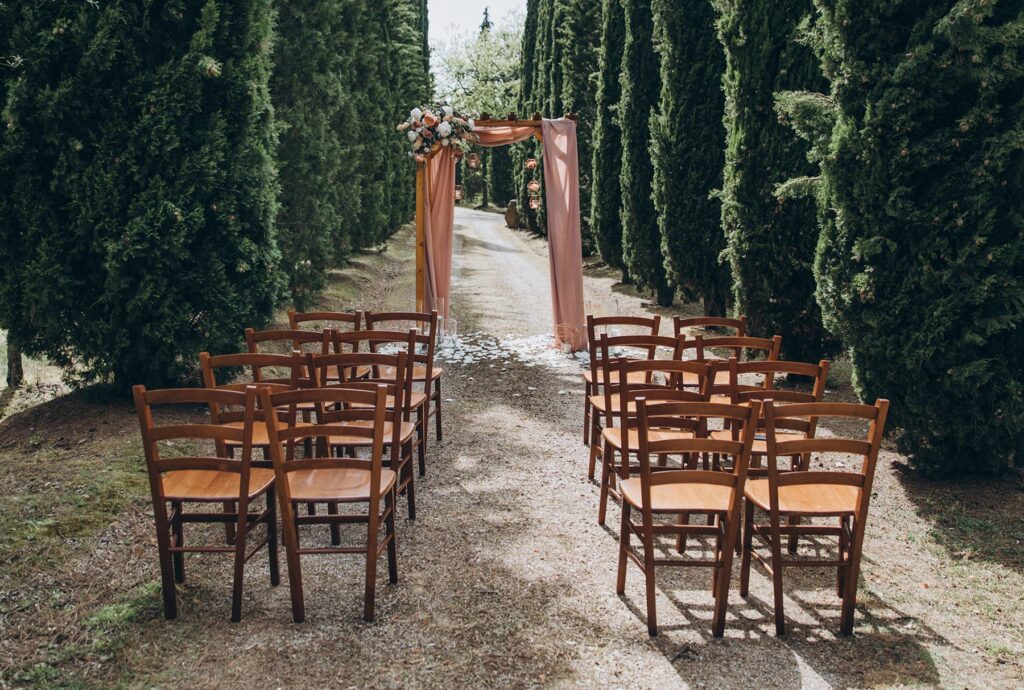 Secure the Wedding Venue
Whether it's your own backyard or someone else's, make sure you have permission to use the space well in advance of your planning. If you're planning on asking a friend or family member to use their yard for your nuptials, be respectful and have a general plan for bathrooms, tear-down, and clean-up ready. You'll want to reassure them that they won't be responsible for anything, which could include securing a special event insurance policy to cover everything from accidental falls to property damage caused by a guest.
Research Local Event Regulations
While you might need a permit to marry in a state park or other public place, private property is a little more flexible. But even for a backyard celebration, it's still important to check your city or homeowner's association bylaws to make sure your wedding ceremony won't incur any fines, particularly when it comes to noise ordinances, tents, parties over a certain number of guests, and parking. There are usually a few details to clear up before your big day, like permits for your portable restrooms or tent to ensure you're in compliance with your local residential codes.
Make a Wedding Budget
This step will dictate just about everything you're planning for your wedding. Sit down with your partner and make sure you are on the same page as to how much you are willing to spend on your big day. You'll save money by eliminating a hefty venue fee, but make sure to add a small line item for any special event permits or licenses you'll need for hosting at home.
Create a Guest List
Whether you're getting married on the family farm or your own backyard, keeping your wedding on the small side is a good idea. When making your guest list, consider factors such as how many bathrooms you will need and if those wedding guests will be allowed inside the home. Most importantly, make sure you have enough space for the number of people you're inviting (including a place to park their cars). Sketching out a rough seating chart will help to visualize the space and determine how many people can fit in it comfortably.
8 to 10 Months Before Your Wedding Day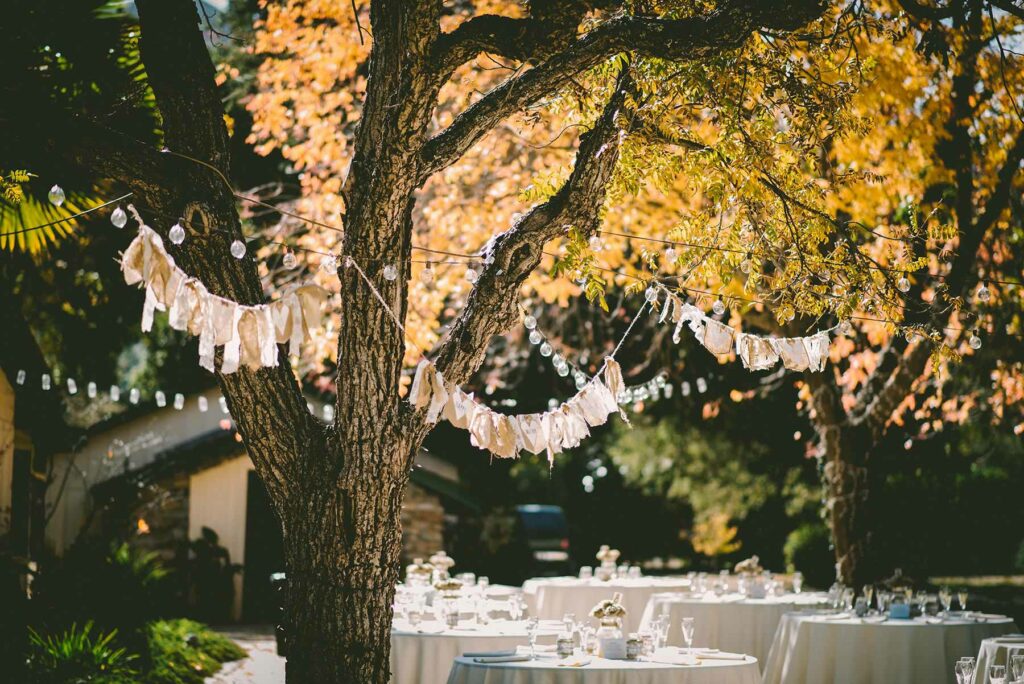 Start Shopping for Your Wedding Wear
Finding that perfect outfit to wed in is a difficult task, so give yourself ample time to find the right wedding dress or suit for the occasion. When you find and purchase your wedding wear, it's likely you will have to wait several months to receive it, unless you are buying a sample or consignment treasure.
Hire Your Photographer
You and your partner are probably eager to take those engagement photos, so start looking for a photographer that you can use throughout your wedding journey.
Send Your Save the Dates and Order Your Invitations
It's especially important to know what kind of headcount you are working with for a backyard wedding. The sooner you're able to get an idea of who's attending, the sooner you can start rolling on the larger action items. If you're looking to cut costs (or save some trees), you can send your save the dates digitally. This is also a great time to set up a coordinating wedding website and order your invitations.
Notify Your Neighbors
This is super important and will help eliminate surprises on the day of your wedding. Get creative with your neighborly alert! Put a note in your neighbor's mailboxes with a treat to let them know you will be getting married and to expect a bit of noise that day and into the evening. In the note, include your contact information (in case they would like to get in touch), a start and end time, and a phone number for someone they can reach on the day of the celebration.
Book the Entertainment
If you plan to boogie down during your backyard wedding reception, book your band or DJ well in advance of your wedding day. Discuss with your partner what type of entertainment you want for the reception and ceremony. Do you want live music or a DJ? Do you need an emcee for announcements? These are all things to consider when booking your entertainment. Don't forget to ask if there's any equipment you need to provide, such as a microphone and sound system for the emcee, and ensure they are aware of any residential noise ordinances you need to follow.
Hire Caterers and Bartenders
Wedding vendors are booking up quickly these days, so beginning your search for a caterer six months prior to your wedding is a good start. Because backyard celebrations are typically on the smaller side, some caterers may not be available for your wedding reception because they require a minimum headcount. If you find yourself hitting a roadblock, check with nearby restaurants to see if they will cater for pick-up on the day-of. You could even contact a local food truck to see if they are willing to set up shop in your driveway for the reception.
When it comes to the bar, if you're thinking about having a "help yourself" situation to save money, you may want to reconsider. Allowing guests to pour their own beverages is a slippery slope. The last thing you want on your big day is friends and family crashing on your couch on your wedding night. Keep everyone safe during cocktail hour by hiring an off-duty bartender for a modest rate. This way, you can still save by purchasing your own bottles, but have peace of mind with someone else working the bar. Don't forget to check on a liquor liability insurance policy — it may feel unnecessary, but is a good precaution to ensure you're covered.
6 Months Before Your Wedding Day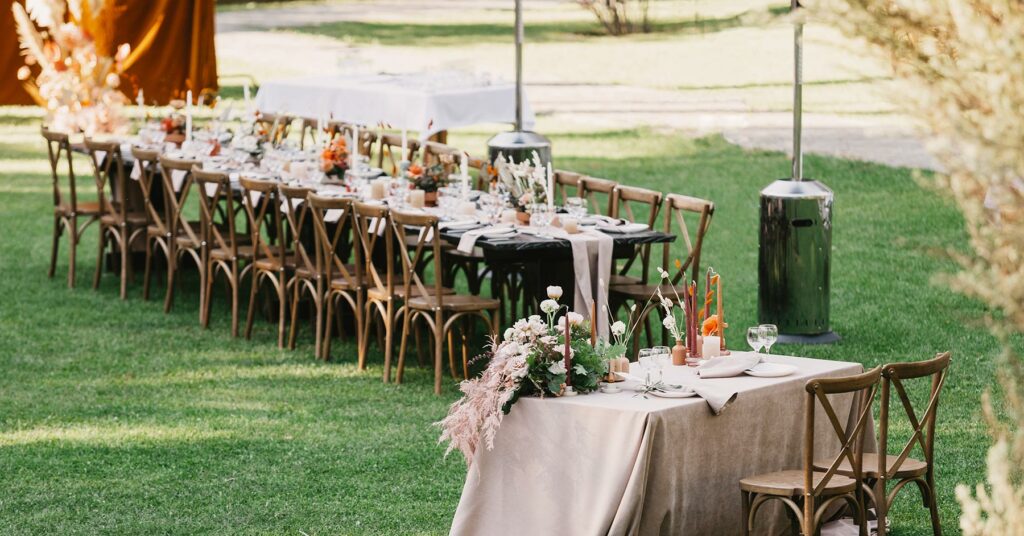 Hire Your Florist
The six-month mark is a good time to look for all of your wedding vendors, including your florist. If you plan to DIY flowers for your big day, start by looking up wholesalers or shops that are willing to order flowers in bulk. For local shopping, Trader Joe's has a great seasonal selection of blooms and will typically allow customers to order in advance.
Secure Rentals
Since you aren't using a typical venue, supplying your own reception essentials should be part of your wedding planning process. If rentals seem a bit out of reach for your budget, ask around! Friends and family might have items that you can use in your planning. Start by addressing the below:
Tables for the reception, cocktail hour, cake, food and drink stations, gifts and guest book
Chairs for the ceremony and reception
Linens
Flatware
Plates
Chargers
Glassware
Food service items (chafers, serving platters, trash cans, et cetera)
Aisle runner
Wedding altar or arch
Wedding decor
Portable restrooms
Tents
Lighting
Sound system
Dance floor
Space heaters
Dumpster
Order Your Wedding Cake
Check out local bakeries near your home that will create a wedding cake to fit your backyard nuptials. If your wedding is more intimate — meaning a smaller cake — the bakery may not deliver, so enlist a friend to pick it up the morning of your big day.
Shop for Wedding Party Attire
If you aren't shopping off the rack, six months ahead of your big day is a good time to choose attire for your wedding party. This allows ample time for the order to arrive and for pre-wedding fittings.
Hire a Wedding Coordinator
For a backyard wedding on a budget, a month-of or day-of coordinator is a great way to ensure your dream wedding goes off without a hitch. Because you are not marrying at a typical venue, set-up, tear-down, and everything in between is on you and your partner. A wedding coordinator will help direct deliveries, design tables and keep you on a timeline the day of your wedding, which will take so much pressure off of you! They can also help you pivot to your plan B if there's inclement weather or other unforeseen circumstances.
3 to 4 Months Before Your Wedding
First Fitting
By now, you should have received your wedding wear and are ready for your first fitting! Communicate with your tailor about anything that doesn't feel or look right to you. Remember to bring your shoes, veil and any accessories you plan to wear so your alteration service can take those into account while they are pinning.
Map Out Parking
This is a big one. Will your guests self-park or valet? Is there ample on-site parking? Depending on how big your guest count is, you may need to secure options other than your immediate street for parking. Contact local parks or establishments nearby to see if you can use their parking lot for a nominal fee. In that case, you will likely need to hire a shuttle service to chauffeur guests back and forth to their cars. If parking nearby is completely out of the question, you could also provide wedding guests with prepaid rideshare vouchers. Don't forget to include all the information your guests need to know on your wedding website!
Ask for Help with DIY Wedding Tasks
Since a backyard wedding is very intimate, it's okay to ask for some help from your nearest and dearest. Plan to DIY your flowers or other wedding decor? Select a few of your most creative friends to help out the day before your wedding. Need a clean-up crew? Ask a few friends to help tidy up before they hit the after party. The key here is to ask well in advance of the big day so they can plan accordingly.
Send Invitations
It's finally time! Drop those wedding invitations in the mail about six to eight weeks before your big day.
1 Month Before Your Wedding
Landscaping and Planting
Creating a whimsical backyard fit for a wedding is easy when you start with a manicured lawn and flower beds. Start shopping for seasonal potted plants, tidy up the garden, and trim any tree branches that might hang too low for the wedding ceremony and reception. This will be an ongoing project up until the big day, but it's good to get started early so you can get any planting out of the way.
2 Weeks Before Your Wedding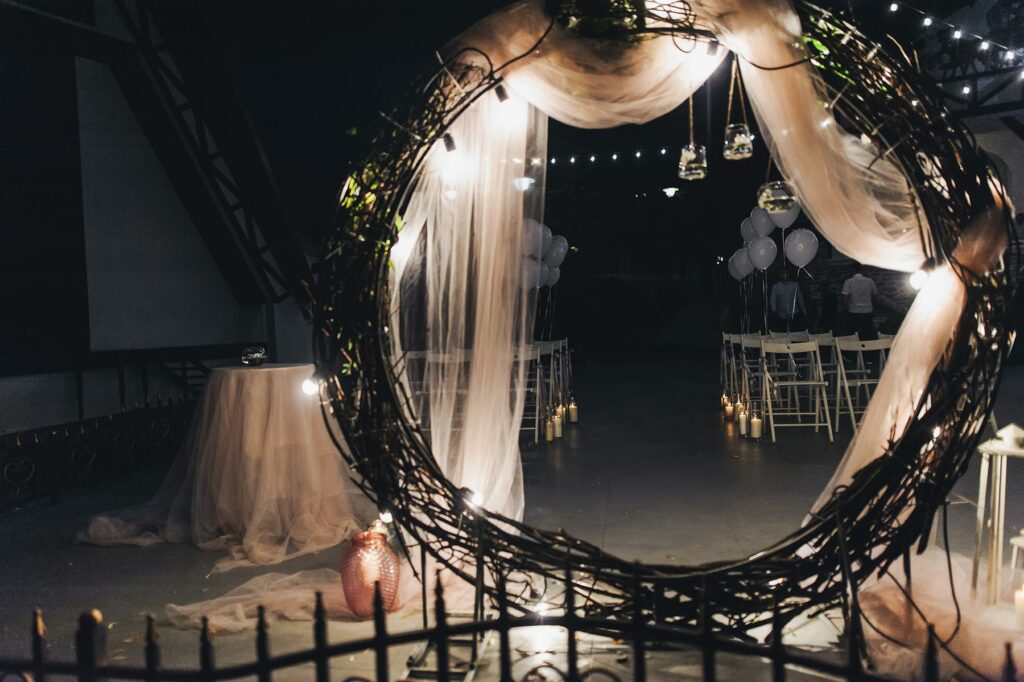 Final Fitting
Check in with your tailor for your final fitting and add any finishing touches on your outfit.
Stock the Bar (DIY)
This is a good time to grab all the non-perishable items you need for your wedding reception. Look for sales on non-alcoholic beverages like sodas, water and juices, and check out wholesale markets for alcohol. If your caterer is bringing the beverages, you can cross this item off your checklist!
1 Week Before Your Wedding
Receive Your Rentals
Sometime within the week of your wedding, expect to have your rentals delivered. If you rented a tent and dance floor, use this time to have it constructed.
Set Up Lighting
You'll want to set up lighting a little early so that you can see how the highlights and shadows look in the yard. Visualize each area of your yard and decorate accordingly to create a soft, whimsical atmosphere. Throughout the week, turn on all the lights during different times of day and night so see how the glow shifts around the yard. Twinkle lights and outdoor chandeliers can all be set up a week in advance.
1 Day Before Your Wedding
Pick Up Flowers and Create Arrangements (DIY)
The day before your wedding is the time to get everything in place so that you can have a fun, flawless celebration. Round up your DIY crew (who you asked for help three to four months earlier) to help create your centerpieces and altar florals.
Set Up Your Backyard
Your tables, chairs, linens and other rentals were delivered this week and are waiting to be set up! Start by placing your tables and chairs for the reception and ceremony. If you rented an altar or wedding arch, set that up as well so everything is ready for the big day.
Rehearse
Having everything laid out in your backyard will allow you to see how the ceremony and reception will look, so you can change things if needed. Keep things like guest traffic flow in mind, and ensure your cake table is a safe distance from the dance floor! As for your rehearsal dinner, we recommend having that at another location so you don't soil your linens or add extra clean-up to your packed schedule. If a restaurant or alternative venue isn't in the budget, ask a friend or family member if they would be willing to host a few of your nearest and dearest.
Your Wedding Day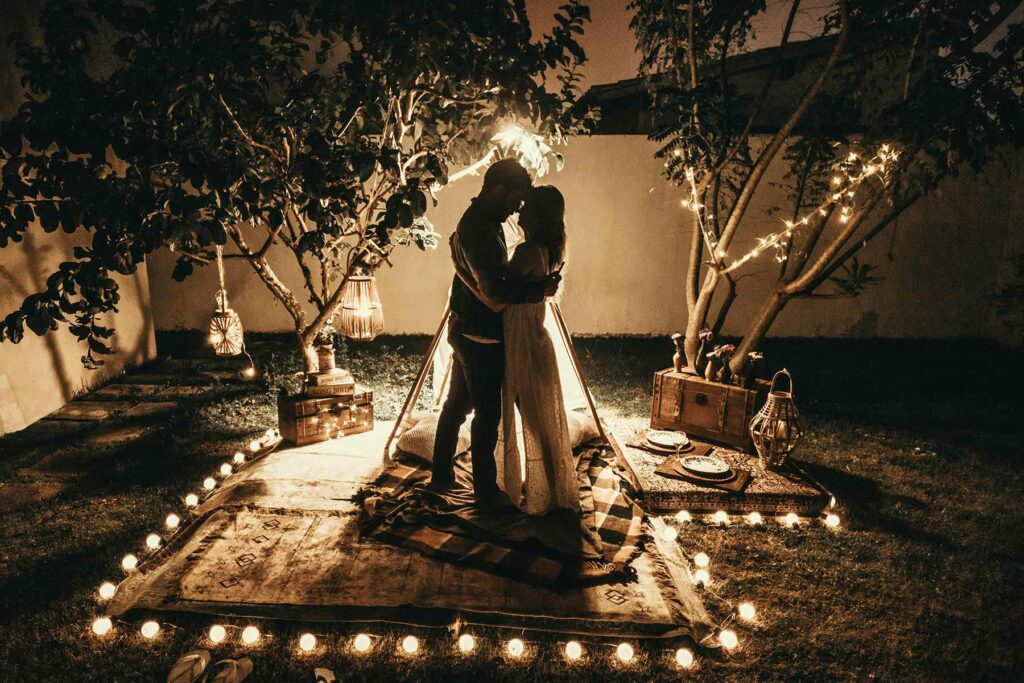 Say "I Do"
If you hired a wedding coordinator, your job is to simply float through the day and enjoy this milestone with your partner. Everything will be handled, from set-up to clean-up. If you didn't hire professional support, refer to our six-month checklist and ask for help from friends and family! You should not be doing anything but living in the moment on your wedding day. Ask a loved one to place the flowers, decor, and other ceremony and reception items the morning-of, and another to oversee event tear-down so you don't have to worry about a thing.
Day(s) After Your Wedding
Return Your Rentals
An urgent reminder: Do not wake up early on your first day of marriage to facilitate your rental returns. This is the time to ask for help or have your wedding coordinator orchestrate the process. Some rental companies also offer an optional break-down service for tables and chairs for an additional fee. Just make sure your coordinator or someone you trust is there to facilitate the pick-up, then enjoy your morning. Let someone else do the heavy lifting — literally!
Say Thank You
The beautiful thing about an intimate wedding is that the guests likely helped make it happen. Don't forget to send a quick message or call over the next couple days to thank the people who really helped bring your celebration together. You can even shout this out on your wedding day if you feel so inclined.
Up Next:
Set up your wedding website in minutes with design options to make yours truly unique.