Historians date the first wedding rings back to ancient Egypt, when they were considered a symbol of eternity. About 6,000 years later, wedding rings (and ring exchange wording) are still powerful symbols of the wedding ceremony and marriage.
In Western nations, wedding rings are made of precious metals such as gold, platinum, silver, titanium, or tungsten to symbolize the permanence of your marriage. Your ring exchange wording is what brings this symbolism to life.
The ring exchange is the last piece of the ceremony before the big kiss. You're probably familiar with the most common ring exchange wording, "With this ring, I thee wed." Along with this ever-classic phrase, there is an array of ring exchange scripts for both religious and secular ceremonies.
We've broken down everything you need to know about this important part of the ceremony. Read on for popular ring exchange wording and non-traditional scripts. Then, choose one that speaks to you and your fiancé.
Difference Between Vows and Ring Exchange Wording
In the movies, the big crescendo always comes moments before the bride and groom say, "I do." In reality, this important phrase comes at the wedding vows part of your ceremony. You can recite traditional vows or write your own.
In a traditional wedding ceremony order, the vows are followed by the ring exchange. The groom usually goes first, though we invite you to be progressive. He puts the wedding band on the bride's finger while repeating a phrase like, "I give this ring as a sign of my love." Then, it's the bride's turn.
Once the rings have been exchanged, the officiant makes the declaration of marriage ("I now pronounce you … "). Then comes the long-anticipated first kiss and your fun-fueled reception.
Do I Need to Write My Own Ring Exchange Wording?
aff
When people talk about writing their vows, they're usually referring to the promises couples make to one another in the ceremony. You don't need to write your own ring exchange wording unless you want to. Either way, meet with your parish or officiant to ask about their script for the ring exchange.
If you're getting married in a church, chances are your denomination will have its own standard ring exchange wording that will involve a blessing and mention of God, but it doesn't hurt to ask for flexibility.
Weddings by justices of the peace have less of a proscribed ring exchange wording. You can even choose to weave it into the reciting of vows.
Sample Ring Exchange Scripts
When it's time to meet with your officiant about the ceremony and exchange of rings, it's helpful to have some bullet points in mind for what sentiments you want this to convey. To prepare, consider what religious aspects, if any, you want to incorporate, and reflect on what the rings symbolize to you.
That said, don't stress about writing something yourself. Read on to see if any traditional or non-traditional ring exchange scripts speak to you. Also, keep in mind that your officiant will likely provide a few options to choose from.
Religious Ring Ceremony Wording
If you are planning to include spiritual elements in your ring exchange wording, here are some ideas for you to consider.
Anglican
"Bless, O Lord, this ring to be a sign of the vows by which this man and this woman have bound themselves to each other. Through Jesus Christ our Lord. Amen … I give you this ring as a symbol of my vow, and with all that I am and all that I have, I honor you, in the Name of the Father and of the Son and of the Holy Spirit."
Lutheran
"I give you this ring as a sign of my love and faithfulness."
Eastern Orthodoxy
"The servant of God (groom) is betrothed to the handmaid of God (bride), in the Name of the Father and of the Son and of the Holy Spirit. Amen. Bless this putting on of rings with a heavenly blessing and that an angel of the Lord will go before these your servants, all the days of their life."
Roman Catholic
"(Name), take this ring as a sign of my love and fidelity. In the name of the Father and of the Son and of the Holy Spirit."
Judaism
"You are consecrated to me with this ring according to the law of Moses and Israel."
Muslim
In the Muslim religion, the betrothed exchange rings during Mangni, an engagement ceremony. This usually takes place after traditional Istikhara and Iman-Zamin rituals finish the day before the wedding.
Secular Ring Ceremony
After you've exchanged vows, your officiant will begin the ring exchange. They might say something like, "Wear these rings as a reminder of the vows you have just taken."
They will then instruct the bride and groom to place the ring on their partner's finger and repeat the ring exchange promises after them. Don't worry — you don't have to memorize anything.
Non-Denominational Ring Exchange Wording Examples
"With this ring, I thee wed, and with it, I bestow upon thee all the treasures of my mind, heart, and hands."
"You are more precious to me today than yesterday, and you will be more cherished tomorrow than you are today. Please wear this ring, as a symbol of my eternal love for you, a love that transcends all our yesterdays, all our todays, and all our tomorrows."
"The fitting of this ring with its unending circle, symbolizes my everlasting love for you. The placing of this ring on your finger is the fulfillment of my dreams to have you as my friend, my love, my husband/wife, to live as one forever."
"You are the love of my life, and you are my very best friend."
"I give you this ring to wear as a symbol of my enduring love, my eternal faith, and my undying devotion. It is an outward reminder of our inner unity."
"This ring I give to you as a token of my love and devotion to you. I pledge to you all that I am and all that I will ever be as yours. With this ring, I gladly marry you and join my life to yours."
"I give you this ring as a symbol of our love. Let it be a reminder that I am always by your side and that I will always be a faithful partner to you."
"Let this ring be a symbol of my promises to you and a reminder of my devotion to you."
"I give you this ring as a symbol of my love, my faith in our strength together, and my covenant to learn and grow with you."
You Put a Ring on It
Beyoncé knows best. Exchanging rings is a powerful way you can symbolize your unending commitment to your partner. The ring exchange is just one of many rituals you will perform. You might have a first look, you'll recite vows, you'll kiss in front of all of your loved ones, and you may even toss your bouquet into a crowd of single friends.
The ring exchange is one of the most important of all of these traditions because it's such a powerful symbol of your everlasting devotion. With the ring exchange, you'll solidify the vows you and your fiancé have just recited. It's the last thing you do before the officiant says the words you've been waiting for during months of wedding planning: "I now pronounce you married."
If you have a religious ceremony, the traditions are probably outlined for you, but it never hurts to ask for flexibility. If you have a secular wedding, there are plenty of ring exchange wording ideas to choose from. This can still be traditional, you can opt for something unique, or you can even write your own. Review examples with your fiancé and your officiant, and choose something symbolic of your relationship.
Up Next: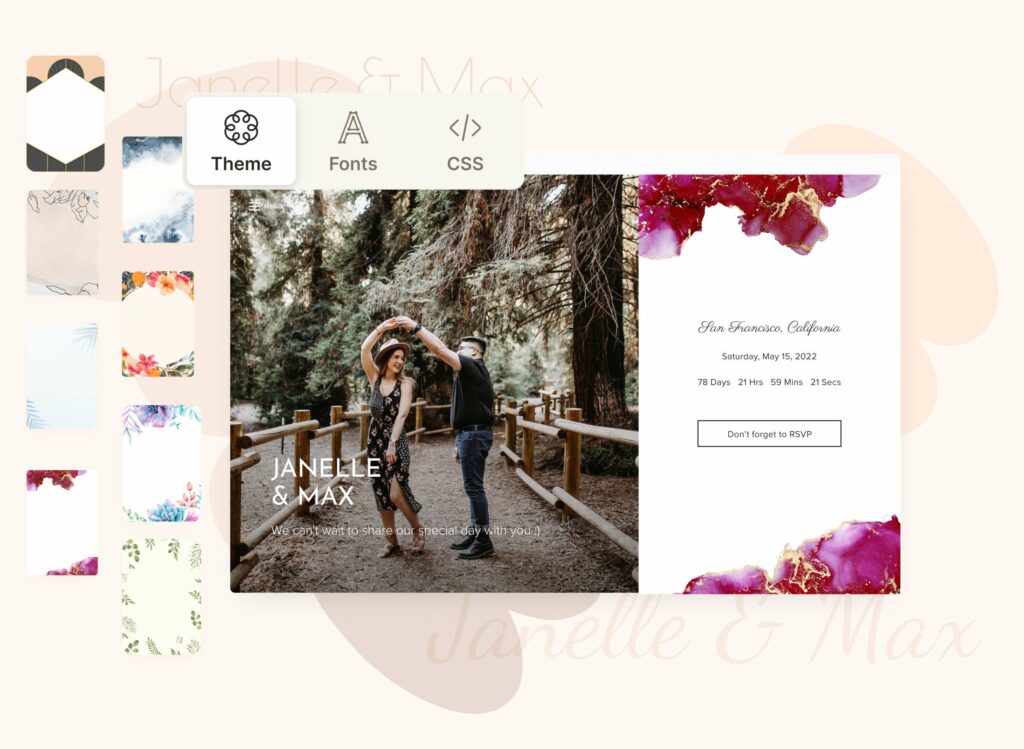 Set up your wedding website in minutes with design options to make yours truly unique.