There's no better way to feel showered with love than being the guests of honor at a pre-wedding party. Wedding showers are a fun opportunity for family members, friends and other VIPs on your guest list to offer gifts, well-wishes and support before you tie the knot.
As nearly-newlyweds, you may not be hosting your own event — that duty is typically reserved for your closest loved ones — but couples can still lend a hand when it comes to planning your wedding shower. Your role is to help your host find a vibe and aesthetic that's perfect for celebrating your soon-to-be union! Need help getting started? Here are 34 wedding shower decoration ideas with thoughtful themes to add a personal touch to your pre-wedding celebration.
Backyard Bash
For the casual couple, a backyard wedding shower is just the ticket. Grilling out, bespoke dessert stations and fabulous floral arrangements will bring elegance to a simple fete.
1. Dessert or Drink Cart
Whether you're a cupcake fiend or love a smattering of Girl Scout inspired cookies, a great way to get your guests into the celebratory spirit is with a dessert cart that reflects your tastes as a couple. Even a simple bar cart with rose gold accents and scattered flowers can be a wedding shower decor centerpiece. Or go all out and rent an amazing kiosk with all the bells, whistles and even a frozen drink machine.
2. Custom Recipe Box
Get your kitchen started with a recipe book that comes straight from your loved ones! Have your host ask guests to bring their favorite side dish; at the party, they'll fill out a custom recipe card and drop it into your decorative box.
3. Flower Wall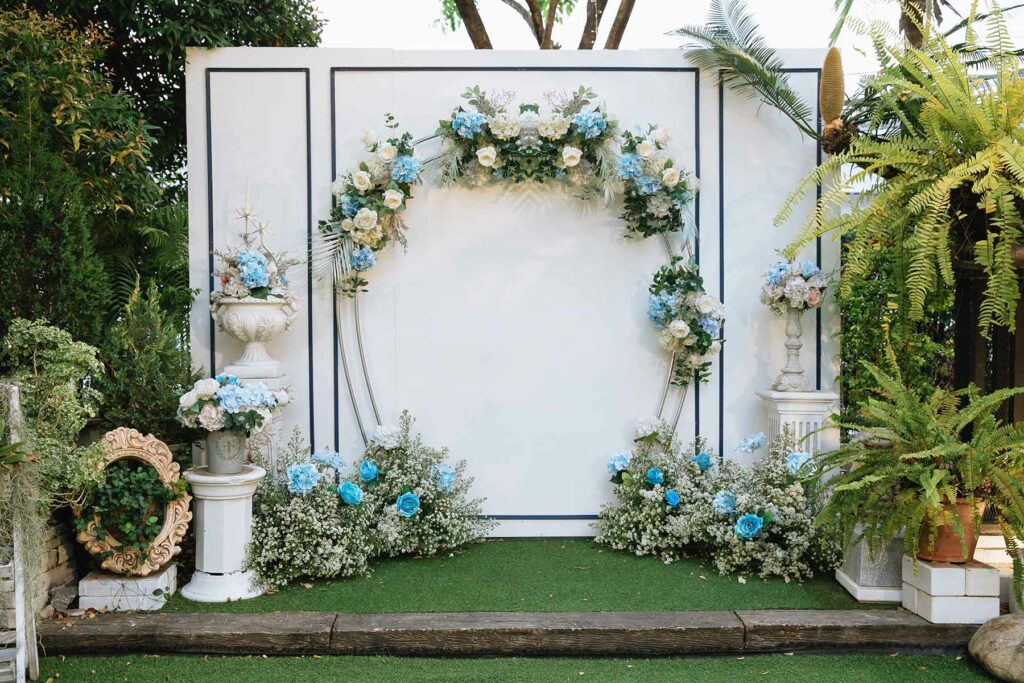 What's a more beautiful backdrop than a flower wall? Use real or faux flowers made of silk or tissue paper to create the ultimate lush photo booth backdrop — bonus points if you use your wedding day colors. It will pull double-duty as decor and a spot for guests to snap a few photos for the 'gram.
4. Wedding-Themed Lawn Games
No, we're not talking about the toilet paper wedding dress game. Fill the extra green space at your host's home with aesthetically pleasing lawn games, from custom cornhole sets with your monogram to ring toss. Set up little stations with kitschy signs to break the ice. Maybe suggest a friendly competition between you and your spouse-to-be? All in good fun, of course!
5. Custom Cookie Table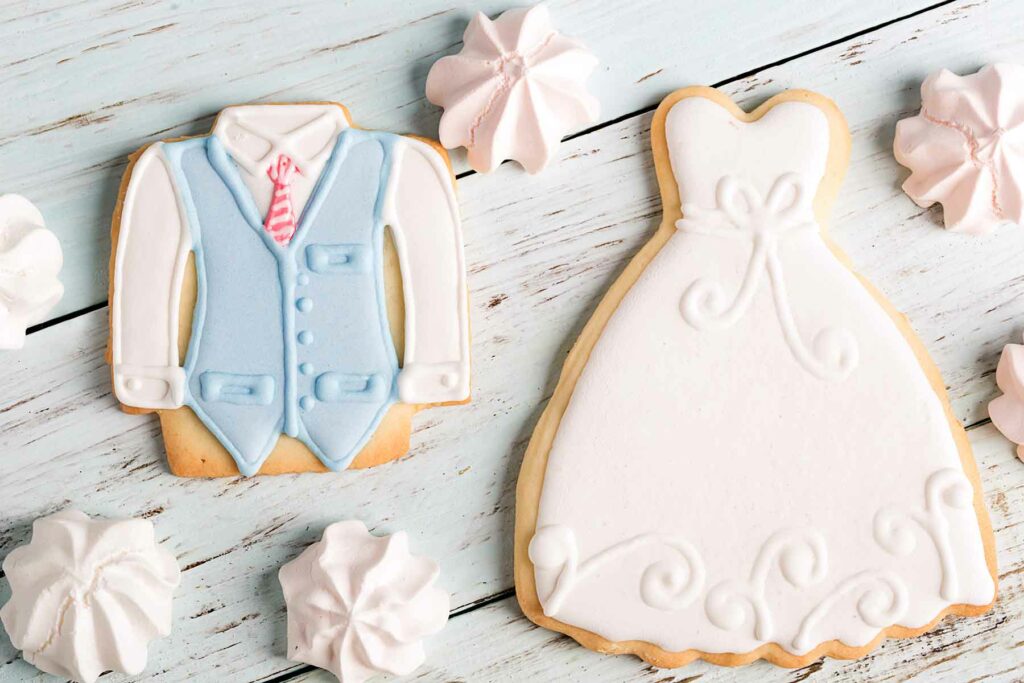 Adding fabulous flair to any dessert table are custom iced cookies that relate to your upcoming big day. Come up with a sweet message to share with your family and friends, whether it's an adorable photo or your wedding hashtag. It's a great wedding shower favor, too!
Boozy Brunch
If you love nothing more than bloody marys and mimosas to kick-start your morning, these decor ideas for the perfect brunch-themed wedding shower will provide a welcome break from wedding planning.
6. Black, White and Blue "Breakfast at Tiffany's" Decor
Maybe your engagement ring came in an iconic blue box. Or perhaps you're both big movie buffs. Either way, the glamour of Audrey Hepburn's classic film is perfect for a brunch bash. For table decorations, think pearls and cat-eye-sunglasses as centerpieces, white flowers in blue boxes and red lip confetti. Don't forget fancy Champagne flutes to toast to your upcoming nuptials.
7. Doughnut Wall
Make a sweet statement with a doughnut wall. Hang your favorite breakfast treats organized by flavor for guests to grab as they enter your shower.
8. Mimosa Bar
Fresh juices and Champagne? Yes, please! Set up a table with four to five carafes of fresh juices, glassware and, of course, an ice bucket filled with bottles of bubbly for shower guests to craft their own concoctions. The colorful juices will add a pop of color, but you can also decorate the table with a little greenery or a balloon arch to bring the station to life.
9. Coffee Bar
Allow guests to interact with your decor by setting up a coffee station with a variety of hot and cold options. Think cold brew, hot coffee, matcha and decaf alongside frothers, shakers of cinnamon and a variety of milks with fancy mugs. Don't forget about signage that dubs your union as "The Perfect Blend"!
A Stock the Bar Shower
If you're a cocktail-loving couple, this party theme is a great way to fill your newlywed bar with all the bottles and barware you need to make a stiff drink.
10. Cocktail-Themed Invitations
Who says your decor has to start at the shower? Dress up your wedding shower invites with an illustration of your favorite cocktail, spirit or wine, and carry the theme through to the day-of by having your host spread the word that the perfect gift idea would be a bottle for your bar. Instead of a traditional gift table, set up a bar cart for more decorative flair.
11. Mixology Station
Choose four or five recipes featuring your spirit of choice and have your guests try their hand at bartending. Add a decorative touch to the mixology station with custom drink coolers, sparkly straws, garnishes and large beverage dispensers of non-alcoholic mixers.
12. Custom Swizzle Sticks
Add the perfect finishing touch to those cocktails with a wedding-themed swizzle stick. You can go bespoke with an engraved option featuring your names and the shower date, or take the DIY route with printable flags that have your hashtag.
13. Illustrated Bar Menu
Let your guests know what's on the menu with illustrations of your signature drinks. It's an easy decoration that will dress up any bartop or table!
14. Monogrammed Cocktail Napkins
No cocktail is complete without a napkin! It's a simple table decoration that will add a pop of color to any party. For this fun-filled celebration, skip the monogram you're using in all your wedding decor; instead, create a colorful, casual design just for the shower.
Tea Party
Make this traditional wedding shower theme your own with creative decor that can take guests on a journey down the rabbit hole or up to The Plaza penthouse.
15. Mismatched Vintage Drinkware
Tea party wedding showers naturally lend themselves to a Mad Hatter theme. If you're not ready to go full "Alice in Wonderland," take a tip from our favorite mad man and use mismatched tableware and glasses to add a boho touch to your celebration. Bonus points for mismatched chairs!
16. DIY Tea Cup Candles
Speaking of mismatched tea cups, you can take this idea and give it a DIY spin. Buy a kit to pour your own wax and decorate your tabletop with custom candles. It's decor and a party favor rolled into one!
17. Tiered Serving Platters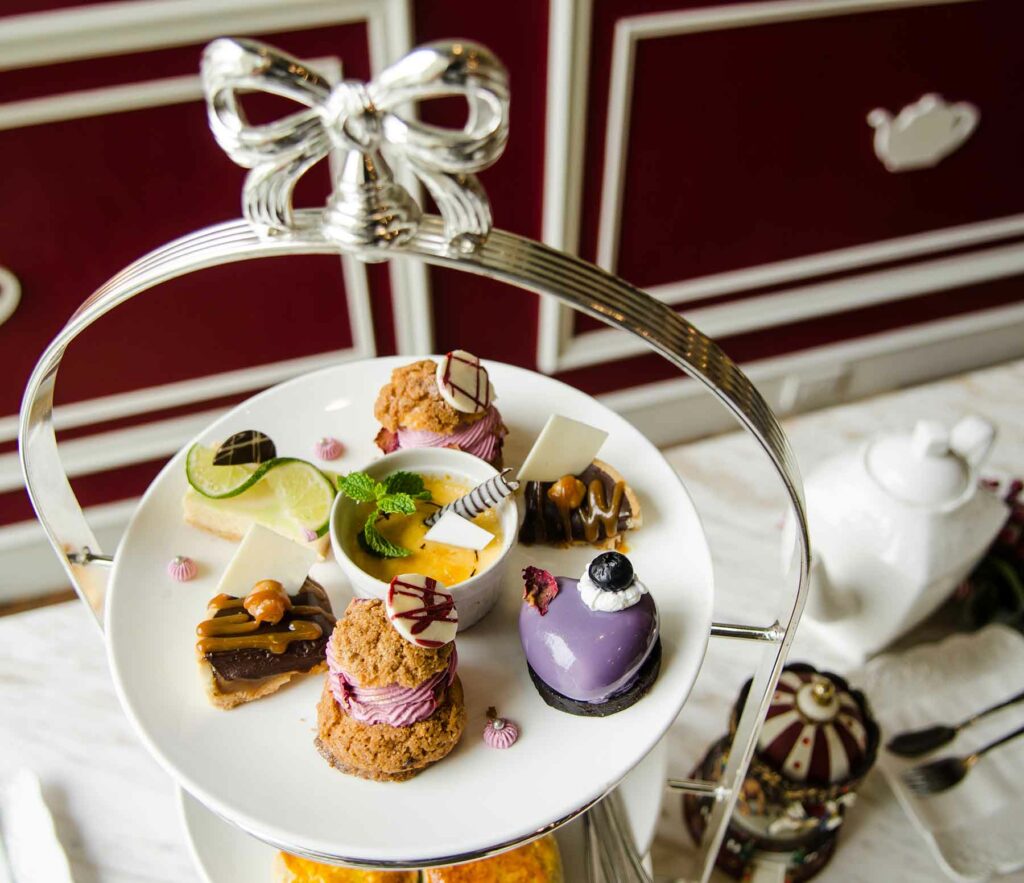 Take decor cues from afternoon tea at a high-end hotel. Macarons, tea cakes, scones and cucumber sandwiches all taste better on tiered serving trays, after all. Save on flowers by using these decorative platters as your centerpieces. Your wedding shower treats will look almost too good to eat!
18. Wonderland-Inspired Colors
Now's your chance to let your wild and whimsical side out to play. Skip the flowers and frills for a red, black and white color palette. Think Queen of Hearts and playing cards, tiny glass bottles with "Drink Me" labels and lots and lots of clocks.
Garden Soiree
Create a whimsical wonderland by adding thoughtful outdoor touches to venues filled with blooms, such as a local park or botanical garden.
19. Floor Cushions and Low Tables
Who says a wedding shower needs formal seating? If your vibe is more boho than chic, set up low-top tables with burlap table runners surrounded by floor cushions for a more laid-back, rustic wedding shower.
20. Magical Lighting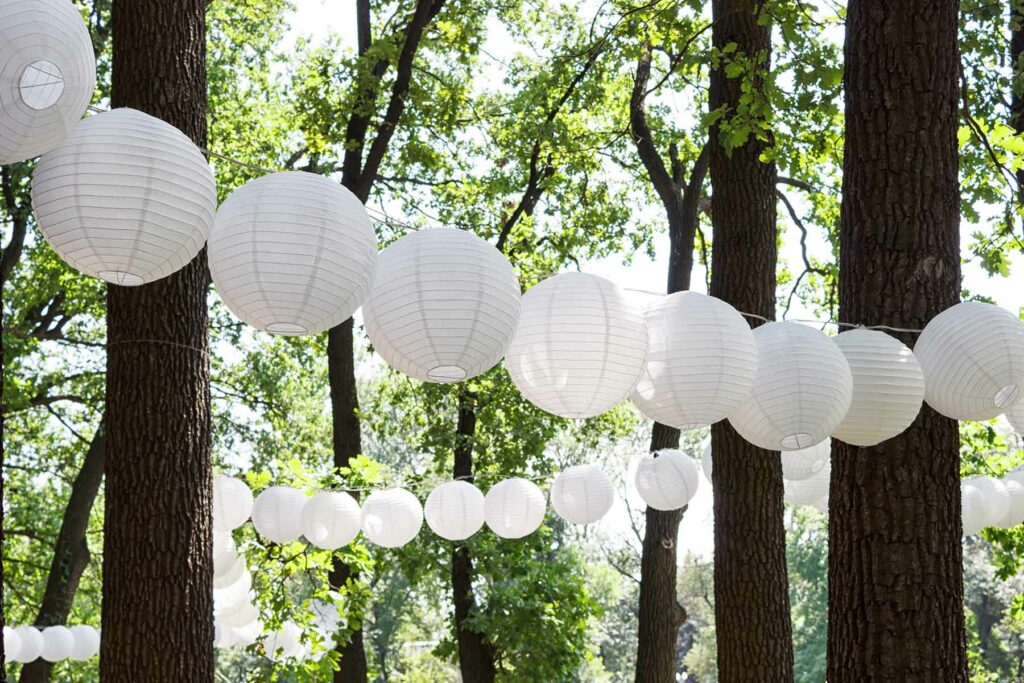 Set a scene straight from a fairy tale with whimsical lighting. While twinkle lights are a go-to for dusk and evening parties, paper lanterns are a fun and colorful option for daytime wedding showers.
21. DIY Bouquet Bar
Since flowers are the centerpiece of this occasion (pun absolutely intended), it can't hurt to add more. If there's an area of your space lacking in color, set up a table with decorative bins of flowers from your local flower market. Allow guests to craft their own mini bouquets or arrangements in mason jars from your selection of fresh cuts!
22. Floral Ice Cubes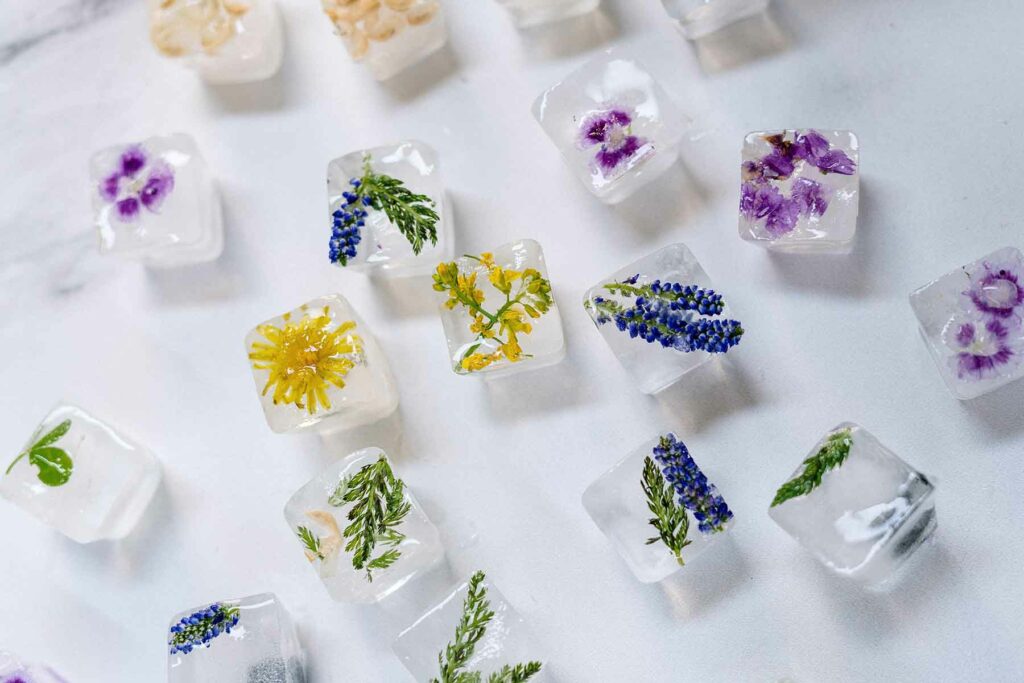 What better way to embrace the natural vibe of your surroundings than with a beautifully garnished cocktail? Dress up spritzes or even sparkling water with ice cubes that have fruit and edible flowers frozen within. The colorful and delicate cubes will make for a decorative addition to your bar set-up.
23. Seed or Succulent Favors
<iframe src="https://assets.pinterest.com/ext/embed.html?id=155303887403407113″ height="700″ width="600″ frameborder="0″ scrolling="no" ></iframe>
Share the love by gifting a seed packet of your favorite flower for guests to plant and place in their windowsill as a keepsake of the special day. Succulents can also serve as tabletop decor or place settings to tie into the theme.
A Jet-Setting Shower
Embrace your adventurous side with a travel-themed wedding shower! This theme is a great opportunity for hosts to spread the word about contributing to your honeymoon fund.
24. Boarding Pass Invitations
Design invitations that resemble boarding passes, complete with your names, date, time and venue details for the shower. Bonus: A QR "gate" code will let guest easily navigate to your wedding website!
25. Map-Inspired Backdrop
Create a focal point by hanging a large map on a wall as a photo booth backdrop. Whether it's a world map or features a specific destination that holds significance for the couple, it will make a statement and inspire shower guests to start snapping!
26. Globe Centerpieces
Set a miniature globe at each table with colorful pens and invite guests to share their favorite travel tips or leave a recommendation for their favorite activity in your honeymoon destination.
27. Destination Table Cards
Assign each table a different destination, choosing from places you've visited together or hope to see one day. At each place setting, leave a card with a picture or illustration of the destinations and include some interesting facts or personal memories about each city.
28. Suitcases as Decor
From centerpieces to the gift table, vintage suitcases make for great travel-themed decor. Fill them with flowers, travel-related items like postcards, mini globes or even small personalized gifts.
29. Baggage Claim Favor Display
Luggage tags make for a nice themed wedding shower favor at a "baggage claim" table. Dress it up with a vintage suitcase or map and your guests will be eyeing the display throughout the whole event!
Restaurant Shower
While a restaurant will provide almost everything you need for a wedding shower, you can still put a personalized spin on the soiree with a few simple touches.
30. Custom Welcome Sign
Set up a welcome sign near the entrance to greet guests and set the tone for the event. For a more rustic vibe you may opt for a chalkboard sign, while glam couples might prefer a sleek acrylic look.
31. Photo Displays
Guests will love getting an intimate look into your life together! Use mismatched frames or place them on a decorative board or easel. Or turn the display into a fun game, having guests guess your location during meaningful moments in your relationship.
32. Chair Decorations
Add a special touch to the chairs by tying ribbons, tulle or streamers that match your wedding shower's color scheme. You can also attach personalized tags or small floral accents to each chair.
33. Table Confetti
While the restaurant will have the linens covered, you can always add a little sparkle with a sprinkle of shiny confetti. If it's out of your budget to order custom confetti with your name, great alternatives include diamond rings or "love" cutouts.
34. Custom Cake Topper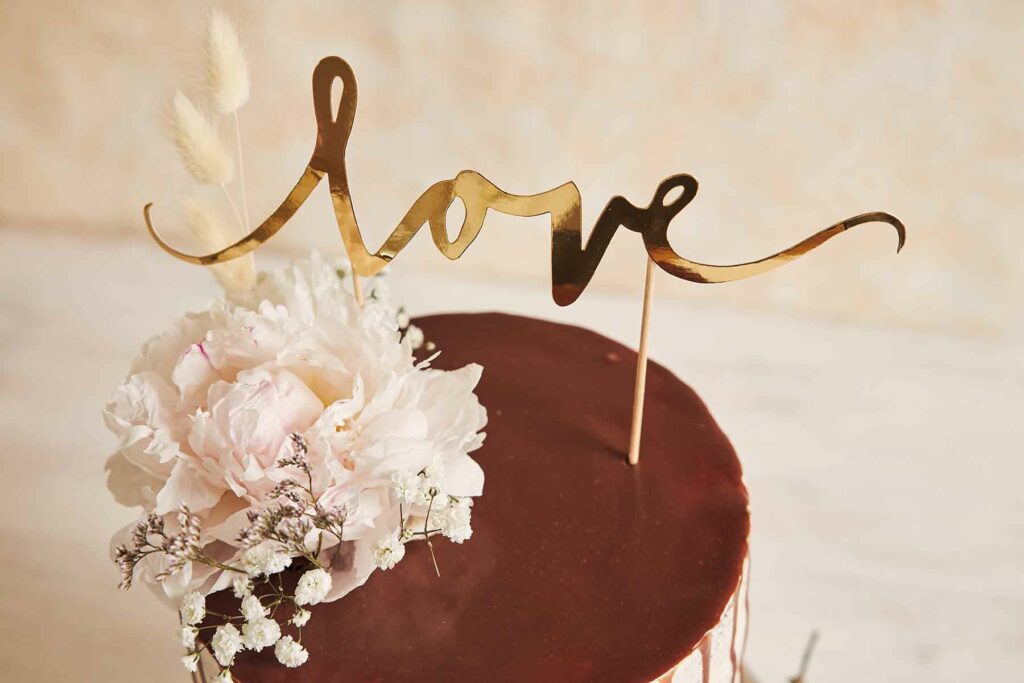 Sweeten up your cake table with custom toppers and fresh blooms that will turn a simple dessert into a decadent treat.
Up Next:
Whether you send traditional paper invitations or go paperless, you can easily collect RSVPs online.