Have you received an invitation to a bridal shower? If so, now's a perfect time to start looking for a gift the bride-to-be or couple will love for years to come. It's best to first consider whether you want to choose a gift specifically for the bride or something the happy couple can both enjoy.
For a bridal shower, it's common to gift the bride something special, such as an item containing her new married monogram. For a wedding shower celebration that's centered more around the happy couple, it's wise to choose a gift the couple can enjoy together or separately. From classy champagne flutes and bakeware sets to stand mixers and stylish dinnerware, we've rounded up a list of bridal shower gift ideas to help you celebrate the soon-to-be-newlyweds.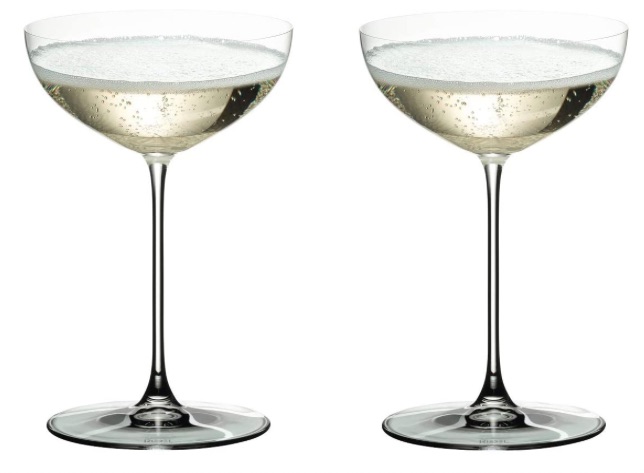 Set the happy couple up with the start of an impressive barware collection. The shape of these glasses is unique, while still offering the traditional appeal of a coupe glass, and a great way to feature the dazzling visuals of champagne or sparkling wine. These glasses are also the prime way to enjoy gimlets, daiquiris, Manhattans, and other such cocktails.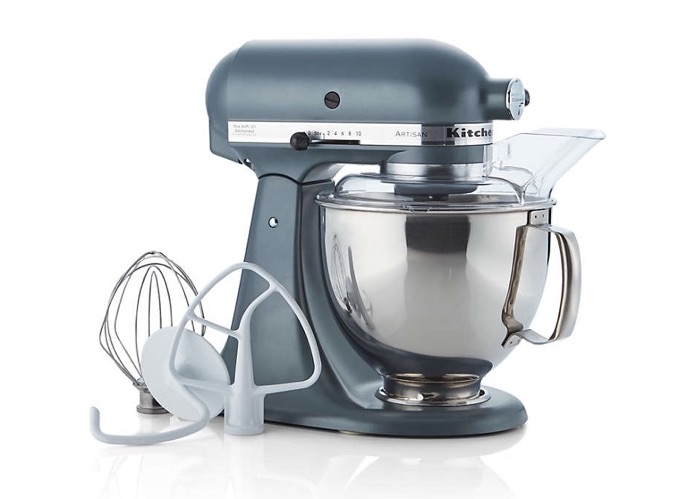 The perfect gift for the couple that loves to bake, this heavy-duty stand mixer features planetary mixing action that spirals the beater to 67 touchpoints for quick and complete mixing. This appliance also has a powerful motor that can handle heavy mixtures, like dense doughs, and provides constant power as the load increases. A stainless steel bowl with an ergonomic handle that locks into the base is included, and there's an easy-install, two-piece pouring shield that makes it simple to add ingredients.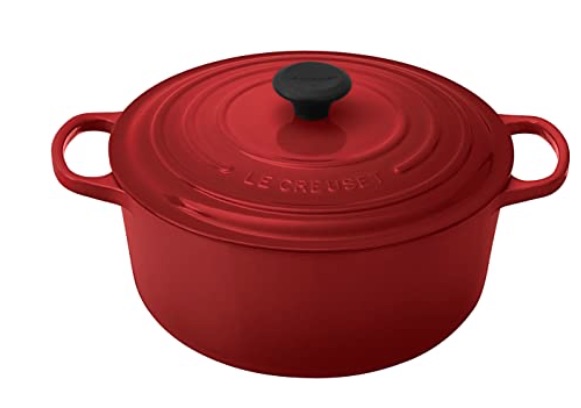 The Dutch oven to have, this enameled cast iron gift is one of the rare pieces of heirloom cookware that's so durable, useful, and classic the couple can pass it on to their children. The oven, a bestseller on Amazon, has incredible heat distribution and retention, making it a great place to cook braises, soups, bread, and more. And because it has a vitreous enamel surface that's impermeable, it's ideal for raw or cooked food storage and marinating with acidic ingredients like wine. It also comes in an array of beautiful hues, helping to ensure you can find one that perfectly complements the couple's style.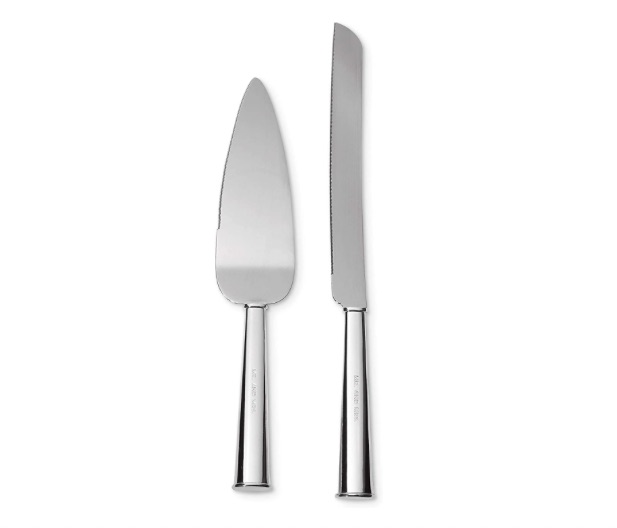 An incredibly elegant gift, this dessert set is unembellished, with the only engravings being the words "Mr." and "Mrs." across the metallic surfaces. Not only can the couple use this when cutting the cake at their wedding, making it a perfect bridal shower gift, but it will be a happy reminder of their special day each time they serving dessert.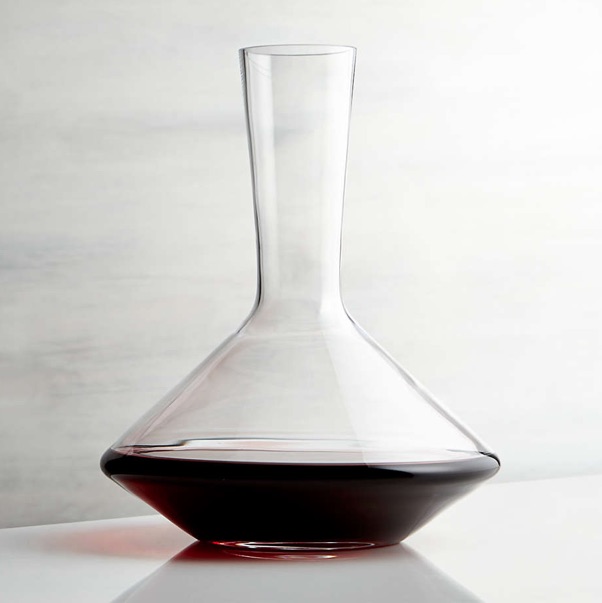 This sophisticated, angled carafe will be a welcome treat for the couple that knows fine wine will taste better if they let it breathe in a decanter before pouring. The handcrafted, Slovakian decanter is a statement piece made of break-, chip- and scratch-resistant Tritan glass, which has a similar brilliance and clarity to hand-blown crystal. As an added bonus, it's dishwasher safe.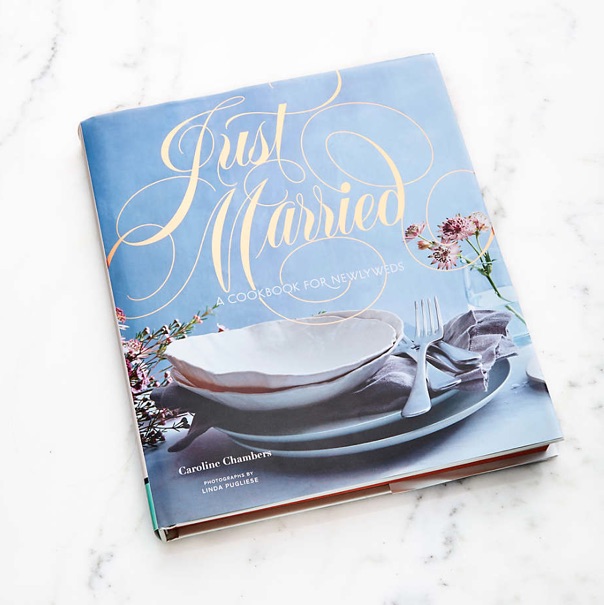 If you want to get the couple's culinary experiences off to a good start, consider this cookbook, which includes 130 creative recipes and photography. The recipes include everything from healthy breakfasts and quick work-night dinners to dishes for a romantic date night at home and large gatherings. There's also an impressive assortment of cocktails and appetizers. The author also provides ideas for meal planning, grocery shopping, and kitchen stocking, as well as ways to make cooking joyful, fun, and romantic. This book is sure to become one of the couple's cherished keepsakes.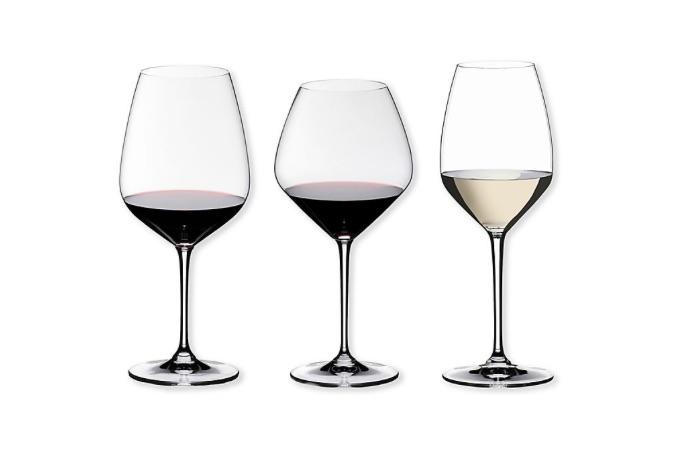 One of the best bridal shower gifts, this acclaimed wine glass collection is made of crystal that was machine-blown in Germany. Perfect for enjoying Cabernet Sauvignon, Chardonnay, and Merlot, these glasses are so stylish and luxe the couple won't want to hide them in a cabinet. They're also a go-to for many sommeliers.
$59.99 at Bedbathandbeyond.com
For a couple that enjoys whipping up sauces, dips, butters, and purees, this food processor should be at the top of your list. This sleek, compact food chopper facilitates easy chopping, mixing, and pureeing from coarse to fine with its stainless steel, multi-purpose blade. It can also be used to make whipped cream in just 30 seconds, and the drizzle basin allows for the easy incorporation of liquid ingredients while the food processor is in use. To top it all off, the bowl, blade, and accessories are dishwasher safe.
A thoughtful gift for the couple that always has a beverage handy, this tumbler is made from durable stainless steel with double-wall vacuum insulation. This means that cold drinks stay really cold and hot drinks stay really hot. In addition, the tumbler features a "no sweat design" and a MagSlider Lid that doesn't easily slip off.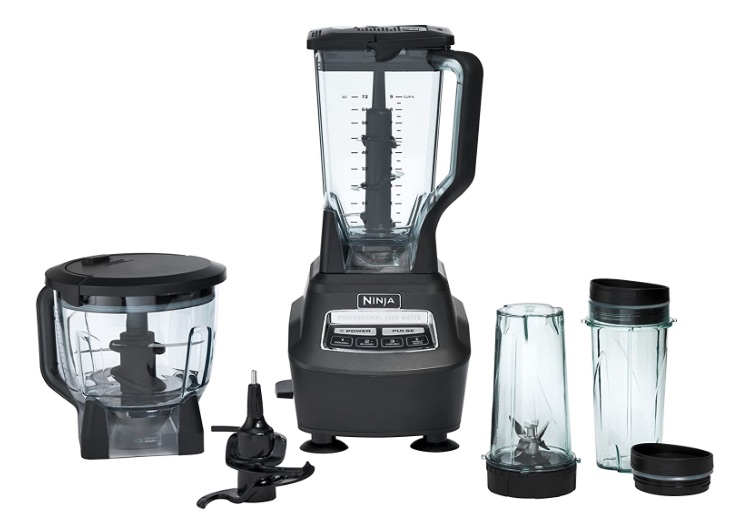 This super versatile blender includes a 72-ounce pitcher, an eight-cup food processor, and two 16-ounce cups with to-go lids. It lets you turn ice to snow (which is especially helpful when making frozen cocktails), makes up to two pounds of dough in 30 seconds, and can complete a range of other culinary tasks. This machine is a powerful, standard blender, food processor, and single-serve blender all in one. Plus, it's dishwasher safe.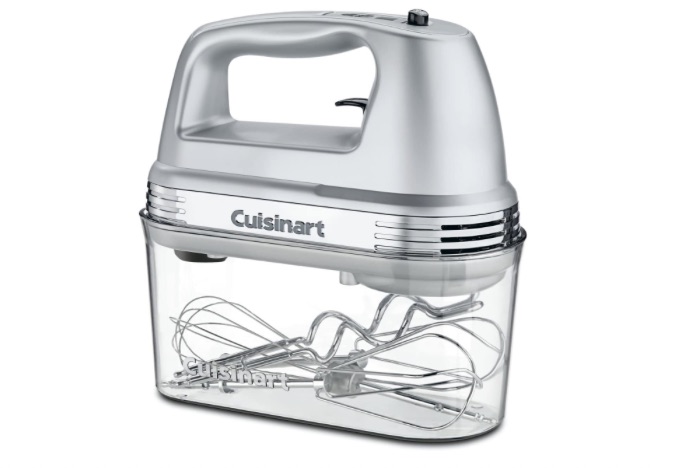 An effective and efficient machine, this handheld mixer offers a 220-watt motor and a variety of speeds that let you work up to that perfect rate. It also includes beaters, a chef's whisk, dough hooks, and a spatula that make it a cinch to whip up a range of ingredients. And if the lucky recipient can't decide what to make, they can just use the recipe book that comes with the mixer.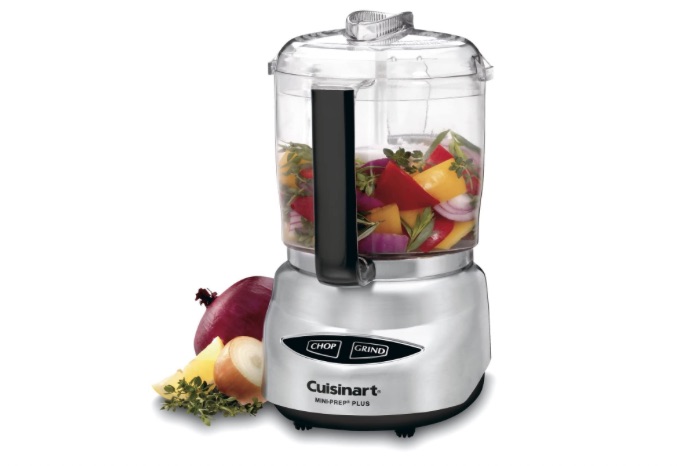 When engaging in small food preparation, like chopping herbs or finely grinding hard cheese, this small food processor is a major help. It has a stainless steel, auto-reversing SmartPower blade that makes it easy to process both soft and hard foods and touchpad controls that makes the machine simple to use and clean.
13. c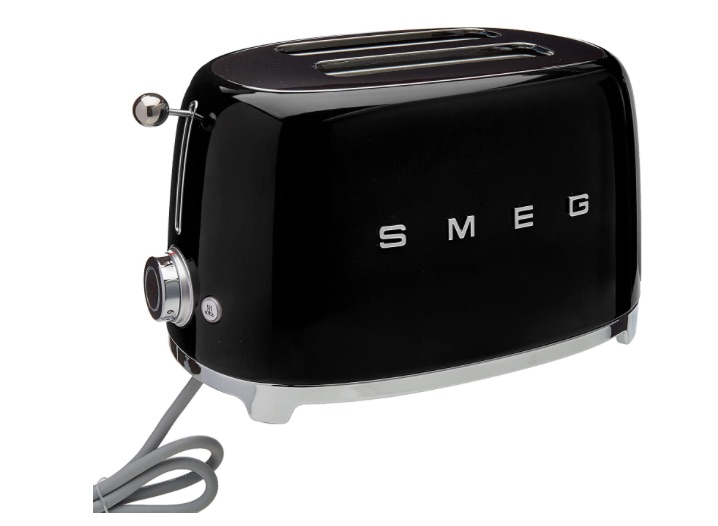 If you think the couple will enjoy an ultra-chic toaster that would add to the style of their kitchen, this Smeg toaster is a must-buy. The mid-century design comes in a bright selection of vintage colors, and it's full of high-tech features that let the couple toast, defrost, and reheat everything from bagels to artisan bread. The toaster is constructed from steel and has a polished chrome base and stainless steel and chrome controls. What's even more impressive is that this eco-friendly toaster consumes minimal energy while providing maximum performance.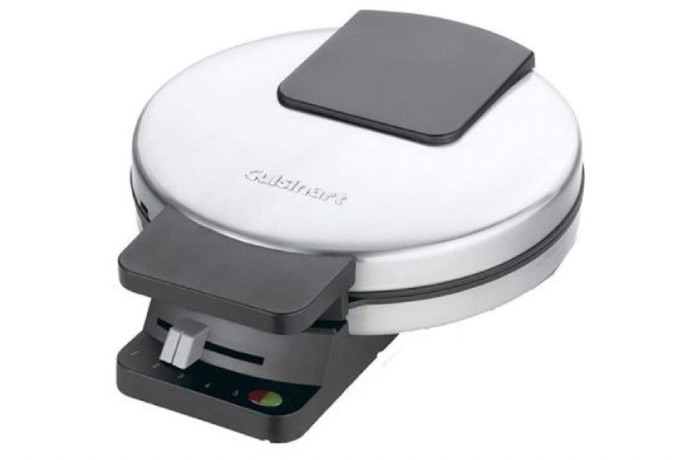 Help the couple have the best brunches around by gifting them this classic waffle maker. The stainless steel appliance has nonstick plates, indicator lights, and a regulating thermostat that makes it incredibly easy to make perfectly baked waffles. It produces one large, traditional-style waffle in very little time and features a five-setting browning control that lets the baker decide exactly how soft or crisp they want their waffle to be.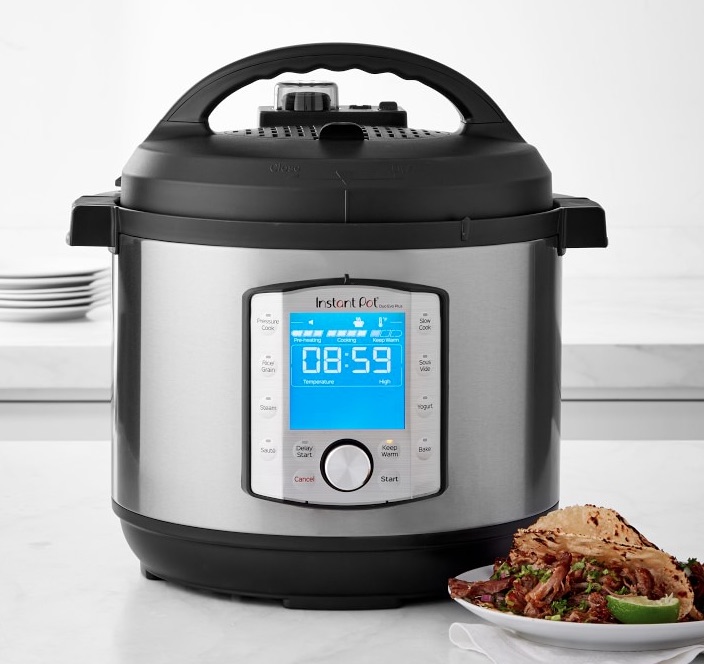 This in-demand kitchen item is a pressure cooker, sous vide machine, slow cooker, rice cooker, food warmer, yogurt maker, cake maker, sauté pan, stockpot, and steamer all in one. It features 48 customizable cooking programs to facilitate the production of everything from soup and beans to rice and ribs. It also has a super-efficient inner pot, automatic lid seal, convenient pressure release button, and so much more. And the advanced touch screen makes it a breeze to navigate to your cooking program of choice.
$139.95 at Williams-sonoma.com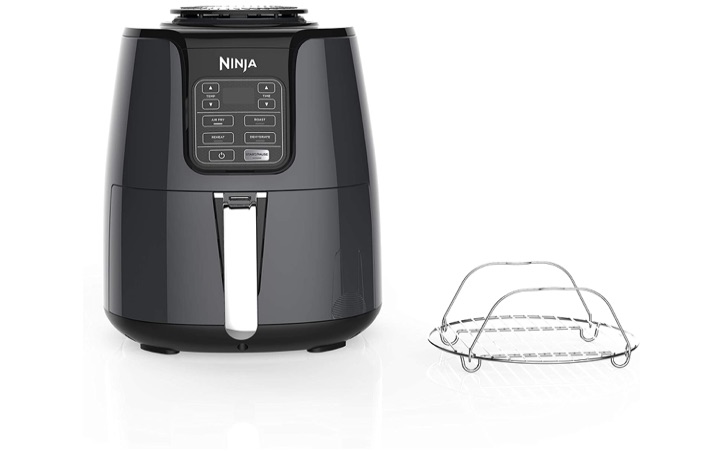 Did you know an air fryer lets you cook with up to 75 percent less fat than traditional frying methods? Treat the couple to this healthier way of cooking by gifting them this air fryer, which has a range of 105 degrees Fahrenheit to 400 degrees Fahrenheit. This allows you to gently remove moisture from foods or quickly cook and crisp foods. The four-quart ceramic-coated nonstick basket and crisper plate can also hold up to two pounds of French fries.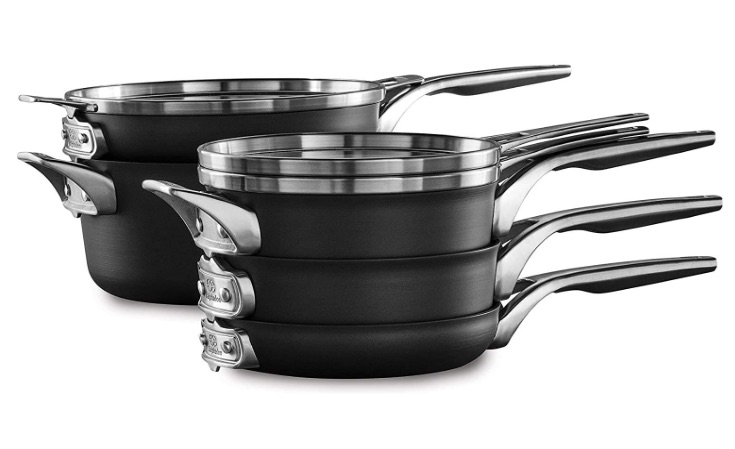 This high-quality cookware set equips a kitchen in one go by providing multiple-sized frying pans, saucepans, and more. Each of the pots and pans is designed with three nonstick layers to ensure even, consistent heating and excellent browning and searing. The durable cooking surfaces are also sturdy and able to withstand all types of cooking utensils, including metal. This is especially helpful for a couple who is moving into a new home and building up a new arsenal of cooking supplies.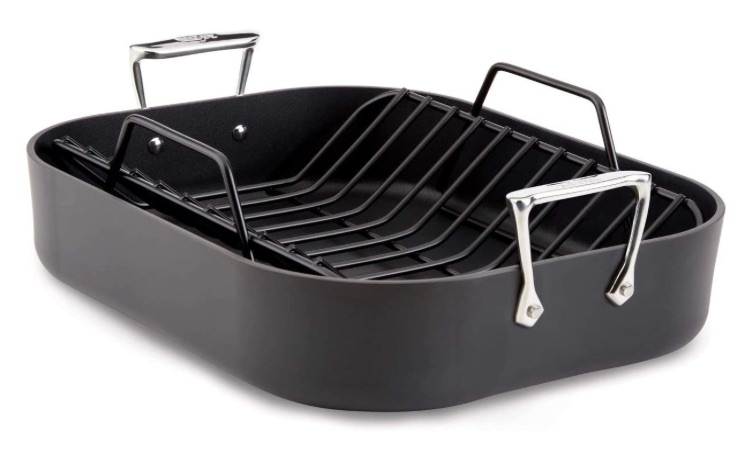 If you're shopping for a couple that loves a good roast, you've found the gift. This roaster is so durable it can hold a 25-pound turkey, large brisket, or ham, making it a cinch when the couple hosts large gatherings. It also has raised sides ensuring everything bakes evenly, and the V-shaped rack lets the natural juiciness pool below the meat so it can be used for basting, glazing, or gravy. Plus, the roaster has a special coating that keeps food from sticking to the surface, and the exterior has a bonded stainless steel base that makes it compatible with induction cooktops.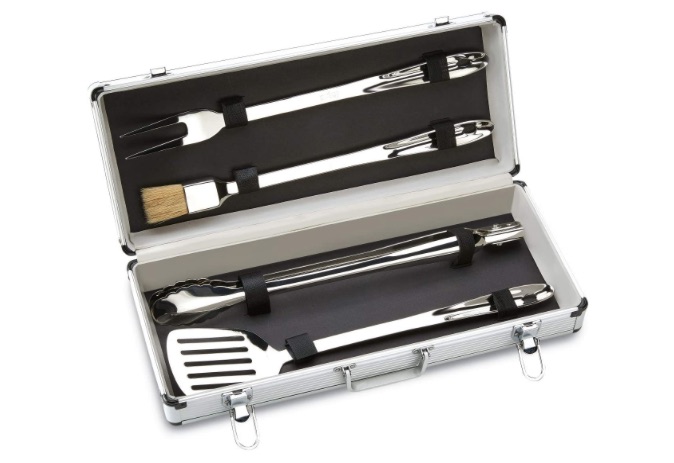 A must-have for the bride or groom that loves to barbecue, this toolset includes a two-pronged fork, a boar's head brush, locking tongs, and a slotted turner. All the tools are ergonomically designed with extra-long handles to keep hands at a safe distance from the heat. The handles also have a hole to allow the cook to hang the tools within easy reach of the grill. The set includes a locking metal storage case that keeps the tools protected from the elements and allows for easy transport.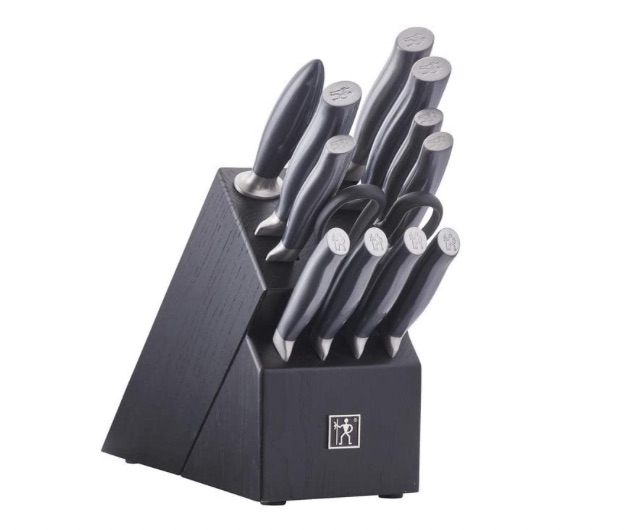 These knives are fabricated from high-quality stainless steel that provides long-lasting sharpness and satin-finished blades that produce precision cuts. The smooth handles are contoured for comfort, so the home chef is able to chop without becoming fatigued. The stainless steel end caps are also stamped with Henckels' single man logo, adding to the sleek style of the knives. Another big bonus is that the knives are dishwasher safe.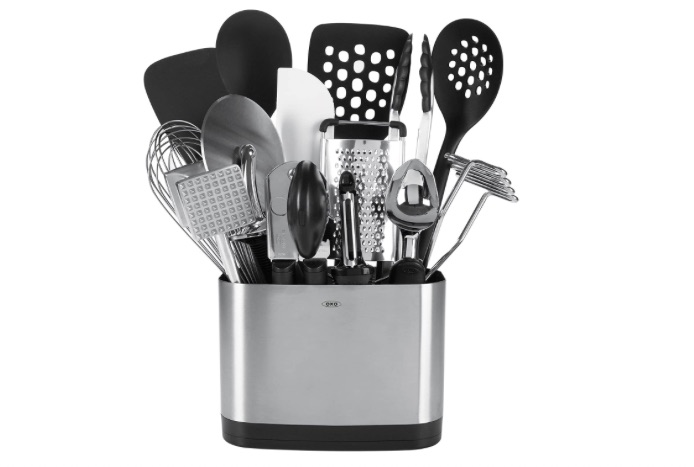 Gift the couple a multitude of kitchen essentials. This set includes a slim-lined, space-efficient utensil holder, a flexible turner, 12-inch tongs, a square turner, a spoon, a slotted spoon, and graters, in addition to a swivel peeler, ice cream scoop, potato masher, can opener, balloon whisk, spatula, meat tenderizer, pizza wheel, and holder. These items are made with nylon and silicone, which are safe for non-stick surfaces and heat resistant up to 400 degrees.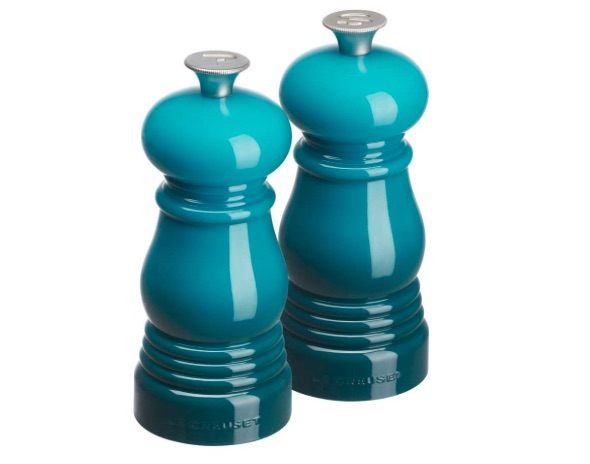 A must-have for every kitchen counter, these stylish salt and pepper mills will help the couple easily season their food. The ceramic grinders are strong enough to crack peppercorns and are corrosion-resistant for grinding salt. Plus, the acrylic ABS-finished mills don't absorb odors or moisture and can be easily wiped clean. A unique feature of these grinders is you can adjust the grind setting by turning clockwise for a finer ground and counterclockwise for a coarser ground.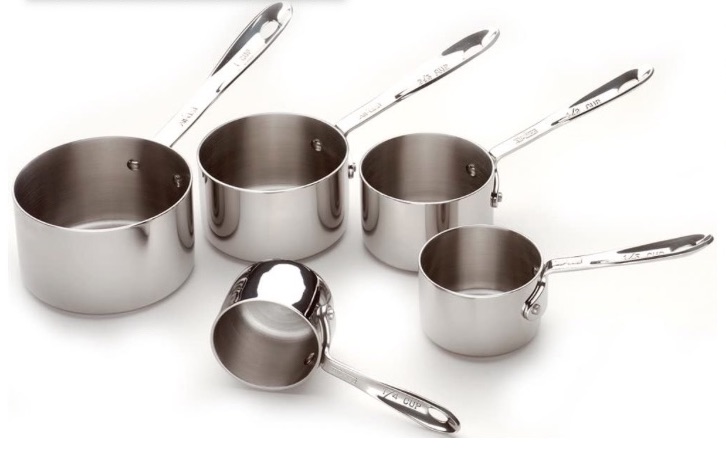 Another must-have for a baker, these measuring cups have a streamlined shape that makes it easy for them to fit inside bags of flour and sugar. They're also made from long-lasting stainless steel that has a stylish mirror-polished finish and sturdy handles. The set includes 1/4-, 1/3-, 1/2-, 1-cup, and 2-cup sizes.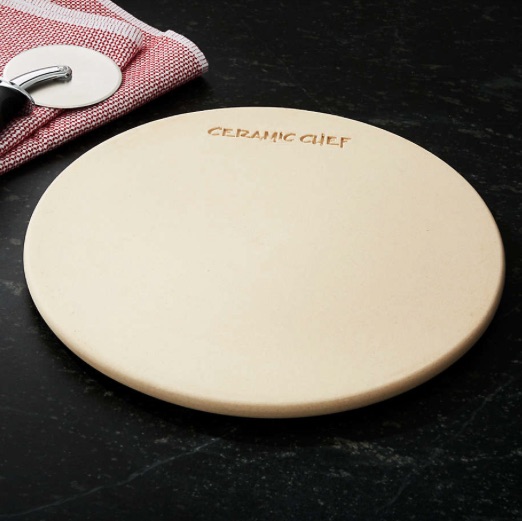 Does the happy couple enjoy grilling or baking treats like pizza or tortillas? If so, gift them this reversible ceramic stone that's heat-resistant up to 800 degrees and has ribbed sides for burgers, steaks, and poultry. Something special about this stone is that the more it's used, the more seasoned it becomes, which enhances the flavor of foods and allows the stone to develop non-stick properties.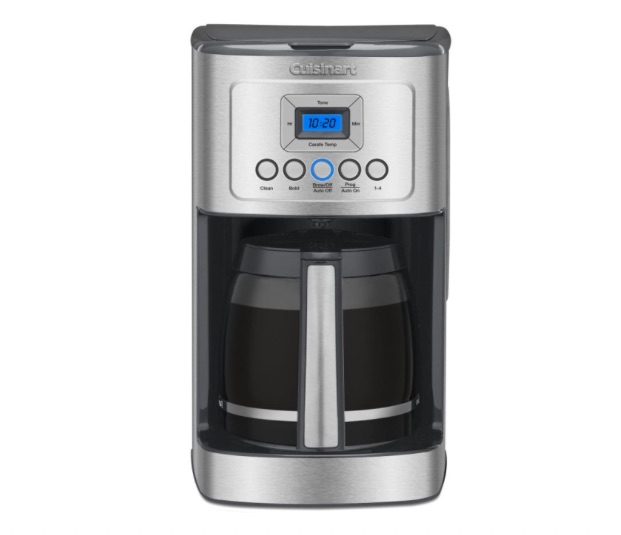 The coffee-loving couple will adore this programmable coffeemaker that provides hotter coffee without sacrificing taste. They can choose between a regular or bold flavor profile and set the brew time up to 24 hours ahead; this way, they can wake up to the smell of freshly brewed coffee. The backlit LCD screen is also easy to read, a ready tone can be turned on or off, and an indicator light signals when it's time to decalcify the pot.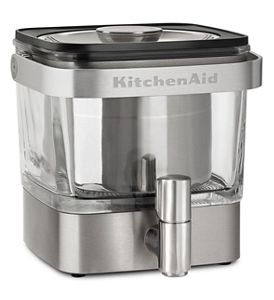 If you're buying a bridal shower gift for someone that loves a cold brew, this is the ideal thoughtful gift. To use, they just mix two ounces of coffee concentrate with every six ounces of milk, water, or ice. They can then use the stainless steel tap to dispense the cold brew from the refrigerator. This brewer can make up to 28 ounces of cold brew that can stay fresh in the fridge for up to two weeks. And no worries if the gift recipient has a small kitchen, as this brewer has a small footprint.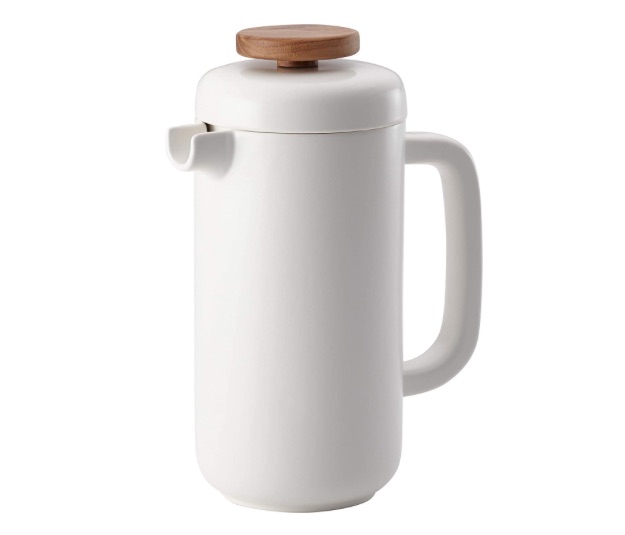 The couple with a boho-chic style will go wild over this matte-white, ceramic French press that features a stainless steel plunger and a "flavor lock" design that stops the brewing process in the nick of time. And if the couple wants to treat guests to a rich cup of coffee, they can do so by making up to eight demitasse cups in one go.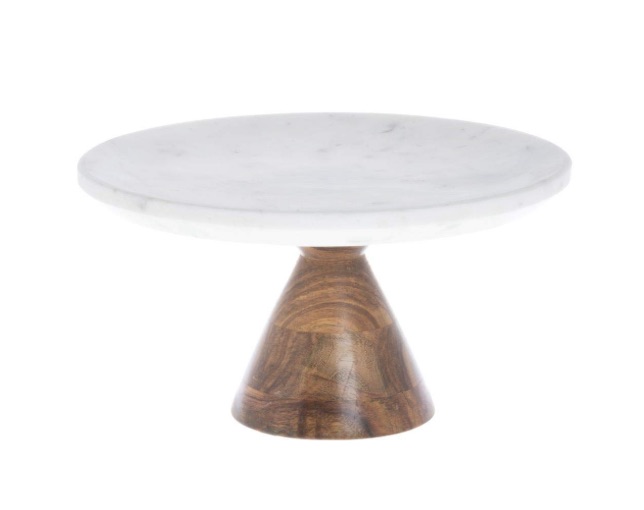 This is the gift for the couple that entertains. The combination of the white marble top and wood pedestal base provides a sophisticated method for displaying cakes, pies, other desserts, and finger foods. It's also a space saver, as the base of the pedestal has a small footprint. If you want to give a gift that will be a mainstay on special occasions for years to come, you've found a winner.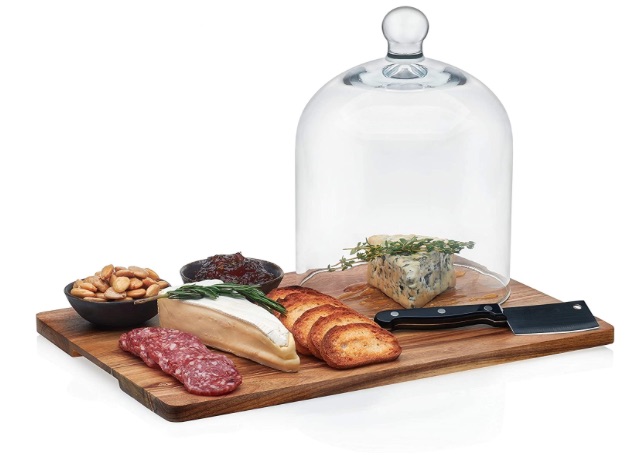 Another must for the couple that loves to host gatherings, this traditional cheese board is a stylish platter for appetizers. The board is made from acacia wood and includes a large glass dome, which provides elegance and enhanced practicality. The set also comes with two ceramic dipping bowls and a stainless steel cheese knife. And to ensure easy handling, the board has engraved handles.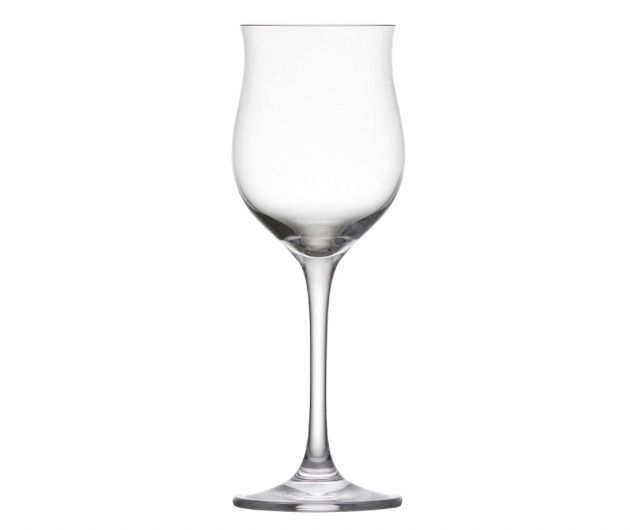 These classic glasses are made by the lauded German glassmaker Schott Zwiesel, a company that has been a leader in innovation, style, and technology for more than 100 years. This experience shows in their wine glasses, which feature sparkling clarity that allows the nuance of the wine's hues to be easily viewed. The glasses are also made using the patented Tritan technology, making them dishwasher safe and break-resistant.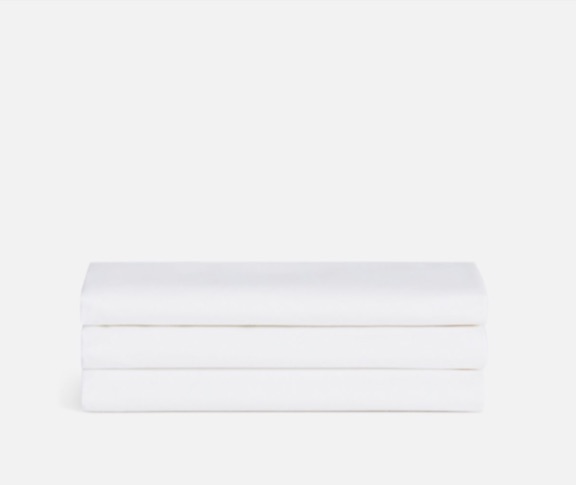 Every couple should be able to start their married life off in a wonderfully comfortable bed, and you can help make that happen with this sheet set. Made from the cool, crisp, and breathable percale material, the set includes a fitted sheet and two pillowcases that are 270 thread count. These sheets would pair perfectly with a percale duvet.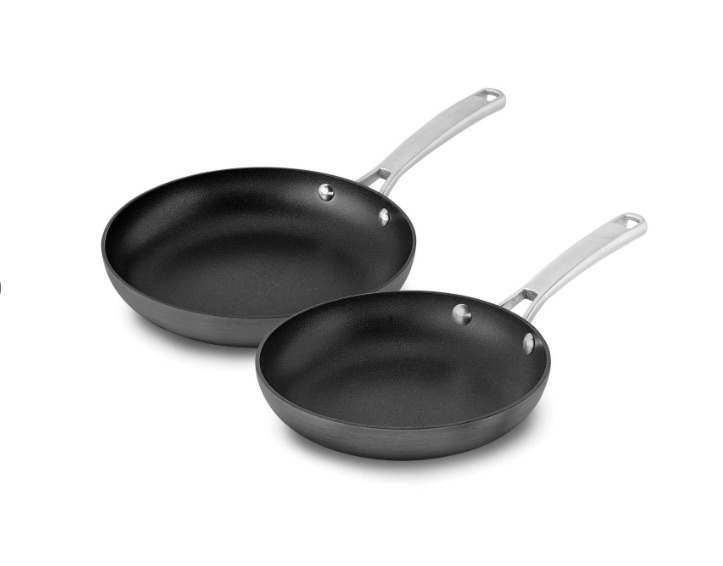 A must-have for any kitchen, this fry pan set includes a pair of skillets made with dual-layer nonstick for extra-easy food release and cleanup. They're also constructed from durable, hard-anodized aluminum for fast and even heating. The long stainless-steel handles feel comfortable in hand and stay cool on the stovetop, while the gently sloped sides and flared edges are ideal for preparing omelets, sautéed vegetables, and more.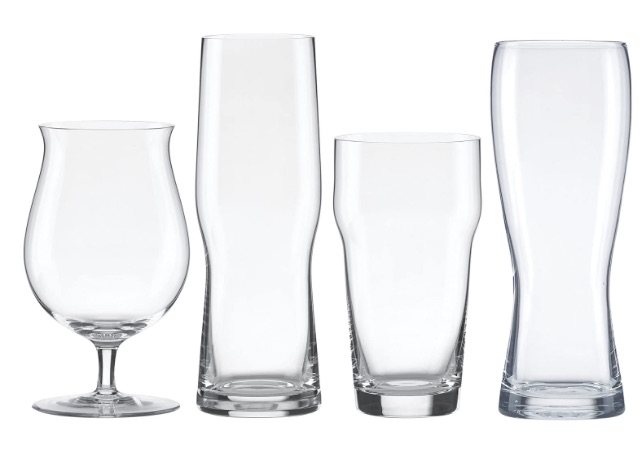 If the bride or groom has a passion for craft beer, this set is a go-to gift. Made of non-lead European crystal, the set includes a pint glass with a crown, an IPA glass, a wheat beer glass, and a pilsner glass. The glasses are also break-resistant and dishwasher-safe for added convenience.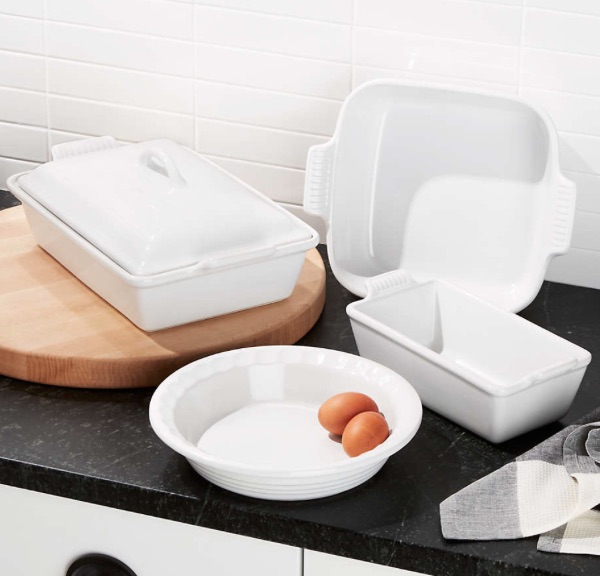 The couple can bake in style with this white, enamel-coated stoneware baking set that transitions perfectly from oven to table. After making casseroles, cakes, pies, meatloaf, and other delicious dishes, they can skip the process of transferring the food to a serving platter. Instead, the couple can simply serve the food in the four-quart rectangular casserole with a lid, a one-pound loaf pan, a nine-inch pie dish, or a three-quart square baking dish. The bakeware also features thermal resistance and nearly nonstick glazed interiors, making it ideal for baking, roasting, and broiling.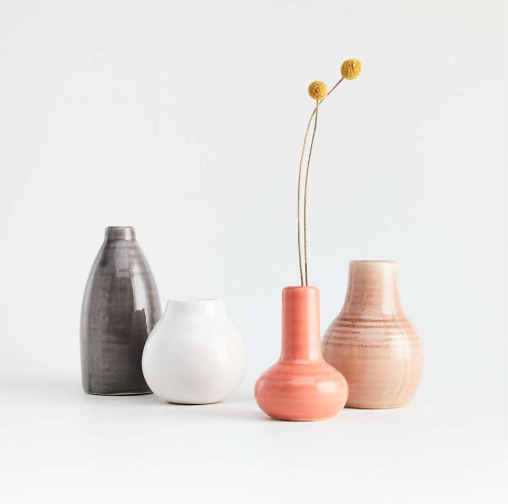 A beautiful addition to any home, these Patine bud vases are glazed in warm neutrals and feature rounded shapes and an artisan-like texture. Each vase has the ribbed finish of thrown pottery, which is enhanced by crackle glazes in peach, grey, sand, or cream. They can also hold small floral displays throughout the home or be clustered together to create a striking centerpiece.
$5.95-$27.80 at Crateandbarrel.com
This contemporary serving board easily impresses with its black leather handles that rise up from tasteful, grained acacia wood. It's a combination that provides a compelling backdrop for a cheese display, appetizers, and charcuterie. If you're trying to find a great gift for a couple that enjoys hosting the occasional dinner party or brunch and has a home with an edgy aesthetic, this is a prime option.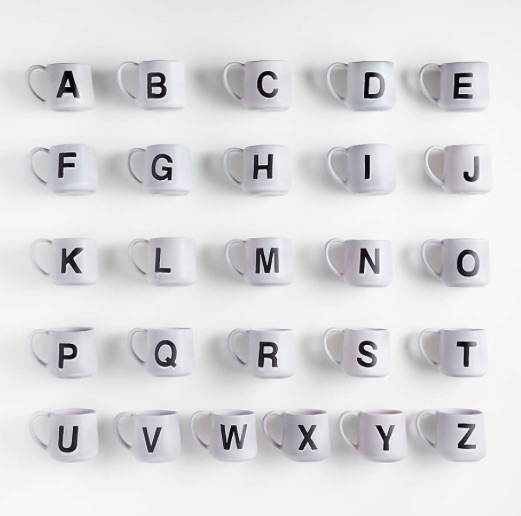 These monogram mugs are perfect for coffee, classic mulled wine, or hot cocoa. Handcrafted by Portuguese artisans, the mugs feature matte white stoneware finished with a subtly speckled reactive glaze and the single black letter of your choice in a smart, modern font.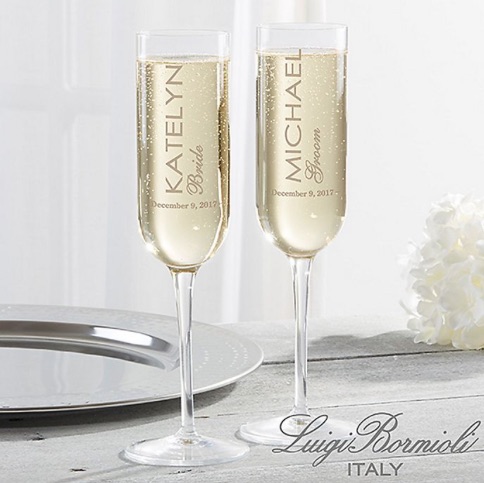 If you're looking for a classy, unique bridal shower gift, we've got you covered. This set features flutes with a sleek, modern shape that can be custom etched with the couple's names and titles running vertically in the center. You can also include the date of their wedding day. The flutes are made in Italy of clear, crystal glass and are specially crafted to resist chipping and discoloration.
$47.99 at Bedbathandbeyond.com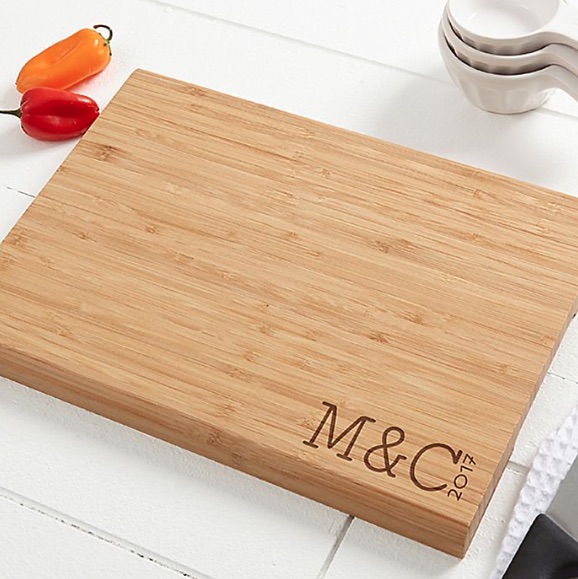 Ensure the couple thinks of their big day every time they cook by personalizing this bamboo cutting board with their names or initials and wedding date. The handcrafted, pressed bamboo board is one-inch thick, has cut-out sides for easy carrying, and is so attractive it can be displayed as a focal point in the kitchen.
$32.99 at Bedbathandbeyond.com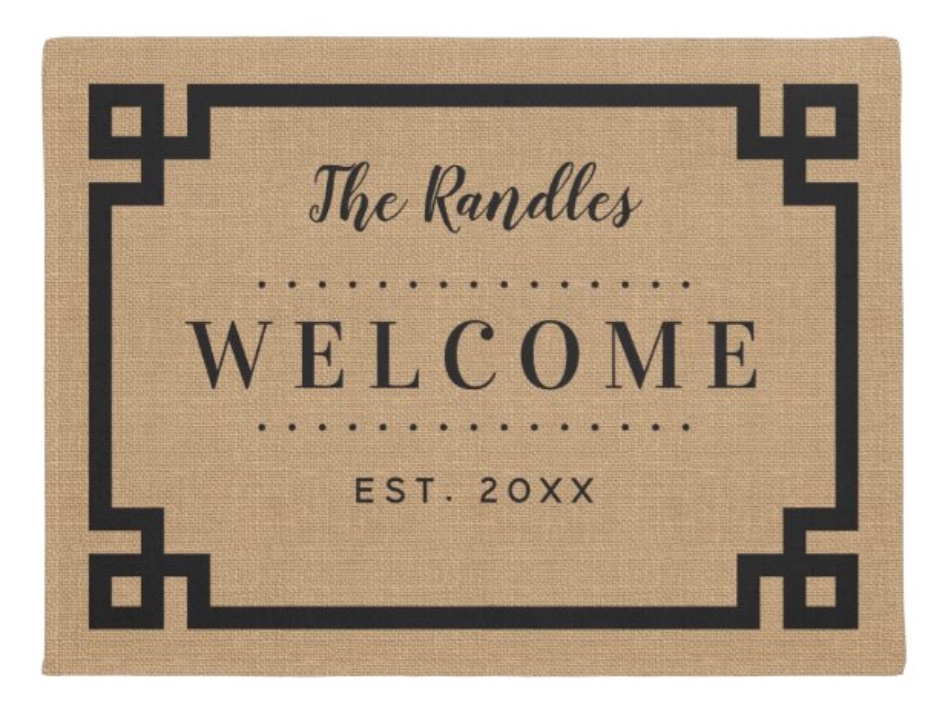 Help the happy couple welcome guests to their home by giving them this personalized doormat, which you can monogram with their last name and wedding year. The mat is backed with non-slip rubber that won't crack or buckle and is made to resist fading, mold, and mildew. And because doormats can get dirty, this one can be easily cleaned with a hose.