Chances are, you've probably envisioned yourself walking down the aisle at least once. For the true romantics, your big day is probably a daydream you've had on repeat since you met the love of your life. Just you and your partner in your finest wedding attire, taking that long walk in anticipation of starting the next chapter of your love story.
Now, zoom out. Imagine who else is walking down the aisle before the wedding ceremony begins. Of your closest friends and family, whose smiling faces will greet guests before you make your grand entrance? And, have you thought about how you'll exit the ceremony after celebrating with your first kiss?
Don't worry; we have a guide to help demystify this part of your wedding planning process. Here's everything you need to know about choosing a modern wedding processional order, from who walks down the aisle to how to make it your own.
What is a wedding processional?
A wedding processional is exactly what it sounds like: It's the order in which people walk down the aisle at the start of a wedding ceremony. Things could get a little more complicated from there, but that's entirely up to you — after all, it's your big day and you can customize it to your heart's content.
Think of your wedding processional as a chance for all of your guests to see the happy couple and other people who have played an important role in your relationship leading up to the wedding day. Just like choosing a wedding party, deciding on who will precede you down the aisle and the order they walk into your ceremony is totally up to you.
The most important thing is that you and your partner feel like the processional aligns with your personal style and values. Maybe a traditional, grandiose professional doesn't feel like the right fit — or perhaps that's exactly what you're looking for. Maybe it's something in between. The good news is you get to choose, and there are plenty of ways to make this wedding tradition your own.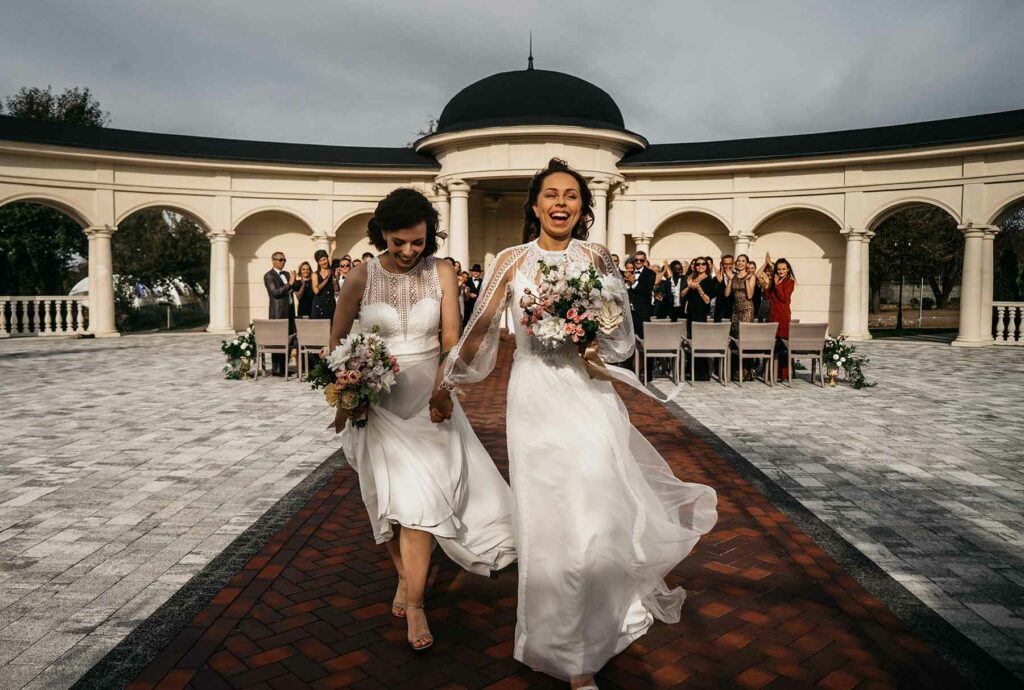 Choosing Sides
Couples will often ask their wedding planner if there is a specific side of the venue where their families should sit. (This is a question that's sometimes simpler at same-sex weddings, where the tradition of choosing a side based on gender may not apply.)
Historically, a groom will walk in on the right side of the venue and the bride will stand on the left side, with their family members sitting on that same side. Keep in mind this may be different for certain religious ceremonies — we'll get into that later in this guide.
The origins of this tradition are … not great.
Back in the old days, it's believed that the soon-to-be newlyweds stood on a specific side so that if someone tried to steal the bride away on the wedding day, the groom would have his right hand free to defend his wife. We can all rest assured that this isn't a concern for modern wedding couples.
Outside of specific religious wedding customs, the side of the ceremony venue and aisle you choose to seat your guests and stand yourselves is entirely at your discretion. In many cases, modern couples will decide that there is no assigned seating at a wedding. The phrase "choose a seat, not a side" is often printed on signs and wedding programs to encourage guests to mingle (though the first row is still typically reserved for parents or your closest loved ones).
Some couples might choose to seat their family on the opposite side from where they are standing; that way, loved ones can have a better view of their faces as they say their vows. But the good news is, there's no right or wrong way when it comes to choosing sides.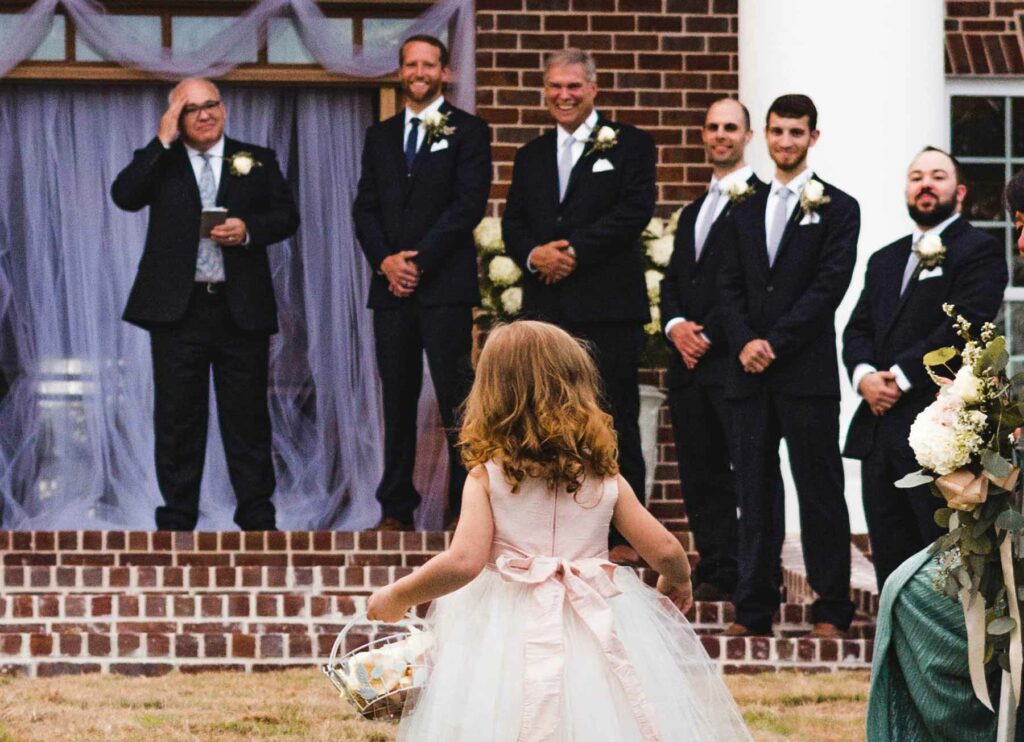 Who Takes Part in a Wedding Processional
The wedding processional reads like a who's who of your relationship. It's a chance to introduce wedding guests to the special people who may have been there from the very beginning and watched your romance blossom into the love-fest that led to the big day. Since there are no doubt a number of people you may want to take that walk down the aisle with you, include as many, or as few, as you'd like. Here are some of the more likely suspects, in no particular order.
The ring bearer: While it's typically a child, such as a niece or nephew, there's no need to stick with tradition. In fact, including a beloved pet as the ring bearer could be a heartwarming way to begin your wedding processional! If you don't want to make a big deal of the rings or prefer to cut down the timing of the processional, a member of the wedding party can also keep them tucked in a pocket.
The flower person: It's safe to say we've moved beyond "flower girl" at this point — anyone can sprinkle flower petals down to the end of the aisle.
The officiant: In some cases, the officiant may already be standing in place, but in others, you might choose to have them process with the rest of the wedding party (in fact, some religious ceremonies require this!).
Candle lighters: If you're incorporating a unity candle ceremony into your wedding, your chosen candle lighters will traditionally process down the aisle and light candles before taking their seats.
Grandparents: While including grandparents is traditional in a Jewish wedding processional, it doesn't mean the practice is limited to just religious ceremonies. If you want your grandparents to have a special moment at your wedding, invite them to walk down the aisle!
Parents: It's a common wedding tradition for parents to walk down the aisle with one (or both) of the individuals getting married. If this fits your style, great! If not, other options could be to have them process down the aisle together, solo or with another close loved one you want to include in the ceremony.
People of honor: While you'll likely have your entire wedding party walk down the aisle, it's especially nice to honor those people who hold a special place in your heart with a moment of their own.
The wedding party: Whether you have bridesmaids, groomsmen or entirely different roles you've defined on your own, these are the people who have celebrated you along this journey of love — they should also get a moment of recognition, whether they process individually or in pairs.
It's also worth noting that if you want someone to escort you or your soon-to-be spouse down the aisle, that decision is yours or theirs to make — the "father of the bride" scenario doesn't have to be your reality, unless it's what you want. Families, weddings and roles come in all shapes, sizes and textures. Think about what will make your special day the most special, and follow your heart.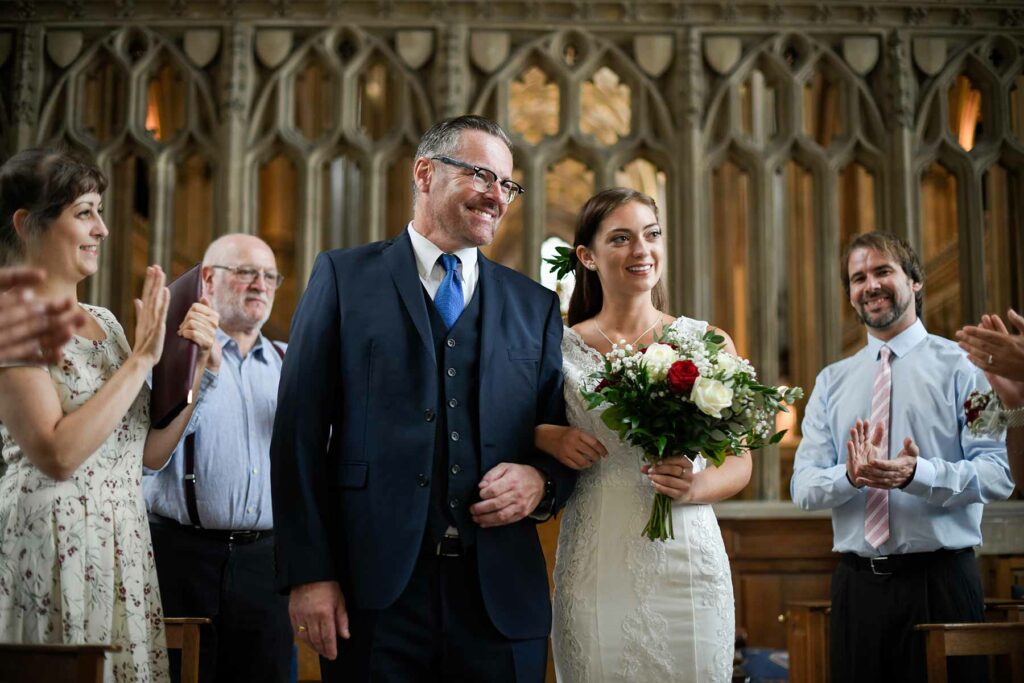 Wedding Processional Order
Now that you have an idea of who will be walking down the aisle, it's time to finalize your wedding processional order based on the kind of ceremony you envision. The options below aren't one-size-fits all, but offer a starting point for determining how your big day will play out.
Christian Wedding Ceremony Processional Order
Before diving in, it's worth noting that in traditional Christian wedding ceremonies for heterosexual couples, the bride will stand on the left side of the altar, and her family and wedding guests will sit on that side as well. It's also traditional for the parents to sit in the front row after entering. While parts (or all) of the processional can be adapted, here's what the traditional order might look like.
Parents of the groom, together
Mother of the bride
Officiant (a pastor, traditionally)
Groom, traditionally escorted by the best man
Wedding party
Maid of honor
Ring bearer
Flower person
Bride, traditionally escorted by her father
Jewish Wedding Processional Order
While same-sex couples are finding beautiful ways to incorporate Jewish traditions into their big day, a traditional gendered approach to this religious wedding processional will have the bride on the right side, as opposed to the left, with the family sitting on her same side. The couple, rabbi and both sets of parents will typically stand beneath the chuppah, a traditional Jewish wedding canopy.
Rabbi
Grandparents of the couple
All groomsmen
Groom with his parents
All bridesmaids
Flower person
Ring bearer
Bride with her parents
Religious and Cultural Ceremonies
Other religions may have grander traditions, but fewer roles. At a Hindu wedding, for example, it's traditional for the groom to arrive on a white horse and for the bride to be carried down the aisle in a small carriage called a doli.
Traditional Nondenominational Wedding Processional Order
Without religious requirements guiding the processional, you may find it confusing to land on an order that suits you best. While there's certainly no "correct" way to walk down the aisle, here's one example of what a more traditional nondenominational wedding processional might look like.
Grandparents of the couple
Parents
Officiant
First spouse
Wedding party
Person/people of honor
Ring bearer
Flower person
Second spouse and a parent or other special person
Modern Wedding Processional Order
This is for couples not interested in having a "traditional" processional: Throw the rulebook out the window! Whether you want to stick with tradition or give a nod to aspects of religious or cultural ceremonies that you love while adapting the rest, what matters most is that you're fully in the moment before you say "I do." That being said, here are a few creative ways to make it your own:
Send the flower person out first— because why not let everyone in the wedding party walk down an aisle covered in flowers?
Both you and your partner can head down the aisle, whether it's together or solo.
Have your wedding parties stand opposite you so they can see your faces rather than your backs.
If you want to exchange vows with just your partner at your side, but still want to give your wedding party a moment of recognition, allow them to take a seat after walking down the aisle.
Mix up your processional music. There's nothing wrong with the classic Canon in D, but why not boogie to the Electric Slide, if that's your vibe?
We've said it before, and we'll say it again for good measure: The most important thing about your wedding day is that you and your partner feel good. There's no wrong way to walk in or out of your wedding. There's just your way; whatever it is, it's perfect.
The Wedding Ceremony Exit
After the processional, the vows, and the "I dos" comes — you guessed it — the recessional. No need to get too caught up here. Just have everyone leave in the reverse order of how they entered, all led by the newest of newlyweds!