Congratulations on your engagement! Now the fun begins.
To mark the start of your new journey together, you're probably thinking about an engagement photo shoot. This is the perfect way to capture some lovely couples photos for your memories, gallery wall, and save the dates.
The best engagement photo ideas come from within, but there's no harm in taking inspiration from the many talented photographers and couples who have gone before you.
Be Inspired By These Engagement Photo Ideas
It's time to get inspired by what other couples have created. Whether you favor a traditional posed photo shoot or a more casual, on-the-fly vibe, there are plenty of ideas and inspiration here for everyone.
1. Sparks Fly
If you don't want to arrange an entire fireworks display, sparklers are a fun alternative. They also create a much more intimate image and provide a warm glow for your engagement photos.
2. Board Game Lovers
Who doesn't love Scrabble? This is a cute way to feature words or phrases in your engagement photos. Whether you spell out something romantic or a sweet little inside joke, these Scrabble tiles are a great prop for your engagement photo shoot.
3. Holding Hands Forever
Marriage is a time for coming together and making a lasting commitment to one another. What better way to celebrate the lead-up to that moment than by holding hands? This lovely pose also acts as a subtle ring reveal, without it being the focus of the image.
4. A Seaside Moment
If you've chosen a gorgeous backdrop for your engagement photos, make sure you include some wide-angle shots of where you are. These photos give you the opportunity to be fully in the picture. They also look great when mixed in with close-ups and detail shots in your photo album.
5. Cropped and Styled
It may seem strange, but cropped photos like this work really well for save the dates and social media posts. They're a fun way to capture your personality and style, as they put the focus on what you're wearing and your accessories.
6. Candid Cuteness
Posed photos are a beautiful memory of a moment and your engagement photo shoot. Candid moments offer something different — they naturally capture an emotion, a joke, or a shared laugh. Ask your photographer for a mix of posed and candid images for a memorable photo collection.
7. An Unusual Angle
Sometimes the most unexpected angles can create an intriguing and fun picture. This photo captures the light beautifully as it shines down on this happy couple. Look for opportunities on your engagement photo shoot to let nature set the scene for your images.
8. A Fun Prop
Don't be afraid to add a little humor to your engagement photos. Your props (including your ring!) can do most of the talking for you. These fun pictures will work really well on your wedding website.
9. The Scenic Embrace
Here's a pose you'll want to add to your list of engagement picture ideas. A close embrace is a well loved moment to capture, especially if it's natural and candid. You can really feel the emotion and connection between this couple as they embrace.
10. Seasonal Goodness
Use the seasons to help create truly stunning engagement photos. This fall image captures the season so well, right down to the closeness and coziness of pulling someone towards you. Each season has those trademark sights, tastes, and memories. Think of a snowy scene for a winter engagement, or a spring engagement shoot in a field of flowers. Find a way to bring these seasonal notes out in your photo shoot.
11. Let Your Rings Shine
Engagements are the start of a wonderful journey towards marriage and beyond. For many couples, this begins with the proposal and ring which features heavily in most engagement photo shoots. Every ring is gorgeous, but if yours is especially unusual — like this couple's — you'll want plenty of close-ups for your album.
12. A Standout Kiss
It's a must-have in almost everyone's engagement photo wishlist. You've shared many kisses with your loved one, and there'll be plenty more in the future. But capturing a candid one on camera leads to magical results.
How to Plan Your Engagement Photo Shoot
Speaking of magic, it really does happen when you and your fiancé spend time with a photographer. Still, a little planning never hurts. To get the most out of your engagement photo session, it's a good idea to plan ahead and know what you're looking for.
To get you started, here are some tips on how to turn your engagement photo ideas into reality.
Location
Whether you're booking a photographer or styling your own photos, you'll want to choose a meaningful location for your photo shoot. The right spot can help your engagement photos shine.
Here are some ideas on locations for your photo shoot.
A Memorable Destination
Beautiful engagement photos can be captured anywhere, but choosing a place that's special to you really adds something.
Many couples choose to have their engagement photo shoot somewhere that's been a part of their relationship story. Romantic options include the scene of your first date, where the proposal took place, or in your first home together.
Somewhere You Both Love
A place doesn't have to be linked to a moment for it to be a romantic engagement photo location. You could host your photo session at a mountain that you love to hike, a street that features your favorite architecture, or near a fountain that you've always adored.
At Home
You don't need to venture far to find a beautiful space for your engagement pictures. Why not take them in the comfort of your own home? You're surrounded by the things you love in a place that is yours. There's something very authentic and warm about engagement photos that capture you and your partner going about your daily life at home.
On Vacation
Make your next weekend getaway or vacation extra memorable by using it as a backdrop for your engagement pictures. Whether you head to a nearby city for a weekend break or plan a luxurious getaway to the other side of the world, these vacation photos will be unforgettable.
An Unusual Spot
There are some destinations that are always popular for engagement photos, like the beach or the scene of your first date. But don't be afraid to try something more unusual and choose a location that's fun, unexpected, or works perfectly with your hobbies and interests. Think bowling alley, paintball field, or sci-fi convention.
Props
You're the star of the photos, but that doesn't mean you can't include some themed props to add extra interest to your engagement pictures. This can lead to really creative photos that would be great to send out with your save the dates.
Not sure which props to use? Here are some ideas.
Pets
Is there a special furry friend in your life? If so, give them a starring role in your engagement photos. Featuring your cat, dog, or other pet in your pictures can create some adorable and hilarious results. The more candid the better here, so don't be afraid to go with the flow.
Your Interests
Engagement photos are a great way to capture your personality as individuals and as a couple. Bring some of your interests into your photos through your props. If you're a big fan of baking, why not include some homemade, styled cupcakes in your shoot? For theme park lovers, a pair of those famous Mickey Mouse ears adds a touch of personality to your images.
A Splash of Color
Most of us think of props as items that we hold, wear, or use. They work just as well in the background though, especially if the rest of your shoot is pared down and simple. Confetti, colored smoke bombs, string lighting, and fireworks are all fun ways of including color and props in your engagement pictures.
Poses
It's not that often that we pose for photographs. It can feel really unnatural being in front of the camera, but don't panic as your photographer will guide you through the shoot.
You can make suggestions or be led by your photographer, but it helps to have a clear idea of how you want your photos to look. Do you want a collection of traditional pictures? Are you a fan of candid laughs? Knowing what you like will help your photographer direct your poses.
Some popular engagement picture poses include:
Couples portraits
Close-ups of kisses and embraces
Detailed photos of your engagement ring or rings
Candid smiles and laughs
One person being lifted in the air by the other
Walking together hand-in-hand
Wide angle photos that show off the scenery
Before you book your engagement photo shoot, collect all of your engagement and wedding ideas together in some way. You could pin a board on Pinterest, create a moodboard, or save photos to a collection on Instagram. That way, you can quickly show your photographer what you're dreaming of.
Clothing and Accessories
Deciding what to wear for your engagement photos can be tough. You can often be led by your surroundings, so casual attire on a beach makes a lot of sense. It's also fun to head in the opposite direction and get really dressed up to mark the occasion. If you're not sure what works best, take a look at our guide on what to wear for your engagement photos.
Photographer
A photographer is a must-have for your engagement photo shoot. You could hire a professional wedding photographer, enlist the help of talented friends, or create your own DIY photo shoot.
If you're hiring a photographer, you'll want to find someone whose style and approach matches your tastes. Some photographers specialize in traditional engagement shoots, while others are more modern.
There are many brilliant photographers who specialize in wedding photography, so you're sure to find the perfect pro nearby. Your photographer will also be likely to have engagement picture ideas for you, including locations, props, and poses.
Turn Your Engagement Picture Ideas Into Real Life
Once you've narrowed down your style, photographer, location, and props, you'll be well on your way to making your engagement photo ideas a reality.
These photos will capture moments for you to enjoy for years to come. Whether you display them at home, on your wedding website, or share them on social media, they're a celebration of your love. Along with photos from your wedding day, they'll become a favorite in your photo albums and will make you smile forever.
Up Next:
Set up your wedding website in minutes with design options to make yours truly unique.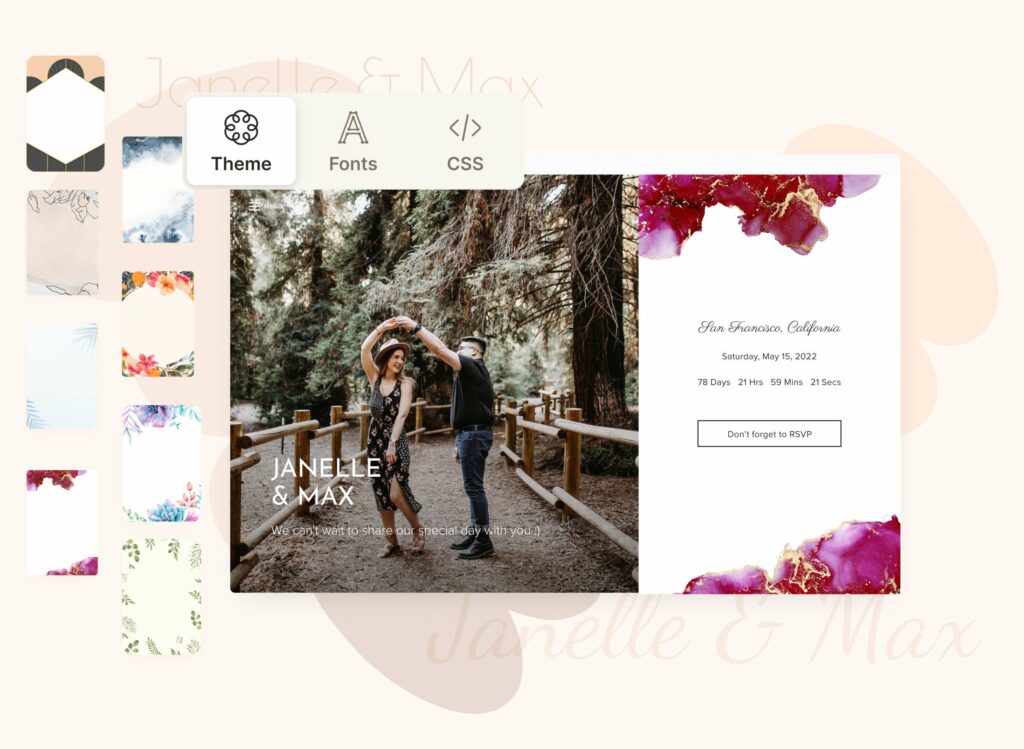 Related Posts