What better way to celebrate your engagement than with a photo session in the San Francisco Bay Area. These photos will help you in savoring the fact that you're engaged, while also enjoying some special time getting cute and cozy with your partner. And in addition to providing stunning photos for you to frame in your home, or post on social media, this engagement photography can result in shots you can use on your wedding website.
To help you decide where to take your San Francisco engagement photos, we've collected suggestions from our favorite local photographers.
Marin Headlands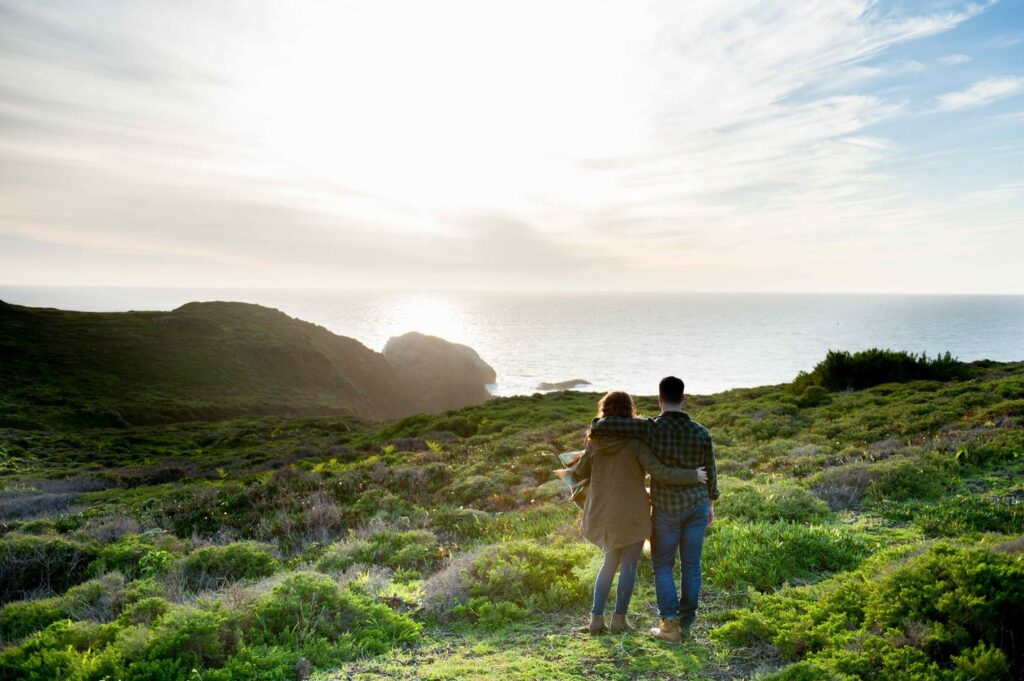 Striking cliffs of oceanic rocks are backed by awe-inspiring views of the Golden Gate Bridge at this popular engagement photo location. "As perfectly Northern California as it gets," says Claire Lewis of Tia & Claire Studio."The Headlands are wild, windswept, and completely gorgeous. You can start down on the beach and play in the surf, and finish up high on any of the trails with their sweeping views out over the ocean. An unbeatable combination."
Sutro Baths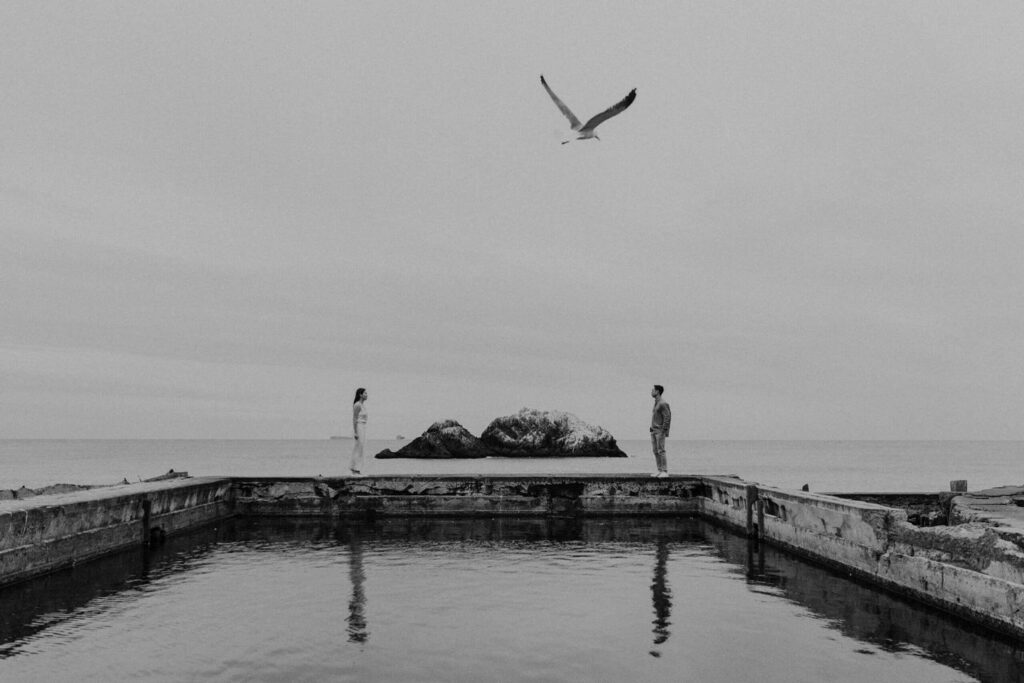 Couples desiring a variety of backdrops will appreciate the myriad of landscapes at the wholly unique Sutro Baths. "I love that Sutro Baths offers so many different landscapes for one engagement session," say Jamie Eichar and Lauren Eichar of Eichar Photography. "You'll get to run around on the beach, you'll get to explore the ruins from Sutro Baths, which used to be a big, indoor pool before it burnt down in 1966 — the reflections at the baths just after sunset are magical. You can also get some great couple portraits from above the beach and baths in the Cypress tree forest as well as the cliffs overlooking the ocean." 
Rodeo Beach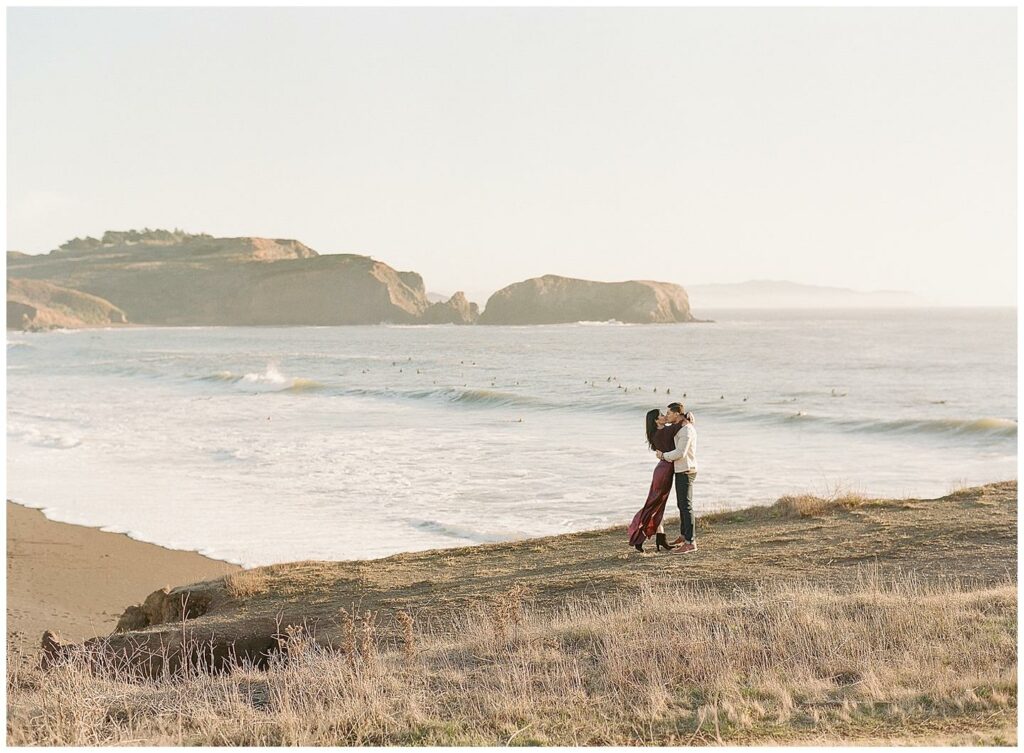 Only three miles from the Golden Gate Bridge, Rodeo Beach is a wide stretch of shore covered in red and green pebbles interspersed by jasper, carnelian, black agate, and jade.
The beach is sheltered by cliffs and bound by a lagoon, which provide dynamic settings for engagement photos. Another popular spot to snap some shots is on the stairs that wind down a grassy hill that ends at the beach.
Baker Beach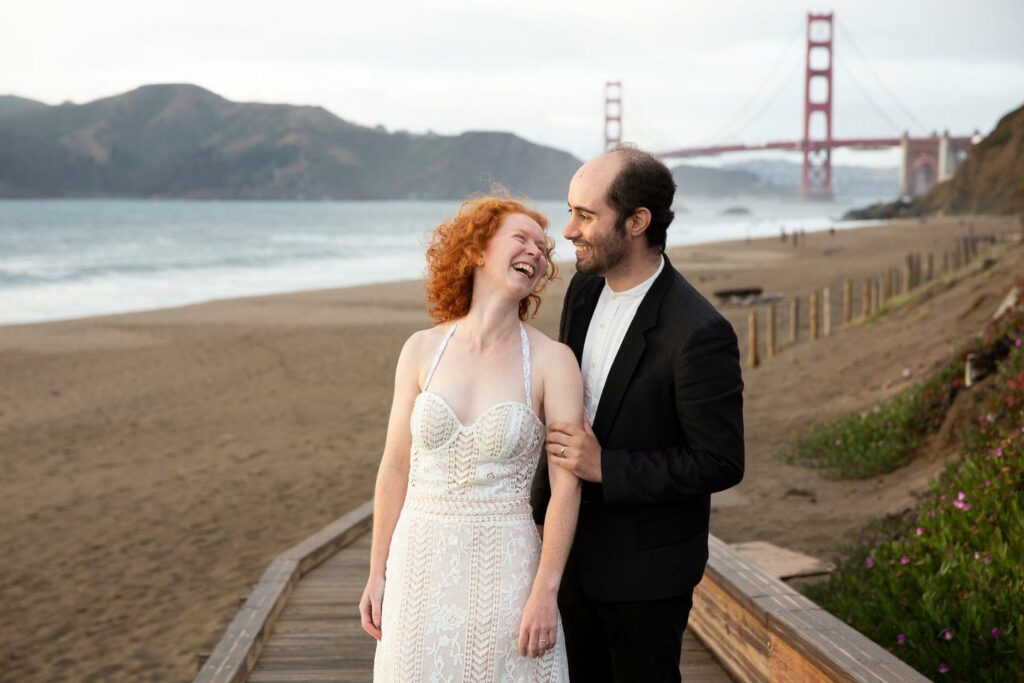 This mile-long beach is located below the rugged cliffs on the Presidio's western shoreline and provides spellbinding views of both the Golden Gate Bridge and Marin Headlands. Something that makes this site unique is the gray-green mineral serpentine that protrudes from the cliffs that line the beach, creating photos that have the pop of red from the bridge and a subtle green from the cliffs.
Mt. Tamalpais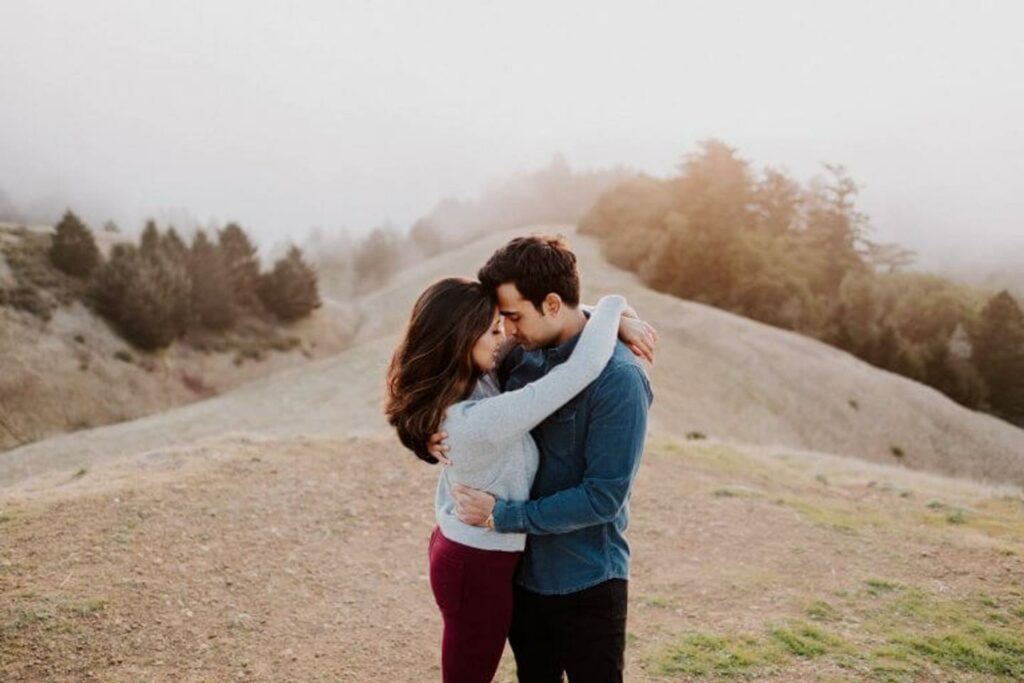 A whimsical location perched above the city, Mt. Tamalpais is one of the best engagement photo locations for couples wanting their photos to have an ethereal quality. Jamie Eichar and Lauren Eichar of Eichar Photography say, "Mt. Tamalpais will always be one of my favorite locations to shoot at as a photographer. The tall grass, the rolling hills, and the redwood forest are all magical, but sometimes you get lucky and show up on an evening where you literally are walking on and around low clouds and feel like you might be in heaven. Mt. Tamalpais looks amazing in fog and sunshine."
Lovers' Lane (The Presidio)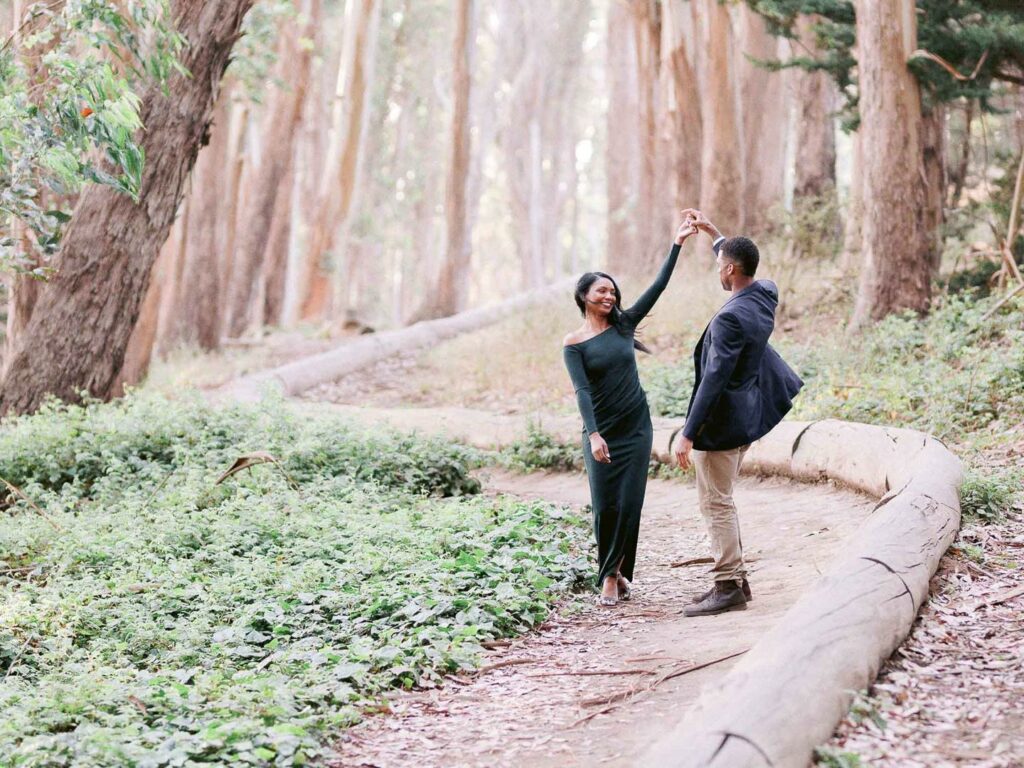 What could be a more appropriate location for engagement photos than Lover's Lane in the Presidio? This tree line trail was established in the 18th century as a shortcut used by Spanish soldiers and missionaries to get from the Main Post to Mission Dolores. Now, the trail is simply a picturesque path used by those that enjoy a stroll in nature. If you want to sprinkle extra charm into your photos, be sure to follow the trail until you run into the footbridge that was built in 1885.
Oakland Redwoods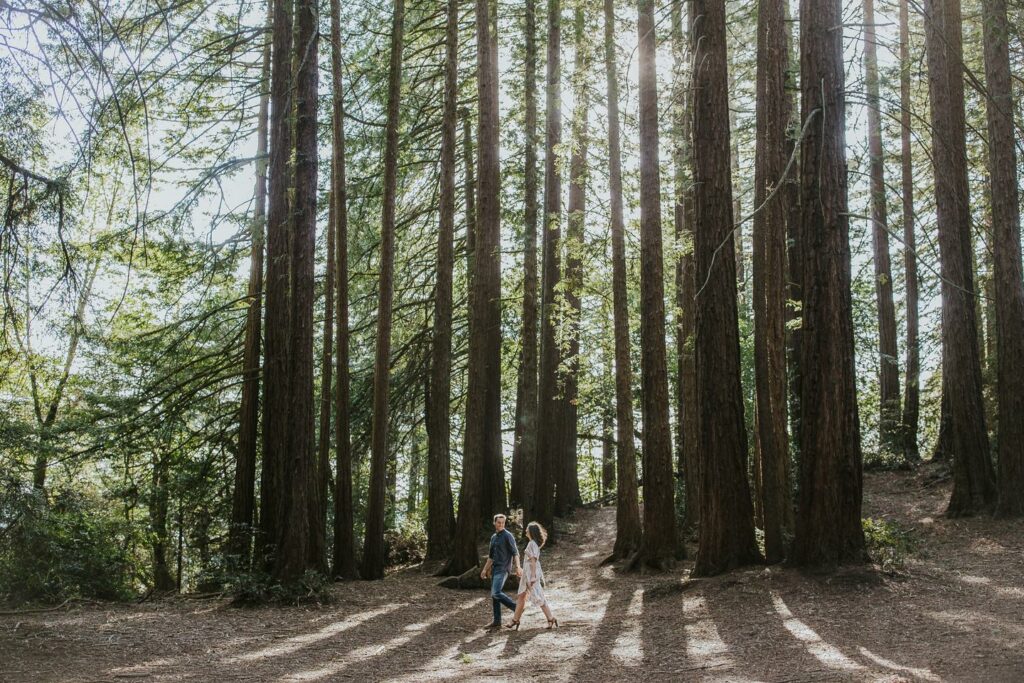 Submerge yourself in the glory of the redwoods by saying yes to an engagement photo shoot in the Oakland Redwoods. After you snap plenty of photos in the redwoods, wander through the evergreens, chaparral, and grasslands this hidden forest contains. "As much as I love Muir Woods, it's just WAY too crowded," says Rebecca Skidgel. "The Oakland Redwoods is the perfect spot if you want to shoot in the redwoods – there's less people, it's more intimate, and there's a lot more freedom to roam around and get lots of fun photos."
Legion of Honor Museum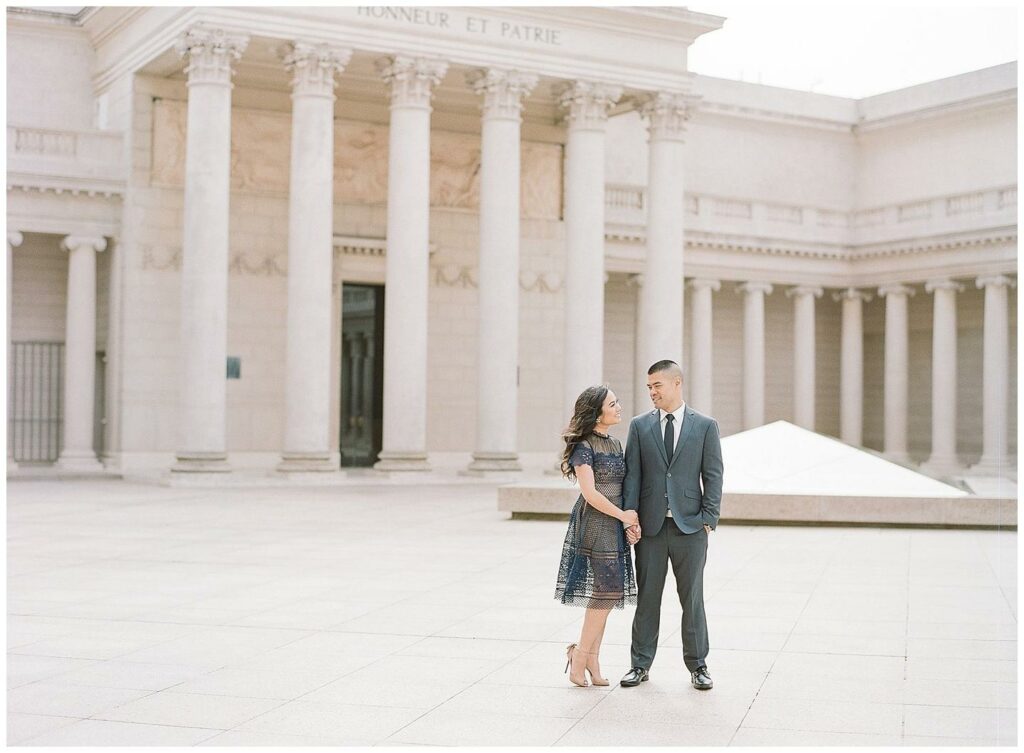 This stately museum includes a vast courtyard made of white marble, which provides a clean backdrop for photos. It's especially stunning if you and your fiancé are sporting colorful outfits that stand out against the white backdrop. This location is made even more appealing by the numerous marble columns that make you feel as though you've stumbled into ancient Greece. This is a setting that's sure to lead to spectacular engagement photos.


Ocean Beach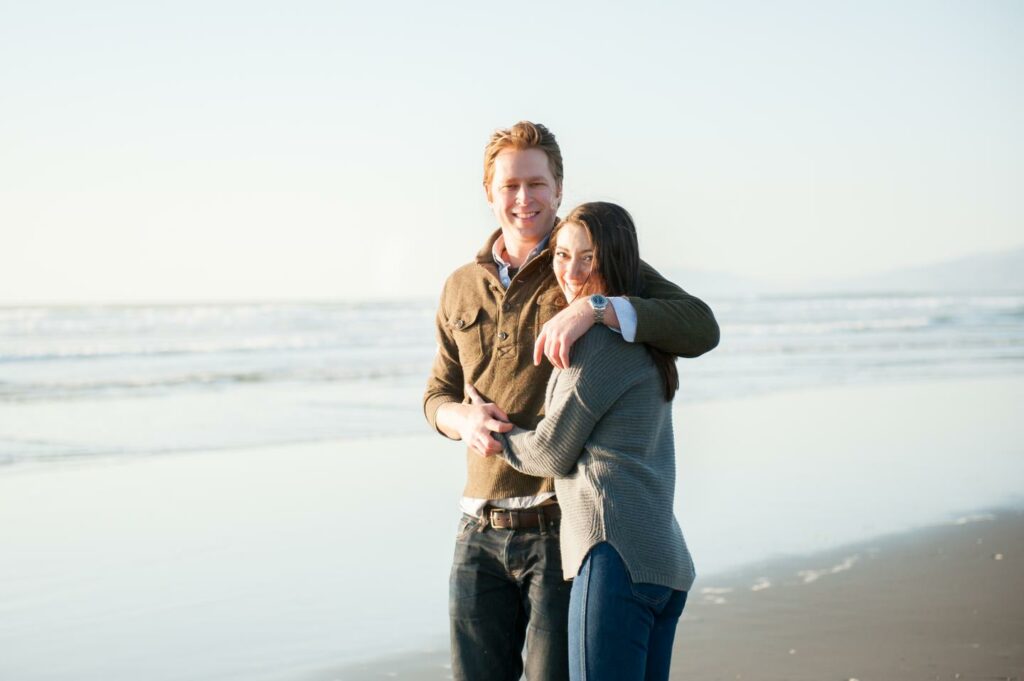 This is a great choice for classic shots of you and your loved one walking hand in hand on the beach. You can access the beach at many points, as it spans the entire Sunset District of San Francisco from Cliff House to Sloat Boulevard. Claire Lewis of Tia & Claire Studio says, "Always unpredictable (you may get fog, wind, or a perfectly clear blue sky) but never anything short of gorgeous, an engagement session at Ocean Beach is always a joy! I love photographing there in the hour before sunset when the light is amazing and you get long, dreamy shadows. Couples can play at the edge of the ocean, sit on the sand and share a bottle of wine, or snuggle up in the dunes. A great location for couples who have a dog they want to include in their shoot."
Point Reyes National Seashore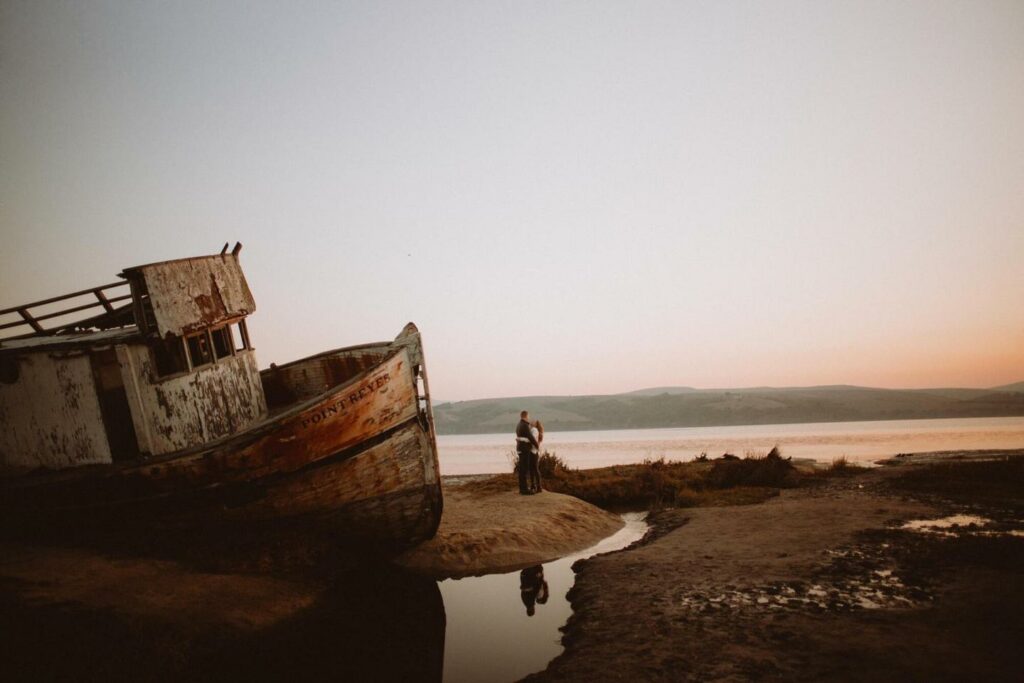 This remarkable area features rocky headlands, seemingly endless beaches, open grasslands, brushy hillsides, and forested ridges, all teeming with over 1500 species of plants and animals. "This is the ultimate for adventurers — an entire coastline of wonder! "says Teri Bocko of Teri B Photography. "Some of my favorite spots are the Inverness Shipwreck, the famous tree tunnel and the cliff views up at the lighthouse. Make sure you have a full tank of gas and snacks as the area is quite remote. It's one of the best spots the entire California coast has to offer."
Kirby Cove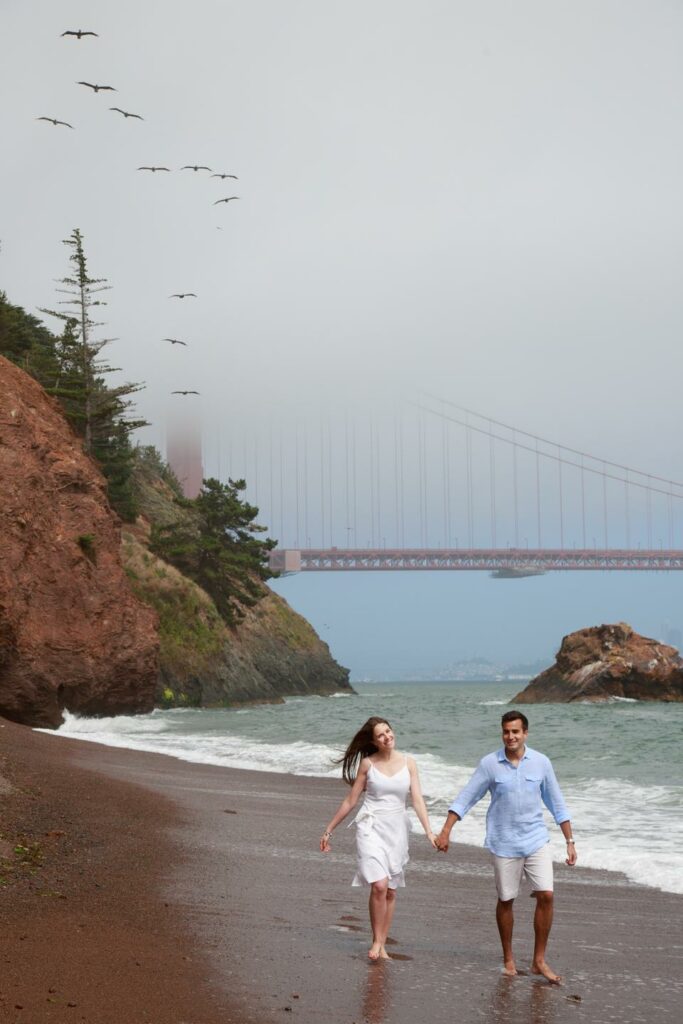 Another fun location that allows the grandeur of the Golden Gate Bridge to photo bomb you, Kirby Cove is a prime option if you want the majesty of both nature and man-made marvels in your photos. Cindi Stephan of Two Irises says "If you can catch this location when the fog is clearing it offers a stunning view of the Golden Gate Bridge and San Francisco as well as the Marin cliffs and the ocean. Parking can be tricky and it requires a steep downhill walk from the road but if your clients are game this is a wonderful spot. A little exercise and the thrill of the ocean waves bring a genuine glow to their faces!"
Big Sur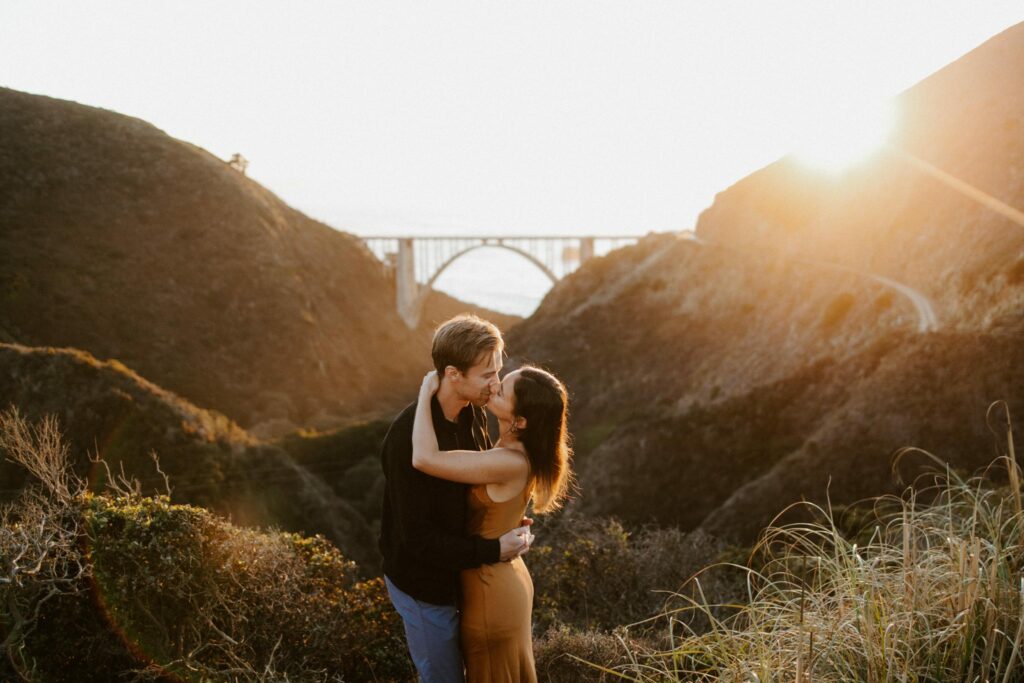 One of the most dramatic coastlines in California, Big Sur provides a wonderland of photo ops. Many even say this area is so incredible it's in the same tier as the Grand Canyon. "If the long drive doesn't scare you and you love beautiful coastal views, I hope that you put Carmel and Big Sur at the top of your list of places to take your engagement photos," says Jamie Eichar and Lauren Eichar of Eichar Photography. "It's my all-time favorite place to photograph engagement shoots and weddings. I love seeing the look on my couples' faces when I take them to new spots around Carmel and Big Sur that they haven't explored yet."
Russian Ridge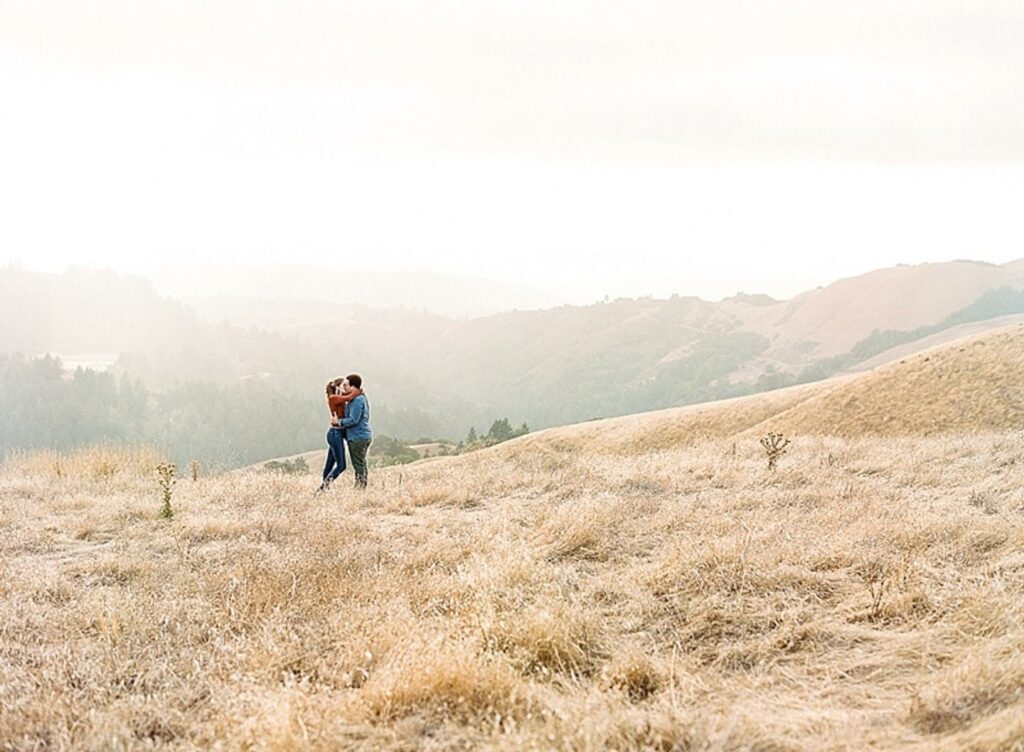 This 3,137-acre preserve is a bucolic setting that comes alive with windflowers in the spring. In the summer, the hills seem to be coated in gold at sunset. Fall and winter often provide crisp, clear skies that reveal impressive views of San Francisco Bay and the Santa Cruz Mountains. One of the most acclaimed spots for photos is Borel Hill, which is the highest named point in San Mateo County, and provides a 360-degree view.
Crissy Field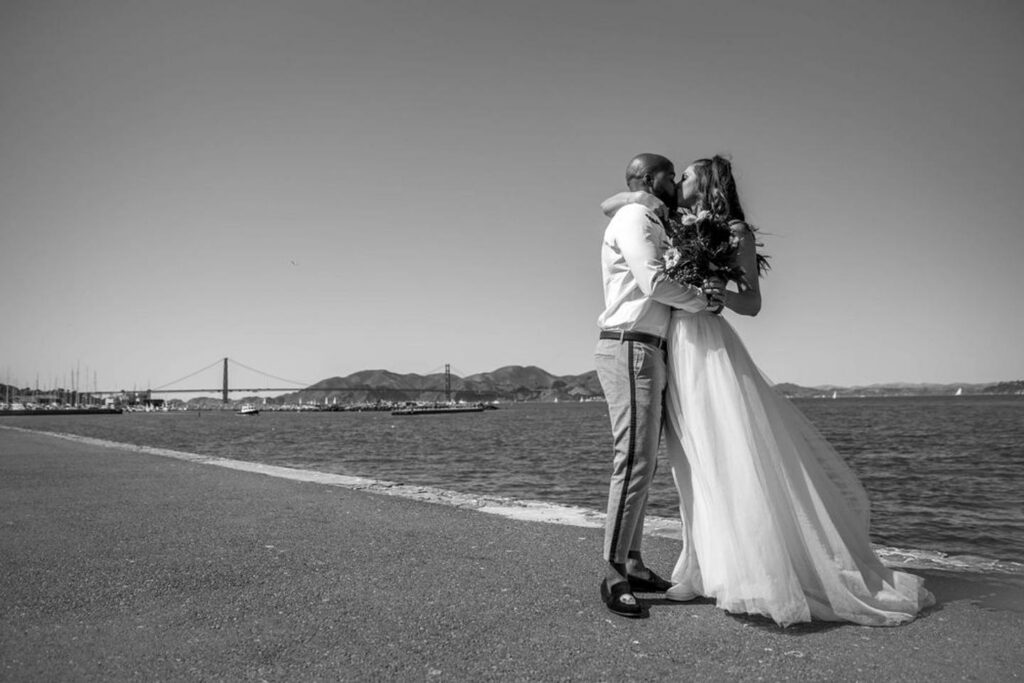 In 2001 Crissy Field was transformed from a former military airfield into a national park site that includes a hard-packed promenade with views of the Bay and Golden Gate Bridge, and a trail that runs between Marina Green and Fort Point. This area also features beaches and tidal marsh overlooks that are ideal options for engagement photos.
Filoli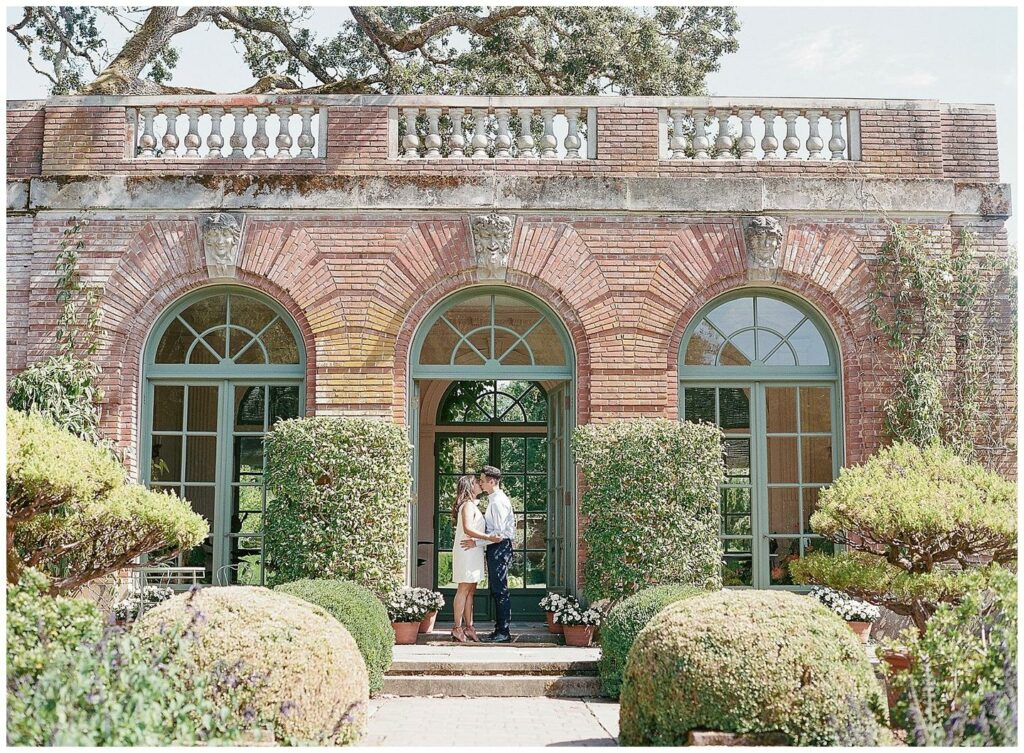 Reminiscent of an English garden, Filoli is a 654-acre fantasy land of meticulously-maintained grounds overflowing with daffodils, tulips, poppies, hydrangeas, jasmine, and many other colorful, fragrant blooms. The gardens also include manicured lawns and hedges, in addition to an assortment of trees. And, this estate features a Georgian-style home that exudes old-world elegance. The only potential downside of this location is that there are so many amazing photo backdrops it's hard to choose your favorites.
Fort Point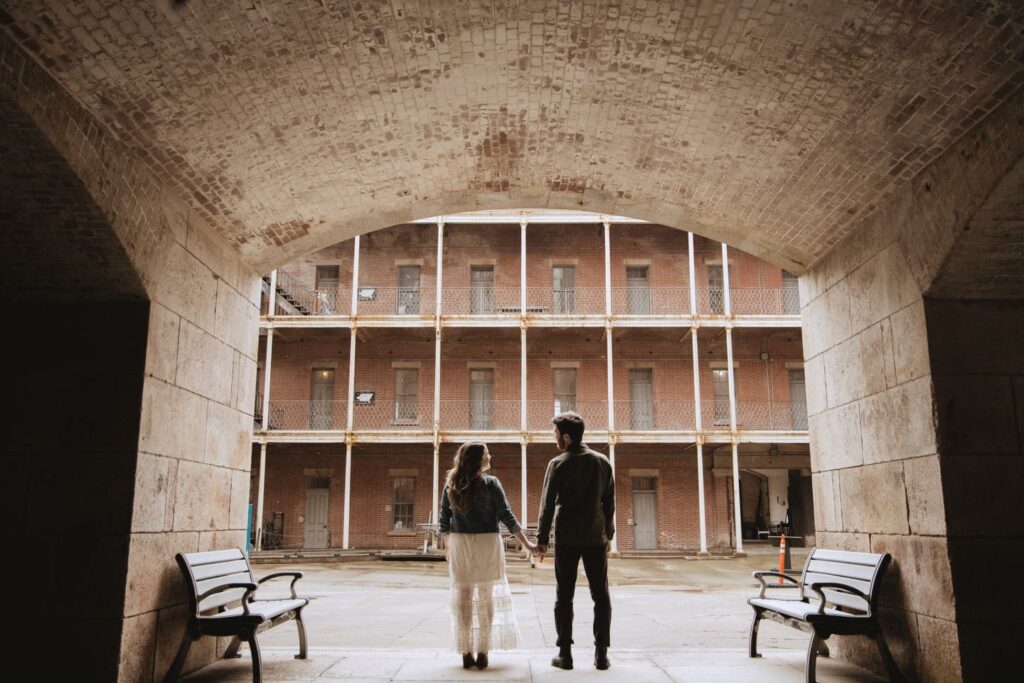 If you want to be up close and personal with the Golden Gate Bridge during your photo shoot, head to Fort Point. The fort was built between 1853 and 1861 by the U.S. Army Engineers as part of a defense system of forts planned to protect San Francisco Bay. Teri Bocko of Teri B Photography says, "This spot is iconic for the Alfred Hitchcock film 'Vertigo'. It's one of my favorite spots to photograph because it's so rich in history, it's free and never that busy in the early morning. There are the iconic steel staircases, lots of arched brick and interesting corners to explore."
Fitzgerald Marine Reserve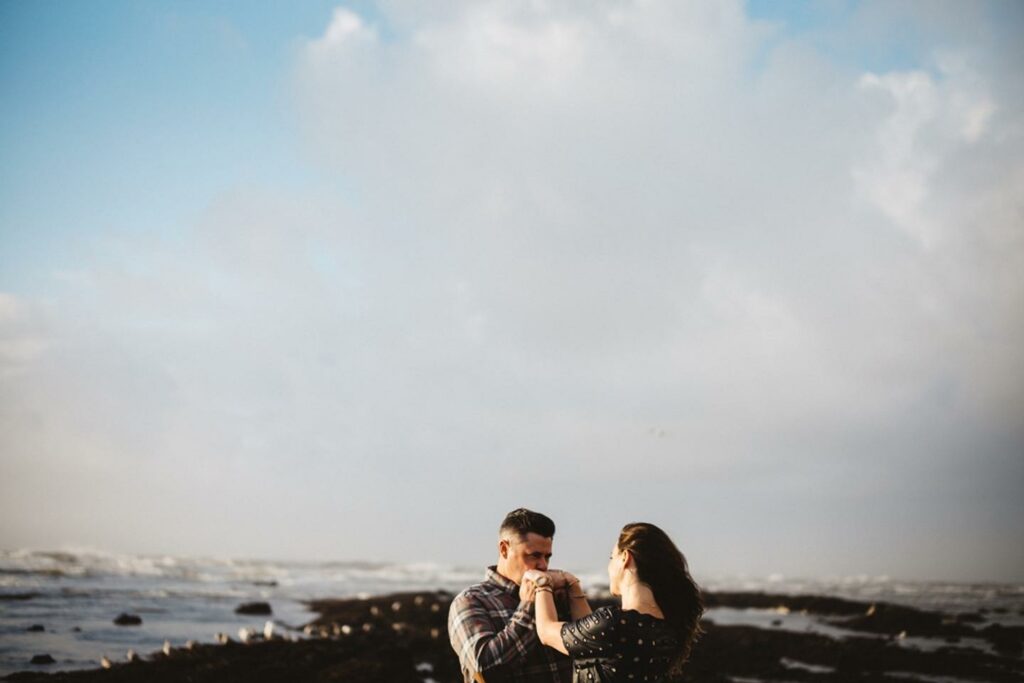 An excellent choice if you hope to fully immerse in nature for this special photo shoot, Fitzgerald Marine Reserve at Half Moon Bay will have you snapping shots amongst tidepools hosting algae, crabs, sponges, sea stars, and mollusks. You'll also be able to meander through pocket beaches, a Monterey cypress grove, and other dreamy settings.
"Forest, beach, lookouts, this is a lesser-known engagement location that has it all," says Teri Bocko of Teri B Photography.  "A short drive from the city and worth going early or for sunset. I recommend this one for nature lovers since you get the best of the coast in one spot."
Bodega Head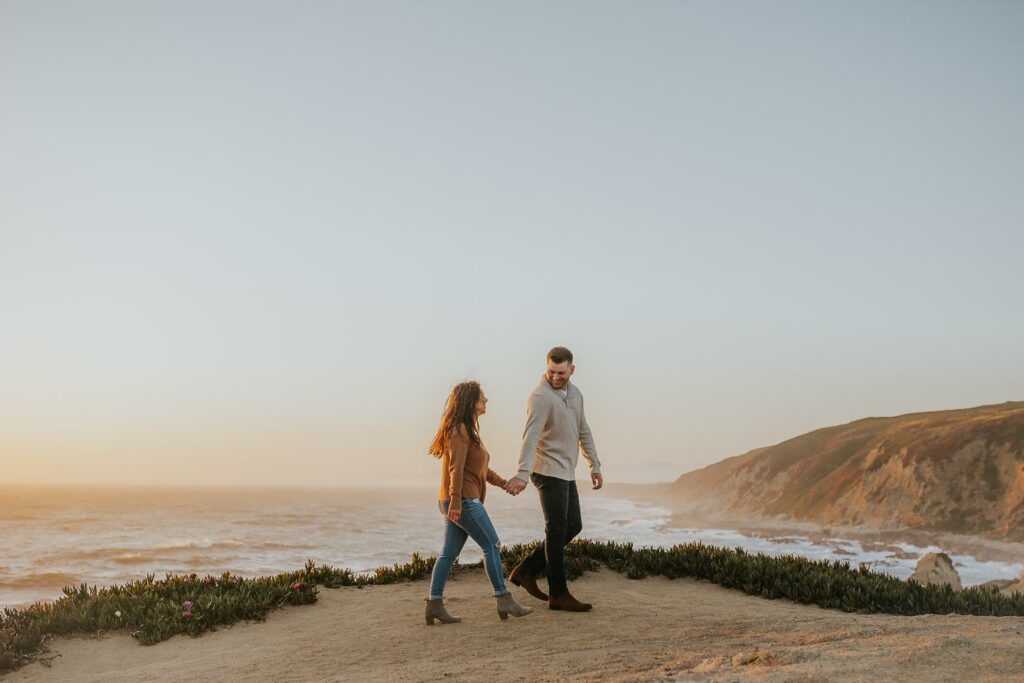 You might feel as though you've stepped onto a coast in Scotland or Ireland when you reach Bodega Head. This rocky peninsula is about four-miles long and one-mile wide, and includes bluff top vistas, walking trails, beach access, and viewings of wildlife like seabirds, seals, and migrating whales, depending on the season. San Francisco wedding photographer Rebecca Skidgel says, "Bodega Head is such a beautiful location! It can be super windy but it's totally worth it for the variety between the cute little beach, the succulent-filled cliffs and the grassy hills. And it's the perfect spot for sunset photos."
Conservatory of Flowers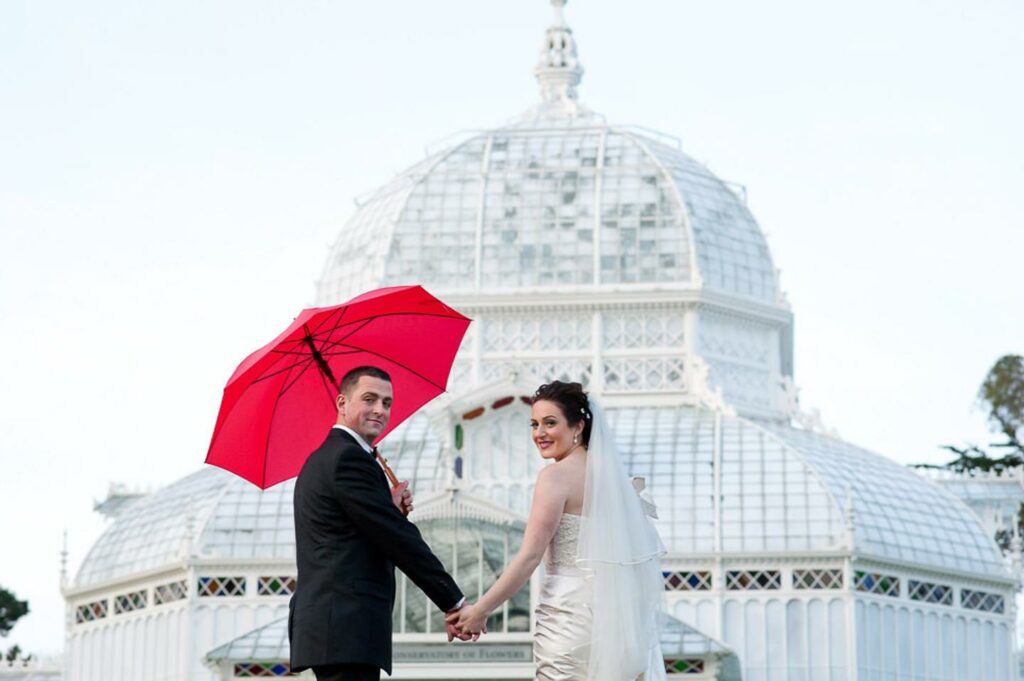 If you choose to take advantage of the otherworldly wonders that abound at this conservatory, you'll find yourself posing in front of rare and unusual flowers and plants, Victorian doors, and a vast manicured lawn that seems to be painted with a rainbow of carefully positioned flowers. This acclaimed location also boasts five distinct galleries that each focus on a different ecosystem, which range from the dense tropical rainforests of Sumatra to the cloud forests of Ecuador and beyond.
Lake Hennessey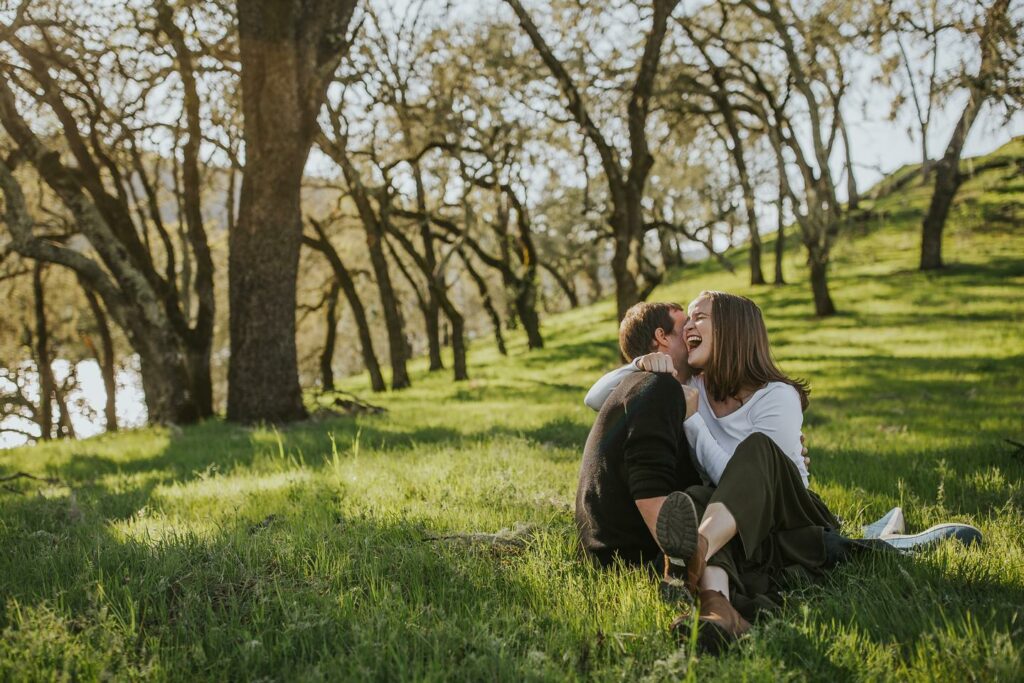 13-miles north of Napa sits the tranquil Lake Hennessey that provides scenic surroundings for engagement photos. Rebecca Skidgel says, "Lake Hennessey is a gorgeous location for engagement sessions, especially in the spring when everything is green and luscious. There's so many fun trails and spots that overlook the lake but you can also walk the path along the lake — we love variety."
Del Valle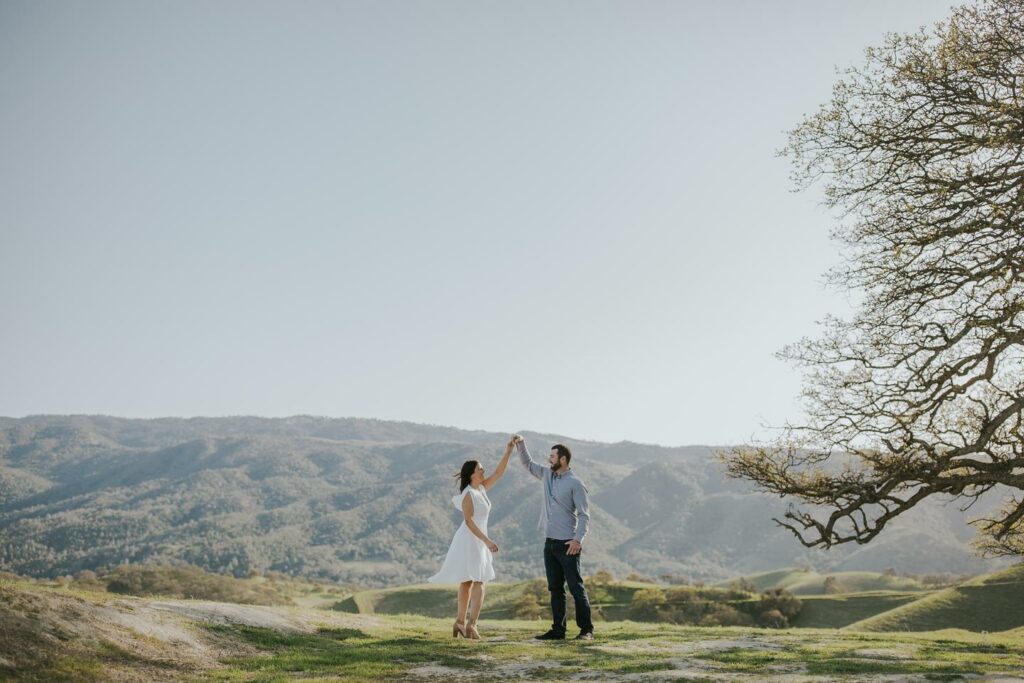 Del Valle allows couples to take advantage of the soothing beauty of hillsides covered in grass that shimmers in the gold light of the setting sun. But while the backdrop is extraordinary, it's subtle enough to let the happy couple really take center stage. "Del Valle Regional Park is a gorgeous location year-round," says wedding photographer Rebecca Skidgel. "Whether the grass is dry or green, nothing can beat the views of those rolling hills."  
Up Next: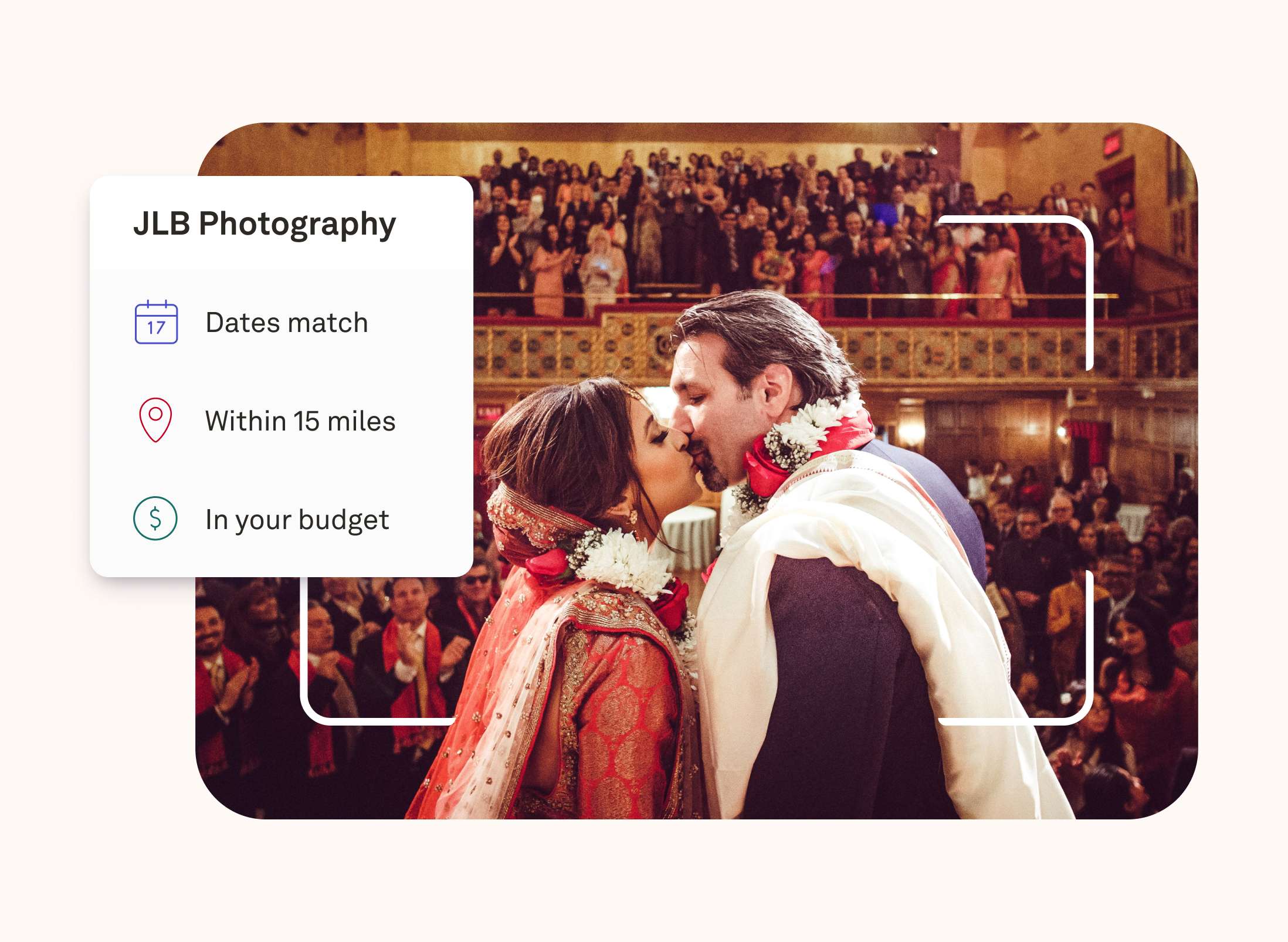 Find the perfect photographer to capture your big day.