You just got engaged, congratulations! Many special festivities lay ahead, from wedding showers, to bachelor or bachelorette parties, to your big day itself. One of the first chances to celebrate the new union between you and your fiancé is an engagement party.
Engagement parties range in size and formality, but one rule of thumb to keep in mind as you plan is that anyone invited to your engagement party should also be invited to your wedding. If you're on the fence about certain people, it's best to keep your party limited to those you are sure you'll invite to your big day. Once you've figured out the big picture, Joy can help you plan out all the details!
Create your engagement party guest list
Once your engagement party guest list is ready, use Joy's guest list manager to organize your invitees. You can easily see your guests in one place, group them by couples, families, or parties, and either offer or limit whether they can bring a plus one.
While you are adding guests, feel free to start creating your larger wedding guest list in Joy as well. With Joy you can easily organize all your guest lists in one place — which we'll get to in the next step.
Arrange your guest list using labels
Labels are a way of organizing everyone on your guest list, which will become even more crucial once you and your fiancé start planning your other wedding festivities such as the rehearsal dinner, wedding, or day-after brunch.
Create an "Engagement Party" label and tag each guest you want to invite to your engagement party with that label. This will differentiate your engagement party guests from your broader guest list, and allow you to make the parts of your wedding website about the engagement party only visible to those tagged with the "Engagement Party" label.
Think of Joy's guest label feature as a way to keep yourself organized and designate who is who, such as creating labels for 'wedding party,' 'parents' friends,' or 'family.' You can also use it to assign seating charts, delegate tasks, and of course keep track of who's invited to multiple wedding events .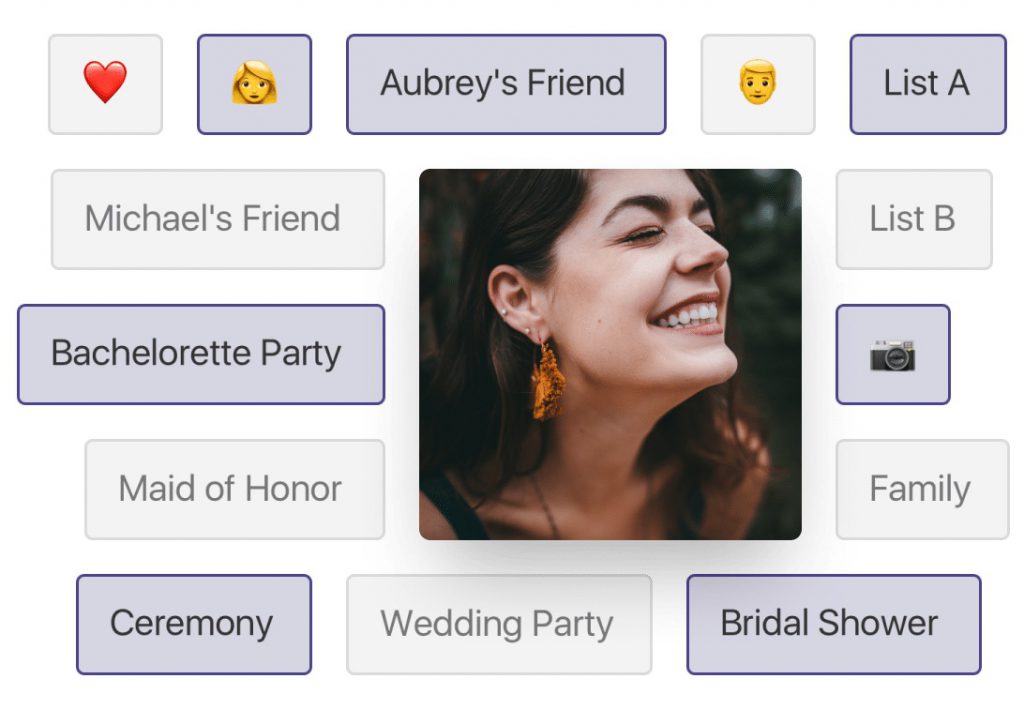 Add RSVP questions for your engagement party guests
With Joy's RSVP feature, you can customize the questions you ask your guests when they respond to your e-invite. In addition to asking the obvious question, whether someone can attend, you can ask follow up questions such as "Will you bring a plus one?" or "Do you have any dietary restrictions?" that can help you plan for the party.
You can also customize the privacy settings for questions about your engagement party, to make sure only those invited can see them (avoiding any hurt feelings or confusion from guests not invited!) Just select "Show to guests with label" on the RSVP page and apply the "Engagement Party" label, and you're all set!
Communicate with your guests and send e-invitations
Now that you've set up your guest list and RSVP questions, you're ready for the fun part: sending out invitations. Choose from dozens of beautiful themes, from floral to minimalist, to create digital e-invites sent through Joy that guests will receive quickly and conveniently in their inboxes.
Guests will be able to easily RSVP for your engagement party, and as they reply, your guest list will automatically update, meaning you can track RSVPs in real time!
If your party plans change, no need to worry. Joy lets you easily send updates to your guests so everyone stays in the loop. Just make sure you select the "Engagement Party" label when sending, so your other wedding guests don't receive updates about an event they aren't invited to.
Plan your engagement party (and upcoming wedding) in one place
One of the best things about using Joy to plan your engagement party is that it gives you a head start on your wedding planning.
Now that you've mastered the guest list, labels, RSVP, e-invite and communication features, you're more than ready to plan your big day!

Up Next: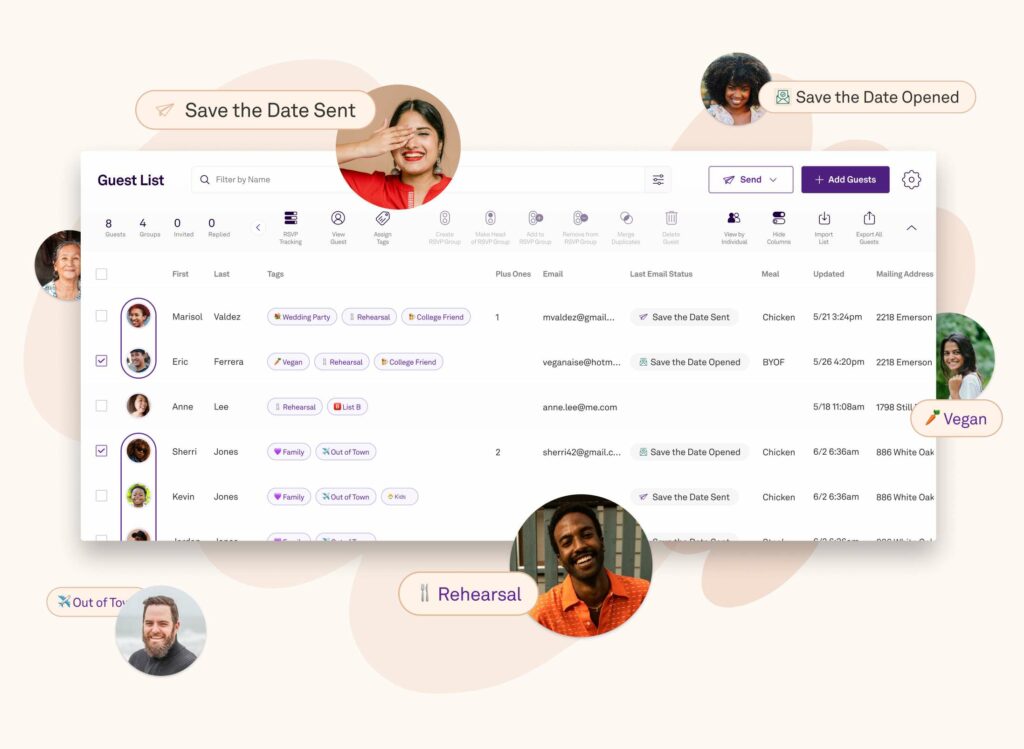 Collect RSVPs, track responses, and communicate with guests—all in one place.
Related Posts