One of the most fun aspects of wedding planning, in our opinion, at least, is creating your wedding website. From picking your theme, fonts, colors, and photos, to telling your love story and sharing your wedding details, the possibilities are endless to express your creativity and build a beautiful wedding website that reflects your style.
You can match your wedding website to your wedding invitations, pick a theme that reflects your wedding location or venue, or select the theme that feels the most "you." Your wedding website expresses your personality and sets the tone for your wedding day.
We're constantly amazed by the creativity we see across Joy couples in their wedding websites. Here are some examples of real Joy wedding websites, to serve as inspiration as you create your own.
Convey Your Style
Whether your style is classic or modern, bold or pastel, floral or minimal, convey your taste and your wedding style with the theme of your website, as these wedding website examples do.
Classic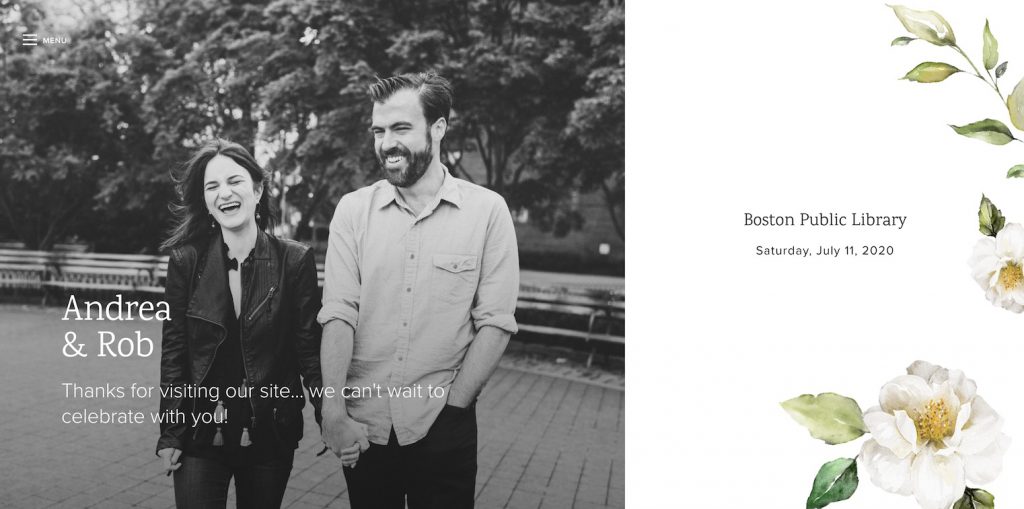 Andrea and Rob's elegant floral theme and choice of black and white photography lend a classic tone to their wedding website, while still showing off their personality through their photo.
Light and Airy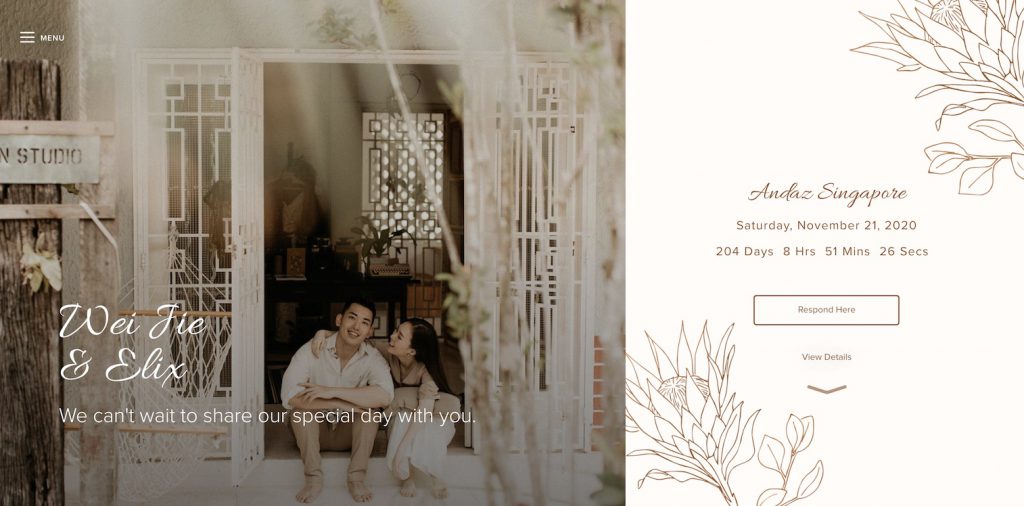 Wei Jie and Elix's natural color scheme and sun-filled photography create an airy and light ambiance that has us swooning.
Modern and Minimalistic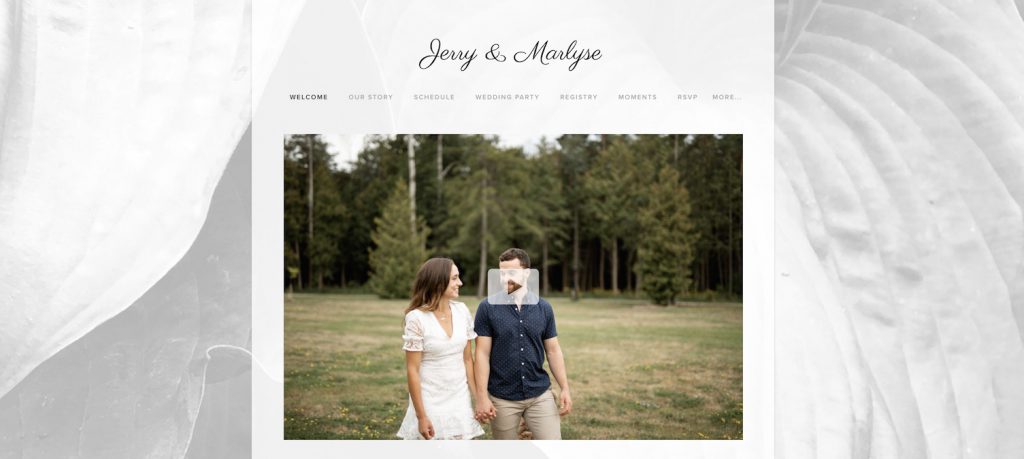 Jerry and Marlyse created a modern vibe with their wedding website through a subtle background and neutral color scheme.
Pastel Watercolors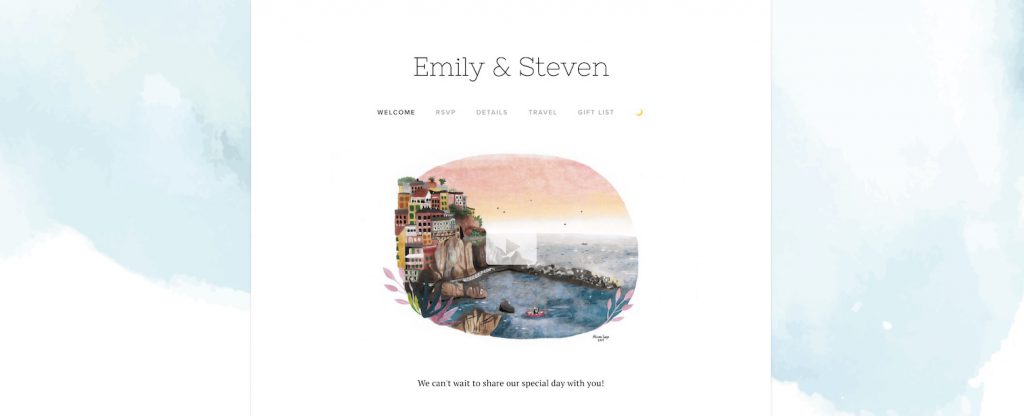 If pastel shades call your name, seek inspiration from Emily and Steven's wedding website with a watercolor theme that complements their welcome image.
Show Your Artistic Side
While we always love to see couples' engagement photos, we also love when couples use unique, personal artwork on their wedding websites, such as these examples.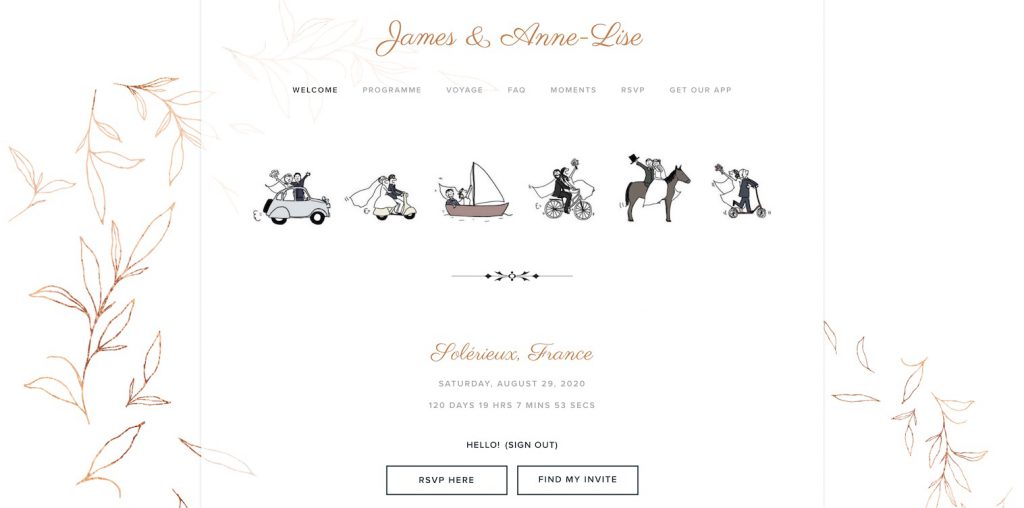 James and Anne-Lise's playful custom drawings set a fun tone for their wedding weekend.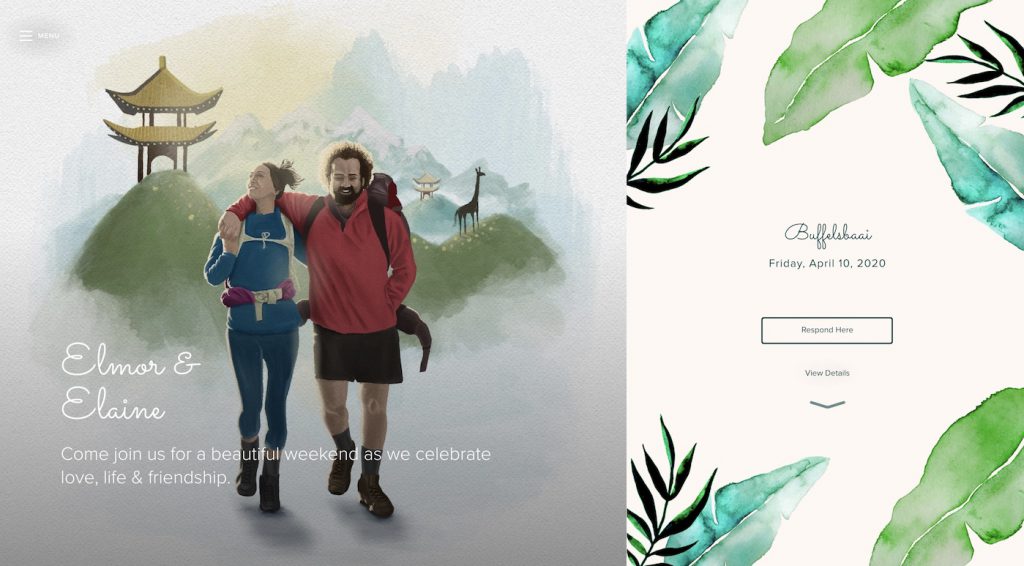 Elmor and Elaine's portrait was created for them by their close friend, the artist David Correia, and shows their adventurous spirit and love for travel.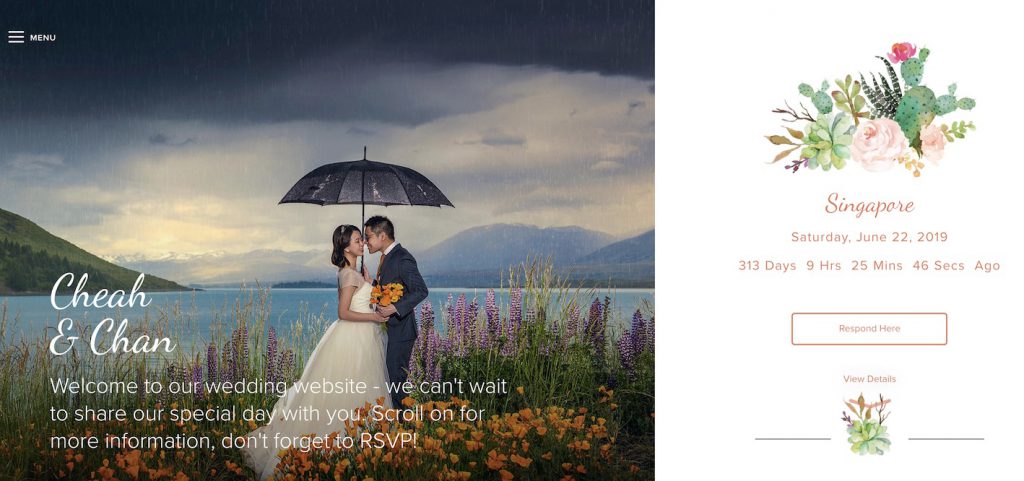 Cheah and Chan's enhanced wedding website photography with saturated colors is nothing short of dreamy.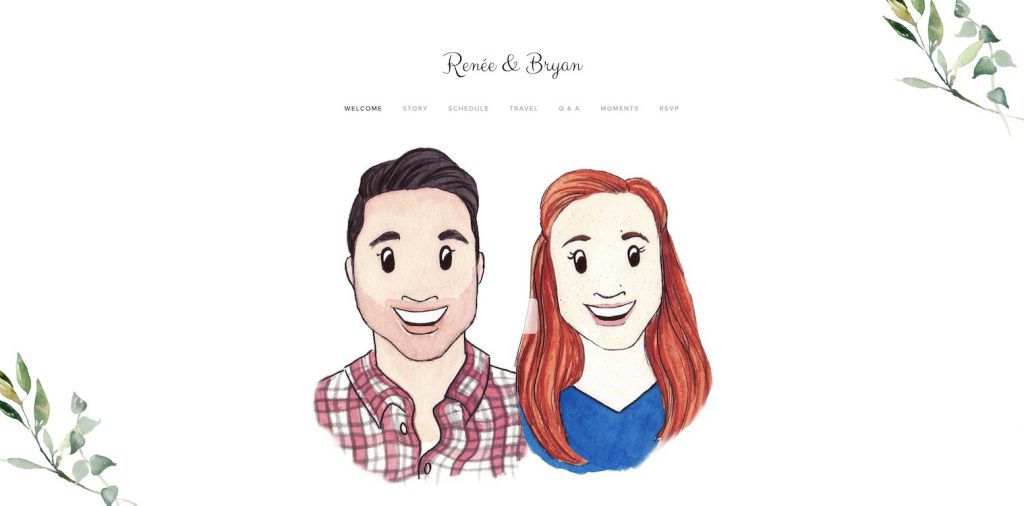 Renee and Bryan used playful portraits of themselves in lieu of photography.
Showcase Your Destination
Whether you're having a destination wedding or want to convey the vibe of your wedding location or venue, a theme that reflects your wedding locale sets the tone for your event.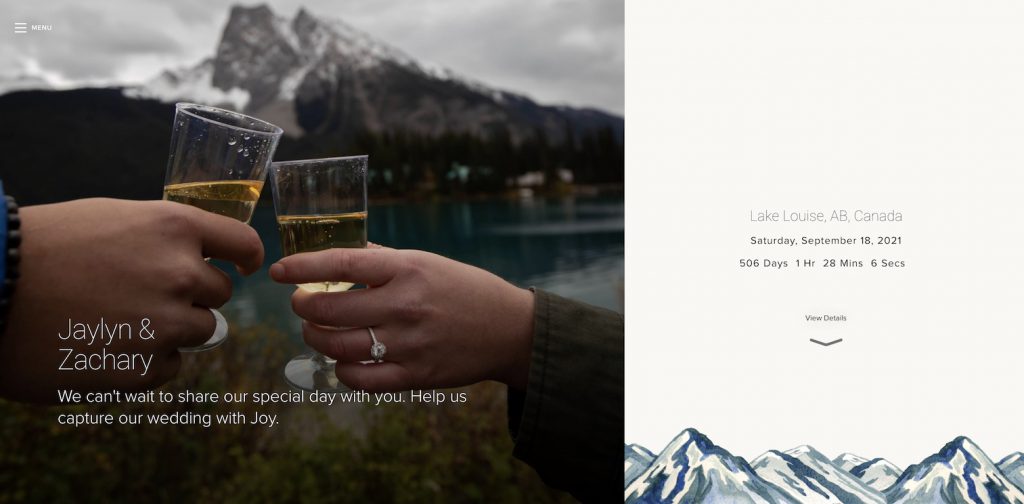 Jaylyn and Zachary's mountain website theme and image selection are perfectly fitting for their Canada wedding. Plus, their photography choice shows off Jaylyn's stunning ring!
Share Your Love Story
These couples used their wedding website to share their love stories with their guests, melting our hearts one webpage at a time.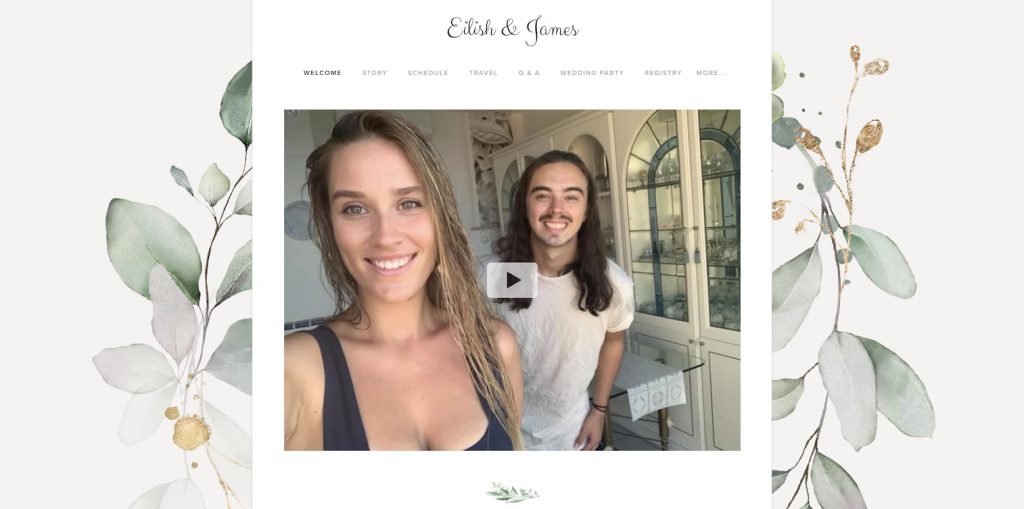 Eilish and James used their website welcome page to share their proposal video.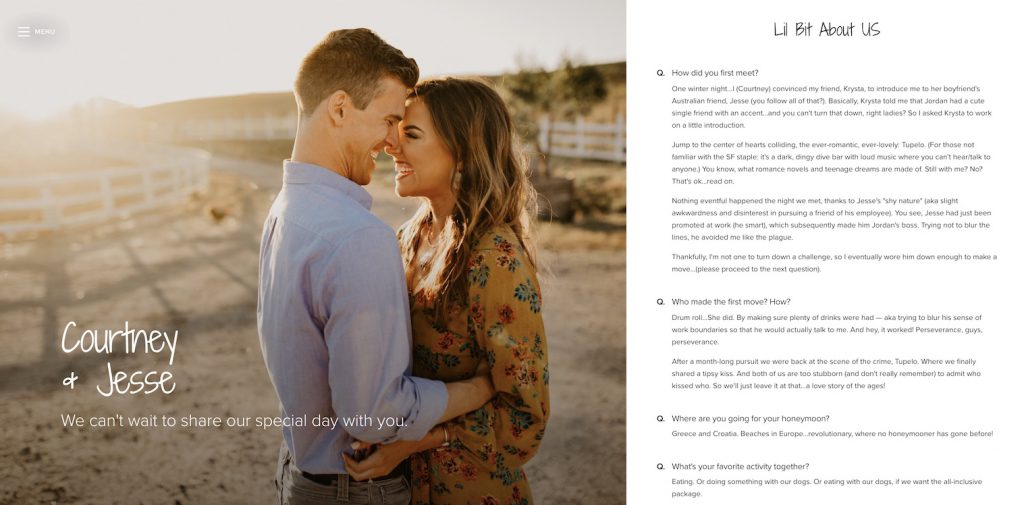 Courtney and Jesse customized their 'Our Story' website page to reflect their personalities. Plus, their picture is worth a thousand words on its own!
Justina and Martin shared the rundown of their relationship in their welcome message. Love at first website glance!
Get Creative with Your Page Use
Did you know you can customize the names of your wedding website pages, and get as detailed as you want, to suit your wedding needs? These couples personalized their sites to fit the nature of their celebrations.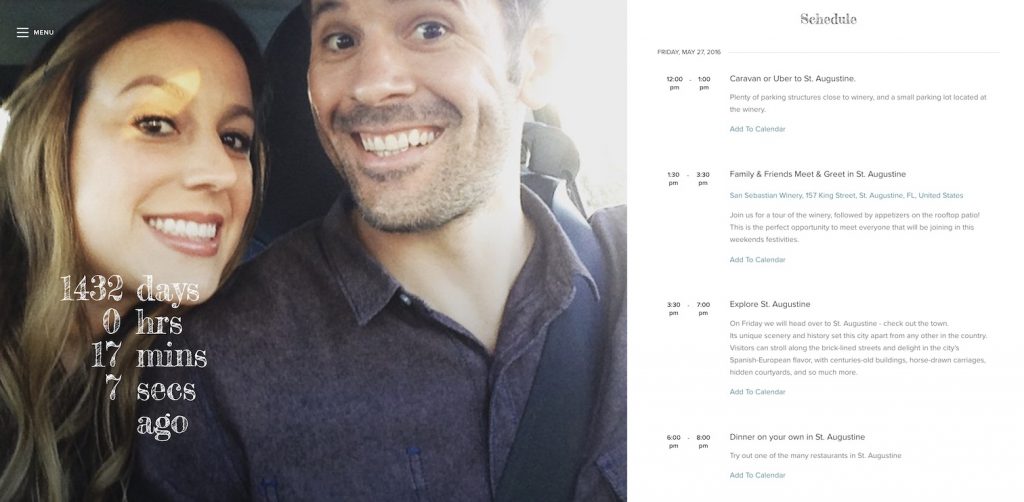 Vanessa and Joe removed everything but the schedule and travel sections of their wedding website, fitting for their Florida destination adventure. The detailed schedule page creates a full trip itinerary for their guests, to ensure their loved ones had an amazing trip. They also featured a countdown on their wedding website, generating excitement and anticipation for their big day.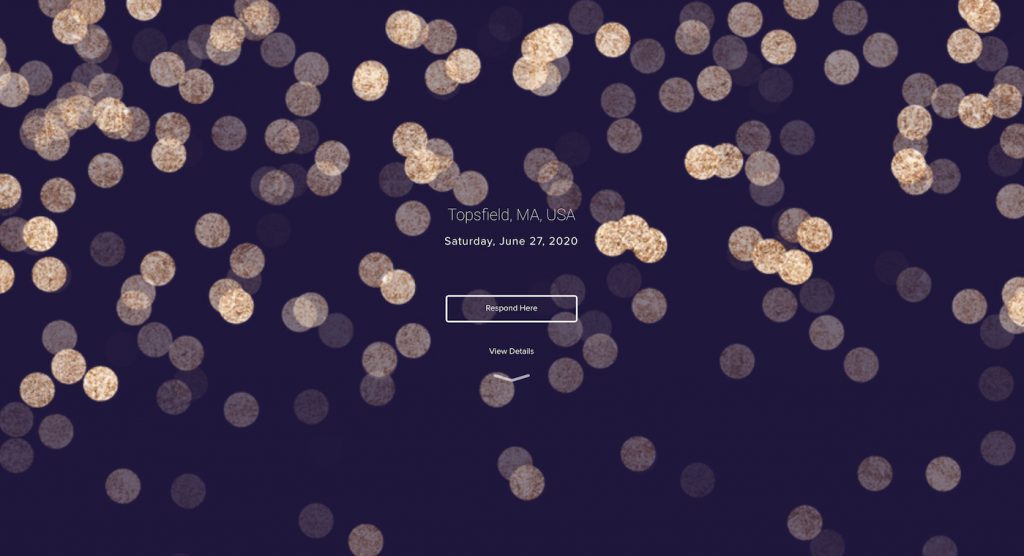 Amberly and Gregory only used their wedding website to collect RSVPs. Given Joy's comprehensive RSVP feature, we don't blame them!
Frame Your Photo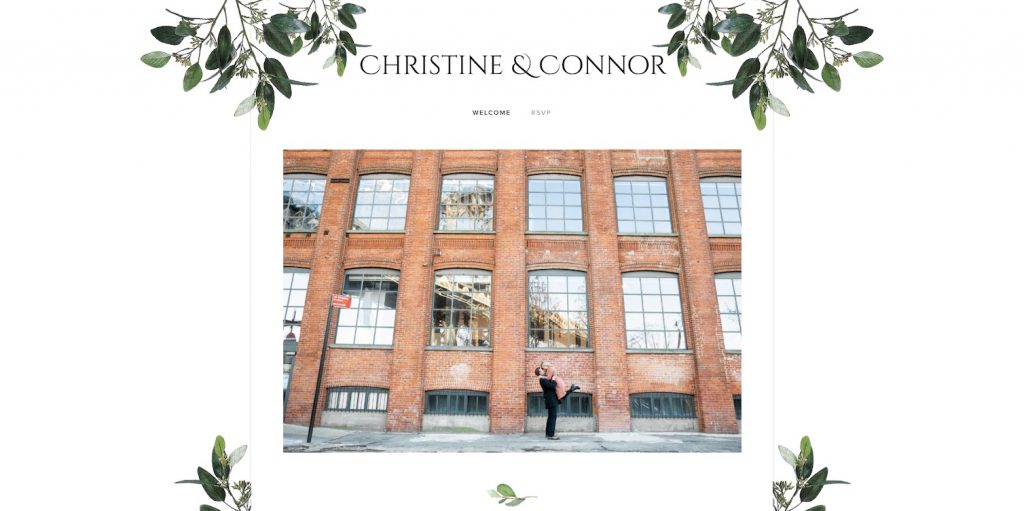 Christine and Connor made their stunning engagement photo pop with a leafy frame. Let your photo do the talking with a website theme that focuses on your portrait.
Monogram It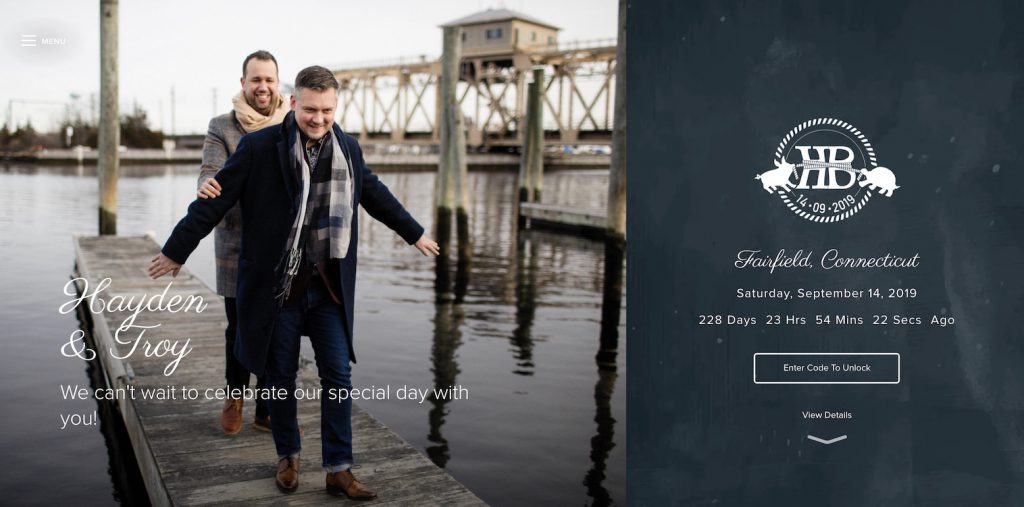 We love a good monogram. Hayden and Troy's monogram wedding crest is the perfect addition to their wedding website. They added their wedding monogram to their website using custom CSS.
Let Your Personality Shine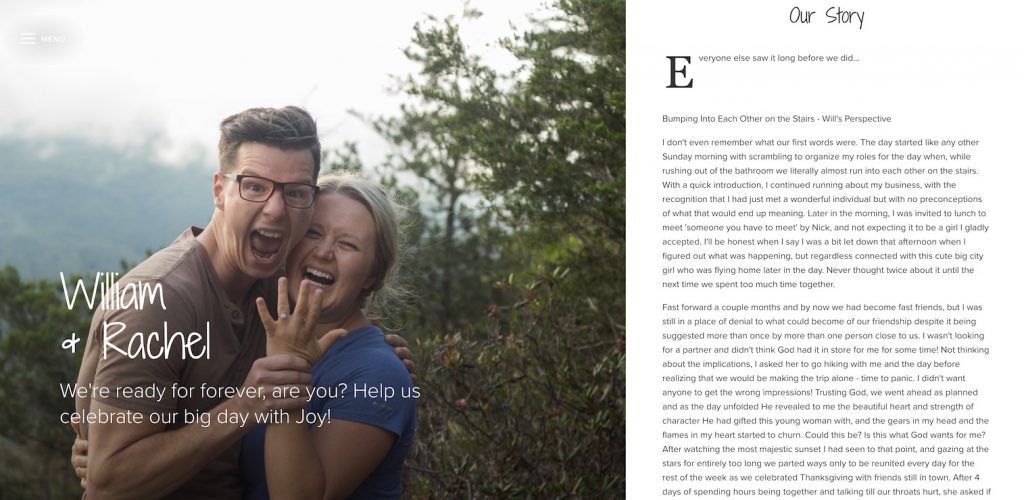 William and Rachel's playful personalities shine through in their wedding website imagery.
Incorporate a Video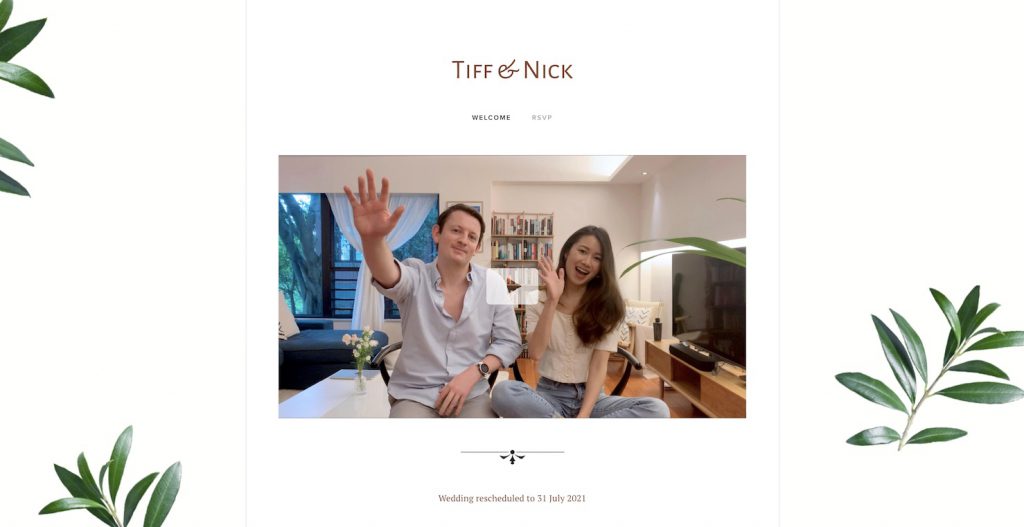 Tiff and Nick created a video message to their guests, giving their wedding website an even more personal nature.
Share a Meaningful Quote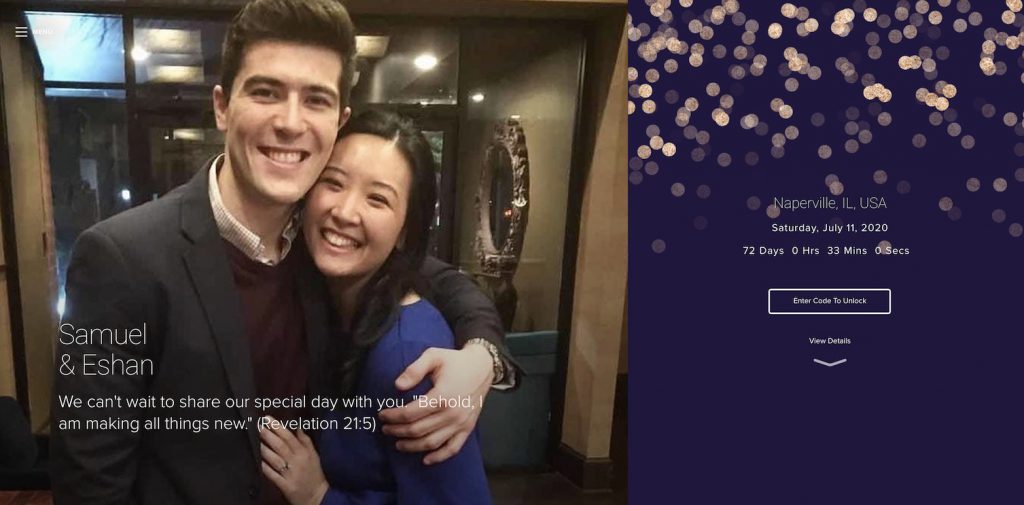 Samuel and Eshan used their welcome greeting to share a meaningful quote with their guests.
Show Off Your Rings
Naomi and Jonathan showed off their custom wedding rings on the welcome page of their wedding website.
Share Your Creativity
If you want to share your style and creativity, send your wedding website our way. We'd love to see it!
Haven't started creating your wedding website yet? While we love the creativity of designing your site, Joy wedding websites also offer many useful tools to help you plan.
Build out your wedding schedule page to keep guests in the loop of the times and details of each of your wedding events and celebrations.
Add FAQs to your wedding website to share key details with your guests such as wedding dress code, parking instructions, etc. A detailed FAQ page will save you time answering guest questions, and is especially helpful if travel is required for your wedding.
Include a travel tips section to share helpful travel information with your loved ones.
Add Joy's booking assistant feature to your site to let guests book accommodations for your wedding directly from your wedding website.
Link all of your wedding registries, whether for wedding gifts, cash funds, or charitable contributions, from your Joy wedding website for guests to easily access.
Allow guests to access the 'Moments' photo album of your wedding website. This is a shared album that all guests can add photos to, and like and comment on the photos, creating a fun, interactive wedding album.
Use Joy's guest list manager, a helpful tool that lets you organize your master guest list and any sub-lists for related wedding events like your rehearsal dinner.
Send free, online save the dates, invitations and messages to all your guests or certain groups of guests. Or, order printed versions of your wedding stationery through Joy's print partners.
Track responses with Joy's RSVP feature, which helps you collect RSVPs for all of your wedding events, allows you to customize your questions and ask follow up questions such as meal selection, and updates responses within your guest list in real time.
Plan on the go with Joy's mobile app, which also serves as a handy tool for guests to download to keep all your wedding details at their fingertips!
For an easy, free way to create a wedding website and app that expresses your unique personality, create your Joy website today.
Up Next: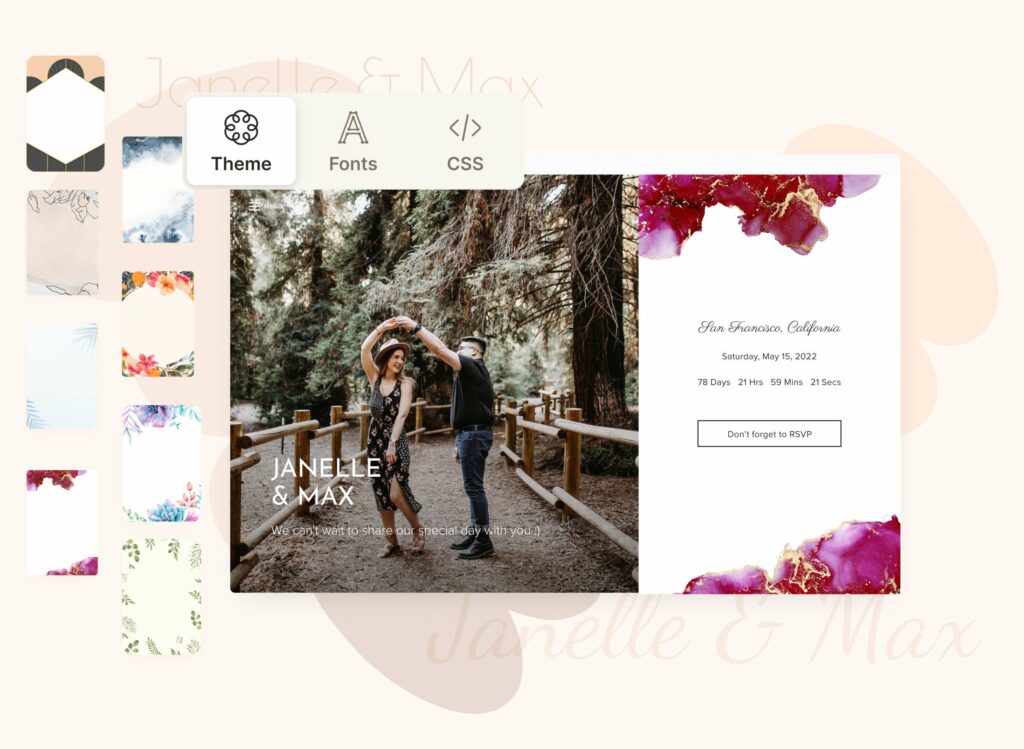 Set up your wedding website in minutes with design options to make yours truly unique.