Your wedding photography will live on long after your big day, and you only have one chance to get it right. Communication is crucial, advance planning is essential, and timing is critical to the success of your wedding photos. We partnered with renowned wedding photographer Steve Steinhardt of Steve Steinhardt Photography to offer tips on creating a wedding photography timeline — plus, a timeline template you can reference when putting your own together.
"Ultimately, the timeline caters to family portraits, bride-and-groom portraits, and the ceremony. Everything else is documentary by nature," Steinhardt says. Read on to discover what you need to know before creating a personalized timeline, and how to pave the way for stress-free wedding photos.
What to Consider Ahead of Time
Photography style
There are several different styles of wedding photography, and the one you chose could have a slight impact on time frames. A photographer shooting with film will take breaks to swap out rolls, while a photographer with a dramatic style will need time to set up and take down lighting equipment. A quick conversation with your photographer about any factors that influence timing is highly recommended.
Potential backdrops
Steinhardt advises to let your photographer choose the shooting locales because "the photographer will know what's best for lighting and convenience."
But if you must have family photos taken with a certain background, let your professional know ahead of time. "They may need to augment the light or bring in additional assistants to help make it happen," Steinhardt explains.
The advantages of a 'first look'
A 'first look' isn't for everyone, as some couples want the first time they see each other (in full wedding attire) to take place during the walk down the aisle. But according to Steinhardt, a 'first look' provides an opportunity to capture a unique moment of the day, helps relieve anxiety, and allows you to get some extra bride-and-groom photos immediately after.
"If you skip it, then you must adjust the timeline so the photographer has time to shoot bridal portraits, family photos, and [the] bridal party," Steinhardt says. "It could affect your post-ceremony timeline by up to an hour, and if things are running late, you'll be cutting into photos with the best light of the day."
A wedding photography checklist
In addition to communicating your must-have images to your photographer, a wedding photography checklist helps guide you in planning enough time to get all those poses and moments captured.
Early communication
Getting your photo subjects all on the same page requires early communication. Once you've outlined your timeline, share it via email with your wedding party and family members so they know ahead of time when and where to meet for portraits. Plan to have printouts of the timeline ready; this way, your wedding planner can hand them out the day-of in case anyone has trouble accessing their email onsite.
Travel time
If you're shooting at various different venues — for example, a hotel suite, a ceremony site, and a separate reception site — be sure to allocate time for travel between locales.
Category Time Frames
Attire and other details (30 minutes)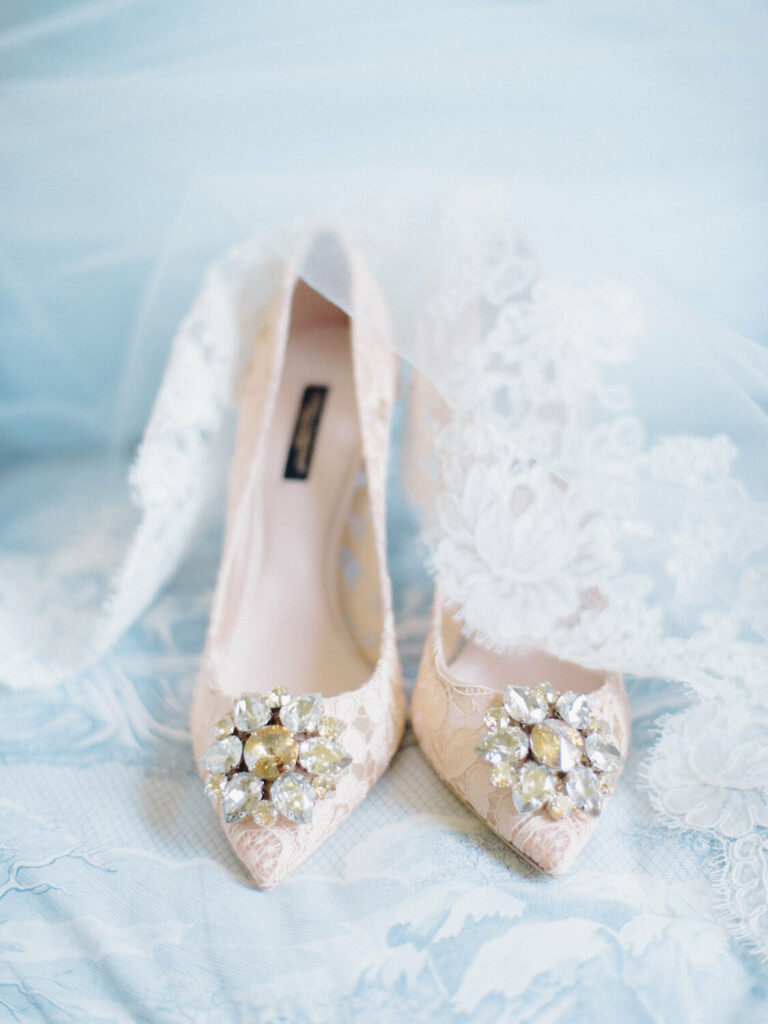 Images of your wedding details are absolute essentials, so having the items in one place is a smart move for keeping your timeline on track.
"Gather all the details and have them in the bridal suite at the beginning of the day," Steinhardt says. "Bring everything! I wouldn't recommend setting them up yourself, as the photographer will know the best place for lighting and convenience. Just have everything ready to go before they arrive."
Steinhardt also points out that shooting these details shouldn't eat into the photo time devoted to capturing moments, so plan to have your photographer tackle this before beginning your 'getting ready' shots.
"Usually, I make that my time — I don't charge the client for that. I just show up early and set these shots up before my scheduled start time."
Check with your photographer in advance, though, as they might have a different policy.
Items the bride should have on hand include:
Wedding dress (steamed and ready to shoot)
Veil
Shoes
Jewelry
Engagement and wedding rings
Bouquets
Sample of the invitation suite
Vow book
Sample of guest welcome bags
Items the groom should have on hand include:
Groom's accessories
Boutonnieres
Vow book
Getting ready (60-180 minutes)
"Typically, we see this as the time before the bride puts her dress on," Steinhardt describes. "One hour before the bride puts her gown on is standard, but anywhere from 1-3 hours is common."
Steinhardt also points out that the room where the bride and bridesmaids are getting ready can sometimes get hectic on the day of the wedding. To keep things running smoothly, "do your best to keep all the messiness confined to one area, and preferably away from any natural light sources like windows and doors."
Additionally, in Steinhardt's experience, hair and makeup always run longer than expected.
"Have a plan on when you want the hairstylist and makeup artist to be finished, and add 30 minutes to an hour of padding. Otherwise, your whole timeline could get out of sync really early in the day."
A key moment to capture is the first glimpse that a father has of his daughter as a bride, so make sure dad has a call time for this special shot.
Individual portraits (45-60 minutes)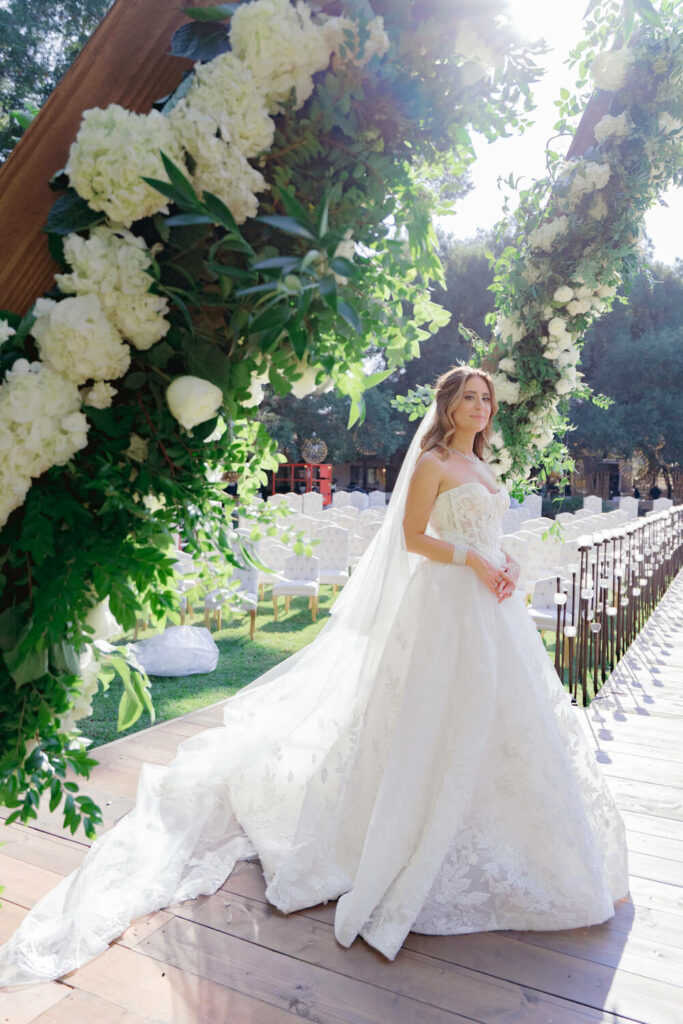 It's best to capture the bride and groom individually earlier in the day, when everyone's fresh and in the calm before the storm.
'First look' and couple portraits (60 minutes)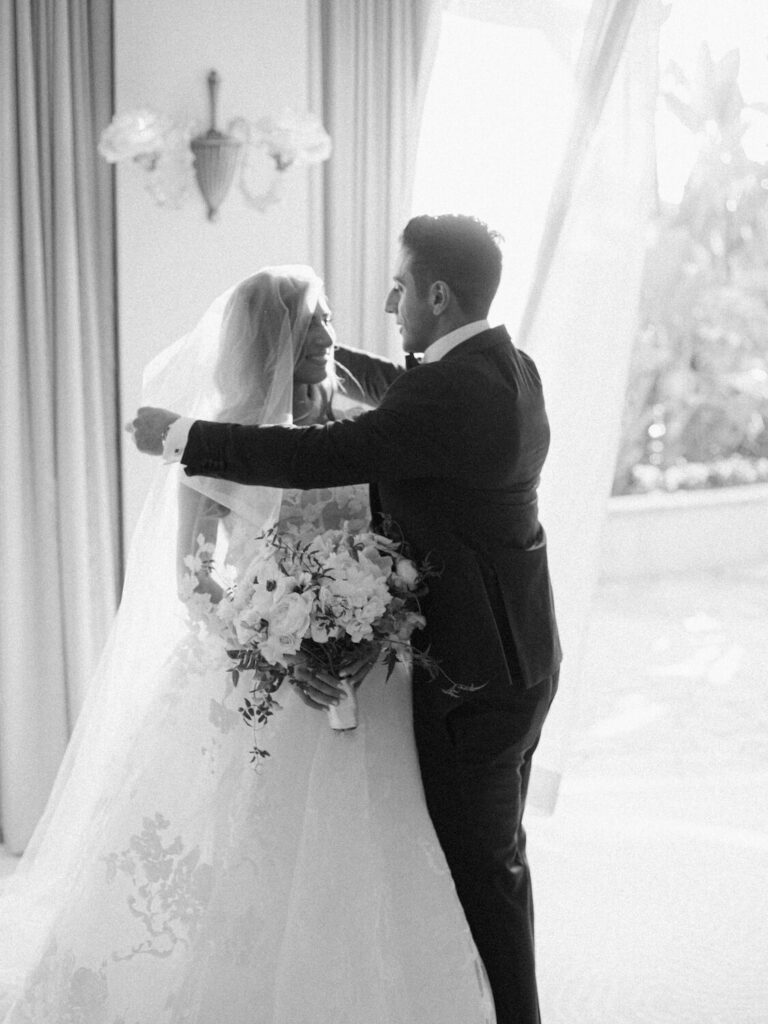 The actual 'first look' will only take a few minutes, but this is the perfect part of the day for capturing couple shots, too. If you have pets involved in the wedding, this is a great time to include them.
Wedding party portraits (30-45 minutes)
The length of this session will depend on the size of your wedding party. It includes shots of the bride with her bridesmaids, the groom with his groomsmen, and the group as a whole in both traditional and creative poses. Individual portraits of the bride and groom with each of their attendants are also an option, but be sure to make this decision in advance so the appropriate amount of time can be allotted.
Family portraits (30-45 minutes)
Portrait time for family depends on how many people are included in your session.
"It's about 3-4 minutes per grouping," Steinhardt says. "Be sure to add some padding for elderly relatives or family members who need to be corralled."
There's also no need to try to stagger people using separate call times.
"Just have one time to meet. Family [has] no problem mingling while photos are being taken, so don't worry about them being bored. They'll be taking pictures of one another as it's all very exciting for them."
Ceremony details and cocktail-hour decor (30 minutes)
"All ceremony details are shot before the ceremony, right after photos conclude and the bride hides away before early guests arrive," Steinhardt explains. "All decor for the cocktail hour is shot either before the ceremony (alongside ceremony details) or immediately after the ceremony."
Your family session will need to finish half an hour ahead of your ceremony start time with extra time allotted to accommodate travel to the ceremony location, if necessary. If the ceremony and cocktail hour will take place in different locations, a second photographer can leave the ceremony early to get a headstart on shooting cocktail hour decor before shooting the reception.
Post-ceremony photos (30 minutes)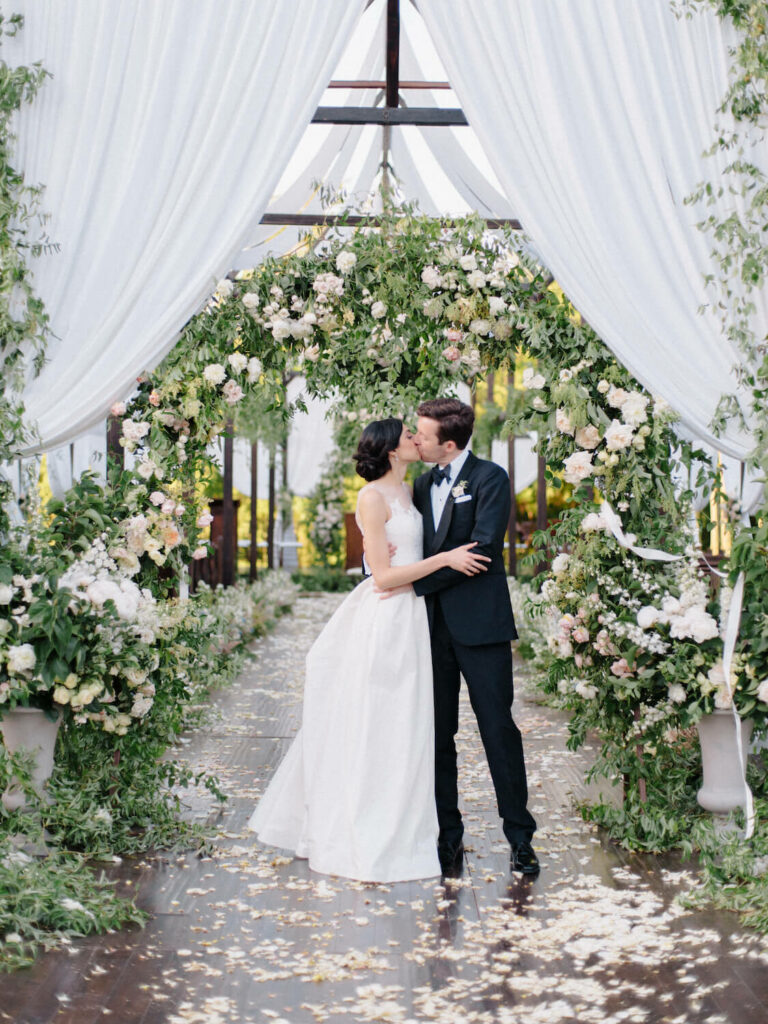 You'll want to capture your first moments as a freshly-married couple. If you're taking transportation to the reception site, shots of the two of you in and around the vehicle are prime photo opportunities. If you're not having a 'first look,' double the allotted time and plan to include any family shots that weren't captured earlier.
Reception decor (30 minutes)
Photographers tend to shoot the reception decor during cocktail hour before the space is filled with guests.
"Usually we start with smaller details like the signage, flowers, [and] menu before moving on to full room shots," Steinhardt says. "Some hiccups are when the reception isn't ready to be shot until 10 minutes before guests are invited in, so the photographer needs to work with the planner on the day-of to momentarily delay guest entry until they have everything shot."
Cocktail hour and reception photos (throughout the evening)
The rest of your wedding photos will be shot journalism style as events unfold according to your wedding reception timeline.
"Cocktail hour is more about capturing the ambiance of the party and documenting the guests, their outfits, and moments that happen," Steinhardt says. "Food and drinks are typically the only details that are captured at this point, so there's no need to include specific shot times in your timeline."
The same goes for your reception. Your photographer will document the highlights (like the grand entrance, first dance, cake cutting, and more) during the flow of events, and spend the rest of the time capturing table shots of guests, loved ones on the dance floor, and general party photos until it's time for you to make your grand exit.
Wedding Photography Timeline Template
No two wedding photography timelines are the same, but by keeping in mind the above factors and tips, you can create a personalized schedule that keeps everyone informed and ensures all of your wedding highlights are captured beautifully. To get a sense of what yours might look like, below is a timeline template based on a medium-sized wedding that includes a 'first look' and takes place at a single venue.
10:30 am – 11:00 pm: Attire and Other Details
11:00 pm – 1:00 pm: Getting Ready/Father's 'First Look'
1:00 pm – 2:00 pm: Individual Portraits
2:00 pm – 3:00 pm: 'First Look' and Couple Portraits
3:00 pm – 3:45 pm: Wedding Party Portraits
3:45 pm – 4:30 pm: Family Portraits
4:30 pm – 5:00 pm: Ceremony Details and Cocktail-Hour Decor
5:00 pm – 6:00 pm: Ceremony
6:00 pm – 6:30 pm: Post-ceremony Photos
6:30 pm – 7:00 pm: Reception Decor
7:00 pm: Cocktail Hour and Reception Photos