As the saying goes, "a picture is worth a thousand words." Within the realm of engagement photography, this timeless adage holds true. But while love may know no bounds, pricing does come with its considerations — and it's not always black and white. Every love story is unique, as is the investment spent to capture these cherished moments. If you're wondering how much you can expect to pay for your engagement photos, this comprehensive guide explores average pricing and factors that influence the cost, from picturesque locations to the expertise of professional photographers across the country.
Here's How Much Engagement Photos Cost
So, what does it cost to tell a love story frame by frame? We spoke to wedding photographers across the U.S. about the nuances that shape the cost of today's engagement photo sessions to find the answer. Here's where romance meets reality: When it comes to engagement photos, you can expect to pay anywhere from an understated $200 to more than $3,000.
We know — that's a big range. There are a number of factors to consider when it comes to how much you'll pay for your engagement photos. To help you budget, here's a look at what can bring engagement photographer prices up or down, from geographical location to the types of photographs you choose.
Factors That Affect the Average Cost of Engagement Photos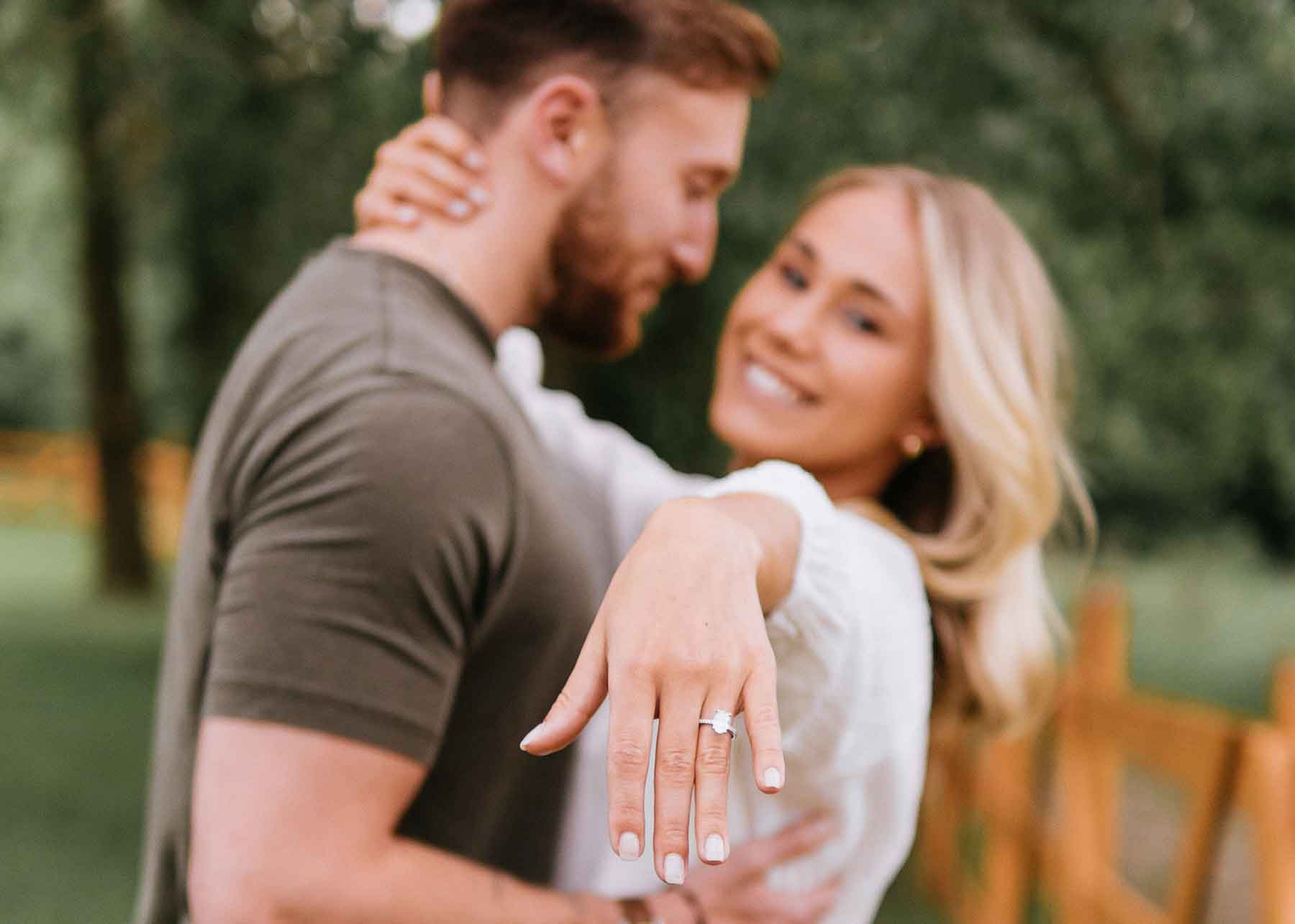 Location
The wide range of pricing can be attributed to myriad factors, with location having one of the greatest impacts. In areas like New York City or Los Angeles, most wedding vendors charge a premium for their services because daily expenses and the cost of living are typically higher. As a result, photographers must charge their clients accordingly.
Take Southern California or Boulder, Colorado, for example: An hour-long engagement shoot may cost $500 to $1,000. In more suburban areas like Asheville, North Carolina, it's typically $400 to $750.
If you head to major metropolitan areas on the East Coast, such as New York City or Washington, D.C., you'll likely find a steep increase. Anji and Pete Martin of Potok's World Photography, based in the greater D.C. area, share that $200 may get you a student or novice photographer for your engagement photos. Typically, prices in this region range between $1,000 and $1,500 per shoot.
Experience Level
When searching for a professional photographer, you'll find that experience levels, reputations and service demand will vary. All these factors can influence the cost of an engagement shoot. Expect to pay higher rates for the services of a well-established professional or if your budget calls for a more affordable option, search for a talented newcomer looking to grow their portfolio.
Multiple Locations
If you're seeking to capture your love in multiple settings, that could naturally lead to higher expenses. A local photoshoot with more than one destination within a 45-minute to two-hour drive might incur a discretionary per diem for gas and meals, ranging from $30 to $100. If the location requires a three-hour drive or more, you may need to account for an overnight stay at a hotel or Airbnb, along with meal and gas expenses.
Romantic Destinations
Breathtaking backdrops, such as stunning beaches, picturesque mountains or iconic landmarks, can make your engagement pictures unforgettable. However, this luxury can come with a high price tag. If your dream photoshoot destination requires travel, factor in additional charges for flights, accommodation and meals, plus potential time off from work. Pro tip: Be sure to research rates for local photographers in your engagement shoot destination, as they may differ drastically from pricing back home.
Retouching
After capturing the images, photographers put their skills to work during the editing process. Basic edits like color enhancement and lighting adjustments are often included in engagement photo packages. More complex retouching such as background removal or blemish corrections may require an additional investment.
For final delivery, engagement photographers carefully select the images that best represent the couple's love story. Each photo must showcase you and your partner in the best light, both technically and aesthetically. The process can be time-consuming, and the level of expertise and attention to detail in editing contribute to the overall cost.
High-Resolution Images and Deliverables
Engagement photos are more than just beautiful memories; they serve practical purposes, too. High-resolution digital images from your engagement shoot can be repurposed for various pre-wedding necessities, from your wedding website to save the date cards, wedding decor and even the final invitations. Many professional photographers guarantee a minimum number of high-resolution digital images, typically ranging from 35 to 70.
Additionally, photographers often include digital downloads from an online gallery as part of their packages, but engaged couples can usually request printed photos and albums at an extra cost. The price of images may vary depending on the size, quantity and quality desired.
Timing (But It Won't Always Cost You Extra)
The right timing and lighting can make all the difference in engagement photos. Professional photographers often schedule sessions during golden hour (just after sunrise or before sunset) to make the most of the soft, warm light. Golden hour sessions do not typically incur additional fees as the priority is for photographers to capture the best moments for their clients — but that doesn't mean you won't pay in a different way. This desirable timing can lead to waitlists, with photographers booked weeks or months in advance. If golden hour is a priority for you, plan ahead and discuss options with your chosen photographer immediately to secure your preferred time of day.
Ways to Save Money on Engagement Photos
Book a Package Deal
If you're looking for a seamless wedding photography experience, some pros offer packages that bundle photos for your big day with engagement party coverage as an add-on. This option provides a unique opportunity for you to get to know your photographer in a more relaxed setting before your wedding day.
While add-ons like that typically increase the overall cost of wedding photos, some photographers offer wedding photography packages that include an engagement shoot for less than you would pay booking a-la-carte. It's a package deal that can be beneficial for both the couple and the photographer. As a visual storyteller, SoCal's Valerie O'Reilly of Valerie Lendvay Photo notes the importance of getting to know the couple prior to their big day: "I want the couple to feel comfortable with me and in front of the camera before I follow them around for 10 hours on one of the most emotionally charged days of their lives!"
Take Advantage of Special Offerings
Photographers often tailor their services to meet the unique preferences of each couple. While you may not save a lot of money, you can use your engagement photoshoot to enjoy a fun activity that speaks to both of your passions. Some professional photographers, like Nina Larsen Reed of Larsen Photo Co., offer specialized engagement sessions in picturesque places like Boulder, Colorado. Her "adventure sessions" go beyond the traditional, whether you want to hike through the mountains or go on a walking tour of your neighborhood with your four-legged friend.
Finding the Perfect Fit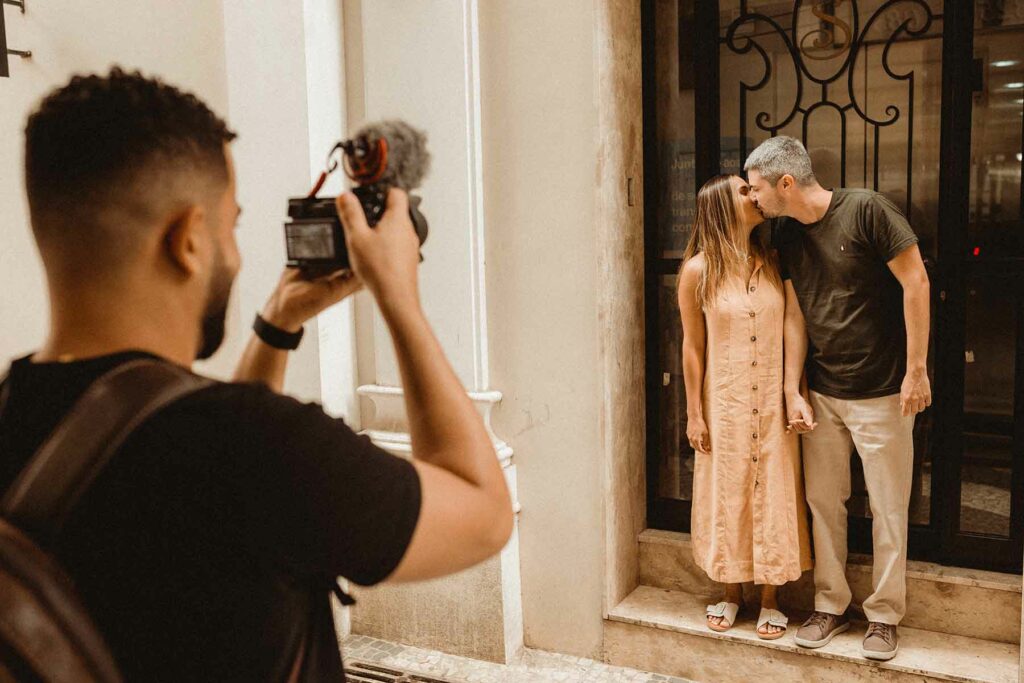 If you're still not sure how these factors will affect your engagement photo cost, start by browsing the FAQ sections on local photographers' websites or on their social media accounts to assess the average price for your area.
While the price is sometimes reflective of the quality, what you'll pay is ultimately dependent upon your vision for an ideal engagement shoot. Review relevant samples from prospective photographers whose styles suit your wedding vibe and reach out for quotes tailored to your needs. Be sure to ask about packages, travel expenses and any add-ons like retouching or prints up front. By providing them with as much information as possible, you're more likely to receive an accurate assessment.
In the end, an engagement photo session is not just about capturing beautiful images; rather, it's a way to tell your unique love story through the art of photography. Though it's a significant investment, these memories will be forever treasured so tell your love story in a way that feels authentic and meaningful to you!A final tip: Check out our favorite summer engagement photos for inspiration on curating your bespoke photography session. Be sure to include your photographer on any potential plans — they'll be your best resource for the ultimate engagement shoot experience.