Summer is known for sunny weather, warm temperatures, and outdoor exploration, and it also happens to be a fantastic season for your engagement photoshoot. With your spirits high from the proposal, how do you ensure this pre-wedding planning experience is a breeze without breaking a sweat?
We spoke with several top photographers across the US — Seattle-based wedding photographer Emily Keeney, San Francisco Bay Area photographer Todd Rafalovich, and Boston-based photographer Julianne Lesinski of Scarlet Roots — for their tips on where to shoot, what to wear, and how to pose for your summer engagement photos. Here are 20 unique summer engagement photo ideas that leverage the season to help you make your engagement photo session enjoyable, memorable, and perfectly you.
1. Make the Location Meaningful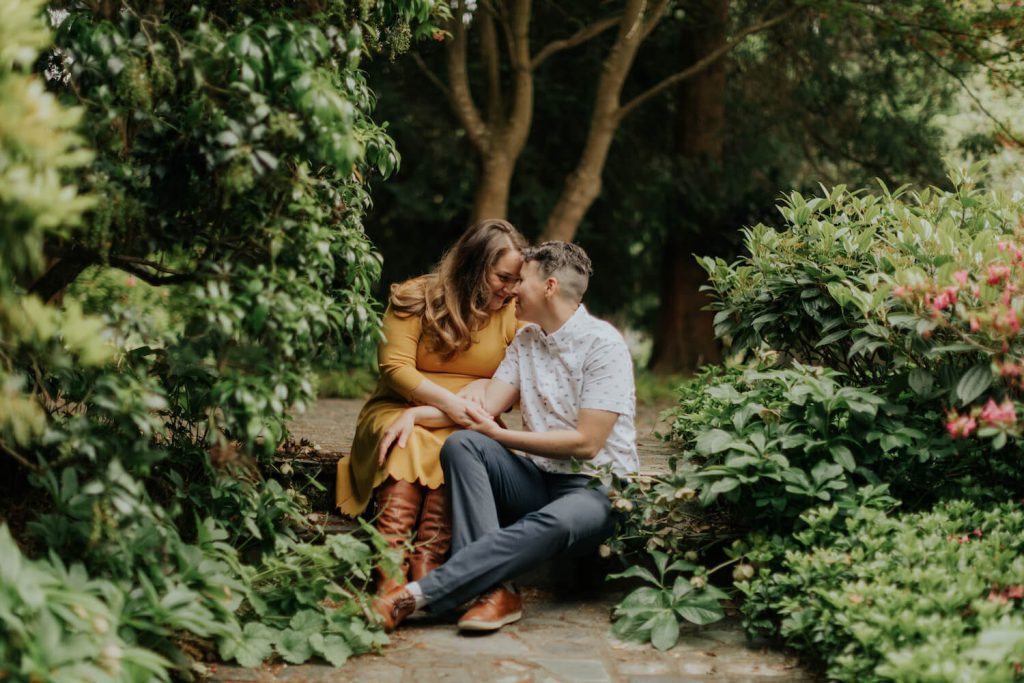 Think about your favorite seasonal spots to visit and how they can be incorporated into your engagement photo session. The location of your first date or the proposal both make for meaningful options, too.
Keeney: "Beth and Blair love going to this local Seattle park with their dogs in the summer, so we chose it as a photo location because it meant something to them. When they look back at these photos, they'll remember not only having a great time at the session but also all the happy memories they made [at the park] together."
2. Wear White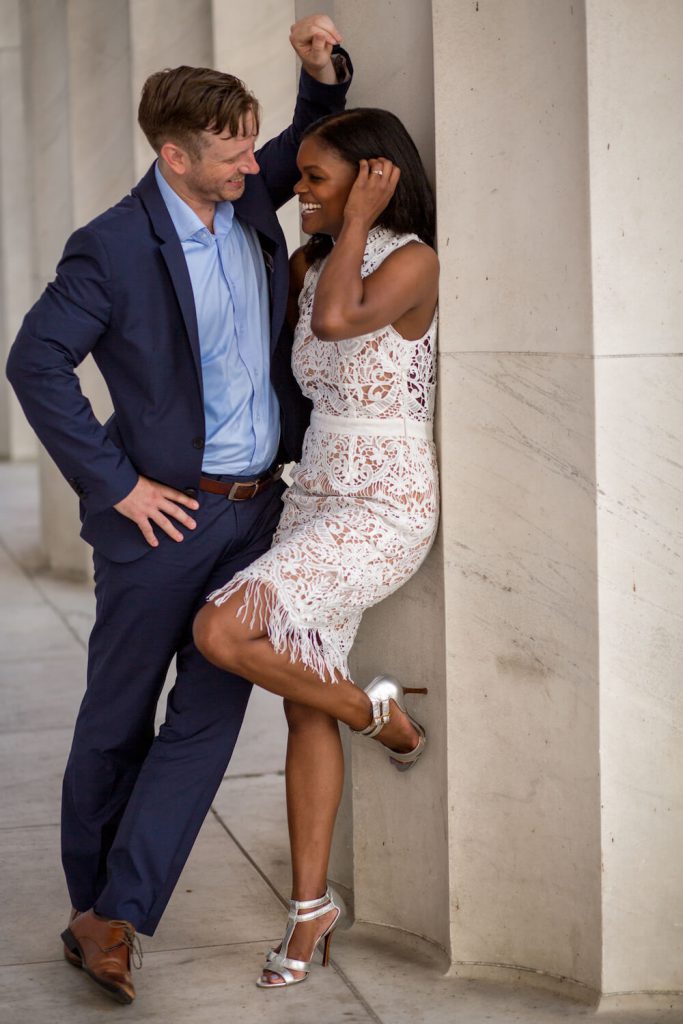 White is practically synonymous with summer, so go ahead and break out your little white dress (LWD) and banish any future confusion about the season your engagement photos were taken. If your fiancé is short on whites, a garment that's a nice shade of blue — a great engagement photo outfit idea for natural-looking shots — is summery and will make them feel comfortable.
3. Head to the Beach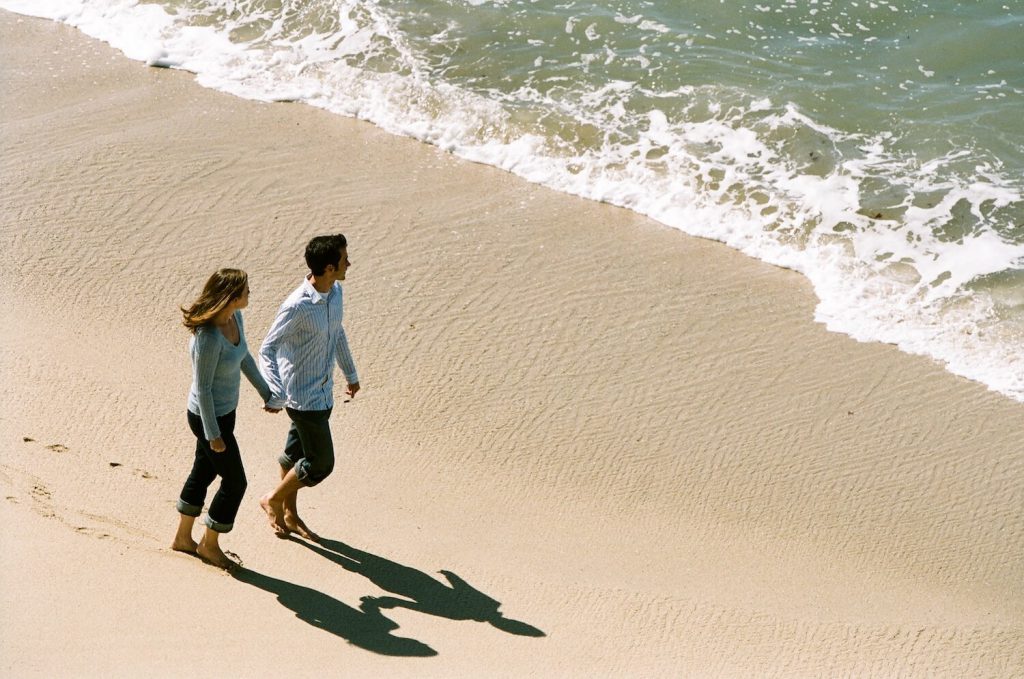 Rafalovich: "This seems obvious, but there are many reasons [the beach] is such a great location, especially during the summer. The light can be fantastic whether it's sunny or cloudy — plus, the reflective surface of the sand creates a lot of bounce light. This evens out the light in most directions and is attractive when photographing people. The beach is also 'interactive.' The couple can be lying down, sitting, walking, and even running, and it looks natural because people do all of these activities on the sand."
Lesinski: "Heading to the beach is always a good idea! Splashing around in the waves, getting your toes all sandy, and sharing a few salty kisses make the beach a perfect setting for a romantic engagement session!"
4. Embrace Movement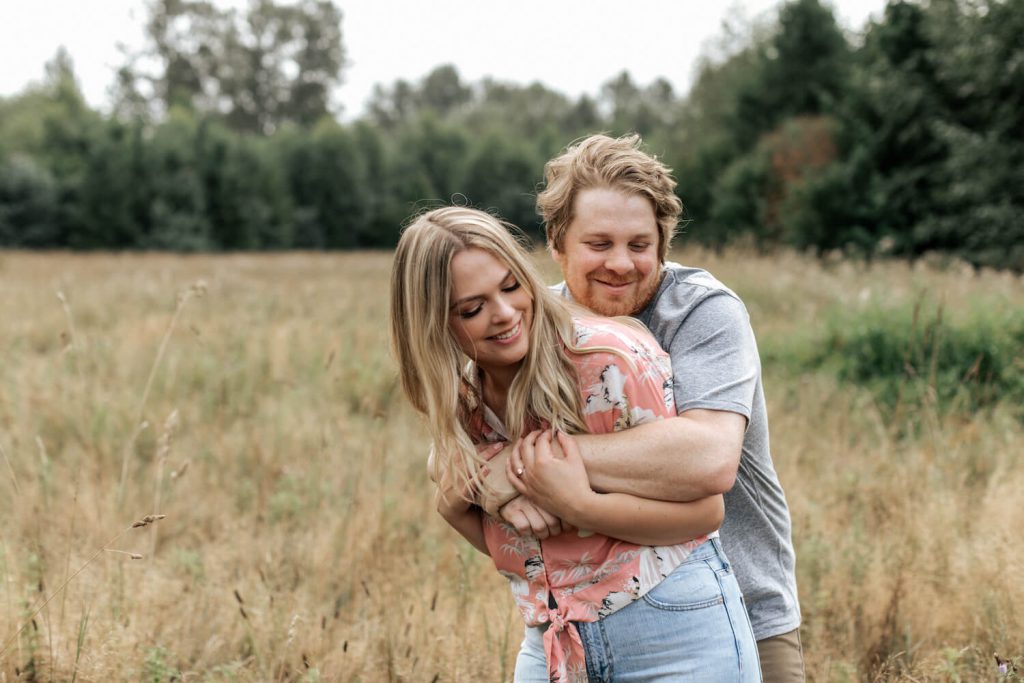 Summer is particularly perfect for movement as you can take part in outdoor activities to create more organic photos.
Keeney: "Jumping into a pose and holding it until the shutter clicks can feel stiff and unnatural. Most people aren't super comfortable having their photo taken, so if that's something you're worried about, it's totally okay! The best thing you can do is to keep moving throughout your session. Movement creates life and feels more natural than holding still."
5. Take Advantage of Crowds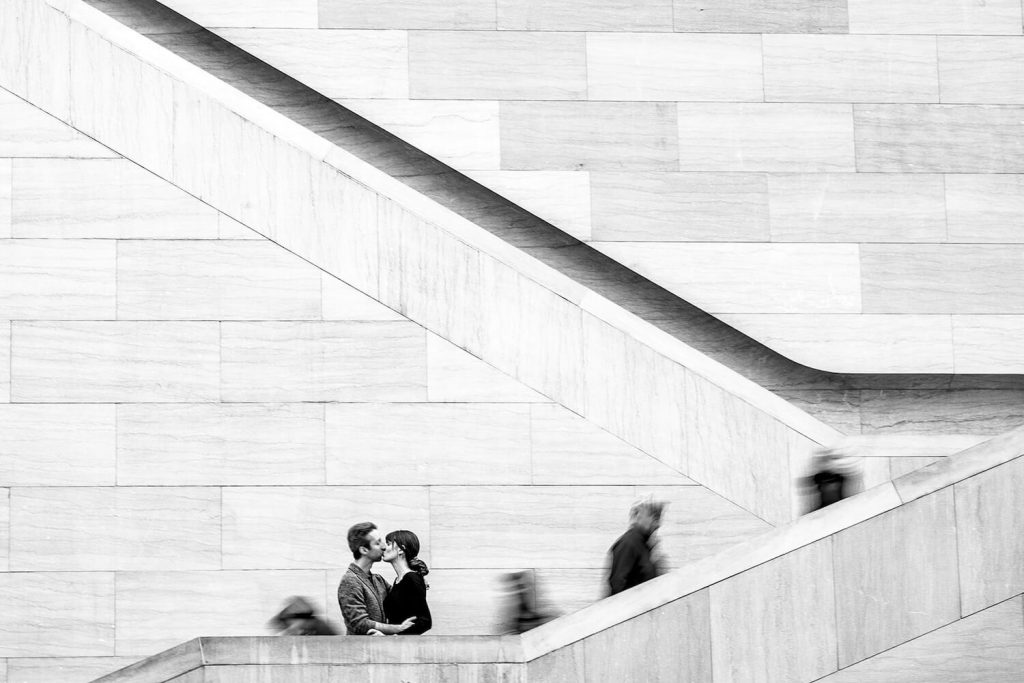 Don't be dissuaded by all the people flocking to outdoor summer venues. Have your photographer use special camera settings to blur out the tourists walking past for a cool, artistic effect that puts the two of you center stage for your summer engagement photos.
6. Seek Out the Mountains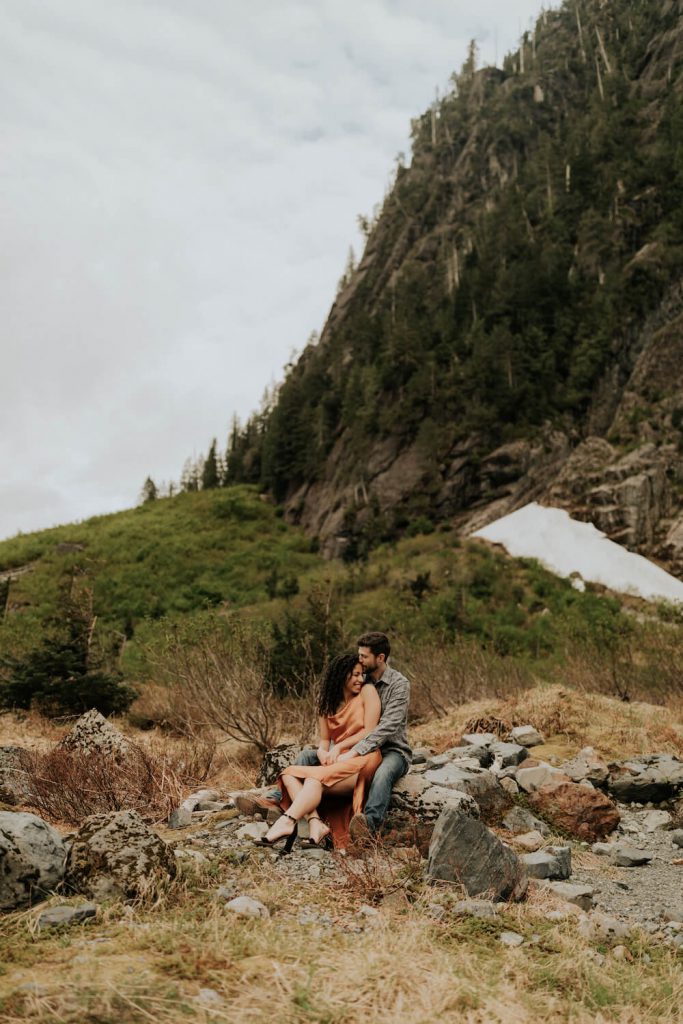 Keeney: "If you want to get out into the mountains, summer is your big opportunity! During the winter months, some of the most beautiful locations are hidden under snow or blocked by road closures, so summer is the prime time to take advantage. Just be prepared you might need to pay your photographer a travel fee if you're really heading out there."
7. Utilize a Boat Dock or Marina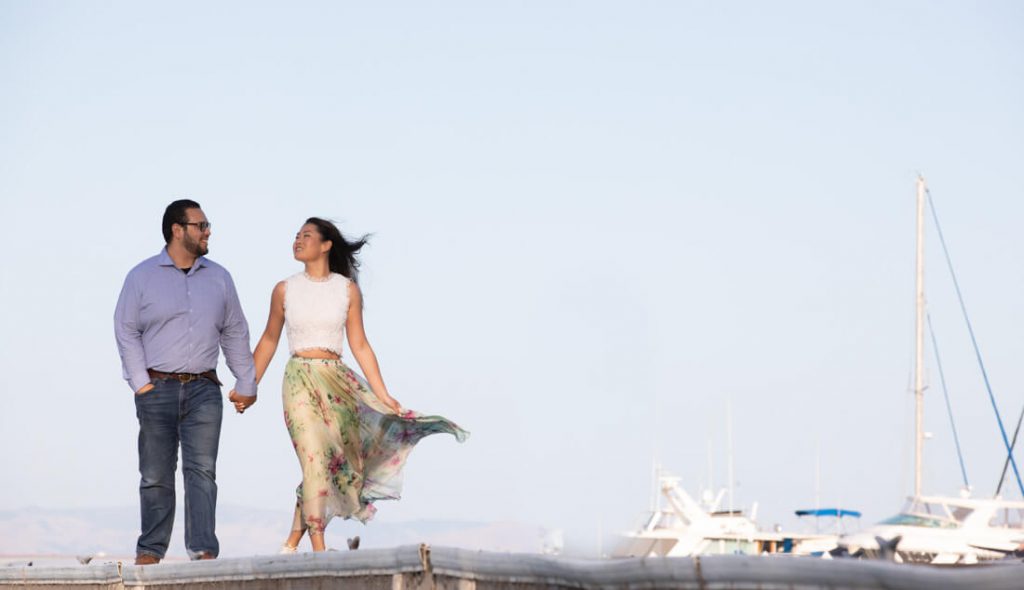 Rafalovich: "Shooting at a boat dock/marina can be very rewarding. The docks and boats lend themselves to different interactions, compositions, and backgrounds, and the light can be nice because of the bounce/reflection off of the water (light surface)."
Because a marina can limit the direction of shooting, especially if it's windy, Rafalovich recommends having a backup.
8. Welcome Wide-Open Spaces
Summertime offers the perfect weather for visiting meadows, parks, and other open areas for your engagement shoot.
Keeney: "Wide-open spaces shot at the edges of the day are always a hit. Some of my favorite photos are from sessions where the location and the direction of the sun do the heavy lifting. A big field is always so romantic, and when you catch it at sunrise or sunset, it illuminates the grass and creates a beautiful glow. Just keep your outfits on the neutral side, and remember to wear shoes that you can easily walk around in on the uneven ground."
9. Bring Your Ring Into Focus
Have your photographer capture a few shots of your new engagement ring as it sparkles under the summer sun's rays.
10. Head to the County Fair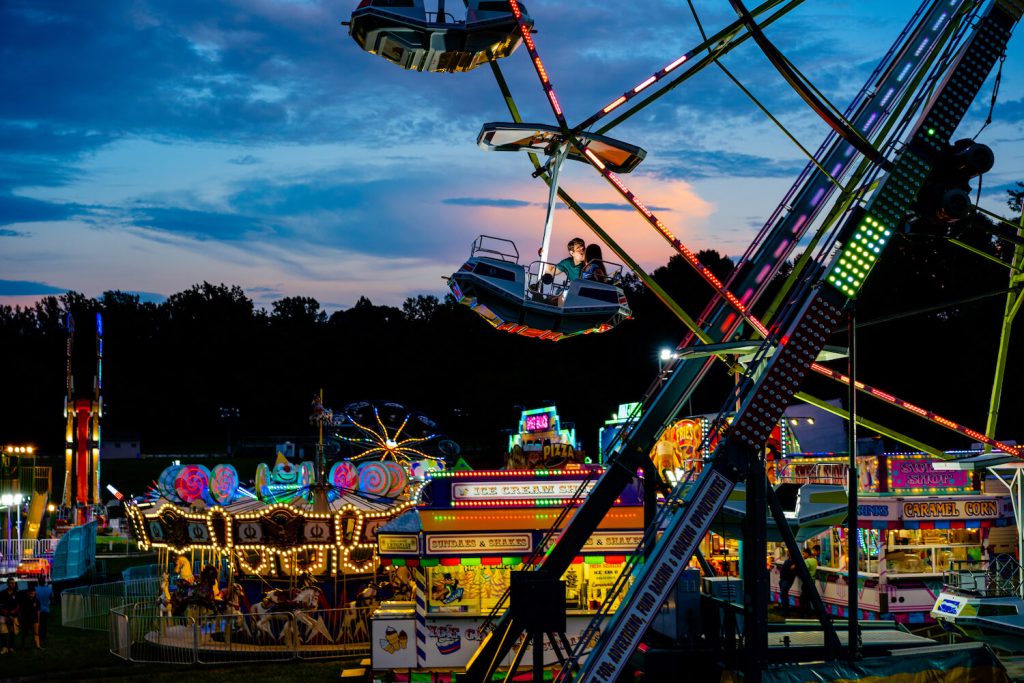 Nothing says summer like a county fair, and the photo ops here are plentiful and full of bright colors and movement. Go when it opens in the morning or head over in the late afternoon or evening to skip the hottest parts of the day.
11. Explore Your Favorite Neighborhood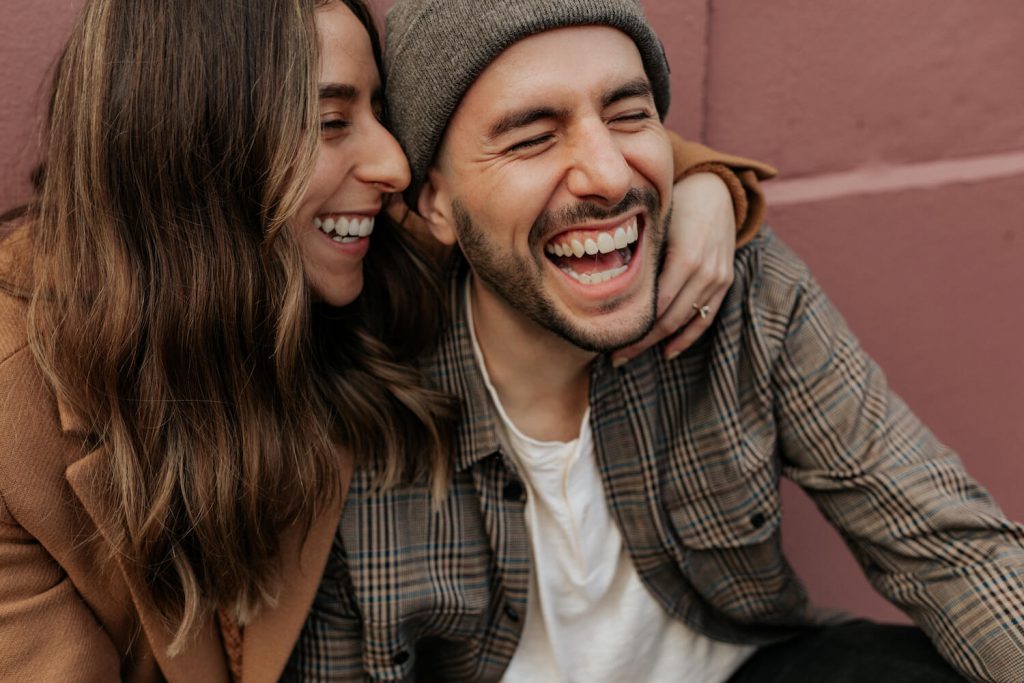 Sunny, clear skies make a walk around your neighborhood perfect for a summer engagement session.
Keeney: "Grab a cup of coffee and stroll, stopping when you see great photo-ops. Don't be afraid to explore alleys and untraditional spots, as sometimes that's where treasures lie! The photo shown here was literally taken in an alley, but the wall behind the couple was just perfect."
12. Focus on the Foreground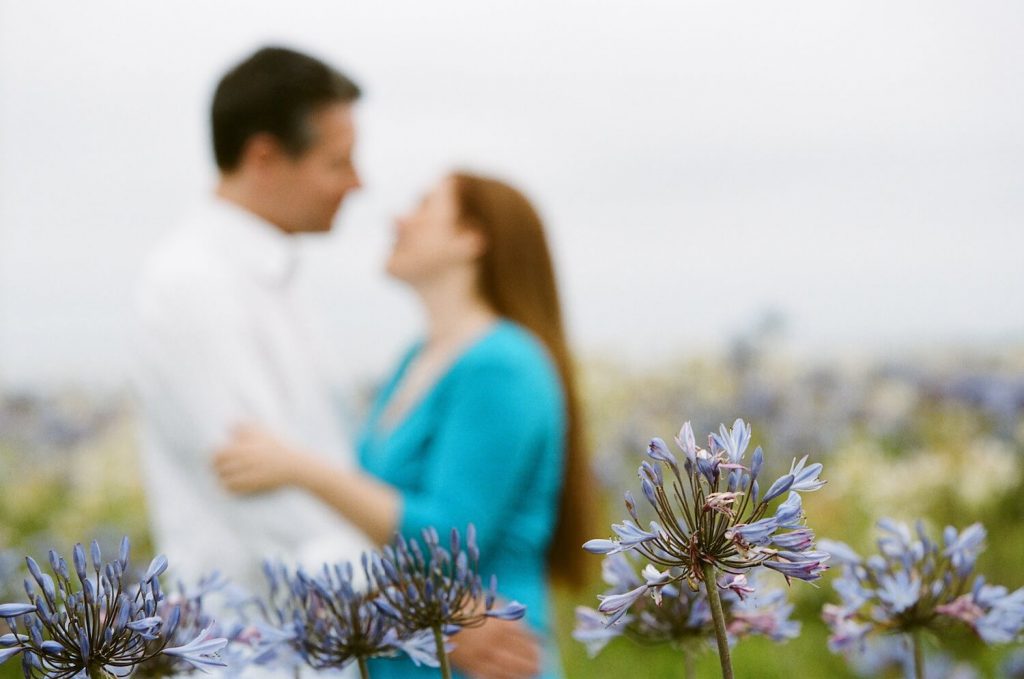 There are plenty of summer flowers in bloom, so consider taking a few snaps that focus on the lush vegetation around you for a colorful dose of the season.
13. Play with Shadows
With the sun so high in the sky, shadows are particularly long in the summer. Work in some shadow poses for an artistic look that stands out.
14. Go Formal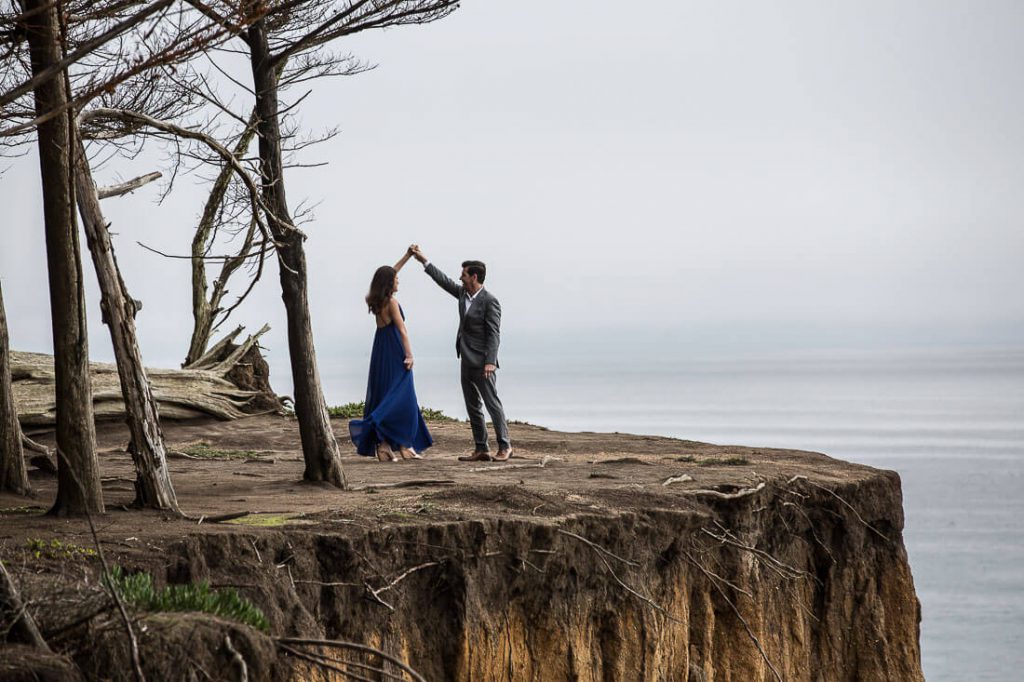 Go beyond tank tops by opting for a formal dress and/or suit that sets the tone for a fancy engagement photo session — an especially unique look contrasting with your surroundings. It's also excellent practice for your formal wedding wear and will set your engagement photography apart.
15. Fit in Running Water
Summer rays dancing off the surface of a river or waterfall make the water look particularly inviting. You can even cool off by getting your feet wet, creating a charming pose for engagement photos.
16. Embrace Props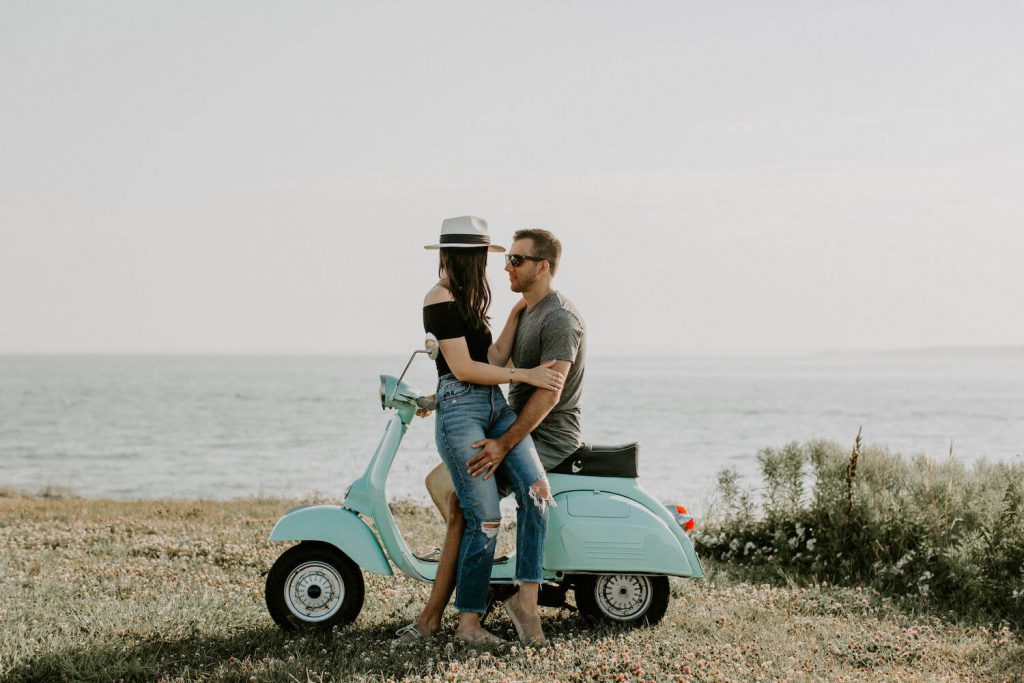 Lesinski: "Incorporating props in your engagement photos are a great way to showcase your personality, interests, and hobbies. Whether it's a hat, your dog, or a baby blue Vespa, props are always welcome!"
Rafalovich, on the other hand, uses props sparingly to put the visual attention squarely on the couple's interaction. But he also recognizes that small props can assist with couples' comfort level in front of the camera and be downright useful in the summer.
Rafalovich: "Sunglasses can assist if the sun is still a bit bright as well as used in the hands to keep the fingers from looking awkward. Hats, used sparingly, can add to photographic possibilities if they are used in the hand as a prop or on the head to help shade or soften the light on sunny (or even cloudy) days."
17. Dress for the Weather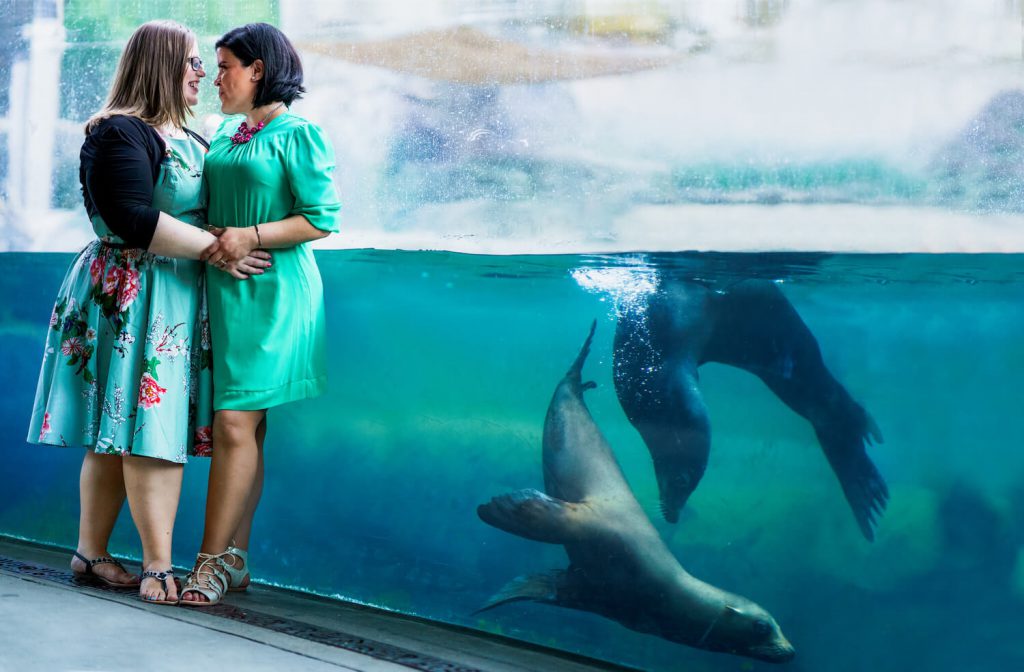 Sundresses, maxi dresses, and rompers add a fun, casual vibe to your engagement photos — and also happen to be cool and comfortable outfits. Trending fabrics such as gingham, seersucker, and white denim will also give your photos a seasonal look.
18. Stay Home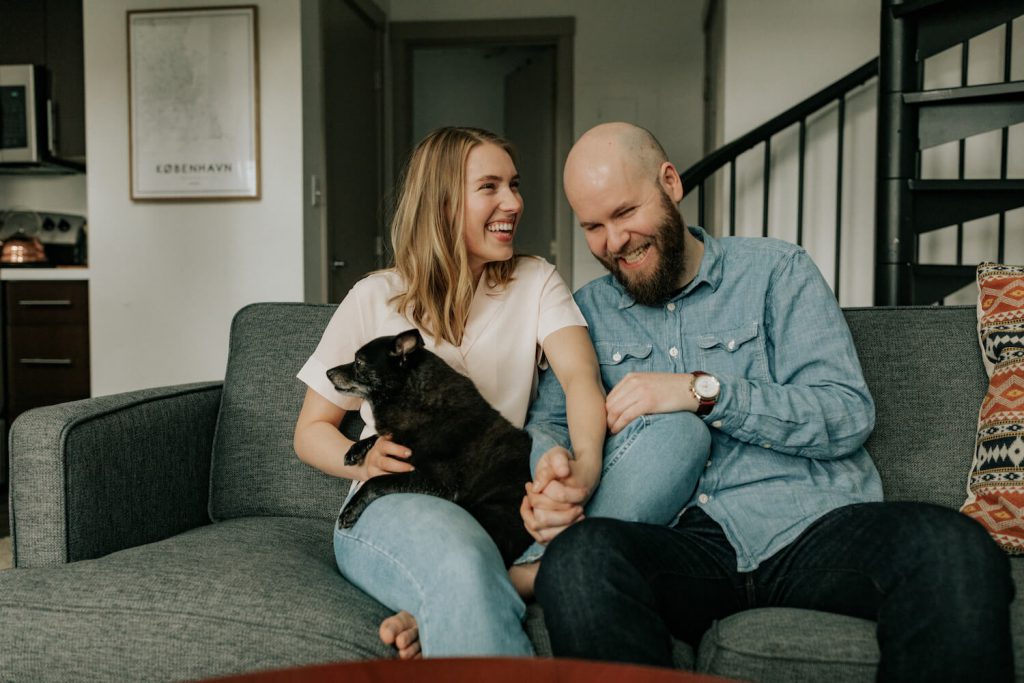 Do you live in a place where the summer heat makes it difficult to be outside for long stretches of time? Shoot at home!
Keeney: "No, seriously! It's one of the best locations for photos because it couldn't be more personal to you. As a photographer, I notice that my clients are so at ease in their own space. If you're camera shy at all, it could be a great option. Also, please know your home doesn't have to be magazine-worthy. It just needs to have some natural light and you."
19. Time Your Shoot to Sunset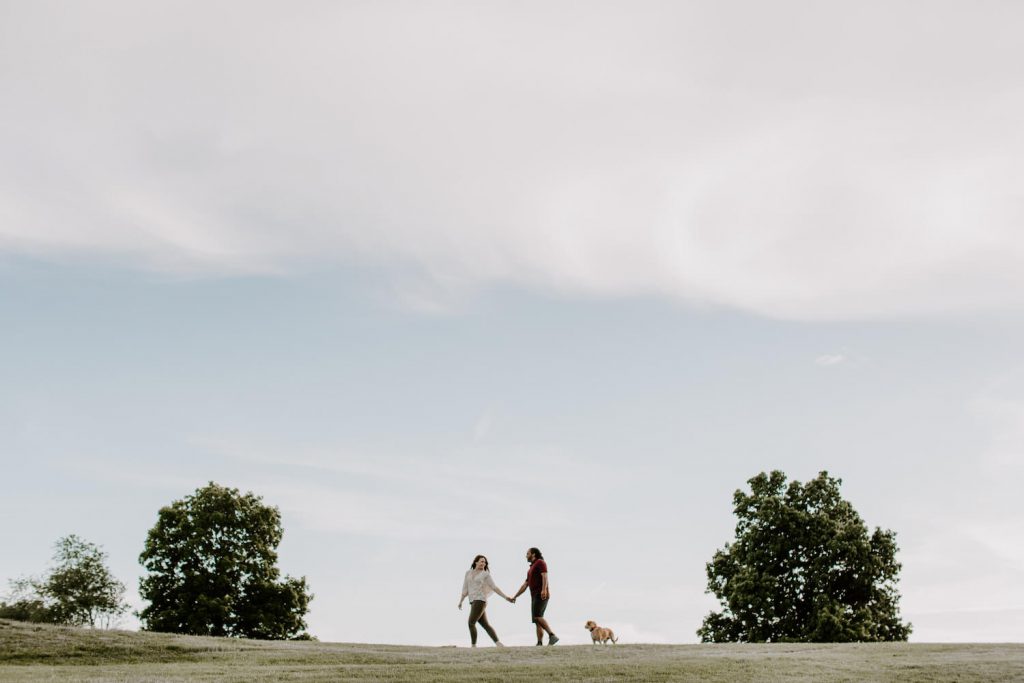 A summer sunset shoot is a perfect opportunity to experiment with timing. The golden rays of the setting sun will wash your photos with beautiful light.
Lesinski: "I always schedule my engagement sessions around sunset so that we have the most gorgeous, flattering light. Plus, who doesn't love a good summer sunset photo?"
20. Consider a Night Shoot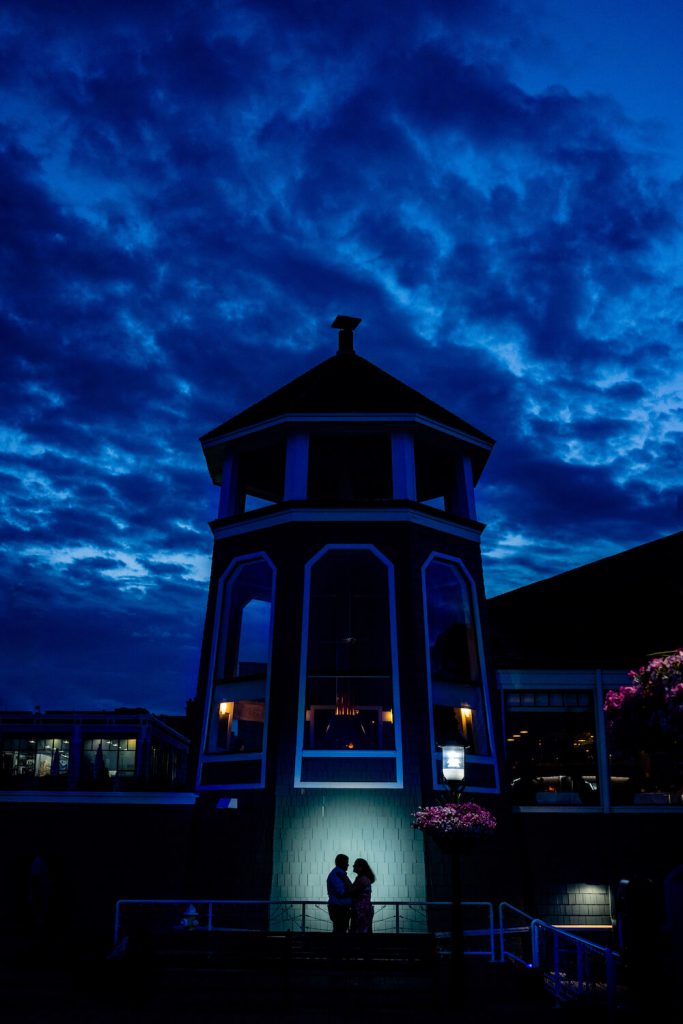 With temperatures high, summer is a great time to take photos in the evening. A nighttime engagement photo session offers a heightened sense of drama and is prime time for experimenting with lighting techniques. Ask your engagement photographer for recommendations on potential places that offer built-in lighting sources to plan your shoot.