You're engaged! What an incredible feeling — one you'll surely want to share with loved ones near and far. As any newly engaged couple typically does, you'll likely begin your wedding planning journey by booking an engagement photoshoot. Engagement photos are meant to capture the essence of your love story in perfectly framed moments. They are often used for save the dates, wedding websites, guest books — the list goes on. But what's the dress code for this special occasion? Follow these 16 pro tips for a flawless photoshoot, guiding you on what to wear in engagement photos, what to avoid, and how to adapt your outfits for every season.
1. Complement But Don't Match in Your Engagement Photo Outfits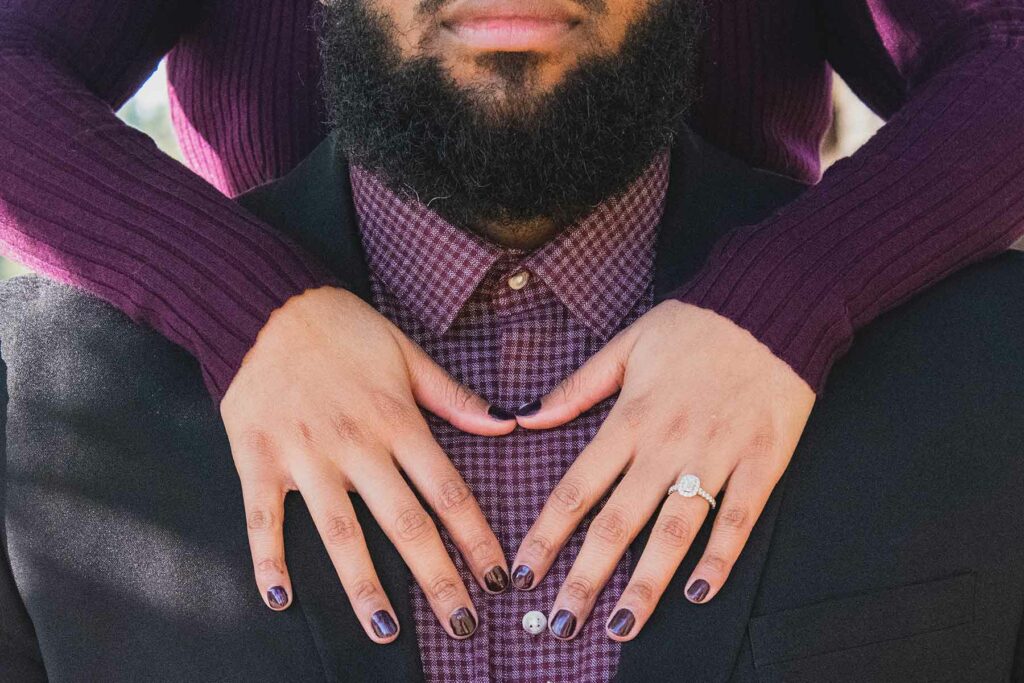 Identical outfits are never the vibe, especially for an engagement photoshoot. Instead, aim to complement each other's styles. Maybe your style leans more preppy while they are all about bold colors and patterns. No problem. Try coordinating colors to create a visually appealing and harmonious look without appearing too "matchy-matchy." This approach allows both you and your partner to express yourselves while maintaining a cohesive aesthetic that will shine in your engagement photos. Remember, variety adds depth and character to your photos — it's not a theme party.
2. Be Yourself, With Someone Else
Your engagement photos should reflect your authentic selves. Choose outfits that align with your individual fashion preferences and personalities. Most importantly, whatever you reach for should be something you feel confident wearing. If you're known for your bohemian flair, go for a flowy dress that captures your free-spirited essence. That can work even if your partner prefers to dress more casually in a classic button-down or T-shirt and jeans combo. Staying true to your style as individuals (yet complementing one another's attire) will result in more natural-looking, genuine photos. Trust us.
3. Mix it Up with Outfit Changes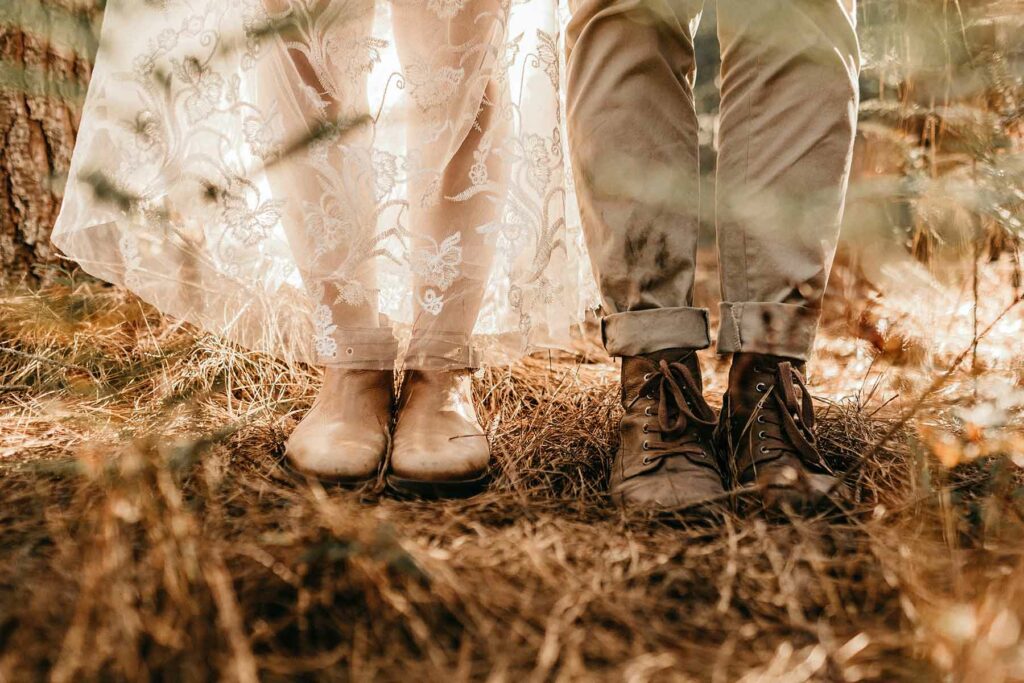 Consider incorporating a second outfit into your engagement session. An outfit change can bring versatility to your photos and offer diverse looks. You may want to start the shoot more casually or with a playful vibe and transition into a formal outfit for a more sophisticated look. Having a backup outfit also allows for adaptability under unforeseen circumstances like inclement weather. Plus, it's a great way to give yourself a range of photos to choose from if you're not quite sure yet about your wedding aesthetic. But be careful; numerous outfit changes may incur additional costs. Check with your photographer before the shoot to ensure you fully understand your engagement photo pricing.
4. Prioritize Comfort
While style is crucial, comfort should never be compromised. Engagement photoshoots can be lengthy, so feeling at ease will help you relax and enjoy the experience. Sweats are definitely off the table, but wear outfits that are easy to move in and fit well. Remember that if you're feeling awkward in your clothing, there's a good chance your camera will pick it up. Be sure to test your engagement photo outfits out beforehand to avoid any last-minute discomfort on the day of your engagement shoot. Ball gowns are not recommended!
5. Add Layers and Textures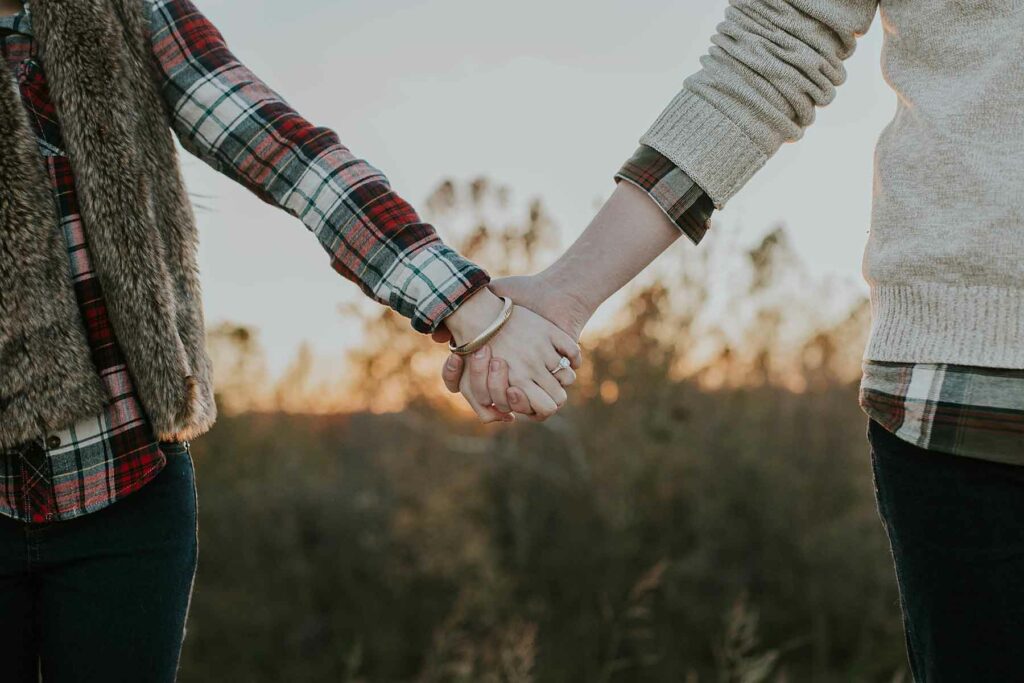 Consider incorporating layering pieces such as jackets and scarves when selecting your outfits, advises planner and wedding photographer Thomas Beamen. This approach is especially effective during cooler months and introduces depth and texture to your photos. Layering also allows you to create multiple looks within a single outfit. For instance, you can remove the jacket or add a scarf for a vibrant pop of color or pattern.
6. Beware of Over-Accessorizing
Accessories can elevate your outfit, but less is often more when it comes down to choosing what to wear in your engagement photos. Avoid overloading your outfit with accessories that might distract from your natural chemistry. A statement necklace or a pair of elegant earrings can add sophistication without overpowering the overall look. Like outfit changes, you can also bring a few options to see what looks best on camera.
7. Choose Location-Appropriate Attire
Considering your selected location is essential when curating your engagement photo aesthetic. For instance, flowy fabrics work well in picturesque gardens, while a casual outfit might suit an urban setting. Adapting your attire to your photo location ensures a cohesive and visually pleasing result. "If having your shoot in the autumn, outside with the trees, think nudes, warm tones like oranges to match the leaves on the trees," suggests wedding planner Hannah Rose. "Bring in some pastel shades, blues, greens and creams if going for springtime in a seaside location."
8. Mind the Fit
Ill-fitting clothes can detract from the overall look of your engagement photos. Make sure your clothing fits you properly — and comfortably. This applies whether your outfits are too tight or too loose. Tailoring your outfits can significantly improve the photos. Not to mention, wearing something you feel good in will enhance your overall confidence level and appearance.
9. Coordinate with Your Photographer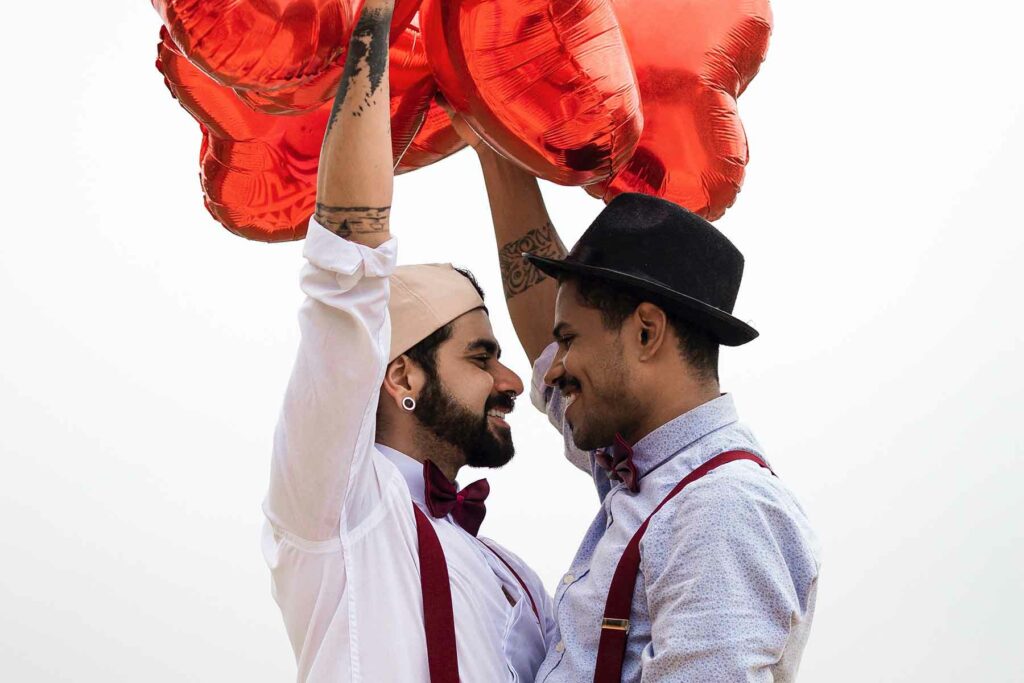 Discuss your outfit choices with your engagement shoot photographer, especially if you plan to use them again for your wedding photography. They're the experts, and their experience can provide valuable insights into what will work best in your chosen location and lighting conditions. Photographer Ken Morris offers a simple yet effective tip for acing your engagement (or any) photoshoot. Ask yourselves: How do you want to feel in these pictures? "How you want to feel, from location down to clothing, will shape all that," he says.
Pro tip: Collab with your photographer early on in the wedding planning process! Many photographers offer packages that include an engagement shoot in the overall cost of wedding photos.
10. Consider Timeless Pieces
While on-trend clothing can be tempting, timeless pieces should be prioritized. In fact, the perfect outfit may already be in your closet. Opt for classic silhouettes and styles that won't look dated in years to come. This way, you won't look back and roll your eyes when you remember you went full trendsetter for your engagement photoshoot. Consider attire such as a romantic white dress, a maxi skirt in a neutral color, a sports coat, or a button-down with dress pants.
11. Be Mindful of Patterns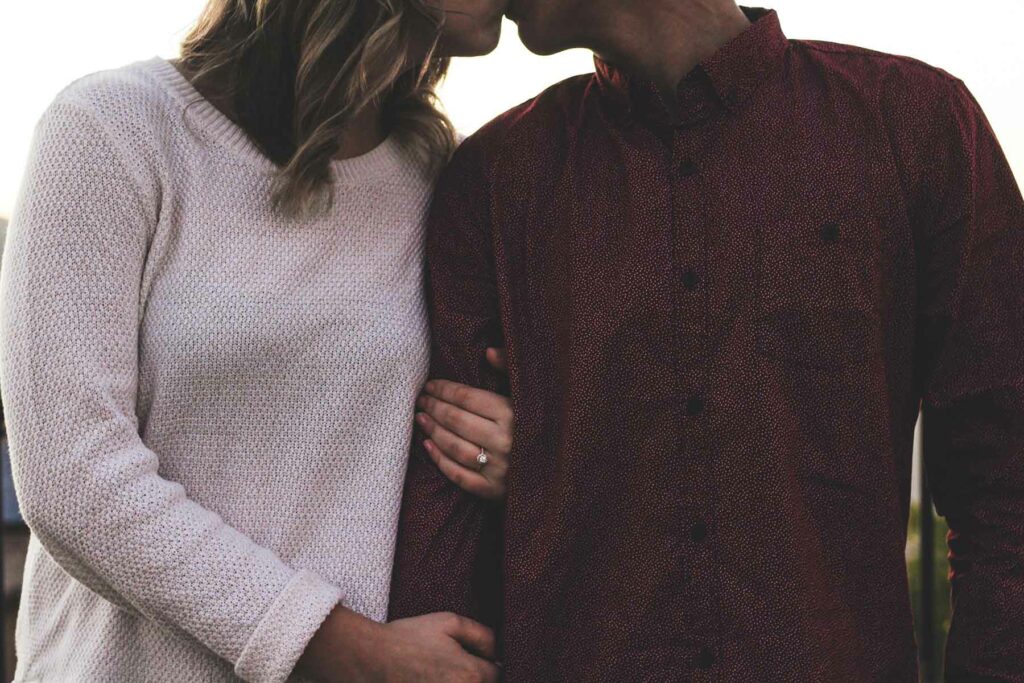 Patterns can add visual interest to your engagement outfits but should be used sparingly. Avoid clashing patterns between both partners, as they can create visual chaos in photos. And remember that certain patterns won't photograph well. "There's something called moire that shows up in clothing with very fine patterns or close lines," explains Morris. "Think fine lines of patterns like houndstooth and pinstripes." His advice when it comes to patterns? It's best to avoid them. If you truly can't resist, stick to the smallest accessories, like a pocket square, socks or neck scarf.
12. Dress for the Season
Again, we know trends can be compelling, but faux fur just won't work for your sunset photoshoot on the beach in July — even if you have a winter wedding in mind. Dressing seasonally is imperative to maintain a timeless aesthetic in your engagement photos. Wedding planner Rebecca Brook of Wolfer & Co. suggests considering your overall aesthetic goals before booking your engagement session, including your desired location and time of year. If you're exchanging vows on a beach in Hawaii but your photoshoot is in December in Colorado, for example, it will be hard to set the right tone when bundled up in snow boots and scarves. Instead, opt for an indoor setting where you can take advantage of lightweight attire and soft lighting.
13. Striving for Autumn Elegance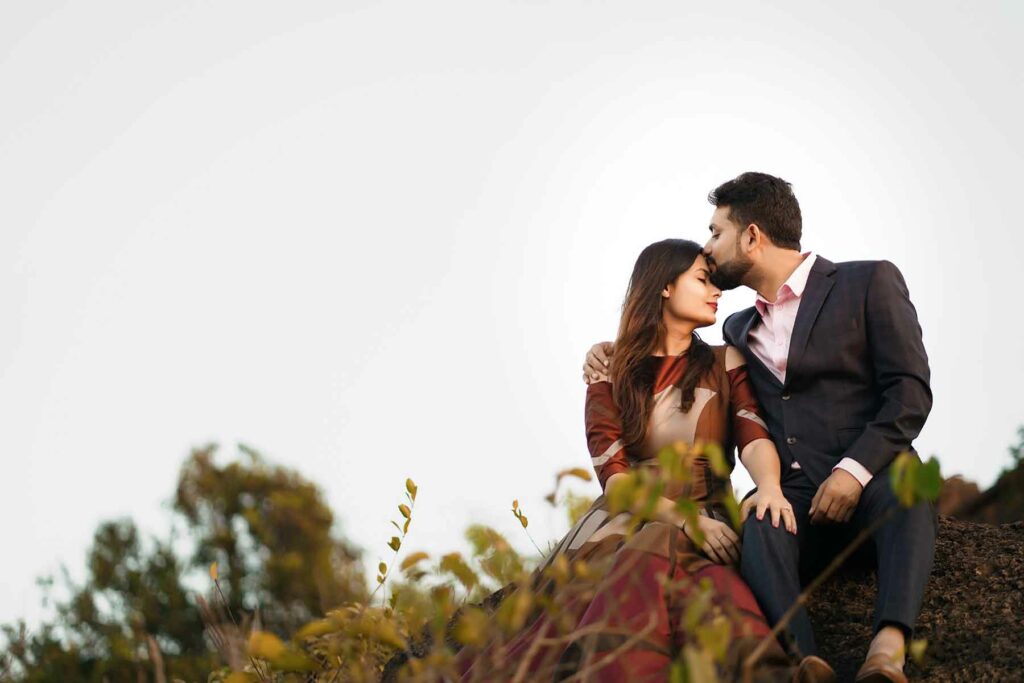 Sometimes, however, you'll want to draw inspiration from the seasons. Embrace the elegant ambiance of fall by coordinating with nature itself. Layer up with warm, earthy tones and textures like knit sweaters and comfy scarves. Incorporate deep, rich colors like burgundy, mustard or forest green to complement the local foliage — or lack thereof, depending on your location.
14. Winter Chic Style
Winter wonderlands can provide a stunning backdrop for your winter engagement photos. The glistening snow and sparkling trees — it sounds like a fairy tale! But dressing appropriately is critical. Choose outfits that will keep you warm without sacrificing style or adding too much bulk. Opt for a jewel-toned color palette, tailored long coats, faux fur accents or elegant knitwear for a chic and cozy look.
15. Warm Up for Springtime Sessions
Spring is the ideal season for everything from the engagement photoshoot to the wedding itself. Embrace the season's vibrance with soft pastels, floral prints, maxi dresses or lightweight attire — think crisp linen fabrics and breezy skirts that will pop against a meadow of flowers or greenery. A cardigan or blazer can add a touch of sophistication to your outfit while keeping you comfortable in the sometimes brisk or unpredictable weather.
16. Sun-Kissed Summer Shoots
Summer engagement photos are all about embracing the warmth and sunshine of the season. Wear lightweight, breathable clothing to stay cool and comfortable during your session. Consider the vibe you want for your photos and make color selections from there. Keep in mind that just because it's summer, you don't need to reach for the brightest, boldest colors. Warm neutrals like tan, beige and brown are a great base for pairing with one or two vibrant shades inspired by the season, such as pink or yellow.
Most importantly, have fun choosing the perfect engagement photo outfit! Remember, your engagement photos are all about you. By following these guidelines, you'll look your best and feel confident, ensuring that these photos are the perfect prelude to your wedding day and can be cherished for years to come.
Up Next:
Set up your wedding website in minutes with design options to make yours truly unique.