Congratulations on your engagement! One of the first (and most fun) tasks is to set a date for your wedding. Once you've done this, you'll want to let people know so they can save the date.
While save-the-dates are a relatively new trend, they've become almost expected for weddings these days. Whether you're planning a formal affair or a casual beach wedding, save-the-dates are the perfect opportunity to delight your guests with an announcement about your upcoming nuptials. But where do you find inspiration for creating the perfect save-the-dates?
Look no further than this guide. We've tracked down some of the best save-the-date ideas from across the web. You'll find inspiration from our Pinterest boards, favorite Instagram accounts, and Etsy sellers whose designs we love.
Whether you go the DIY route or hire a designer, use these save-the-date ideas as inspiration for your own invitation cards.
Gold Foil Accents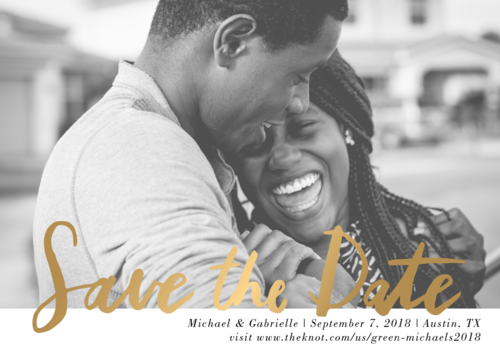 Gold is everywhere right now — and we're a fan. The gold foil embedded in these save-the-dates will catch the eye of your guests every time they walk past the invite pinned to their refrigerator.
Pretty Botanicals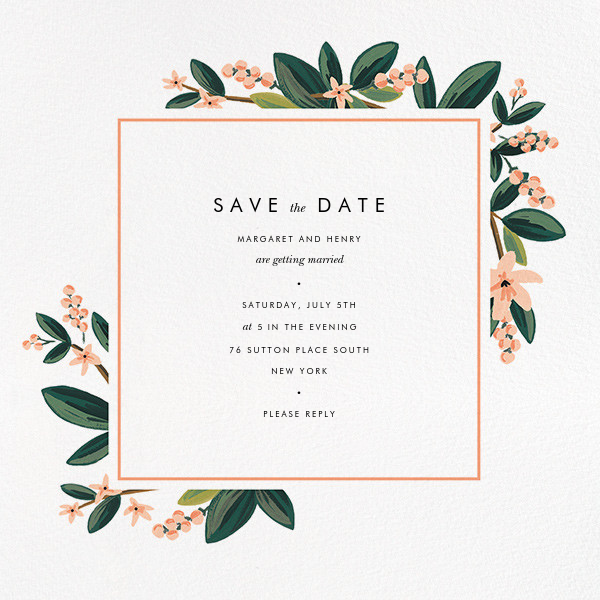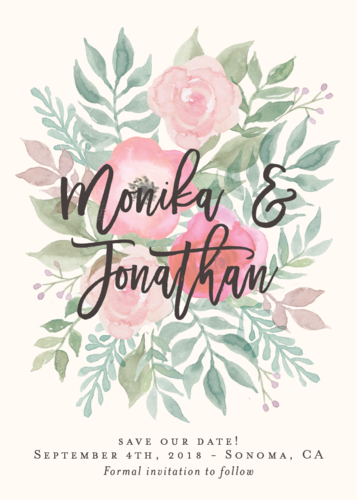 These pretty florals are perfect for formal but fun affairs. It's no surprise that subtle florals like these are a popular choice. These very pretty save-the-dates freshen up flower motifs with bold font choices and elegant design.
Rustic Wooden Magnets
Give your guests a treat with a handmade, wooden save-the-date magnet. These designs are the perfect complement to your rustic outdoor wedding.
The Not-So-Serious Approach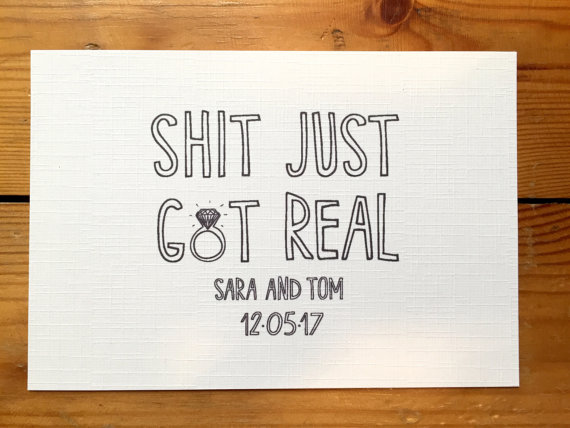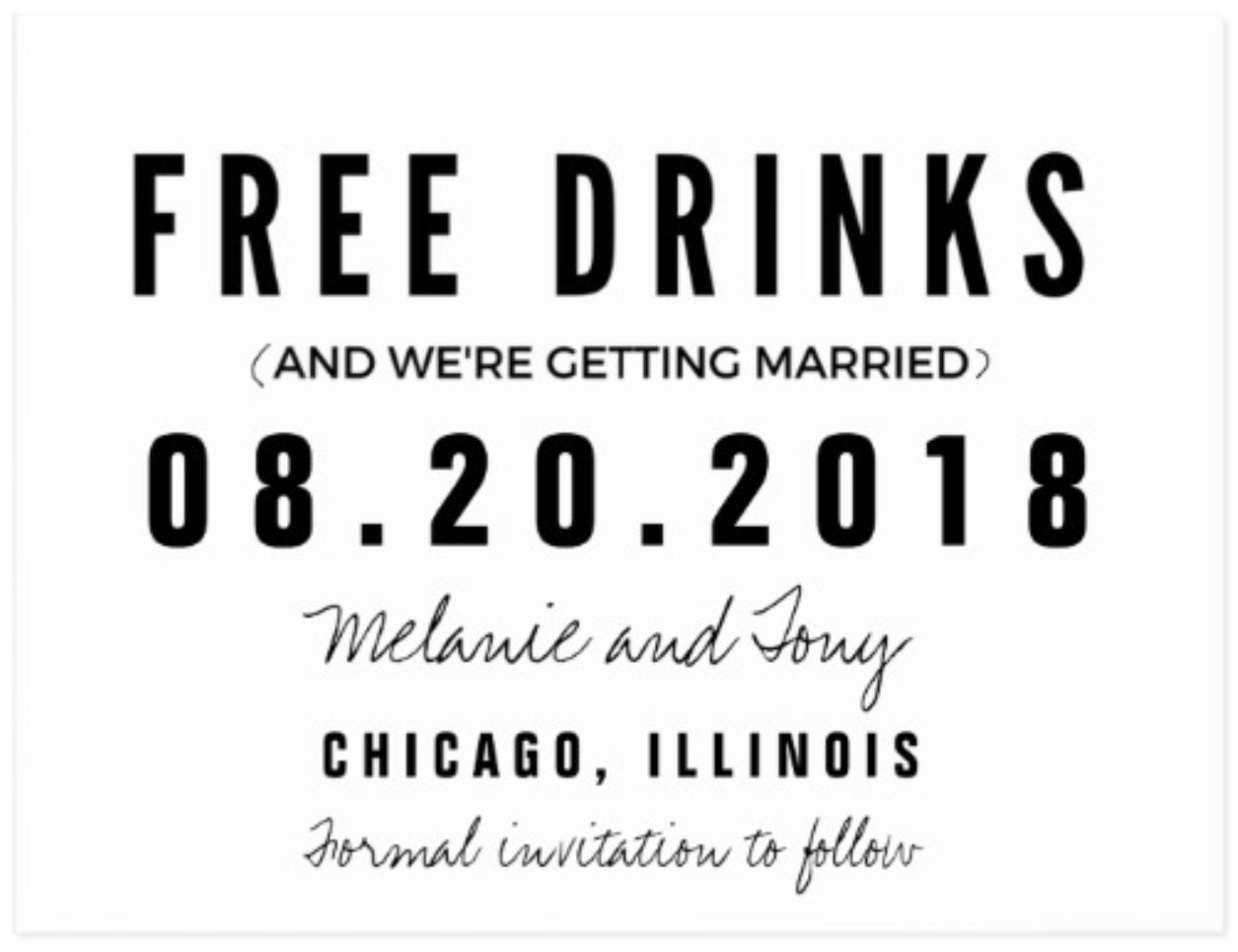 Yes, marriage is serious business — but your save-the-dates don't have to be. Give your guests a chuckle with these light-hearted save-the-date cards. Even better if you can make a subtle reference that your friends and family will get.
Save-the-Date Calendars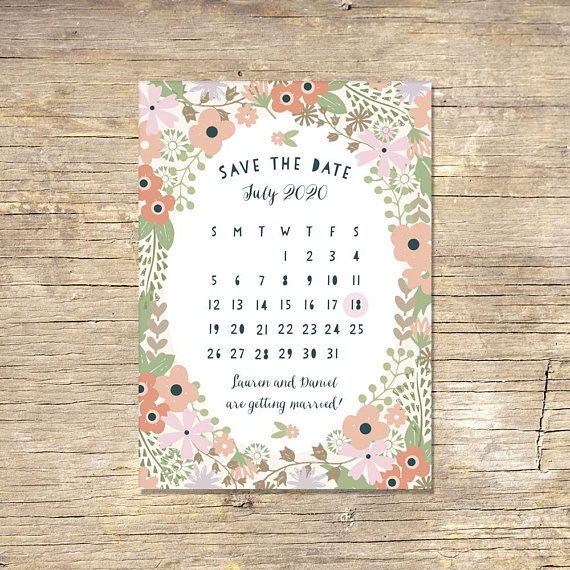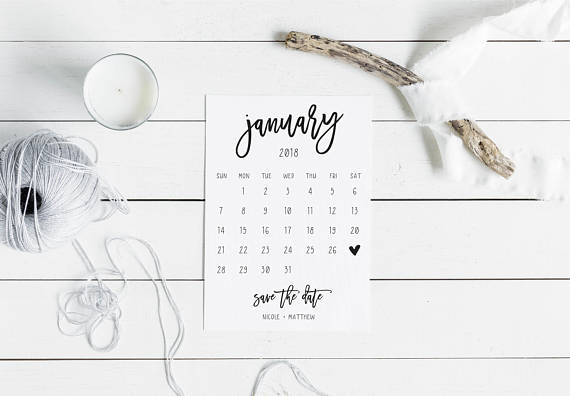 Don't want your guests to forget when your big day is? Mark their calendars for them! This popular option is all over the internet for good reason: it's simple, direct, and adorable.
Photo-Forward Cards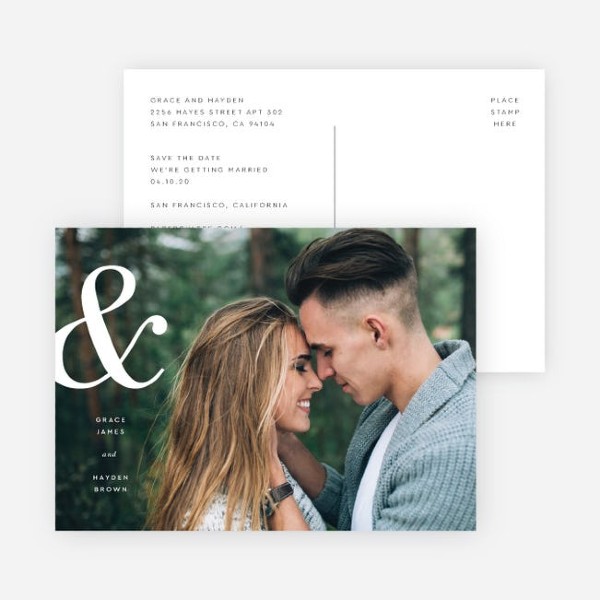 Showcase that incredible engagement photo somewhere other than your Facebook feed. Make your photos last forever with these beautiful save-the-date postcards and cards.
Vintage Poster-Inspired Cards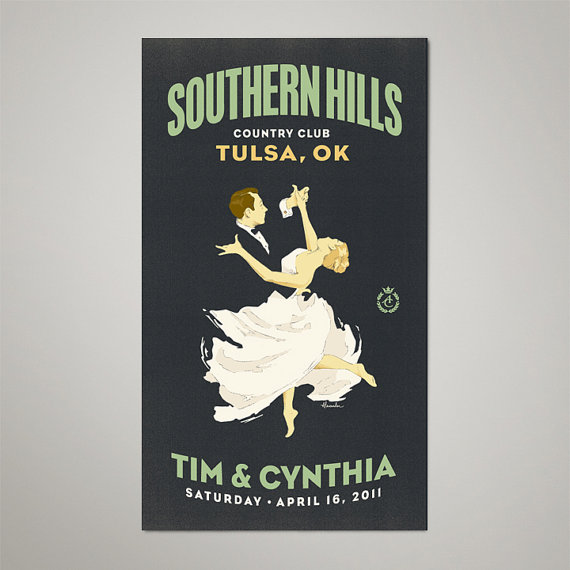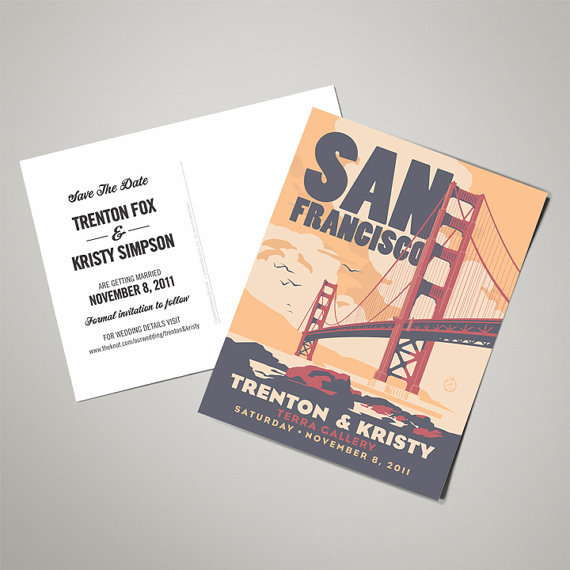 We're jazzed about these unforgettable vintage poster-inspired magnets and postcards from CustomAlexander. The shop features designs inspired by everywhere from Hilton Head to Kansas City to Tahoe. If you love these as much as we do, you can also purchase a full-sized poster to have your guests sign at the wedding.
Letterpress Coasters
These delicate and design-forward letterpress coasters from Wide Eyes Paper Co. certainly break the mold and will look fabulous on your guests' coffee tables.
A Well-Drawn Map
This beautifully drawn save-the-date map is just one of many gorgeous and artistic designs from the owner of wedding invitation studio Hello Tenfold. It's a lovely way to honor the town or city where you're getting married.
Handmade Candles
We are so in love with this gorgeous save-the-date candle from The Little Market. On top of being a beautiful and unique keepsake for your guests, each purchase helps empower the refugee women who create them.
Message In a Bottle
Take inspiration from the sea with these fun message-in-a-bottle date savers. If you're planning a destination wedding or a beachfront ceremony, this is a charming nod to what's to come.
A Different Kind of Passport


For travel lovers, this passport-themed printable could be the perfect save-the-date option. You can even use the map to showcase your wedding location. It's a creative way to send word of your upcoming wedding.
Puzzle Magnets
Make your guests feel like they're the missing piece for your wedding day with these cute puzzle magnets. Not only is this a lovely way to share news of your date, but it's a sweet keepsake for friends and family.
Share the News
This newspaper themed save-the-date is adorable. If you want to share plenty of details about your love story or wedding plans, this could be the template for you.
Polaroids
Use the past as your inspiration and pair a photo from your engagement shoot with this timeless Polaroid save-the-date. It's familiar, nostalgic, and can set the tone for your wedding stationery and theme.
Pencil Us In
Make your guests smile with a simple but sweet play on words. Like the puzzle magnets, these personalized pencils are something your loved ones can keep as a reminder of your celebration.
Wedding in Wonderland
These Alice in Wonderland-themed playing cards are a fun and unusual save-the-date idea. If you're planning a quirky wedding, a striking card like this is a great way to let your guests in on the plans early.
Cut-Out Paper Dolls
There's a lot of nostalgia wrapped up in these vintage-inspired paper doll cards. Whether you're planning a retro-styled wedding or simply love the crafty fun of a cut-out, these cards are sure to make people smile. If you're creative, you could even DIY these save-the-dates yourself.
Save Your Space
For bookworms and fans of all things creative, these bookmark save-the-dates are an inspired choice. They're practical and a useful reminder of your wedding date.
Classically Minimal
There are plenty of beautifully illustrated or photo-heavy save-the-dates. If you prefer a more refined, minimal look, these simple reminder cards could be for you. This classic, clean design keeps the focus on the date and creates intrigue.
Couples Illustration
Speaking of illustrations, a custom portrait of you and your partner is a lovely way to announce the date of your wedding. These illustrated save-the-date cards feel extra special as they're handmade in your likeness.
Inspired by the Past
These telegram save-the-dates are a wonderful way to notify your guests. They'd be perfect for a vintage-inspired wedding, and you could add even more personality with custom stamps or a fun greeting.
Bold Florals
Take the traditional floral look and add the "wow" factor with fun, bold floral designs. These flowery save-the-dates are eye-catching and could inspire your future wedding stationery too.
City Skyline
Show some love for your city or wedding location with a beautiful illustration. If you don't want to feature photographs or a custom portrait, these city-themed save-the-dates are a great way to add personality to your invitation.
Love Story
Celebrate your love story with these adorable save-the-dates. Your wedding is the next step in your journey, so why not highlight a few of the milestones along the way to make your guests smile?
Understated Watercolors
For fans of watercolors, these minimal save-the-dates are a beautiful option. The design is inspired by the sea so it's perfect for coastal celebrations. But this could also work well for simple ceremonies.
Scratch Off
Get your guests involved in discovering your wedding date with these fun scratch card designs. These save-the-dates are guaranteed to surprise your guests and make them smile.
Luggage Tags
If you love traveling and exploring the world, these luggage tag save-the-dates are a lovely way to bring that into your wedding theme. They're especially great for destination weddings or if your big day is influenced by your travels together.
Laser Cut Monogram
Combine two popular save-the-date trends for an invitation with impact. These monogram cards feature gorgeous laser cut detailing for a fun way to celebrate your soon-to-be shared last name.
Photo Strip
Photo strips are popular save-the-date ideas. They're a fun way to share plenty of snaps from your engagement photo shoot. Film lovers will especially enjoy these photo strip cards.
Paperless
Saving time and trees is enough to get us inspired. Joy has hundreds of designs for you to choose from, and you can send them right to your guests' inboxes — no postage required.
Create a Fun First Impression With These Save-the-Date Ideas
Whether you choose a vintage-inspired design or a beautiful floral watercolor, your save-the-dates are a great way to kick off your creativity. Banish boredom with a fun first impression and set the tone for your wedding celebrations.
Once you've decided on a design for your save-the-dates, it's a good idea to figure out when to send them. We've created a useful guide on when to send your save-the-dates to help you out.
Up Next:
Heres's how to create and send free paperless save the dates and order matching paper stationery!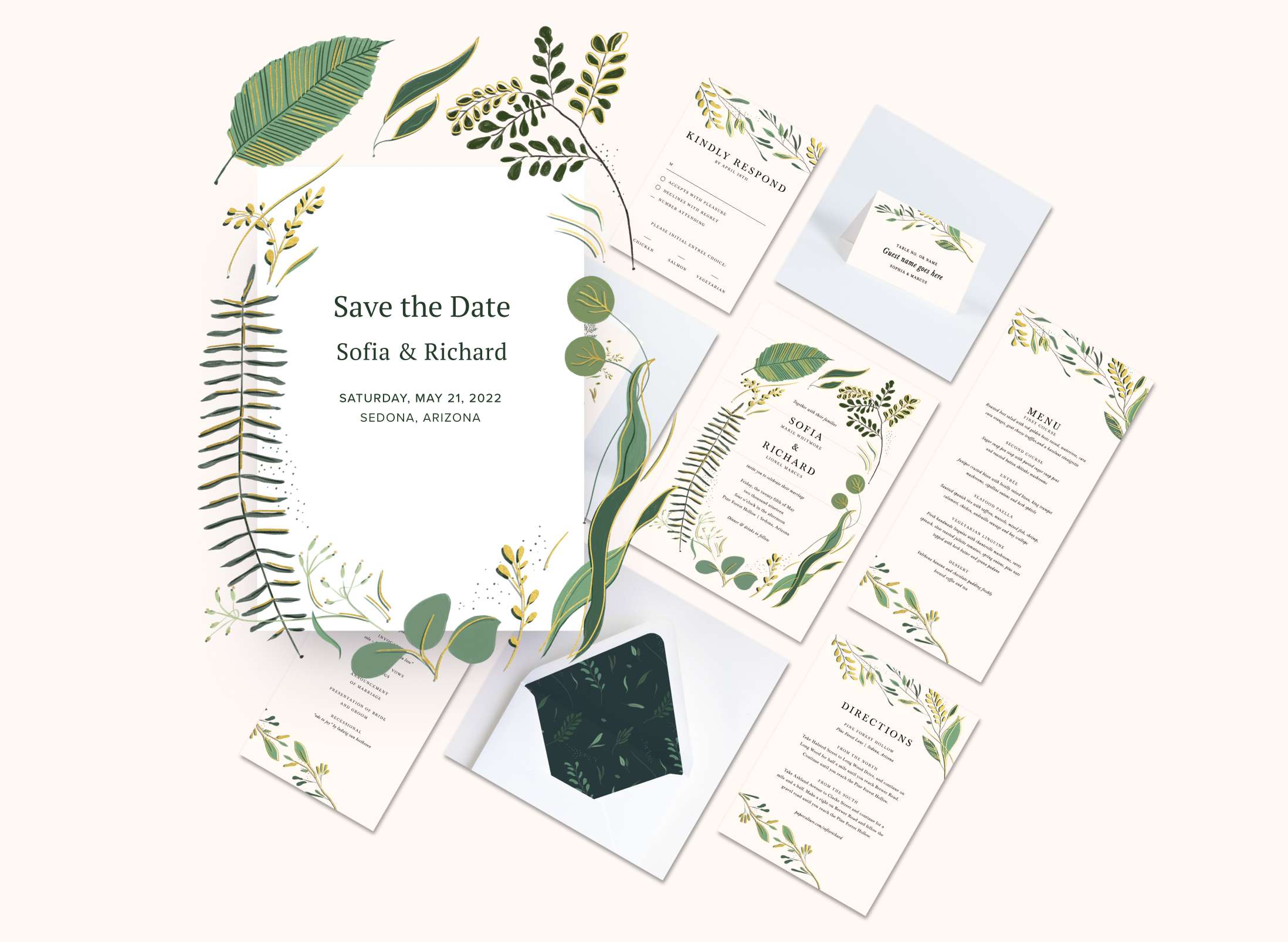 Related Posts