You've asked and answered the big question to kickstart your wedding journey — so what's next?
After you've set a date and made a guest list, it's time to make it official with a save the date. Consider this your first chance to make a memorable first impression. While it should definitely be informative, it's also an opportunity to set the tone for your special day. Are you dreaming of a glam, black-tie affair or a more laid-back beach bash? You may not have a wedding venue set for your upcoming nuptials, but channel all the vibes into your save the dates to let your loved ones know what to expect.
Here's where it gets fun: There are myriad options to consider when it comes to sending your save the dates. Whether you want to drop a professionally designed card in the mail, try your hand at DIY, or choose from a digital template that matches your wedding website, there are so many ways to infuse a pop of personality into your announcement. To get your creative juices flowing, here's a look at our favorite save the date ideas that are whimsical, elegant and everything in between.
1. Foil Accents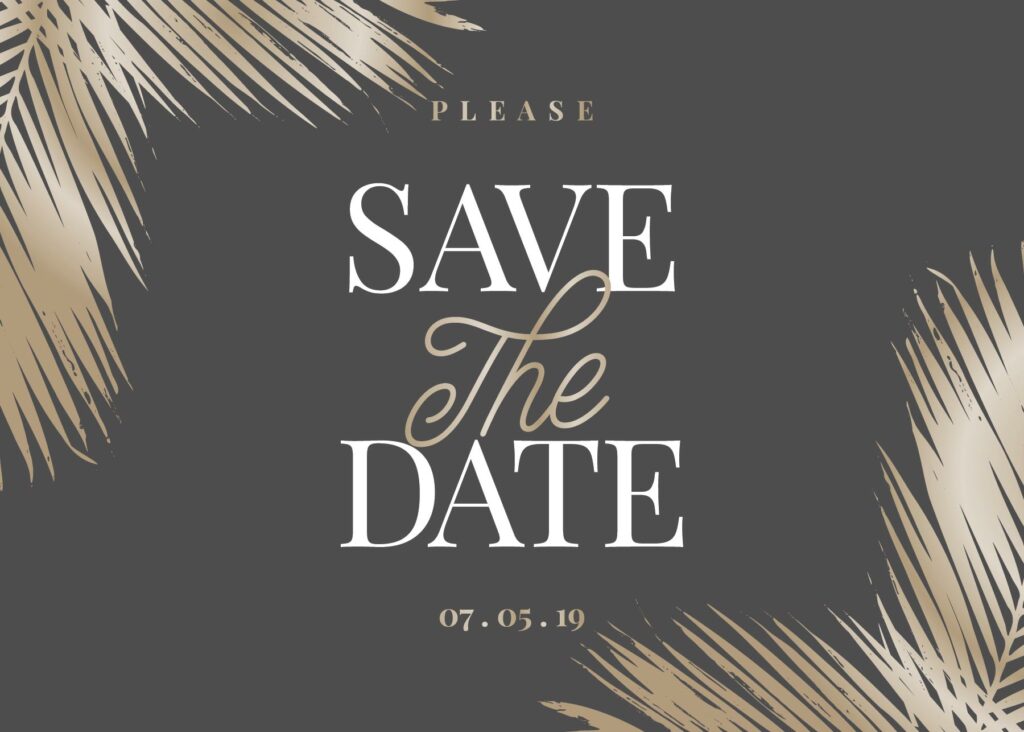 Gold foil and other metallic finishes such as rose gold exude classic elegance. If you're going for a more modern vibe, however, silver is an easy neutral that adds a pop without becoming the whole aesthetic. Have a rustic wedding in mind? Consider a darker hue such as copper, which will pair well with earth-toned color palettes.
2. Pretty Botanicals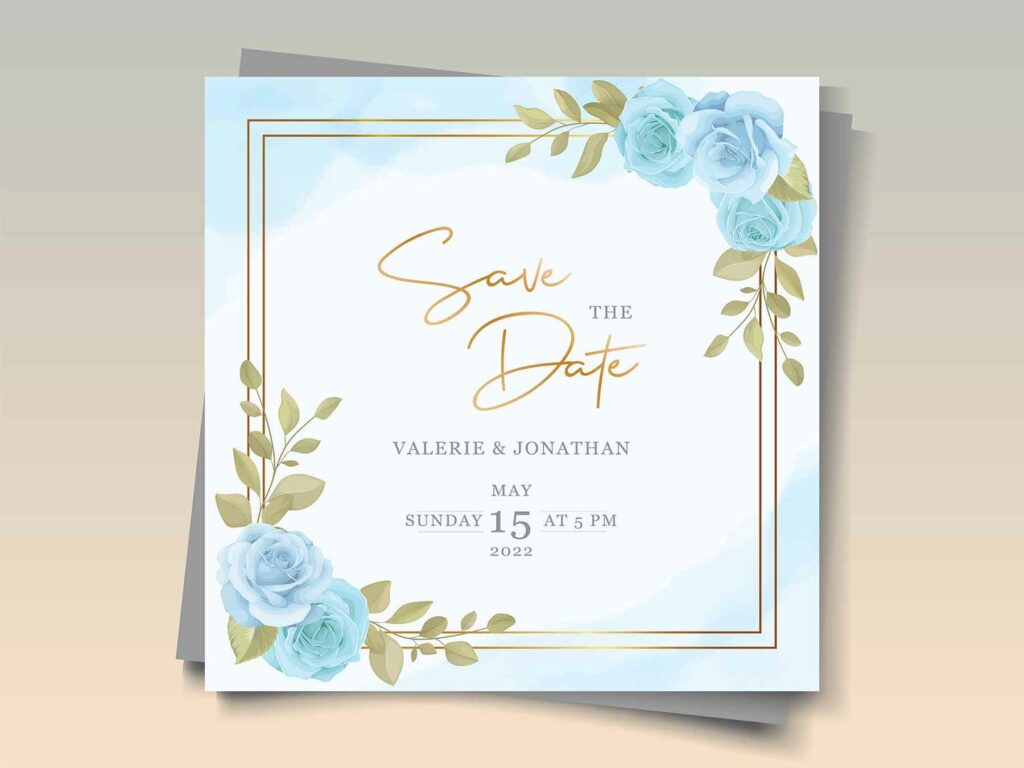 It's no surprise that subtle florals are a popular choice, as they are perfect for formal but fun affairs. Freshen up flower motifs with bold font choices and elegant design.
3. Rustic Wooden Magnets
A save the date magnet is an easy way to ensure your big day isn't forgotten. Add a decorative flourish so your loved ones will want to hang this reminder on their fridges by opting for a unique shape that ties into the theme of your wedding. A wooden mason jar to symbolize your barn venue or a cutout of your home state are just a couple personalization ideas for this type of save the date.
4. The Not-So-Serious Approach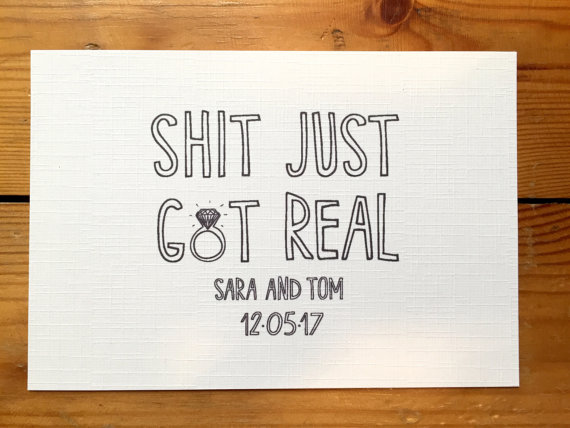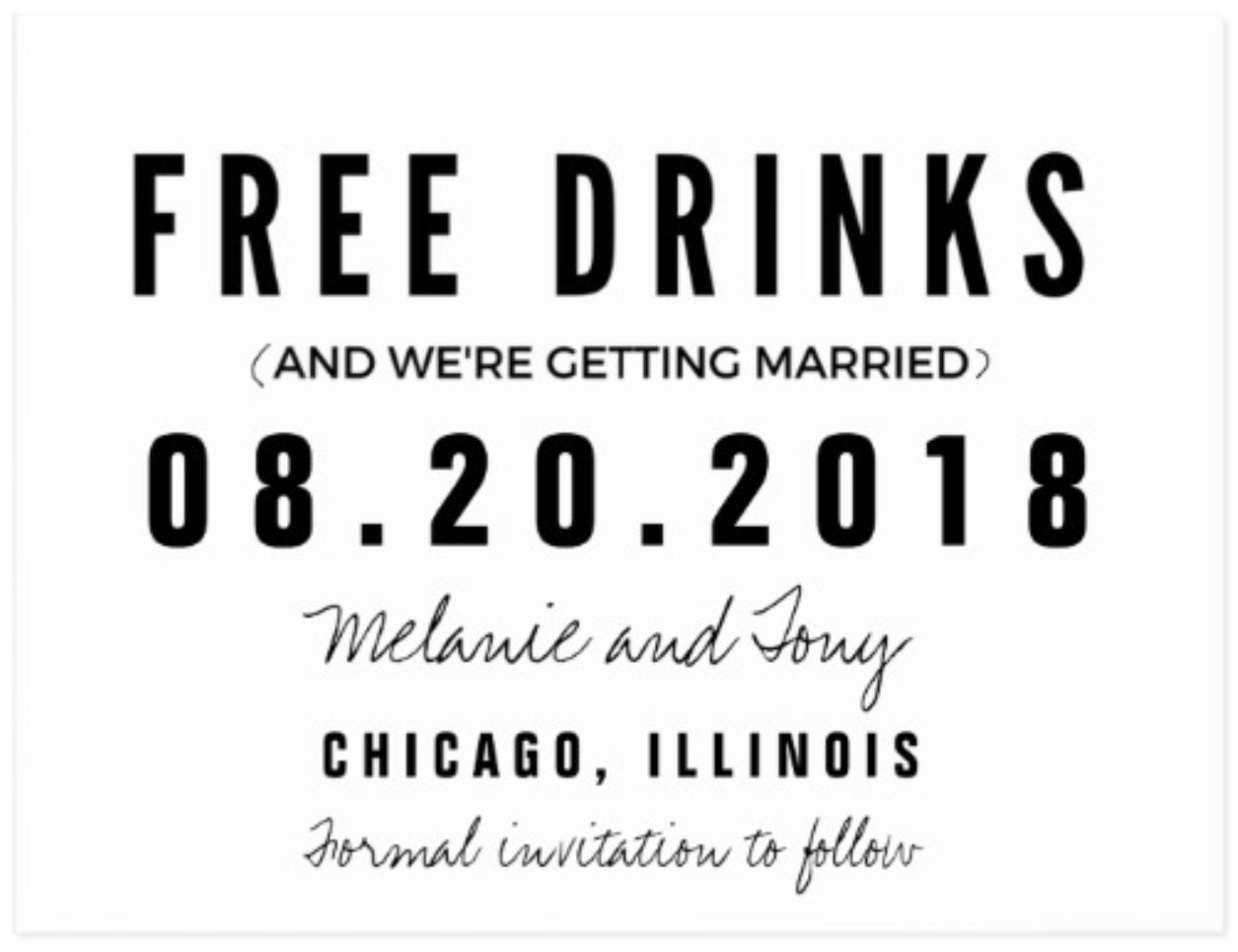 ​​Yes, marriage is serious business — but your save-the-dates don't have to be. Give your guests a chuckle with lighthearted save the date cards that crack a joke or two. Even better if you can make an insider reference that only your friends and family will understand.
5. Save the Date Calendars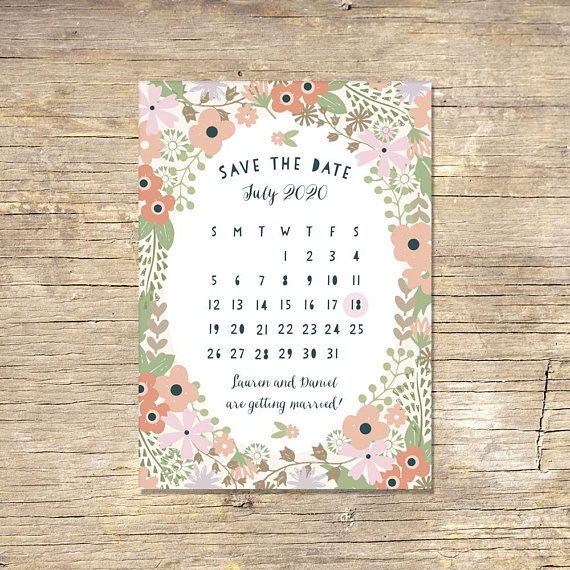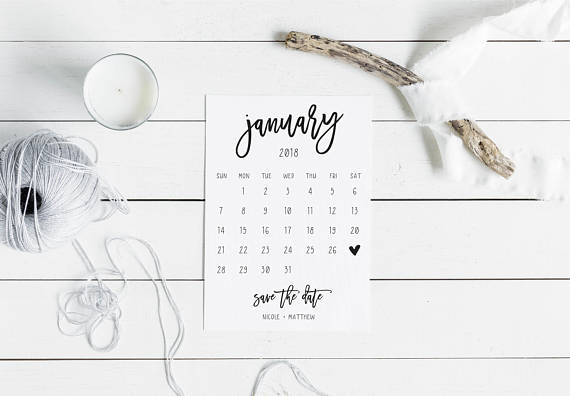 Don't want your guests to forget when your big day is? Mark their calendars for them! This option is popular for good reason: It's simple, direct and adorable.
6. Photo-Forward Cards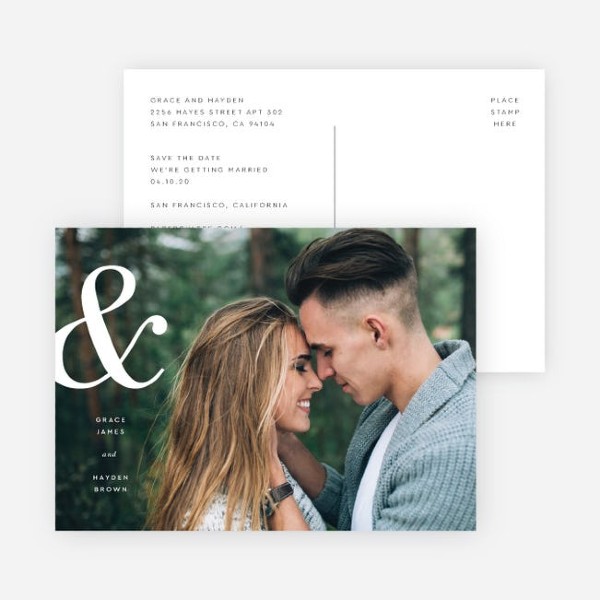 Showcase that incredible engagement photo somewhere other than your social media feed. Make your photos last forever with beautiful save the date postcards and cards.
7. Vintage Poster-Inspired Cards
Whether your hometown is playing a key role in your upcoming nuptials or you and your partner are known as the jet-setting couple in your friend group, vintage travel posters are a fun and memorable way to showcase a meaningful destination. Commission a custom destination drawing (or find your favorite online, if you're on a budget) in your wedding colors as a print or digital save the date and then order a full-sized version for guests to sign at your reception.
8. Letterpress Coasters
Make your big day a mainstay on your guests' coffee tables. Letterpress coasters can be printed on one or both sides depending on how many details you want to share. Put your monogram or a favorite quote on one side and all the important info on the other, or splurge on a custom illustration of your venue to make this save the date idea even more personal.
9. A Well-Drawn Map
The best part about this creative save the date idea is that it can work for any wedding style. If your aesthetic is more modern and minimal, opt for a black-and-white line sketch of your destination city. If you're all about bold colors and want to add an element of whimsy, choose a more animated style and incorporate infographics that mark memorable spots around town, such as your proposal location or where you had your first date.
10. Handmade Candles
If you're willing to splurge on your save the date budget, candles are a unique keepsake that your guests can enjoy leading up to the big day. Keep the printing job simple by keeping the details on the candle minimal — your names, date and location; if you want to include additional information like a venue or wedding website, consider including an accompanying matchbook or card.
11. Message in a Bottle
Take inspiration from the sea with fun message-in-a-bottle date savers. If you're planning a destination wedding or a beachfront ceremony, this is a charming nod to what's to come.
12. A Different Kind of Passport
For travel lovers, a passport-themed printable could be the perfect save the date option. You can even use the map to showcase your wedding location. It's a creative way to send word of your upcoming wedding.
13. Puzzle Magnets
Make your guests feel like they're the missing piece for your wedding day with cute puzzle magnets. Not only is this a lovely way to share news of your date, but it's a sweet keepsake for friends and family.
14. Share the News
Wordsmiths, this one's for you. In addition to sharing your wedding plans and an engagement photo, a newspaper-themed save the date template will allow you to incorporate more personal details such as how you met, the proposal story or the first photo you took together as a couple.
15. Polaroids
Use the past as your inspiration and pair a photo from your engagement shoot with a timeless Polaroid save-the-date. It's familiar, nostalgic and can set the tone for your wedding stationery and theme.
16. Pencil Us In
Make your guests smile with a simple but sweet play on words. Like the puzzle magnets, personalized pencils are something your loved ones can keep as a reminder of your celebration.
17. Wedding in Wonderland
Up the ante with playing card save the dates by adding an "Alice in Wonderland"-themed twist. Go quirky with a black-and-red motif or lean into florals if your wedding will be more enchanted garden than mad tea party.
18. Let Your Pet Do the Talking
If you can't imagine your big day without your four-legged friend making an appearance, why not let them share the good news? Instead of an engagement photo, use a shot of your animal companion or commission a custom illustration.
19. Save Your Space
For bookworms and fans of all things creative, bookmark save the dates are an inspired choice. They're practical and a useful reminder of your wedding date.
20. Classically Minimal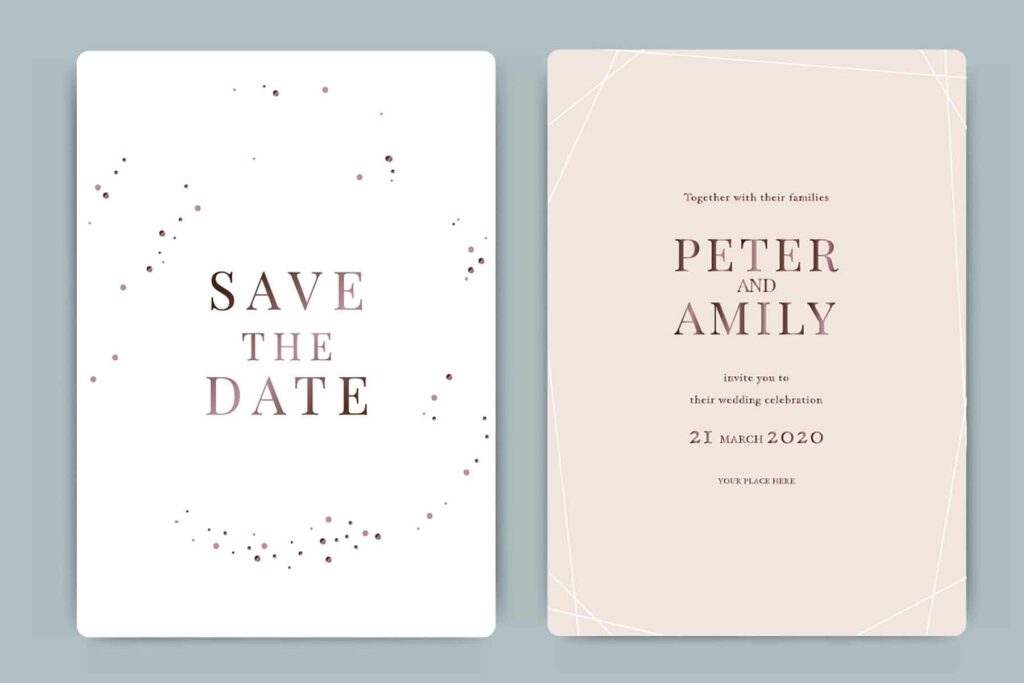 There are plenty of beautifully illustrated or photo-heavy save-the-dates. If you prefer a more refined, minimal look, a simple reminder card could be for you. A classic, clean design keeps the focus on the date and creates intrigue.
21. Couples Illustration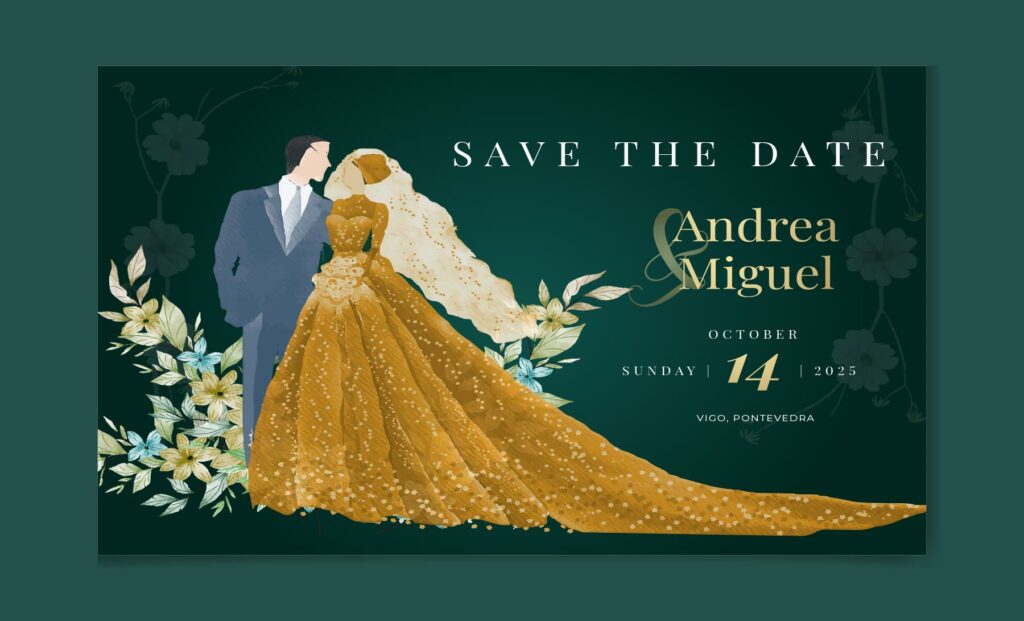 Speaking of illustrations, a custom portrait of you and your partner is a lovely way to announce the date of your wedding. Illustrated save-the-date cards feel extra special as they're handmade in your likeness.
22. Inspired by the Past
Retro telegram save-the-dates are a wonderful way to notify your guests. They'd be perfect for a vintage-inspired wedding, and you could add even more personality with custom stamps or a fun greeting.
23. Bold Florals
Take the traditional floral look and add the "wow" factor with fun, bold floral designs. Bright, flowery save-the-dates are eye-catching and could inspire your future wedding stationery, too.
24. City Skyline
Show some love for your city or wedding location with a beautiful illustration. If you don't want to feature photographs or a custom portrait, city-themed save the dates are a great way to add personality to your invitation.
25. Love Story
Celebrate your love story with adorable save-the-dates featuring custom infographics. Your wedding is the next step in your journey, so why not highlight a few of the milestones along the way to make your guests smile?
26. Understated Watercolors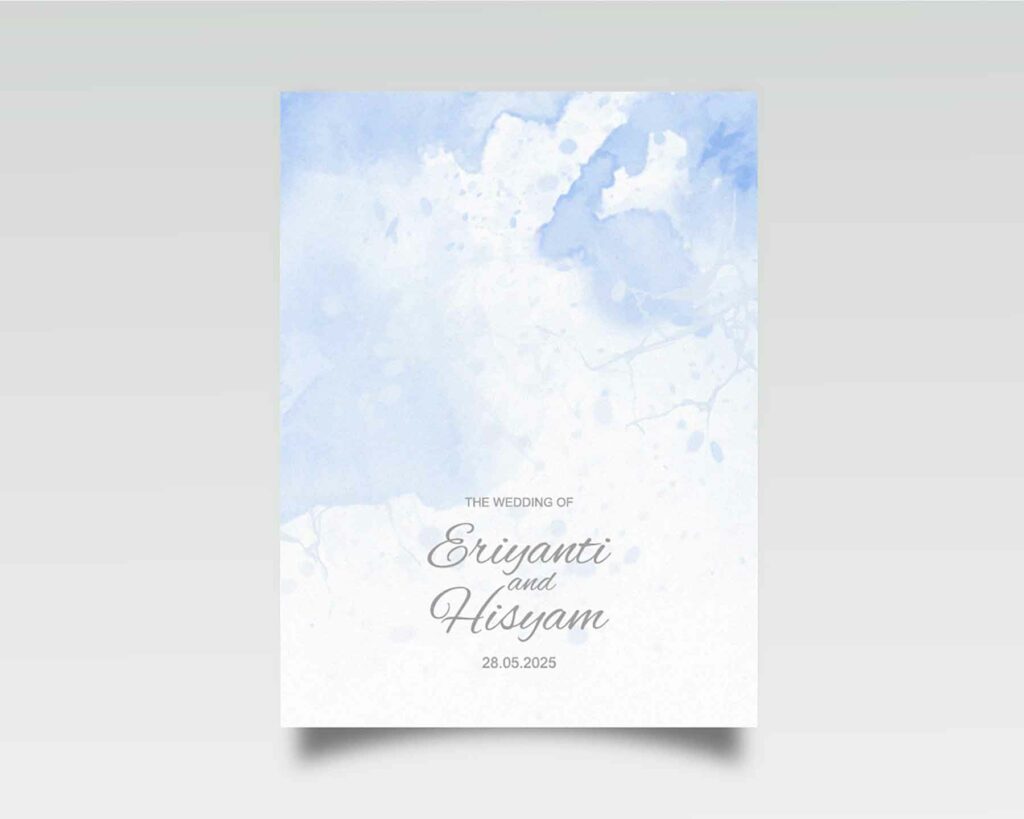 While watercolors are great for sea-inspired celebrations, this save the date design is also a great option if you need a bit more time to decide on a wedding style. Just go with a gradient of your wedding colors and keep the fonts clean and simple to allow for maximum flexibility when it comes to sending your actual invitations.
27. Scratch-Off Cards
You're feeling lucky in love, so spread the good fortune. Use your favorite engagement photo or a stunning shot of your venue as a background for these cards, then invite your guests to scratch and reveal your wedding date.
28. Luggage Tags
If you love traveling and exploring the world, luggage tag save-the-dates are a lovely way to bring that into your wedding theme. They're especially great for destination weddings or if your big day is influenced by your travels together.
29. Laser-Cut Monogram
Combine two popular save the date trends for an invitation with impact. Monogram cards that feature gorgeous laser-cut detailing are a fun way to celebrate your union.
30. Photo Booth Strips
Photo strips are popular save the date ideas. They're a fun way to share plenty of snaps from your engagement photoshoot.
31. Library Cards
Did you bond over a love of great books? Bring your guests into your epic love story with nostalgic library card save the dates that use a throwback typewriter font. This is also a fun, on-theme way of announcing your wedding date if you're tying the knot at a library!
32. Cootie Catchers
Whether you're grade school sweethearts or just want to embrace your inner child, this fun game will bring a fond smile to your guests' faces. There's a lot of real estate space on these save the dates, so use the extra squares to share fun facts about your relationship (or the big day) in addition to all the important details.
33. Seed Packets or Paper
Print your details on plantable paper or include sachets filled with your favorite seeds — bonus points if they're your wedding flowers. This is not only a planet-friendly way to spread the word, it's a great keepsake for your guests to enjoy long after your big day.
34. Boarding Passes
If you're planning a destination wedding (or you just have a shared sense of adventure), a boarding pass tells guests right off the bat that they'll be jetting off to a fabulous locale. Include a QR "gate" code for them to scan that directs straight to your wedding website.
35. Concert Tickets
If concerts are your jam, take cues from your favorite band for creative save the dates that express your personality. Invite your guests to preview the dance floor set list by adding a QR code for your Spotify playlist!
36. Vintage Filmstrip
Why settle for just one photo? Include all your favorites from your engagement shoot or use candids to give your guests an intimate look into your love. A vintage filter adds a fun twist of nostalgia to this save the date idea.
37. Sweet Treats
Give guests a sweet reason to save the date by taking a page out of Willy Wonka's playbook. Print your details on a golden ticket or add your own label on a candy wrapper if you prefer to go the DIY route.
38. Comic Strip
Thrill your loved ones with a superhero-inspired save the date. You can keep it simple with comic book lettering or go all-in with commissioned portraits (your love, of course, is your superpower). If you want to keep the theme going on your big day, turn your wedding program into a comic book story featuring the whole wedding party.
39. "Greetings From" Postcards
Think about your latest road trip together — you've probably seen these colorful postcards at every rest stop checkout stand. Proudly announce your destination with these retro-kitsch cards that have the added bonus of being cheaper to mail.
40. Bottle Openers
Love is brewing! Engrave your date on a sturdy bottle opener so every time your guests crack open a cold one they'll think of your upcoming nuptials. These save the dates can also come with a magnet backing so your loved ones can stick them to a fridge.
41. Wax Seal
Use your monogram to make a mark on your save the dates. Just choose a wax in your wedding colors for a DIY accent that can be completed with a simple glue gun. This is also a low-cost way to carry a design element through into your invitations and wedding programs.
42. Dried Florals
Great for rustic chic weddings, this is an easy upgrade for your save the dates. Consider dried pampas grass and other pressed florals to attach under a wax seal.
43. Paperless
Saving time and trees is enough to get us inspired. Joy has hundreds of designs for you to choose from, and you can send them right to your guests' inboxes — no postage required.
Create a Fun First Impression With These Save the Date Ideas
Whether you choose a vintage-inspired design or a beautiful floral watercolor, your save the dates are a great way to kick off your creativity. Banish boredom with a fun first impression and set the tone for your wedding celebrations.
Once you've decided on a design for your save the dates, it's a good idea to figure out when to send them. We've created a useful guide on when to send your save the dates to help you out.
Up Next:
Heres's how to create and send free paperless save the dates and order matching paper stationery!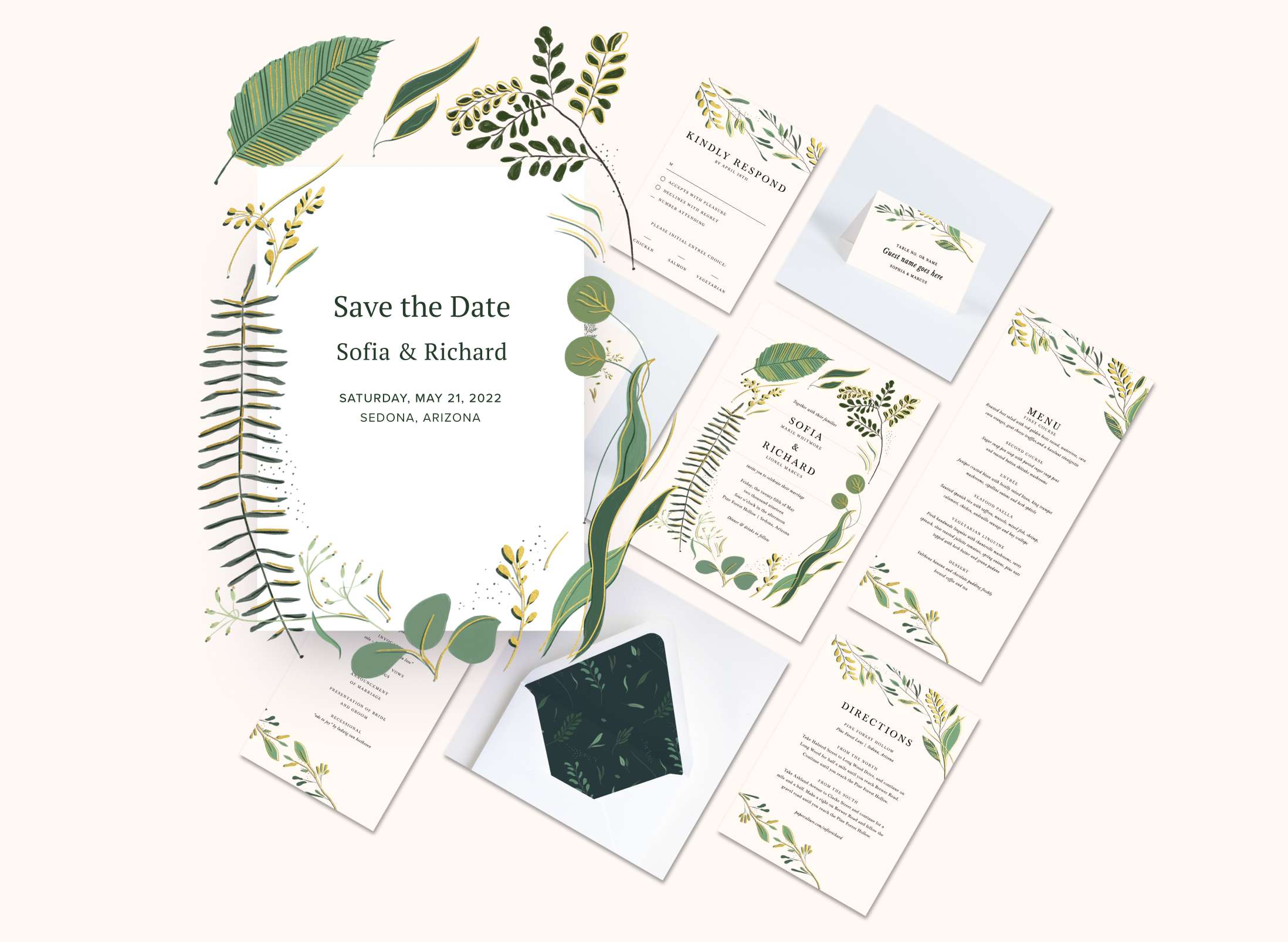 Related Posts