You've decided on a date for your wedding. Maybe you've even started looking for a venue. What's next on your wedding planning journey? Letting all your intended guests know about your upcoming celebration, of course!
If you're not sure when to send save the dates or what they should contain, you'll find answers to those questions and more right here.
Should You Send Save the Dates?
Absolutely. While they're not essential, we highly recommend sending save the dates to your guests. Yes, even those who already know everything about your upcoming celebration, like your bridesmaids or wedding party.
Save the dates help your guests plan their time, arrange time off from work, and schedule childcare so they can celebrate your big day with you. They're especially useful for destination weddings and if you decide to tie the knot over a holiday weekend. Your wedding guests will really appreciate the heads up — especially if they need to make travel arrangements.
If you're having a short engagement and your wedding day is fast approaching, you can skip sending save the dates and just post your formal invitations instead.
When to Send Save the Dates
Most couples send their save the dates about 4 to 6 months ahead of the wedding. This is a sweet spot for accommodating the needs of your guests, as it gives them plenty of time to make arrangements so they can join you.
For destination weddings, it's best to send your save the dates out slightly earlier. We recommend anywhere between 6 to 12 months, depending on the location, how far guests will need to travel, and what plans they'll need to make to be at your wedding.
Like almost everything wedding-related, when you send save the dates is ultimately your choice as a couple. You know your guests best, so you'll have an idea if they need extra time to make arrangements to attend or whether they're happy to hear from you closer to the date.
When to Start Planning Your Save the Dates

You've worked out when to send save the dates, now let's make sure you have enough time to get them ready.
We suggest giving yourself a month to get everything together to create your dream save the dates. This gives you time to find a design you like, or to work with a designer to create your own.
Some couples like save the dates to match their wedding stationery or wedding website, but you may not be at that stage just yet.
If you've already built your wedding website with us, you'll find lots of beautiful save the date designs that match our templates. You could also browse websites like Pinterest to find DIY inspiration.
You'll also want to factor in time for printing. Check with your designer or the company you're using to print your save the dates. Some will have a longer lead time than others, especially for bespoke and more detailed designs.
Sending electronic save the dates only? You can cut your planning time down, as you won't need to worry about printing and delivery times.
Your Save the Dates Checklist
You're all set with when to send save the dates, but do you know what they should include? If not, don't worry — use this list to help you plan and format the perfect save the dates.
The Couple
It wouldn't be a save the date without confirming who the happy couple is. Yes, it may be obvious to most (if not all) of your guests, but you'll want to formally invite people as a couple.
Plus, it helps those distant relatives who may not have seen you and your partner for a while.
Give your invitees an extra reason to smile and make reference to your love story, either on your save the dates or on your wedding website.
Wedding Date
This is the second most important information you'll include on your save the dates. After all, it's what these little cards are named after.
You want people to celebrate your special day with you, so your wedding date needs to be firmed up before you send out your save the dates. If you can't confirm your date just yet, postpone sending your cards. It doesn't matter if they're sent out a little later than expected.
Worried that the date might change? You can always send a paperless card from your wedding website to keep everyone updated (more on this later).
Location
Even if you haven't chosen a venue yet, the location of your wedding needs to be on your save the dates. It's a huge help to your guests if they know the area they'll need to travel to. This is especially useful for people who are traveling from out of town, and it's a must-have for a destination wedding.
If you've fallen in love with a venue and booked your wedding already, feel free to mention the exact location on your save the dates. Otherwise, the town, city, or general location is fine.
Guest List
Before sending your save the dates, you need to be really clear on who is invited. Tradition says that if someone receives a save the date, it'll be followed by a wedding invitation. That means your list needs to include only the people you really want at your celebration.
It also helps to include who specifically in a group is invited. If a partner or plus one is invited, make this clear. The same goes for family members and children of your invitees. This helps people make plans to celebrate with you and also helps you plan your arrangements.
Have an A list and a B list? Send your save the dates to your top invitees only. You can always skip right to sending your wedding invitations to any later guests if some of your top-tier friends and family aren't able to make it.
Wedding Website
It's not an essential, but if you've created a beautiful wedding website, it makes sense to include a link on your save the dates.
Your wedding website will be the go-to place for guests to stay up-to-date with what's happening, so get them involved right from the start. It'll be where they can RSVP, view your engagement photos, and find your registry.
Travel Information
If your wedding is a fair distance away, or you're planning a destination wedding, you might want to include some basic travel information. Along with the approximate location, you could share where the nearest airport or train station is, plus details on local hotels.
While it's not a must-have, your guests are likely to appreciate the extra information to help plan their travel.
Don't want to include too much on your save the dates? You could always feature this information on your wedding website instead.
Add a page with information on nearby hotels so guests can save money on hotel rooms, along with tips on the best places to enjoy brunch or dinner the day before.
Learn the Ultimate Save the Date Etiquette

You've got the basics covered, now it's time to brush up on your etiquette when it comes to sending save the dates.
Not sure what you'll need or what type of save the dates to send? Wondering what happens if your venue or date changes? Worry no more — discover all the top tips and advice in our must-have guide to save the date etiquette.
Up Next:
Heres's how to create and send free paperless save the dates and order matching paper stationery!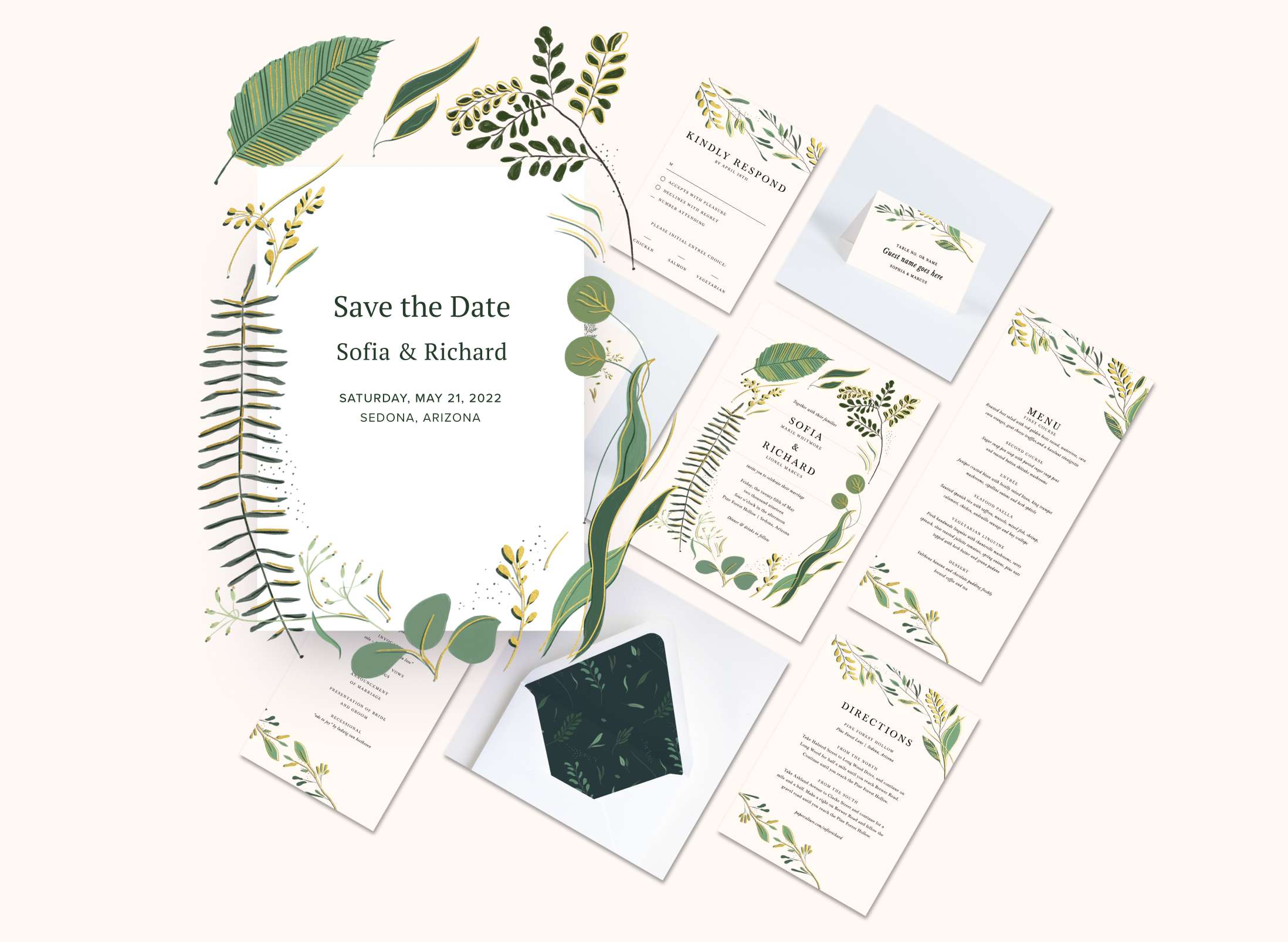 Related Posts