Winter might seem like an unpopular time to plan a wedding — hello, unpredictable weather — but think again. The winter chill affords opportunities for a cozy, candlelit setting and a chance to say "I do" amidst the whimsical beauty of the season. But it's not just the ethereal ambience that makes winter weddings so beloved. The wedding industry booms in the warmer months, so opting for a cold weather celebration grants you a unique opportunity to stand out from the crowd. Plus, venues and vendors often offer more flexibility and competitive pricing during this time of year, allowing you to create a wedding that truly reflects your style without breaking the bank. Intrigued? We've got plenty of ideas to help you craft the winter wonderland wedding of your dreams.
Romantic Winter Wedding Themes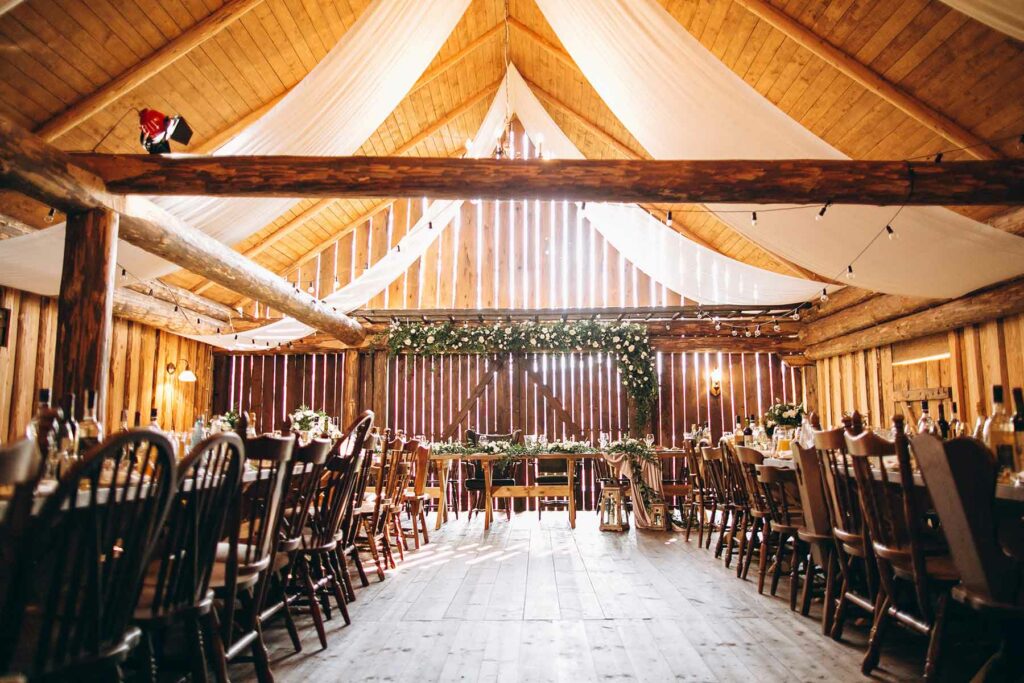 Swirling snow and bare trees make for a picturesque setting, and there are so many themes you can embrace that go along with the vibe. Whether you're dreaming of a snowy retreat, a glamorous New Year's Eve celebration, a rustic affair, or a boho chic gathering, winter is an easy season to make your wedding dreams come true.
For classic fairy tale nuptials, embrace the enchantment of the season by incorporating white and silver decor, crystal accents and faux fur touches. Imagine a ceremony held in a snowy landscape or a grand ballroom adorned with twinkling lights. Add a touch of warmth with cozy blankets and hot cocoa stations. This theme will transport your guests into a whimsical world.
Or if you're ringing in your marriage amidst the excitement of New Year's Eve, get ready for a wild celebration! Embrace the glitz and glamour of the holiday season by incorporating gold, black and silver accents. Sparkling confetti, Champagne towers and a countdown to midnight will set the tone for a night of unforgettable wedding day. For an unforgettable splurge, organize a spectacular fireworks display to light up the sky as you say "I do."
Even a boho, free-spirited atmosphere can work for winter. Think dreamy and ethereal details combined with the coziness of winter. Opt for a venue with exposed brick or wooden beams, and adorn it with macrame backdrops, dreamcatchers and fairy lights. Embrace natural elements like feathers, dried flowers and foliage for your bouquets and centerpieces with a color palette of earthy hues, deep jewel tones or even warm pastels to add a boho twist to the winter landscape.
Have Fun With Color and Pattern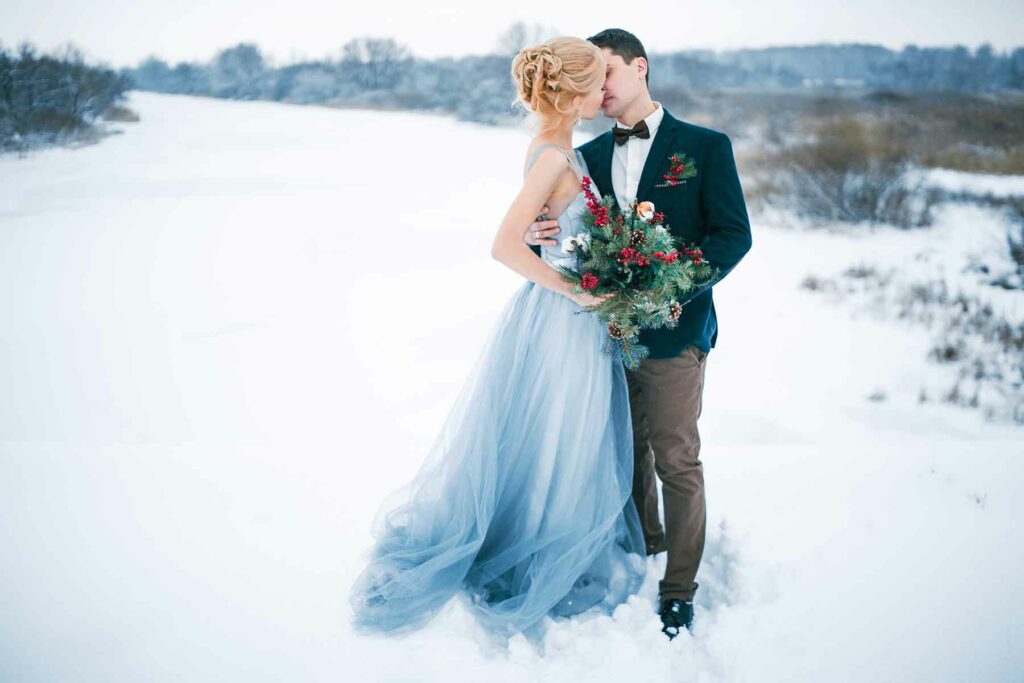 While classic winter hues like icy blues, deep reds and rich greens are popular, it's important to strike the right balance and avoid turning your celebration into a holiday party. When considering winter wedding decor ideas, remember to stick to a limited wedding color palette to keep the look cohesive and stylish.
For a sophisticated and elegant look, consider combining various shades of wintery blues such as frosty, dusty or midnight variations. These cool tones will bring a tranquil, romantic vibe to your wedding. Pair them with soft neutrals like ivory or silver for a subtle touch of glamour. Or introduce deep reds or burgundy as accent colors to creamy whites and beiges — the contrast will really pop in your wedding photos.
If you're feeling adventurous, also consider incorporating patterns like tartan or plaid into your wedding decor. These nontraditional patterns can add a cozy and festive touch to your celebration. Use them sparingly, such as in table runners, napkins or bow ties, to avoid overwhelming the overall aesthetic.
Choose Indoor Venues With Natural Elements
Unless you're having a destination wedding, your big day will likely be a little on the chilly side. But that doesn't mean you can't embrace the beauty of winter! Seek out a wedding venue with big, beautiful windows peering out into a forest to give the sense of being outside — without the cold. Also look for locations with fireplaces, warm lighting and picturesque winter landscapes. Rustic lodges and elegant ballrooms both give off all the right winter vibes.
If a wedding alfresco is a must, make sure you have your guests covered with plenty of heaters and blankets. Make sure you have a plan B should the weather take a turn for the worst. While a snowy wedding might sound whimsical, the brutal cold usually means high winds and wet hair. Booking a tent or having a back-up venue inside is usually a safe bet.
If you are planning to jet off to a warmer destination, we love that for you! Be sure to do your research to see if the weather will be nice enough to accommodate all your needs. A winter beach stateside could still bring strong, cold winds, but halfway around the world in Australia the sun will be shining!
Get Playful With Your Attire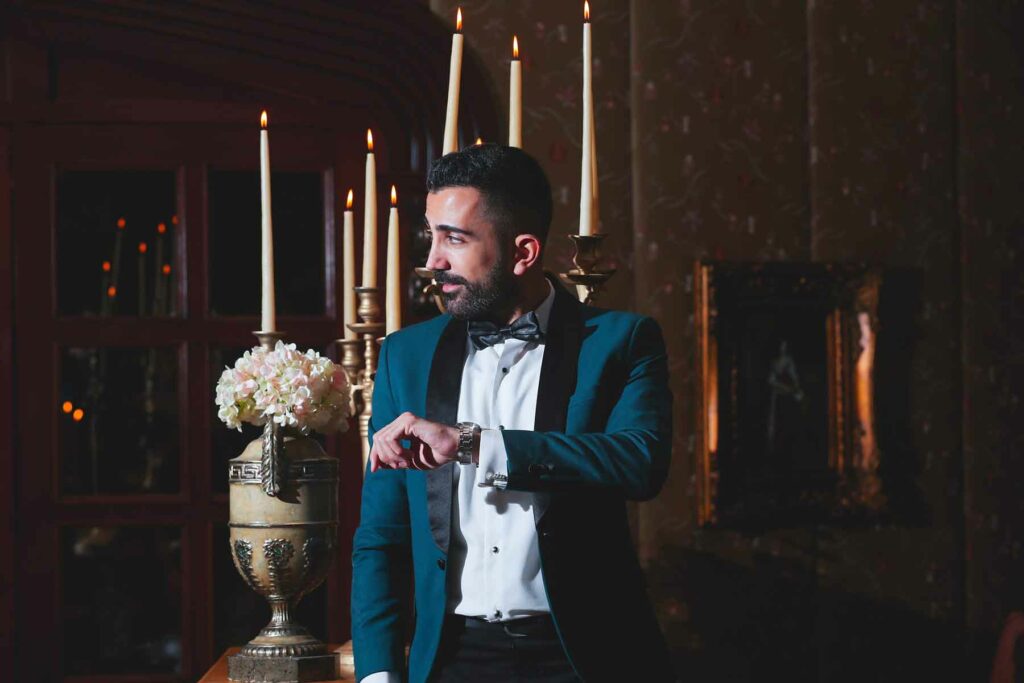 Winter gets a bad rep for encouraging dark, moody colors. When it comes to your wedding wear, we say embrace the trend head-on!
If you're looking for a dynamic way to shake up traditional wedding party looks, introduce patterns with tartan dresses and suit accessories. Thick materials will make all the difference in making these luscious hues pop. Think thick velvets, taffeta and brocade fabrics when you're dressing yourself and your wedding party. If those materials aren't a fit for your vibe, try accessorizing with them in a ribbon belt or waistcoat.
For your own ensembles, keep suits sharp and tailored. A velvet tux with juxtaposing satin details will look amazing against a wintery backdrop. Wedding dresses made from thick materials in a structured silhouette will look beautiful for the season. Try a ball gown in brocade or velvet for a positively whimsical look in a snowy setting. Top it off with a faux fur stole and you might get mistaken for a celebrity. If you are looking for a slimmer silhouette, try a slip dress with a velvet bow accent.
Go Green With Your Winter Florals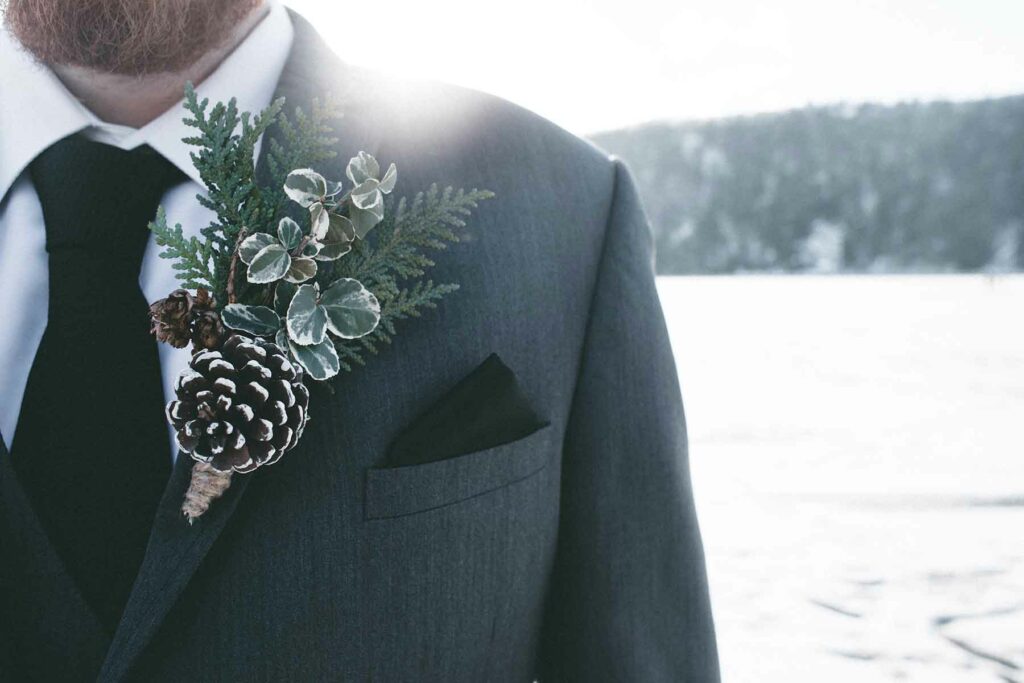 Unlike the fruitful spring and summer seasons, cold weather brings tougher winter blooms and foliage. As a result, you may want to keep your design simple with a heavy emphasis on greenery. Not only will your wedding centerpieces be stunning, but it's also much cheaper than importing out-of-season blooms from a warmer climate.
For your winter wedding flowers, consider incorporating elegant options like amaryllis, anemones, ranunculus and hellebores. These blooms come in a variety of colors, from rich burgundy to delicate whites and blush tones that create a romantic and sophisticated atmosphere.
Complement your florals by weaving in some natural elements that add a touch of winter charm. Cranberries are a fabulous choice for adding pops of vibrant red to your arrangements, while holly sprigs and their glossy green leaves can lend a classic touch. Pinecones, birch branches and evergreen foliage, like cedar and pine, create an organic, rustic feel.
To prevent your winter wedding from feeling too much like a Christmas party, balance is key. Mix in other elements that aren't solely associated with the holidays, such as metallic accents in gold or silver, frosted berries or delicate snowflake details. Consider incorporating warm candlelight, cozy textiles like faux fur or velvet, and seasonal fruits such as pomegranates or persimmons.
Bring the Outside Indoors for Ceremony Decor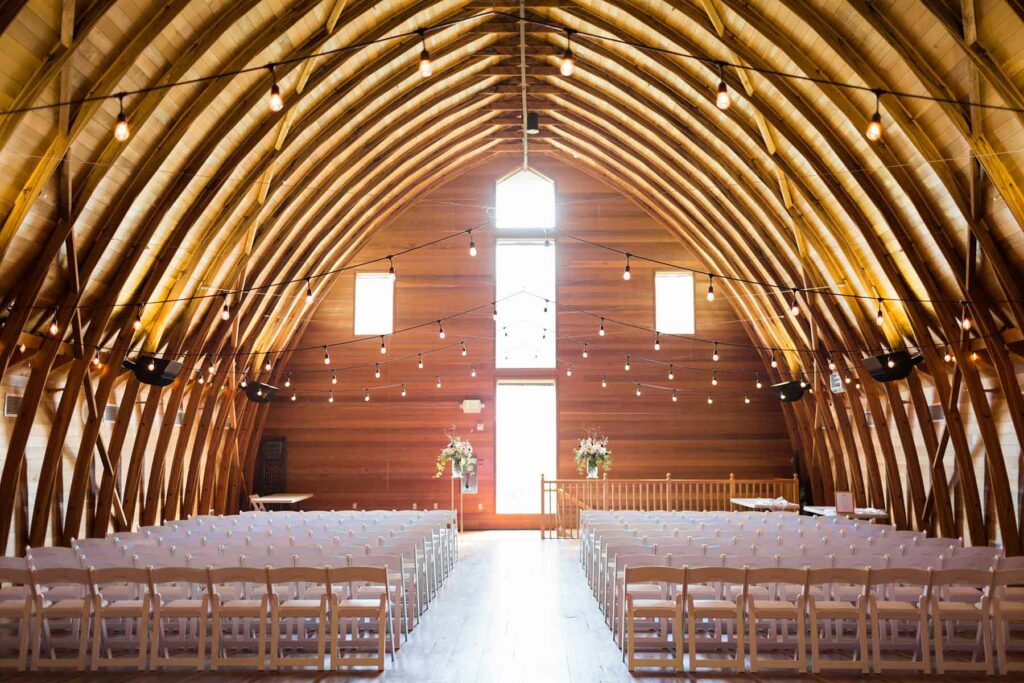 Draping garlands over your wedding signs is a festive way to welcome your guests into your winter wonderland. Opt for other subtle nods to the holiday season through small details like shimmering metallic accents throughout your wedding ceremony.
For your wedding programs, consider incorporating elegant elements like sprigs of pine leaves tied with a satin ribbon or icy blue hues to capture the enchantment of the season. Sprinkle in some shimmering silver or gold accents that will shine under your romantic lighting. You can even add a sentimental touch by printing a winter quote or poem on each program.
When it comes to aisle runners, opt for a plush white or faux fur material. It will create a luxurious and cozy atmosphere, making you feel like you're walking on a soft blanket of snow. Consider adding scattered white rose petals for a tone-on-tone look, which will add a touch of romance and elegance. Step away from classic florals for your wedding arch; instead, use lush garlands made of winter foliage like frosted branches, eucalyptus or holly. Weave in some twinkling fairy lights to create a magical ambience.
Play With Texture at Your Reception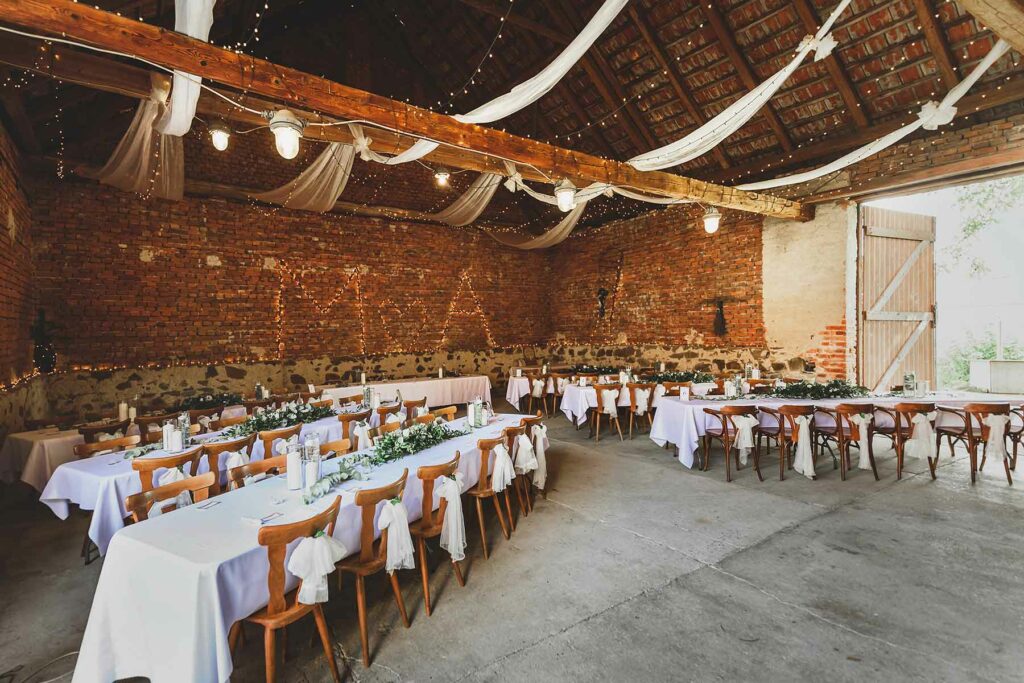 The naturally cool weather invites heavy, luxurious textures and natural elements, so bring that concept into your reception venue. For your table linens, opt for rich, warm fabrics like velvet or satin in deep shades of burgundy, navy or forest green.
Complement them with soft and glowing flameless candlelight. Hang chandeliers from the ceiling to create a glam appeal or wrap twinkle lights around pillars for a dreamier look.
Rustic wedding receptions can incorporate winter elements by using pinecones as creative escort cards. For an easy DIY centerpiece, integrate more pinecones and evergreen branches to create beautiful on-theme tablescapes. White or metallic dinnerware will pop at each place setting, especially with gold or silver flatware and sparkling crystal glasses.
Don't forget about the dance floor! To make it extra inviting, adorn this open space with a luxe faux fur rug or a personalized monogrammed dance floor decal. This will create a focal point and provide a cozy spot for you and your wedding guests to dance the night away. Consider adding warm and inviting touches like baskets of cozy blankets or pashminas around the venue in case guests catch a chill or want to step outside for some fresh air.
Lean Into a Heavy Menu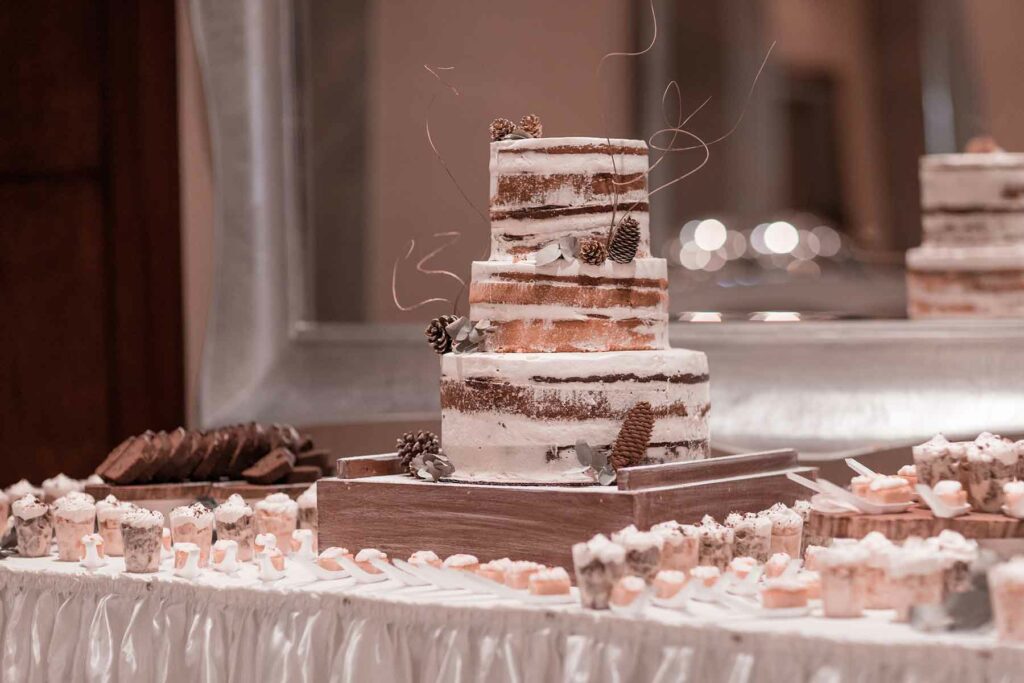 Winter cuisine is synonymous with stick-to-your-ribs comfort foods — bold, savory flavors and a rich mouthfeel are hallmarks of the season.
Before we get into the main course, let's dip into cocktail hour, shall we? Let the star of your reception be a hot chocolate bar. Set up a charming station with a variety of toppings like marshmallows, whipped cream, crushed candy canes and flavored syrups. Consider adding a selection of liqueurs at the bar for the adults to sip boozy hot chocolates, like peppermint schnapps or Irish cream. When it comes to cocktails, warm and comforting options are a must. Think mulled wine or cider spiked with cinnamon, cloves and citrus zest. For a signature cocktail, consider a festive twist on a classic, like a cranberry mule or a vanilla-infused whiskey sour.
For the main menu, embrace the heartiness of winter ingredients. Start with a cozy soup like butternut squash or roasted chestnut. For the main course, consider serving comforting dishes like braised short ribs with roasted root vegetables or a hearty vegetarian risotto featuring seasonal mushrooms. Finish off the meal with a delectable dessert spread featuring mini pies, gingerbread cookies and warm fruit crumbles. Decadent truffles that guests can take home make for great wedding favors.
Now, onto the winter wedding cake of your dreams! You could go for a frosted white cake and a delicate topper made of acrylic snowflakes or opt for rustic charm with a naked cake adorned with fresh berries and evergreen sprigs. Don't be afraid to incorporate seasonal flavors like spiced apple, gingerbread or eggnog into the cake layers or frosting.
Remember, the key to a perfect winter wedding is to create an atmosphere of warmth, comfort and celebration. Your guests will be talking about your magical winter wedding for years to come!