Fall is the perfect season for a fairy tale wedding, from the crisp weather to leaves drifting off trees in the gentle breeze. This is your chance to embrace the allure of nature's transformation and infuse your special day with warm, enchanting vibes. Rustic chic is the name of the game here. Embrace the beauty of the season by incorporating nature-inspired elements into your wedding decor. Think burlap accents, vintage lanterns and hand-picked wildflowers arranged in mason jars. Create a romantic ambiance with flickering candles and soft, cozy blankets for your guests to wrap themselves as you exchange vows. Need more ideas for planning the perfect fall wedding? From warm, vibrant colors to delicious harvest food, here are some autumn wedding ideas we think you'll fall in love with.
Fall Wedding Themes That Say Cozy Romance
Fall weddings offer a wonderful opportunity to embrace the cozy and romantic atmosphere of the season. When you're thinking of a theme for your big day, ponder all the best parts of the season. Leaves changing color, pumpkin spice lattes and cinnamon are all great starting points for inspiration. Think reclaimed woods and burlap table runners for a boho chic farm-inspired wedding, or flickering fairy lights and pumpkin decor for a whimsical forest fête.
No matter what theme you choose, it's essential to weave it into every element of your wedding. From your save the dates and wedding website to the vows and reception decor, infusing the theme consistently creates a cohesive and memorable experience for you and your guests. Use the chosen colors, motifs and materials in your wedding invitations, signage, table settings and floral arrangements to create a harmonious ambiance throughout your big day.
Warm Colors That Go Beyond the Changing Leaves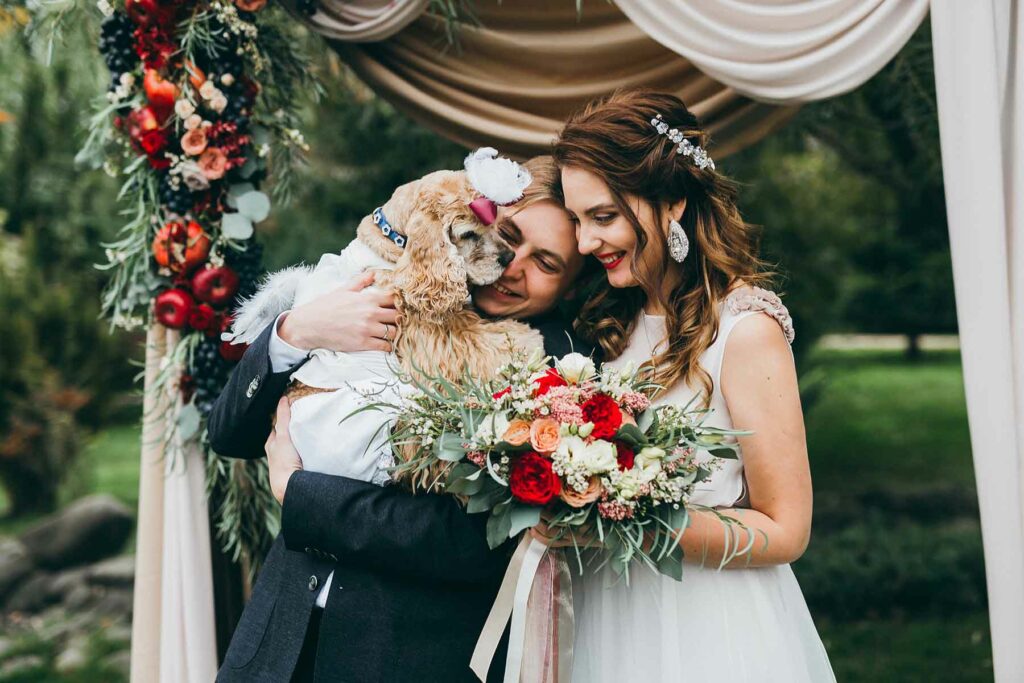 When it comes to choosing colors for a fall wedding, try drawing inspiration from the breathtaking beauty of autumn foliage. The rich reds, oranges and golds found in nature during this season can create a warm and inviting atmosphere for your special day. Incorporating these fall hues into your color palette adds a touch of natural elegance and a cozy ambiance. To embrace the traditional fall colors, consider using deep reds like burgundy or cranberry as a primary color and pair it with shades of burnt orange or mustard yellow to create a vibrant and striking combination. These warm tones can be incorporated into various elements of your big day, such as dresses or accessories worn by the wedding party, floral arrangements and table linens.
If you are loving colors that aren't typically autumnal, don't be afraid to use them! For instance, if you love blue, opt for shades such as navy or sapphire. Rich, saturated hues blend well with the natural colors of the season. Or bring in gold and sunflower yellow as an accent to mimic the coziness of the fall if you want a brighter vibe. Remember, your wedding day should reflect your personal style and preferences above all else. Don't be afraid to step out of the box!
Essentially Fall Venues
To embrace the distinct charm of fall, you'll want to incorporate nature into your design, whether that means getting married outside or bringing the outdoors in. Rustic wedding venues such as barns are the classic backdrop for an autumnal celebration, but if you are looking to venture outside the tried-and-true box, look for a winery! With their rolling vineyards lit up in vibrant hues of red, orange and yellow, wineries provide a picturesque destination. The combination of rich wines, crisp autumn air and stunning natural landscapes create an unforgettable ambiance. Not to mention, most of these venues will likely have a killer wine package.
If a winery is still proving too rustic for your taste, go glam with a Victorian mansion. These eye-popping venues are imbued with timeless elegance and are particularly enchanting during the fall season. The grandeur of a historic building — often surrounded by majestic trees shedding their leaves (hello, whimsical wedding ceremony!) — adds a touch of nostalgia and warmth to any occasion, from formal affairs to cozy celebrations.
Keep Your Attire as Unique as Your Love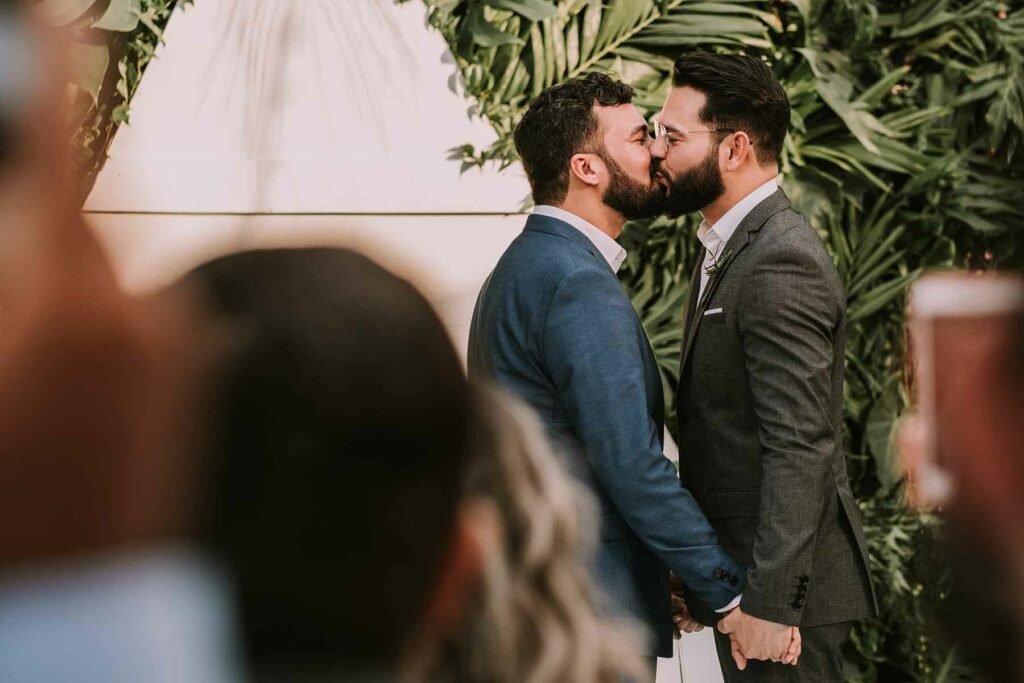 We love drawing inspiration from the cozy, warm colors of fall, even in wedding attire. Break open that black and white box and look for fresh suiting in deep burgundy, navy or forest green. Consider timeless and dapper fabrics like tweed or velvet to elevate a rich color scheme. Add in a little tailoring and a plaid tie, and you have a picture-perfect look that's the epitome of sophistication.
If you are opting for a wedding dress, have some fun with fabric and texture (and a little color, if you're bold!). Choose gowns with intricate lace details, illusion necklines and long sleeves. Embrace the fall vibes with warm-toned dresses in Champagne, ivory or blush. If you're feeling adventurous, you can even opt for a dress with delicate floral appliques or embroidery inspired by the fall foliage.
Now, let's talk wedding party outfits. This is a great opportunity to bring in those vibrant colors we've been mentioning. For dresses, rock elegant floor-length frocks in jewel tones such as emerald green, deep plum or sapphire blue. These colors will beautifully complement the fall scenery. Mix and match styles and necklines to add a touch of individuality. If suits are more your vibe, consider coordinating with matching vests or ties in complementary shades.
Let Foliage Be Your Friend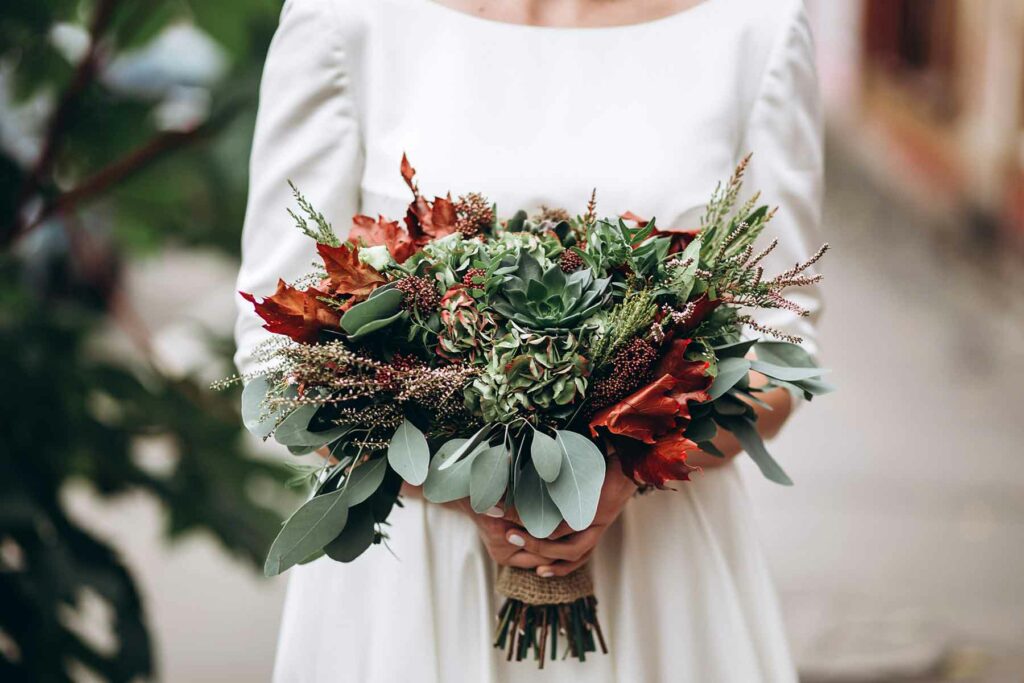 Don't get us wrong, we love a summer and spring wedding, but fall wedding bouquets are our favorite for the mix of flowers and foliage. As always, in-season wedding flowers are the way to go but work with your florist to add some texture with natural elements, too. For bouquets, think of incorporating dahlias, chrysanthemums and sunflowers with playful touches of berries, dried wheat or colorful maple leaves for an extra dose of charm. Make sure any boutonnieres pull in similar vibes. You can even consider incorporating mini pumpkins!
Ceremony Decor Ideas to Fall For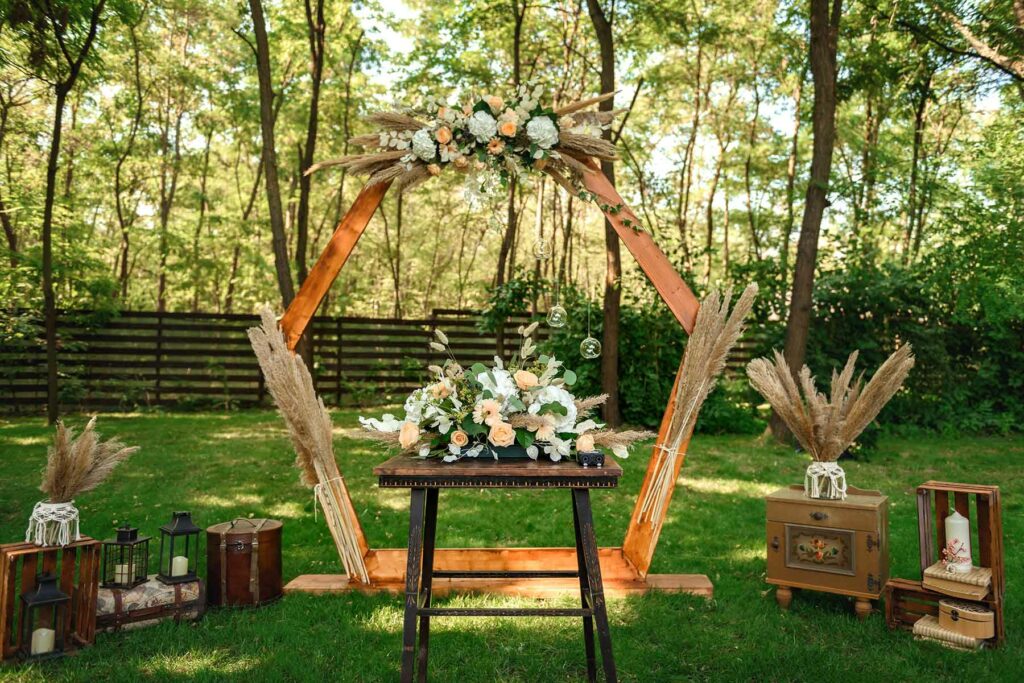 Keep your ceremony decor soft and romantic to mimic the time of year. Embrace the natural elements by adorning your space with floral wedding arches made of branches, showcasing the vibrant hues of this cozy wedding season.
Add an extra touch of warmth with flameless candles that will cast a soft, flickering glow — imagine walking down the aisle under a canopy of twinkling string lights, recreating the feeling of a starlit autumn evening. Mood lighting is key to capturing the fall atmosphere. Instead of the bright, sunny vibes of summer, think about incorporating warm shadows and sunset-inspired lighting. Use dimmable lights to create a cozy and intimate ambiance, evoking the feeling of being wrapped in a warm blanket.
If you're bringing the autumn vibes indoors, infuse rich colors into your fall wedding decor. Think deep reds, burnt oranges and golden yellows for your floral arrangements and chair accents. Consider incorporating natural elements like pumpkins, gourds and autumn leaves to add texture and a touch of whimsy. Going with neutral tones for the ceremony? Cinderella (white) pumpkins mixed with greenery lining the aisle will give your nuptials some serious fairy tale vibes.
Rich Reception Decor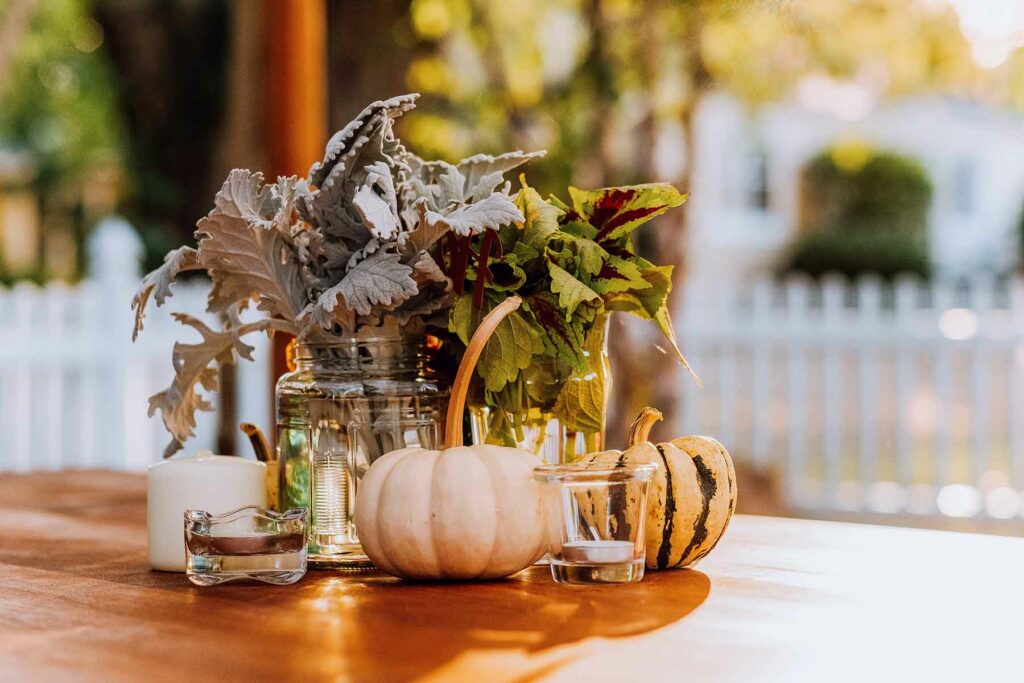 When it comes to fall wedding ideas for decor, you can think so much bigger than just beautiful colors. The amount of organic foliage at your disposal this season will be a huge help in decorating your reception!
First, let's talk about the natural wonders of eucalyptus and pampas grass. These botanical beauties are the epitome of rustic elegance. Drape eucalyptus garlands across tables at your wedding reception or suspend them from the ceiling to create an ethereal ambiance. Pampas grass adds texture and whimsy to arrangements, making them perfect for floral arrangements or arches.
Don't sleep on other in-season wonders! Put those falling leaves in your yard to good use and DIY a backdrop for photo opportunities. Intersperse gourds and pumpkins throughout the venue for an authentic autumn feel or utilize wood rings as charming coasters or charger plates.
For showstopping fall centerpieces, let your imagination run wild! Mix fall flowers including vibrant zinnias, marigolds and asters with rustic elements such as wooden branches, pinecones or moss. You can even add a touch of whimsy to your wedding centerpieces with miniature scarecrows or use seasonal fruit like apples and pears at each place setting as decorative wedding favors. Make sure whatever you choose also works with the vibe of the venue!
Craft a Comforting Menu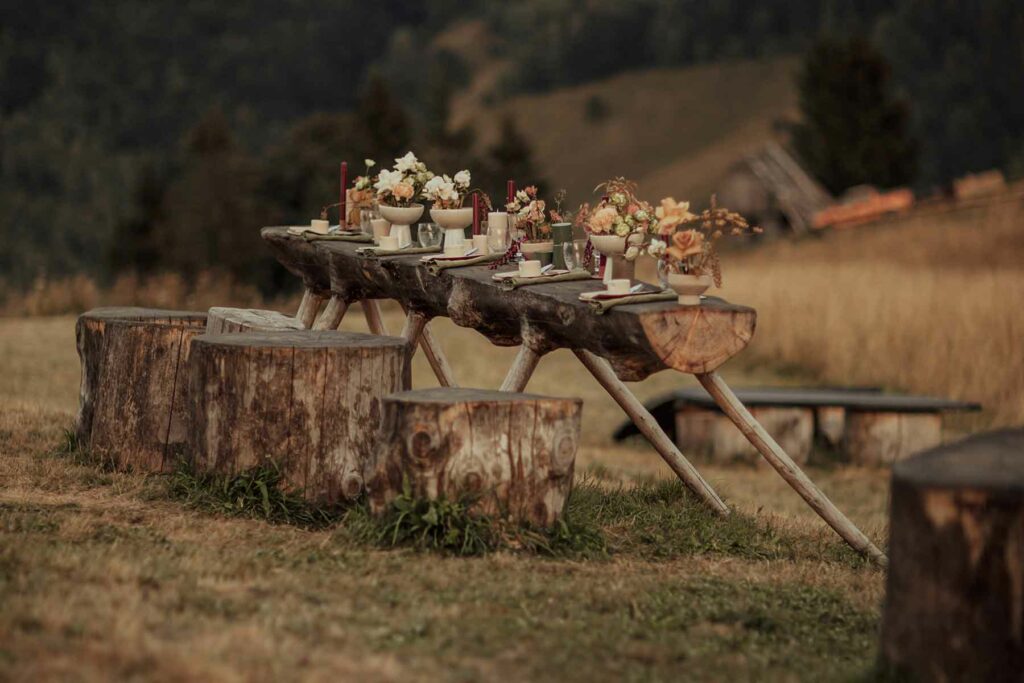 Fall foods are notorious for being like a hug for your soul. Share this warmth with your wedding guests by creating the perfect menu that channels all those fall vibes.
Kick off your cocktail hour with a burst of seasonal magic by serving refreshing apple cider drinks infused with hints of cinnamon and nutmeg (provide an alcoholic and mocktail version so everyone can enjoy!). Pair them with bite-sized hors d'oeuvres such as miniature butternut squash tarts or caramelized pear and goat cheese crostini.
Moving on to the main course, think beyond chicken or fish and focus on incorporating those coveted seasonal flavors. Consider dishes such as roasted acorn squash risotto, herb-crusted pork tenderloin with apple chutney, or maple-glazed salmon accompanied by roasted root vegetables. These dishes will showcase the fall harvest and provide a warm and comforting experience for your guests.
Now, let's get to the good part: dessert! Capture the essence of fall by decorating your cake with delicate sugar-crafted autumn leaves, rustic twigs or charming edible flowers in warm hues. Opt for flavors including spiced pumpkin with cream cheese frosting, apple cinnamon or decadent maple pecan. In addition to your wedding cake, arrange an irresistible DIY caramel apple station, where guests can dip their own fruit and choose from an array of toppings such as crushed nuts or sprinkles. Another unique idea is a rustic hot chocolate bar, complete with flavored syrups, marshmallows and a touch of cinnamon or peppermint.
From cozy decor to menus filled with comfort foods, harvest season fêtes are wrapped in warmth and love. Embracing the feeling of the season with these fall wedding ideas will invite your nearest and dearest to share in the magic of your special moment.