While save the dates are important for all variety of weddings, they're especially crucial for destination weddings, as guests require ample notice if they need to plan attendance at not just a wedding, but also a full-on vacation. Luckily these simple cards are straightforward to create, but there are some tips and tricks that will make the process of writing, editing and sending out these reminders even easier.
What to Include
Although what to include on a save the date might seem like a no-brainer, you'd be shocked to discover how many couples have these printed and sent, later realizing they left out a needed bit of info. We'll help you avoid that whoopsie.
Your names. Again, a no-brainer, right? But sometimes the most obvious information can slip the mind. It's your choice whether to include your first names only or full names, but if there is the slightest possibility some guests might get your first-name-only mixed up with someone else of the same name, you might as well pop your surname on there.
Wedding date. This information is the bread and butter of a save the date, and something you want to triple check the accuracy of before having it printed and sent. Because destination weddings require more than one day of guests' time, direct them to your wedding website to get the full breakdown of the wedding events and dates. But for the card, only include the date of the ceremony and reception.
Wedding destination. It's imperative potential guests know where they'll need to travel for your nuptials, as this will inform whether the trip is doable for them. Be as specific as possible with this information, informing guests of the site of the ceremony and reception, if it's been decided.
Wedding website. Be sure to include your wedding website, as the site will be guests' portal to essential information like accommodation options, hotel discount codes, travel recommendations, registry links, dress code and other details that can help them prepare for your wedding as soon as possible.
Formal invitation to follow. Prevent confusion by making a note at the bottom of your save the date that a formal invitation will follow.
Etiquette
Being informed on save the date protocol, such as when to send them, who to send them to, and other relevant customs, will simplify your wedding planning, and make sure you don't ruffle any feathers.
When to send them. It's ideal to send save the dates for destination weddings 10-12 months in advance. This gives guests plenty of time to plan for time off, book travel and accommodations, and take care of any other travel or wedding related requirements.
Select a design that reflects the style of your wedding and destination. As the site of most destination weddings conveys a certain vibe, and you likely have an idea of how you want to incorporate that into your special day, try to select a save the date design that emulates these considerations. Ideally, a save the date for a destination wedding gets people excited about the prospect of an unexpected vacation, so shoot for a design that will enhance that excitement.
Only send to people you're sure you want at your wedding. Save the dates should be sent strictly to those you're completely sure you want at your wedding. Even though these aren't the official invite, they deliver the message that the recipient is 100% invited.
Proof read. Before you order your save the date card, or email it, read it over multiple times, and have one or two others proof read, helping ensure you didn't misspell anything, or provide incorrect information.
Don't include registry information. While your registry information can absolutely be included on your wedding website, it's best to leave it off the save the date.
Example Destination Wedding Save the Date Templates
Having a destination doesn't mean you have to go with a particular style for your save the dates, of course, but if you're looking for some inspiration, here are some of our favorite save the date templates for destination weddings.
Online Save the Dates
An increasingly popular option for couples to send save the dates online via an e-card. It's a great way to save time and money while making it easy for your guests to find your wedding website. You can even find designs to match your save the dates to your wedding website and print invitations! Learn more about paperless save the dates here and see more save the date and wedding website designs here.
---
More Destination Wedding Tips:
Up Next:
Heres's how to create and send free paperless save the dates and order matching paper stationery!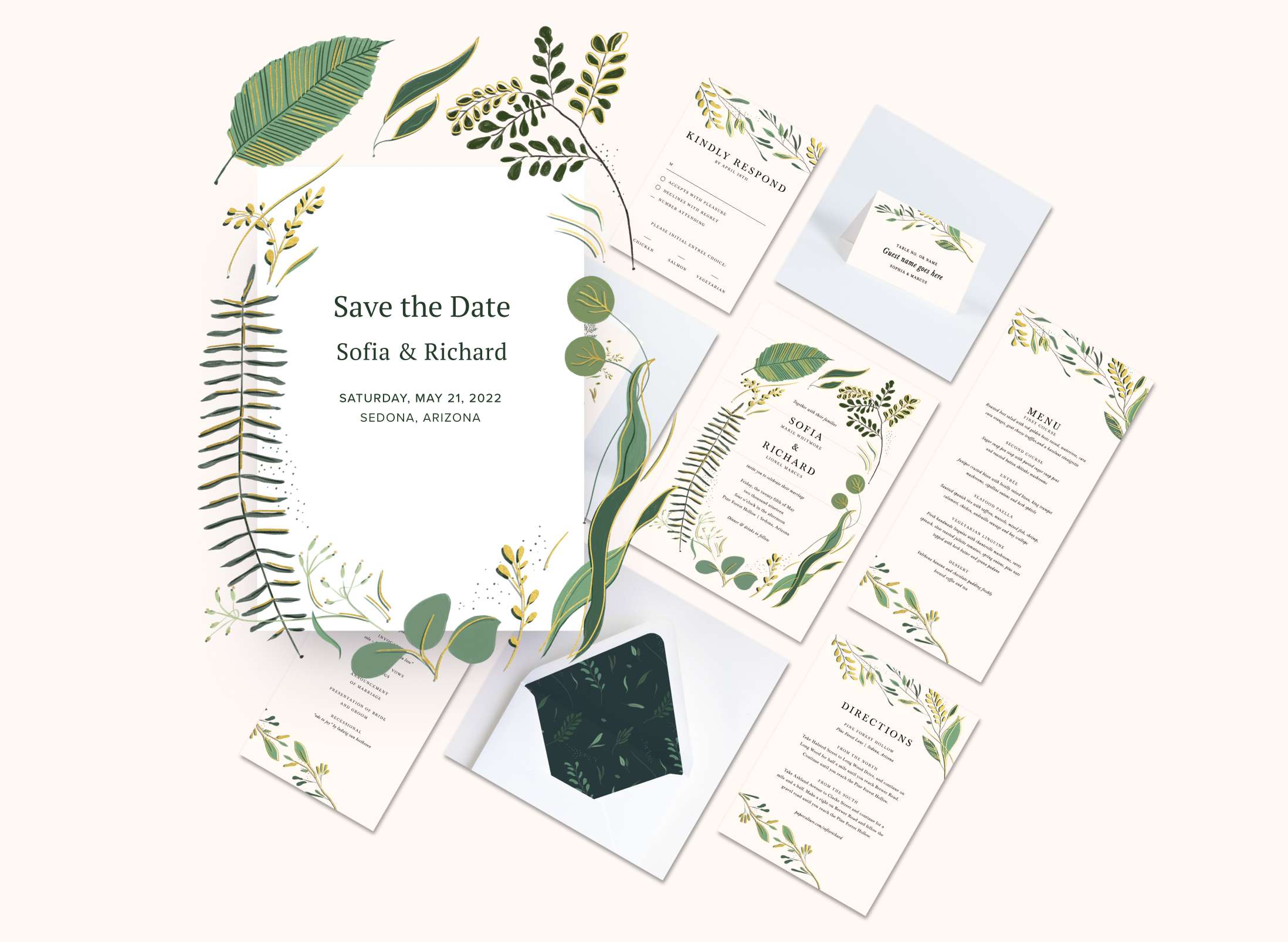 Related Posts