As a devoted pet parent, you understand that life is made sweeter with a four-legged friend by your side. It's only natural to want your beloved pet to be a part of your wedding day. As you and your partner think through the special occasion, consider what role your companion may play — whether it's a special cameo appearance, serving as inspiration for decor or something in between. We've compiled a list of creative ideas to include your pet in one of the biggest moments of your life.
Engagement
Your pet can be involved in your wedding journey from the very start.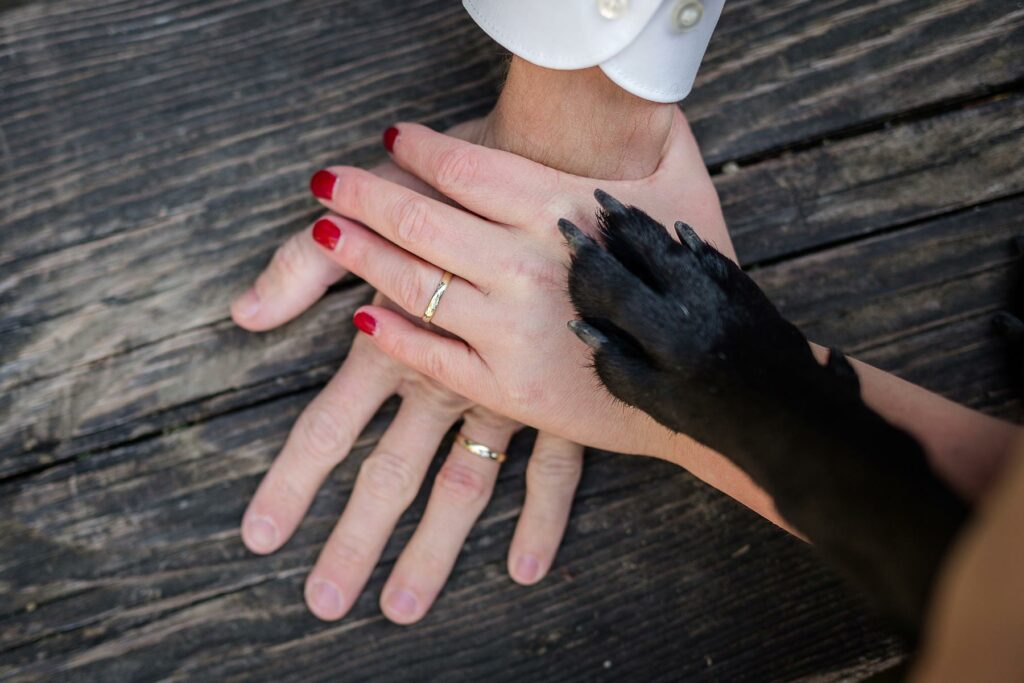 1. Bring them when popping the question.
2. Feature your pet in your engagement photos.
Let your furry friend show off its winning personality during an engagement photo session.
3. Create an engagement announcement designed from their point of view.
Let your pet take the lead in spreading the word, whether it's on social media or a printed card. Who better to share the good news about your engagement?
Wedding Planning
Your big day should be a representation of you as a couple. Because your pet is an integral part of your life, keep them in mind when planning all the details. Go all-in with a pet-friendly venue, or give them a nod when finalizing the personal touches for your wedding ceremony.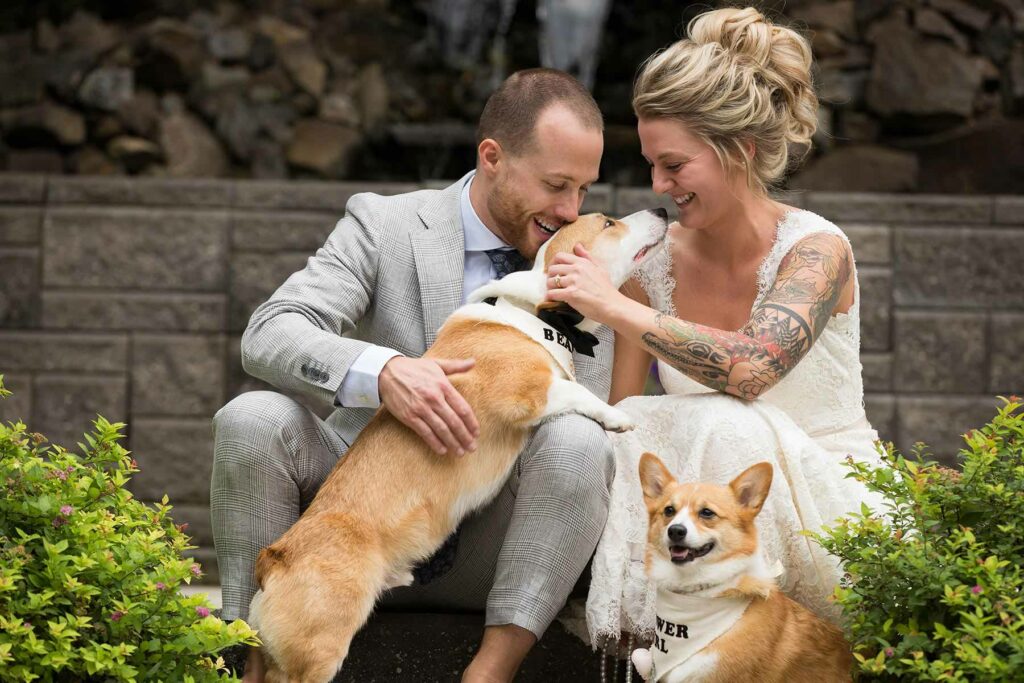 4. Choose a pet-friendly venue.
Finding the perfect wedding venue is one of the important decisions you and your partner will make while planning for the big day. Barns, farms or private residences may have fewer restrictions about having pets on-site.
5. Find a venue inspired by your pet.
If your pet can't travel out of your home, look to venues that feature similar animals, such as an aquarium or aviary.
6. Pick a date that's meaningful.
As a pet parent, there are dozens of memorable moments that could also serve as your wedding date, like the day you adopted your pet or the first time you introduced them to your partner.
7. Create a spotlight section on your wedding website.
Add a section all about your pet on your wedding website, and the love you and your partner share for them. Everyone loves a feel-good read! Joy offers thousands of templates to customize your wedding website and feature your pet alongside the details of your big day.
8. Incorporate animals in your save the dates or invitations.
If you're known as a cat-loving couple, lean into that when selecting a design.
9. Order custom stamps.
Transform a joyful photo of your pet into postage stamps. It's a simple way to include your special animal without a heavy lift.
10. Use them as inspiration for your wedding colors.
Sometimes, nature knows best. Buck the annual trends and borrow inspiration from your pet's fur, scales or feathers for your wedding color palette.
11. Add pet-friendly items to your registry.
Select utility products like vacuums, litter boxes or air purifiers. Don't forget to add something special just for them, like a fancy collar or cozy bed. If you're interested in items from a specialty pet shop, Joy makes it easy to link all your wedding registries in one place.
At Your Wedding Ceremony
Don't let your pet stay at home during one of the biggest moments of your life. Give them a front-row seat to bear witness to your love at the nuptials.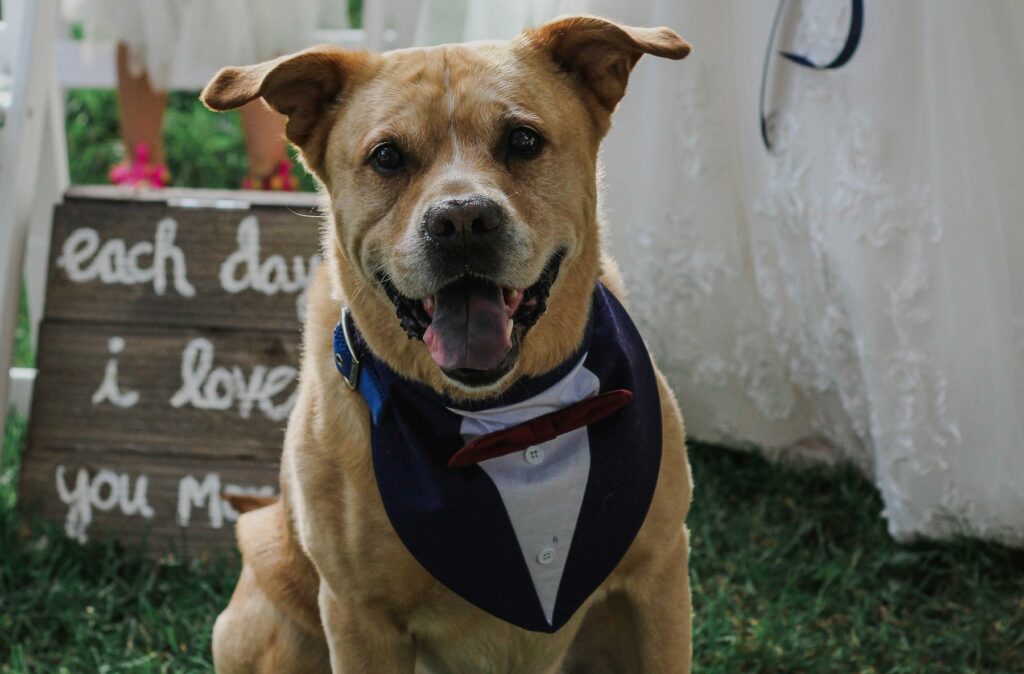 12. Dress them up.
Your pet is already adorable; turn it up a notch with wedding-themed attire. Bow-tie collars, "I do" bandanas or flower wreaths will add a whimsical touch.
13. Let them walk down the aisle.
Your pet can take on a special role in your wedding party — make it official with a title like "Flower Pet" or "Pet of Honor." Or, just have them by your side for a meaningful, memorable walk down the aisle.
14. Make a grand entrance.
Horse lovers, this one's for you. If your pet is too large to walk down the aisle or can be part of a cultural wedding tradition, arrive in style to the ceremony on horseback. You'll feel at ease with a precious pet so close to you.
15. Do a first look with them.
Share a precious moment with your pet before walking down the aisle. Enjoy the tail wags, snuggles and pet kisses from your furry friend as they see you in your wedding best. Couples can also opt to do a first look together with their beloved animals for double the love.
16. Remember a lost loved one.
Deceased family members may be honored in a wedding program, and this is also a beautiful way to recognize dearly missed pets that have crossed the rainbow bridge.
At Cocktail Hour or Reception
Small touches can elevate your wedding celebration and give guests a novel experience. Draw upon your pet as a source of inspiration for bespoke details.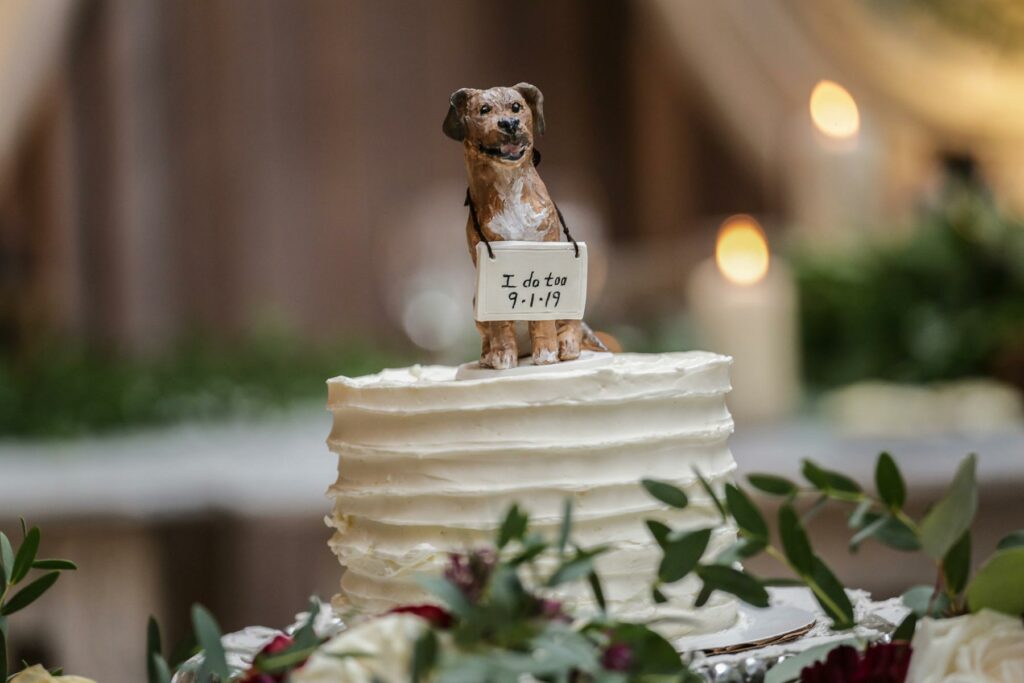 17. Create a signature drink in their honor.
Tasty cocktails take on a fun twist when inspired by a pet. Some easy classics include the Greyhound or Pink Poodle. Look to a signature feature, like your pet's breed or color, to point you in the right direction when choosing a drink.
18. Represent them in the centerpieces.
Personalized details can make a tablescape stand out. Your pet can inspire a beautiful floral arrangement, like flower-filled nests to celebrate a beloved bird.
19. Use their likeness for a cake topper.
If you want to feature adorable animal figurines atop your wedding cake, use your pet as your muse.
20. Fashion a custom dessert after them.
Your guests will look forward to the dessert table. Give them a sugary boost by including a personalized dessert. Your pet can be the design spark for a second cake, cupcakes or cookies. What's sweeter than that?
21. Feature them on custom signage or paper goods.
A furry friend can make an appearance on a welcome sign, napkins, coasters, stir sticks and more.
22. Give animal-shaped favors.
Surprise your guests with a wedding favor that takes after your pet. Tailor-made pieces, like cat-shaped cookies or glass-blown fish figurines, can make delightful keepsakes from your nuptials.
23. Make a donation in lieu of favors.
You and your significant other may prefer to skip the favors and use the funds toward an organization close to your heart, like a local animal shelter or pet rescue. You'll be spreading kindness and awareness of a charitable cause that's meaningful to your relationship.
24. Allow guests to visit with them.
If your pet enjoys spending time around people and is generally well-behaved, invite them to roam through your venue and socialize. Chances are high that your guests are familiar with your furry friend or are animal lovers themselves.
If Your Wedding Venue Isn't Pet-Friendly
Some wedding venues don't allow pets to be on the guest list. But, that doesn't mean you have to leave your pet out of the wedding day celebrations completely.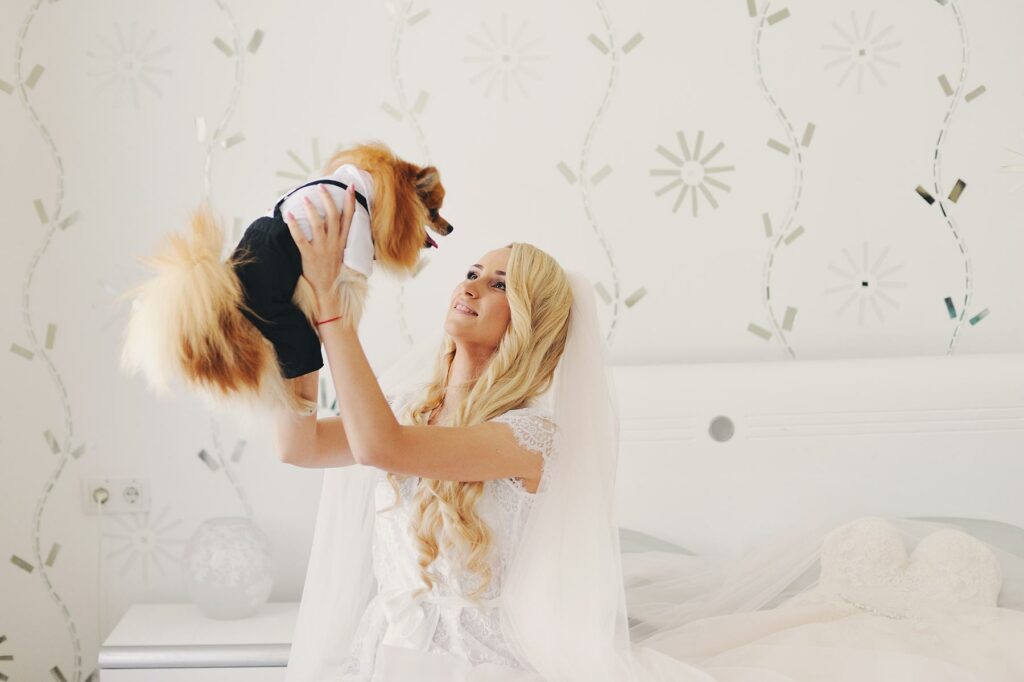 25. Get ready together at home (and take lots of pictures).
You and your pet have shared dozens of momentous occasions; have them by your side as you prepare for this milestone.
26. Wear accessories fashioned after them.
In addition to your wedding attire, don jewelry, a headpiece, cufflinks or a pocket square fashioned after your pet to keep them close to your heart on your special day.
27. Highlight in the escort cards.
Set the tone of your wedding reception with a playful celebration of your pet in the escort cards and display. Feel free to add a bit of whimsy and individuality.
28. Commission a pet-inspired illustration.
Hire an artist to create a customized illustration of your special animal as though it was at your wedding and display it near the welcome table. The special keepsake could make up for keeping your four-legged friend at home.
29. Give them a nod in the decor.
Build out your epic party with novel design pieces. When choosing linens, centerpieces and tablescapes, don't be afraid to select options that are evocative of your pet — think textures, colors or even statues on display.
30. Incorporate them in the photo booth.
Add to the fun of a photo booth with pet cutouts as props. Who can resist posing behind a giant cutout of your adorable cat's head?
31. Close out the party with dessert doggie bags.
Send your guests off with a sweet token of thanks in the form of a doggie bag. Fill it with sugary goodies or crunchy snacks. Adorn the bags with a delightful photo of your pet to make guests smile.
32. Involve them in pre-wedding events.
Have your pet be a guest of honor at your engagement party, wedding shower or rehearsal dinner if your venue requires them to stay at home. While you may feel guilty for excluding them as you say "I do," at least you'll have special memories with your pet during some wedding festivities.
After the Wedding
Whether your pet was in attendance or not, you can still involve them in the post-wedding happenings.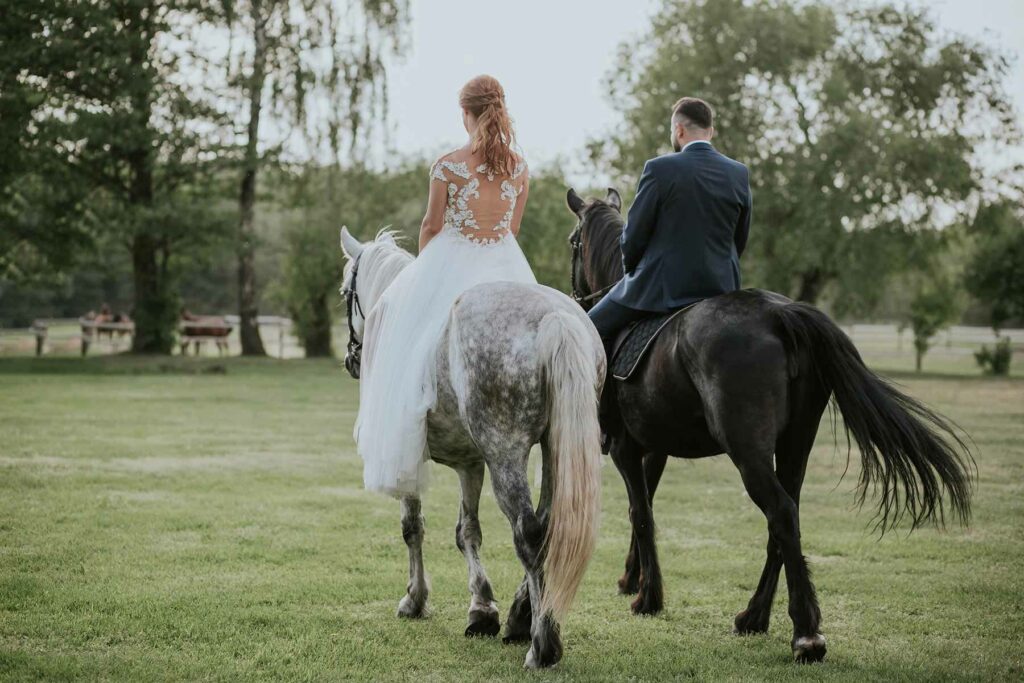 33. Select a pet-friendly honeymoon destination.
You and your new spouse can plan an unforgettable honeymoon with your pet. Keep in mind that some cities and states are more welcoming to pets and pet parents than others, so you may want to choose a destination with plenty of outdoor activities to enjoy. Thankfully, many hotels and rental properties do have allowances for pets.
34. Include a photo of your pet in thank you cards.
Send your wedding guests a little note of gratitude for attending your special day. Feature a photo from your wedding or one that represents your life moving forward: as a happy couple with a loving pet.
35. Trash the dress with your pet.
If you choose to participate in this post-wedding trend, invite your pet to join. Consider wearing your dress to play a game of fetch at the dog park, or while riding your horse at the beach. Don't forget to snap some photos to remember the fun you shared together.