Have you ever wondered why spring is such a popular season for weddings? Not only is the weather nice (rainy days excluded), but everything has a sense of renewal. Flowers are blooming, produce is fresher and the sun is finally peeking out from behind those winter clouds. The vibe is perfect for a new beginning with your betrothed.
Planning a wedding this time of year is so much more than just choosing pretty blooms and pastel hues — it's a chance to spring forward into a totally new stage of life. Use this vibrant energy to embrace all the beauty of what this season means and channel it into your big day. Here are some not-so-basic spring wedding ideas to get you started!
Spring Wedding Themes That Won't Remind You of Easter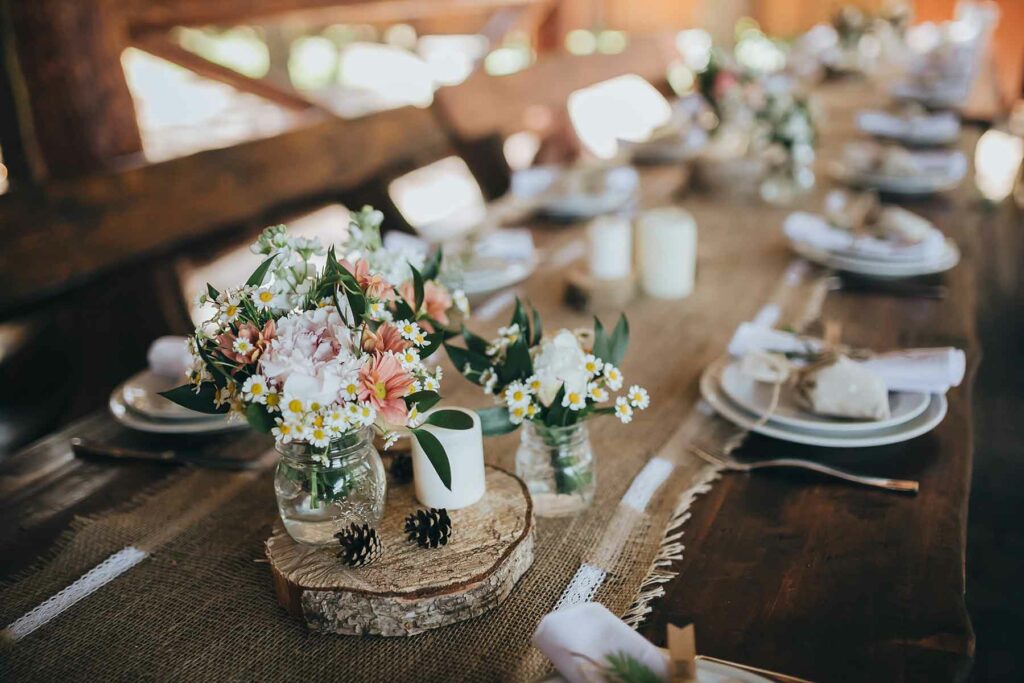 "Florals? For spring? Groundbreaking." Miranda Priestly might have been harsh, but we low-key agree with her. Don't get us wrong, we love a good floral print, but let's think out of the box a little when it comes to your colors and overall wedding theme.
Springtime is all about vibrant, fresh hues, so start by looking at flowers, plants, and even vegetables that are in season to set your wedding color palette. You may find inspiration in the smallest details, such as the ombre of flower petals. But just because you love the natural tones doesn't mean your big day has to be all about florals. Ditch the print and use those juxtaposing colors as the foundation for your overall wedding decor. Or, if your style leans more toward tropical rainforests than whimsical wildflowers, don't sleep on the gorgeous greenery that's in season. Leaf patterns are filled with varied shades of green that will give your motif a freshness worthy of springtime.
Next, focus on an aesthetic. Depending on the colors you choose, your wedding theme might be easier to suss out than you think. If you're leaning toward rich neutrals and earth-toned accents, embrace that rustic wedding vibe. Are you loving lush greens and softened hues? A garden wedding theme might be just the right fit. As you plan your spring wedding decor, one thing that will make the biggest difference in your design is embracing texture. Colors will shift with different fabrics, creating an entirely new, fresh look. Think linen, burlap and sheers, just to name a few. Trust us when we say this will absolutely transform your wedding venue space.
A final note on choosing a theme: Don't forget to pull your stunning springtime hues into your save the dates, wedding website, wedding invitation suite, and more! Gentle pops of color or a floral border inspired by seasonal blooms tie up all of your brilliant wedding planning work with a beautiful bow.
Wedding Venues for Spring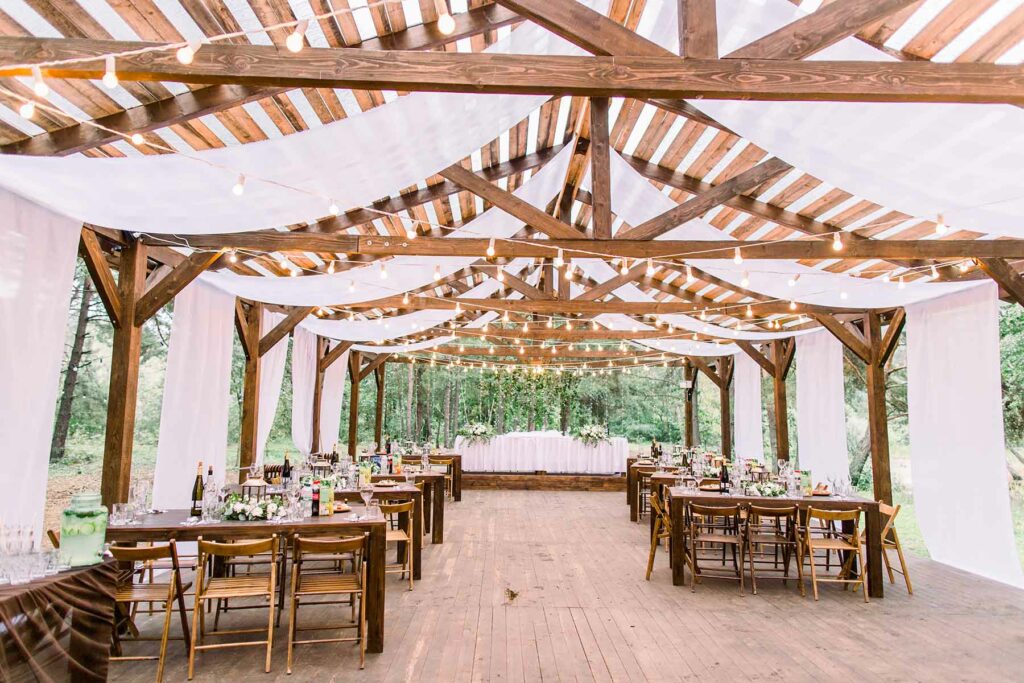 Whether you're dreaming of a garden wedding or prefer to exchange "I dos" in climate-controlled comfort, here are a few ideas for spring-friendly venues that check all your boxes.
Rustic barns and rooftop restaurants are great places to host a spring wedding ceremony and reception. Plus, with indoor and outdoor spaces to accommodate guests, they can provide a good back-up plan in case the forecast shifts on your wedding day. While we love the gentle weather that spring brings, the season is also known for its thriving vegetation — which means lots and lots of rain. You can still have that fabulous outdoor wedding filled with wildflowers, but these indoor-outdoor venues will allow you to shift to plan B at a moment's notice.
If you are totally set on a venue that's exclusively outdoors, consider a tent. We know it can get in the way of your vision, but you can recreate your outdoor paradise while shielding guests from any uninvited rain.
For indoor weddings, take advantage of the stunning season by seeking out venues that bring the outdoors in. Look at the landscaping outside your venue. Are there lush trees and planters of fresh flowers that will be in full bloom for your nuptials? Conservatories on the grounds of botanical gardens are beautiful places to exchange vows. They often have floor-to-ceiling glass windows that will allow you to feel as though you're in the middle of a forest.
As you get closer to choosing a venue, consider other elements of the wedding planning process that factor into that decision, such as photography. Not only do you want to make sure your photos turn out great and capture the light and bright springtime vibe, you'll also want to avoid any direct sunlight that will make you squint during your vows.
Lightweight Spring Wedding Ensembles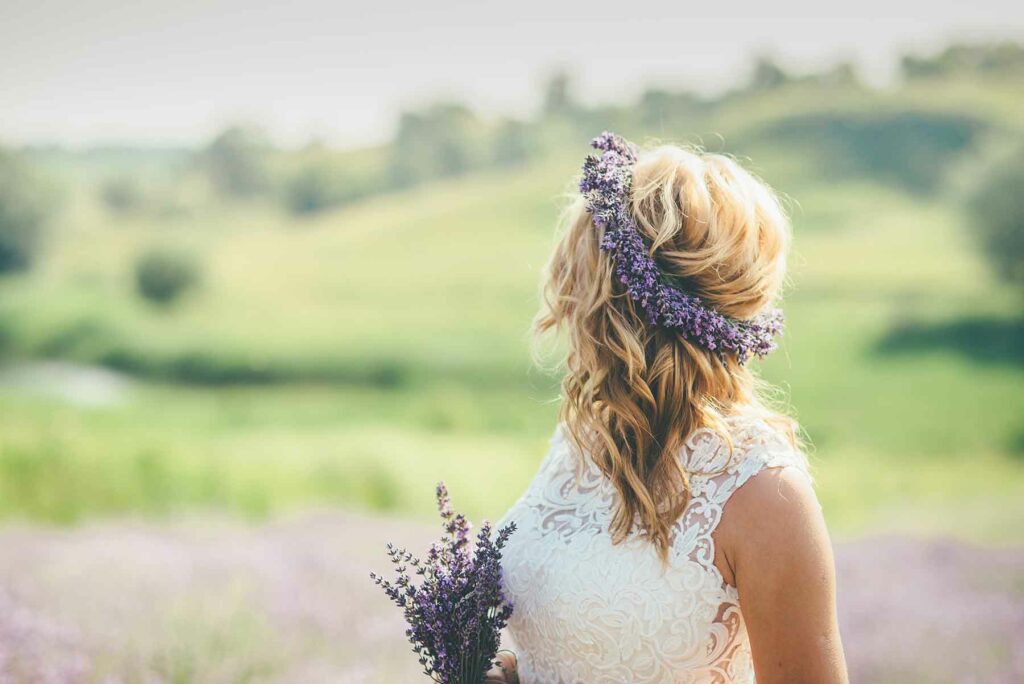 Light and airy is often the dress code for springtime celebrations, and we're not just talking about color. Whether you and your partner have chosen to wear white or dip into a rainbow of hues, it's important to keep your fabrics breeze-friendly. Designers showcase lightweight fabrics like silk, lace and linen during the spring, while fall and winter lean on satins and brocades. If you are dead set on having that heavy satin wedding dress or wool suit, by all means do your thing! Though, you may want to save those outfits for an evening reception when it gets a bit chillier. For the wedding party, think breezy silhouettes in complementing colors to your theme. And if there was ever a time for whimsical flower crowns, spring is the season!
Spring Blooms in Season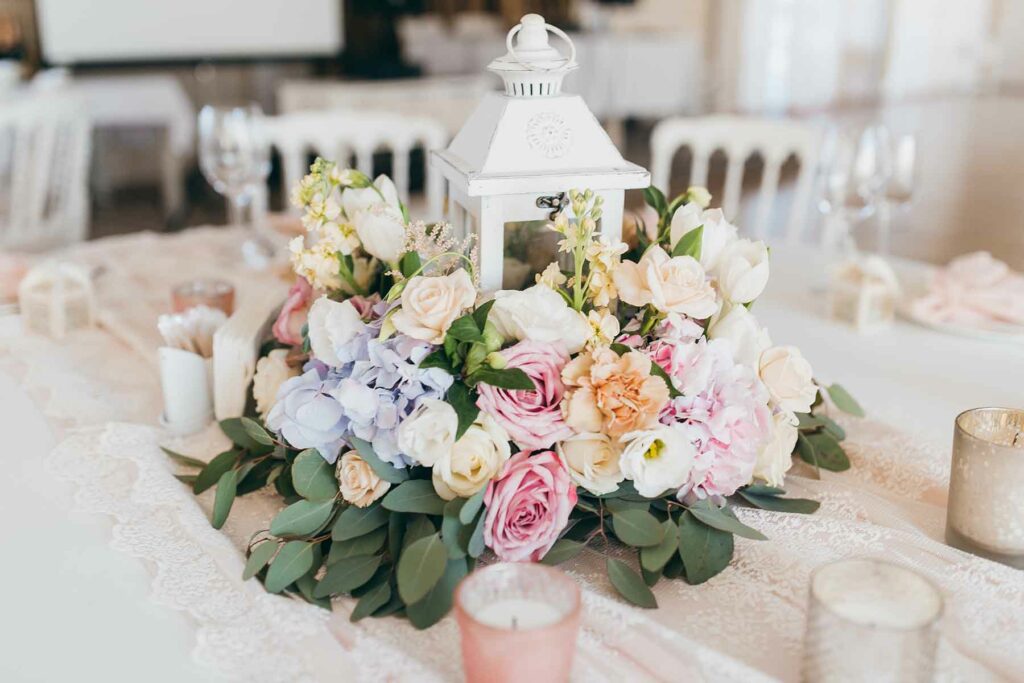 There is simply no better time to procure fresh flowers for your wedding than spring. Tulips, irises, garden roses, daffodils and peonies are all beginning to bloom just in time for your wedding day. You have nearly every color and style of wedding flower right at your fingertips, which means two things: cheaper vendor costs (because so many are in season) and a wide variety of options to mix and match for your wedding bouquets, centerpieces and ceremony decor.
We love the stunning blooms that spring brings but be careful not to overdo it when it comes to your floral design. One of the biggest advantages of the season is lush, vibrant greenery. Aralia, eucalyptus and ruscus greens are all vibrant accents that will make your carefully selected wedding flowers pop and help break up the floral motif.
While spring is synonymous with pastels, there is no rule that says you can't embrace dark colors! Anemones are a white flower with a dark center that straddle the line between a soft springtime palette and moody hues. Let this little bloom lead the way to bring in rich, darker shades if you are feeling like the pastels are played out. Also ask your florist about small potted trees or ferns for your big day. These sumptuous plants not only highlight your flowers, they will allow you to bring the outside indoors should the weather get unruly. These often-overlooked touches are the key to a fresh, lively floral design that screams springtime.
Ceremony Decor That's More Than Petals and Pastels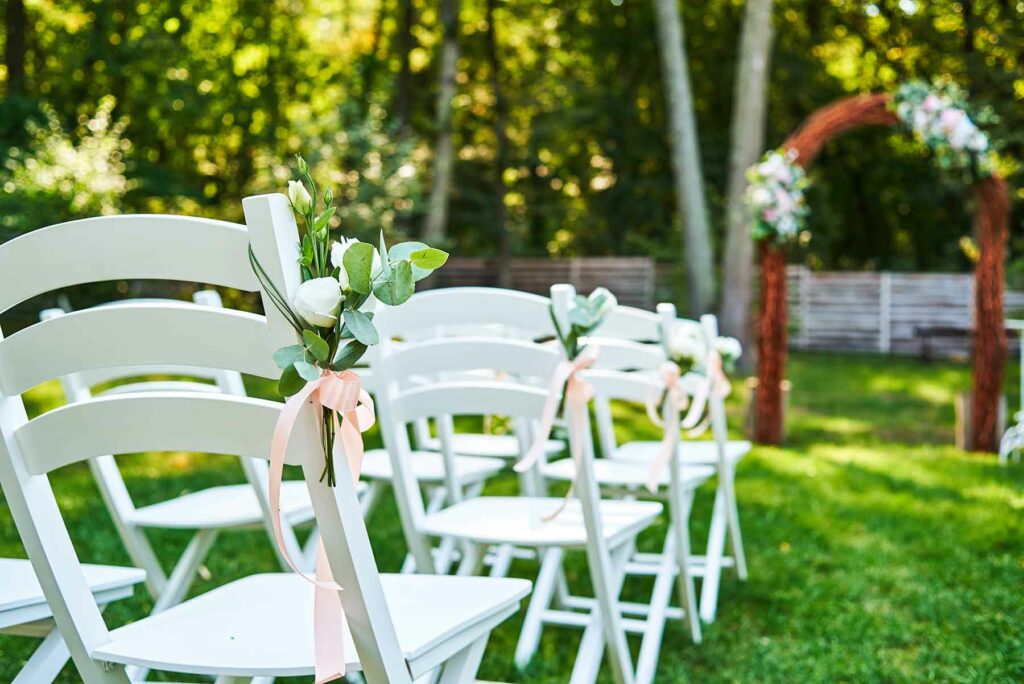 Leaning on florals to lead your spring wedding motif is classic but embracing the concept of "new beginnings" is so much more than flowers. Spring is full of whimsical moments, just like your big day. Spring wedding decor ideas can come from unexpected places.
Embrace the magic of a cherry blossom shower or a field of daisies that appeared overnight across from your office. Start by thinking about sensory experiences that the season brings — the scent of sunlight on fresh grass, the way plants glisten with morning dew and the evolving colors of a springtime sunset.
As trees shed their dead branches, consider including twigs into your wedding decor (yes, twigs!). This will add organic texture to the vibrant greens and soft blooms. Weave some barely flowering branches into your flower arch to give it a forest-inspired look.
Speaking of texture, fabrics will be your best friend when designing your ceremony and wedding reception spaces. Wrapping your centerpieces, bouquets, and boutonniere in juxtaposing textiles will add intrigue and dimension into your decor. A mistake many couples make is leaning too hard into the softness of spring. Part of what makes this season so majestic is the fact that the world sheds the old to bring in the new. Using rough materials up against delicate petals will bring your design full circle.
For ceremony programs and wedding favors, lean into non-traditional options like handheld fans and monogrammed seed packets to keep with your nature-inspired design.
Cocktail Hour Nibbles and Drinks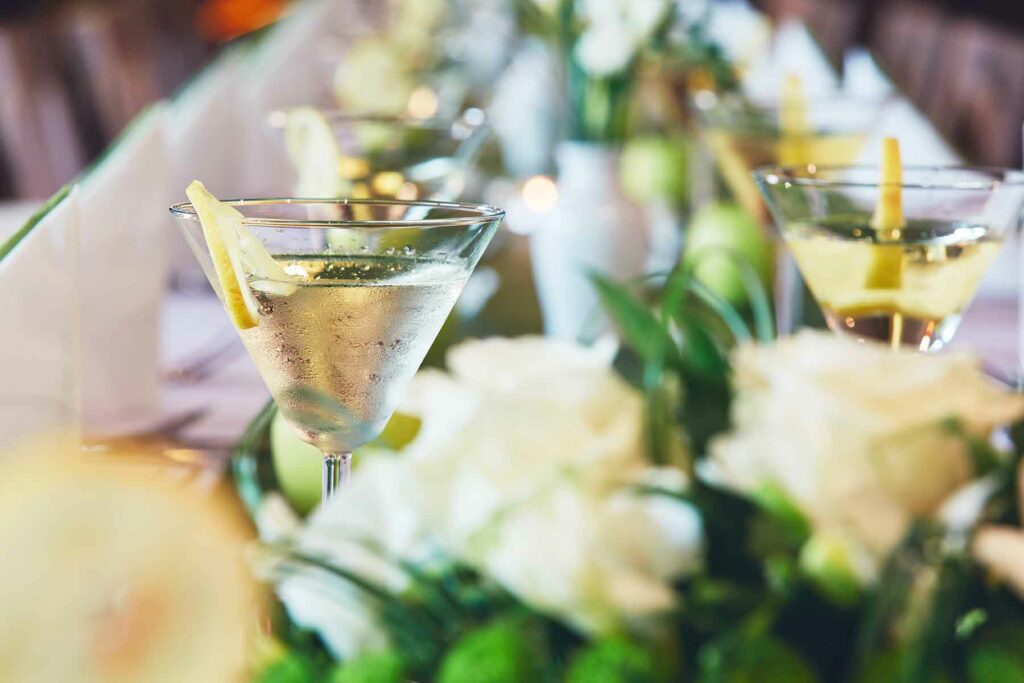 Imagine you've just said "I do" and all the pressure of the ceremony running perfectly just melts away with each step down the aisle. The big moment passes in a beautiful blur, and then it's time to really start the party! While you and your partner will likely be tied up taking photos, your wedding guests will be itching for good cocktails and canapes.
Just like with your design, keep your spring cocktail hour menu light, fresh and in season. For cocktails, lean into herbs and spritzes with light alcohols. A cucumber gin fizz or lemon drop martini are the perfect aperitifs for guests to really get into the season. As for appetizers, embrace fresh, raw vegetables with bright herbs and acids. Think tuna tartare on a cucumber slice or shrimp spring rolls with an herb-forward dipping sauce. Let the vegetables shine — it is their season, after all.
A Reception Menu That's Fresher Than Your Outfit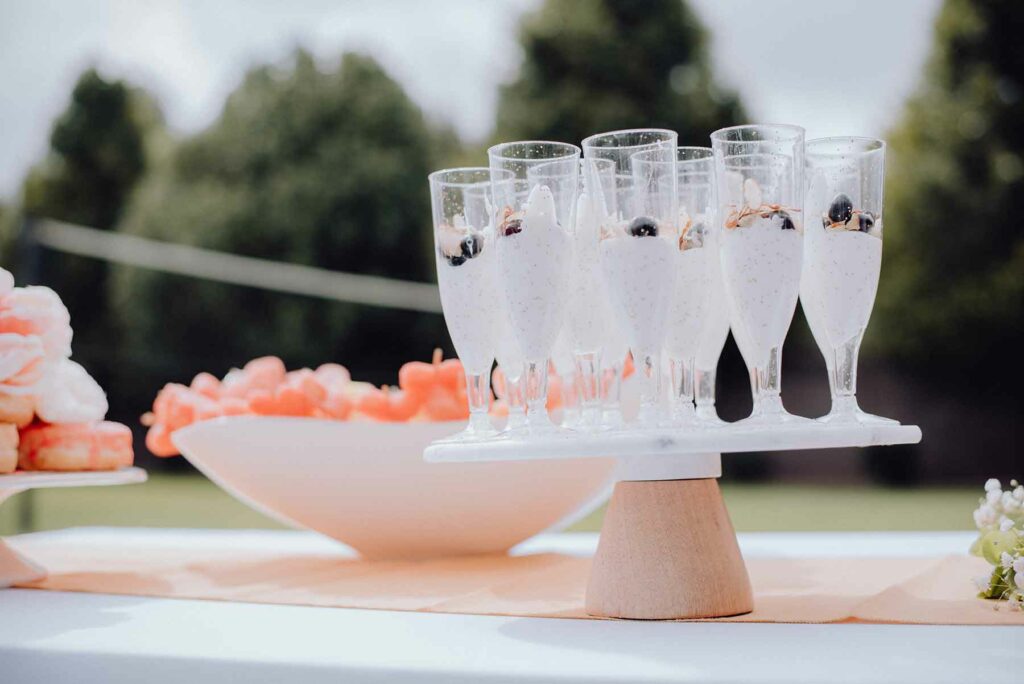 Now, let's get into the delicious main event. Since spring is all about those veggies, don't be afraid to continue emphasizing the season's bounty during your wedding reception. This season is also a great time to explore alternative menu ideas, like brunch wedding food or a vegetarian menu that highlights all the fresh flavors of springtime. But if you're going with a classic three-course dinner, here are some spring favorites that will wow your wedding guests.
Salad Course: This is a no brainer. Get that fresh spring mix and dress it up with delicious carrot and cucumber ribbons, bright radishes and a tangy vinaigrette that will bring out the flavors. Add a goat cheese and you have the perfect salad that will look great in photos as well.
Main Dish: Seafood is great to pair with spring vegetables, but that doesn't mean you can't have a meat option for guests to check on their RSVP card. Short ribs with roasted root vegetables is a hearty dish that also showcases spring flavors. For your fish entree, try lemon salmon with fresh dill accompanied by roasted spring vegetables and rice pilaf. For the vegetarian crowd, pasta primavera is a premier dish of the season.
Dessert: For a sweet finish, showcase fruit. In addition to your wedding cake, offer mini fruit tarts, strawberry shortcakes and cobblers that will wow your guests.
Wedding Reception Decor That Exudes Spring Sophistication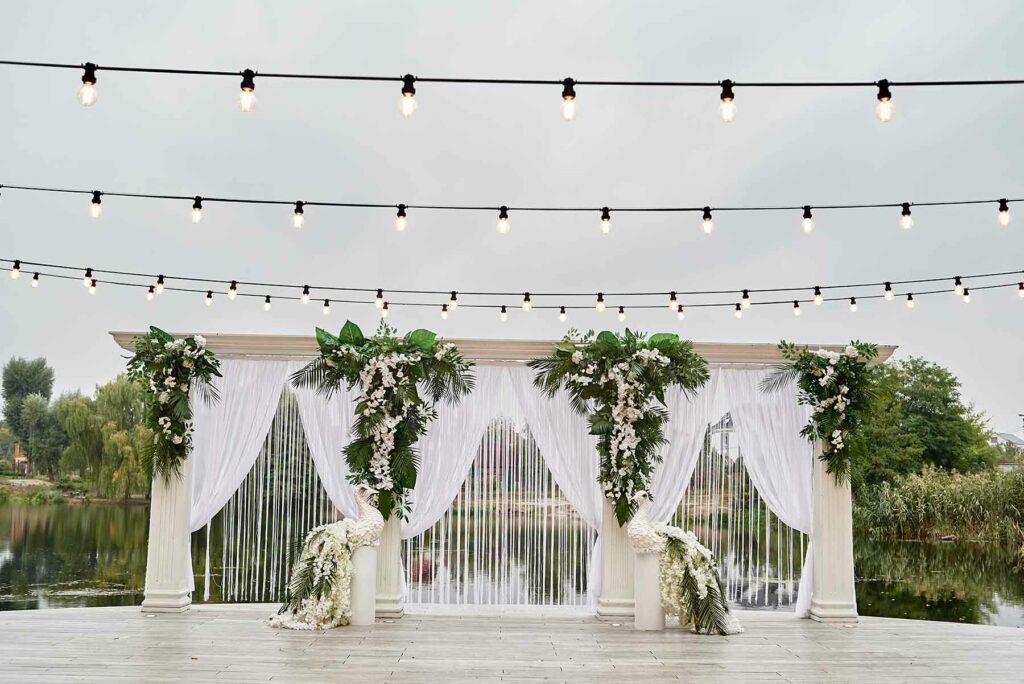 Now that your menu is set and sorted, don't forget about your wedding reception decor. You may be repurposing some blooms from your ceremony for centerpieces, but to keep your reception venue decor feeling fresh, introduce a variety of light fabrics as well. Linens, sheers and matte ribbons go a long way to break up all the lush vegetation you'll be using in your wedding design.
For your tablescape, linen is the perfect pick for its matte texture and naturally light consistency. For color, stay with a neutral hue or a whisper of color. You don't want it to overtake your stunning blooms. Brushed metallic cutlery and vintage patterned dishware thrive in this colorscape. The more delicate, the better! A small potted succulent at each place setting is also a nice springtime touch and can double as a beautiful wedding favor for your guests.
If you luck into a good weather wedding day for your outdoor wedding, think about keeping the lighting soft. Bands and DJs may want to bring harsh strobe lights for their set but try hanging twinkle lights or elegant chandeliers in the trees to illuminate the dance floor when night falls instead. The warm, candle-like lighting will keep with the natural vibe of your venue and create an unabashedly whimsical moment for your springtime celebration under the stars.