Hosting a brunch wedding during spring is always a good idea. What's not to love about fresh flowers, sunny, temperate days, and gathering with loved ones? A brunch wedding is about incorporating your favorite breakfast dishes, desserts, and bottomless drinks into the happiest day of your life. This trend is truly a different kind of fun than an evening wedding, and it's a cheaper option due to the time of day.
From the food to the wedding decor to playing lawn games, having a brunch wedding means things don't have to be traditional. You're serving avocado toast, after all! Read on for our roundup of the top brunch wedding ideas to help you plan a day to remember.
Brunch Ambiance Ideas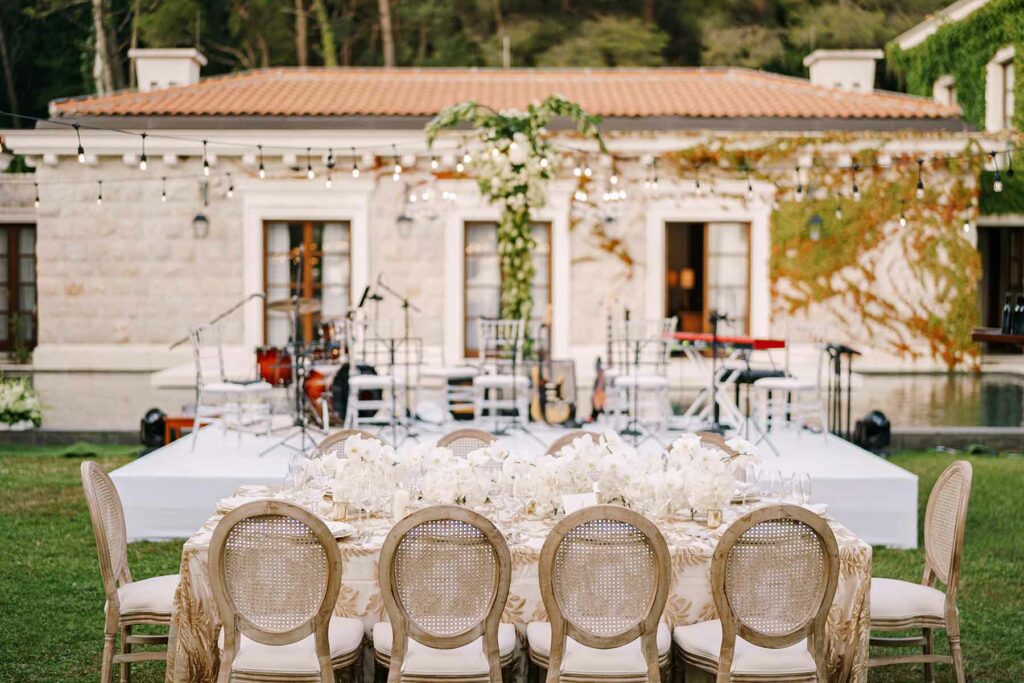 Most people have the same idea when they hear the word "brunch," so try to stick with the theme! This means your brunch wedding will be earlier in the day, usually mid-morning. Make sure you start getting ready pretty early, too. If you can, try to prepare your wedding venue the day or evening before. This will go a long way, and save you time and stress, on your wedding day.
Serve coffee mid-ceremony: Some people aren't morning people, and you don't want any cranky birds at your wedding ceremony. Serving coffee and espresso mid-ceremony, or opening a coffee bar or cart, before the ceremony will have your guests feeling warm, happy, and awake when you say "I do."
Set up a garden party: Whether your ceremony and reception are completely outdoors or under a tent, a garden party is usually what comes to mind for a brunch wedding. It's casual but fancy enough to elevate your daytime wedding, and it's perfect for the spring season!
Allow for casual brunch attire: While brunch wedding attire is more dressed up than grabbing lunch, it's still a bright and airy daytime look. Think florals, flowy dresses, and casual suits. Don't be afraid to have your bridesmaids in fun and different clothing like floral jumpsuits or pastel gowns.
Make a brunch playlist instead of hiring a DJ: Brunch usually isn't a place where people get wild on the dance floor, so it may be best to save the money you'd use for a DJ and create a playlist of your own. Add your and your guests' favorite songs, and consider what you'd want to hear after having a few mimosas! The additional budget can go toward food, beverages, the wedding dress, and more.
Add in-season bloom centerpieces: To keep things bright, light, and just right for daytime, use flowers that are in-season to enhance your brunch wedding theme.
Brunch Food Ideas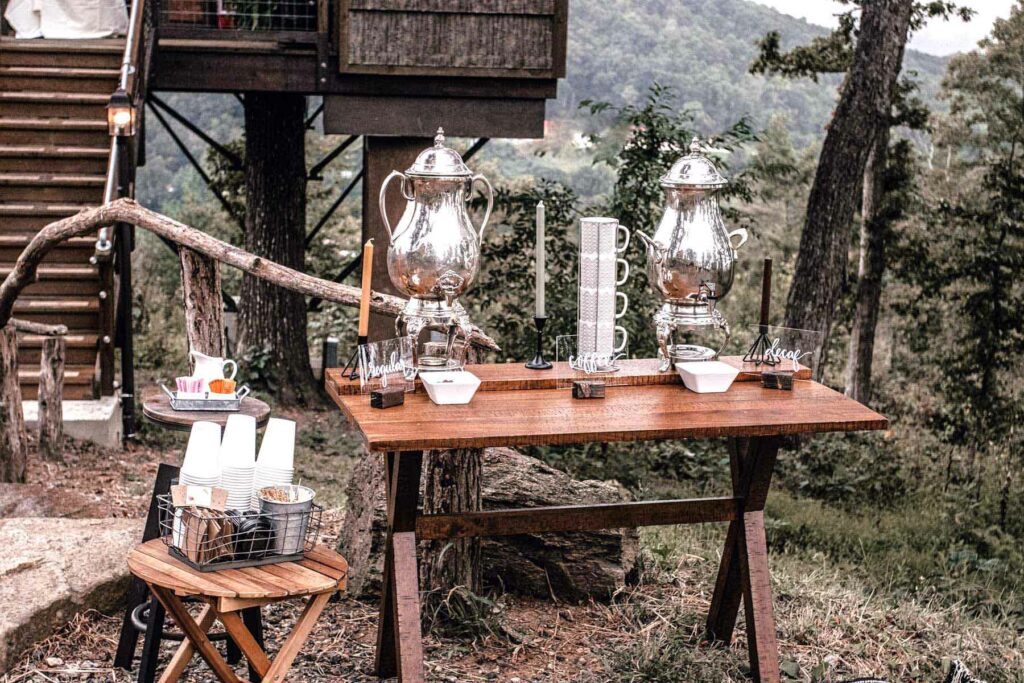 A brunch wedding reception is all about the food. Here are some ideas to make the experience the best it can be.
Opt for a waffle wedding cake: For something a little different, try a waffle wedding cake or even a wedding pancake. This can be in addition to a traditional wedding cake, but if you want to stick to the brunch theme, a waffle cake or pancake is fun and innovative.
Include a mimosa bar: Mimosa is one of the drinks people crave when they go to brunch, so you should have a dedicated bar for it! To mix things up, include some of your favorite flavors other than orange. Grapefruit, strawberry, black cherry, and guava are a few fan favorites when orange won't cut it.
Have a Bloody Mary bar: The second drink of choice during brunch? The Bloody Mary. Many people are fans of the Bloody Mary, so it's a good move to have it as a drink option. If it's not your thing, at least have it on the menu.
Serve breakfast appetizers: Similar to having a salad appetizer before steak, you can include breakfast snacks and appetizers before the main course, too. These "snacks" can be anything from fresh fruit, doughnuts, bagels, cinnamon rolls, or scones (with tea, of course).
Arrange for food stations: Brunch weddings can be a more relaxed affair if you choose. Instead of waiters, you may want to have different food stations for main breakfast meals. An omelet station, a french toast station, and a crepe station are quite common during brunch. Make sure to have your guests' favorite brunch food by having it all!
Provide more than breakfast food options: Not everyone loves breakfast foods, so it's best to have at least one option that doesn't revolve around syrup and eggs. Salmon or steak are great ideas for your non-breakfast option, and they both work well with a few breakfast foods.
Offer elevated parfaits: This may seem like a simple dish, but an elevated parfait can actually be quite filling. Adding in edible flowers, real honey, and fresh fruit can blow a normal grocery store parfait out of the water. The extravagant ingredients will have your guests raving.
Post-Brunch Reception Ideas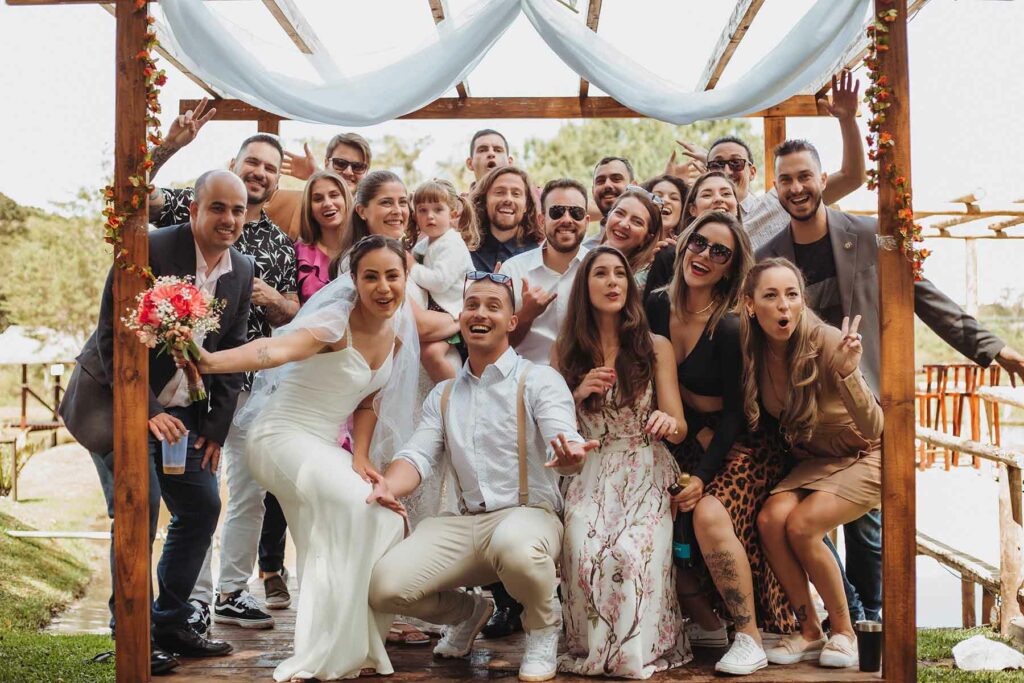 As your brunch wedding will end earlier in the day, there won't be much to plan for the late afternoon or early evening. You and your guests can spend the remainder of the day however you'd like.
Gift unique wedding favors that fit the brunch theme: Wedding favors like personalized jam jars, bags of coffee beans with your wedding date, or to-go mimosa-making kits are unique, cute, useful, and fit your brunch wedding theme.
Have a soap bubble send-off: Before you're set to leave, make sure everyone gets a bottle of soap bubbles. If the bottle is personalized, even better! The wedding photos will look cool, elegant, and unlike many.
Plan an optional event for guests: This idea is by no means necessary, but if you think family and friends would enjoy an activity nearby, or in your wedding venue, set one up for optional attendance.