As more couples seek unique spins on classic wedding traditions, hosting a morning wedding and brunch reception has become a rising trend. This wedding type is more affordable than its nighttime counterpart and perfect for those who want a laidback wedding day.
Because you'll be swapping salmon for an omelet, a wedding cake for a donut tower, and wine for Bellinis, a brunch wedding helps you infuse your nuptials with a lighter vibe than is typically found at dramatic evening weddings. To decide if a brunch wedding is right for you, ask yourself the following.
Do I have a tight budget?
Brunch weddings are known for being more affordable than evening weddings because they don't occur during peak hours, which is when venues typically increase their rates. Additionally, many caterers and vendors charge less for a morning wedding, and you won't have to spend big bucks for a full bar.
Does a traditional wedding turn me off?
If you're not excited by the idea of wedding guests in formal wear, a meal with chicken or fish as the primary options, and a DJ playing pop hits late into the night, a brunch wedding may be for you. As one of the more relaxed wedding celebrations, it helps you shirk any wedding traditions you're not keen on.
Am I okay with waking up really early?
Morning weddings typically start between 10 am – 10:30 am. This means you'll likely have to set your alarm clock for 5 am to have enough time to get ready and tackle last-minute details. If the thought of waking up so early makes you cringe, a brunch wedding may not be ideal.
Is the idea of brunch food appealing?
If you and your fiancé are always on the hunt for the next great brunch spot, and salivate over what you'll be doing (and eating) every Sunday morning, you should seriously consider trading dinner fare for brunch favorites.
What would my top venues look like in the morning?
Unsurprisingly, most venues have a much different ambiance in the morning than they do in the evening. So if your top venues are primarily designed to cater to sunset or nighttime nuptials, you might need to restart your search.
Are there nearby reception venues that offer brunch weddings?
As the brunch wedding is a newer trend, not every venue and caterer offers it. You'll need to research and confirm if there are venues you like that offer brunch weddings in the area you'll marry.
Tips for an Amazing Brunch Wedding
If you decide a morning wedding and brunch reception is right for you, these 11 tips will help you plan a celebration that's just as enchanting as your love story.
1. Opt for a laidback wedding dress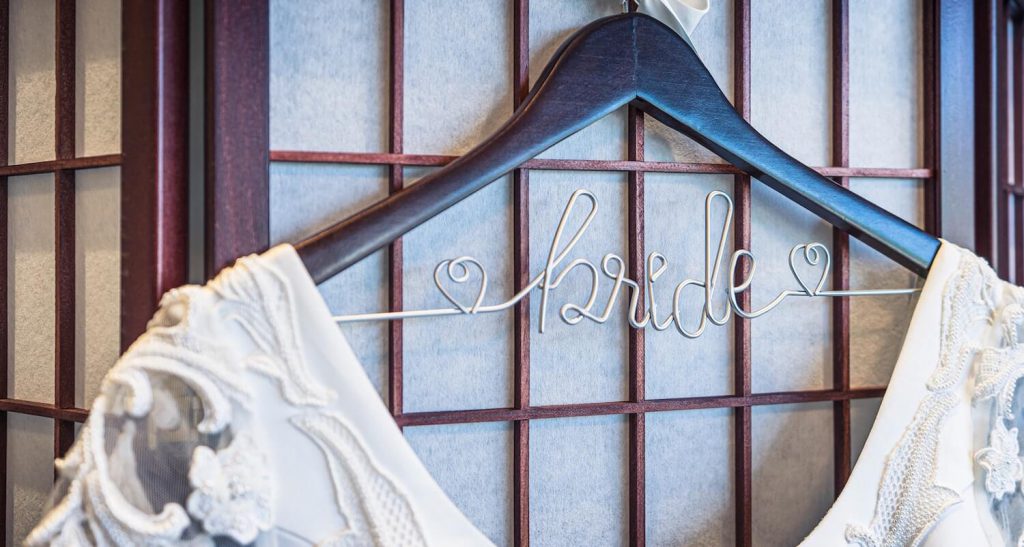 If you chose a brunch wedding because of its easy-breezy vibes, you can carry that theme over to your wedding dress by selecting a more casual design. Many "morning wedding brides" select a shorter dress made with a casual fabric.
However, if you have your heart set on opulent attire, go for it! This is your big day, and you get to wear whatever makes you feel your best.
2. Note the dress code on your wedding invitations
Many guests may not have been to a morning wedding, so it's wise to note the dress code on the invitations. While the attire can be whatever you prefer, casual is the customary choice for brunch weddings. Think sundresses for the ladies and slacks and a shirt for men.
3. Consider lighting when selecting your ceremony location
Because a morning wedding won't rely on the glow of the sunset or the sparkle of twinkle lights, select a wedding ceremony location that has beautiful lighting during the time of day you'll say "I do." You can find venues that feature ideal lighting by touring them around mid-morning.
To ensure the lighting facilitates gorgeous photos, you can also ask your photographer to check out your top choices.
4. Choose the right time
While you and your fiancé might be early birds, it might be tricky for some guests to get up, get ready, and get to your ceremony site much earlier than 10 am. Because of this, many wedding planners recommend scheduling the ceremony between 10 am – 11 am, with the wedding reception to follow.
5. Provide refreshments at the ceremony
Make sure guests are bright-eyed by having a coffee station at the ceremony. You can also serve light snacks, but try not to offer too many as you want guests hungry for the amazing wedding brunch.
6. Offer food stations
While a sit-down meal is the traditional choice for many weddings, you can make your morning wedding even more unique by offering food stations.
Instead of waiting to be served, guests can peruse stations offering made-to-order crepes and omelettes, waffles and pancakes, donuts and bagels, fruit and french toast, and other brunch favorites.
Tip: If you really want to wow your guests, have a beignet station!
7. Have brunch libations served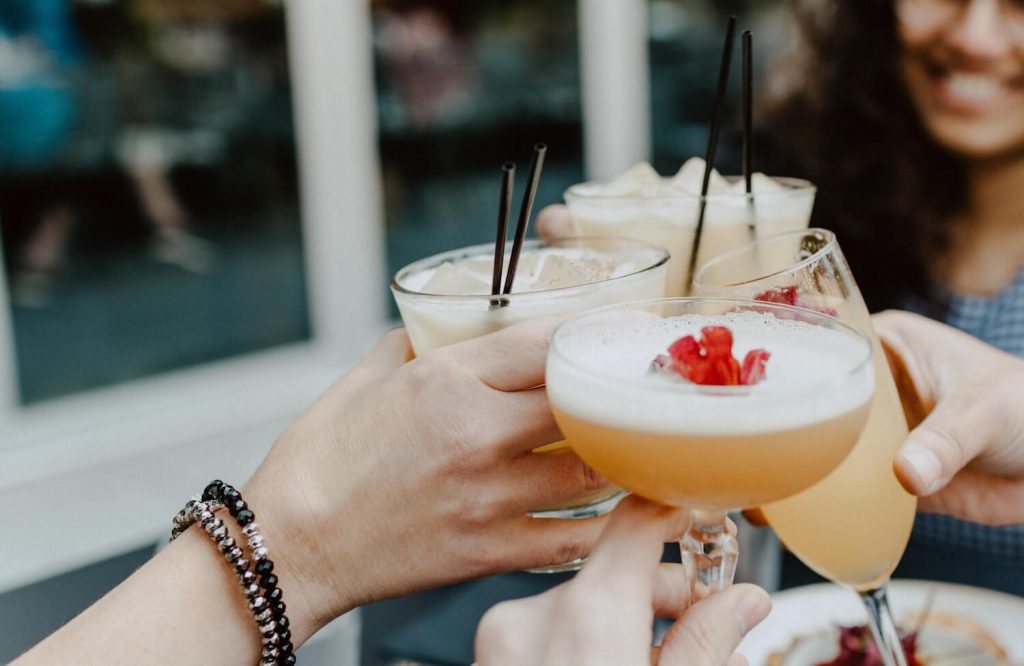 Instead of classic wedding beverages like wine and champagne, shake things up by requesting mimosas, screwdrivers, Bellinis, Irish coffees, or any other brunch drinks you and guests would enjoy. To really make it a party, ask for a Bloody Mary bar.
For the coffee aficionados on your guest list, you can have an on-hand barista whip up espresso concoctions. Juice and smoothies are other popular, non-alcoholic options.
8. Select a brunch-inspired "cake"
Instead of the traditional wedding cake, find a baker who will make a "cake" out of donuts, cinnamon rolls, pancakes, waffles, or any other sweet brunch food. Or you can skip the cake altogether and just have an irresistible dessert table filled with these sugary favorites.
9. Get creative with your centerpieces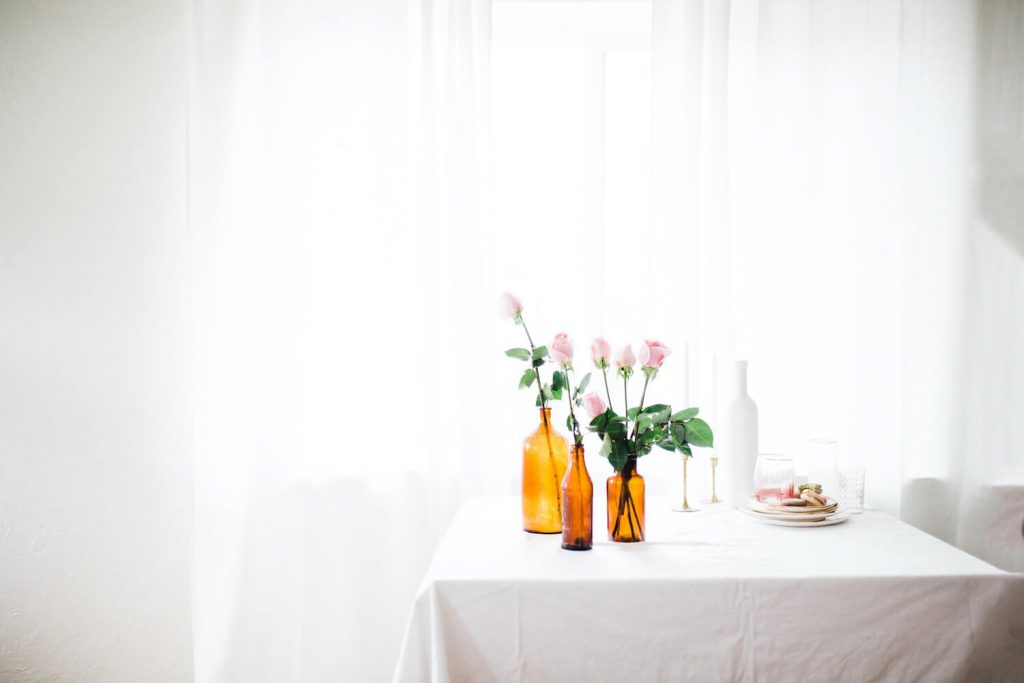 In many ways, anything goes when it comes to brunch wedding centerpieces. From Alice in Wonderland or a Russian tea party to modern glam or rustic chic, whatever type of decor you desire is perfectly acceptable.
10. Offer unique wedding activities
Because you might not feel like cutting a rug at 11:30 am, consider more quirky wedding activities like croquet, craft stations, bocce ball, a scavenger hunt, horseshoes, board games, a giant Jenga or Connect Four set, or anything else you think would liven up the party.
11. Determine a post-brunch plan
As the reception will likely end in the early to late afternoon, you'll have ample time to kill before bedtime. If you want to keep the good times going, make a plan for where to go after the official celebrations.
For example, you could all head to the beach, lounge by the pool of the hotel where many guests are staying, or host an after-party at someone's home.