There's nothing sweeter than saying your vows before all of your family and friends—except for maybe the dessert table.
Eating cake is undoubtedly one of the highlights of your wedding, and having a beautifully decorated dessert table will entice your guests to sample all of the goodies.
Need some help with how to prepare your dreamy dessert display at your reception? Here are eight ways to show off those sweet treats and dazzle your guests all at once.
1. Traditional Wedding Cake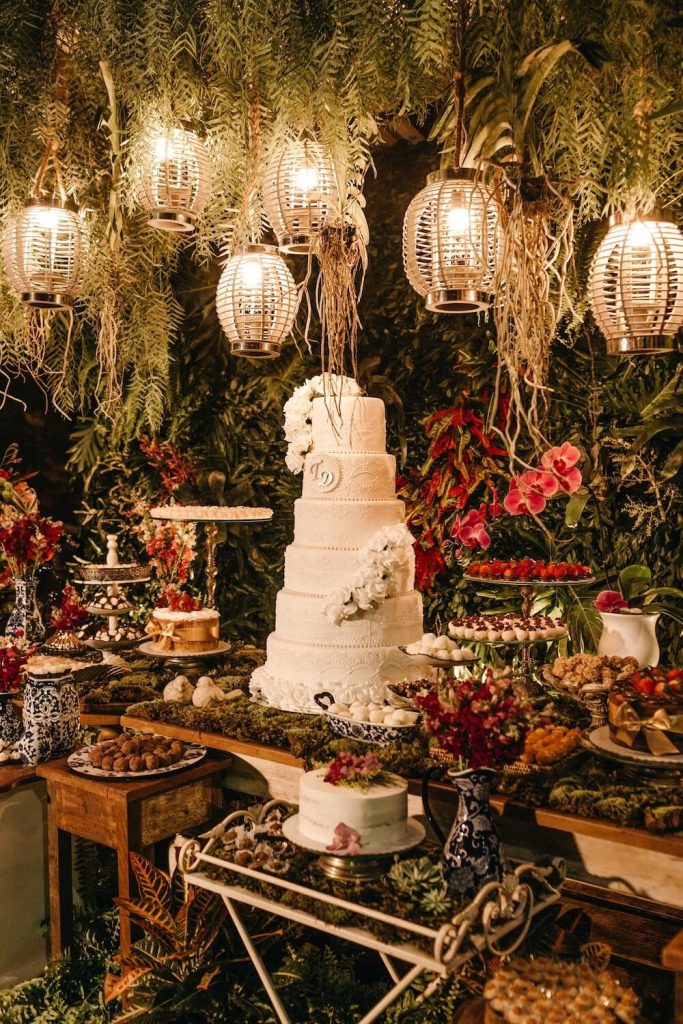 Whether you're hosting a rustic wedding or going with more of a boho-chic vibe, a traditional wedding cake always has its place no matter what kind of theme or wedding colors you choose.
But just because it's a traditional cake doesn't mean it has to look boring. Here are some ideas to make it stand out:
Place your traditional white cake on top of colorful or highly embellished cake stands that will match the rest of your decor.
For a more rustic look, put your cake on top of a natural (or faux) wood slice and surround it with greenery such as sage, eucalyptus, monstera leaves, or even wintry evergreens if you're having a winter wedding.
Split the tiers up into individual cakes for an unexpectedly chic way to show off a traditional white cake at your dessert bar. You could also have a tier of cake as centerpieces on each table, giving your guests the opportunity to cut their own slices.
2. Nontraditional Wedding Cake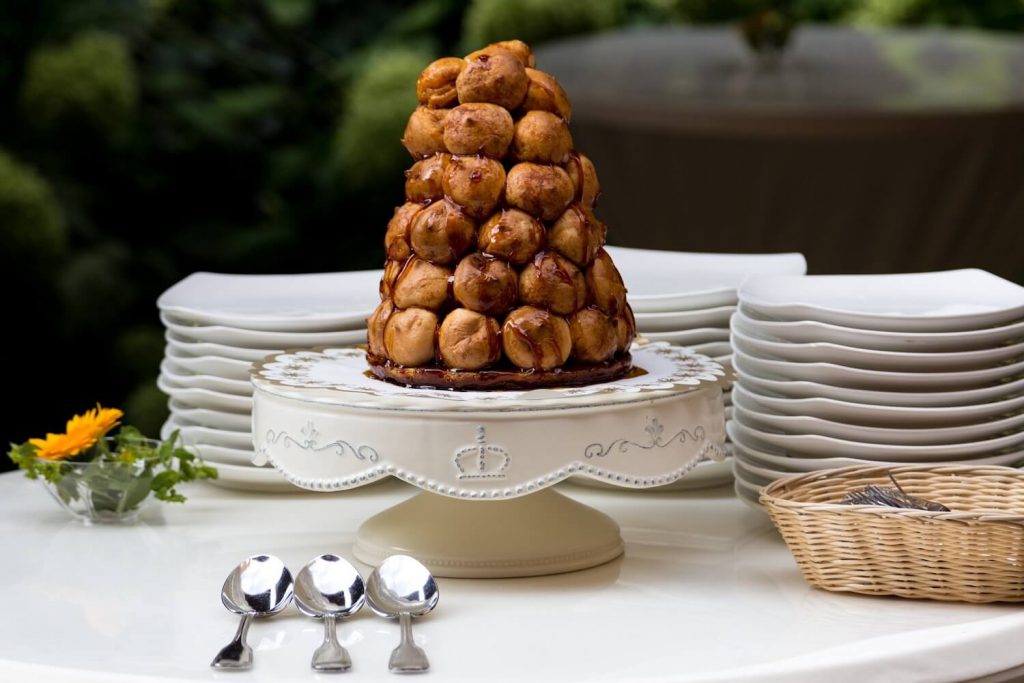 When it comes to designing your own nontraditional wedding cake, all that's required is that it's edible and can be sliced into several pieces, which means that only your creativity is your limit.
Here are some examples of a nontraditional wedding cake that are sure to please a crowd:
Top a tiered pancake cake with loads of maple syrup for a breakfast-themed wedding reception.
Bake an assortment of wedding pies (a particularly cozy theme if your wedding is hosted in the fall or winter months).
Have an obsession with cereal? Make a cake entirely out of Rice Krispy treats.
Don't have a sweet tooth? Many couples with an affinity for cheese and charcuterie boards are making entire wedding cakes out of different types of cheese.
3. Cupcakes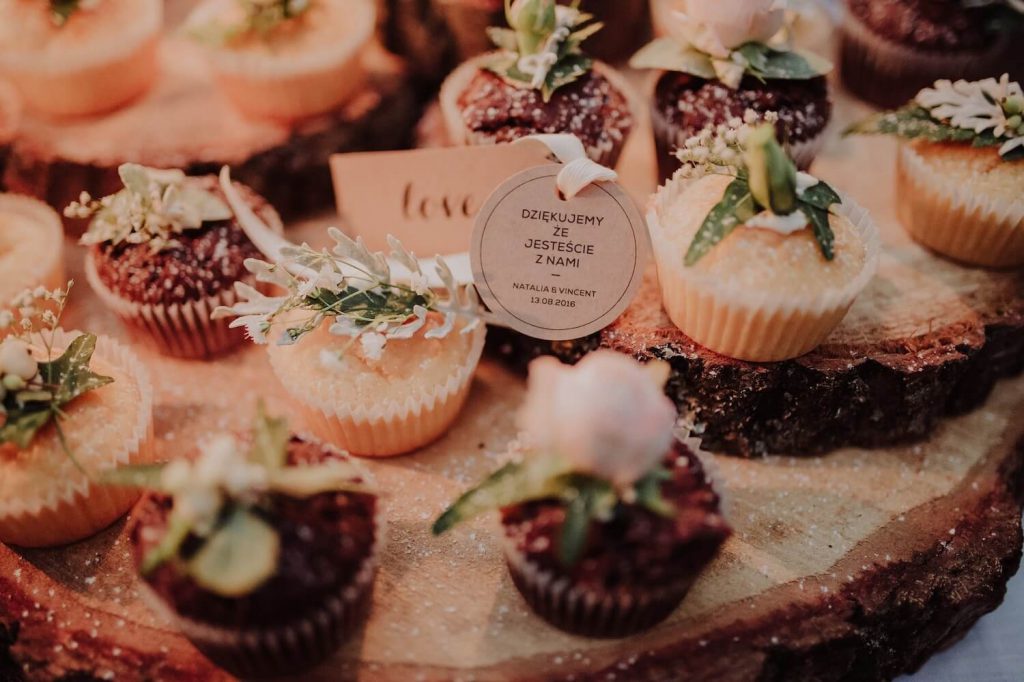 Cupcakes are a great way to add a dash of color to your dessert table. Best of all, they are completely versatile and decorated with a nearly unlimited mix of ingredients (candies, fruits, sprinkles, decorative frosting, or even truffles) so they are endlessly customizable.
Thinking about having cupcakes at your wedding dessert table? Here are some ideas to make your cupcake display truly unique:
Use edible gold leaf to give your cupcakes an extra bit of sparkle on top.
Have your wedding caterer bake your cupcakes into lacy or other decorative paper to make them feel more festive and fancier than plain old paper.
Add caramel sugar cages on top which add flavor and style to your basic little cupcake.
4. Donuts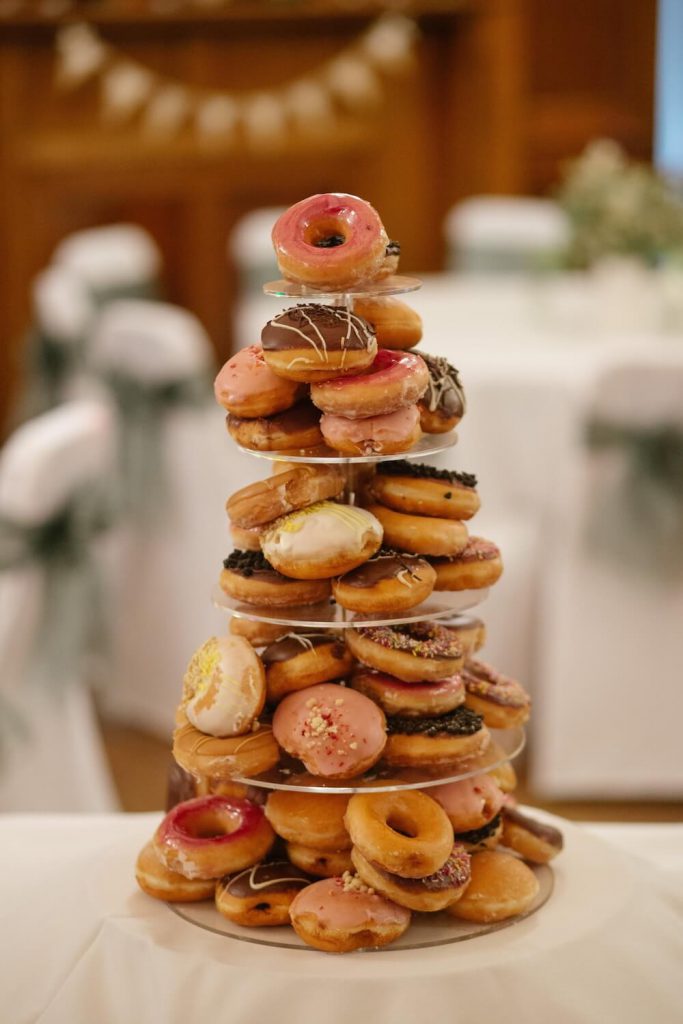 Donuts are having a moment in wedding receptions—and who can really disagree with their presence? They're sugary, sweet, simple, and sure to be a big hit with your guests. Donuts, like cupcakes, are also endlessly customizable. And because of their circular shape and hole, it's easy to find fun ways to display them on the dessert table.
Need to find some donut inspiration? Here are a few creative ways to implement donuts into your dessert table (Bonus: These will look fantastic in your wedding photos.):
Have a wall of donuts that are displayed neatly in rows on shelves, complete with banners or signs that indicate the flavor of each donut.
Hang them up on a pegboard and have your guests slide off their chosen donut.
Arrange your donuts on a stand with a series of S-hooks so guests can unhook their favorite ones.
5. Macarons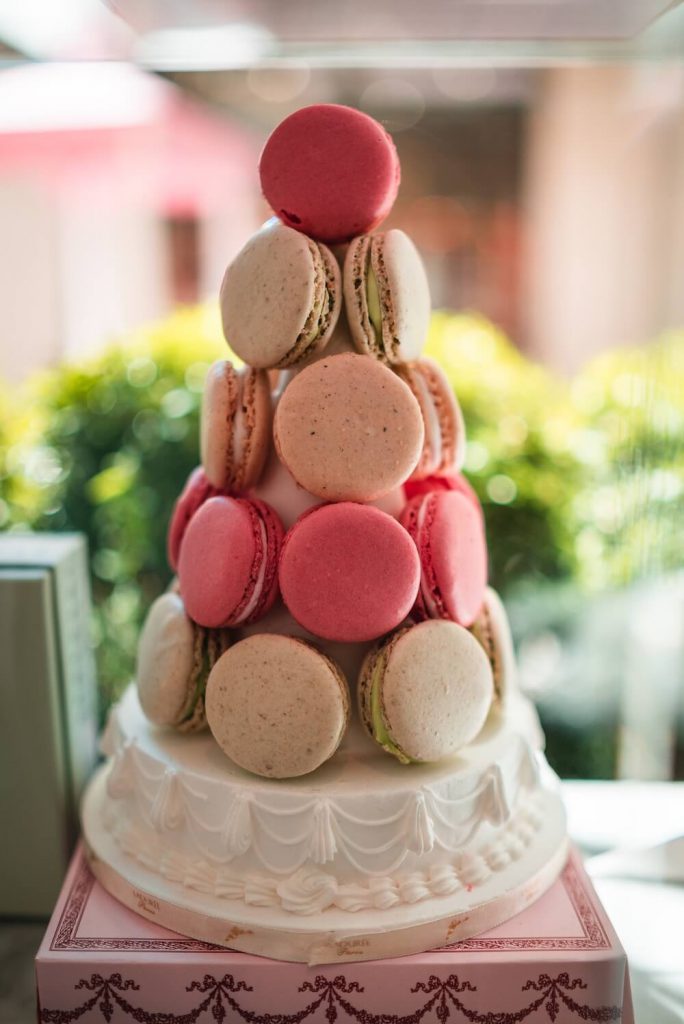 Whether you feel like France is your second home or you just consider yourself a Francophile, macarons are the daintiest, prettiest dessert that's becoming a trending fixture at wedding dessert tables. French macarons are bite-sized and light, coming in a variety of flavors and colors that can easily fit your wedding theme.
Thinking about incorporating this little French delicacy into your big day? Here are some of our favorite ways to use macarons at the dessert table:
Use a small box of macarons as wedding favors. Display the boxes at the end of the dessert table for your guests to take home at the end of the evening.
Arrange your macarons in the shape of a wedding cake and serve appropriately with French champagne while you toast to your new marriage.
Have a rainbow of macarons that will not only give you a colorful arrangement but plenty of flavor options, too.
6. Candy Bar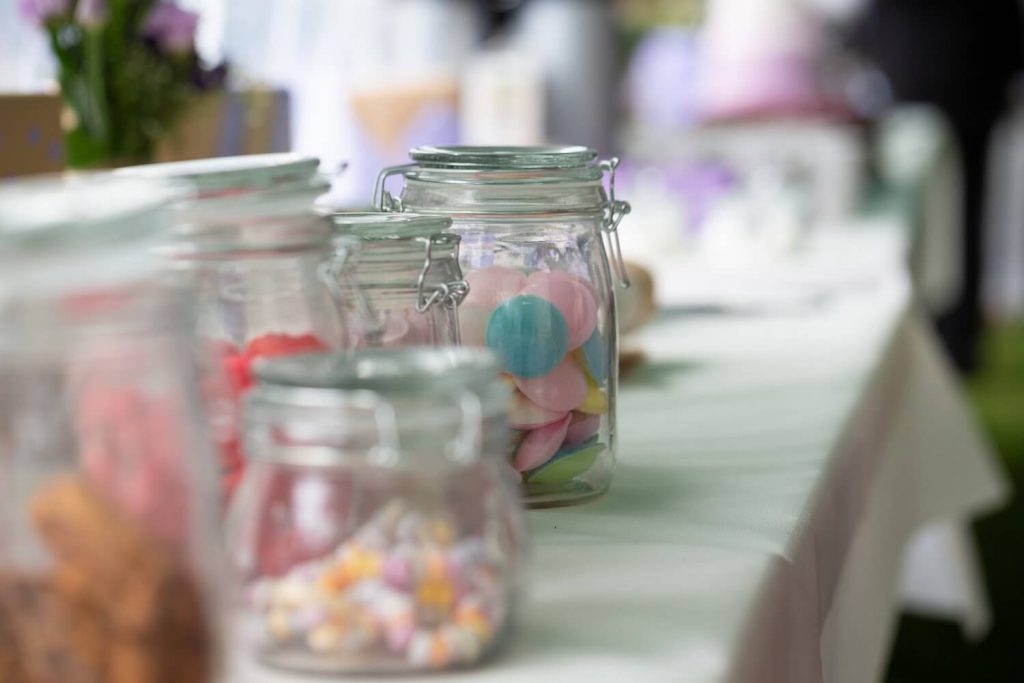 The only bad part about the dessert table is that it's not portable—unless, of course, you encourage your guests to take it home or back to their hotel rooms. The candy bar has been a popular fixture at weddings for some time now, and for good reason: It's inexpensive, colorful, and easy to put together.
Here are some ideas for a successful candy bar at your dessert table:
Have a creative mix of candies and treats. Everyone can have colorful M&Ms at their wedding, so think outside of the box and provide things like vintage candies, cake pops, or a hometown favorite.
Go monochromatic with the candy you're offering for a particularly stunning display.
Use various heights in the bowls or containers you store your candy in to create visual interest.
Don't forget to provide a spoon or tongs for each type of candy just in case someone has allergies to gluten or chocolate.
7. S'mores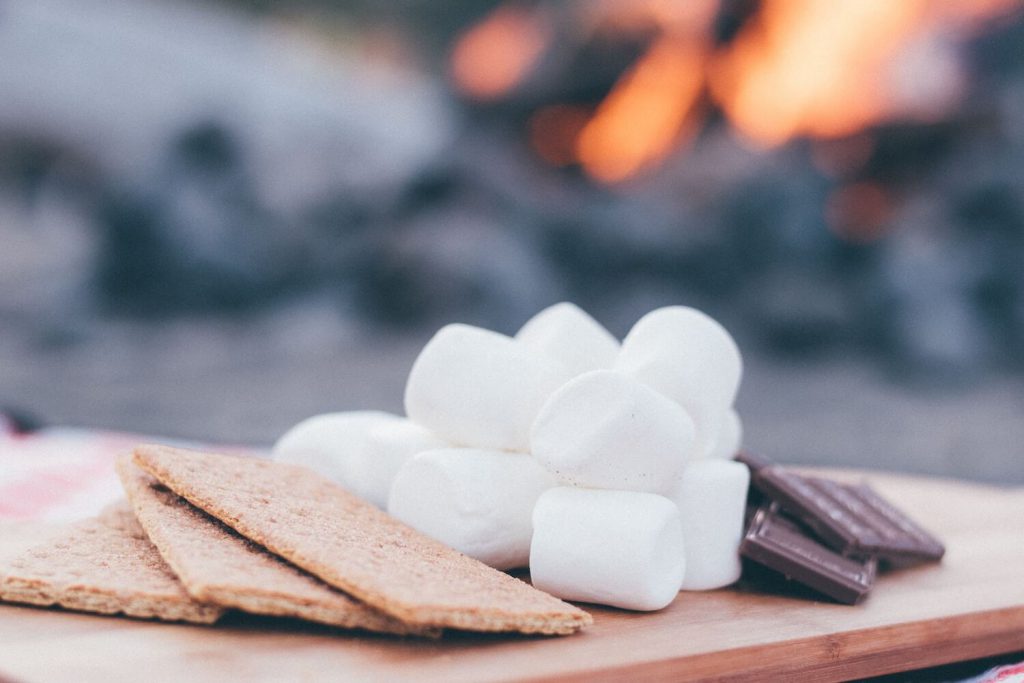 There are few creative wedding ideas that compete with a s'mores station at your dessert table. A s'mores station will work year-round and can be cozy in the fall or winter, or it can be an entertaining boost to a spring or summer wedding.
To have your s'mores station go off without a hitch, be sure to do the following:
Provide multiple marshmallow flavors such as lemon, chocolate, or cherry.
Have a few areas where guests can fire up their marshmallows so there's no bottleneck.
Have kits with everything your guests will need for their s'mores instead of having them wait in line to assemble.
8. Ice Cream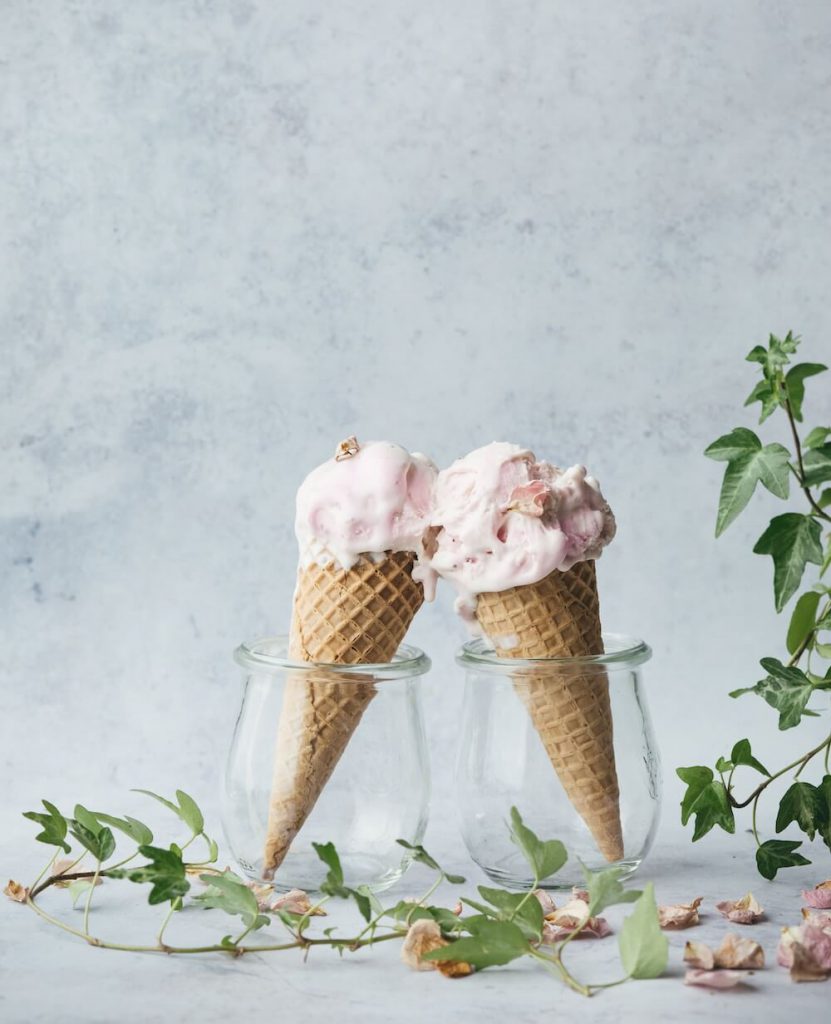 If you're having a summer wedding, there's no better dessert to offer relief from the heat than ice cream. Give your guests an unexpected treat by serving ice cream at the reception.
Here are some ways to pull off your ice cream party:
Hire an ice cream truck to deliver the sweet treat at the end of the night. It will surely be a big hit for guests who have been sweating on the dance floor all evening.
Make a DIY sundae bar complete with all of the toppings and fixings.
Serve an ice cream cake instead of a traditional wedding cake—just be sure you have somewhere cool to store and serve it.