For many couples, the wedding cake is one of the most important features of their big day. (Some brides even put more thought into their cake designs than their wedding dress!) This oh-so-important dessert is also one of the more enjoyable experiences in wedding planning, as it allows couples to awaken their creativity and create something that exemplifies their love.
If you're worried about your baking skills, fear not; pretty much every couple seeks the services of a bakeshop. In doing so, you can understand cake trends, determine your favorite flavors, and construct that edible structure you envision cutting into during the wedding reception.
From a cutting-edge naked cake to a timeless floral cake, discover our collection of 20 unique wedding cake ideas to inspire you and help you decide on your perfect wedding confection.
1. Classic Buttercream with a Twist Wedding Cake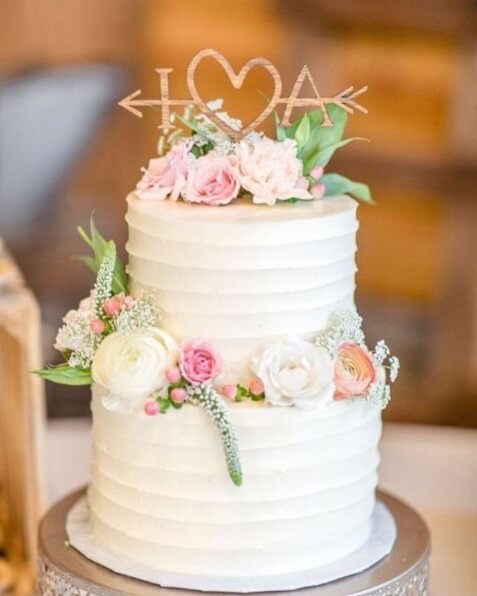 Mix your unique personality with tradition by selecting a classic white buttercream cake — plus, flair provided by your decorations of choice. While the options are endless, you can adorn the cake with your favorite fresh flowers, characters made from fondant, colorful candies, ruffles, a caricature of you and your fiancé, or anything else that makes you smile.
2. One-of-a-Kind Wedding Cake Topper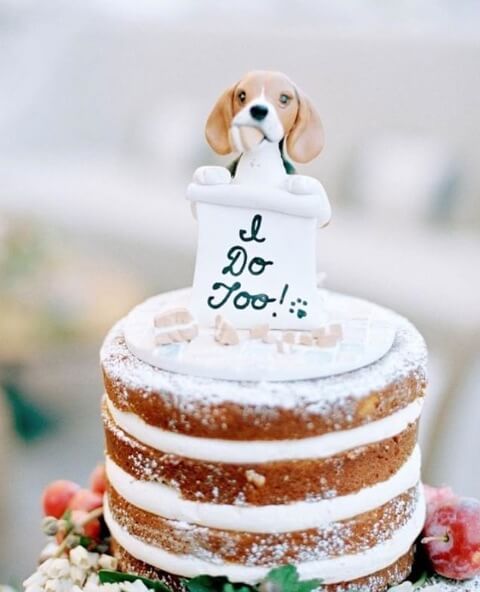 Get creative with your cake by having a custom wedding cake topper created. Sites such as Etsy connect you with artists who can craft practically anything — from your names or initials carved from wood and dinosaurs dressed for their nuptials to an outline of you and your fiancé sitting on a crescent moon and elephants throwing up their trunks in merriment.
3. Creatively Designed White Wedding Cake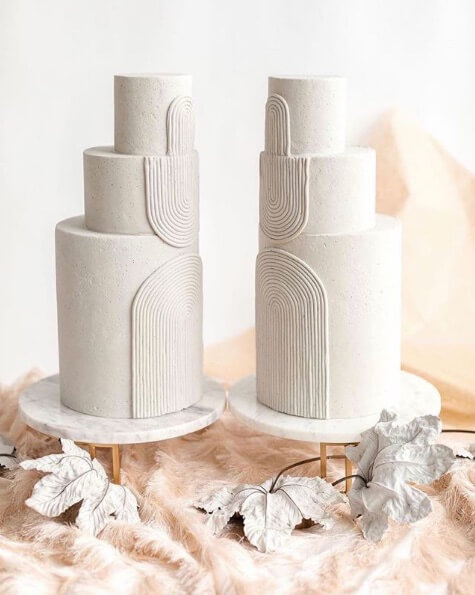 Who said a white wedding cake was boring? Couples who enjoy a simple, yet compelling, modern aesthetic are opting for white cakes layered in offbeat ways and decorated with white frosting in geometric designs. This is a great choice if you want an interesting and beautiful wedding cake in an understated manner.
4. Uber-Edgy Naked Wedding Cake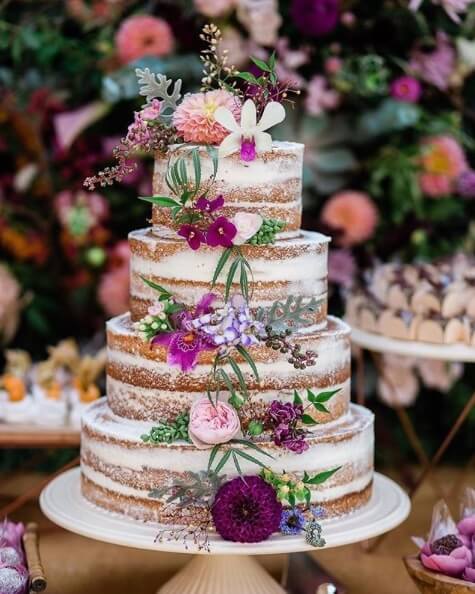 Get edgy with your cake by selecting one that goes without the outer layer of frosting. This "nakedness" creates a textured unorthodox vibe that is often balanced by a delicate assortment of flowers and greenery.
5. Watercolor Wedding Cake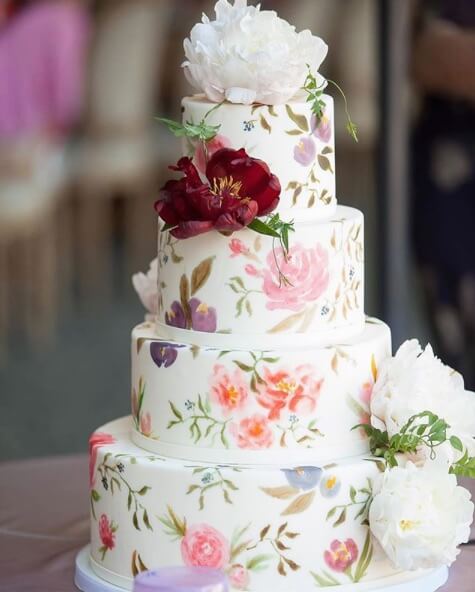 Art lovers will appreciate the fascinating trend of cakes that appear to be painted with watercolors. The edible "paint" is often intricately applied and can be used to coat the cake in colorful flowers, abstract patterns, ombré, or almost any other visual couples can dream up. If you're hoping for an ethereal cake, this is the style for you.
6. Impasto Floral Wedding Cake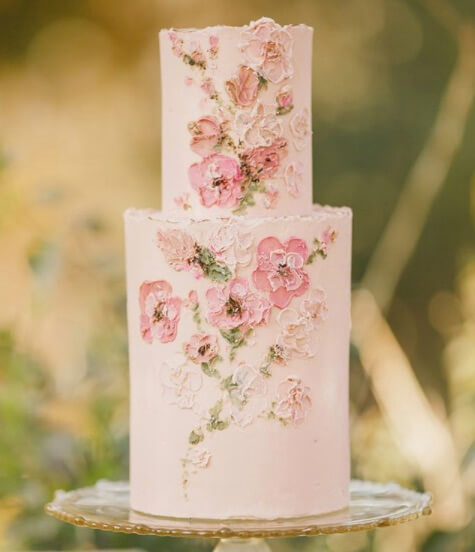 Couples who enjoy the style of Impasto (thick) oil paintings will drool over cakes that create a similar visual with buttercream and dye. Bakers artfully smear thick patches of buttercream into patterns that evoke the artistic spirit of Rembrandt, van Gogh, and Pollack.
7. Irresistible Chocolate Wedding Cake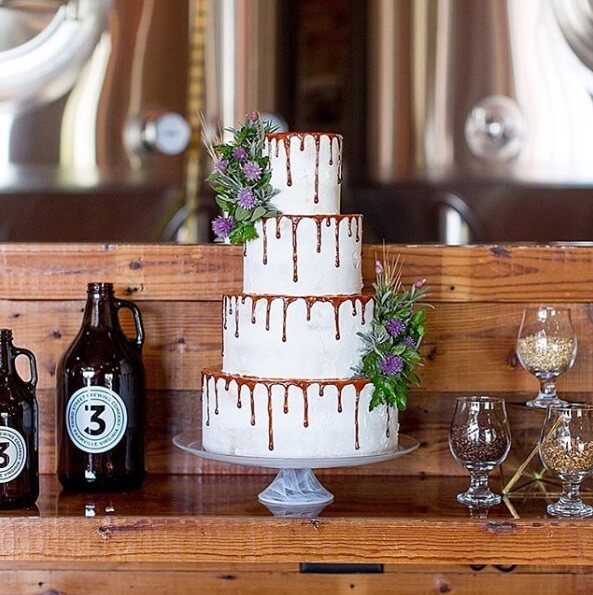 If you savor all things chocolate, consider a cake that is literally dripping in it. To do, bakers fill a squeeze bottle with chocolate ganache and carefully apply it, allowing it to drip down the side of the cake. If you want to go all-in with the chocolate, select chocolate cake and filling, and have the cake topped with your favorite chocolate cookies, candies, and cupcakes.
8. Fruity Summer Wedding Cake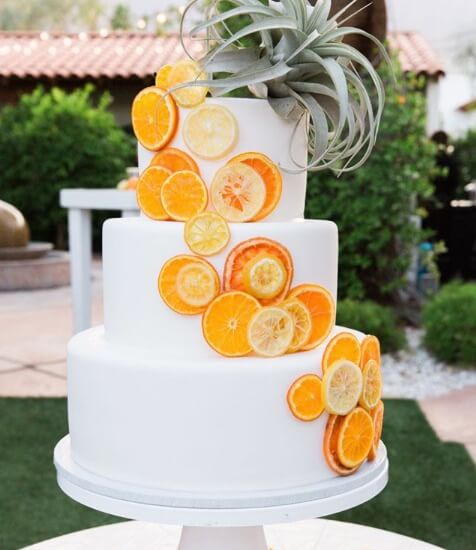 Keep your summer wedding light and fresh by having it decorated in seasonal fruits. Favorite options include slices of citrus fruit, figs, mangos, berries, peaches, apricots, and pears. To help the bright colors of the fruit really pop, select a white icing.
9. Earthy Fall Wedding Cake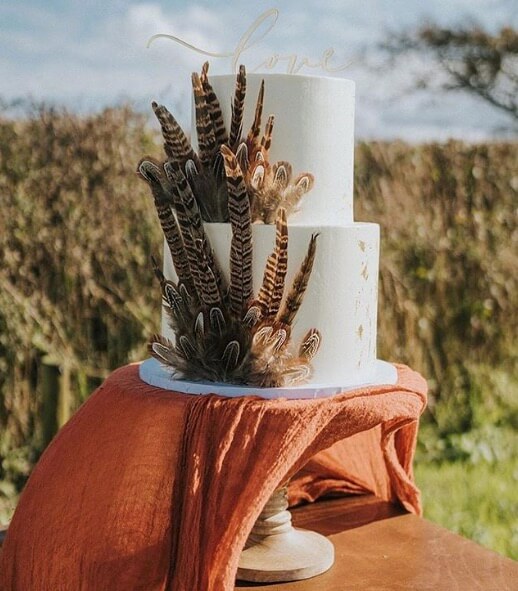 Have your cake exude the mood of the season by coating it in natural items filled with fall colors. Popular selections for a rustic wedding cake include feathers, autumn leaves, acorns, persimmons, and darker flowers in earth tones.
10. Elegant Gold Wedding Cake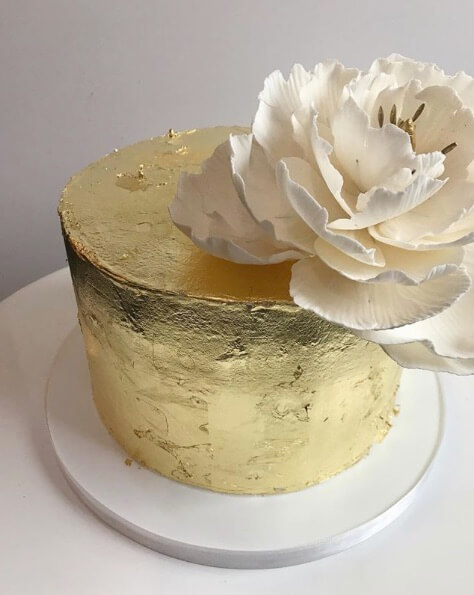 If you enjoy the warmth of gold but want to skip the glitz, a simple gold cake might be for you. This type of cake can be entirely covered in edible gold flakes, coated in white frosting and rimmed with gold flakes, or made to look as though gold is flowing down the side of the white surface. Some couples also enjoy adorning it with one or two full white flowers.
11. Glitz and Glam Wedding Cake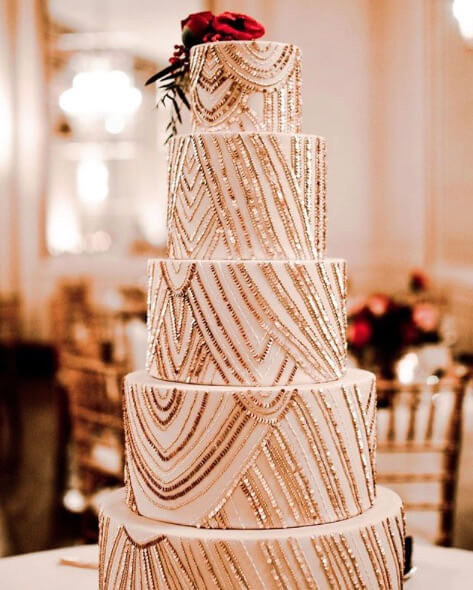 Go for glam by having your cake covered in thoughtfully placed edible sequins. This sequined wedding cake is spot-on for a vintage, Gatsby-themed, or winter wedding. While you can have the sequins done in any color, they're often gold or silver.
12. Traditional Tiered Wedding Cake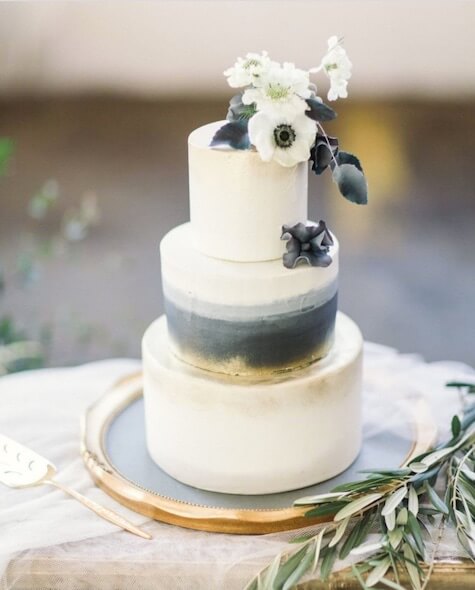 One of the most popular wedding cake options, a tiered cake provides plenty of space for stunning visuals. It allows couples to select a different cake flavor for each tier and facilitates the tradition of saving the top tier to be frozen and eaten on the couple's one-year anniversary.
13. Romantic Sugar Flowers Wedding Cake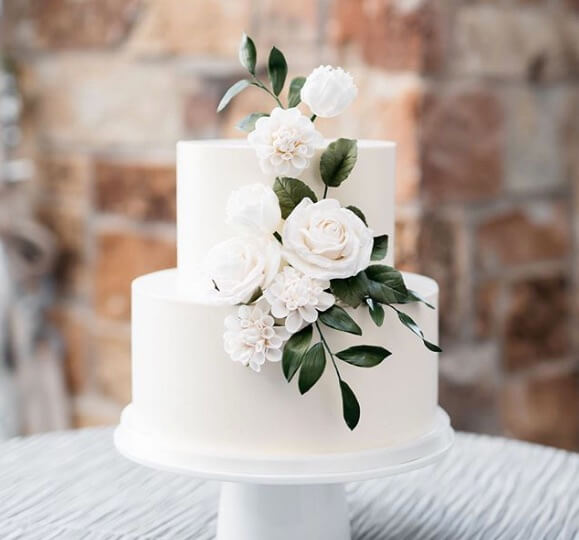 A spot-on choice for a romantic or classic wedding, a cake embellished with sugar flowers creates a fairytale-like aesthetic that is sure to impress your guests. The skill required to craft these sugar flowers is so advanced, your cake could easily be considered a work of art.
14. Fresh Flowers and Greenery Wedding Cake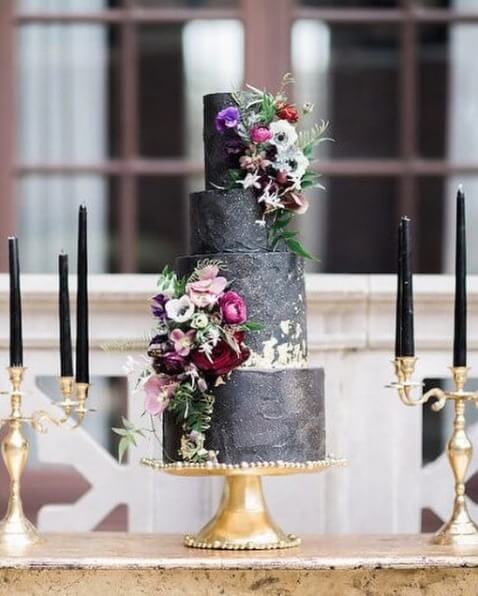 Tie-in your wedding cake with the rest of your big day by having the same flowers and greenery used for your bouquets, centerpieces, and ceremony arch artfully arranged on your cake. This simple addition quickly elevates a plain tiered cake.
15. Cozy Winter Wedding Cake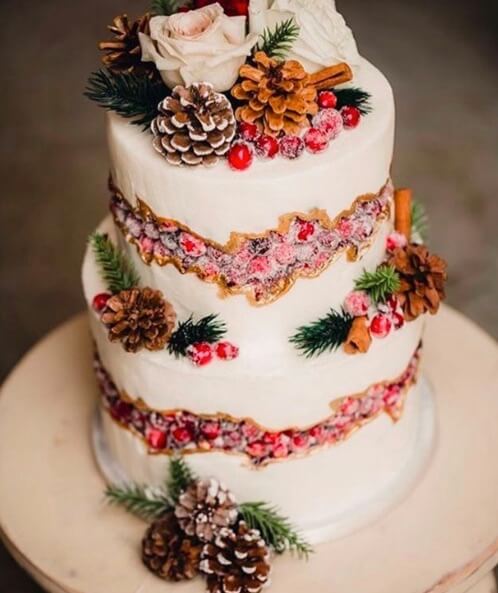 Ensure your cake exudes the coziness, joy, and crispness of winter by having it embellished with winter favorites such as pinecones, cinnamon sticks, sugar-coated cranberries, pine sprigs, and anything else that makes you think of this jolly season.
16. Wedding Cake Coordinated with Your Wedding Colors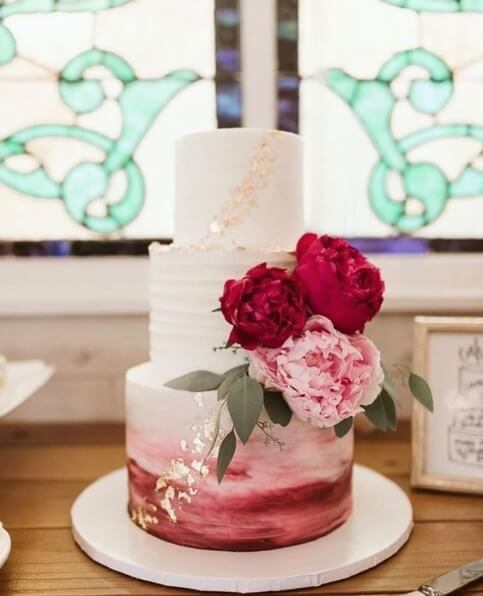 If you carefully crafted the color palette for your wedding day, this cake will be an easy win. It allows you to utilize your customized palate with marbled buttercream, flowers, and other adornments that are your color of choice.
17. Wedding Cake for a Themed Wedding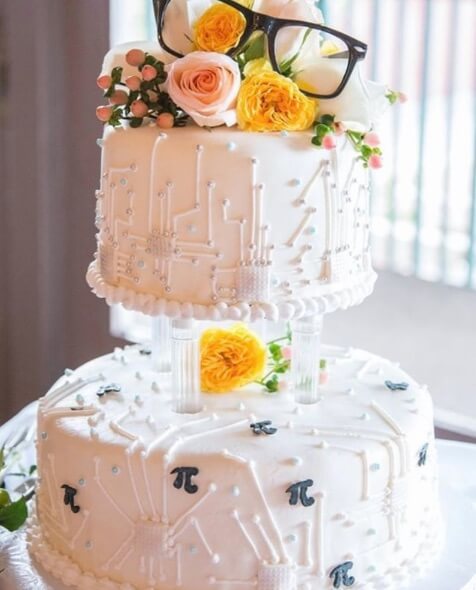 Whatever your wedding theme — math, sci-fi, Harry Potter, superheroes, Alice in Wonderland — rest assured there's a cake for it. Most bakers adore the creative challenge of working with you to design a unique cake that perfectly emulates what you love about your theme.
18. Blackberry Wedding Cake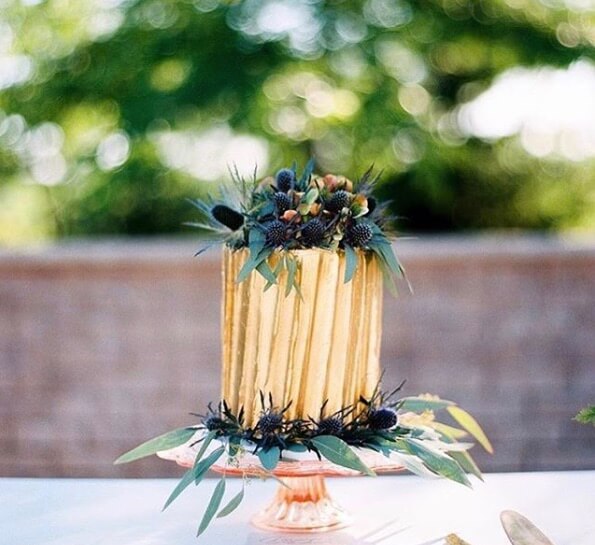 Couples with a dual passion for blackberries and drama will appreciate the taste and visual impact of a blackberry cake. While the cake is obviously blackberry-flavored, the exterior is trimmed in pieces of blackberries still on the vine — vines known for their beautifully vicious thorns. Some couples like to pair the blackberries with eucalyptus leaves or soften the aesthetic with white roses.
19. Refreshing Wedding Cake for a Spring Wedding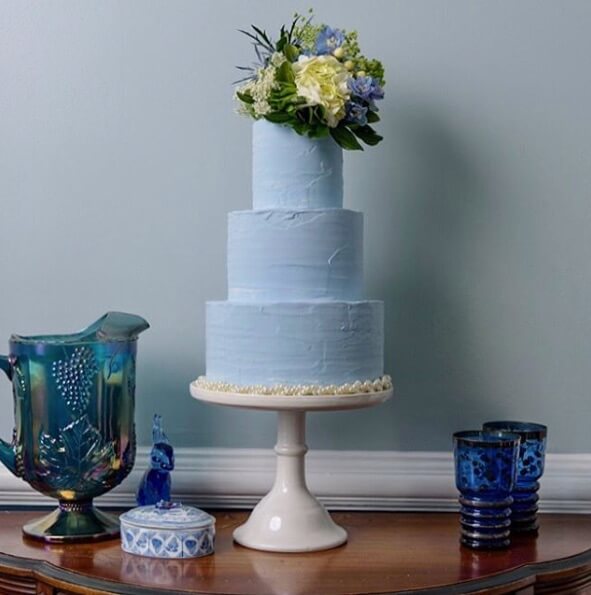 Spring is known for renewal, pastel colors, and blossoming flowers — a blend of elements many couples want for their spring wedding cake. This desire is easily met with buttercream icing dyed in a popular spring color (i.e. baby blue), a topping composed of seasonal flowers such as peonies, violets, daffodils, lilacs, or tulips, and a delicate rim of pearls.
20. Creative Fondant Icing Wedding Cake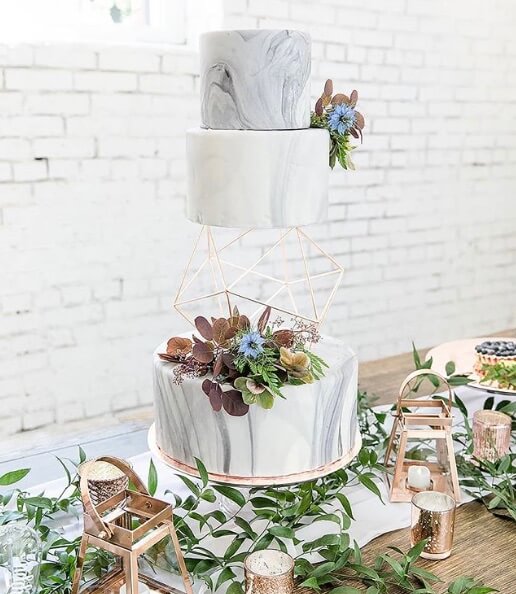 For a truly one-of-a-kind cake, have your baker go to town with fondant icing which is sturdy and versatile. This icing type is easy to tint, incredibly photogenic, simple to transport on a cake stand, and provides a glamorous finish.