Brighten up your big day with wedding lighting ideas that can provide function as well as fun. Whether adding ambiance or creating focal points throughout the venue, lighting can set the tone for your entire celebration.
As you begin wedding planning, don't overlook the importance of the right lighting for both your wedding ceremony and reception. Use solutions like uplighting to create focal points throughout the venue, such as your ceremony altar, the dance floor, head table, photo booth or bar. You can also look to lighting to help transition from one wedding activity to another. For dinner, you might opt for elegant bistro lights over reception tables to brighten up the space. But when it's time to party, bring up the energy and get your guests out on the dance floor with dimmed overhead lights and pops of your wedding colors.
There's lighting for every wedding theme and style, from ultra-glam chandeliers to rustic fairy lights. To help as you plan your big day, Joy has collected some of the most inspired wedding lighting ideas that can transform any space.
Crystal chandeliers
A go-to lighting choice for a more traditional wedding day, crystal chandeliers add a dazzling, flattering sparkle to your wedding celebration. While many envision crystal chandeliers inside ballrooms, you can also hang them from the altar during the ceremony or from a trellis at an outdoor reception. For a whimsical wedding, you can even hang small crystal chandeliers in the trees.
A ceiling of string lights
Create the illusion of a starry night by draping string lights above your dinner tables. This type of reception lighting helps define the space while introducing a touch of whimsy. Warm yellow or white are the most popular choices, but you can also select string lights in your wedding color.
Candelabras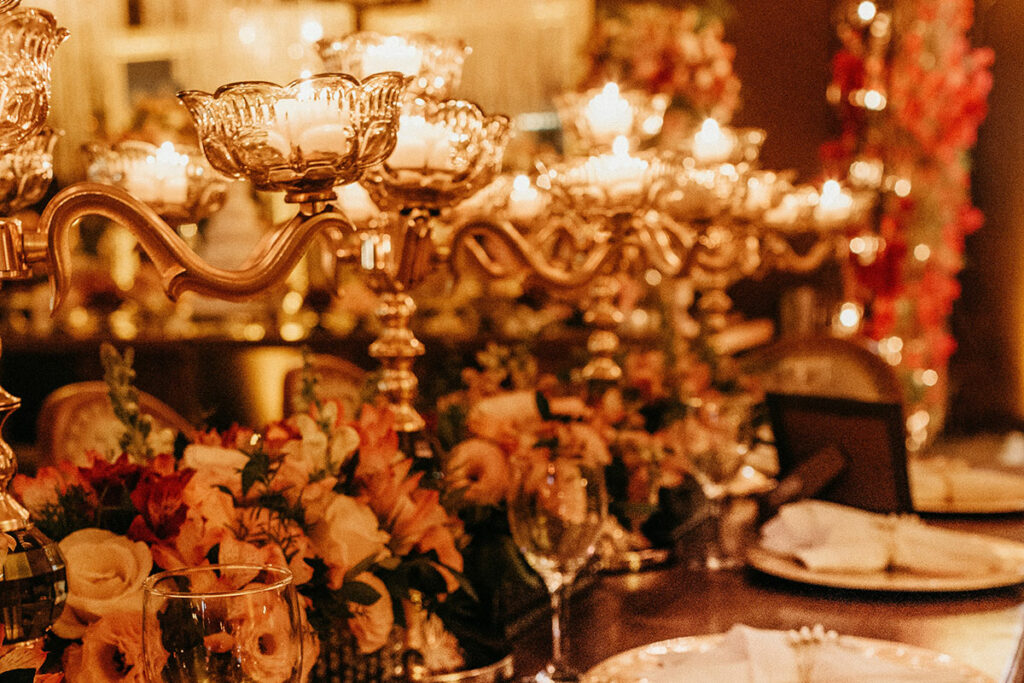 Create a dramatic effect at your wedding reception by using candelabras as centerpieces. This option provides an intimate lighting effect and allows guests to see one another from across the table. Candelabras work best with bohemian, vintage or whimsical wedding themes.
Edison bulbs
Make your wedding decor stand out by hanging rows of Edison bulbs above your reception tables or from the ceiling during the ceremony. Whether you use them for an eye-catching head table backdrop or hang them from tree branches at a rustic wedding outdoors, Edison bulbs can create a romantic ambiance and lend a touch of mystery.
Votive candles
One of the most popular, versatile and affordable types of wedding lighting, votive candles are an ideal way to fill your big day with charm. You can utilize large votive candles to light steps or line the aisle during your ceremony, and smaller varieties for decor on reception tables. Battery-powered options are great for venues that prohibit open flames, but if you are able to use wax candles, it's best to place them in glass votive holders that you can mix and match or coordinate with your wedding colors.
Light-up letters
Illuminated letters stand out, making them great for the entrance of your venue or as a focal point at the reception. Popular options for these letters include the word "love," the first initials of your names, your last name or names, or your wedding hashtag. Some couples also use these letters to direct guests to different stations throughout the reception space, such as a photo booth, the dessert table or the bar.
Spotlight on a focal point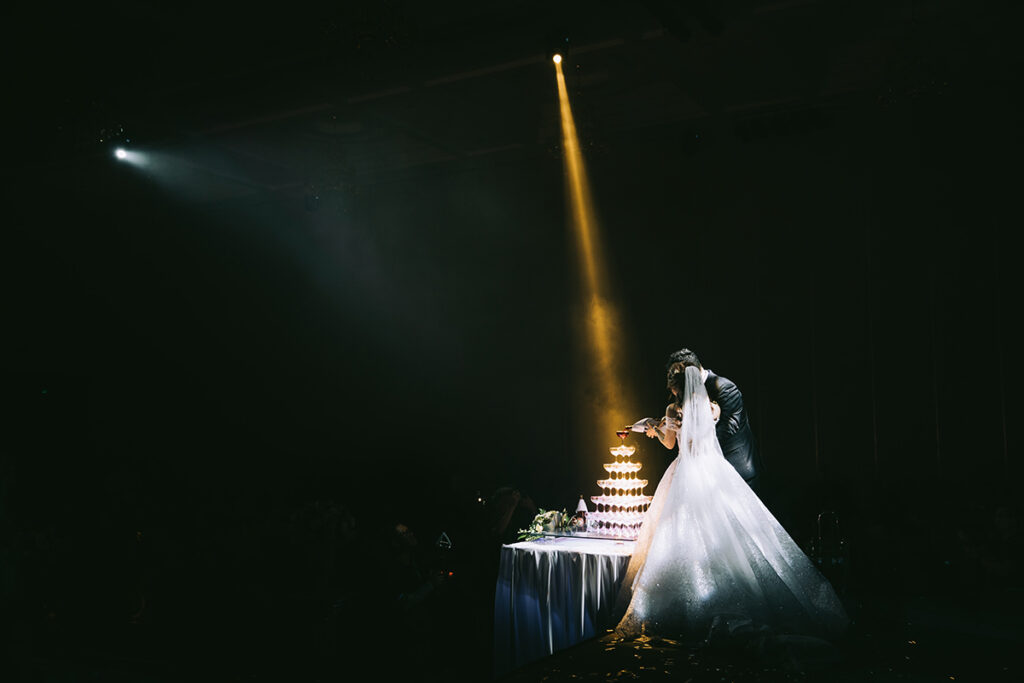 Highlight focal points during the ceremony or reception with spotlights. You can create a theatrical effect by aiming spotlights at the altar or point them upwards into the trees at an outdoor ceremony or reception. While this won't be the only lighting you lean on for your big day, spotlights are great for bringing attention to standout elements like your cake or the dance floor.
Vintage lamps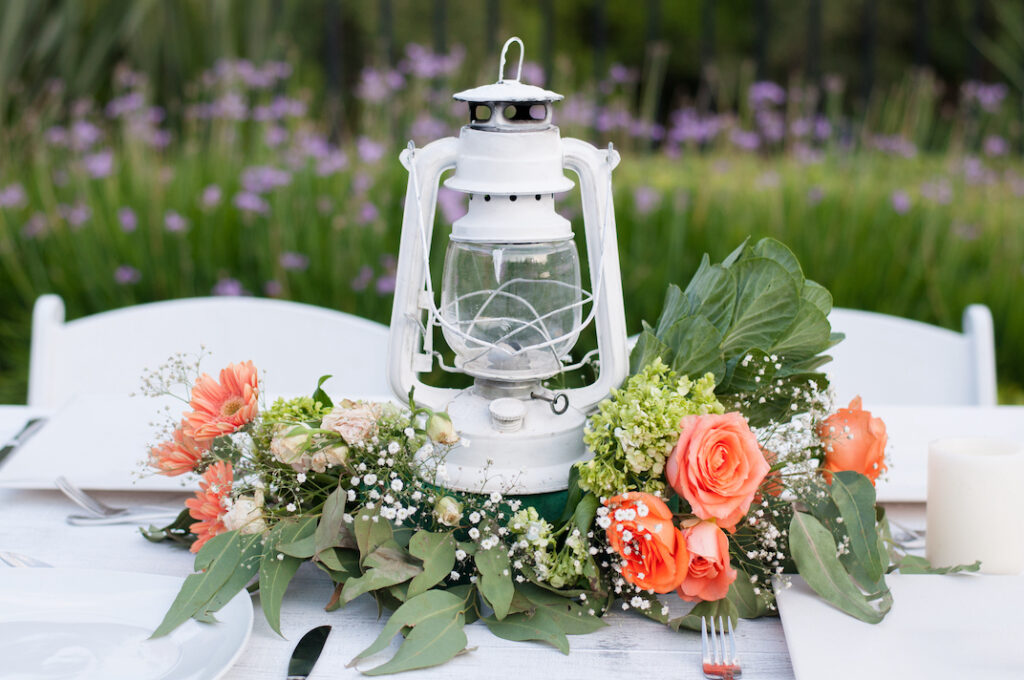 Make your wedding venue truly one-of-a-kind by sourcing eye-catching lamps from antique stores. You can use these lamps as centerpieces, in seating areas, on the gift and dessert table, or anywhere else that can use a note of whimsy. Covering the cords is an easy DIY project — just wrap greenery or flowers around the base of the lamps. This lighting element is especially apropos for couples whose wedding styles are more vintage, bohemian or whimsical.
Paper lanterns
Paper lanterns add a fanciful ambiance to a backyard wedding, providing a soft glow and a nice pop for photos. Many couples choose to hang them at varying heights from trees. While white is the most popular neutral tone, you can also select paper lanterns in shades that complement your wedding color palette.
Fairy lights mixed with a drape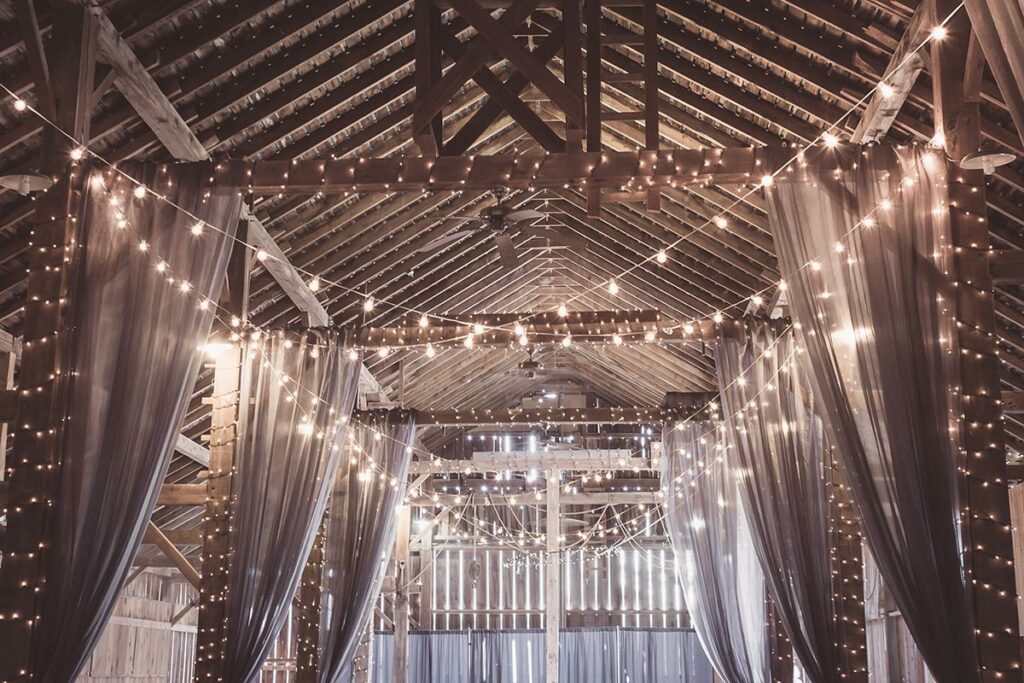 A super glam wedding can be made even more fabulous by draping a mix of fairy lights and tapestries from the ceiling. This look is especially spectacular in a marquee, or other structures with a pitched roof.
Rustic chandelier
Add a chic touch to a rustic wedding ceremony or reception by using chandeliers made out of materials like wagon wheels, wrought iron, tree branches or fake antlers. This type of chandelier works especially well if your big day is taking place inside a barn. If you want to soften the look of this focal point, wrap twinkle lights around the base.
Neon sign
Add a major pop to your wedding celebration and photos by placing a few neon signs in areas such as the bar, photo wall or booth, or head table. You can purchase pre-made signs with wedding-related phrases like "love," "cheers," "be married" and "but first bubbles," or order custom signs. Using your names can turn your sign into a great keepsake to display in your home long after the wedding is over. For more modern weddings, opt for a neon sign of your personalized hashtag.
Candles interspersed with greenery
Create a classic ambiance at a traditional wedding reception by mixing candles and greenery on each table. For a more authentic look, use real plants like eucalyptus, olive branches and nagi greenery. Evergreen branches and ferns are a great choice for winter weddings, while couples hosting a beach wedding might include turtle leaves. To ensure the greenery doesn't catch fire, use battery-powered candles, wax candles in votive holders or tapered candles on secure holders.
Tunnel of fairy lights
Craft an otherworldly atmosphere by making a tunnel out of fairy lights. This tunnel can lead down the aisle, be used at the entrance of the ceremony or reception, or encircle the dinner table at an intimate wedding.
Tiki torches for a beach wedding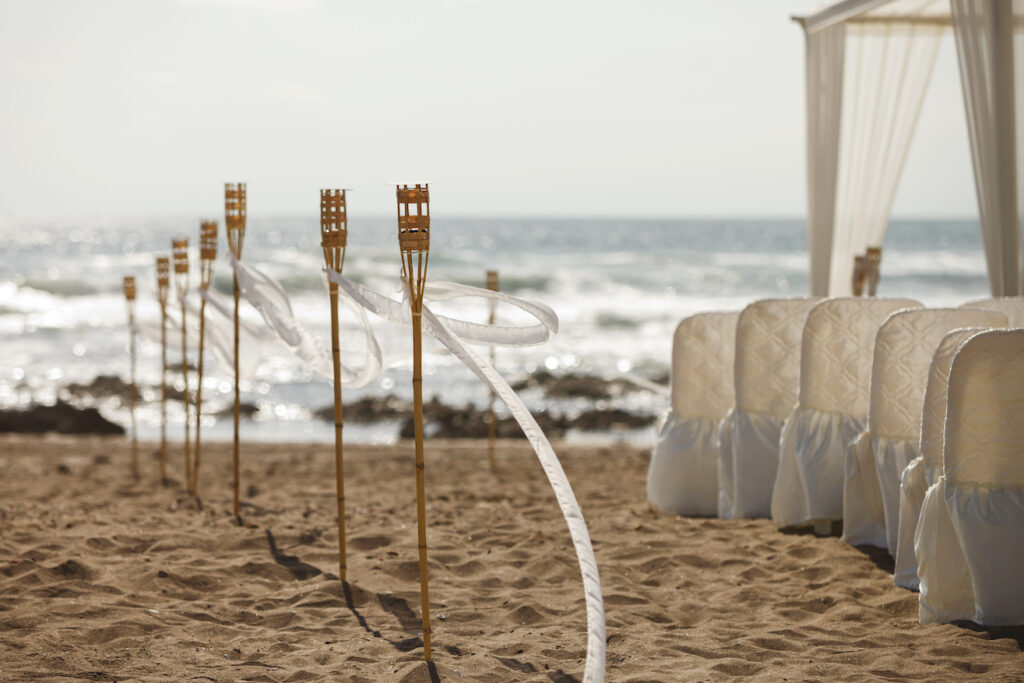 Tiki torches are a timeless lighting choice for a beach wedding, casting dramatic shadows after sunset. You can dress up the torches by attaching flowers or draping greenery between them. As an added benefit, citronella tiki torches will help keep bugs at bay if you're getting hitched in an area known for mosquitos.
Uplighting around the dance floor
From the first dance to the wedding party cutting loose, you won't miss a minute of the action by using uplighting around the perimeter of the dance floor. Those hosting a more traditional or modern wedding often use warm yellow lights for a neutral glow, but color options are seemingly endless. For a more whimsical event, mix it up with hues that fit with the color palette of your wedding.
A wall of fairy lights
For an elegant backdrop for the altar or the head table at the reception, use fairy light strands to create your own statement wall. If the setting behind the lights is aesthetically pleasing, the lights will enhance the area and make for great photo opps. But if you're trying to hide an unattractive background or create a more intimate setting, first hang a tapestry before installing your wall of lights.
Tapered candles
Tapered candles on holders are one of the most classic lighting choices for a romantic wedding. Intersperse them at varying heights with greenery or floral arrangements on reception tables to help set the mood. Color also comes into play with tapered candles, with options like matching them to your flowers or choosing a seasonal hue for outdoor weddings.
Statement lighting fixtures
Show off your unique style by hanging statement lighting fixtures at your wedding reception. From elaborate chandeliers to mixed-material pieces, these lighting options are an opportunity to add personality to your big day. You can find these fixtures at antique or consignment shops or buy them new at home improvement stores. Crafty couples can try their hand at a DIY project, creating light fixtures with materials such as shells, wire or even bird cages.
Natural light for the ceremony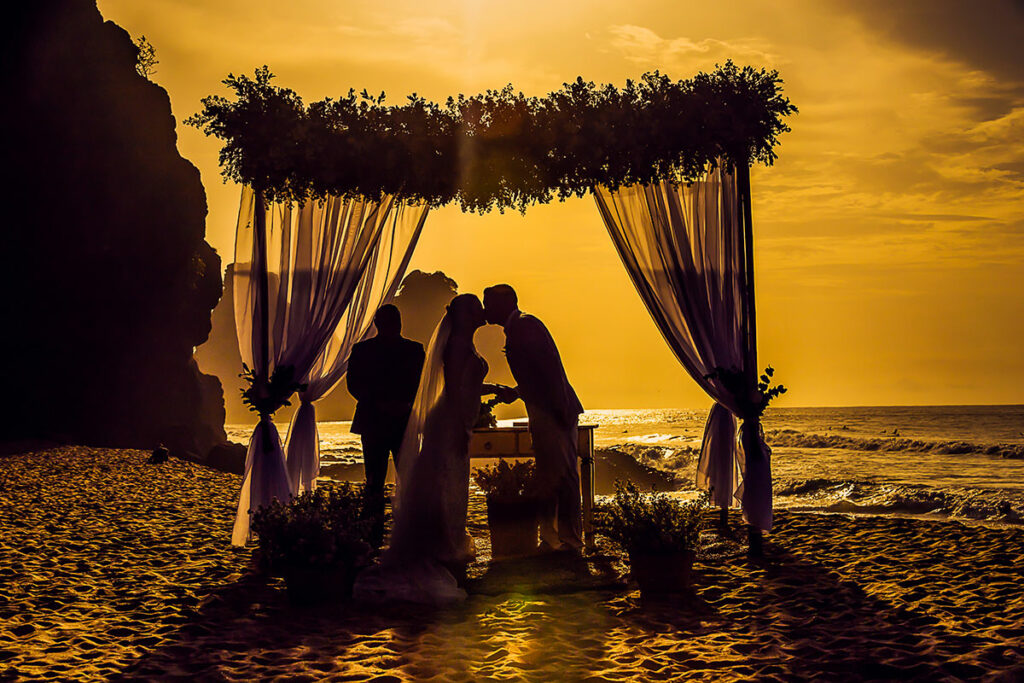 If you're having an outdoor ceremony, check out the natural lighting throughout the day to find the most beautiful time to say "I do." For evening beach weddings, plan for a sunset ceremony where golden hour will cast a warm glow over you and your guests. If you're exchanging vows in the woods, early afternoon might be the time when light trickles through the trees to create an ethereal ambiance.