What's more romantic than the calming sound of crashing waves as you exchange vows with your partner? Beach weddings are whimsical, earthy and downright beautiful.
But whether you're dreaming of a destination wedding or planning to say "I do" on the best beach in your hometown, there are a few extra things you'll need to add to your wedding planning checklist. From venue considerations for your beach wedding ceremony to permits and even wedding favors, we've put together the ultimate guide to planning your perfect day by the sea.
Overview: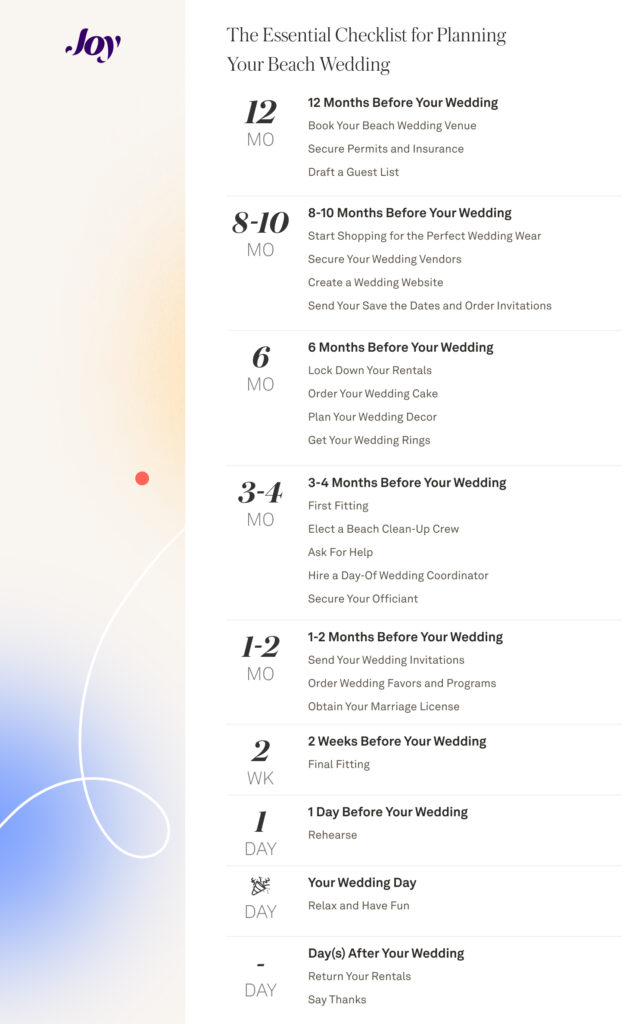 12 Months Before Your Wedding Day
Book Your Beach Wedding Venue
Since your perfect beach wedding hinges on securing your dream locale, start researching venues as soon as (or even before) you've set a wedding date. But first, decide if you want to wed at a private resort or a public beach.
Resorts often have a private beachfront that's maintained by the property, which means you likely won't need a permit to have a wedding ceremony on the sand. Make a list of any contenders and make appointments to visit those potential sites. A few things to note during your site visit are how close the ceremony site is to the water, what the weather is like, and what the backup plan would be if Mother Nature decides to crash your big day.
Mimic where you and your partner will stand, and take note of what you see, smell and feel in that space. Is there too much wind? Is the tide creeping too close? Can you hear other beachgoers' conversations? Is there a lot of trash on the ground? Outdoor venues are unpredictable from day to day simply because there are so many external factors that can affect the vibe, but going in with a solid plan will help to keep your celebration running smoothly.
If you have your heart set on a public beach, be sure to factor in the time you'll need to obtain permits. Also know that privacy may be a concern on the day of your wedding. Try visiting your potential wedding location at different times of the day to see how many people are typically in the area. Having your wedding ceremony at an off-peak time may help you avoid beachgoers making noise during your beautiful moment. Don't forget to check tide charts before booking your venue to ensure there's a space to set up the ceremony where your chairs and decor won't get washed out to sea!
Secure Permits and Insurance
Once you've found your perfect location, it's time to get into the nitty gritty. While you don't need to book a permit a year in advance, you definitely don't want to find out that your dream date isn't available six months before you're ready to tie the knot.
Here's some good news for those getting married at a resort or hotel: You likely don't have to worry about this step. But if you're looking at a public beach in cities like Santa Monica, the Florida Keys or Hawaii, be prepared to spend up to $150 on a permit and possibly more on the required insurance.
Another thing to keep in mind is the number of people allowed to gather at your nuptials. Some public beaches have limits on the amount of invitees permitted to attend your wedding. Decor, large structures, noise and even chairs can be affected by permits, so getting the legality in line right away will help usher in the next steps!
Make a Budget
While you may think a beach wedding will be easy on your wallet, costs can still add up. A budget is a not-so-fun necessity, but believe us when we say that it will help in the long run. Sit down with your partner and make a list of all the typical expenses, such as your wedding ceremony and reception venues, decor, catering, a photographer and the rehearsal dinner. Then, move on to things that would be "nice to haves," especially for an outdoor wedding on the beach — for example, flip-flops for your guests who don't want to get sand in their shoes during your vows. Also keep in mind that while beachfront resorts may accommodate your wedding reception in a private space just steps from the sand, you'll likely need to budget for a separate venue if you're saying "I do" on a public beach. Put a dollar amount that you are comfortable spending next to each item to arrive at a ballpark budget that suits your needs.
Draft a Guest List
If you're planning a beach resort wedding, you'll definitely have a larger allotted headcount than on a public beach. That being said, seaside weddings can be even more magical with an intimate guest list. Start by listing out your closest friends and family, then build from there.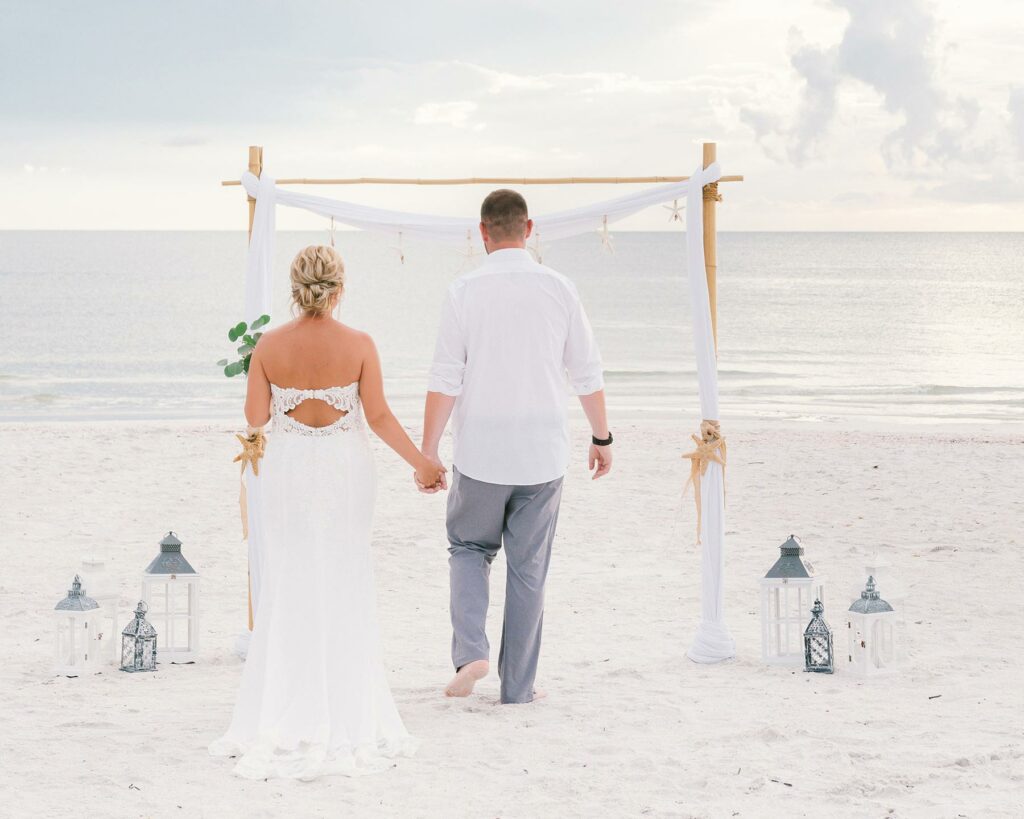 8 to 10 Months Before Your Wedding Day
Start Shopping for the Perfect Wedding Wear
Ten months before the big day is the ideal time to start searching for a wedding dress. Take the weather and scenery into account when shopping for wedding attire, but at the end of the day, it's your big moment. If you have your heart set on that ball gown instead of an airy frock, go for it!
While there are no hard and fast rules you need to follow for beach weddings, being mindful of footwear will make your event all the more comfortable. If you're getting married on the sand, you may want to consider leaving your shoes off until after the ceremony.
Secure Your Wedding Vendors
Once you've booked your beach venue, you'll have an idea of what sort of structures and decorations you can have at your wedding. Now it's time to start putting deposits down on those wedding vendors, including a photographer, florist, caterer, bartenders and entertainment.
When you've selected your florist, make sure you discuss which flowers will hold up well in the salty breeze. The last thing you want are wilted stems as you walk down that aisle. A beach wedding is also great for DIY blooms, as the scene is already picture perfect — you will need far fewer flowers than you might in a traditional indoor venue.
For entertainment, electricity won't be a problem if you're getting married at a resort, but a public beach likely won't have what you need to plug in. Use a bluetooth speaker for music or, better yet, have a string quartet play at your ceremony.
If your ceremony is on a public beach but your reception will be elsewhere, make sure you discuss this with all your vendors in advance so they can wear the appropriate footwear for both environments.
Create a Wedding Website
Your wedding website will be a one-stop shop for your big day, including background on you and your partner, introductions to the wedding party, venue details, directions, a place to RSVP and more. You will absolutely want to take the time to build this informational hub so that guests aren't pinging your phone in the hours before you say "I do." Make sure to include suggested footwear that's appropriate for the beach, parking and transportation directions, and any instructions for guests who might have trouble making their way down the sand. Need help crafting the perfect site? Joy has you covered with an easy guide to making a beautiful and informative wedding website your guests will love.
Send Your Save the Dates and Order Invitations
Once your ducks are in a row, send out those stunning save the dates! Since you're getting married on a beach, maybe use that engagement photo you took seaside to set the scene. This is also a good time to order your wedding invitations so you have time to assemble, address and mail them before the big day.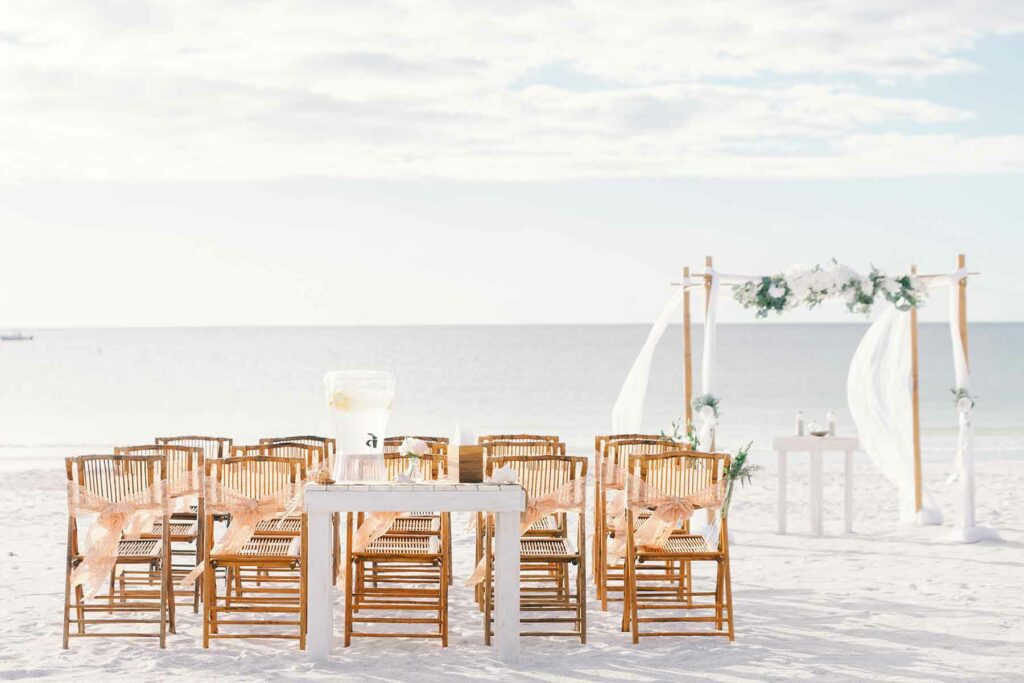 6 Months Before Your Wedding Day
Lock Down Your Rentals
This list will vary depending on if you're exchanging vows on a public beach or at a resort, but here's a working guide to rentals you'll want to have on hand for your ceremony:
Chairs
Aisle runner
Wedding arch
Ropes to section off the area if you're on a public beach
Walkway for guests who may need help to get to their seats
Transportation (if parking is not nearby)
A tent or canopy
Tables for your wedding program, guest book and other ceremony essentials
Linen anchors
Don't forget reception rentals not included in your venue package or handled by your caterer, including table linens, drinkware, flatware, a dance floor and lighting.
Order Your Wedding Cake
Whether you are doing a donut wall or sticking with a traditional cake, make sure you place your order at least six months in advance. Vendors book up really quickly, so it's never too soon to lock this one in! Make sure to discuss the details of your wedding so they can pull in the calm ocean vibe into your design.
Plan Your Wedding Decor
Decorating for a beach ceremony is really different from any other venue because of the weather. Salty air, splashing water and strong winds all come with the territory, so your decor needs to stand up to the elements. If you are planning to have a wedding arch, you'll need to invest in some sandbags or spikes to anchor the structure in place. Loose fabrics, delicate flowers and paper items should also be used sparingly so they won't blow away into the sea before the ceremony starts. Also think through things like lights and candles. If electricity isn't available, battery-powered LED lights are a great alternative, plus they're less volatile than open flames.
Get Your Wedding Rings
You'll want to allow yourselves plenty of time to find your perfect symbol of love and have it fit perfectly.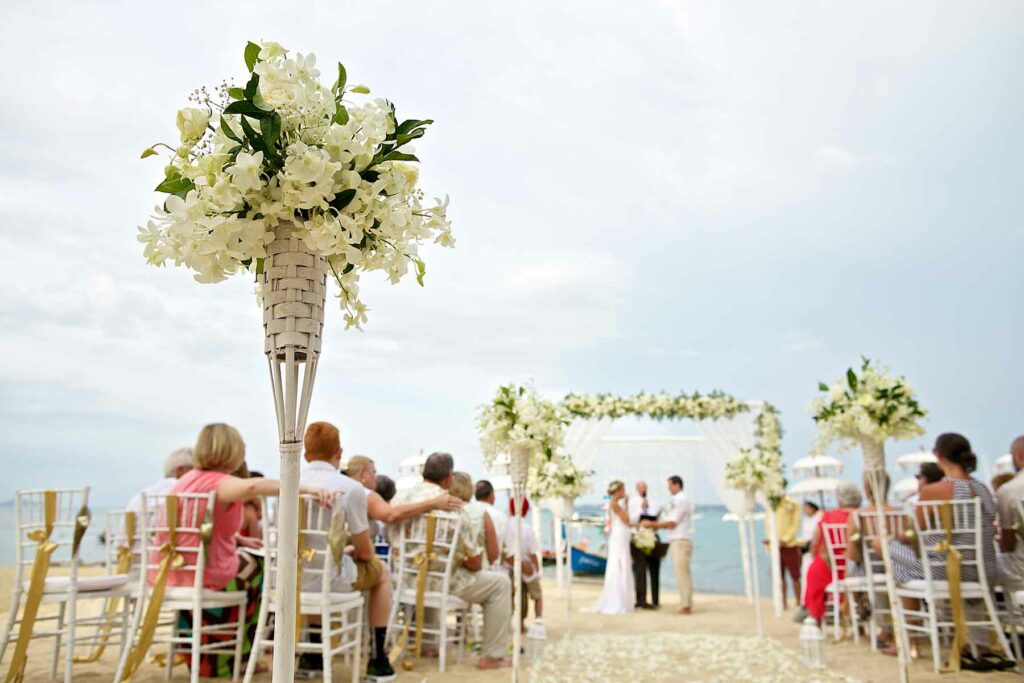 3 to 4 Months Before Your Wedding Day
First Fitting
By now, your wedding wear should be ready to try on and get altered to your body. Bring any accessories and footwear to your fitting. If you're planning to wear two different pairs of shoes — one for the sandy ceremony and another for the reception — bring both, as you'll want to make sure any alterations work with all your footwear.
Elect a Beach Clean-Up Crew
If your nuptials are taking place at a resort, you can cross this item off your checklist. Public beaches are unpredictable when it comes to who and what you'll find on the sand. Enlist a few friends (or hire pros) to clean up before and after the wedding to make sure your photos don't have a soda can or a tangled mass of seaweed in the shot.
Ask For Help
You can't be everywhere all at once and still get married on your wedding day. Ask some friends to help with set-up and tear-down of your rentals and decor on the day-of so you don't have to lift a finger. Better yet …
Hire a Day-Of Wedding Coordinator
Even if you have a wedding planner who is helping to shape the vision of your beach ceremony, you may want to consider hiring a coordinator to handle the logistics of your big day. Receiving deliveries, setting up chairs, securing decor, tipping vendors and communicating with guests are all within a coordinator's wheelhouse, which means you can focus on having the most perfect day with your partner.
Secure Your Officiant
Like the other vendors, let your officiant know that the wedding will be on a beach so they can figure out proper footwear and how to pack their notes. If you don't plan on having a sound system, be sure to mention to your officiant that they will need to speak loudly so guests can hear the ceremony.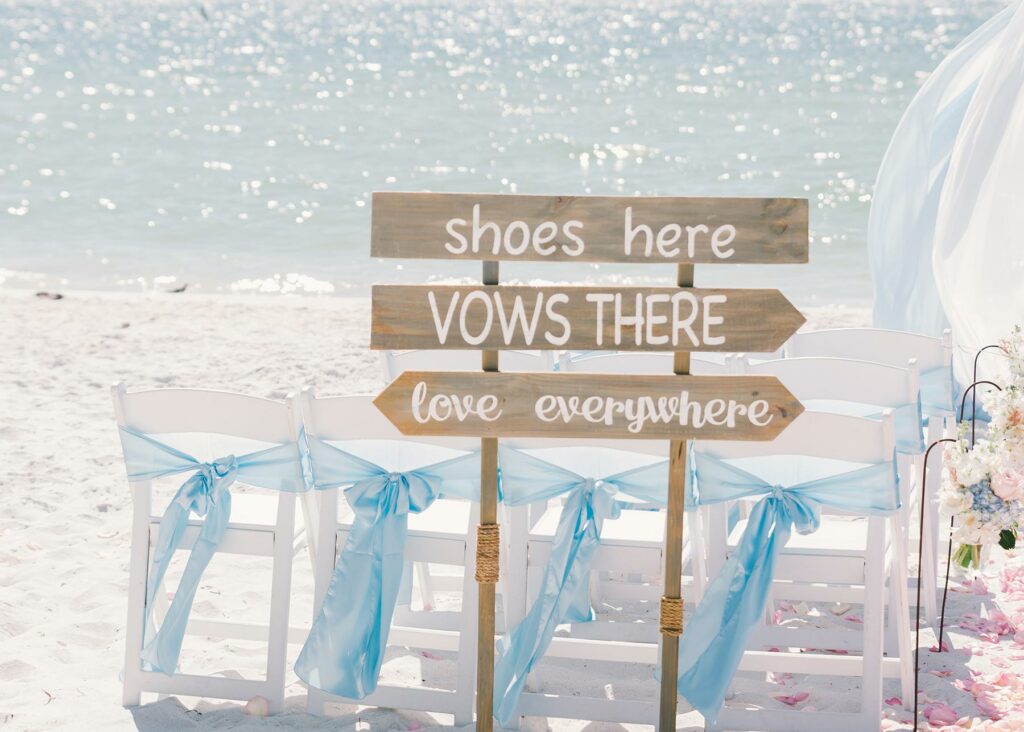 1 to 2 Months Before Your Wedding
Send Your Wedding Invitations
Your big day is right around the corner! Drop your wedding invitations in the mail around eight weeks before the big day (longer, if you're planning a destination wedding). 
Order Wedding Favors and Programs
Flip-flops and custom sunscreen are great on-theme gifts that your guests will really appreciate out on the beach. You can also give your wedding programs a practical twist by attaching them to a wooden handle to create a fan. They'll not only provide information, but also help guests cool down on a warm summer day.
Obtain Your Marriage License
You and your partner will have around 30 days from the time you get your license to have your ceremony and make things official!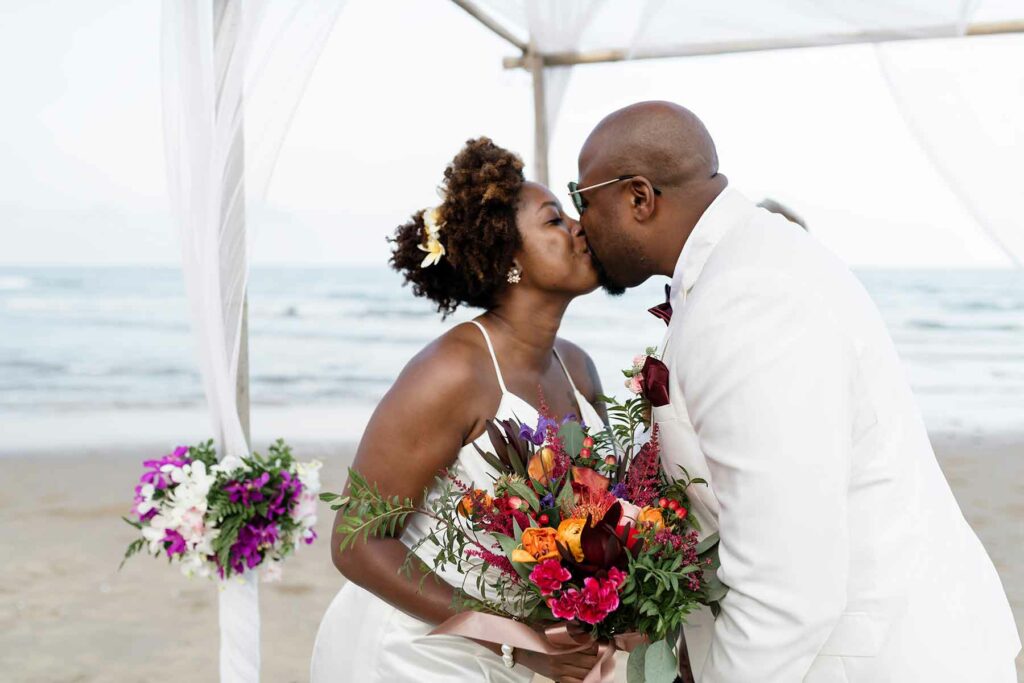 2 Weeks Before Your Wedding
Final Fitting
It's getting real! Go to your final fitting and put the finishing touches on your perfect outfit. By now, you should have all your accessories ready to go.
1 Day Before Your Wedding
Rehearse
Whether you're at a resort or on a public beach, you should do a wedding rehearsal around the time of your actual ceremony to iron out any outstanding details. Not only will you get a sneak peek into what your big day will be like, but you can make any last-minute changes that might not have occurred to you earlier — such as the way the breezes are blowing and exactly where the sun will be during your ceremony. After the rehearsal dinner, get a good night's rest. Tomorrow is the big day!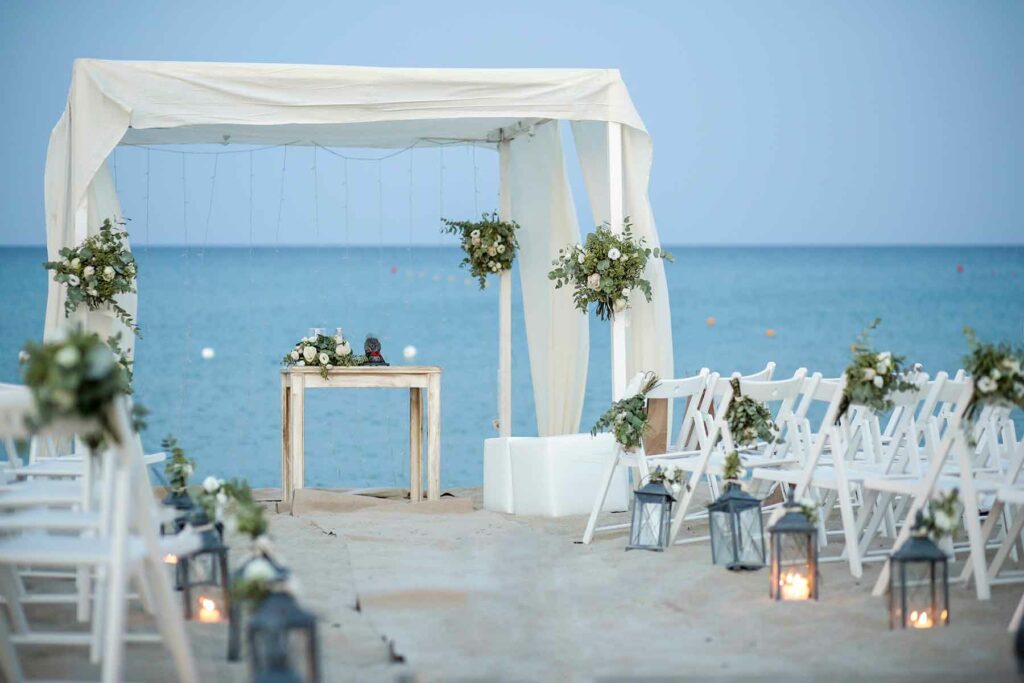 Your Wedding Day
Relax and Have Fun
There is no doubt your mind will be reeling this morning. Did I pick up the votives? Are there batteries in the lights? The answer is yes and yes. Even if you forgot something, you've already enlisted help from your planner, coordinator, or friends and family. Now, focus on the most important items on your beach wedding checklist: seeing your dream wedding come to life and trying not to cry as you begin the rest of your lives together.
Day(s) After Your Wedding
Return Your Rentals
No, we're definitely not suggesting that you get up on your first married day and return rentals. Ask a few friends or your wedding coordinator to be around during pick-up to ensure everything goes smoothly. As for you? Sleep in and keep replaying that perfect day in your mind.
Say Thanks
Weddings don't happen alone. Once you're back from your honeymoon, show your friends and family how much you appreciate them with a sweet note. For anyone who helped this day happen, maybe send a sweet gift as a memento of your friendship.