During the wedding planning process, one of the most exciting things to look forward to is wedding dress shopping. You may have always dreamed of what you'd look like on your big day, and now it's time to make that dream a reality. From romantic strapless ball gowns to chic mermaid dresses, the possibilities are endless.
For some, this may be a bit daunting — what if you can't find the right dress, and how do you even know if it's the one? Whether you've been updating your wedding Pinterest board since high school or you don't know the difference between tulle and silk, we've laid out the ideal wedding dress shopping timeline of when to start looking and how to plan for that process. Here's everything you need to know about finding the perfect dress for your big day.
When Should You Purchase a Wedding Dress?
Starting your search early may be high on your list of priorities, but it isn't necessarily the first item to cross off on your wedding planning checklist. Before you make an appointment to visit your first dress shop, make sure you've set the wedding date, determined key elements like theme and color palette, established your wedding and dress budget, selected your wedding party, and booked your ceremony and reception venues.
Your search should start about 10 months before your wedding day, as this gives you a chance to explore all your options. Why so early? Purchasing a wedding dress isn't quite like buying other clothes. They can take about six to nine months to be made, so beginning at the 10 month mark provides enough time to visit multiple shops and try on different styles to find the perfect wedding dress for you.
Start by Researching Different Dress Styles
Before you get lost in the intricate details, like deciding between beading or lace, start by looking at the bigger picture. Creating a vision board of your favorite dress styles can help prepare you for your first appointment. As you research, here are four areas that can narrow down the list of potential dress designers and boutiques to visit.
Silhouette
Silhouettes are a great way to determine the overall look and style of your dream wedding dress. Popular wedding gown silhouettes include the classic ball gown with a full skirt and fitted bodice; the A-line silhouette; the mermaid silhouette that fits close to the body and gains volume below the knees; the form-fitting trumpet silhouette that flares out starting at mid-thigh; and the sheath, which continues in a straight line from the waist to the hem.
Neckline
The neckline can shape your entire wedding dress aesthetic, with each style accentuating different features like your face, body type and hairstyle. One of the most popular options is the sweetheart neckline, which forms the top part of a heart and can vary in shape to provide more or less coverage. A straight neckline and boatneck both show off your collarbones for a simple and elegant appearance, while a portrait neckline provides light arm coverage and a scooping shape. To make an unforgettable impression with your dress, a daring plunging neckline can up the wow factor with an endpoint falling around your waist. By adding a sheer panel you can create an illusion neckline, which can go all the way up your neck and even form sleeves.
Fabric
The fabric of your wedding dress will affect the draping, sheen and breathability. Your dress may also have a combination of fabrics, as they can be added to provide overall volume or a layer of detail. Consider your venue and season when selecting your wedding dress fabric, as some gowns may be light, flowy and feel nearly weightless, while others may feel sturdy and structured.
Many fabrics are silk or made from silk fibers, including chiffon, mikado, brocade and charmeuse. They will typically have a sheen and can vary in weight. Taffeta is also silk-based, but gowns made of this material are unique because of the structured silhouette they create. For layering, look to organza, a sheer material made from silk fibers that is usually used as the top layer of a skirt to provide a soft, ethereal aesthetic. Lace is also used as an overlay, typically found in parts of the dress like the sleeves, bodice or skirt. Conversely, tulle is a versatile fabric that works great as a hidden layer to add volume to a skirt.
Theme
If you're finding it hard to narrow down the list of your favorite dress styles, use your wedding details as inspiration. While you always want to keep your venue and wedding date in mind, the type of celebration you're planning can influence different fabric choices or necklines.
If you're planning a destination wedding on a beach in Italy, for example, you can likely rule out a layered ball gown with long sleeves. A lace trumpet dress with intricate details would be perfect for a rustic barn wedding, just as a structured taffeta couture gown may be the the perfect choice for a glamorous city wedding.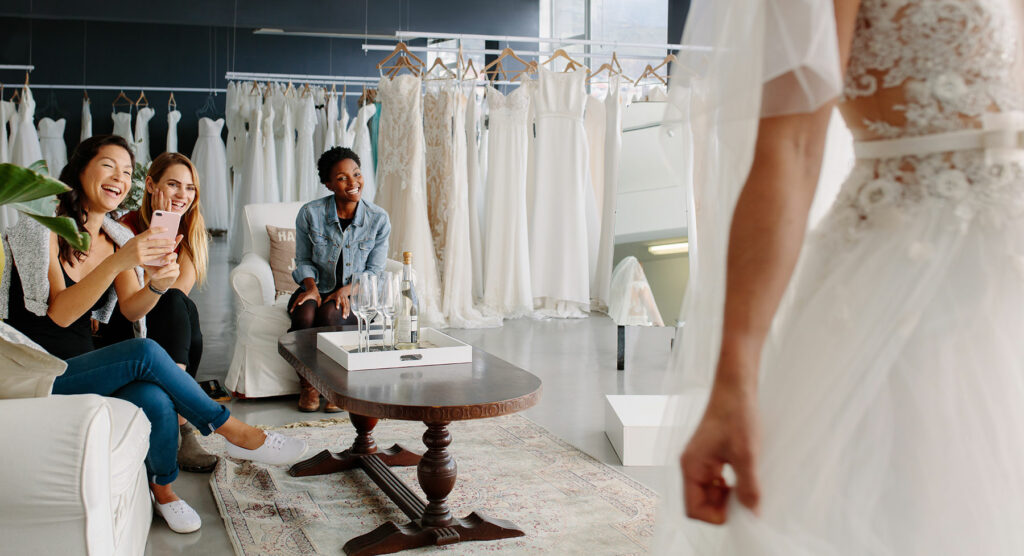 Shopping Tips to Find Your Dream Wedding Dress
Once your research is done and your vision board is created, it's time to go shopping. Keep these five tips in mind before trying on your first dress.
Keep an open mind. A dress can look completely different once you've tried it on, so don't be afraid to venture outside your list. What looks like a simple dress on the rack may transform into a gown that brings your fairytale vision to life. Or, you may find that you want a dress that takes it up a notch in detail and volume, because you can never have too much sparkle and tulle.
Stay within your price range. Trying on a gown above your price range is never a good idea, as you may have to decide between losing your dream dress or breaking your budget. Go into your first appointment with a firm dress budget set so you can communicate that range to your consultant. They'll make sure to only show you gowns that you can afford.
Pick your wedding dress group. Finding your dress is such a fun experience that you may be tempted to invite the entire wedding party. Try limiting your group to three trusted people so you can have the support you need without all the extra opinions.
Seek out a trunk show. If you're searching for a dress from a specific designer or stylist, see if they're having a trunk show where you could view their collection in person and score some potential savings. Check the dates of the trunk show first to ensure they align with your timeline.
Visit other places besides bridal salons. If you're adventurous and looking for ways to save money, try a thrift store or consignment shop to find vintage gowns in excellent condition.
With these shopping tips in mind, you'll be well on your way to finding your dream dress. Remember, start your search early — ideally at the 10-month mark — so more options will be available to you. Waiting until the last minute can limit your choices, particularly from a traditional dress shop.
Planning Your Wedding Dress Appointments
It's always better to plan ahead when making appointments at dress shops. Their schedules can fill up quickly, especially if your big day is during a major wedding season. Start booking appointments as soon as you've finalized the key details we mentioned above — just schedule them around 10 months ahead of your wedding date. Then, use the time leading up to your visit to do your research.
Make appointments at a few shops to ensure you have a variety of designers and styles to choose from, and don't feel like all the appointments need to be on a single day or weekend. Take your time, but also don't be afraid to purchase "the one" that takes your breath away.
Preparing for Your Wedding Dress Fitting
While you might be ready to move on to the next item on your checklist and send out your save the dates, you still need to plan for additional dress fittings. In order to get the perfect fit, you'll need to bring a few items to these fittings to make the tailoring process as precise as possible. Before your first fitting, make sure you've purchased your wedding shoes, undergarments, veil and accessories, and bring them to each fitting.
Now, you're ready to schedule your fittings:
First fitting. Plan for the first fitting about three or four months before your big day. At this fitting, your hemline will likely be set, so be sure to have your shoes ready to try on with your dress. Undergarments can also affect the shape and fit of the dress, so any alterations regarding these can start during this initial fitting. While you wait for your first alterations to be completed, it's a great time to order your wedding invitations (which can be inspired by lace or other detailing on your dress!) and send them two months before the big day.
Second fitting. Your second fitting should take place one month before your wedding. Here, you can check the results of the first alterations and make additional adjustments.
Final fitting. Your final fitting will occur about two weeks before the wedding. In this fitting, you'll make sure everything is perfect and request any small alterations, if necessary.
Finally, after months of research, appointments and patience, your dress is ready. And with a countdown of just two weeks, it's time to take care of final details and look forward to revealing your beautiful dress on your special day.