You're engaged, overjoyed, and excited to start planning your wedding. One of the first steps you'll take leading up to the nuptials is organizing your wedding registry. While receiving gifts is not the most important part of your big day, it can certainly be a fun part of your celebration.
Knowing what to include on your registry can be tough, but we're here to help with this wedding registry checklist. Here, you'll find top tips on how to create a registry, the do's and don'ts to keep in mind, plus plenty of gift ideas for your wedding registry list.
How to Set Up a Wedding Registry
It's easy to set up a wedding registry once you know how to do it. To start, simply decide which retailers you'd like to list with and create an account. From there, you'll be able to select products to add to your gift registry.
If you're not sure where to register, try our guide on the 21 best wedding registry websites for some serious retail inspiration.
Wedding Registry Do's and Don'ts
There are no hard and fast rules when it comes to a wedding registry. Some people opt for cash registries while others have lists at multiple retailers. Still, other couples prefer to ask for contributions towards a charity or an experience such as the honeymoon or other vacation.
While there's little etiquette to worry about, these simple do's and don'ts will help you stay on the right track.
Do Create a Registry
Even if you don't mind which gifts you receive, you should still consider creating a registry. Some guests find it hard to choose the perfect gift — with a registry, you remove that stress for them.
If you ask for no gifts at all and would prefer a cash or charity donation instead, let your guests know. You can often set up a cash registry and charity collections online.
Don't Wait Until the Last Minute
To help your guests find a gift you'll love, set up your wedding registry early. You could do this soon after your engagement, so it's ready for any guests who are early birds. Don't forget you can add to your registry, or set up additional ones, at any time leading up to the big day.
Do List a Range of Gift Ideas
Weddings can be expensive for guests, especially if they're on a tight budget. When you list items on your gift registry, be mindful of this and include products at different price points.
Most retailers offer a range of products, which makes this easy. If you've opted for a luxury wedding registry, consider opening another list elsewhere with more affordable alternatives.
Don't Be Afraid to Add High Value Gifts
The average cash value of a wedding gift is around $99. However, this doesn't mean every gift on your registry should be below this value.
If there's a product, experience, or weekend getaway that you'd love to receive as a gift, don't be afraid to list it. A group of friends may want to pitch in together to buy you a more expensive gift, or someone may be feeling extra generous.
Do Expect the Unexpected
A wedding registry is a useful list for both you and your guests. They get a feel for what you'd like to receive, and you can hold back on purchasing items which you may receive as gifts.
Many guests will choose to buy a gift from the registry, but not all will. Expect that some gifts may be wildly different than what you might have had in mind. Remember, it's the thought that counts. Oftentimes, receiving a gift that wasn't on your registry is a nice surprise.
Don't Forget to Share Your Registry
Once you've created your wedding registry, make sure you share it with your guests.
Many couples include a reference or link to their registry with save the date cards or wedding invitations. If you have a Joy wedding website, you can list your registries there for your guests to browse and buy from.
Your Wedding Registry Checklist
Once you've registered, you'll find there's a huge range of products and experiences to add to your list. From dinnerware to attraction tickets, there's just about everything you can imagine.
To help you narrow down your selections, we've created this wedding registry checklist. Below you'll find our top suggestions for your list, split into simple categories.
Kitchen and Dining
Kitchen appliances, cookware, flatware, and dinnerware are all popular gifts for newlyweds. Here are some top picks for your kitchen and dining room.
Serving Set
Hostess Set
Casual Place Settings
Special Occasion Dining Set
Pasta Bowls
Serving Bowls
Salad Bowl
Platters
Cutlery
Salt and Pepper Shakers
Gravy Boat
Knife Set (including Chef's Knife and Paring Knife)
Steak Knives
Cutting Boards
Spatulas and Other Utensils
Frying Pan or Wok
Cookware Set
Roasting Pan
Casserole Dish
Pie Dish
Stockpot
Pizza Stone
Peeler
Creamer
Grater
Pitcher
Decanter
Ice Bucket
Red and White Wine Glasses
Champagne Glasses
Cocktail Glasses
Highball Glasses
Mugs
Tea Set
Measuring Cups
Mixing Bowls
Baking Set
Cake Pans
Cupcake or Muffin Cases
Cake Plate
Coffee Grinder
Coffee Maker
Espresso Machine
Teapot or Tea Kettle
Blender
Hand Mixer
Food Processor
Stand Mixer
Waffle Maker
Ice Cream Maker
Toaster or Toaster Oven
Slow Cooker
Rice Cooker
Dutch Oven
Storage Canisters
Bread Bin
Apron
Tea Towels
Oven Mitts
Tablecloths
Table Runner
Napkins
Napkin Rings
Coasters
Placemats
Living Room
If you've just moved into a new home or apartment, or simply want to add some personality to your space, now is a great time to ask for decor and soft furnishings for your living spaces.
Wall Art
Picture Frames
Wall Clock
Candles
Diffusers
Vases
Themed Decor
Cushions
Throws
Lighting
Fireplace Tools
Bedroom
Make your bedroom feel cozy and inviting with some fresh new bed linens, or register for a few high-quality essentials.
Mattress Pad or Topper
Pillows
Duvet Insert
Pillowcases
Duvet Cover
Comforter
Bathroom
It's easy to leave bathroom items off your wedding registry, but there are plenty of ideas for storage and linen.
Hand Towels
Bath Towels
Wash Cloths
Bath Mat
Bathrobes
Shower Curtain
Laundry Hamper
Makeup Storage
Soap Dish
Toothbrush Holder
Office
If you have a home office or you like to stay organized at home, here are some office products to add to your gift registry.
Area Rug
Bookends
Notebooks
Pens and Pencils
Stationery Set
File Storage
Bookcase
Wall Calendar
Outdoors
Don't forget to list items for your yard, balcony, or weekend camping trips.
Gardening Tools
Garden Furniture
BBQ or Grill
Cooking Utensils
Outdoor Barware
Picnic Basket
Picnic Blanket
Tent
Camping Chairs
Beach Towels
Bicycle Accessories
Travel
If you love to travel, now's a good time to upgrade your luggage or ask for gifts that make travelling easier and more enjoyable.
Suitcases
Carry-On Luggage
Garment Bags
Packing Cubes
Toiletry Bags
Luggage Tags
Passport Covers
Miscellaneous
Your wedding registry is the ideal place to list gifts that are meaningful to you. Sometimes these don't fit into a room or category, so here are a few ideas to inspire you.
Digital Camera
Software Subscriptions
Attraction Annual Passes
Theatre Tickets
Personal Shopping Experience
Luxury Skincare
Board Games
Craft or Hobby Supplies
Gift Cards
Create the Wedding Registry of Your Dreams
Whether you set up one wedding registry, multiple registries, or opt for a cash registry, following this wedding registry checklist will help you inform your guests about what you want and what you need.
Once your wedding registry is shared, you can look forward to opening gifts that celebrate your new life as a married couple. It's fun to see what people have chosen for you and to welcome these new items into your home. It's yet another way to remember your special day and think about your loved ones who were so generous and considerate.
When the time comes, be sure to use our guide on thank-you notes so you can let your friends and family know you appreciate their thoughtfulness.
Up Next: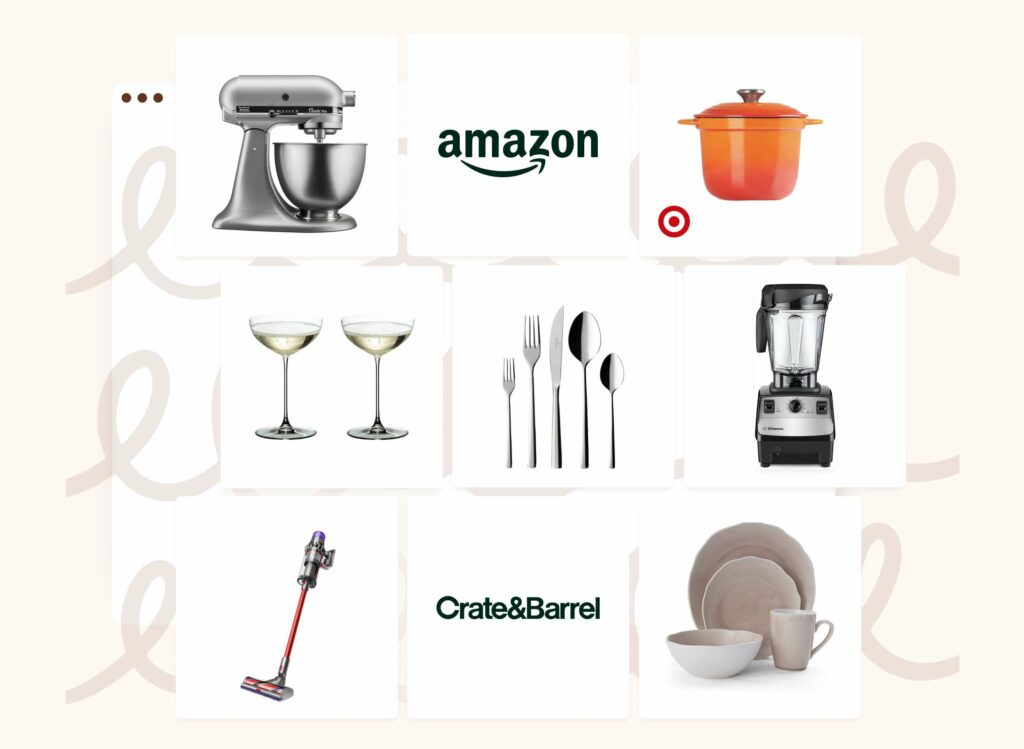 From gifts, to cash funds, experiences or charitable causes, add any gift you want, from any online retailer, to your Joy registry.