Congratulations, you're engaged! It's a time of celebration, joy and excitement — and also wedding planning. But as you dive into all the details for your big day, don't forget to look beyond your vows. Organizing your wedding registry is one of the first steps you can take to ensure you have all the essentials for your newlywed home. While receiving gifts is not the most important part of getting married, it can certainly be a fun way to start your life together. Whether you're a cocktail connoisseur eyeing a set of highball glasses or a home baker dreaming of cake pans, a registry can help fill your cupboards and closets with items you need and love.
Knowing what to include on your registry can be tough, but we're here to help with the ultimate wedding registry checklist. Here, you'll find our top tips on how to create a registry, dos and don'ts to keep in mind, and plenty of registry ideas for your kitchen, bed and bath.
How to Set Up Your Wedding Registry
Setting up a wedding registry is easy once you get started. After narrowing down your list of retailers, just create an account and begin adding products to your list. You can have multiple registries and add to them throughout your engagement.
One way to simplify the process even further is by setting up a Joy wedding registry. Joy offers an all-in-one gift registry that syncs lists from every retailer onto one convenient webpage. You can also add items directly from Joy's shop, which is organized by department and includes helpful guides to navigate confusing registry categories like dinnerware. Each item can be selected using an easy one-click "add to registry" browser button. With Joy, you can also set up cash funds, honeymoon experiences, accept donations for charities, or add gift cards to major retailers like Lowe's, Airbnb and Southwest Airlines.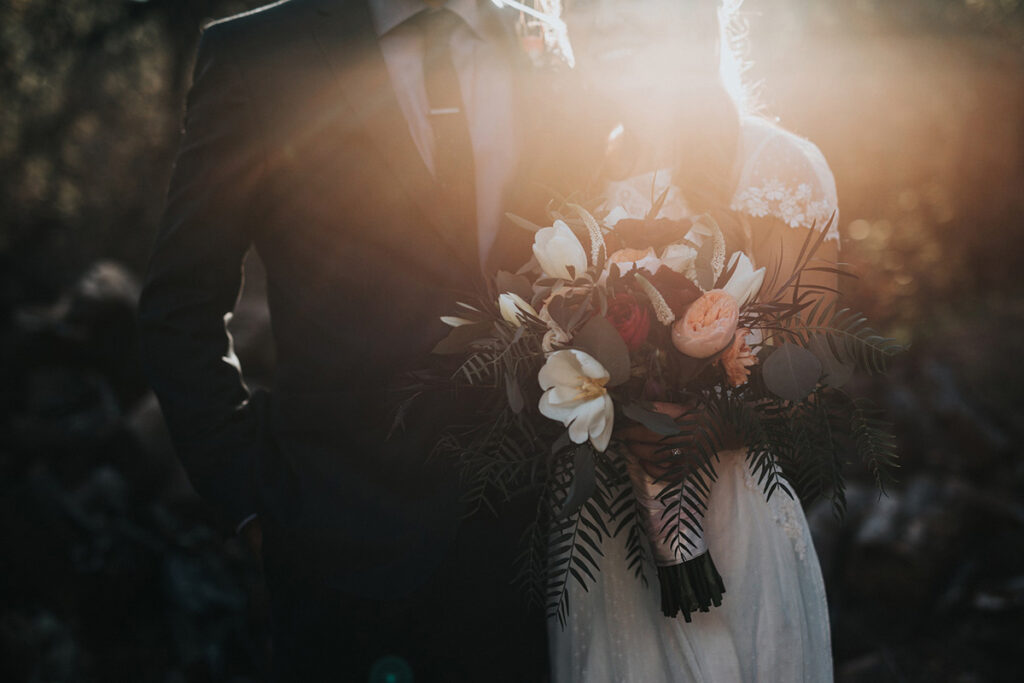 Wedding Registry Dos and Don'ts
There are no hard and fast rules when it comes to your wedding registry. While some people set up honeymoon funds, others make lists of registry items from multiple retailers. The most important thing to remember is that what's right for one couple may not work for another. With that thought top of mind, these simple dos and don'ts will help you stay on the right track as you create your wedding registry.
Do create a registry.
Even if you'd appreciate anything you receive for your big day, some guests find it hard to choose the perfect gift. By creating a registry, you can help eliminate uncertainty and relieve any gift-giving stress. A Joy registry keeps it simple with the ability to add gift items, charity donations or a honeymoon fund all in one place, as well as zero charges for cash funds.
Don't wait until the last minute.
While there's certainly a lot on your mind with wedding planning, setting up your registry early makes it easier for guests to find a gift you'll love. If you start soon after your engagement, it allows early birds to shop when it's most convenient for them and gives you a chance to add new items in the months leading up to your big day.
Do give guests a range to choose from.
Weddings can be expensive for guests, and everyone has a different budget. Be mindful of this when selecting registry items and include options at different price points. Most home retailers offer a range of specialty high-end products like chef's knives, as well as lower-cost kitchen gadgets, so choosing an array of items is usually easy. If you've opted for a luxury wedding registry, consider opening another list elsewhere with more affordable alternatives.
Don't be afraid to add more expensive gifts.
The average cash value of a wedding gift is around $99, but not every gift needs to be below this price point. If there's a product, experience or weekend getaway that you'd love to receive, don't be afraid to add it to your list. A group of friends may want to pitch in together for a more expensive gift or someone may be feeling extra generous.
Do expect the unexpected.
A wedding registry is an incredibly useful tool for both you and your guests. They get a feel for what you need, and you can hold off on purchasing items you may receive as gifts. But keep in mind that some guests will choose to find their own gifts that are wildly different from what you had envisioned. Remember, it's the thought that counts — enjoy the surprise!
Don't forget to share your registry.
Once you've created your wedding registry, make sure you share it with your guests. Many couples include a reference or link to their registry with save the date cards or wedding invitations. Once invitations go out, your wedding website becomes the go-to place guests look to for registry information. If you create a Joy registry, a wedding website template is automatically set up for you with a link to all your items.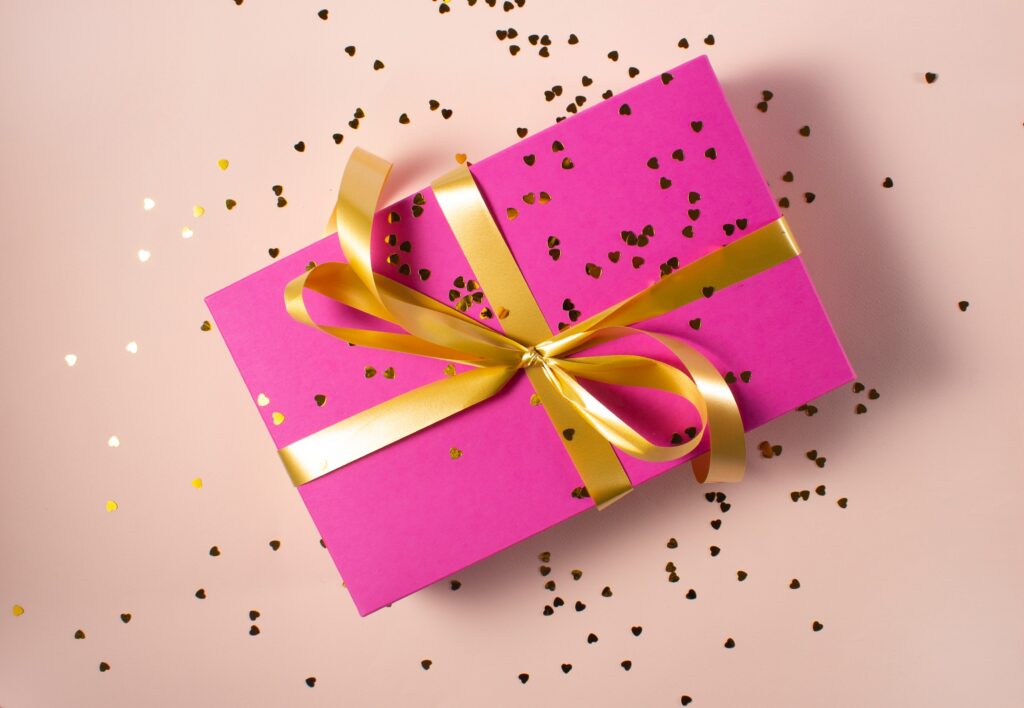 Your Wedding Registry Checklist
After you've set up your accounts, you'll find there's a huge range of products and experiences to add to your list. From dinner plates and duvet covers to attraction tickets and hotel stays, the sky's the limit when it comes to registry ideas. To help you narrow down your selections, we created a curated wedding registry checklist with top suggestions for three simple categories.
Kitchen
Kitchen appliances and cookware are both go-to gifts for newlyweds. Here are some popular picks for outfitting your cooking space.
Stand mixer
Hand mixer
Blender
Hand blender
Food processor
Toaster or air fryer oven
Air fryer
Pressure cooker
Slow cooker
Coffee maker
Espresso machine
French press
Tea kettle
Juicer
Waffle maker
Electric griddle
Sous vide
Vacuum sealer
Rice cooker
Egg cooker
Ice cream maker
Cooking utensil set
Food storage containers
Cookware set
Skillet
Fry pan
Dutch oven or braiser
Griddle/grill pan
Roasting pan
Saucepan
Sauté pan
Stockpot
Multipot
Wok
Bakeware set
Rolling pin
Baking mat
Cookie scoop
Whisk
Mixing bowls
Muffin and bread pans
Sheet pan
Cooling rack
Baking dishes
Casserole dish
Cutting board
Knife set
Knife sharpener
Pizza stone
Pizza cutter
Colander
Garlic press
Mandoline
Spiralizer
Grater
Grinder
Spice rack
Dish rack
Dish drying mat
Dish brush
Dishcloths
Tabletop and Bar
From flatware and dinnerware for enjoying those mouthwatering meals to barware that will help you host friends and family, these items will set you up for every occasion.
16-piece dinnerware set (a total of four place settings)
4-piece dinnerware set (a single place setting; this is a good alternative to a set with a fixed number of place settings)
Cake/dessert stand
Serving tray
Serving bowl
Salad bowl
Cheese board
Cheese knife set
Serving platter
Flatware set
Serving utensils
Spatulas
Tongs
Salt and pepper mill set
Beverage dispenser or pitcher
Everyday glassware (drinking glasses or a set)
Champagne flutes
Red and white wine glasses
Beer glasses
Cocktail glasses (such as highball glasses, rocks glasses and coupe glasses)
Corkscrew and foil cutter
Shaker
Barware set
Wine stopper
Electric wine opener
Home and Lifestyle
With so many options, it's easy to focus your list heavily on the kitchen, but don't overlook other living areas that will help make your newlywed house a home. Whether you want to make your bedroom feel cozy with fresh new linens or decorate your walls with meaningful artwork, there are plenty of items to round out your registry. You can also think beyond the home. Your wedding registry is a great way to upgrade your luggage or ask for gifts that make traveling easier and more enjoyable.
Vacuum
Handheld vacuum
Trash can
Broom
Duster
Mop/steam mop
Step stool
Sheet set with fitted sheets and flat sheets
Comforter
Duvet/duvet set
Mattress protector
Shams
Pillows
Pillowcases
Mattress
Bath towels and hand towels
Shower curtain
Bath rugs
Bathroom accessory set
Electronic doorbell
Smart thermostat
Security system
Portable speaker
Sound bar
Air purifier
Fan and space heater
Mirror
Picture frames and wall art
Vases
Furniture
Luggage set
Large suitcase
Carry-on suitcase
Duffel bag
Backpack
Creating the Wedding Registry of Your Dreams
Whether you've selected products from a single retailer, curated multiple lists or added only honeymoon experiences, gift cards and cash funds, creating a wedding registry that will work for you is the best way to plan for success. Consider using our checklist to build a Joy registry and website, where all your lists are in one place (with zero fees for your cash funds!).
And once your wedding registry is created and shared, you can look forward to opening gifts together and welcoming them into your new home. It's yet another way to remember your special day and think about your loved ones who joined you in celebrating the occasion.
One last tip: When the time comes, be sure to use our thank you note guide to let your friends and family know you appreciate their thoughtfulness.
Up Next: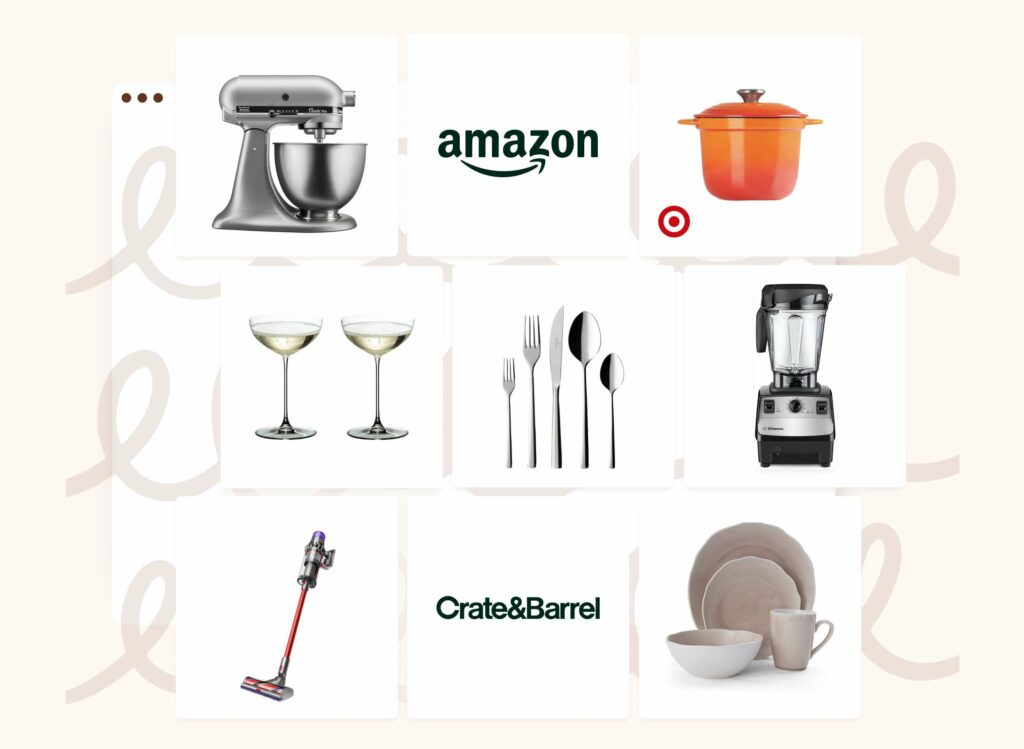 From gifts, to cash funds, experiences or charitable causes, add any gift you want, from any online retailer, to your Joy registry.