Now that you and your partner are in full wedding planning mode, it's time to tackle another item on your to-do list: your wedding registry. You may already be scouring wedding registry checklists for items you'll need to start married life. But as you click through pages of shiny new stand mixers and toasters, you might find yourself adding potential registry items and wonder: "Wait—am I going overboard?!
We know the optics around gift-giving can be confusing and awkward. The correct number of gifts to add may feel like a big unknown. So, if you feel like you're putting "too much" on your list, allow us to ease your mind a bit.
Your wedding guests are expecting you to have plenty of options on your registry. As budgets (and personal taste) will vary, this allows everyone on your guest list to find something at their preferred price point for all of your upcoming wedding events. Not to mention, your friends and family are genuinely excited to shower you with items that will help you start your newlywed life on the right note. Don't feel bad about loading up your list — instead, think about your registry as a wish list rather than limiting it to the essentials. The more registry items you add, the more variety you are providing your guests. Here's a guide that breaks down exactly how many gifts to add to your wedding registry, with tips to help you reach the ideal number for you and your soon-to-be spouse.
How many gifts should be on my wedding registry?
This age-old question has couples scratching their heads and overthinking their lists, even consulting guides on wedding registry etiquette so they don't appear greedy. But a good rule of thumb is to multiply your guest list by two to get a rough number of gifts to add. Why double the number of wedding guests, you ask? Let's break it down.
In addition to your big day, you will likely have other wedding events thrown for you, whether that's an engagement party, a shower, or both. While not all of your guests will be invited to each event, it's good to overestimate the number of gifts you'll register for so that there is a wide variety for your guests to choose from.
That being said, starting a registry should be at the top of your wedding planning priority list — you can always add more gifts around key dates, such as before your wedding invitations are sent out. Because these joyous gift-giving celebrations start pretty much the second you get engaged, getting a jump on your registry and adding the link to your wedding website is paramount. You would be shocked at how many people are eager to start showering you and your betrothed with gifts.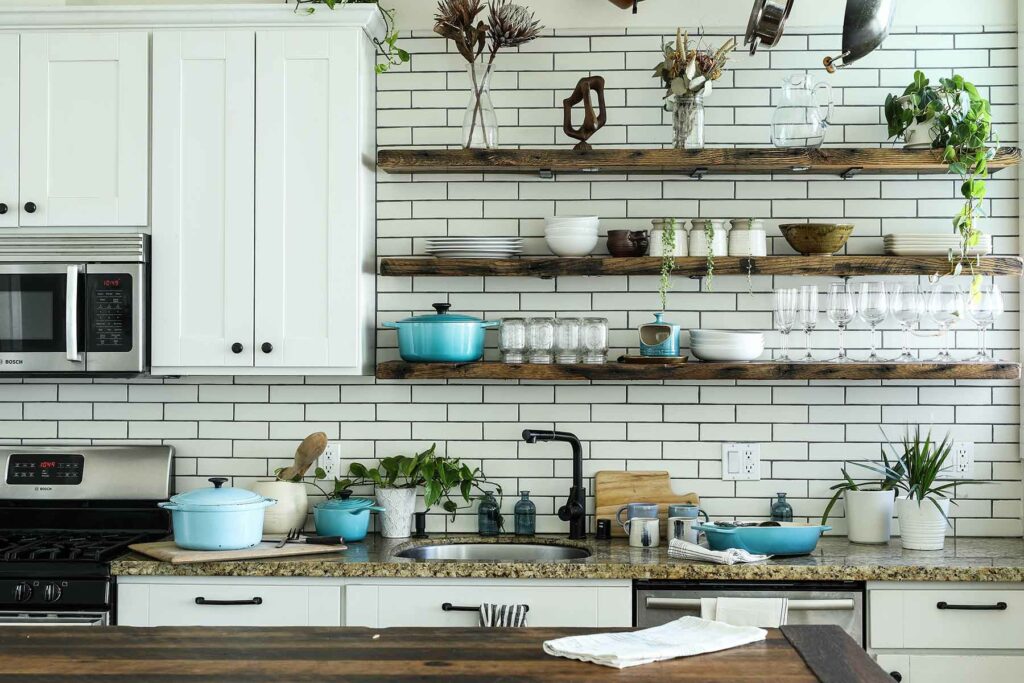 Counting Multiples on Your Registry
So, if you need to add twice as many gifts as you have guests, what exactly counts as one registry item? Many couples actually register for more than one of the same item if items are sold together. Think two sets of six wine glasses or two sets of the same flatware if you're planning to host big family gatherings. Each "set" should count as one gift. If you have a few less expensive miscellaneous items on your list like a singular spatula or a spoon rest, don't count these as individual gifts. Instead, view them as "add-ons" that won't count toward the overall number you're aiming for. Wedding guests sometimes prefer to purchase these smaller items and create their own gift sets bundled with off-registry picks, such as gift cards or personal mementos.
Adding Gifts for Every Price Point
On average, guests tend to spend about $100 per wedding gift. That being said, not every item on your registry has to fit within that budget. Since some people may choose to go in on a larger group gift or purchase a collection of smaller items, make sure your wish list contains a high-low mix. Include plenty of options grouped at within price points including under $50, over $100, and a solid selection between $50 to $100, as it's a great range for guests who would like to purchase more than one item to reach their desired spend amount. Try to keep the majority of your registry items under $200, but do include a few big-ticket items for guests who want to splurge.
When There's Nothing Else You Need
If you've gone through your lists of wedding registry ideas and added all the cookware sets, bakeware and linens you could possibly use, you're not alone. Not having enough "stuff" to add to your registry is a common problem for couples who have been together a long time. Add what you need, then think outside the box. Your wedding registry presents a great opportunity to ask for items like gift cards to home improvement or specialty stores, or even cash for your honeymoon or a down payment. We know it can be even more awkward to ask guests for cold hard cash, but there are a lot of creative ways that make these items feel just as special as a traditional gift!
How to Count Cash Registry Gifts
You may love the idea of a honeymoon fund, but aren't sure how cash fits in with your overall gift total, especially if you're doing a mixed registry. To help determine what counts as one "gift," keep in mind that big-ticket items like that $2,000 plane ticket to the Maldives can be broken up into $100 to $200 increments when you're setting up a honeymoon fund. Activities, such as a $75 excursion to a local rum distillery tasting, can count as a single gift if they're in the typical under $200 price range. So, if you are asking for seven nights at a beach resort that costs about $7,000 total, that will count as around 35 to 70 gifts. You can take a similar approach if you're setting up a cash registry to be used for major home improvements or a down payment.
The Right Number of Destination Wedding Registry Items
Destination weddings are tough because your loved ones are already shelling out the big bucks to attend your big day. If putting together a registry with traditional gifts like dinnerware and kitchen appliances feels like asking for too much, look for items in a lower price range. It's likely guests will still want to spoil you with a little something — especially if they can't travel to the far-flung locale on your wedding day or there's a shower hosted by a loved one at home.
Final Thoughts
There is no magic number when it comes to the amount of gifts to put on a registry. These guidelines should be able to help you determine a flexible gift count, but at the end of the day, your wedding registry is about you as a couple. You know your guests better than anyone, so go with your gut and don't forget to have fun!
Up Next:
From gifts, to cash funds, experiences or charitable causes, add any gift you want, from any online retailer, to your Joy registry.